Have a lot of lemons and wondering what you do with them? Try one of our delicious lemon recipes! From lemon cocktails to desserts to brunch recipes. These are the best lemon recipes to make at home!
Also check out how to zest a lemon to add a vibrant lemon flavor to recipes!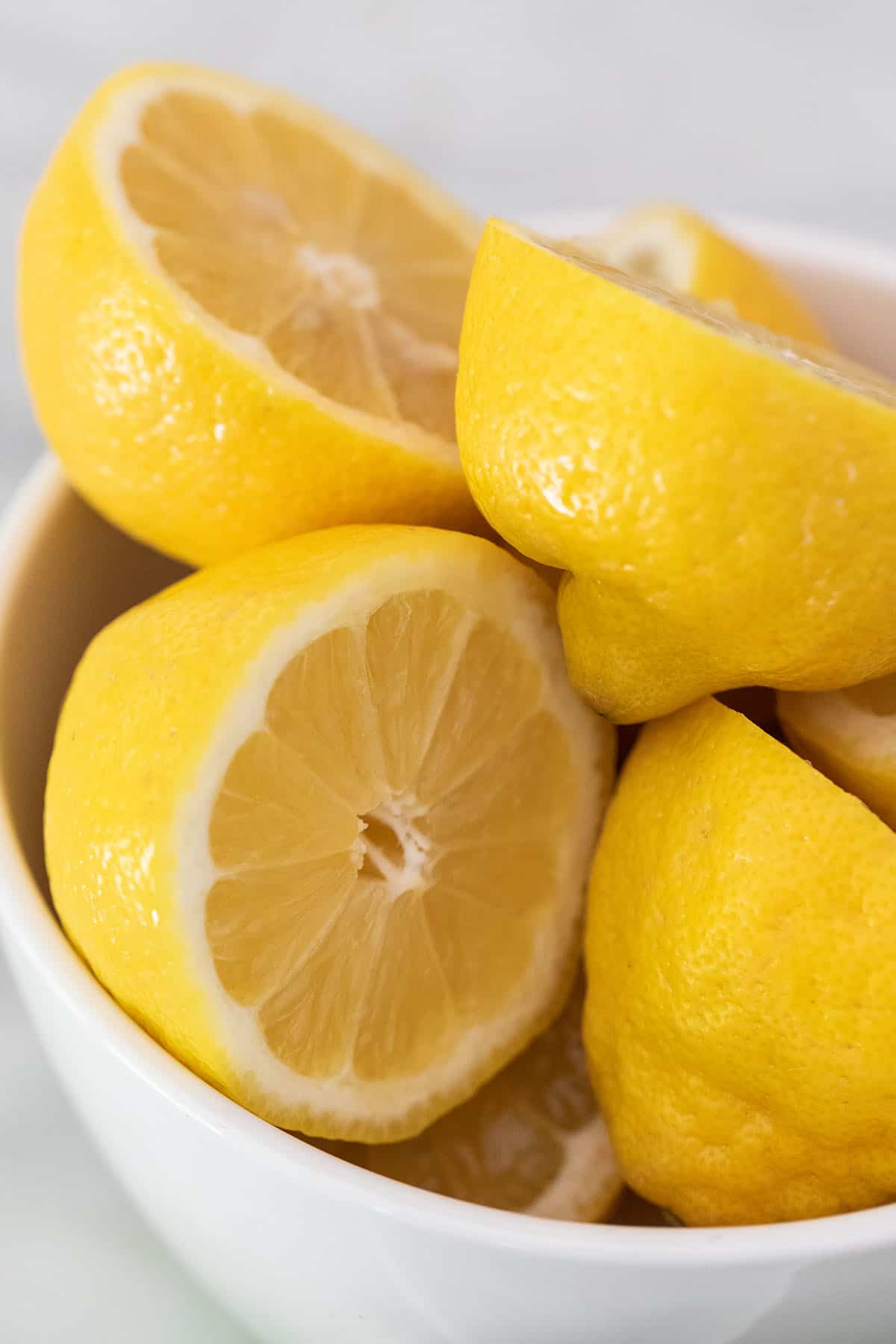 Lemons are a yellow citrus fruit that is used for its acidic juice and zest. Lemons grow on a flowering evergreen tree and the fruit is harvested in the winter and spring. Depending on geographic location, they can also grow all year in parts of the world.
We use lemons is many of our cocktail recipes and desserts. They can also be candied, made into preserves or even dried to use as culinary garnishes.
We have two lemon trees in our yard that produce the most amazing lemons! One is a Eureka lemon variety and the other is a Meyer lemon tree. Meyer lemons tend to be a litter sweeter and softer. They are a cross between a mandarin orange and a lemon, so they are also smaller in size.
Tips for Cooking with Lemons
Here are a few things to keep in mind when cooking and baking with lemons:
The peel is incredibly fragrant and the flavor is intense. It's great for zesting and adding to recipes like infusing sugars, cakes and adding as a topping to cookies and more.
When juicing a lemon, use a hand juicer that will squeeze the most juice out and separate the seeds and juice.
If you're using the peel, make sure to wash the natural wax coating off the outside layer.
Remember, Lemon juice is an acid and when added to cream it will make the cream curdle and clump. This is okay in some recipes but might want to be avoided in others. Homemade buttermilk is an example of this.
Lemon Recipes
Here are all of our favorite lemon recipes! From cocktails to the best lemon desserts, we're sharing all the ways you can use lemons in your recipes.
The Best Lemon Bar Recipe
The best lemon bar recipe made with a 3-ingredient buttery shortbread crust and the lemon custard is sweet, tart, and gooey! These are the perfect dessert for spring and summer!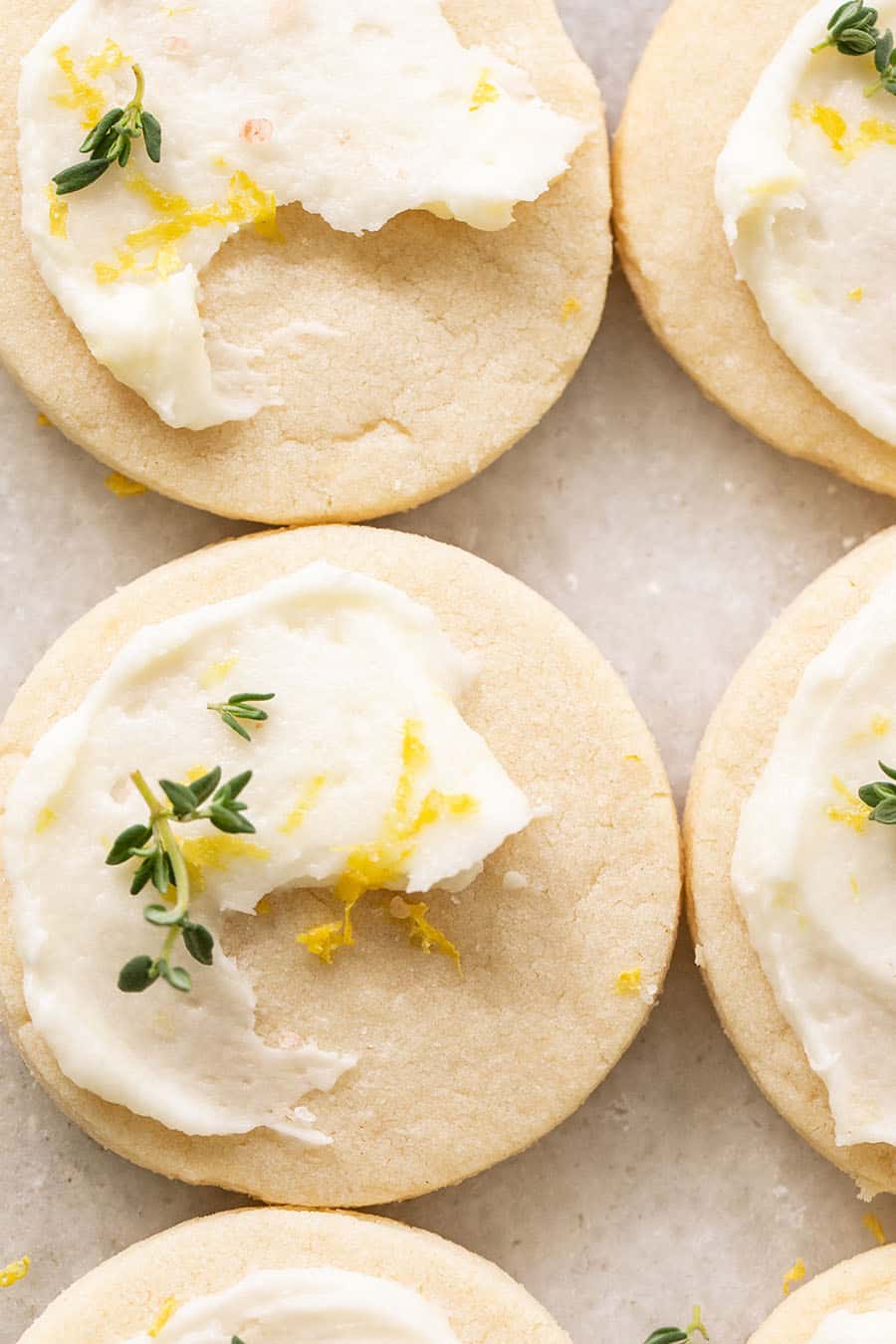 Lemon and Thyme Shortbread Cookies
These lemon and thyme shortbread cookies have the perfect shortbread texture and lemon flavor. They're made with granulated sugar and have a buttery flavor.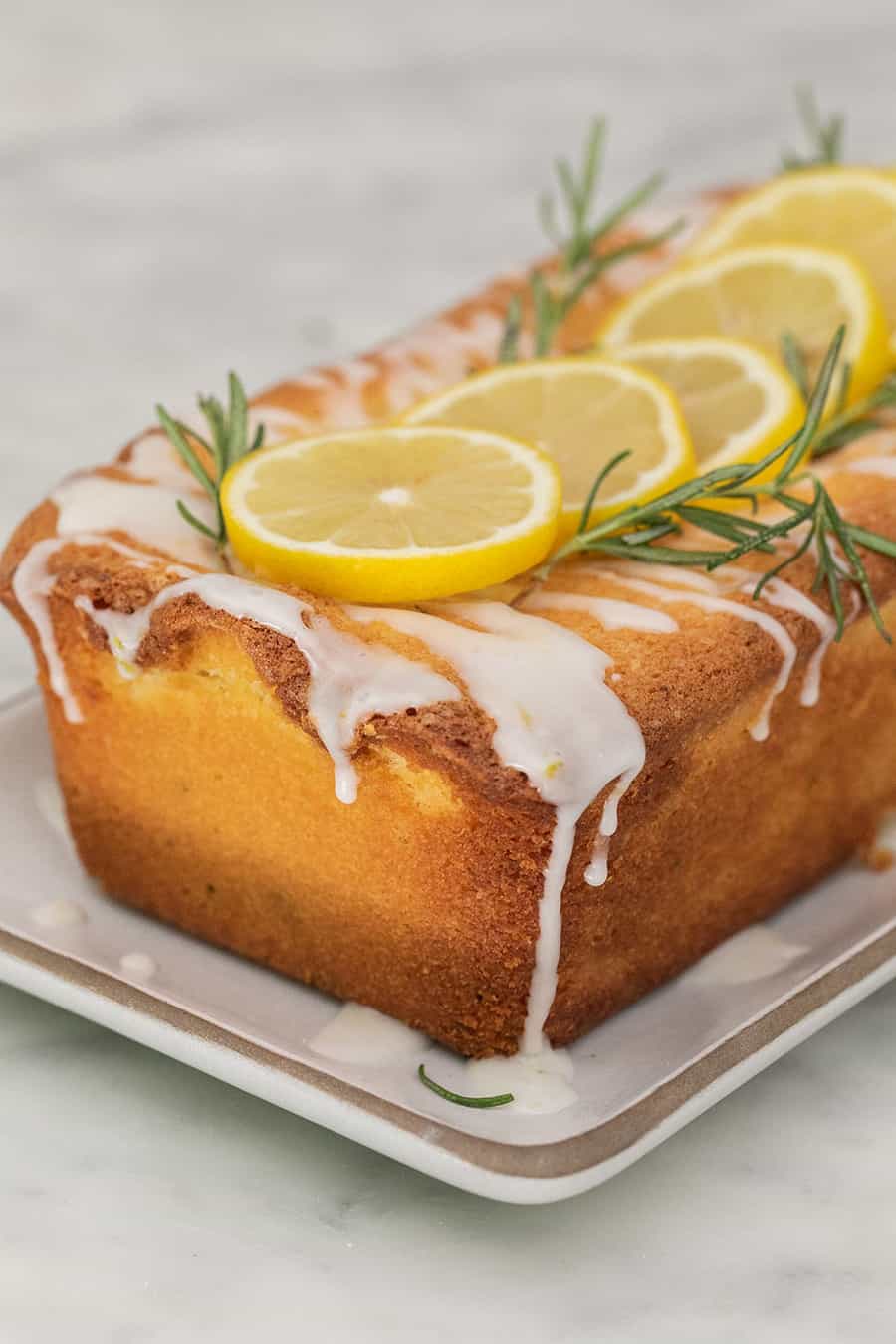 The Best Lemon Loaf Recipe
This lemon loaf is super moist and has the most incredible lemon flavor. It's easy to make and great for so many occasions.
Another great brunch recipe made with lemons is our lemon ricotta pancakes! They are fluffy and so good!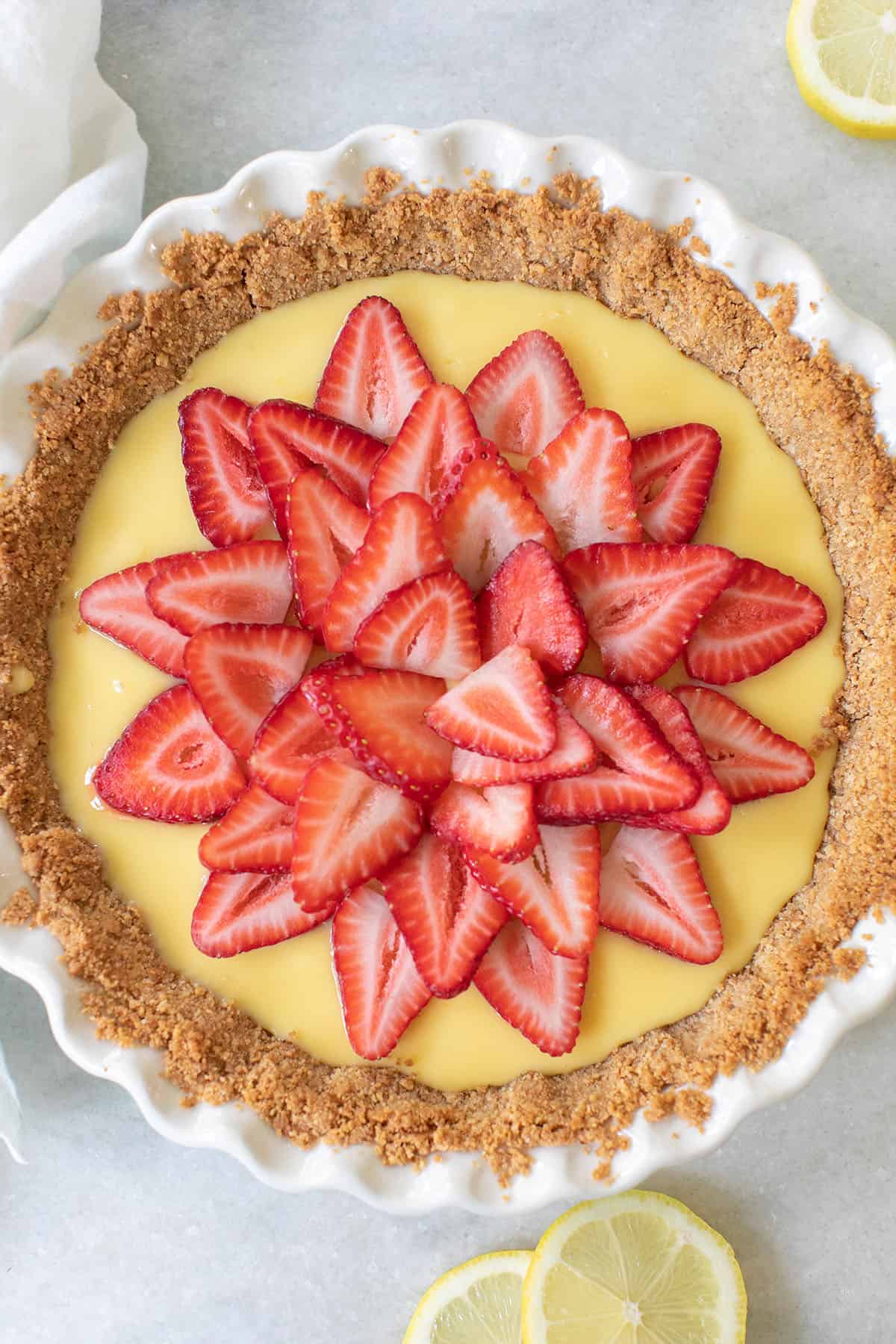 Strawberry Lemonade Pie
If you love pie, then this lemonade pie is for you! This pie has a buttery graham cracker crust and lemon custard center. This pie is perfect for summer entertaining!
Lemon and strawberries are a great combination. Here are three more strawberry recipes you can make!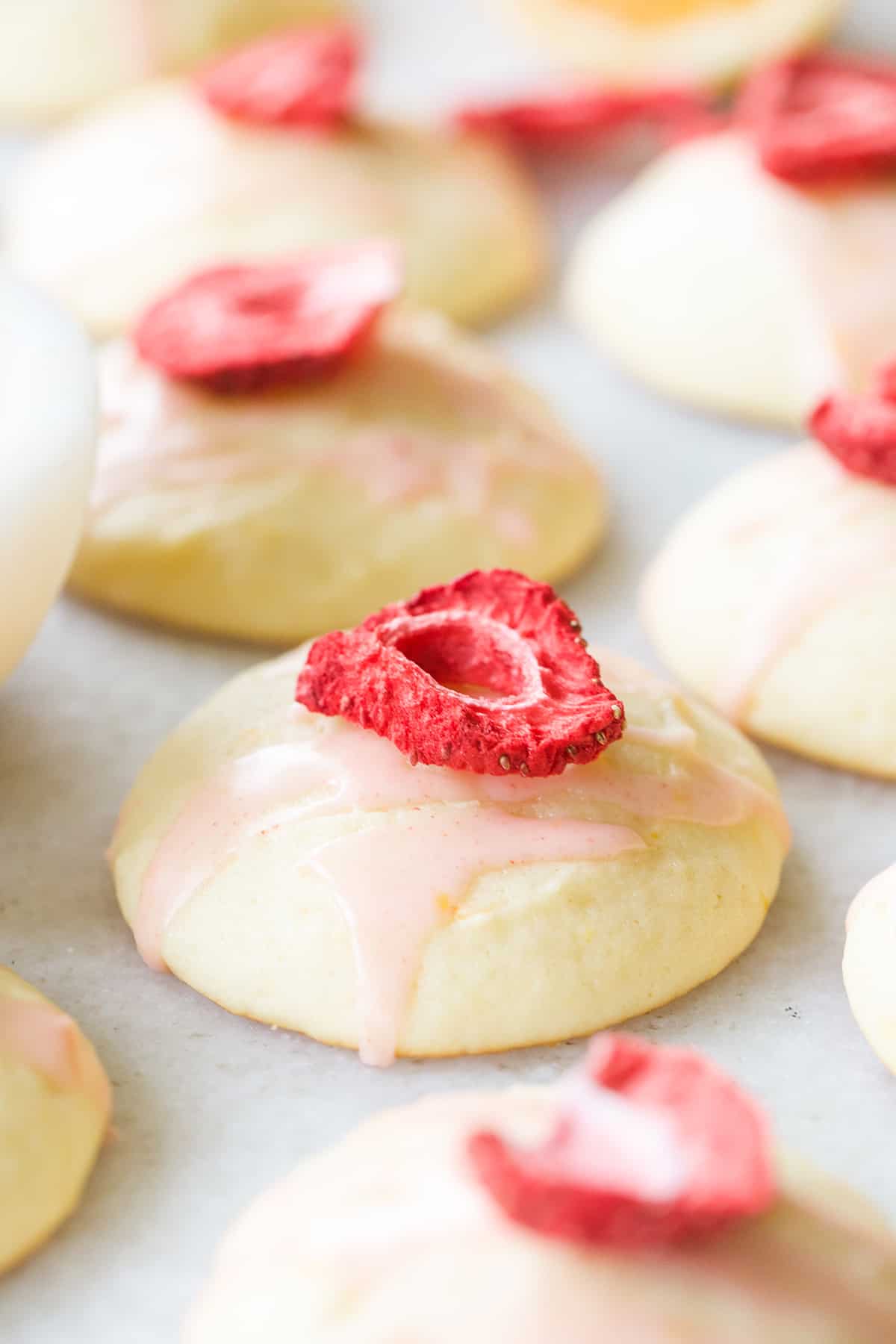 Lemon Ricotta Cookies
These lemon ricotta cookies are fluffy, soft cake-like cookies that are super flavorful and perfect for spring!
Elderflower Lemon Cake Recipe
This easy recipe for a lemon elderflower cake is light and fluffy and full of summertime flavor. Frosted with an elderflower meringue buttercream, with lemon curd in the center and a light dusting of dried elderflowers.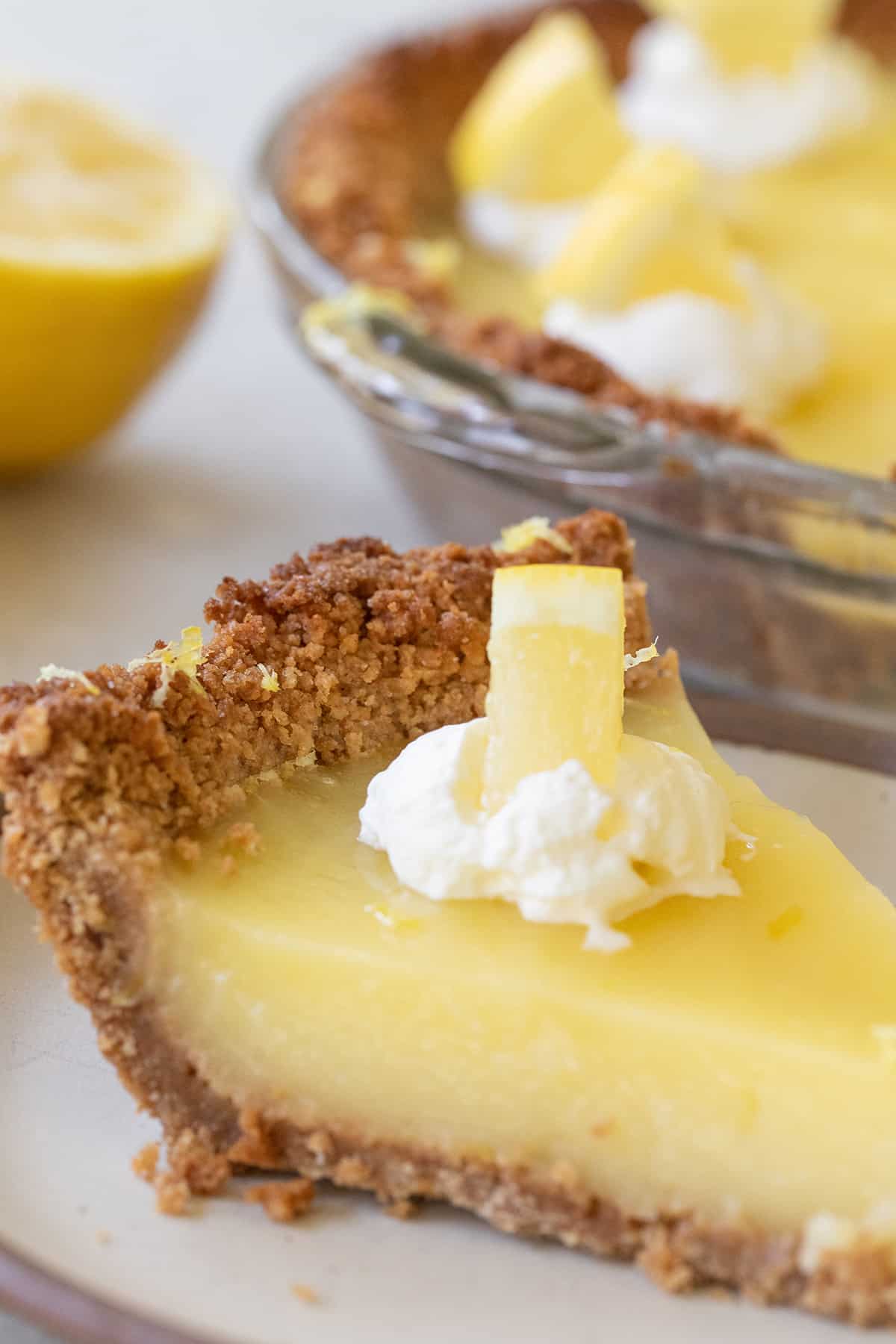 Real Lemon Pie
This is the most delicious lemon pie made with fresh lemon juice!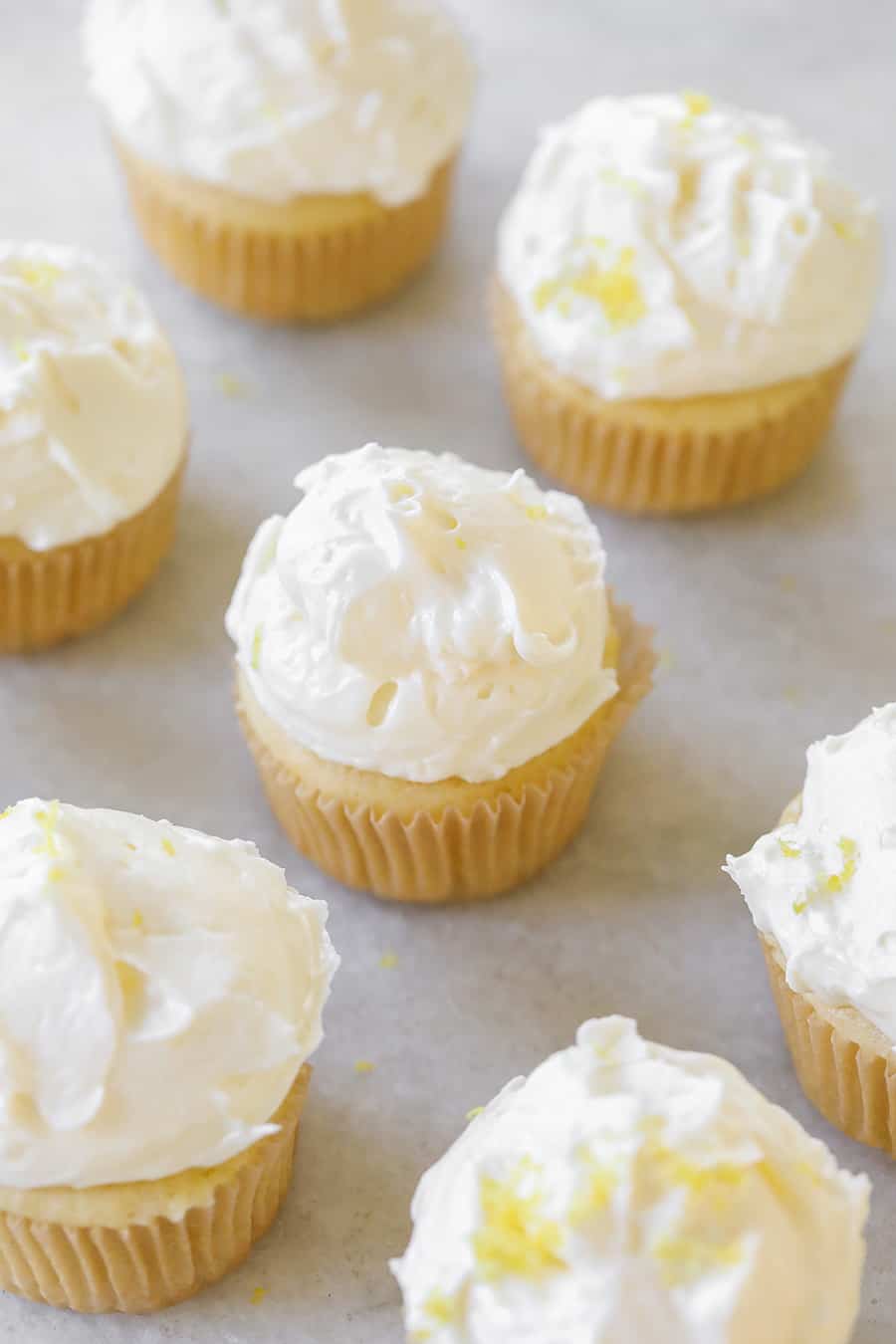 Lemon Cupcakes
Our simple lemon cupcakes are made from scratch and are full of flavor! Like biting into a sweet lemon. The buttercream meringue frosting is light, fluffy and not too sweet. Absolutely delicious!
Salmon Skewers
Salmon skewers with lemon are an easy everyday dinner recipe or party appetizer! They are SO simple to make and only take about 6 minutes to cook in the oven. These are perfect for dining alfresco!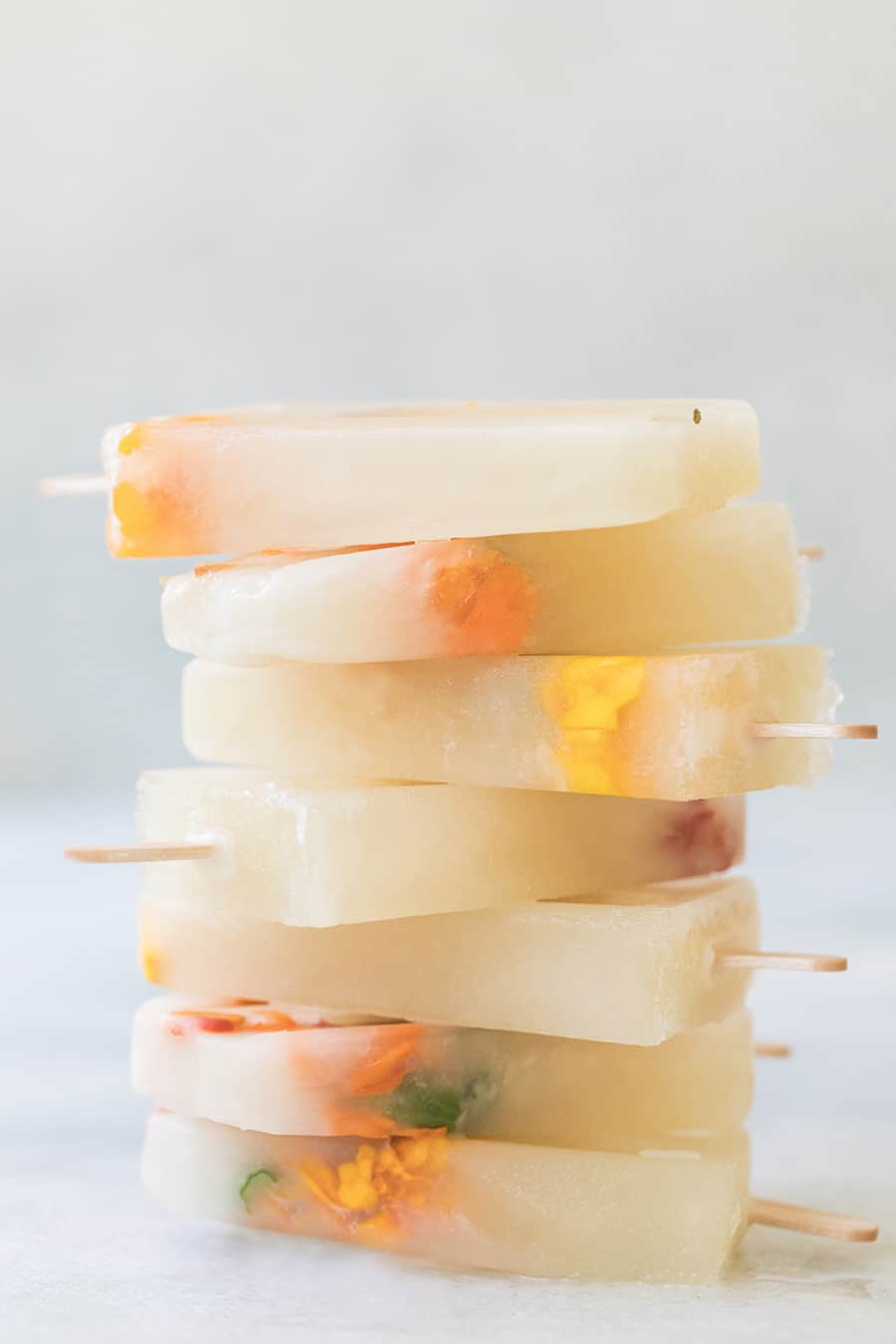 Three Ingredient Lemonade Popsicles
These three-ingredient honey lemonade popsicles are sure to cool you down during the hot summer days! Check out our complete guide to making popsicles too!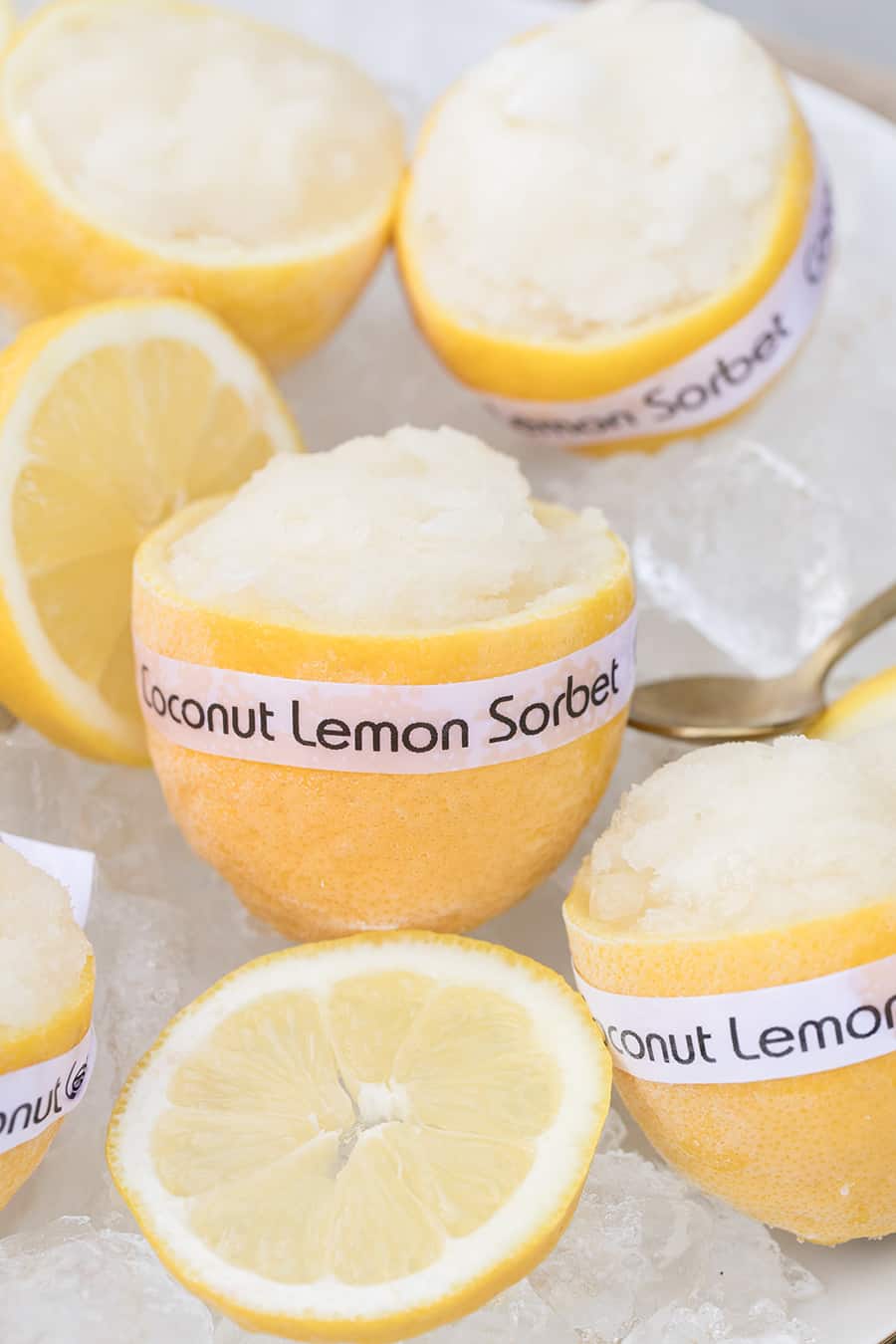 Coconut Lemon Sorbet
Homemade coconut lemon sorbet is like a lemon slushie. For an extra charming touch, serve them in the frozen lemon halves we used to squeeze the juice. Recipe for this in the recipe card below.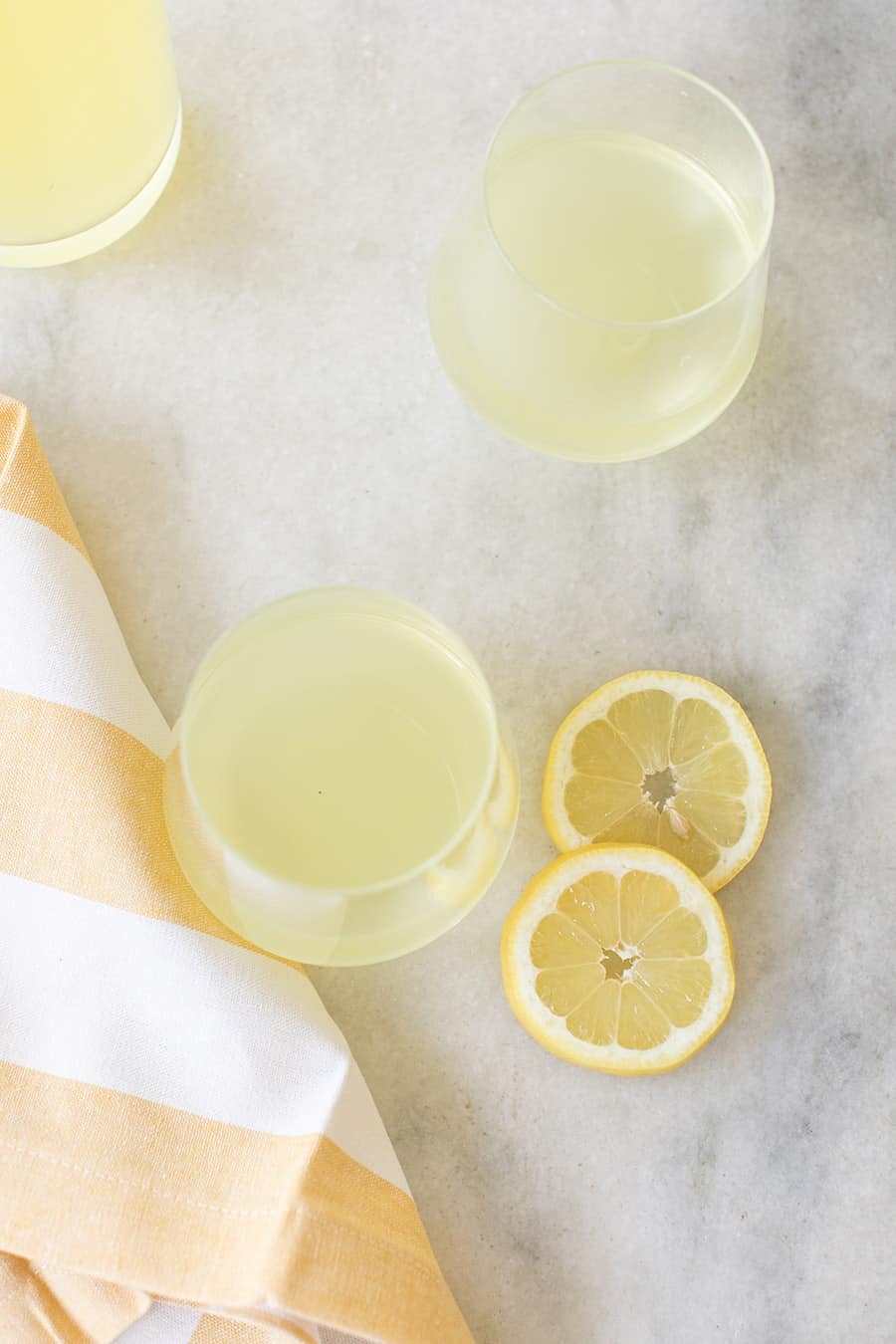 How to Make Limoncello
There is nothing better than a chilled glass of Limoncello. It's a traditional liqueur of Southern Italy, but you can make it at home! This homemade recipe is lightly sweetened and perfectly infused with lemons after two weeks.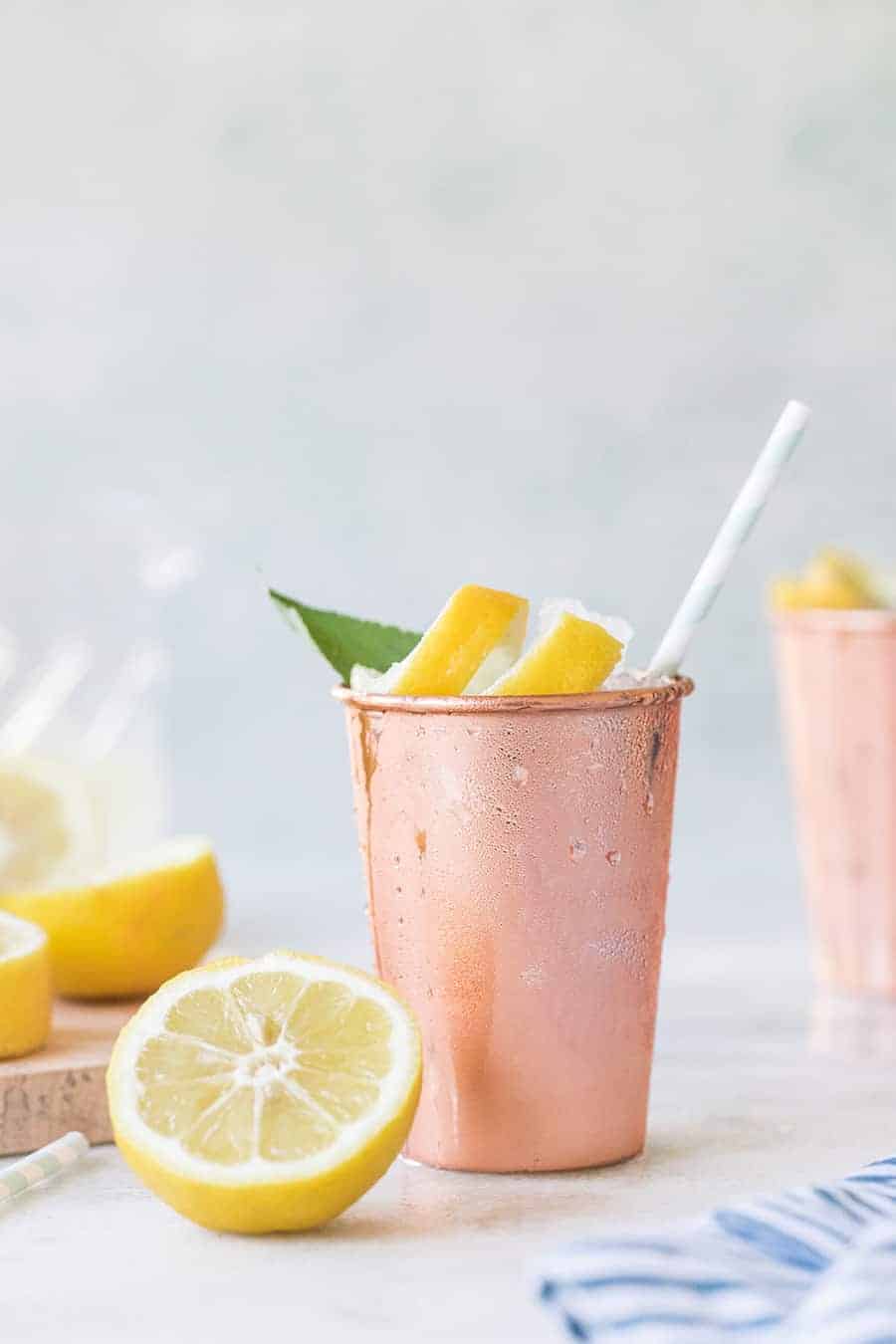 Lemon and Sage Moscow Mule
This lemon and sage Moscow mule recipe is the perfect summer cocktail! Made with ginger beer, lemon juice and sage it's refreshing and delicious! Also, try our smoky lemon Moscow mule recipe too!
See all of our favorite Moscow mule recipes!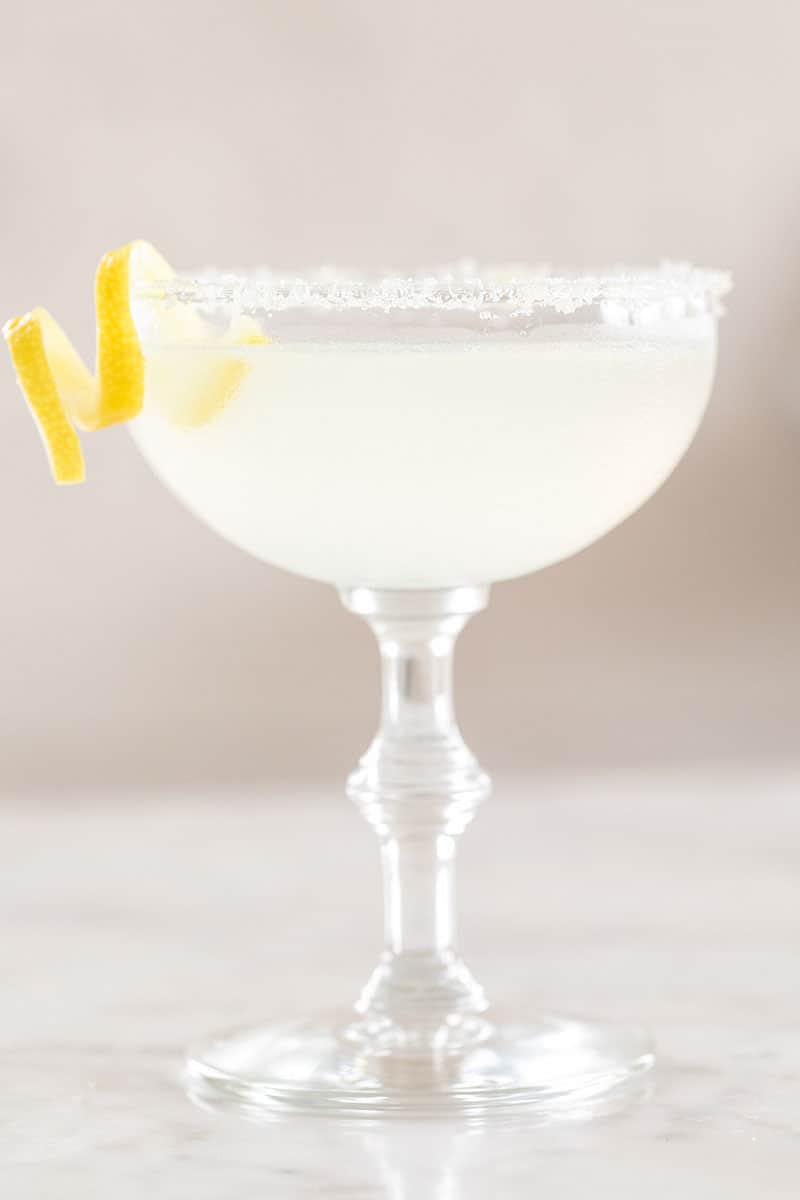 Lemon Drop Martini
The bright, refreshing flavor of the lemon drop martini is a simple, yet easy drink to miss the mark on. We cover everything you need to know to nail this cocktail!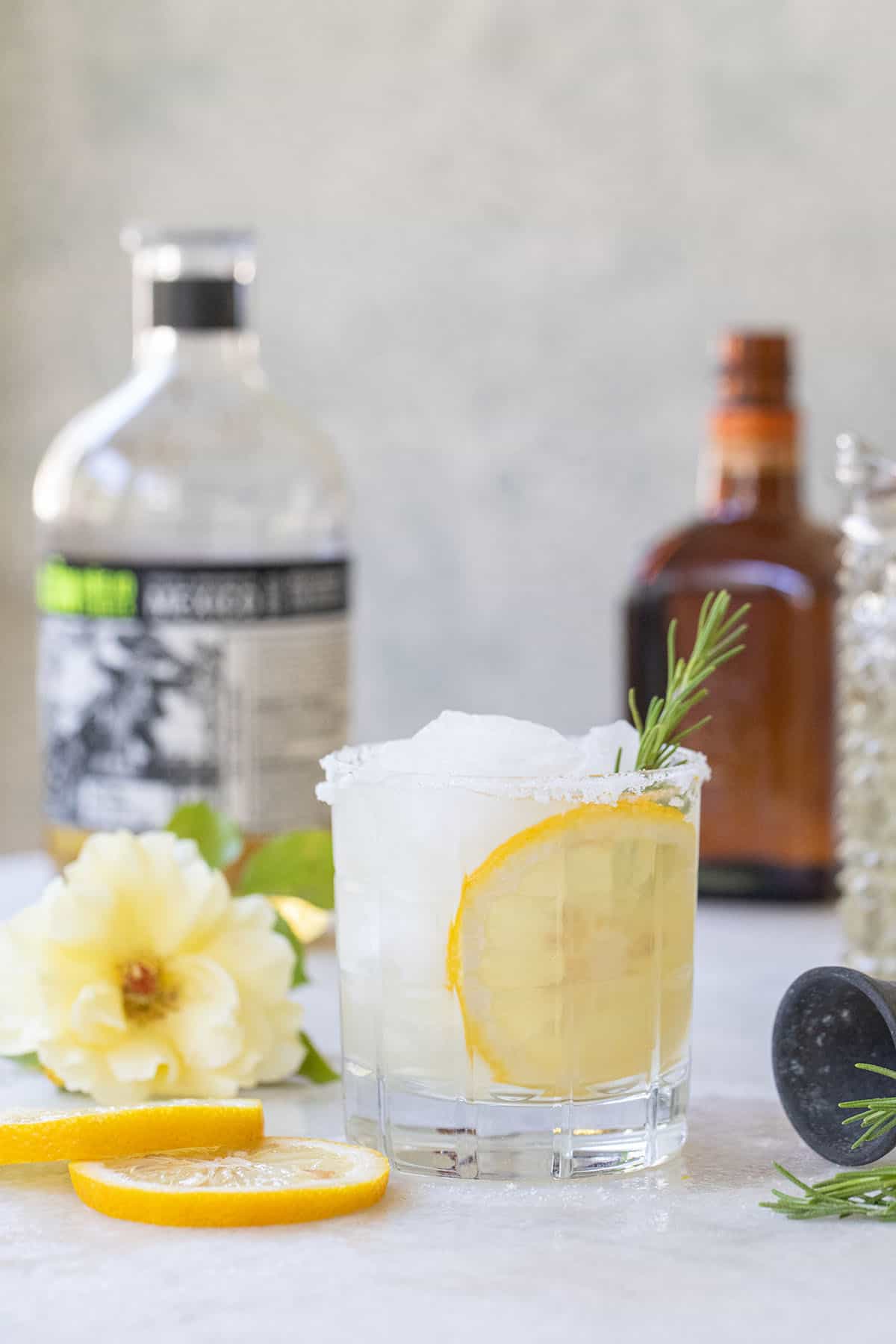 Lemon Margarita
This lemon margarita recipe is super easy to make using only 4 simple ingredients. It's a nice twist on a classic margarita and is perfect for summer sipping. We also have a very easy lemonade margarita recipe that is beyond simple to make.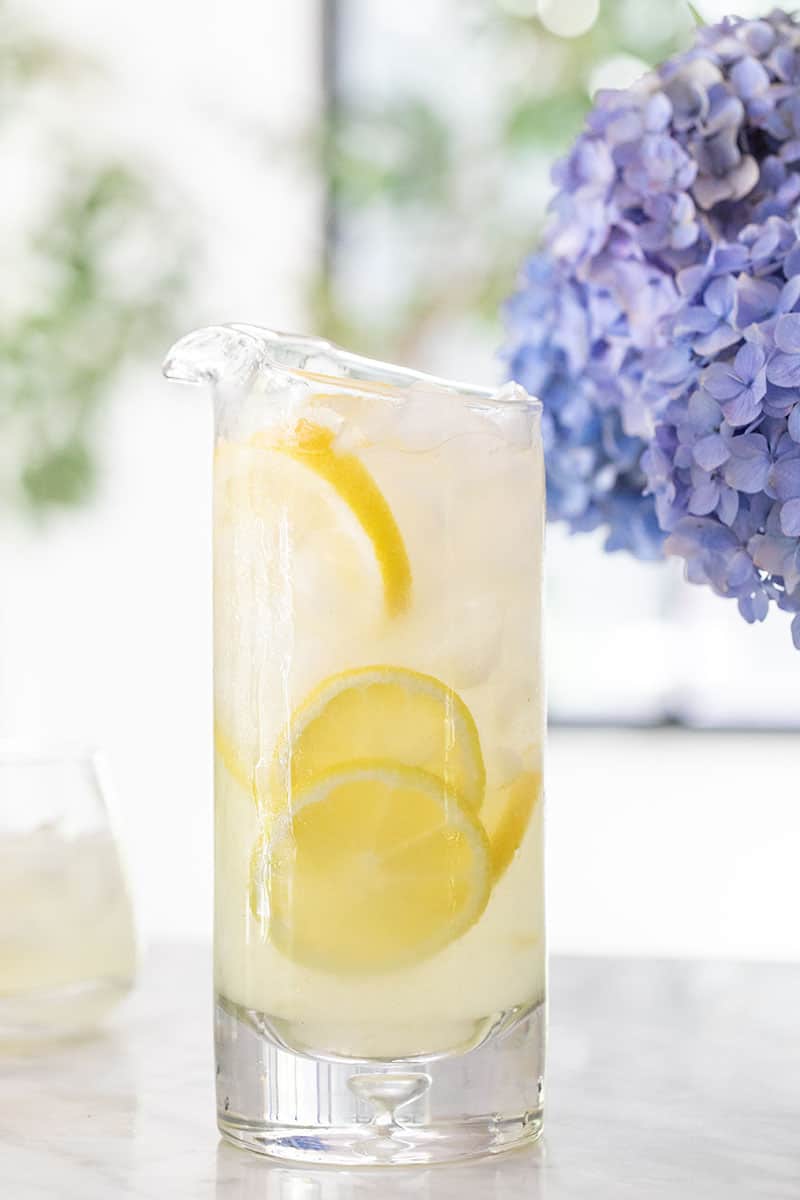 The Best Homemade Lemonade
The best homemade lemonade recipe! It's so easy to make, lightly sweetened and perfectly tart. Perfect for a hot summer day! This easy recipe uses only 3 simple ingredients, freshly squeezed lemon juice, water and sugar.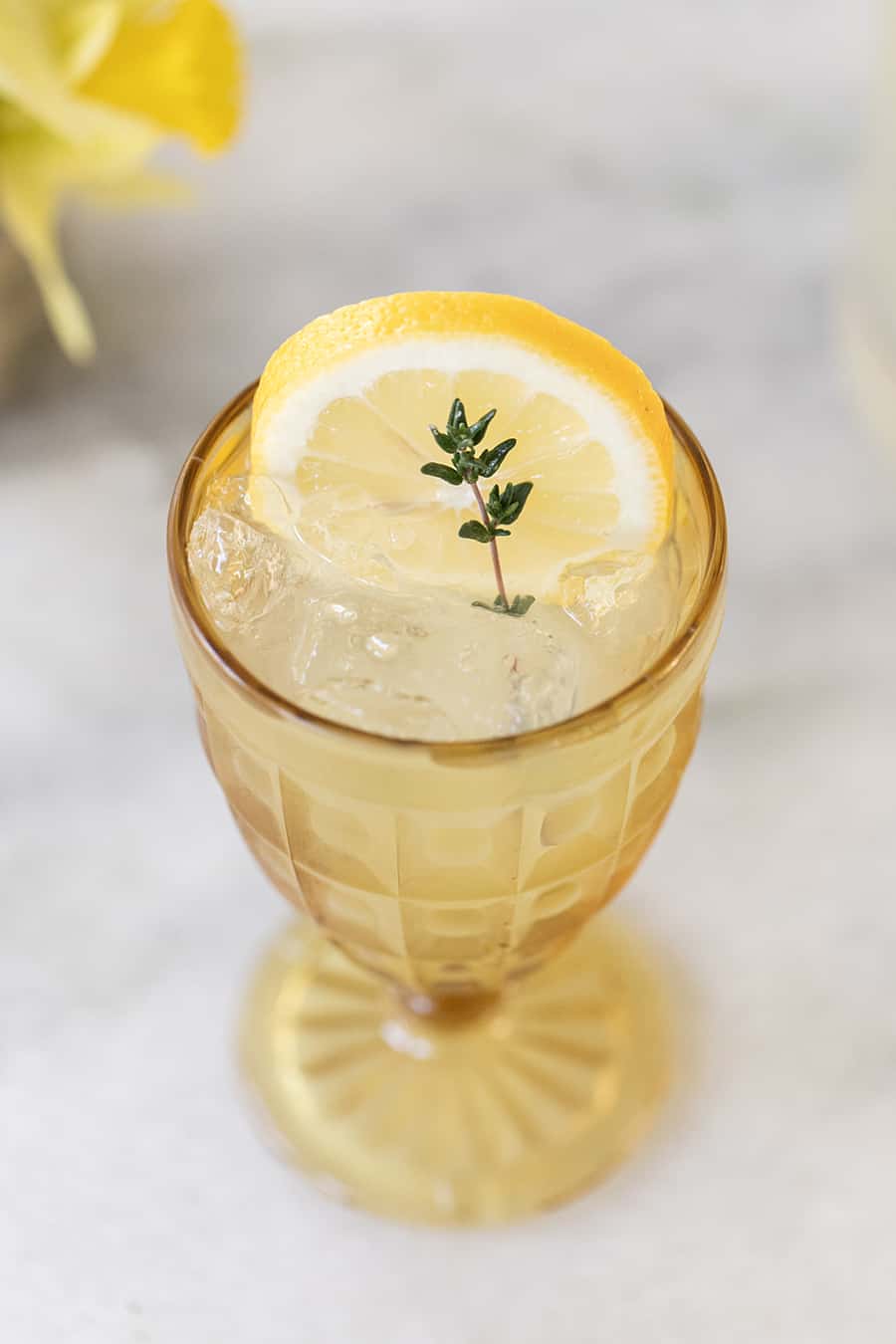 Spiked Lemonade Tequila
The easiest and most refreshing thyme tequila spiked lemonade recipe. You can use store-bought light lemonade or make your own. The key is adding in fresh thyme and a good quality tequila! See more of our favorite tequila cocktails!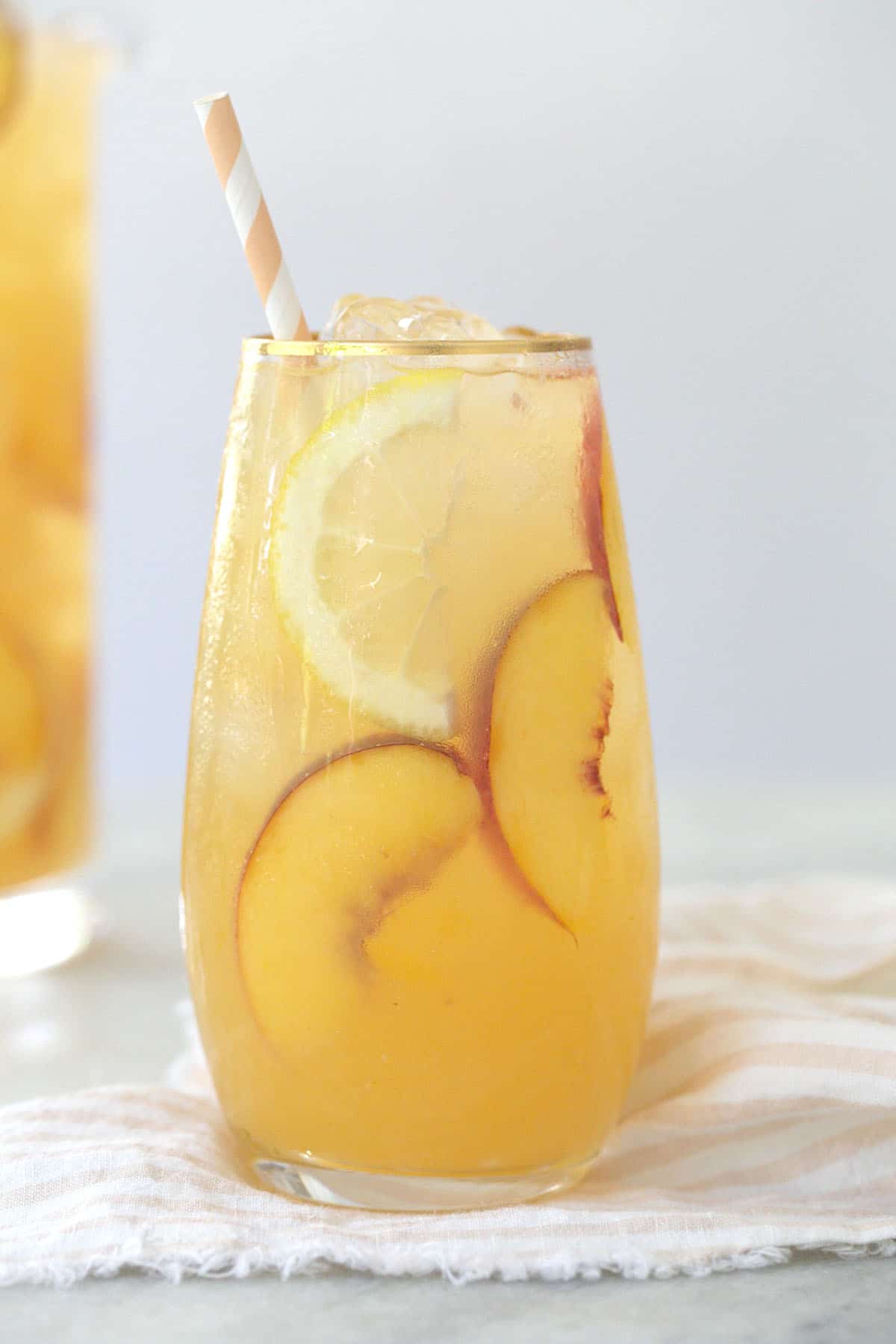 The Best Peach Lemonade Recipe
Peach lemonade flavored with fresh lemons, peaches and a little secret ingredient. It's a take on our classic recipe that's lightly sweetened and refreshing!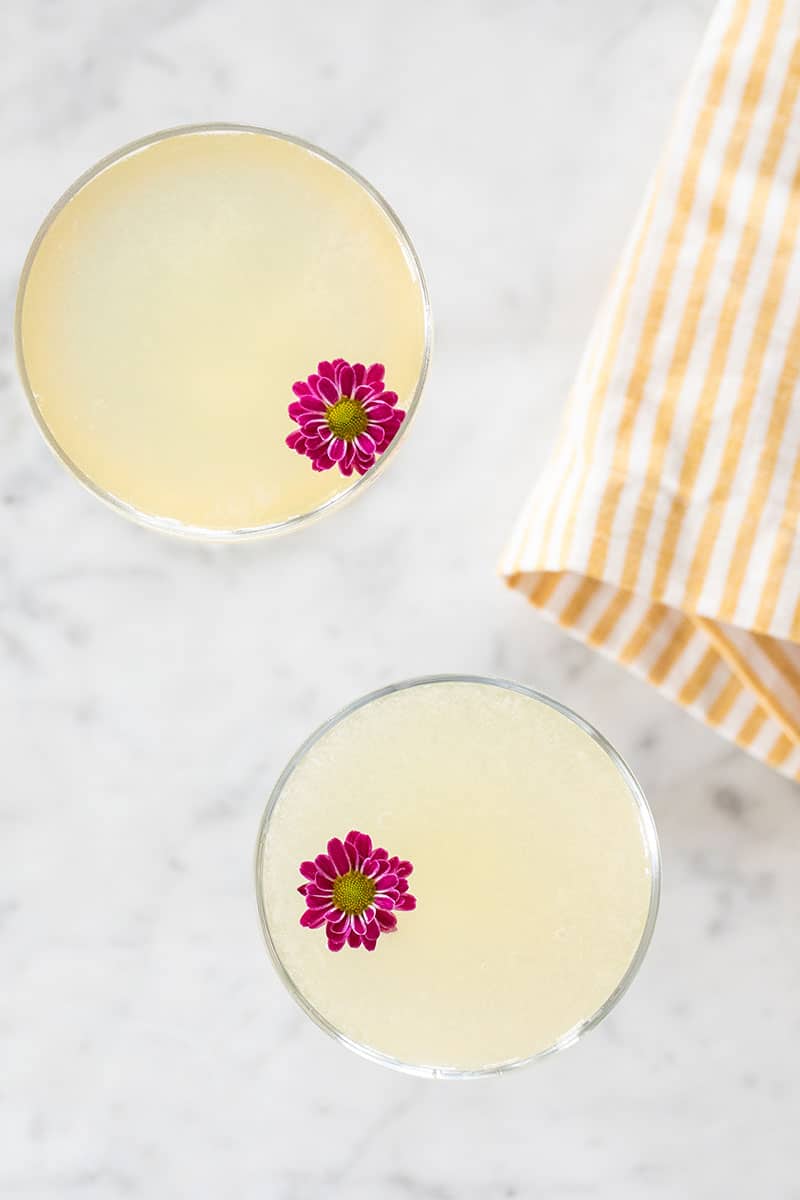 The Bee's Knees
The bee's knees is a refreshing lemon cocktail recipe with only three ingredients. It's so easy to make and perfect for sipping all year long!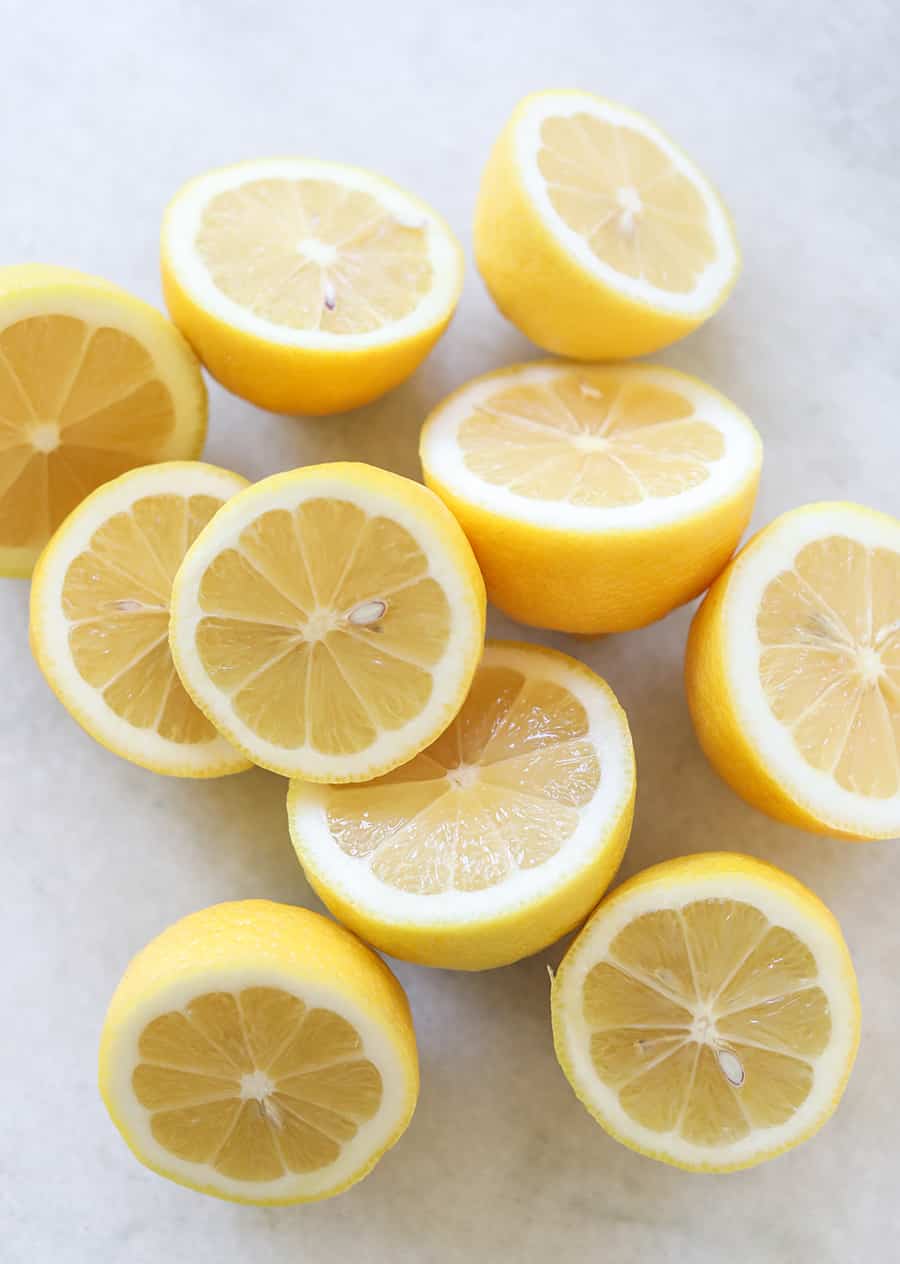 When to Serve Lemon Recipes
Surprisingly lemons are actually the most abundant in the winter and spring! However, because lemonade and lemonade stands are popular in the summer people often think lemons are a summer fruit.
Technically you can serve lemons during winter, spring and summer. They are not considered a fall fruit unless you're making a delicious fall cocktail like our apple martini that calls for lemon juice!
Here are some of the best occasions to serve these lemon recipes:
Charming Lemonade Stand for Adults
Bridal Showers and Baby Showers
For Brunch or a Mother's Day Brunch
Check out these brunch recipes!
How to Store Lemons
Lemons are best stored at room temperature if you're going to be using them within a few days. If you are keeping them on hand for future recipes, store them in the crisp drawer of the refrigerator. You can also freeze fresh-squeezed lemon juice in ice cube trays or a freezer bag.
More Ideas for Cooking with Lemons
Lemons are great for savory recipes too! Here are some ideas:
Yogurt Tahini Dip – This recipe uses one whole lemon jucied.
Lemon Pasta
For Seafood
Frequntly Asked Questions
What do lemons taste like?
Lemons have a citrus flavor that is very tart and a little sour. The juice is perfect for cooking, but not for eating out of hand. A lemon has three layers. The outside is yellow peel is bitter with a little sweetness and intense fragrance. If you roll the lemon between your palms the oils seep through the peel and it smells so fresh. The peel is perfect for zest and making limoncello. The white part between the peel and the juicy middle has a very dry texture and is bitter. It's not used in recipes. The inside of the lemon is where all of the delicious, sweet, and tart juice comes from and is used for many recipes. Lemons also have seeds that need to be removed before cooking with them.
Where to buy lemons?
most grocery stores will sell lemons year-round, however, they are seasonal winter, and spring. You can also buy lemon juice that is packaged and ready to use any time of the year. 

Now that you have several amaizng lemon recipes, it's time to start cooking! Let us know which recipe is your favorite in the comments below. Also try our lemon sorbet and give it a rating!
You can also FOLLOW US on FACEBOOK, INSTAGRAM, and PINTEREST to see more delicious recipes, cocktails, desserts, and parties!
This post may contain affiliate links. Please read our disclosure and privacy policy.
Lemon Recipes – Coconut Lemon Sorbet
Homemade coconut lemon sorbet is like a lemon slushie. For an extra charming touch, serve them in the frozen lemon halves we used to squeeze the juice.
Print
Pin
Rate
Ingredients
5

lemons

2

cups

lemon juice

1

cup

sugar

1

cup

water

1

tbsp

lemon zest

1 1/2

cups

coconut milk
Instructions
Cut 5 lmeons in half and gebtly juice them. Then, remove the middle fruit from each half to use as little lemon bowls.

In a sauce pan combine the water, lemon zest and sugar until the sugar is melted.

Remove from heat and let it cool to room temperature.

Add in lemon juice and and coconut milk and place in the freezer to freeze for 3 hours.

 Scoop the semi-frozen sorbet into empty lemons. 

Freeze the lemons again until ready to serve. 
Nutrition
Calories:
214
kcal
|
Carbohydrates:
37
g
|
Protein:
2
g
|
Fat:
9
g
|
Saturated Fat:
8
g
|
Polyunsaturated Fat:
1
g
|
Monounsaturated Fat:
1
g
|
Sodium:
9
mg
|
Potassium:
251
mg
|
Fiber:
2
g
|
Sugar:
28
g
|
Vitamin A:
19
IU
|
Vitamin C:
61
mg
|
Calcium:
31
mg
|
Iron:
2
mg