A buttery graham cracker crust recipe! This is the go-to recipe we've been making for years. It's made with 4 simple ingredients and works well for cheesecake and pies.
Compared to other types of crust, graham cracker crust is one of the quickest and easiest to make.
Also try our classic pie crust and our popular shortbread crust recipe.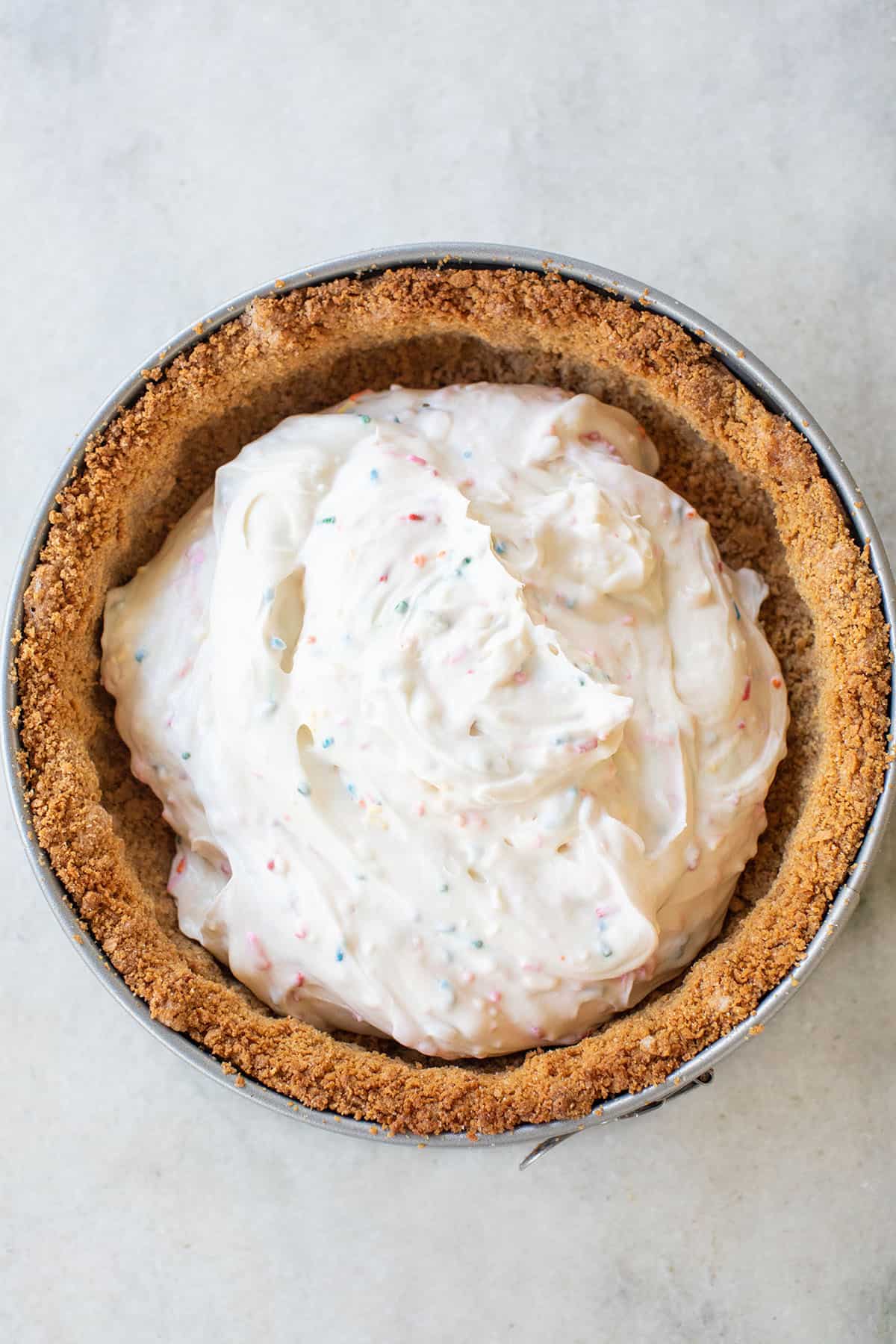 This crust is versatile and works well with different kinds of fillings. A graham cracker crust may be used with a pie in any season. Even the graham crackers themselves may vary. You can make a chocolate graham cracker crust with chocolate crackers.
We use this recipe often for our pies and it always turns out great. One thing we love about it is that it pairs with many pie flavors and it's the easiest crust to make using one bowl and a spatula. It's a perfect crust for pies to serve at birthday parties, speical occasions, holidays and more!
How to Make Graham Cracker Pie Crust
Graham Cracker Crust Ingredients
Graham Crackers – Honeymaid Graham Crackers work perfectly. You can buy them as crumbs to make this crust easier.
Butter – Unsalted, good quality butter. The butter is what holds the crust together.
Sugar – Sugar gives the crust a small amount of sweetness.
Salt – Enhances the flavor of the recipe.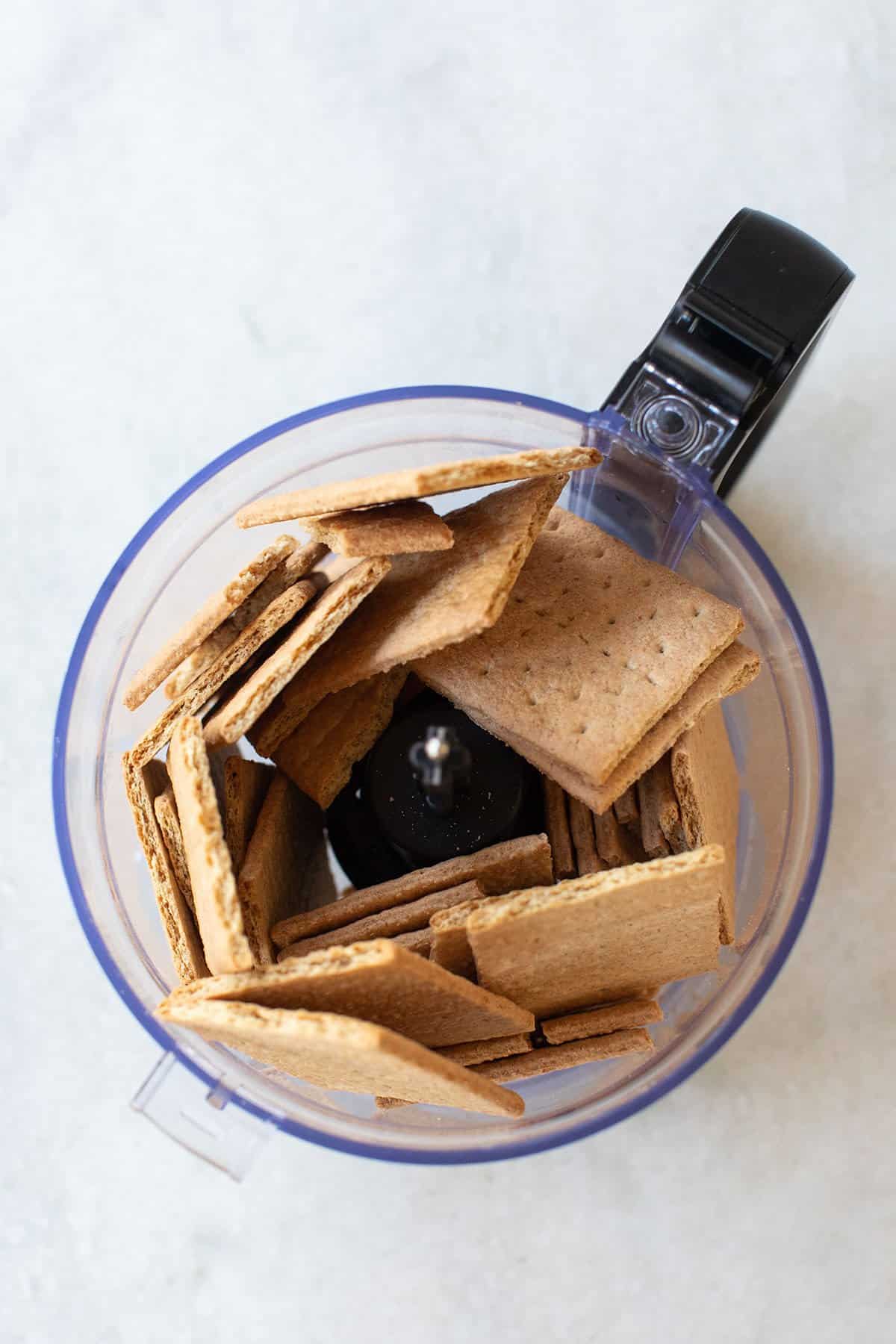 How to Make Graham Cracker Crumbs
Making graham cracker crumbs is as easy as throwing some crackers into a food processor or blender. If you don't have this tool, however, you can put the crackers in a Ziploc bag and smash them with something hard and sturdy, like a rolling pin.
Make sure the crumbs are fine in texture. If the crumbs are too big it's hard to get the crust to stick together.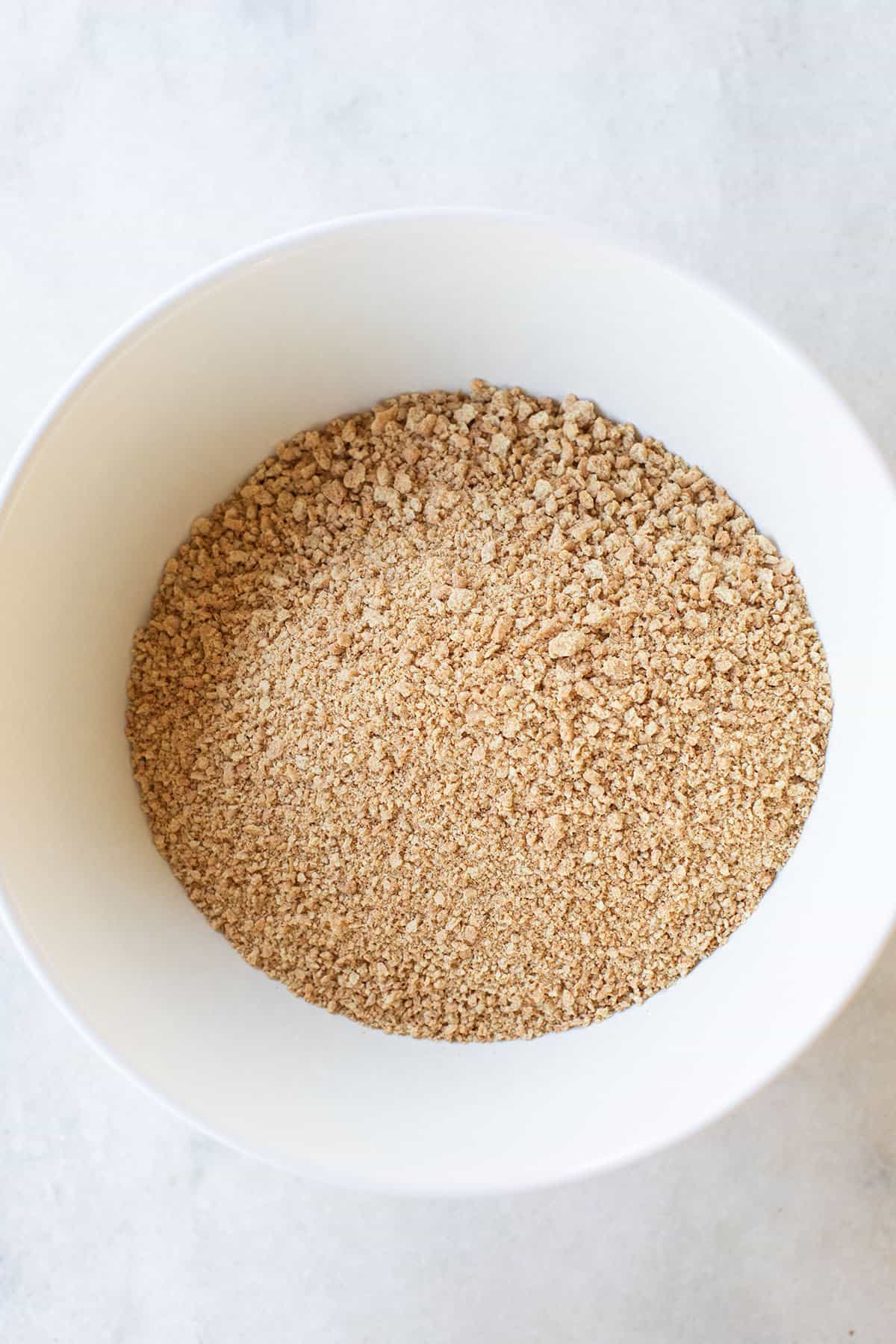 To make this crust, simply combine all of the ingredients into a bowl and mix with a spatula.
Press evenly into a springform pan or a pie dish.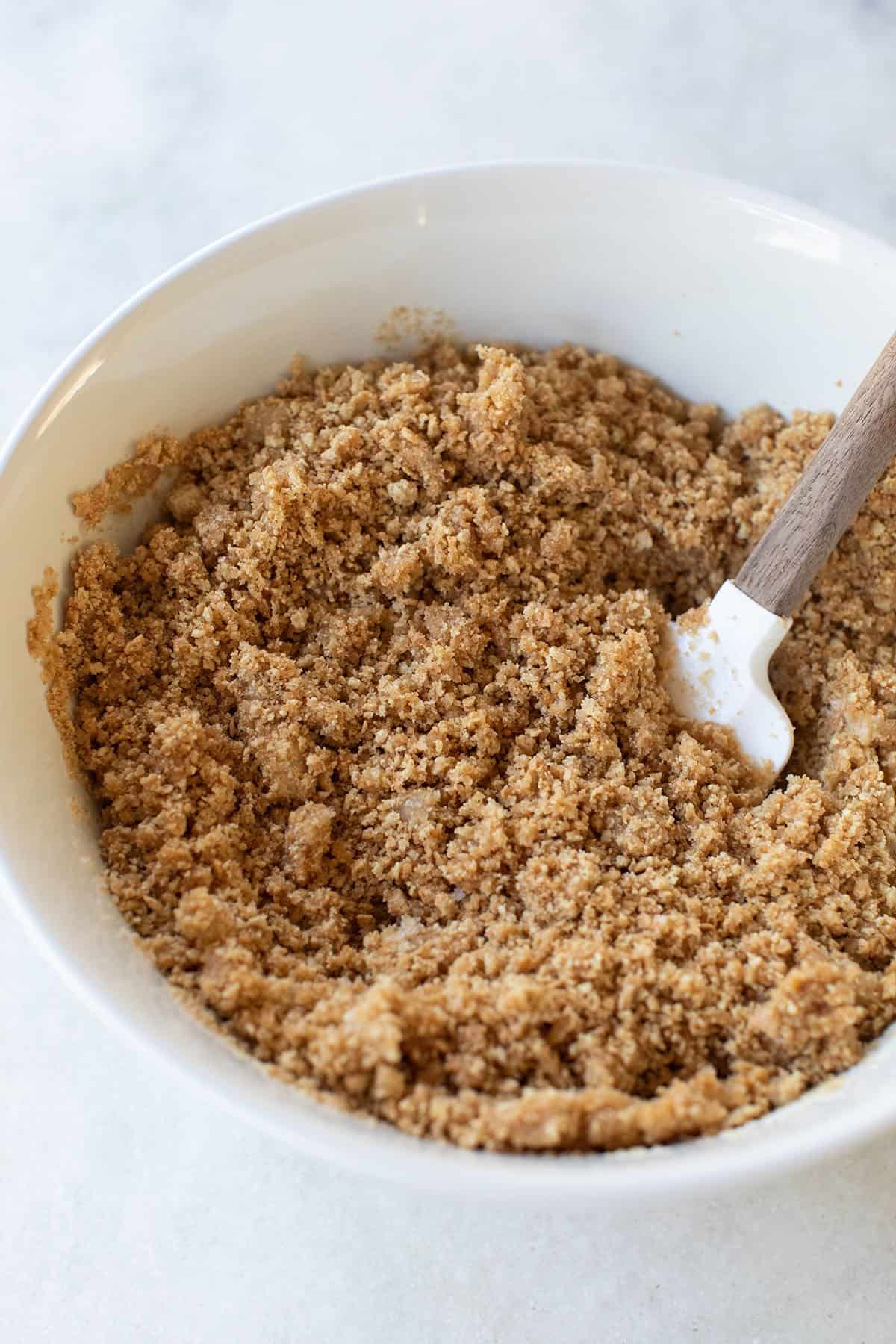 When to Use Graham Cracker Crust
Graham cracker crust is perfect for cheesecake and pies. Here are some recipes that can use graham cracker crust:
Fruit Pies
Graham Cracker Crust for Cheesecakes
This recipe is the best for cheesecakes! Here are some cheesecake recipes that have graham cracker crust:
Tips for Making This Crust
This recipe is made for a deep-dish pie, with crust pushed up the sides or springform pan. It makes a thick pie crust. If you're making a standard pie without pushing the crust up the sides, then cut this recipe in half. However, we prefer having more to play around with to ensure we get an even, thick crust.
Add more melted butter if the crust isn't forming together.
Always use quality ingredients when baking.
This recipe is for 1 springform pan or 2 standard pie dishes.
When making the crumbs, make sure the texture is fine before using them.
Frequently Asked Questions
Does Graham Cracker Crust Need to Be Baked?
Graham cracker crust is truly versatile. You don't even need to bake it! However, it does need to be exposed to heat or cold for it to set.
Whether you make a no-bake graham cracker crust or bake it, the pie crust should contain the same ingredients. When chilled, the butter hardens and sets the crust. When baked, the sugar will melt with the butter to bind the crust.
Some bakers believe baking a crust develops more flavor, but it's really a matter of preference.
How Many Graham Crackers Equals 1 Cup of Crumbs?
The number of graham crackers needed to fulfill the recipe may vary depending on the type and size of your graham crackers. Instead of sticking to a hard and fast number, start with 11 full sheets of crackers and throw them into a food processor. After running the processor, pour the crumbs into your measuring cup to see if you need more.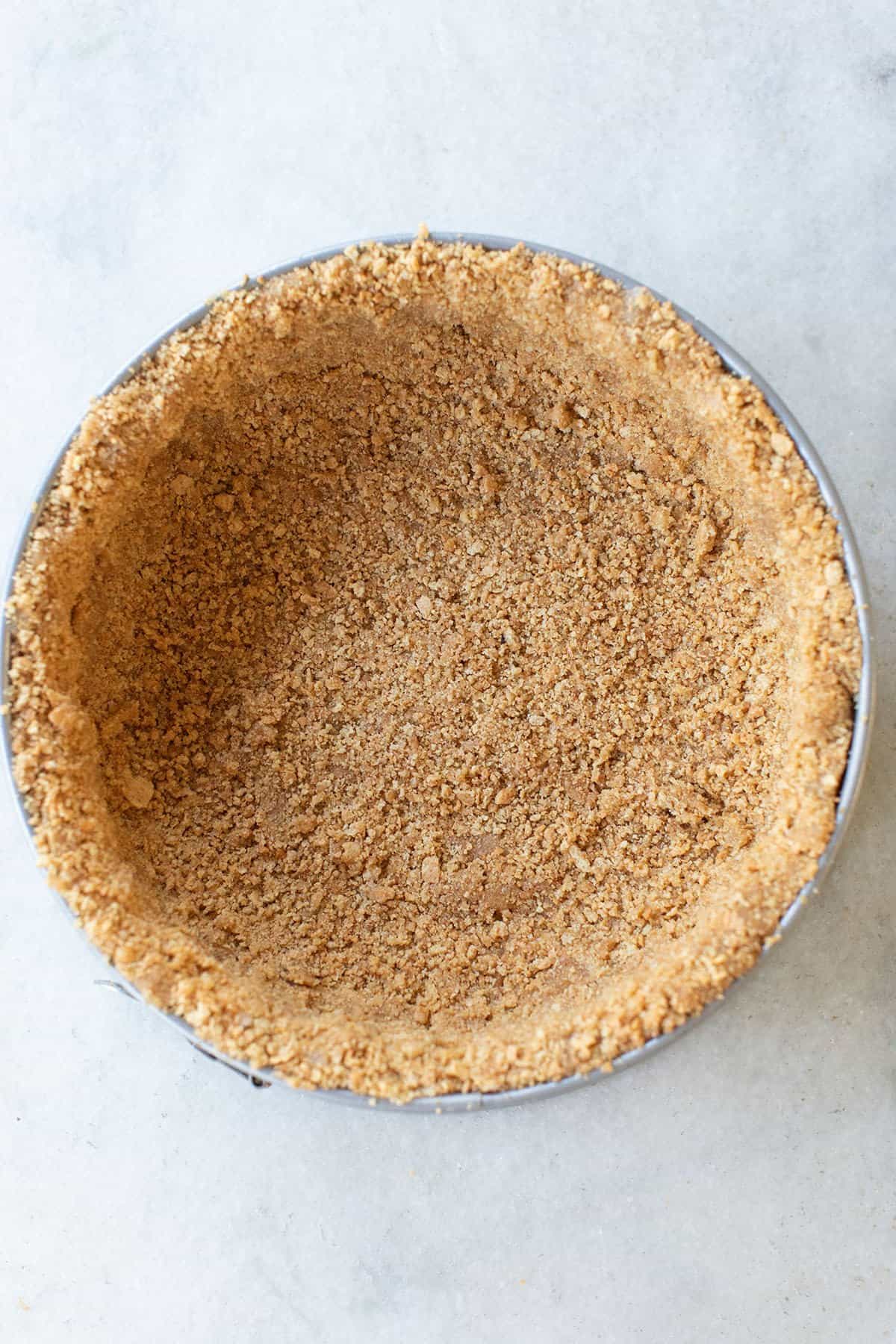 How Do You Make a Graham Cracker Crust That Doesn't Fall Apart?
One common issue new bakers face is a crumbly graham cracker crust that can't hold the filling and just falls apart. There are few things more disappointing than a pie crust fail.
To avoid this outcome, the crust needs to be moist enough and contain a binding agent. Finally, use a hard object, like a glass, to really press the mixture into the pie tin.
Why Is My Graham Cracker Crust Soggy?
When trying to avoid a graham cracker crust that falls apart, some novice bakers may end up with a soggy one instead.
This is usually due to too much moisture in the crust. Some bakers combat this with an egg white brushed over the bottom of the crust, then baked for a few minutes. This is one of the benefits of choosing to bake the crust.
What Can I Substitute for Butter in Graham Cracker Crust?
Lactose-intolerant, diet-conscious, or vegan bakers often look for butter substitutes when baking. Vegetable oil is a common one. It can also be used as a substitute for butter in a graham cracker crust.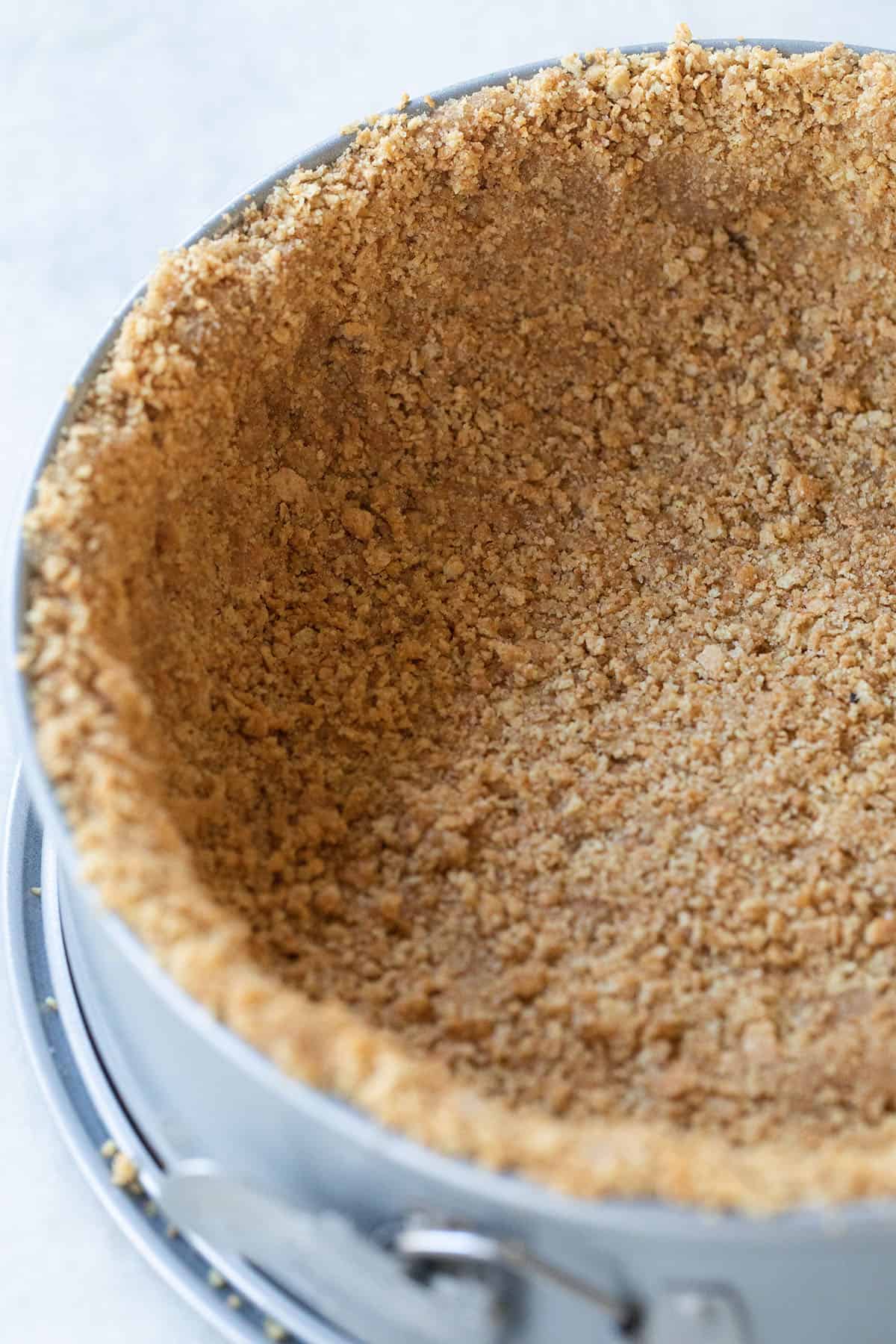 How Do You Keep Graham Cracker Crust Crispy?
Again, the key to avoiding a soggy crust and keeping it crispy is often heat. Pre-baking the crust before adding any fillings will help the crumbs resist moisture.
Can You Make It Ahead of Time?
When party planning, it's a good idea to prepare pie crust ahead of time. You can prepare the crust up to 2 days before, just remember to store it in the refrigerator so it doesn't spoil.
Let us know what you think!
Now you're ready to take the next step and start baking! Get your tools and ingredients together and get started. Leave a comment and review below and let us know what you think.
You can also FOLLOW US on FACEBOOK, INSTAGRAM, and PINTEREST to see more delicious recipes, cocktails, desserts, and parties!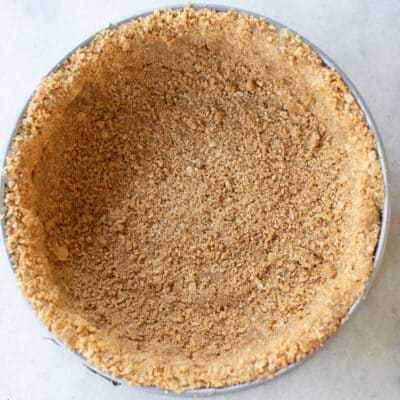 Graham Cracker Crust
An easy recipe for Graham Cracker Pie Crust that uses 4 simple ingredients. This recipe is for a springform pan and makes a nice thick crust. Cut it in half or a standard pie.
Print
Pin
Rate
Ingredients
4

cups

graham cracker crumbs

12

tbsp

unsalted butter

,

melted

1/3

cup

granulated sugar

1

tsp

salt
Instructions
In a bowl, combine garham cracker crumbs, melted butter, sugar and salt. 

Using a spatula, mix untilt the crumbs come together.

Press the crumbs into a buttered spring form pan, up the sides and the bottom. 

Bake for 10 minutes in a preheated 350-degree oven.

Let it cool completley before adding in the cheesecake mixture.
Notes
This recipe
is made
for a
deep-dish pie, with crust pushed up the sides or springform pan.
It makes a thick pie crust. If you're making a standard pie without pushing the crust up the sides, then
cut this recipe in half.
We prefer having more to play around with to ensure we get an even, thick crust.
Some recipes call for crust up the side and some do not. You may have extra crust left over. 
Cut this recipe in half if you're making one standard pie.
Nutrition
Calories:
3043
kcal
|
Carbohydrates:
387
g
|
Protein:
31
g
|
Fat:
156
g
|
Saturated Fat:
78
g
|
Polyunsaturated Fat:
6
g
|
Monounsaturated Fat:
45
g
|
Trans Fat:
5
g
|
Cholesterol:
301
mg
|
Sodium:
7435
mg
|
Potassium:
779
mg
|
Fiber:
14
g
|
Sugar:
163
g
|
Vitamin A:
3499
IU
|
Calcium:
369
mg
|
Iron:
17
mg