This recipe for ricotta cheesecake is made with ricotta and cream cheese for a light and fluffy texture. It's sweet, buttery and creamy. The whipped sour cream topping is the secret to this recipe and it's absolutely delicious!
And if you love cheesecake as much as we do, check out this bakery style classic cheesecake recipe! It's AMAZING!
I truly can't pass up a good cheesecake and was inspired to make this cheesecake because I love adding variations to my favorite desserts. Once you have a stellar base recipe, you can alter it with different ingredients and flavors. For example, switching out the type of cheese used in the recipe.
I've made a goat cheesecake, peanut butter cheese, red velvet cheesecake, and now the most amazing ricotta cheesecake. Can you guess cheesecake is one of my favorite desserts?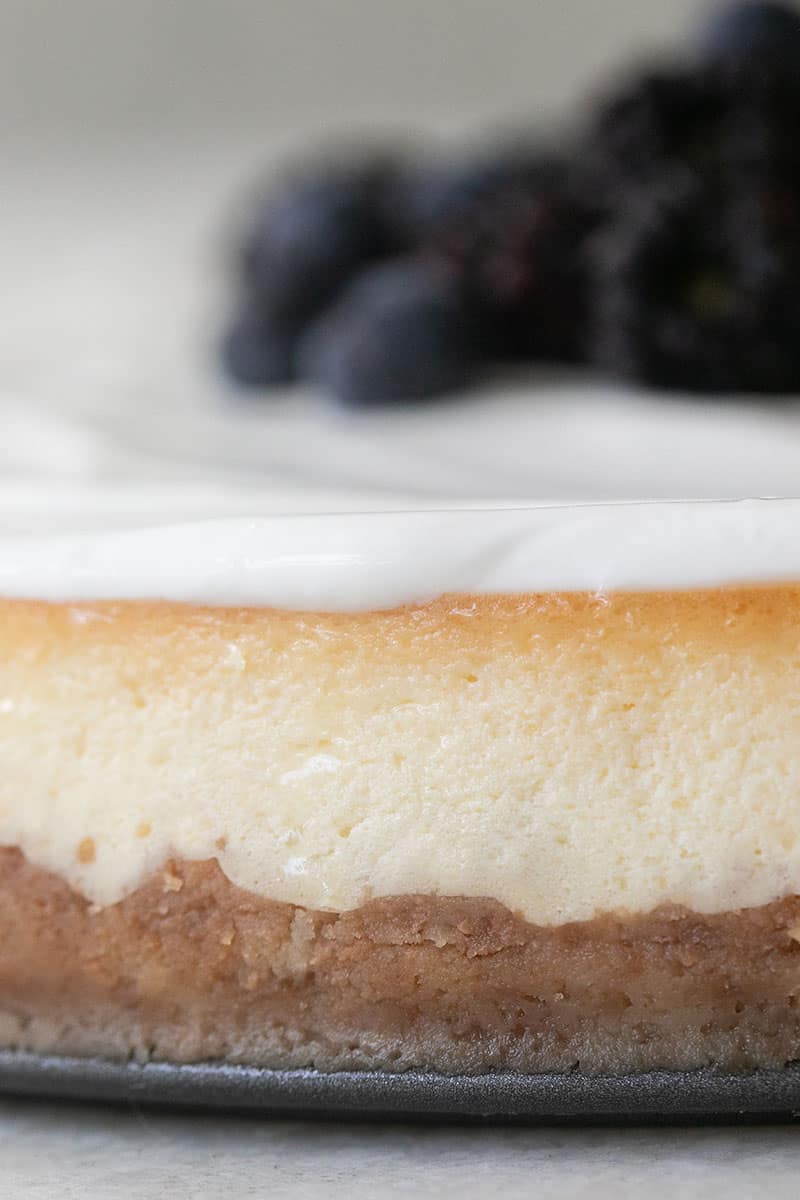 Look at those layers! A buttery cookie crust, with a thick layer of creamy ricotta cheesecake and a whipped sour cream topping. This recipe also has lemon juice and lemon zest. I love the essence of lemon zest and the flavor it adds to the cheesecake. It taste fresh!
Let's discus more about what ricotta cheese is…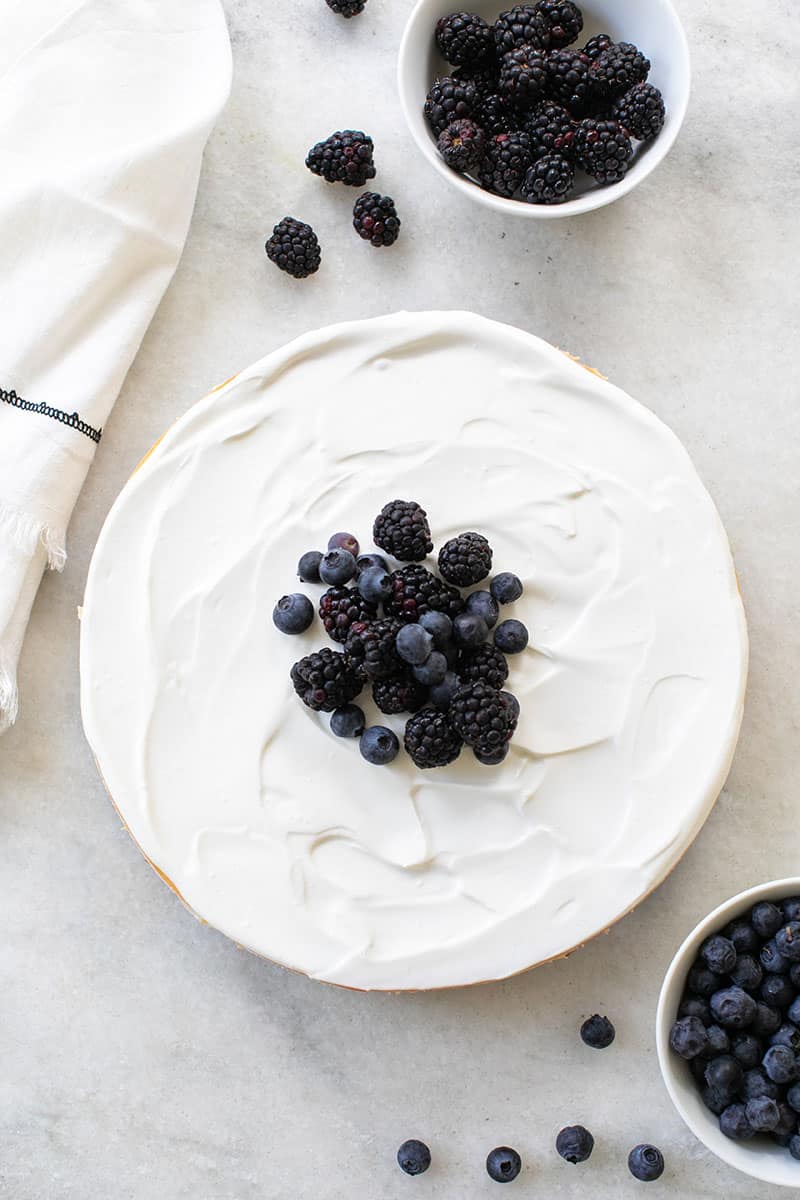 What is Ricotta Cheese?
Ricotta is an Italian whey cheese that is a light, fluffy, and a little grainy. It's made from the leftover production of whey from other cheese.
It can be made from all different animal milk, but we mostly consume cow milk ricotta. If you're interested, read this great article explaining how ricotta is made.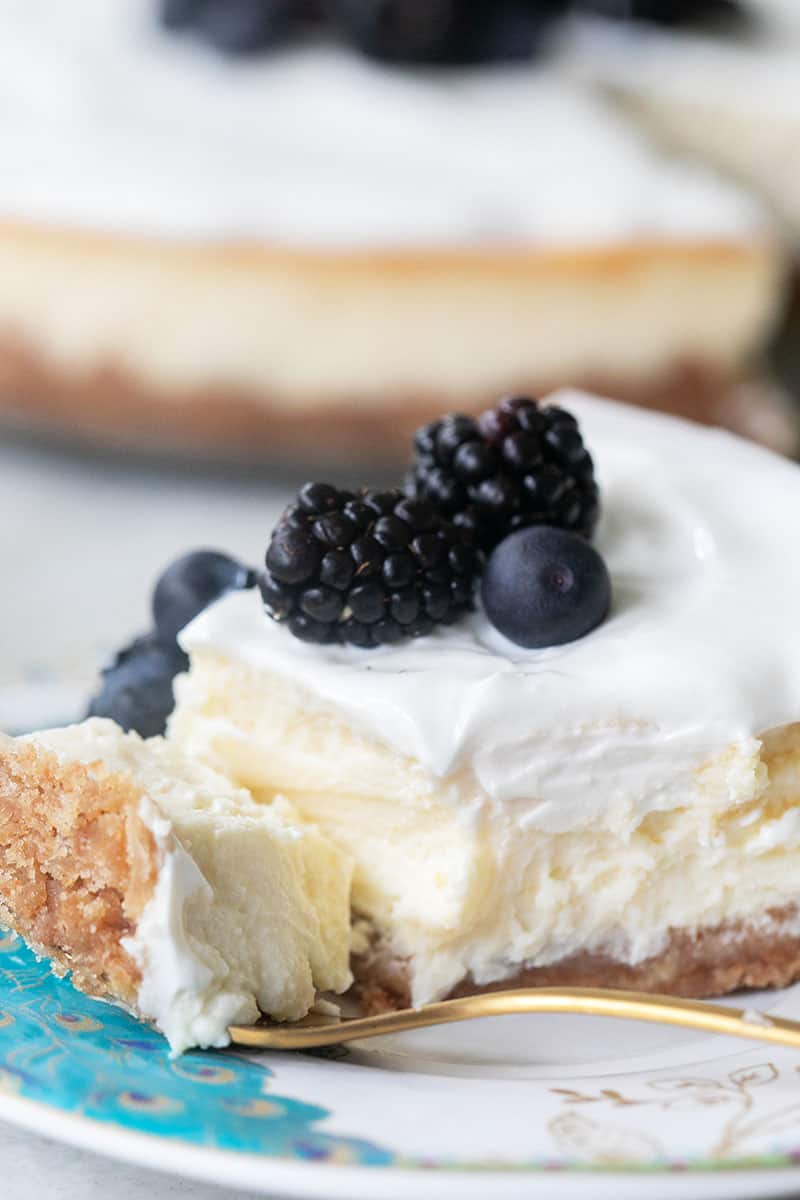 How to Make a Delicious Ricotta Cheesecake
Nilla Wafer Crust
First, start out with a two-ingredient, buttery Nilla Wafer crust. You can always switch it up and make a simple graham cracker crust or use plain biscotti crumbs to make a crust. All will work and taste amazing.
Unfortunately you can't buy a pre-made crust because this dessert must be baked in a springform pan. If you don't have one, invest in it because I'm sure you'll be making a lot of cheese cake after trying this recipe!
The crust uses only two ingredients… melted butter and crushed Nilla Wafers. Nilla Wafers are a bit old school, which is why I liked using them for this recipe. It just reminds me of something my grandma would make.
Tip for Making Cheesecake
It's important that the ingredients are room temperature when making a cheesecake, especially the cheese so it will whip nicely and not have any clumps.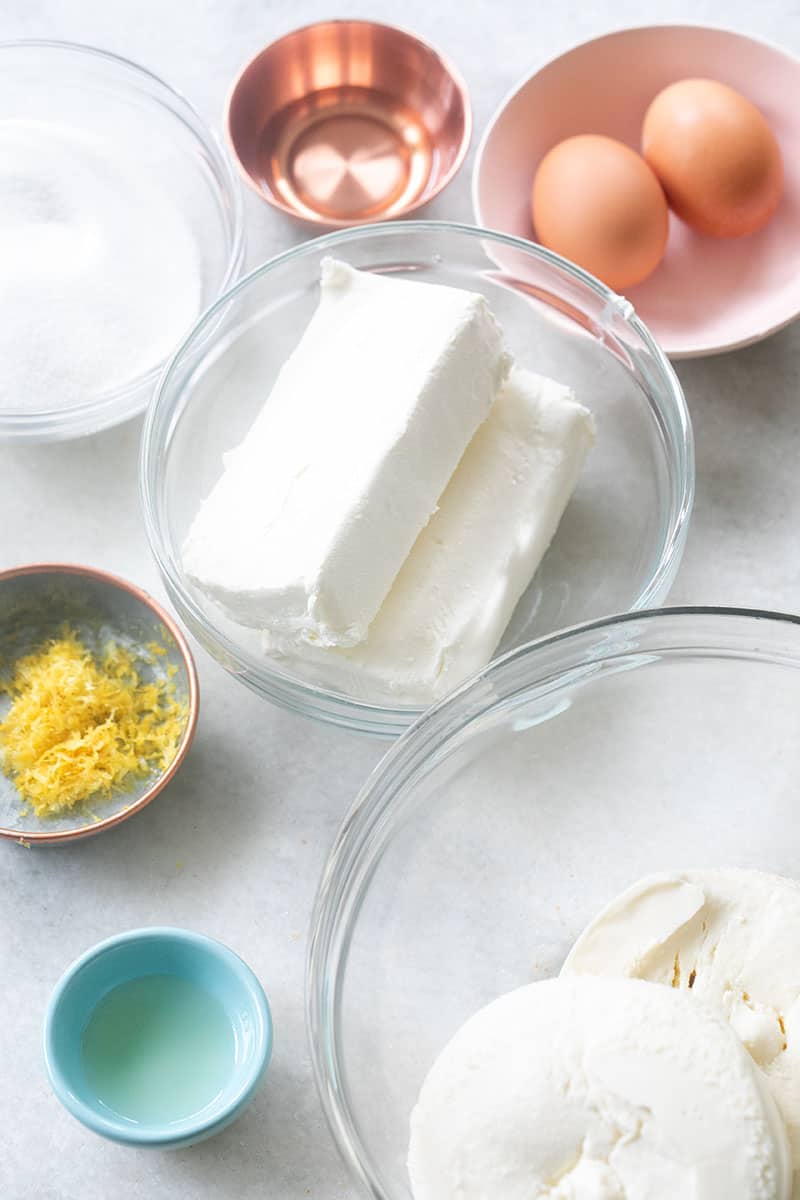 Our ricotta cheesecake only has 8 simple ingredients in it. Ricotta, cream cheese, sugar, eggs, lemon juice, lemon zest, vanilla extract, and salt. The lemon adds the perfect zing to the cheesecake.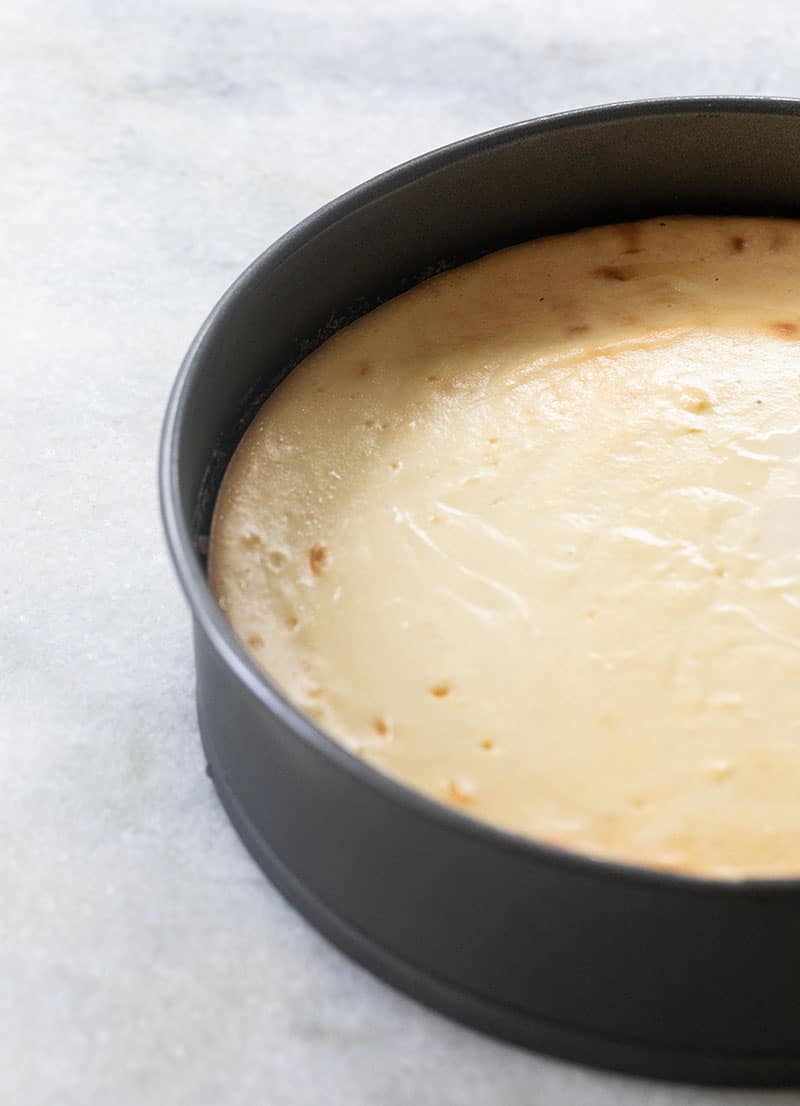 Tips for Baking a Cheesecake
This is the best way to bake a cheesecake. Since it's similar to a custard, you want to bake it slowly. Give it resting time and bake it in a water bath.
Springform Pan
Bake the cheesecake in a springform pan. It's the only way to remove the cheesecake from a pan because it has removable sides that can slide right off the top.
Baking in a Water Bath
Baking in a water bath can seem daunting, but I promise it's easy. Cheesecake is a custard and should be baked in a water bath to ensure slow and even baking and moistness.
A water bath is a shallow roasting pan, large enough to fit the springform pan in, filled with water. The roasting pan goes in the oven and the cheesecake sits in the water and bakes.
Tinfoil
I always wrap tin foil under and around the springform pan to make sure water doesn't leak into the cheesecake when baking.
Resting Time
After the cheesecake has baked in the oven for about 1 hour and 15 minutes, turn the oven off and leave the oven door cracked opened. Let the cheesecake rest in the warm oven for about 1 hour. This will let it settle and thicken.
Ricotta Cheesecake Secret Ingredient
Are you ready for the secret to this cheesecake? It's all about the whipped sour cream topping! This topping takes the cheesecake to the next level. It adds a whipped cream texture and brings all of the flavors together. It's SO GOOD!
It's whipped to perfection, lightly sweetened and adds the perfect amount of sourness to the cake. Truly worth every bite!
It's easy to make too! Just sour cream, vanilla extract and powdered sugar all whipped together. I love how it looks on the cheesecake too. It's so pretty with a fluffy white topping and berries.
What does cheesecake taste like?
Cheesecake tastes like a sweet cream cheese. A little tart, but more sweet. It has a light texture but it's dense and creamy. It's a wonderful dessert to serve. The seasonal fruit you serve it with will also alter the flavor. We love strawberries, blackberries, blueberries or cherries.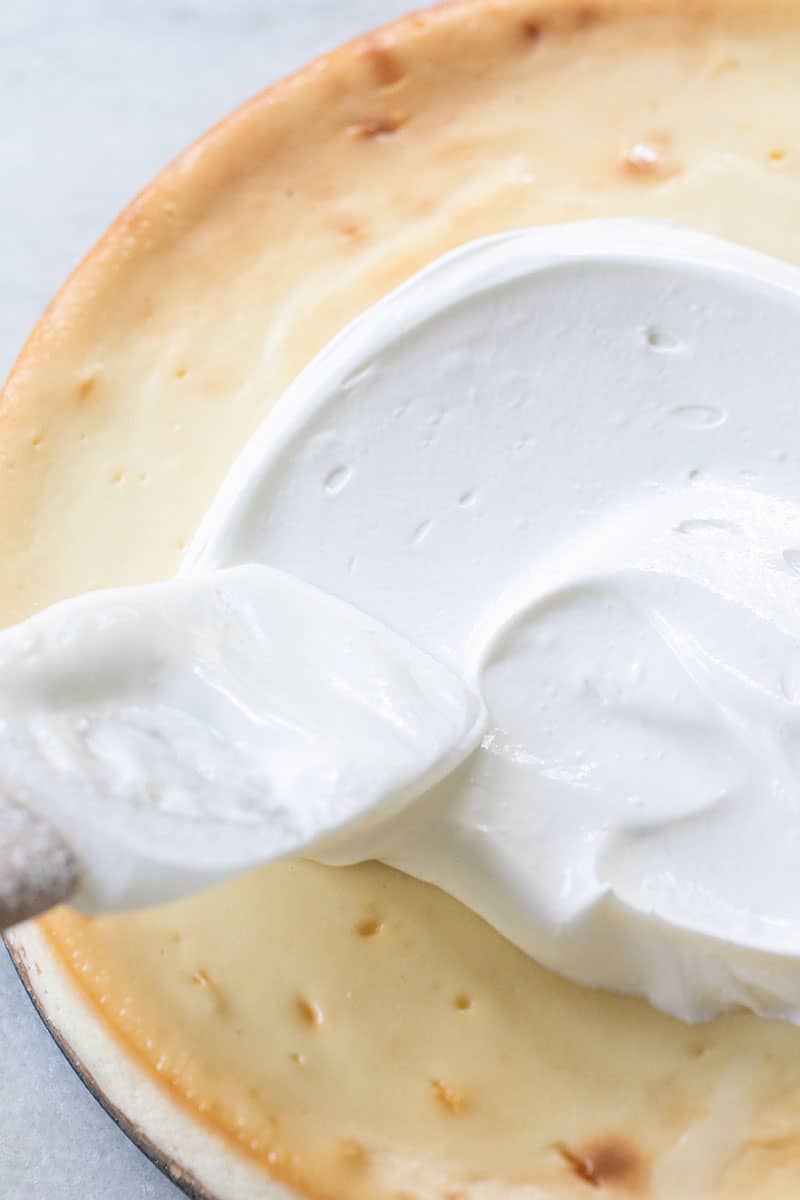 Using a spatula, spread the layer of whipped sour cream over the top of the cooled cheesecake.
Then top it with fresh, seasonal berries! Strawberries, blue berries, blackberries, cherries. Any berry that is in season when you make this ricotta cheesecake.
Can you freeze ricotta cheesecake? How long does it keep for?
You can freeze this cheesecake for up to a month. Wrap it in tin foil and store it in an airtight bag. You can defrost the cheesecake in the refrigerator overnight. Just take it from the freezer to the refrigerator and let it sit overnight.
Make-Ahead Ricotta Cheesecake
This cheesecake can be made the day before. It's always nice to get the dessert finished the day before a dinner party so you don't have to worry about it. Just remove the cheesecake from the refrigerator 20-30 minutes before serving and add the fresh berries.
More Cake Recipes You'll Love!
Ricotta Cheesecake with Whipped Sour Cream Topping
A rich and creamy cheesecake that is made with ricotta and creamcheese. It's topped with a whipped sour cream and fresh berries.
Print
Pin
Rate
Ingredients
Crust
1

box

Nilla Wafer Cookies

, crushed super finely in food processor

6

tbsp

melted butter
Filling
30

ounces

fresh ricotta

,

room temp.

16

ounces

cream cheese

,

room temp.

1

cup

granulated sugar

2

large

eggs

,

room temp.

2

tsp

lemon juice

,

fresh squeezed

2 1/2

tsp

lemon zest

2

tsp

vanilla extract

1/8

tsp

salt
Sour Cream Topping
7

ounces

sour cream

2

tsp

pure vanilla extract

2

tbsp

powdered sugar
Instructions
Preheat the oven to 350 degrees.

Add the cookies in a food processor and pulse until fine.

Pour into a medium mixing bowl and pour the melted butter over the top.

Blend with a spoon until it all comes together. It can be a little crumbly.

Press firmly into the bottom of a 9.5 – 10" springform pan.

Bake for about 6 minutes and set aside.
Cheesecake Filling
Drain ricotta in a strainer over a bowl for 30 minutes.

Arrange rack in lower third of oven.

Puree ricotta for 15 seconds in food processor

Add cream cheese and process until smooth.

Add remaining ingredients and process for 30 seconds.

Wrap the springform pan in tin foil.

Place the springform pan in a baking pan (raosting pan works well), set it on the oven rack and then add boiling water until it covers 1/2 springform pan sides. A tea kettle works great for pouring the water into the roasting pan.

Bake until golden brown at 350 for about 1 hr 15 min.

Once it's done, prop the oven door (not all the way) and let the cake sit in oven for about 1 hour for resting time.

It's okay if the cake falls slightly.
Sour Cream Topping
Using an electric mixer, whip the sour cream, sugar cand vanilla until whipped and light.

Spread it over the top of the cooled cheesecake.
Notes
If you're serving the cheesecake straight from the refrigerator, let it sit out for 10-20 minutes to bring the temperature down. It's the same rule that applies to cheeseboards. 
You can use cookies or graham crackers for this crust. Whatever you prefer! 
Store in the refrigerator for up to 3 days. 
Store in the freezer, tightly covered for 1 month.
Nutrition
Calories:
635
kcal
|
Carbohydrates:
34
g
|
Protein:
18
g
|
Fat:
48
g
|
Saturated Fat:
29
g
|
Cholesterol:
205
mg
|
Sodium:
425
mg
|
Potassium:
244
mg
|
Fiber:
1
g
|
Sugar:
30
g
|
Vitamin A:
1732
IU
|
Vitamin C:
2
mg
|
Calcium:
313
mg
|
Iron:
1
mg