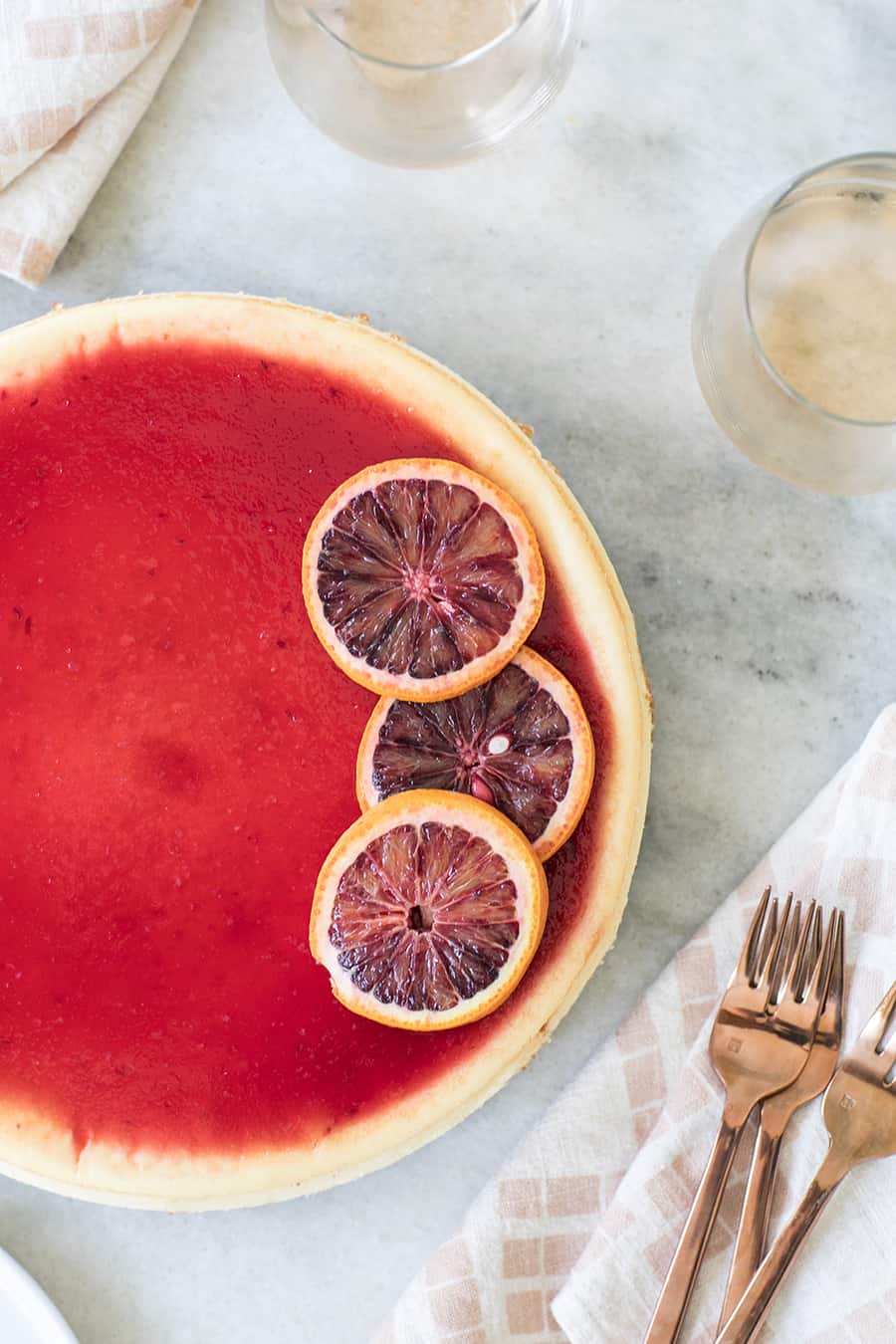 We couldn't get enough of this Blood Orange Cheesecake recipe! I get extremely excited when blood oranges are in season. The color is so vibrant and I love experimenting with the flavor of the deep red orange. We've made appetizers and cocktails from them, but this time I was craving a cheesecake and knew the blood orange would make the most beautiful topping! I always use my go-to cheesecake recipe, adapted from Dorie Greenspan's book Baking, and then alter it to whatever flavor I feel like having.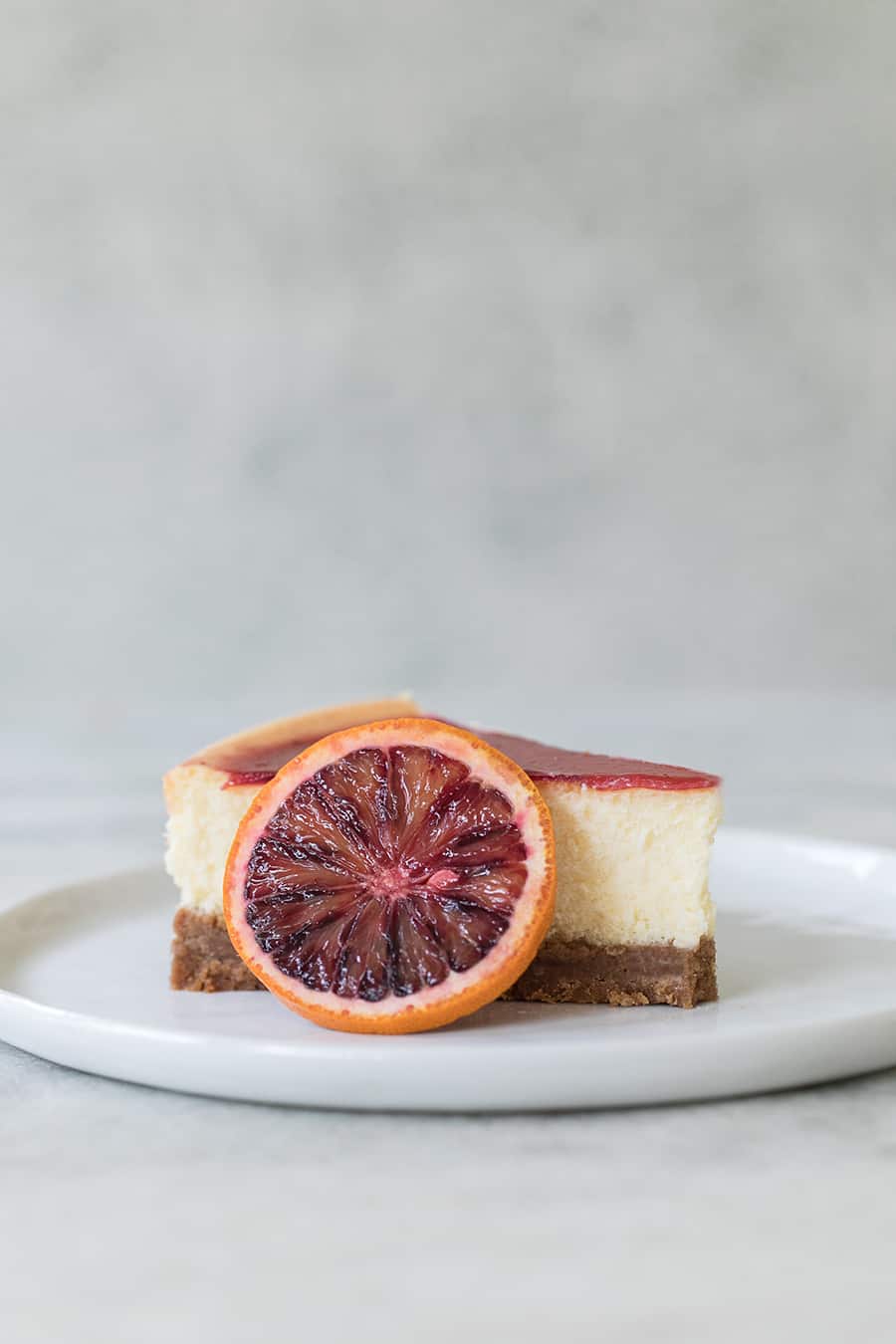 The blood orange flavor adds a subtle sweetness and tartness to the cheesecake and it pairs really well together!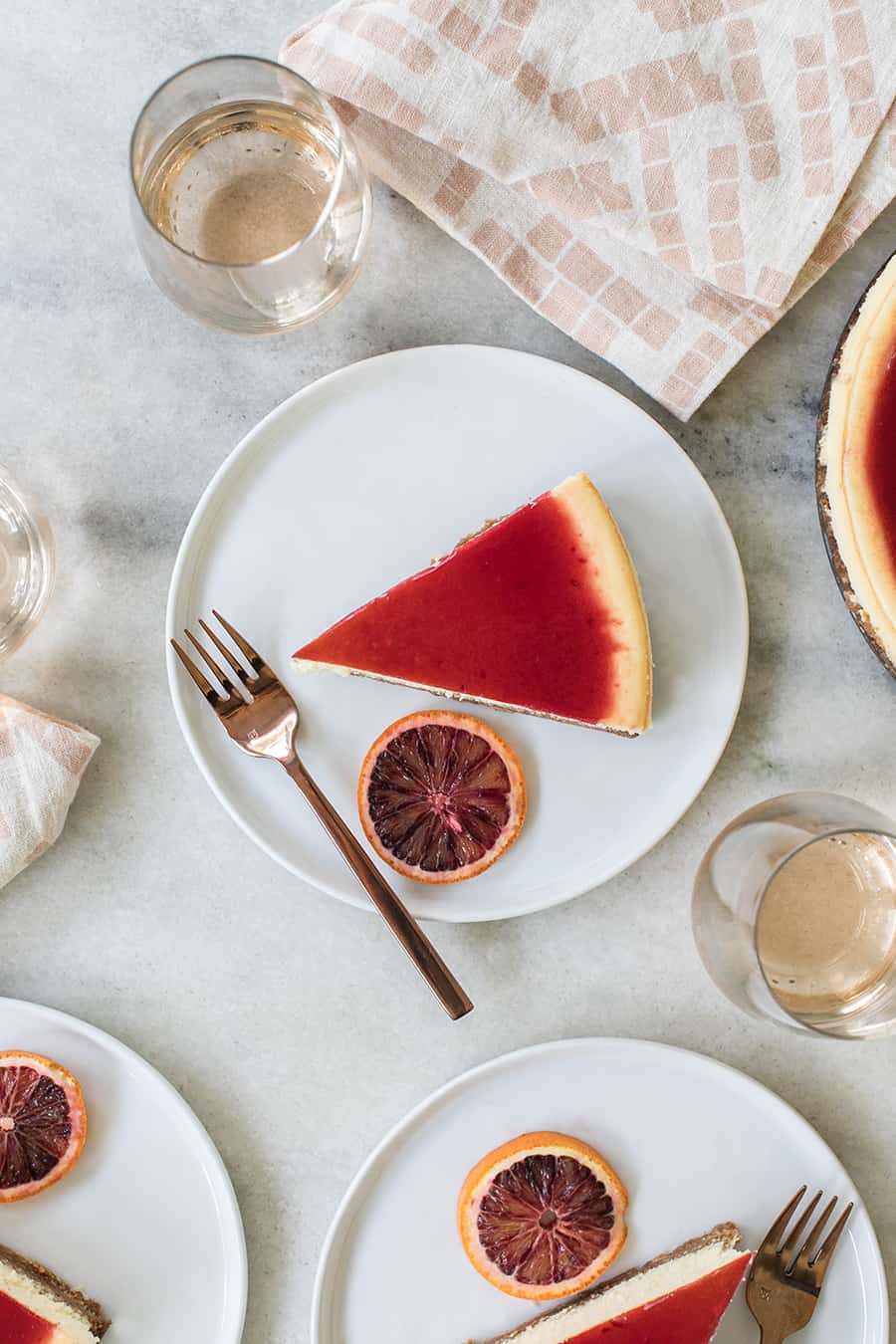 I served the Blood Orange Cheesecake with a light rosé, which also paired well. I really am a "rosé all day" person in the summer!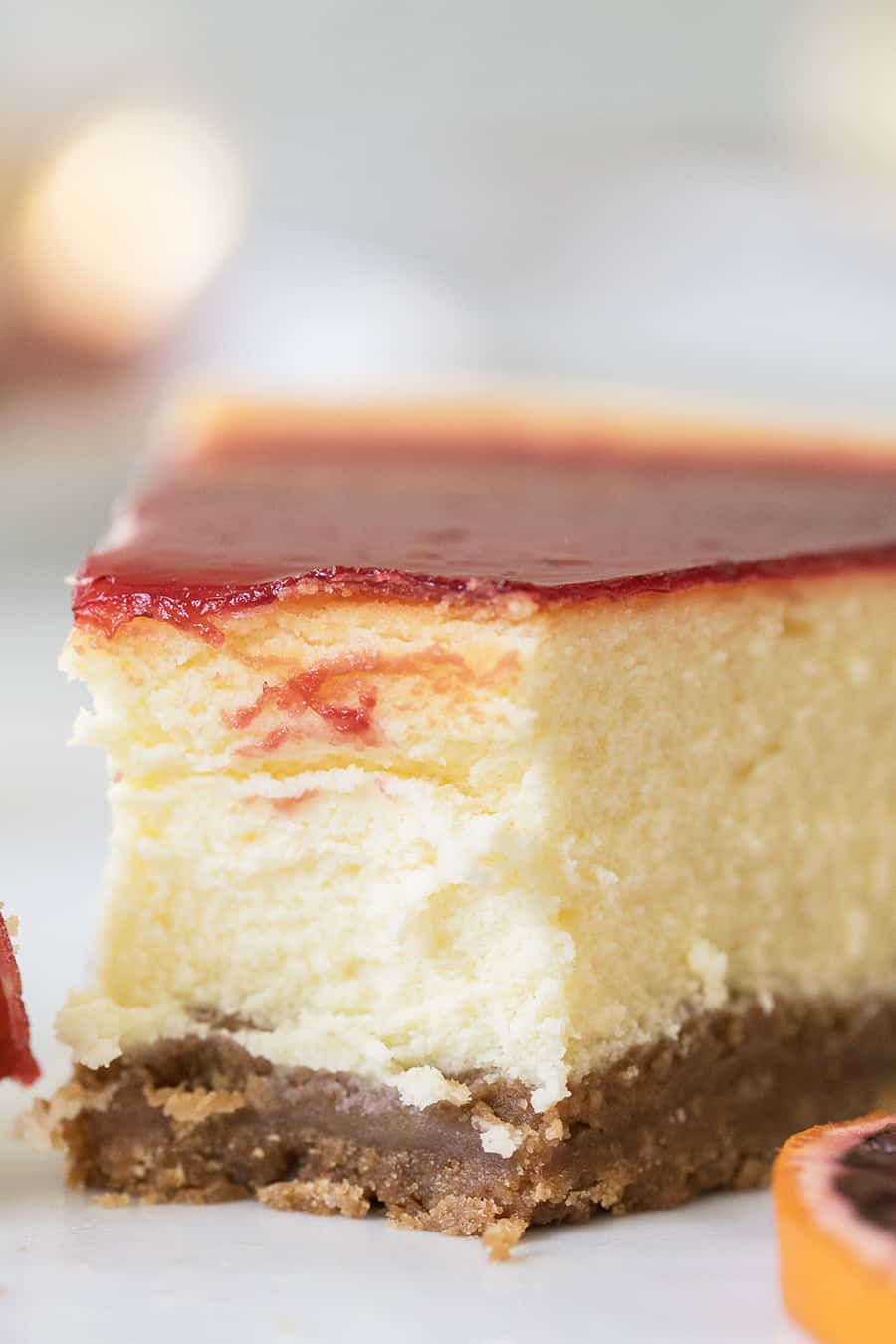 Seriously, this cheesecake is so creamy and rich! It's always a hit when I make it!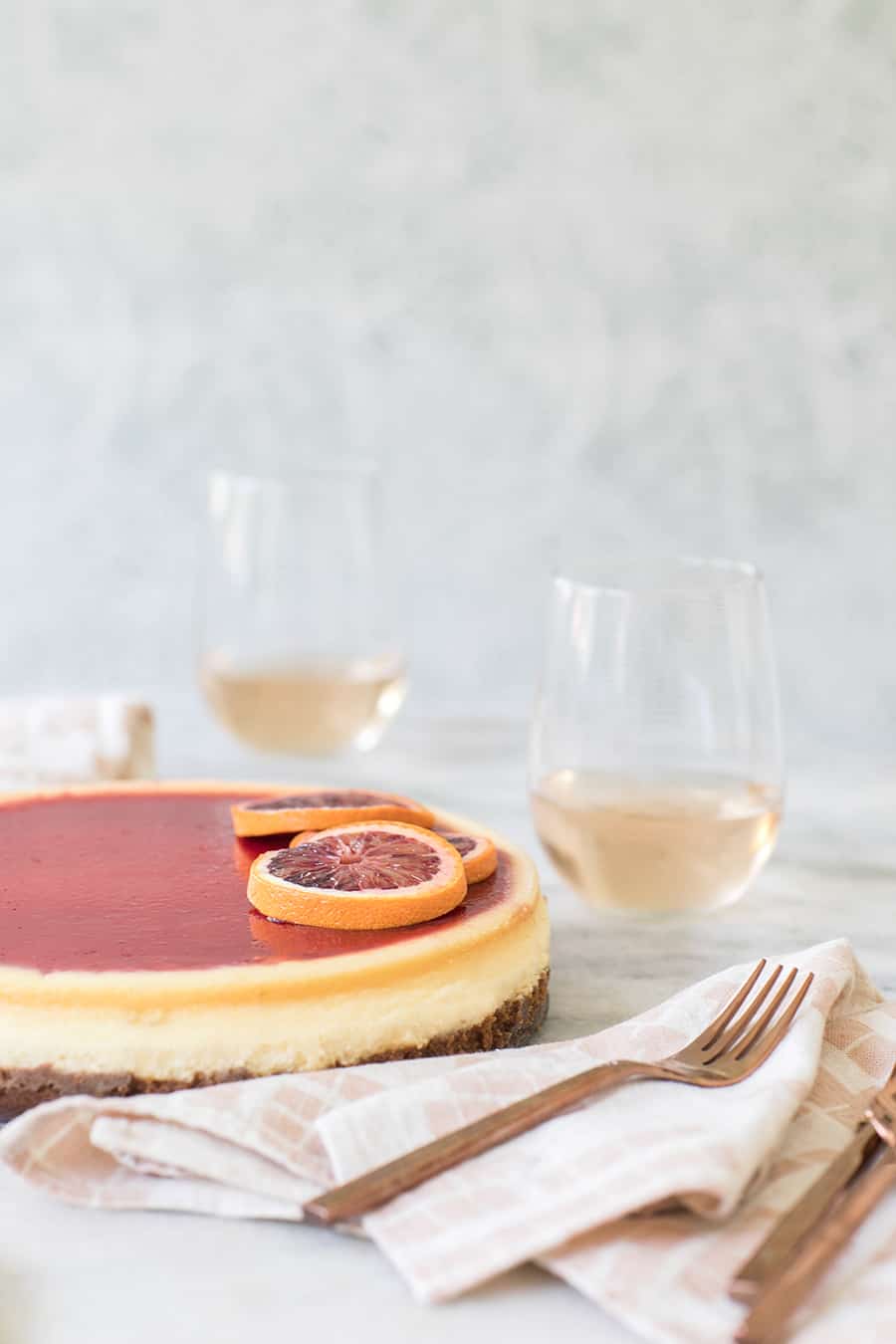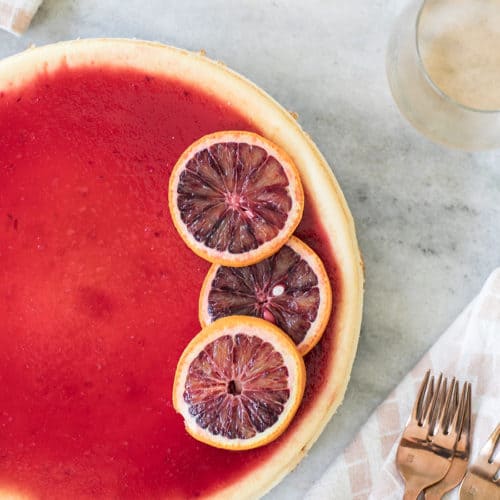 Ingredients
Cheesecake Filling ( ADAPTED FROM DORIE GREENSPAN BAKING)
4

8 ounce

boxes of cream cheese

, room temperature (must be room temp)

1⅓

cups

granulated sugar

1/2

teaspoon

salt

2

teaspoons

vanilla extract

4

large

eggs

, room temperature

1⅓

cups

heavy cream
Graham Cracker Crust
3 ½

cup

graham crackers crumbs

, you can use a small food processor to make the crumbs even smaller

6

tbsp

granulated sugar

1

tsp

salt

½

cup

unsalted butter, melted
Blood Orange Glaze
¾

tsp

unflavored gelatine

10

tbsp

fresh squeezed blood orange juice

2

tbsp

granulated sugar

¼

tsp

cornstarch
Instructions
Graham Cracker Crust Instructions
Add the graham crackers, sugar and salt in a bowl and stir. Add in the melted butter and mix together.

In a buttered, round springform pan (this is super important to use) press the crust down in an even layer.

Wrap tinfoil around the bottom of the outside pan, bake the crust for 10 minutes in a 350 degree oven.
Cheesecake Filling Instructions
Turn the oven to 325 degrees and boil some water in a kettle for later

Beat cream cheese on medium (about 4 minuntil light and fluffy, scraping down the sides. Make sure you scrape the bottom and sides to remove any clumps of cheese.

With the mixer running, add sugar and salt and continue to beat for another 4 mins.

Beat in the vanilla and add eggs one at a time, beating full after each addition.

Reduce speed to low and add heavy cream

Pour batter on top of the crust, leaving a little room at the top for the cheesecake to rise.

(Add caramel and peanut butter sauce on top before baking… see below for recipe)

Place the foil wrapped pan in a larger roasting pan and pour boiling water around the edges, halfway up to the springform pan, kind of like when you're baking a soufflé.

Bake for 1 hour, until the top of the cheesecake is brown. Turn the oven off, prop the door open with a wooden spoon and let the cheesecake sit in there for another hour.

Take it out and let it cool at room temperature, then place it in the fridge for at least 4 hours or overnight.
Blood Orange Glaze Instructions
In a small bowl, sprinkle gelatin over 2 tablespoons of the juice; let sit until soft

In a small saucepan, bring sugar and 4 tablespoons juice to a boil.

Combine remaining 6 tablespoons juice and cornstarch in another small bowl.

Stir until dissolved and whisk into boiling orange juice.

Remove from heat. Stir in softened gelatin.

Cool to lukewarm, and pour over the cheesecake before it hardens