Hello chocolate peanut butter cheesecake!! Cheesecake is one of my absolute favorite desserts!! I've always loved experimenting with it and trying new flavor combos.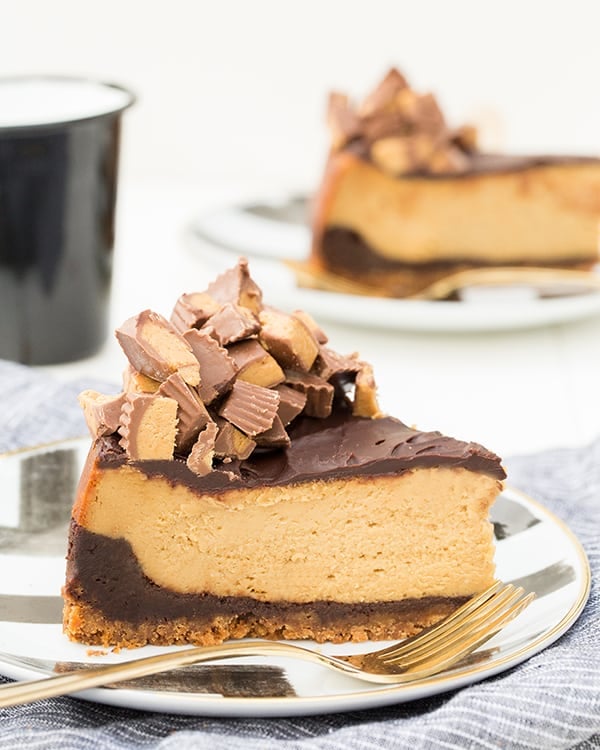 For this one, we made a chocolate peanut butter cheesecake with 3 layers! This guy has a graham cracker crust (because that's the best crust for a cheesecake) a chocolate layer, a peanut butter cheesecake layer and then it's topped with a chocolate ganache!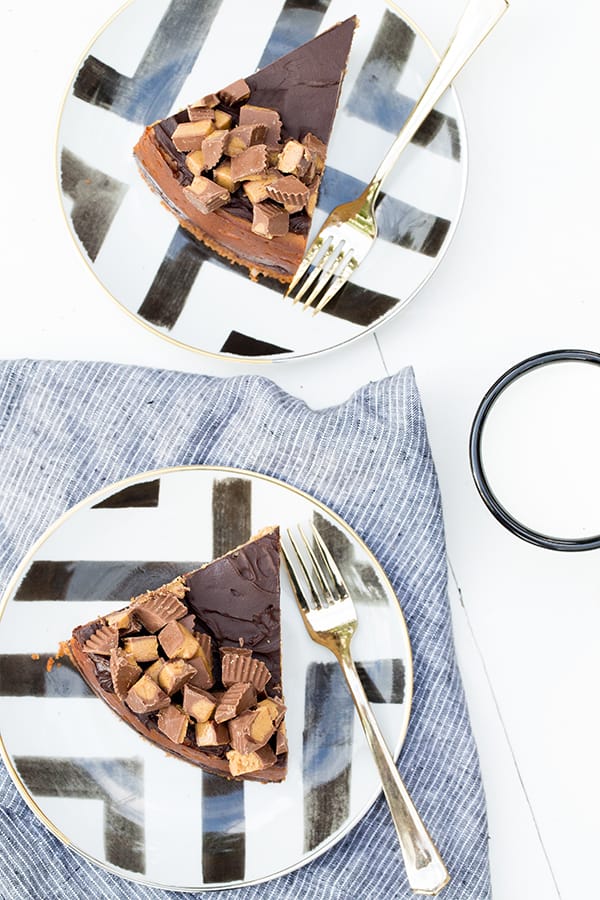 Oh yeah, we also added chopped Reese's Peanut Butter Cups to the top because we're crazy like that. It's very rich and dense, as you can imagine, but SO good and not too complicated to make either! Enjoy this cheesecake, but don't overdo it since we don't have a recipe for tummy aches on the site!!
More Recipes You'll Love
Ricotta Cheesecake with Sour Cream Topping
Blood Orange Cheesecake Recipe
You can also FOLLOW US on FACEBOOK, INSTAGRAM, and PINTEREST to see more delicious recipes, cocktails, desserts, and parties!
Chocolate Peanut Butter Cheesecake Recipe!
Easy Chocolate Peanut Butter Cheesecake Recipe
Print
Pin
Rate
Servings: 12 people
Calories: 851kcal
Ingredients
Graham Cracker Crust
½ cup butter, melted
2 cups graham cracker crumbs
3 tbsp brown sugar
pinch salt
Chocolate Layer
6 ounces semi-sweet chocolate
6 tbsp butter
½ cup sugar
2 large eggs
2 tbsp all-purpose flour
Peanut Butter Cheesecake
24 ounces cream cheese, room temperature. Must be room temp!
1½ cups brown sugar
1 cup peanut butter, room temp
½ cup heavy cream
3 large eggs
1 egg yolk
Chocolate Ganache
3 ounces semi-sweet chocolate
2 tbsp heavy cream
Instructions
Preheat oven to 300 degrees and boil some water in a kettle for later.

To prepare crust; In a small bowl, combine graham cracker crumbs and brown sugar. Add melted butter, stirring to combine. Press crust into bottom of a 9-inch springform pan. Bake for 6 minutes, remove and let cool.

To prepare the chocolate layer, in a medium bowl, combine chocolate and butter. Microwave on high in 30 second intervals, stirring after each, until chocolate is melted and smooth (about 2 minutes total).

Whisk in sugar, eggs, and flour, until combined. Pour into bottom of cooled crust, and bake for 15 minutes. Remove and let cool completely.

To prepare peanut butter layer, in a large bowl, beat cream cheese and brown sugar at medium speed with an electric mixer until creamy. Beat in peanut butter until combined. Add in eggs and egg yolk, one at a time, beating well after each addition. Stir in the heavy cream. Pour over cooled chocolate layer.

Wrap foil around the springform pan and place the pan in a larger roasting pan. Pour boiling water halfway up to the springform pan. Kind of like when you're baking a soufflé.

Bake for 1 hour, until the top of the cheesecake is brown. Turn the oven off, prop the door open with a wooden spoon and let the cheesecake sit in there for another hour.

To prepare chocolate ganache, in a small bowl, combine chocolate and cream. Microwave on High in 30 second intervals, stirring after each, until chocolate is melted and smooth (about 1 minute total). Spread over cooled cheesecake. Garnish with chopped chocolate Reese's Peanut Butter Cups and enjoy!
Nutrition
Calories: 851kcal | Carbohydrates: 68g | Protein: 14g | Fat: 60g | Saturated Fat: 30g | Polyunsaturated Fat: 5g | Monounsaturated Fat: 19g | Trans Fat: 1g | Cholesterol: 210mg | Sodium: 536mg | Potassium: 449mg | Fiber: 4g | Sugar: 53g | Vitamin A: 1500IU | Vitamin C: 1mg | Calcium: 140mg | Iron: 3mg