A rich and creamy easy chocolate ganache recipe using only 2 simple ingredients. It's perfect for cakes, cupcakes, donuts, brownies, or as a chocolaty, silky dipping sauce. 
Ganache contains only 2 ingredients and only a few minutes to make. We even use morsels so you can skip the chocolate chopping and extra dishes! This is an easy chocolate ganache recipe that you can make in minutes! No double boiler is needed!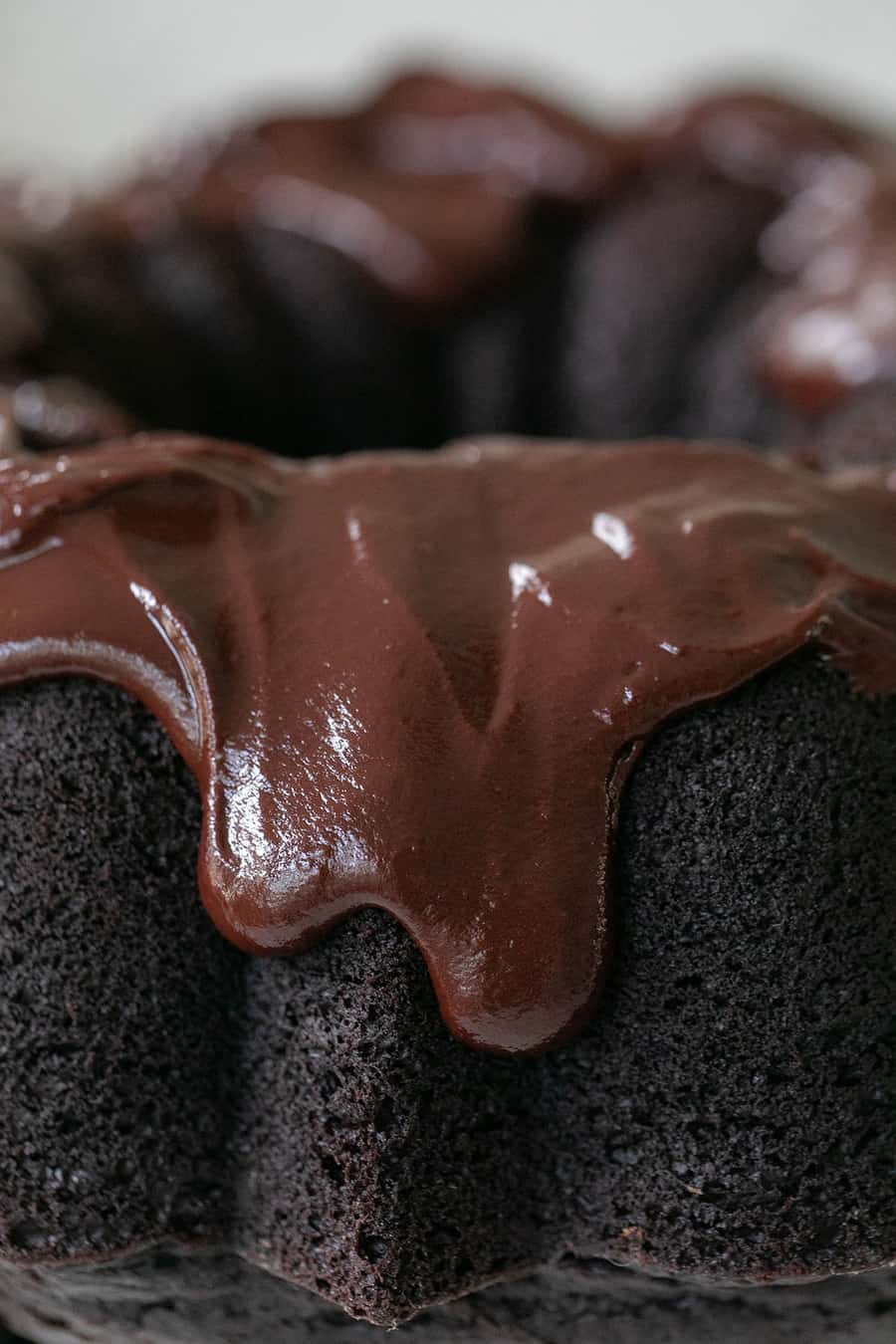 Ganache is a French term for sweet creamy chocolate mixture used especially as a filling or frosting. Chocolate ganache is equal parts chocolate and hot cream. The two ingredients are stirred until smooth. The name makes it seem much fancier than it is. It's a quick and easy recipe and its uses are very versatile. We use this recipe for our chocolate ganache bundt cake.
Chocolate ganache can be used to fill or frosting for chocolate cupcakes, bundt cakes, ice cream sauce, cake topping, and many more.
Like our easy caramel sauce, this recipe is also very versatile. It's used for several desserts and can even be whipped into a delightful chocolate frosting.
What exactly is ganache?
It's similar to a chocolate glaze, icing, or filling used for desserts that are made from chocolate and cream. It's made with just two ingredients and thickens as it cools.
If this is your first time making ganache, you're going to be pleasantly surprised by how easy it is! Our complete guide will show you how to make a super easy and delicious chocolate ganache in just a few steps!
How to Make Chocolate Ganache
This recipe is so simple! You'll need a whisk, medium saucepan, and measuring cups.
INGREDIENTS
Heavy Cream – This is the base of the ganache. It will thicken the chocolate sauce and create a ganache texture. You can use heavy cream or heavy whipping cream.
Semisweet Chocolate Morsels – Chocolate chips add flavor and texture to the ganache. You can also use bittersweet chocolate or milk chocolate if you prefer that flavor. We use chocolate morsels instead of a chocolate bar to save time. However, a chopped chocolate bar works just as well.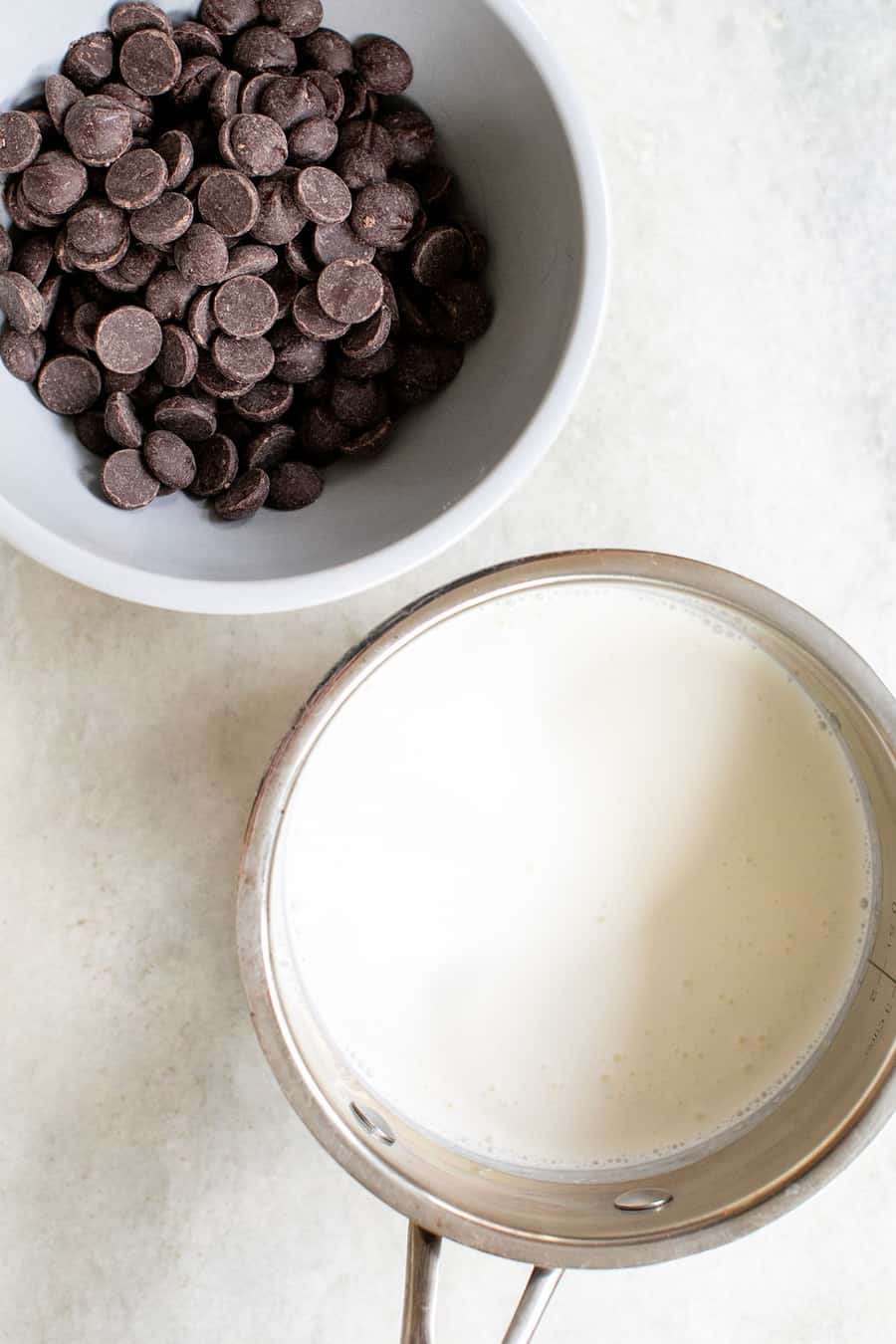 DIRECTIONS
Prepare milk – In a medium saucepan, pour in the heavy cream.
Heat the milk – On low heat, bring it to a soft boil. Then remove it from the heat.
Add in the semi-sweet chocolate chips – Let them sit in the warm cream for 1 minute.
Whisk vigorously – Whisk until the chocolate is completely melted. It will start to become thicker and the texture of the ganache should be super smooth, silky, and creamy.
Done – Once the chocolate is melted, the ganache is completed. Pour the warm ganache over a cake, donuts, cupcakes, or in a small bowl for chocolate-covered strawberries.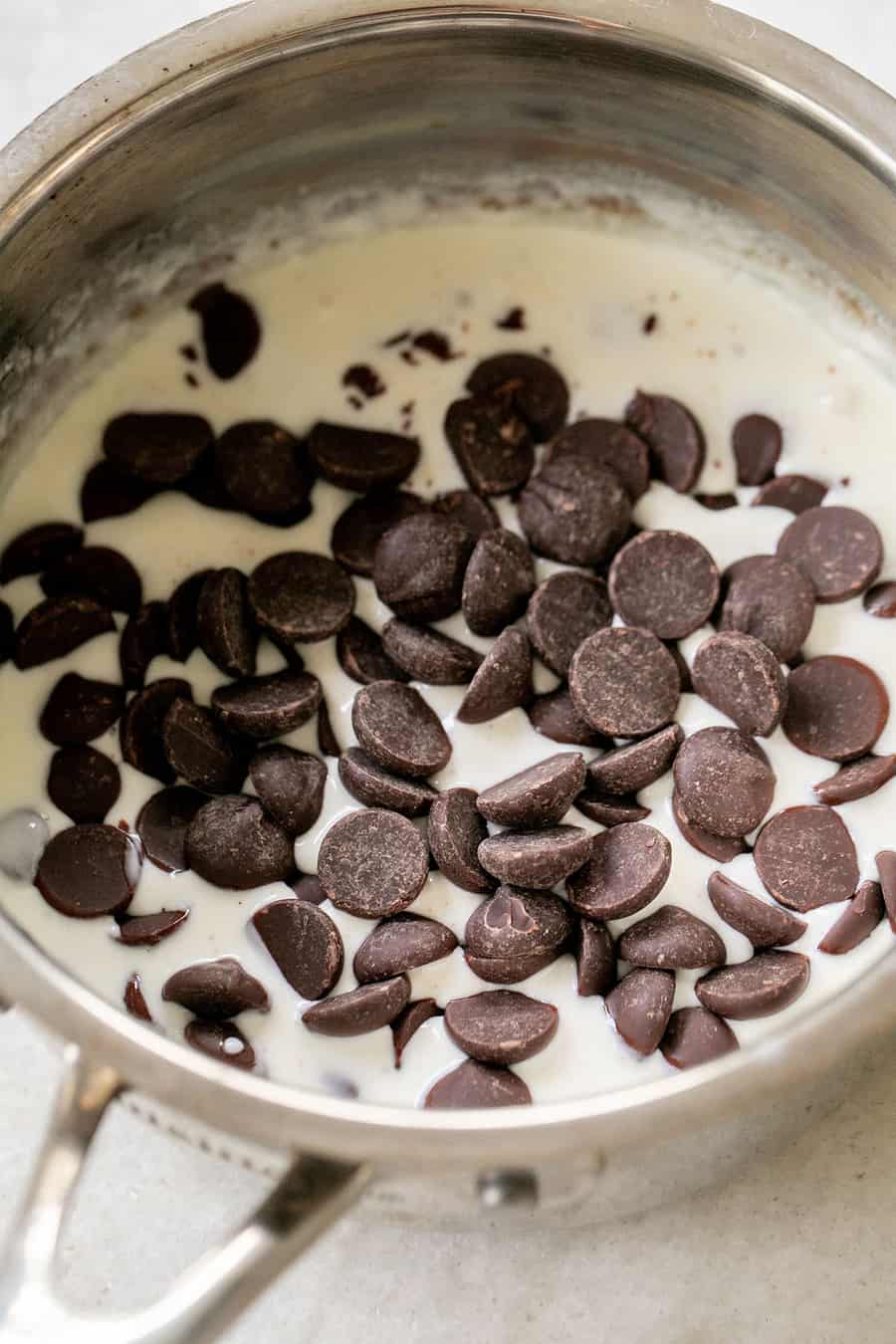 Ganache Flavor Variations
This ganache is rich, chocolaty as is, however, if you want to add a little more to your ganache there are several ways you can do that:
Add in 1 teaspoon of instant coffee granules. Coffee brings out even more chocolate flavor.
Add 1 teaspoon vanilla extract to the ganache. You can even use extracts like lavender, orange, or almond.
Add in a tablespoon of flavored liqueur like orange or hazelnut.
Add butter or corn syrup to give your ganache a shiny appearance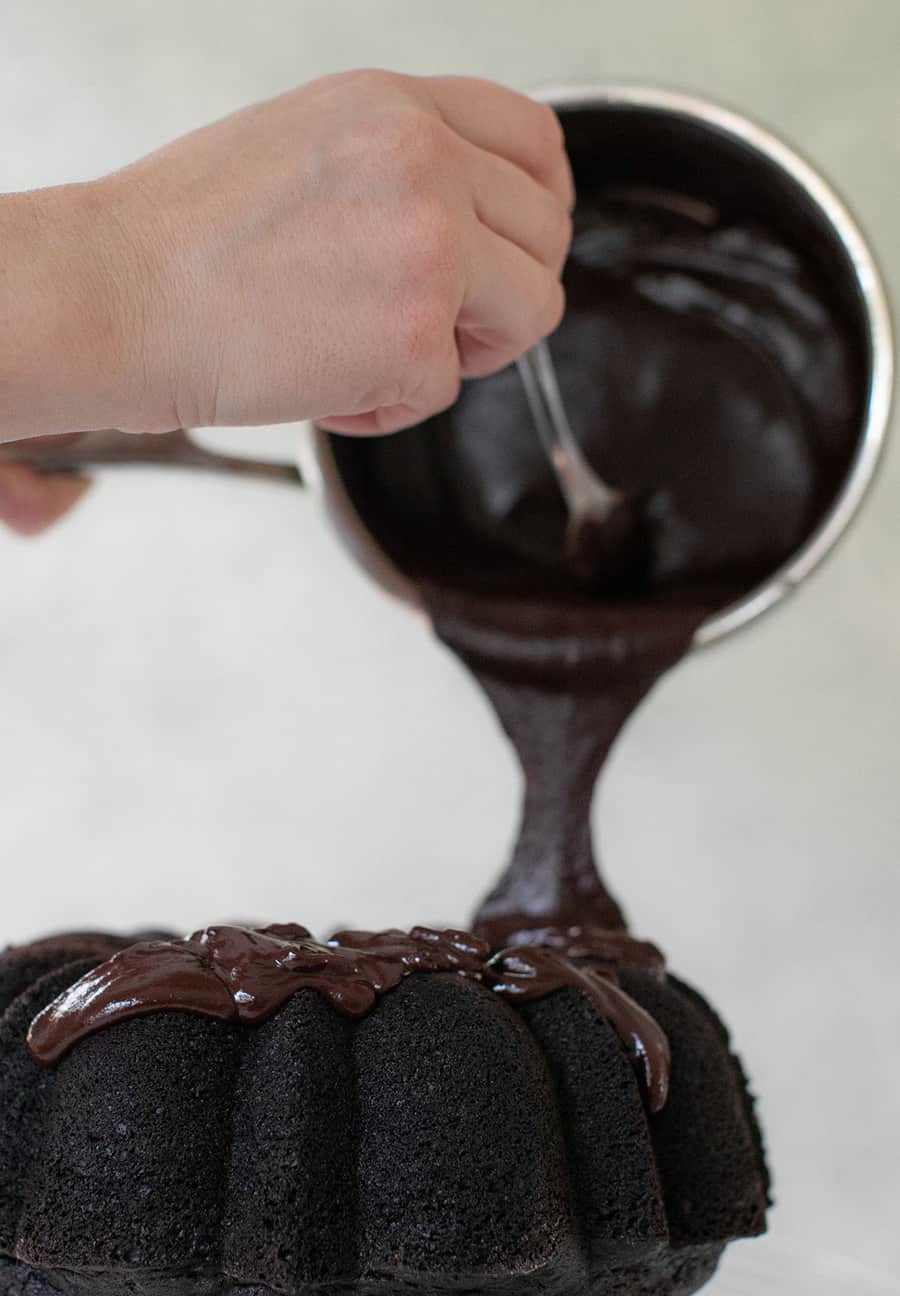 Types of Chocolate
Use white chocolate for a white chocolate ganache.
Dark chocolate to make a dark chocolate ganache.
A mixture of chocolate to make your blend.
Chocolate Ganache Ratios
You can change the ratio of chocolate and the amount of cream to make a softer ganache or a harder ganache. Here's how to make three different classic ganaches:
2:1 Ratio – Two parts chocolate to one part cream. This ratio uses less cream and will make a firmer ganache that's perfect for chocolate truffles.
1:1 Ratio – This is the basic ratio for a classic ganache. This ratio makes the perfect ganache for pouring over cakes and dipping fruit. It's a thicker glaze, but It will harden and set. It's still soft enough to pour over desserts.
1:2 Ratio – A one part chocolate and two parts cream you'll have liquidy or soft ganache, which can be whipped into a mousse-like consistency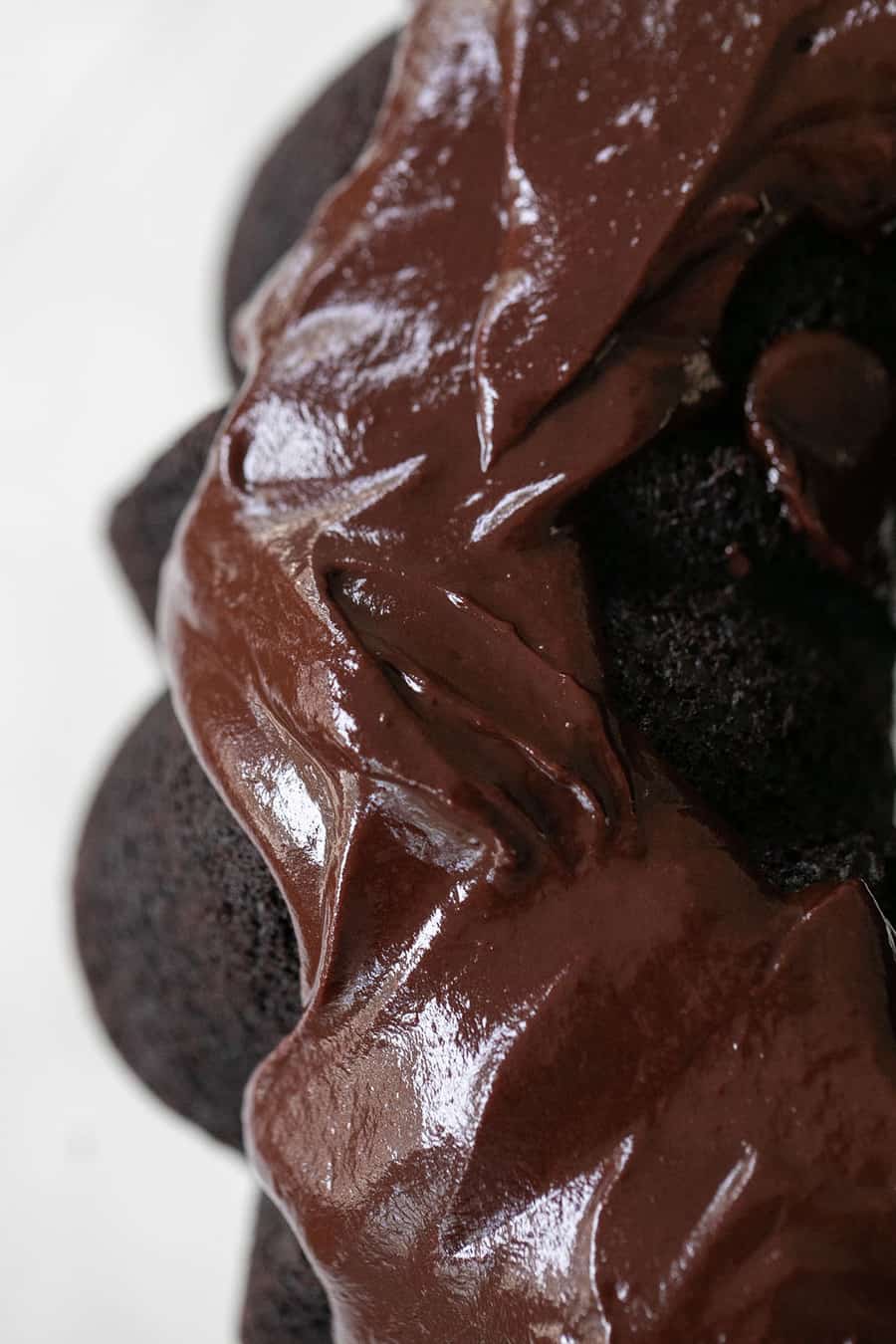 Whipped Ganache
Here's how you can make a beautiful whipped chocolate ganache frosting:
Using an electric mixer, add the cooled (must be cooled) ganache into a mixing bowl, with the fitted whisk attachment.
Beat for 5 minutes on high until it's whipped to perfection.
It's a delicious frosting for a chocolate cake or fluffy cupcakes.
How to Store Chocolate Ganache
Room Temperature
Classic ganache can be stored at room temperature for up to two days before it will require refrigeration. If served the next day, you'll be fine with leaving the ganache or a dessert frosted in ganache out in an airtight tin.
Refrigerator
If you plan on using ganache later, store it in an airtight container in the refrigerator for up to one week. Know that the ganache will harden in the cold, so allow it to sit at room temperature before using or serving. You can also heat the cake if necessary.
Freezer
Ganache freezes well and can last from three to nine months in a freezer. Store it in an airtight container to keep it fresh. The ganache will harden as it freezes but can be softened through dethawing methods. When you want to use the ganache thaw it overnight in the fridge.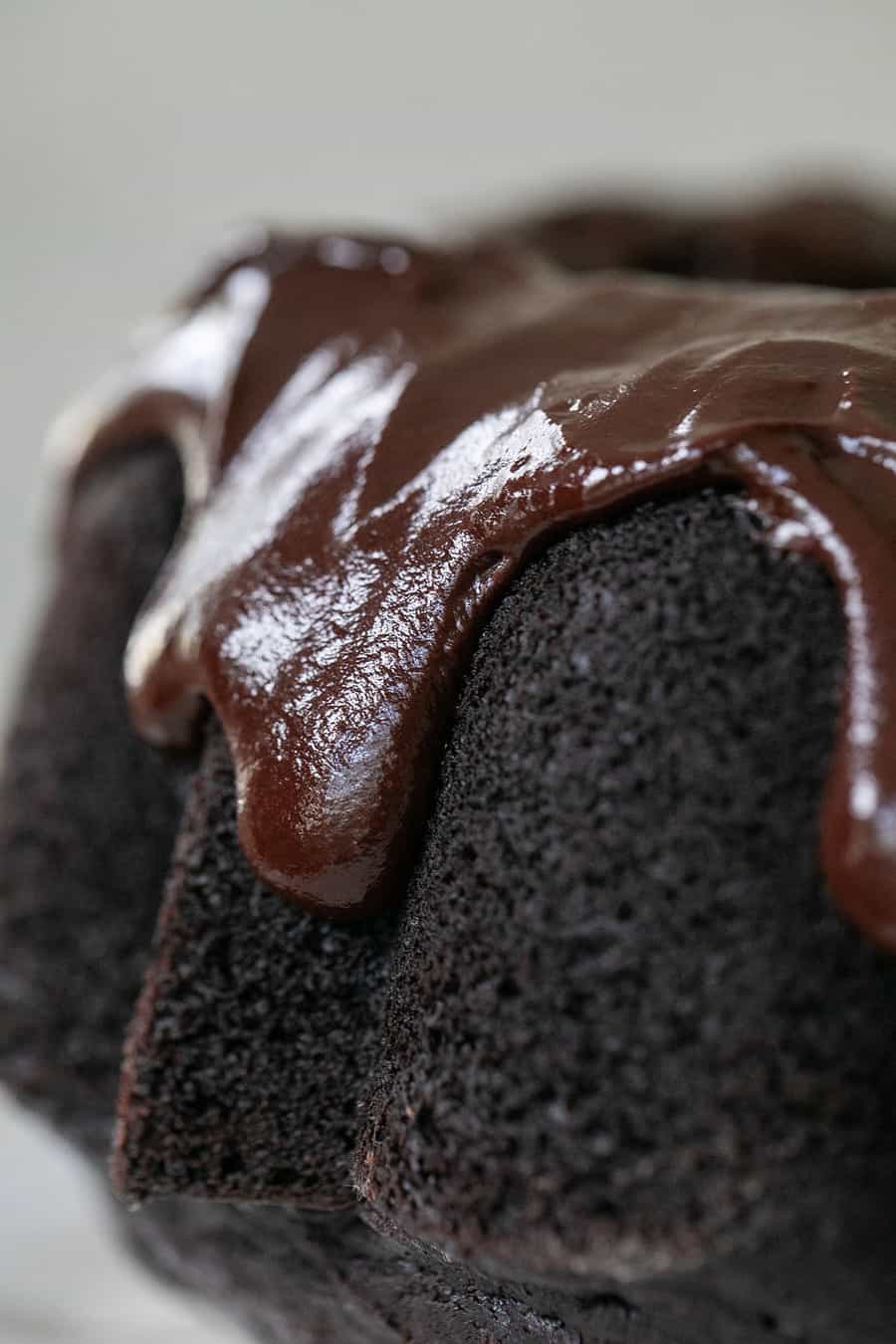 FREQUENTLY ASKED QUESTIONS
Does ganache chocolate dry hard?
Yes, ganache is made to thicken as it cools, which is nice because it stays in place but won't ever harden. When it's warm pour it over a dessert or dip a donut or strawberry into it. Then let it sit and harden on the dessert.
Do I need to refrigerate chocolate ganache?
Ganache can stay out in an airtight container for a few days. However, if you need to store it any longer it should be stored in the refrigerator.
Is Ganache hard or soft?
Depending on the type of ganache you make it can be hard and soft. It also sets in the refrigerator and will become hard when it's placed in a cold environment.
When to Serve Chocolate Ganache
Serve homemade chocolate ganache as a topping for cookies and cakes or as a dipping sauce for fresh fruit. It's a great recipe for any of these occasions:
Birthday Party it's also perfect for a last-minute birthday party!
Baby Shower and Bridal Shower
Waffle Bar – This makes a wonderful topping for waffles or pancakes!
More Easy Dessert Recipes You'll Love!
Whipped Chocolate Sour Cream Frosting
5 Ingredient Dark Chocolate Truffles
Butterless Chocolate Chip Cookies
The Best Swiss Meringue Butter Cream Frosting
Chocolate Buttercream Frosting
Let us know if you make this delicious whipped ganache by leaving a comment and review below!
You can also FOLLOW US on FACEBOOK, INSTAGRAM, and PINTEREST to see more delicious recipes, cocktails, desserts, and parties!
This post may contain affiliate links. Please read our disclosure and privacy policy.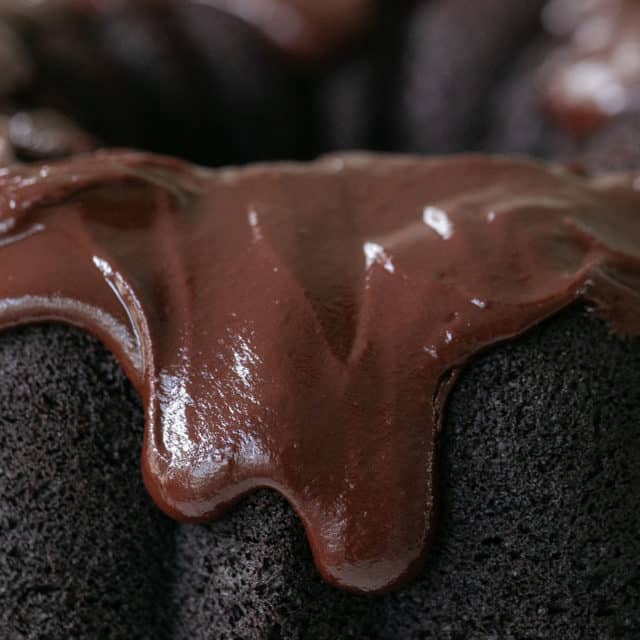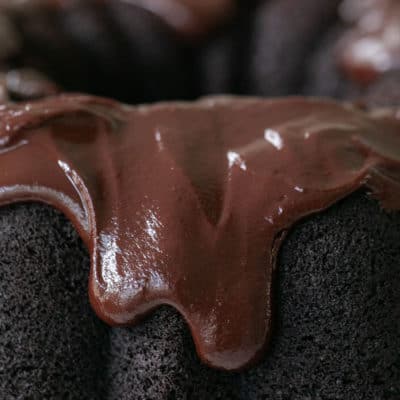 Chocolate Ganache Recipe
A rich and creamy chocolate ganache recipe using only 2 simple ingredients. It's perfect for cakes, cupcakes, donuts or as a chocolaty, silky dipping sauce. 
Print
Pin
Rate
Ingredients
1/2

cup

heavy cream

8

ounces

semisweet chocolate chips
Instructions
Prepare milk – In a medium sauce pan, pour in the heavy cream. 

Heat the milk – Bring it to a soft boil, then let is simmer medium low for 4 minutes. Once it's steaming hot, remove from the heat. 

Add in the semisweet chocolate morsels – Let them sit in the hot milk for 2 minute until soft.

Whisk vigorously – Whisk the mixture until the chocolate is completely melted. It will start to become a thicker texture and should be super smooth and creamy. 

Done – Once all of the chocolate is melted and you have a silky smooth sauce, the ganache is completed. Pour it over a cake, donuts, cupcakes or in a small bowl to dip strawberries. 
Nutrition
Calories:
1724
kcal
|
Carbohydrates:
122
g
|
Protein:
16
g
|
Fat:
131
g
|
Saturated Fat:
77
g
|
Trans Fat:
1
g
|
Cholesterol:
177
mg
|
Sodium:
68
mg
|
Potassium:
1375
mg
|
Fiber:
18
g
|
Sugar:
83
g
|
Vitamin A:
1863
IU
|
Vitamin C:
1
mg
|
Calcium:
218
mg
|
Iron:
14
mg