This perfect and easy buttery pie crust is foolproof and works every time. It's a forgiving crust that you won't have a problem making! I use this recipe for almost all of my pies and it's always perfect!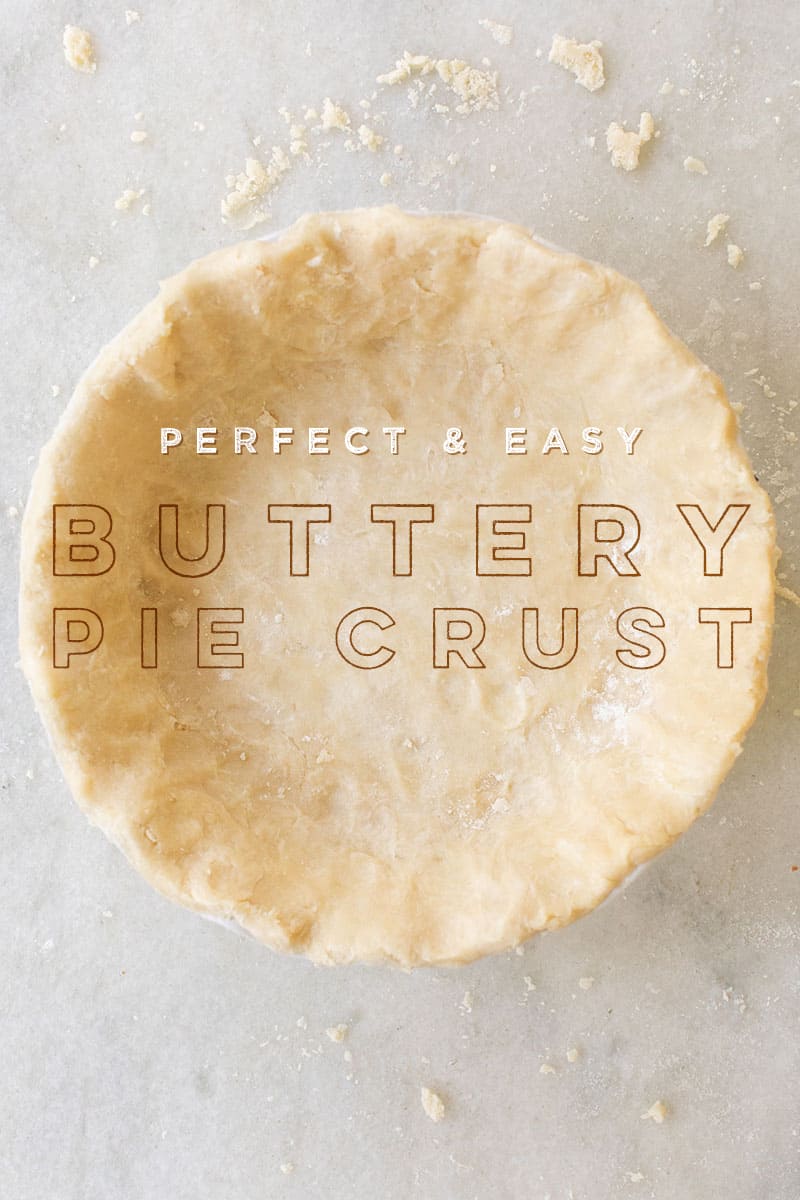 A few years ago I took a pie-making class from pie enthusiast Kate McDermott. She taught me how to be a pie maker and how to create the flakiest dough. How everything can affect the pie-making process, even the weather outside.
She taught us how to roll the pie dough on a pastry cloth (I use parchment paper now) and then to quickly flip it over into the pie dish. I truly learned a lot from her class and then over the years have perfected what has worked for me.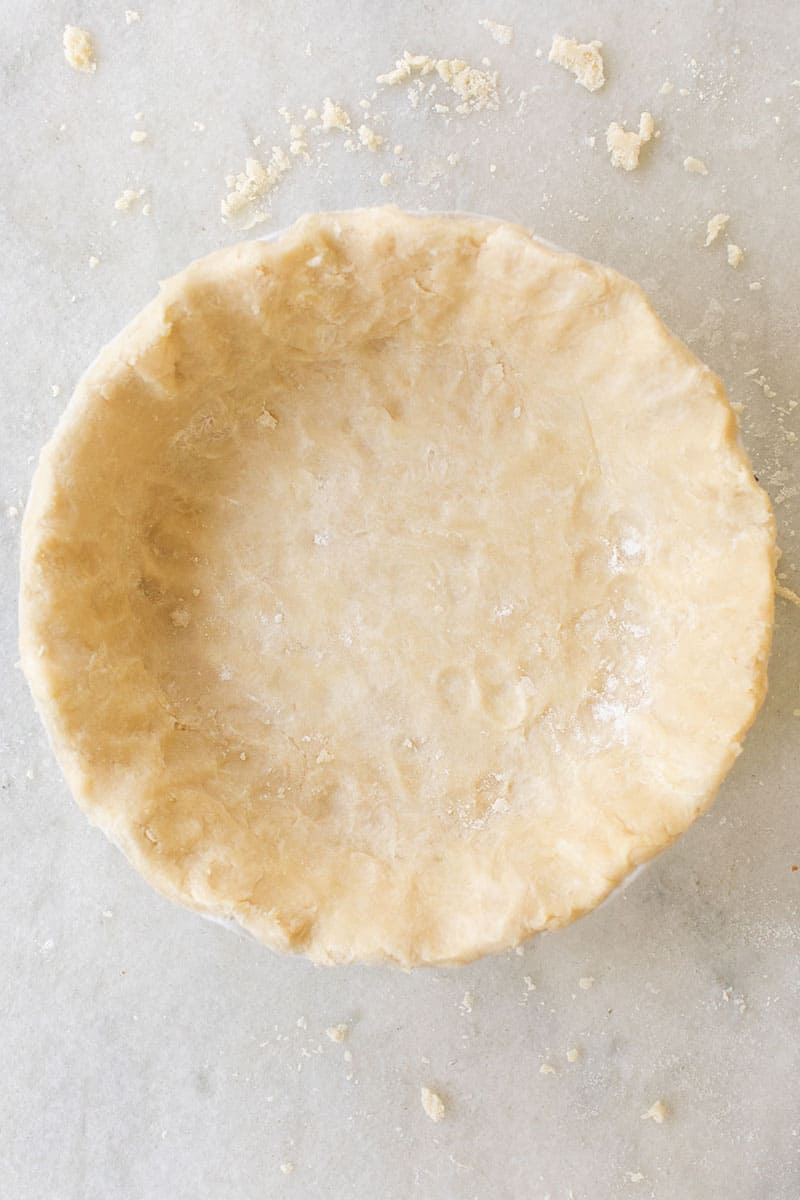 This foolproof easy, buttery pie crust has become my go-to crust for all of my pies… because it works every time. Below are my tips for creating a delicious pie crust. You can't go wrong with this recipe!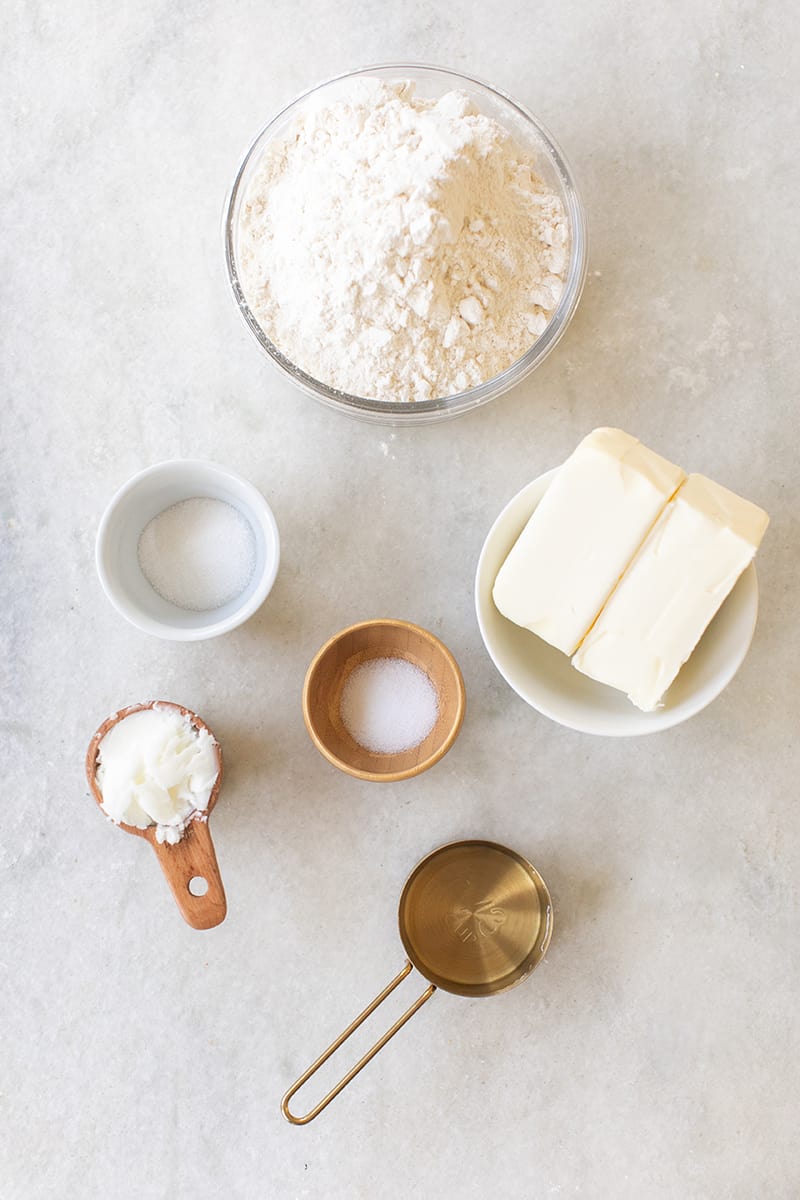 Pie Crust Ingredients
Butter – Salted or Unsalted
Lard or Shortening
Flour
Sugar
Salt
Ice Water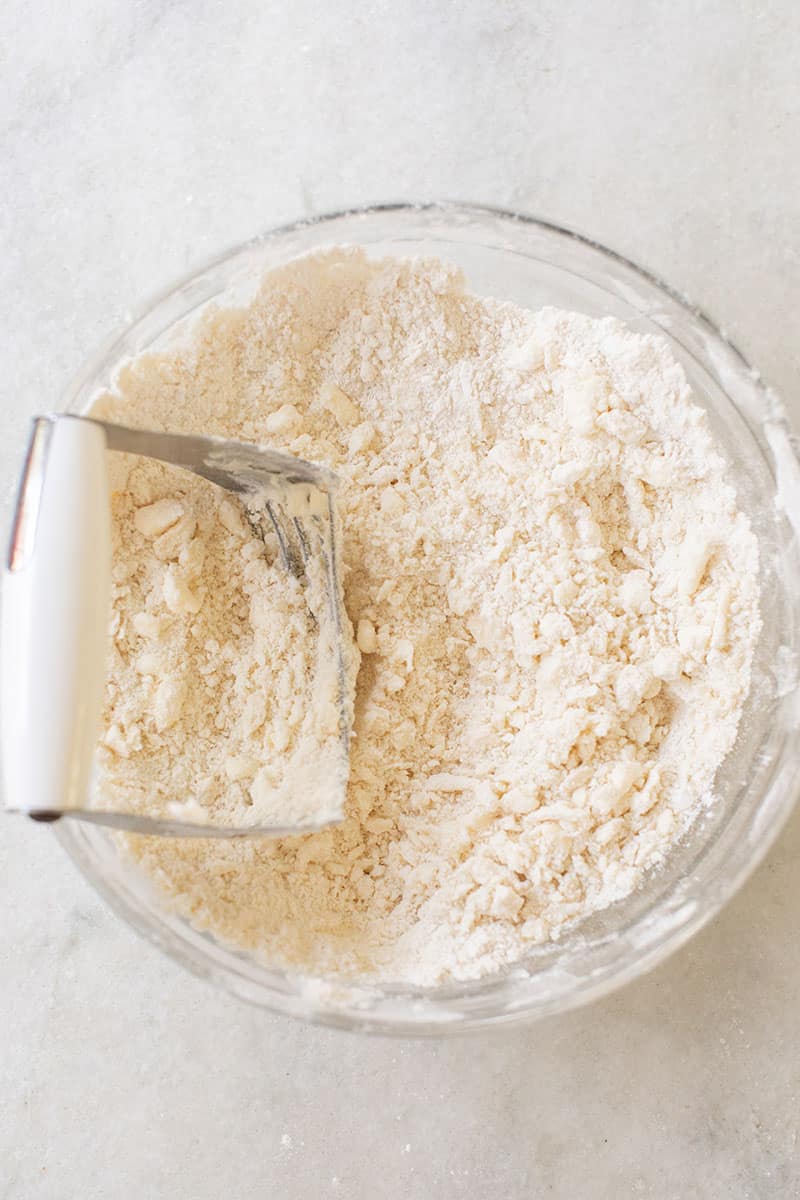 Making Pie Dough
Prepare all of the ingredients
Cut cold butter into 1/2″ cubes and add to cold flour in a cold mixing bowl.
Work the butter in with your hands or pastry cutter.
Add in the lard and work with your fingers until the mixture is small pea-size crumbs.
Add in ice water one tablespoon at a time and gently toss the dough with your hands.
The dough should stick together when you pinch it. That's when you know it's done.
Divide the dough in half and make two round discs.
Wrap the discs tightly and refrigerate.
Chilling the dough helps harden the fat so when the pie is baked it holds its shape better.
Tips to Make the Perfect Pie Crust
All of the ingredients should be cold. I keep a bag of flour, just for pie crust, in the freezer. Also lard or shortening should be kept cold.
Freeze the mixing bowl for 5 minutes before you start to make the dough.
Use high-quality ingredients like King Arthur Flour, Bob's Red Mill, and Kerrygold Butter.
Make sure to use parchment paper or a pastry cloth when rolling.
It's okay to patch the crust together. This crust is forgiving and you can patch and press once it's in the pie dish.
Always do an egg wash for a golden crust.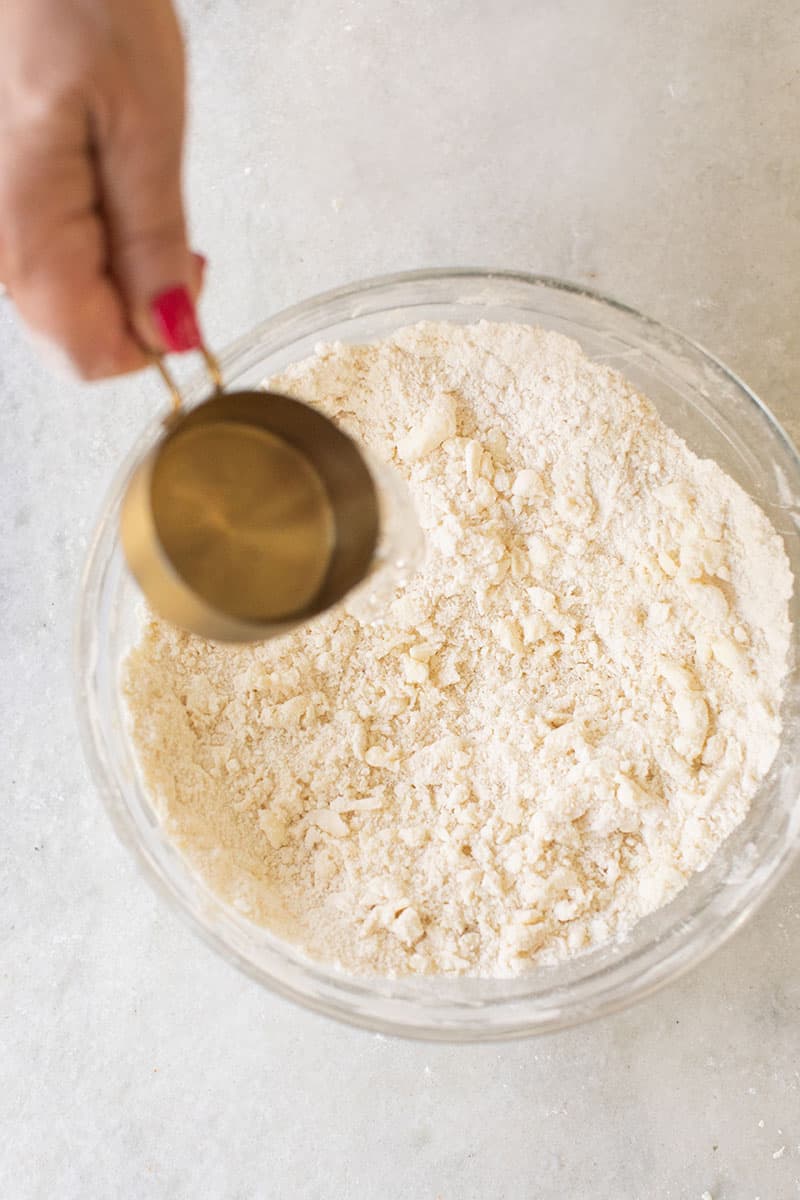 Materials for Making Pie Crust
Rolling pin
Pastry cloth or parchment paper
Pie dish – really love this one.
Pastry cutter – not required as you can use your hands!
Leaf lard – If you're trying it using this type of lard.
Leaf Lard or Crisco?
It's hard to know what lard to use in your pie crust. Of course, using the highest quality ingredients is always going to yield a better product. Leaf lard is lard made from pork fat and makes a very delicious pie crust. However, it can be hard to find this product. This is what we used during Kate's class.
Crisco is a vegetable-based shortening that you can get at the grocery store. It has a high melting point which creates a flaky curst. I know Kate would never suggest using Crisco, but I have had to use it several times when making this crust and it still turned out great.
The verdict… leaf lard is better, but Crisco works too. Maybe try the leaf lard as an experiment and see if you like it! You can order from farmers and actually a few decent brands on Amazon.
Why we use two fats in our pie crust…
For this pie, we use butter and lard. Whether you use leaf lard or Crisco, the lard helps give the pie crust a flaky texture. It's not as good of a flavor, so butter adds to the flavor of the crust and also give it the melt in your mouth flavor too.
So butter is for flavor, lard is for texture. We only use a small amount of lard and mostly butter in this recipe.
Mixing the Dough
Work quickly and make sure everything you're using is cold. From the bowl to your hands. The colder the better!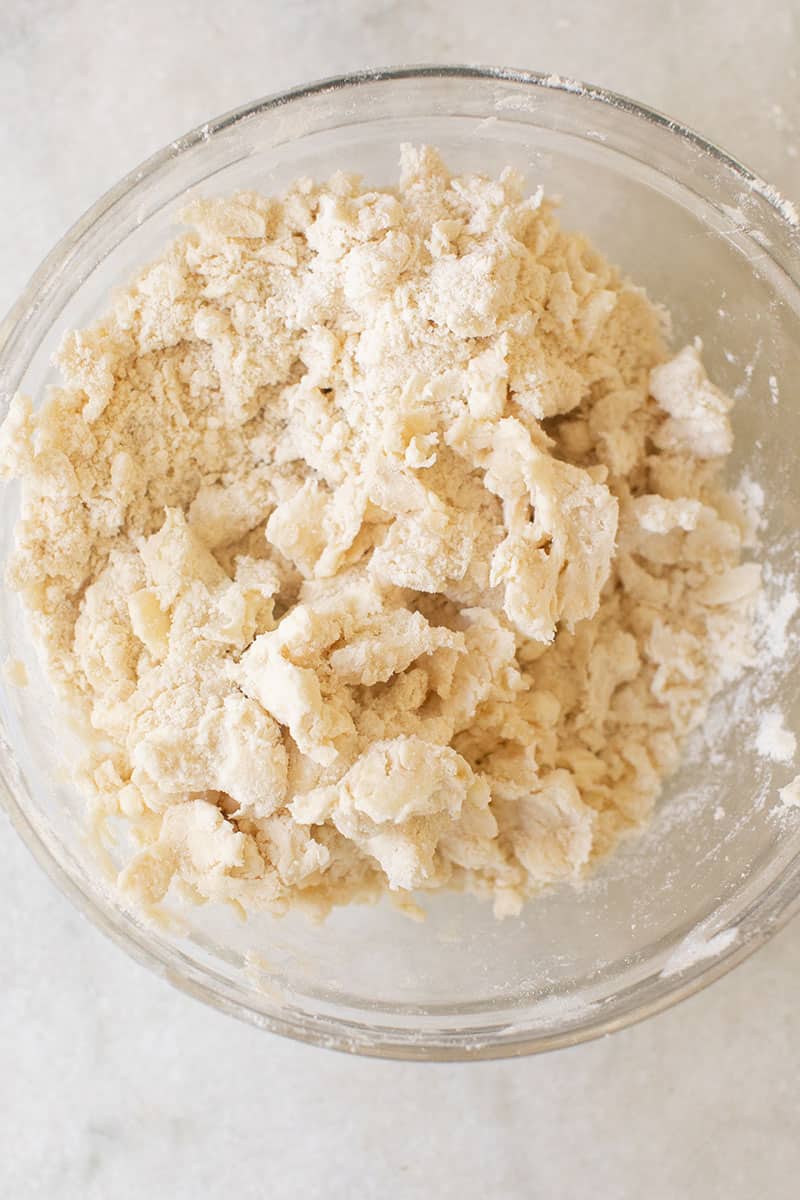 Once the ingredients are in the bowl, use your hands or a pastry cutter to mix the dough into small pea size balls. This is when the dough is finished.
You can always use more ice water if you need, to get it to the pea size consistency, A dough should never be fully mixed like cookie dough, it will be a crumbly texture.
How to Roll out Pie Dough
Once the dough is made, split it in half and form two round discs. Refrigerate for about 30 minutes to an hour.
Place a handful of flour on a pastry cloth or parchment paper and unwrap one disc of dough to roll out.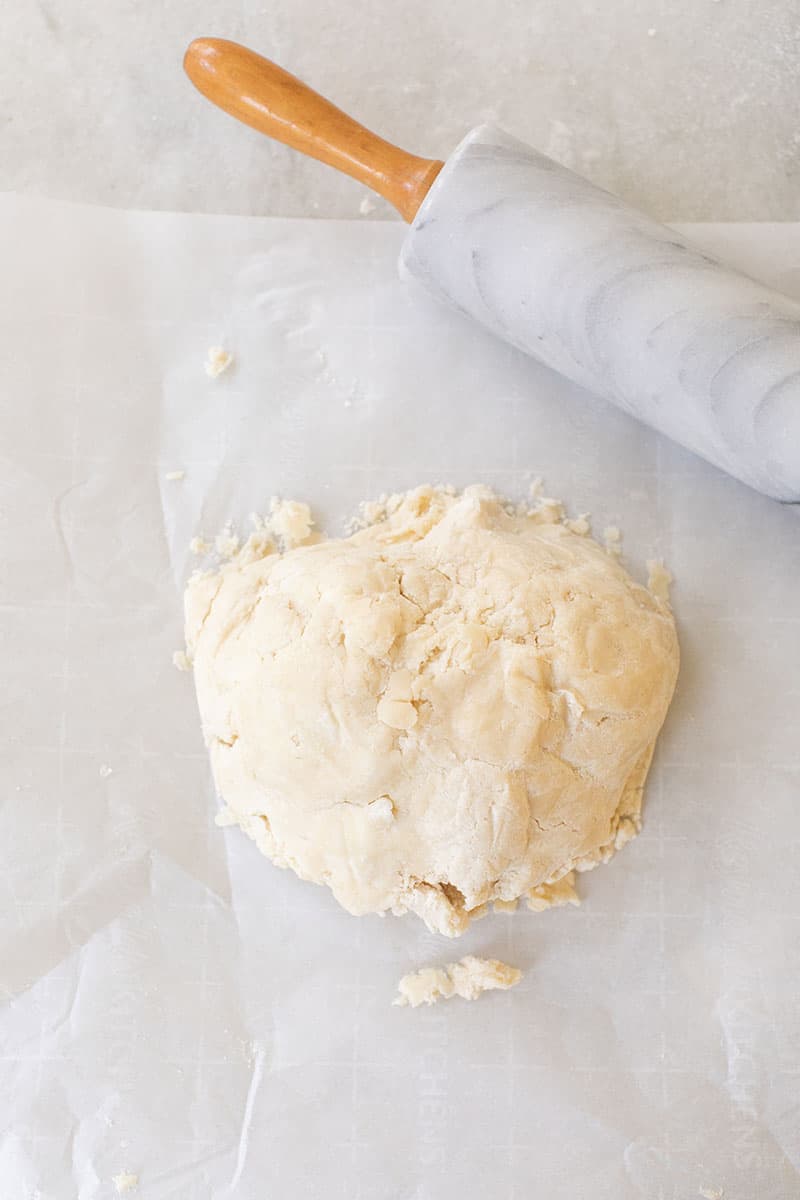 If the dough is too firm, give it a few minutes resting time so it's more pliable.
Roll the dough using a rolling pin until the circle is 1 1/2″ to 2″ larger than the pie dish you're using.
Lift the paper or cloth and quickly, turn it over into the center of the pie pan. You can also use your rolling pin to drape it into the pie dish.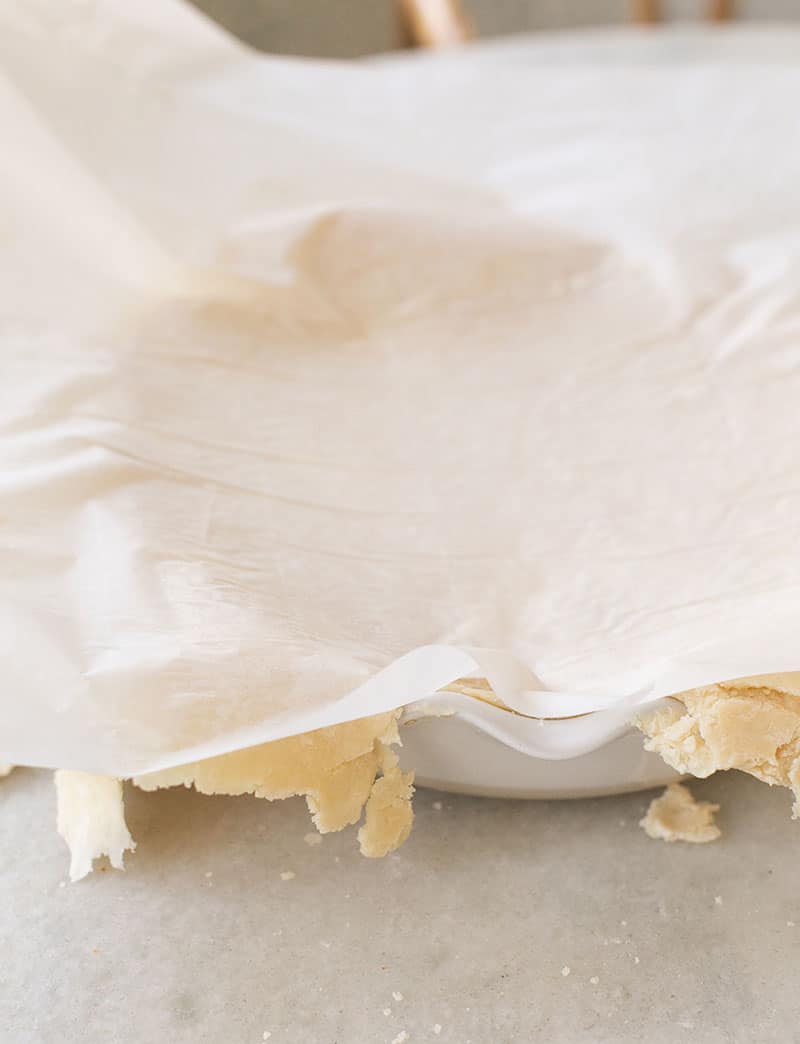 The other disc can be rolled out the same way to cover the top of the pie. Depending on why type of pie you're making, some have a pretty lattice design, cutouts or an apple pie that is fully covered.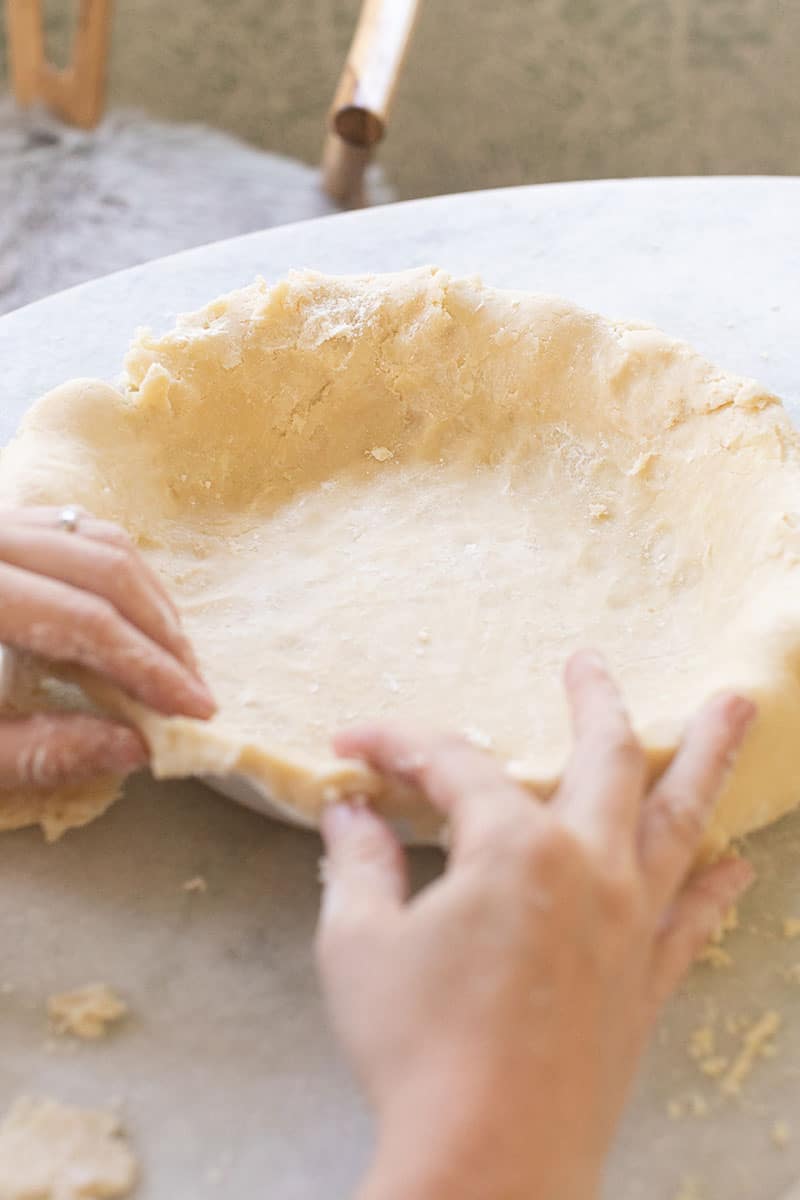 Remove the paper and start pinching the edges together and pushing the down into the pie dish.
Don't worry if the dough breaks! Just use a little ice water to patch it back up. It's a forgiving dough, I promise!
I use my fingers to give it a good shape, remove excess dough and create a pretty crust.
Make sure you always do an egg wash over the crust and the top for a golden brown color!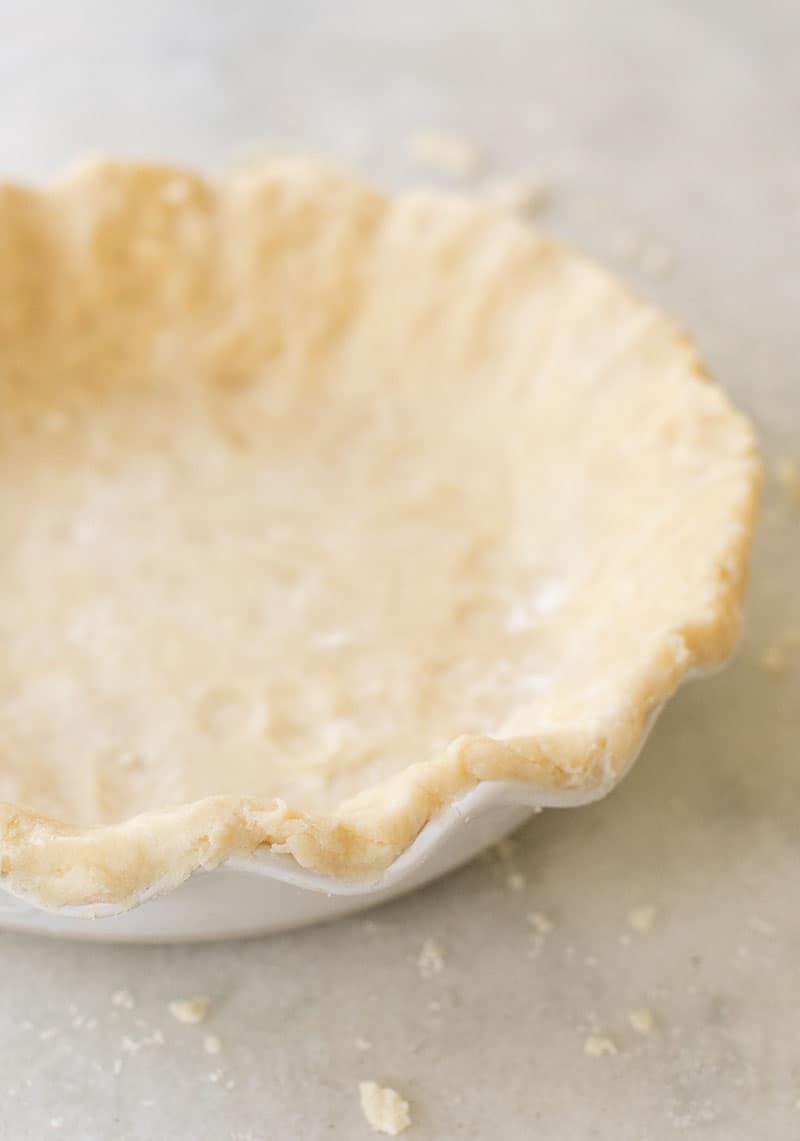 Can I make the pie crust in advance?
That's one of the best things about pie crust is that you can do all of the messy work the day before and a ready to bake pie shell! Leave it in the refrigerator for up to 3 days.
You can freeze if it's tightly wrapped and sealed airtight for 3 months.
Best Pie Dishes
I suggest investing in a few good quality pie dishes. They're not too expensive and once you buy one you will have it forever! Here are a few of my favorites.
If you're giving the pie as a gift, we love these pie boxes!
Pie Recipes You'll Love!
Let us know if you make this crust and how it turns out for you! Leave a comment and review below! Happy baking!!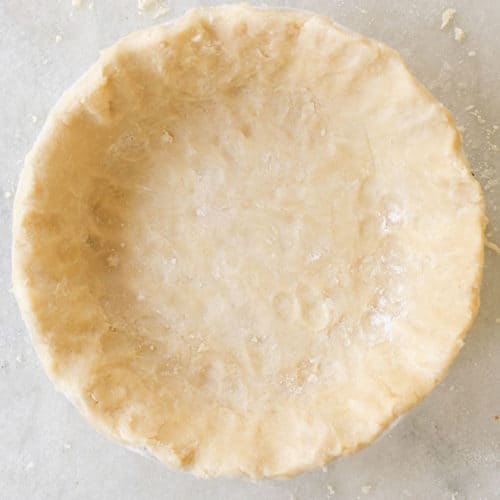 Perfect and Easy Buttery Pie Crust
This is a no fail pie crust recipe that uses butter, flour, salt, lard and ice water. It turns out perfect every time!
Print
Pin
Rate
Ingredients
2 1/2

cups

all-purpose flour

,

keep it cold

1

tsp

salt

1

tbsp

sugar

,

optional, but we like it!

1/2

pound

unsalted butter

,

2 sticks, keep it cold and cut into cubes.

1/4

cup

leaf lard or shortening

,

cold

1/3

cup

ice water
Instructions
In a large bowl combine flour, sugar and salt.


Cut 2 sticks butter into small chunks and add to the flour mixture.

Add the Crisco and then with your hands or a pastry cutter, blend until butter and Crisco chunks are the size of peas.

Add ice water and mix the dough with your hands until combined. The dough should hold a loose ball and be more on the dry side. It should look rough, not perfectly smooth.


Seperate the dough into two round discs and cover them tightly.

Refrigerate the dough for 30 minutes.

Remove from the refrigerator and let it sit for 5 minutes.

Roll the dough out on a pastry cloth or parchment paper until it's 1 1/2" bigger than the pie dish.

Gently flip the dough onto the dish and press it gently down into the pie dish.

Start to mold the edges of the crust to the dish, creating a beautiful crust.

if this process takes to long and you feel like the dough is warming up, place the entire dish and dough in the refrigerator for abother 10 minutes before baking your pie. 

You can also store it in the refrigerator until the pie filling is done. You want to keep the pie crust nice and cold.

To cook the pie crust, follow the recipe for whatever pie filling you're making. Some require the crust to be prebaked, others don't.

Make sure you do an egg wash over the crust before baking for a golden brown color.
Notes
You can use Leaf Lard or Shortening in this recipe. 
Make sure all of the ingredients are cold, even the flour! 
If the crust falls apart, you can patch it back with ice water. 
This is a stress-free pie crust that is SO tasty and works every time!
Nutrition
Calories:
1382
kcal
|
Carbohydrates:
119
g
|
Protein:
17
g
|
Fat:
94
g
|
Saturated Fat:
58
g
|
Cholesterol:
244
mg
|
Sodium:
18
mg
|
Potassium:
194
mg
|
Fiber:
4
g
|
Sugar:
1
g
|
Vitamin A:
2834
IU
|
Calcium:
51
mg
|
Iron:
7
mg