The only guide you need is to make your own homemade popsicles! Popsicles are the perfect summer treat. There are hundreds of different flavor combinations you can make. This is a complete guide to making homemade popsicles and the best popsicle recipes in all different flavors!
A few years ago I stood on Hallmark's Home & Family stage and shared two of my favorite popsicle recipes. It was a highlight for me and the pops were a hit. Popsicles have always been a part of my life, from my childhood to adulthood.
I remember enjoying fruit popsicles on warm summer days growing up and grabbing chocolate pops out of my grandma's freezer. I've been making them for my kids now for years. When they were little I made real fruit popsicles for them to enjoy when their little teeth were coming in.
Continue reading to see how you can make easy homemade popsicles and check out our summer popsicle recipes!
Why is it called a Popsicle?
It seems so fitting that the first popsicle was invented by an 11-year-old boy, Frank Epperson. In 1905 he left a cup filled with water, soda powder, and a wooden stick for stirring, outside on his porch. It was a very chilly night in Oakland California and he woke to a frozen ice pop treat! The rest is history!
It's a fun story and you can read more about it here!
How to Make Homemade Popsicles
Homemade popsicles are simple to make with just a few ingredients. Here are the basic 3 steps to making homemade popsicles:
Puree Frozen Fruit, Sweetener, and a Liquid in a blender.
Pour into a popsicle mold.
Freeze for 24 hours.
Frozen Margarita Homemade Popsicle Video
The Best Popsicle Molds
Let's start with the popsicle molds. There are so many different molds you can use to make your pops. From shapes to classic molds, here is a list of the best popsicle molds available:
Classic Popsicle Molds – I use these molds often and really like them. Make sure to buy extra sticks for it.
Collapsible Popsicles Molds – These are made with silicone molds that allow for easy release. A collapsible design makes it easy to pop out your popsicles.
Freezer Bags – We use these when making our margarita popsicles. They're great for boozy popsicles as they tend to have a slushy texture and the bags are perfect for that.
Silicone Molds – These are similar to push-up pops but in a new silicone design. It's an easy, no-fuss way to make the perfect ice pop.
Ozera Popsicles Molds – A classic design but in a silicone base.
Twisty Molds – A fun shape for kids and they're easy to remove.
Silicone Popsicle Molds Cartoon Shape – These are great for younger kids as they come in small sizes and are shaped as cute characters.
Monster Popsicles Molds – My boys love these! We make easy fruit juice popsicles in these adorable monsters. They're too fun! They also have dinos and zombies!
Lekue Tropical Fruit Ice Cream Pop Molds – We made watermelon and pineapple popsicles from these fun shapes!
Fruit Pop Shapes – If you're making fresh fruit popsicles, these would be adorable.
Popsicle Sticks – Some of the molds above come with reusable sticks. If you're using a classic mold, then popsicle sticks are necessary!
Supplies
A list of supplies you'll need to make your own homemade popsicles:
Molds
Blender or food processor
Fruit Based Popsicles
Homemade fruit popsicles are recipes that are made with whole fruit. Fruit popsicles are made with frozen fruit, a liquid such as fruit juice or water, and a sweetener. You can also add in herbs and berries for fun flavor combinations.
You can make these healthy popsicles and they are mostly dairy-free treats. However, if you prefer to add some greek yogurt to the recipe you can.
Fruit – Choose ripe and juicy fresh fruit and berries to puree in a blender. Make your own fun flavor combinations! Here are some suggestions for fruit that you can make fruit popsicles from:
Strawberries, Blueberries, Raspberries,Blackberries
For extra flavor use herbs like mint, basil, cilantro, and lavender in your recipes.
Sweetener – Add in a liquid and a sweetener. For sweeteners, add honey, sugar, stevia, or maple syrup.
Liquid – Juice or water both work as a liquid for fruit-based pops.
Blend – Add all of the ingredients into a blender and blend on high until smooth!
Pro-tip: Always taste the fruit puree before adding it to the molds. When ingredients freeze it loses flavor. It's best for the puree to have a strong fruit flavor and be more on the sweet side before freezing.
You'll need about 2 1/2 cups of fruit puree to make 8 popsicles.
Fruit-Based Homemade Popsicle Recipes
Now that you have the basic formula down for making fruit popsicles, here are some of our favorite fruit popsicle recipes!
Made with coconut water, these are pops perfect for adults and kids on a summer's day. Packed with fruit with a sweet flavor, these are guilt-free treats!
Three-ingredient honey lemonade pops are sure to cool you down during the hot summer days!
If you love exotic fruits like papaya and mango, you'll love these mango popsicles! A burst of tropical flavors with a hint of vanilla and spicy ginger. These are the perfect treat for summer and are super simple to make.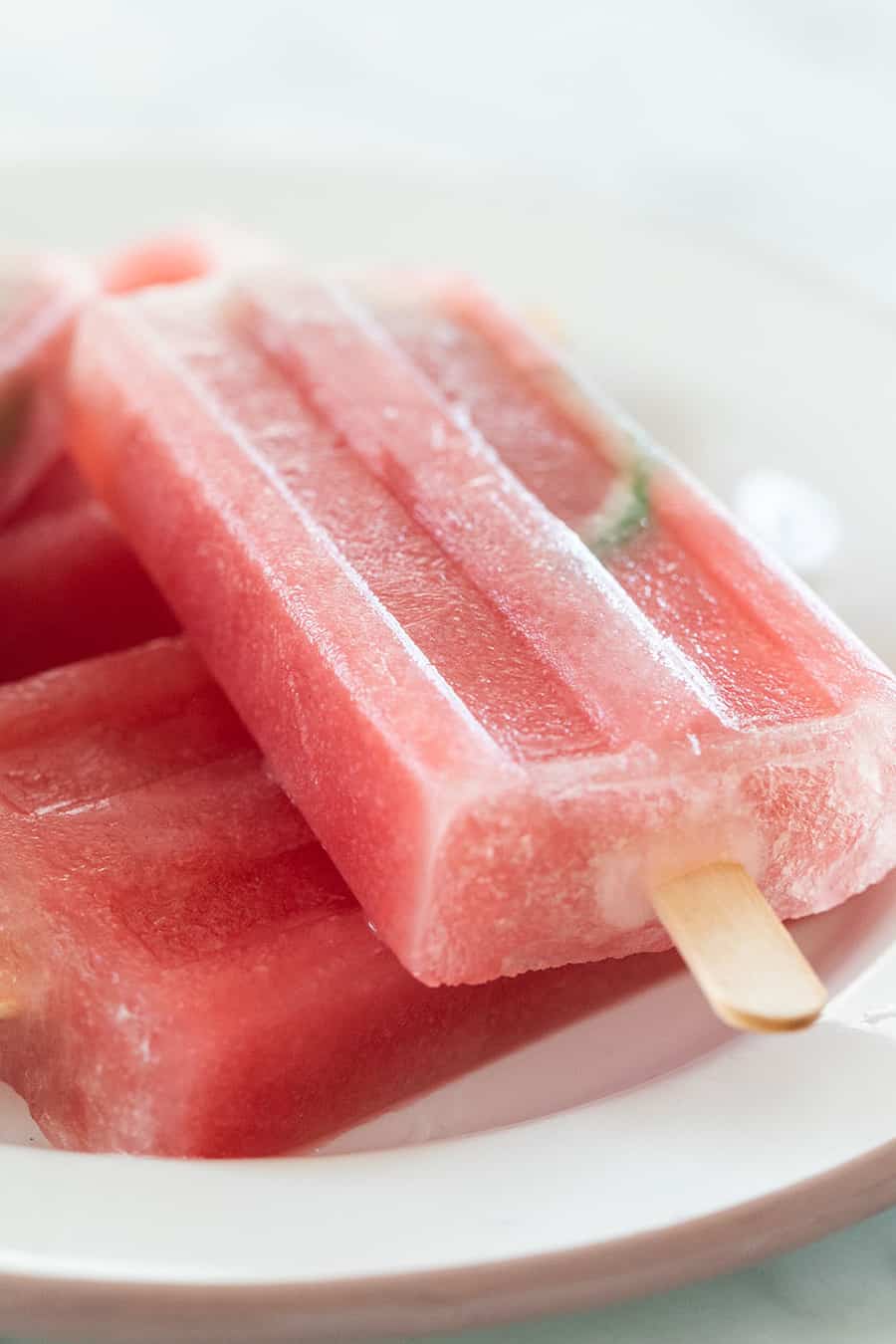 This watermelon popsicle recipe is super hydrating and sure to cool you down this summer. Make this using fresh watermelon juice, a little lime juice, and some added sugar.
Cream Based Popsicles
Cream-based pops are also delicious. These recipes have a cream base like heavy cream, yogurt, almond milk, or full-fat coconut milk. These can be blended with fruit or other ingredients like peanut butter, Nutella, cocoa powder, or dark chocolate.
If you're not using frozen fruit to make a creamy popsicle, you'll use ice to thicken the base.
Always add a tablespoon of cornstarch to cream-based popsicles to make them creamy and not icy! It's the best tip!
Cream-Based Popsicles Recipes
Here are some of our favorite creamy popsicles. They are all so good and satisfying for a hot summer day. Follow any of these recipes for step-by-step instructions.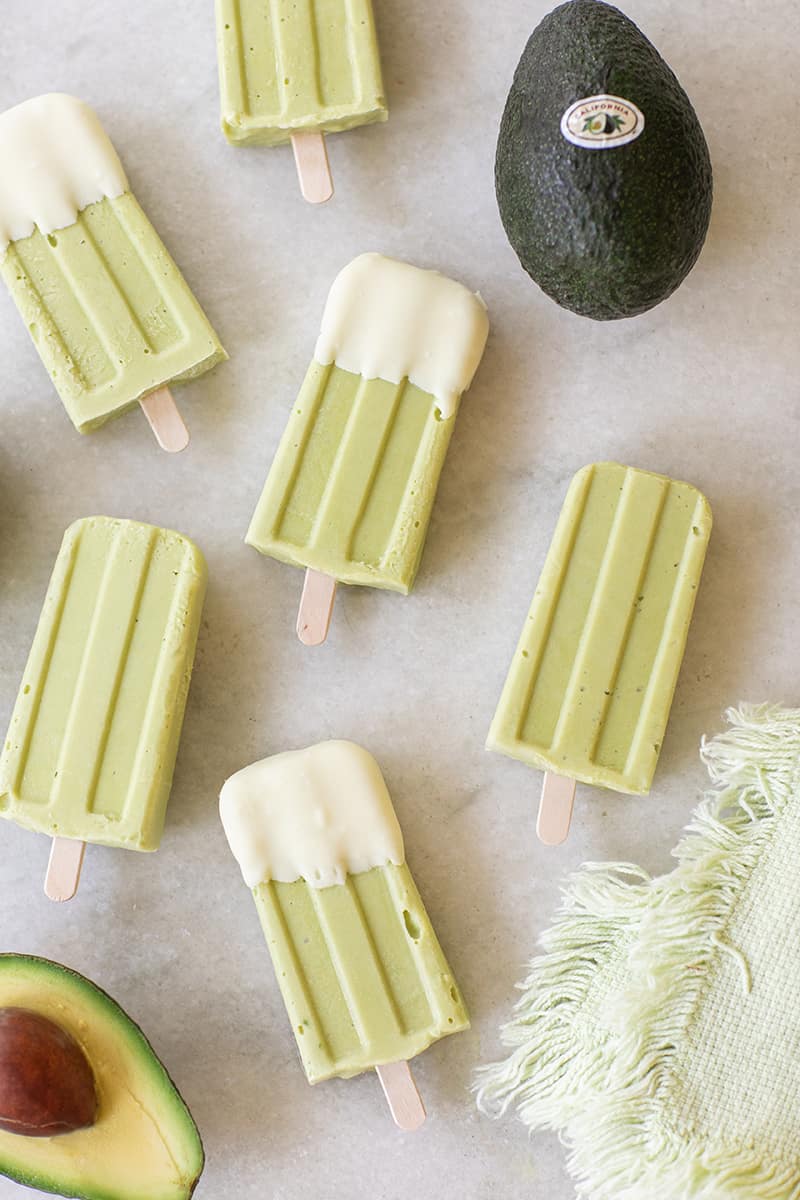 These avocado pops are creamy and delicious! They're made with coconut milk and grapefruit juice. Perfect dessert if you're serving Mexican food or fun for festive parties like Cinco de Mayo!
Creamy and delicious fudge pops are a cinch to make and bound to please! One bite into these yummy, soft iced treats and you'll be hooked.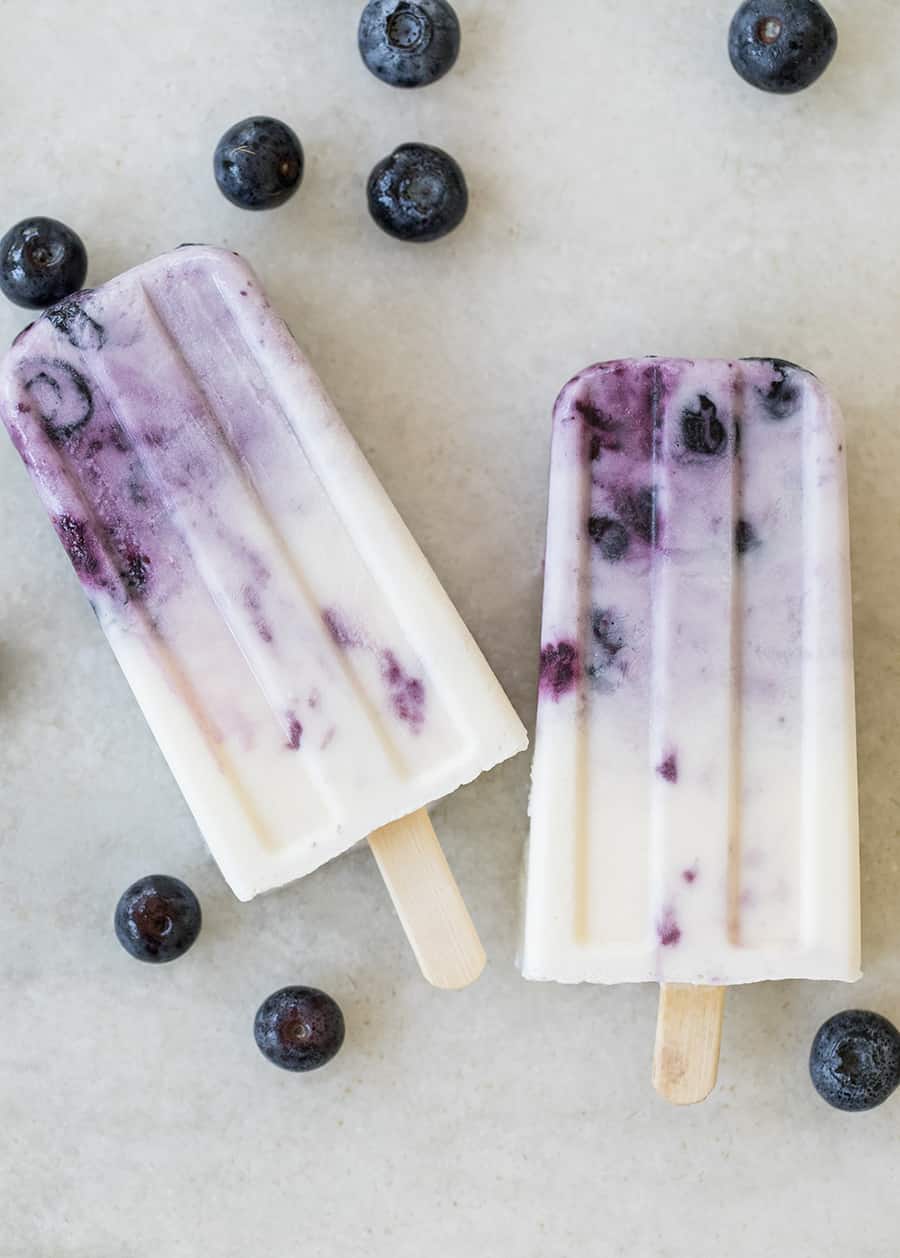 These Roasted Blueberry Crème fraîche Pops are made with Crème fraîche (a cream made from heavy cream and buttermilk) which makes them creamy and full of flavor!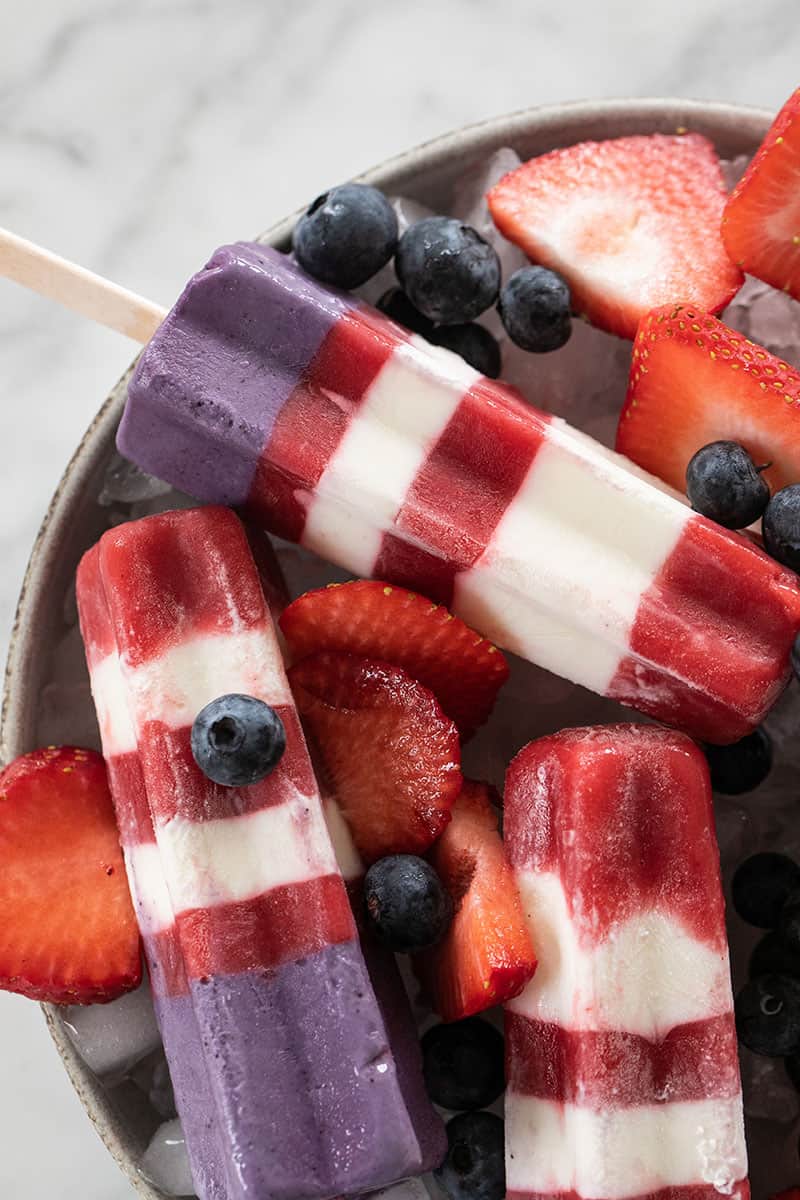 A childhood favorite, bomb pops! Made with whole ingredients, they're creamy, colorful, and flavorful! These popsicles are perfect for celebrating the 4th of July and a great summer treat.
Easy strawberry banana smoothie ice pops with only 4 simple ingredients! Make them striped for a fun look, drizzle with honey and add garnishes like chia seeds and granola!
How to Make Boozy Popsicles
A fun idea for adults is to add a little alcohol to the puree! Since alcohol doesn't freeze, it will be a small amount. A rule of thumb is to do a 4:1 ratio. 4 parts puree to 1 part spirit. You can also do 1.5 ounces of alcohol to 1 cup of juice.
Boozy popsicles are a fun treat made with some of our favorite fruits. It's a fun way to serve a cocktail but in popsicle form!
Boozy Popsicle Recipes
Here are some boozy homemade popsicle recipes to get you started!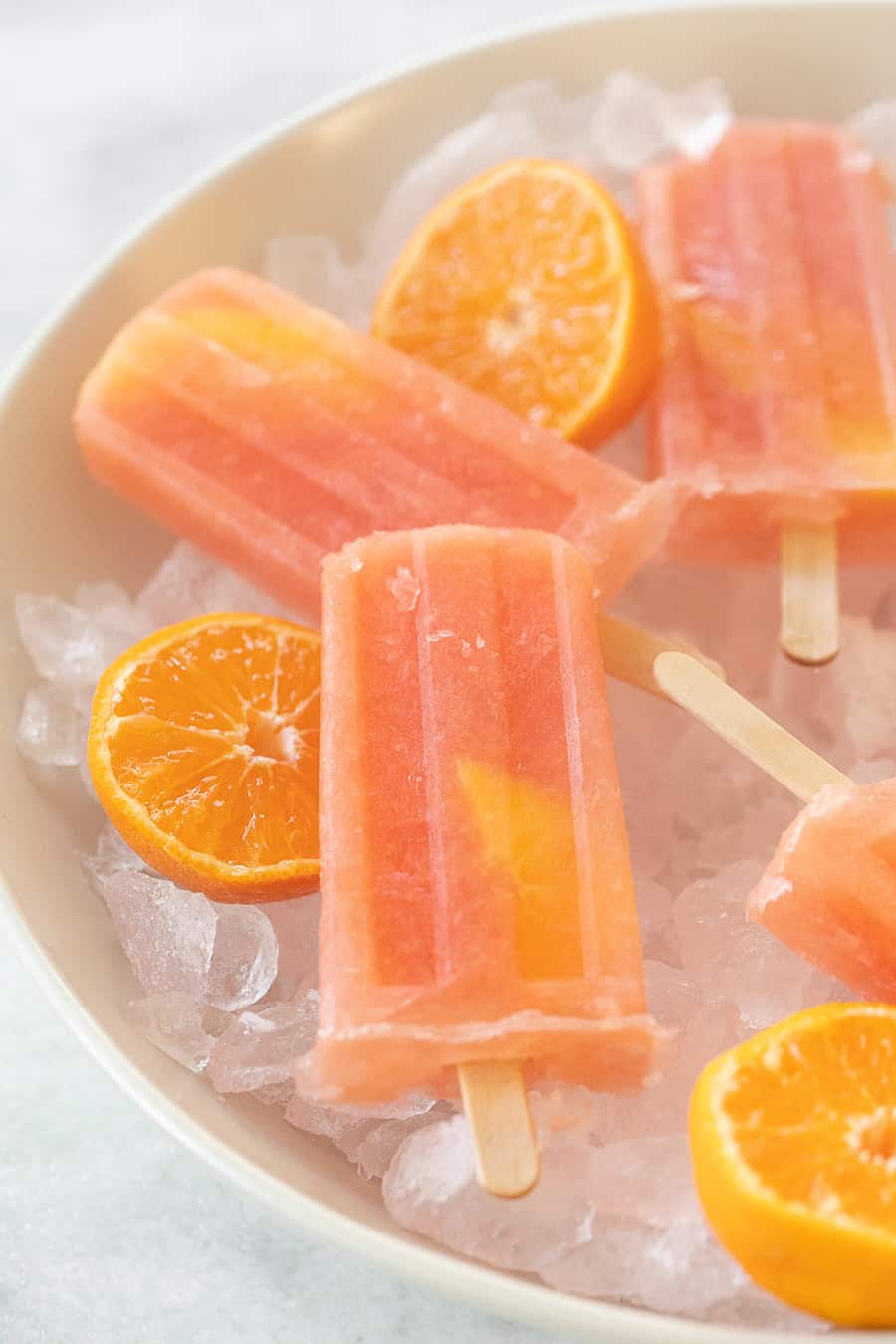 Gave the classic Negroni cocktail recipe a fun twist and created the most refreshing, grapefruit Negroni popsicles!
These boozy watermelon pops are fresh and full of flavor! They're shaped like watermelon slices and have an adorable kiwi lime rind!
Delicious and refreshing pineapple rum pops are packed with yummy tropical flavors, like coconut and rum…yum! They're perfect for hot summer days and cool summer parties.
A unique twist on the classic Greyhound, we created a Greyhound cocktail ice pop!
If you love a classic margarita, then these pops are for you! One of my favorite ways to make a boozy popsicle is to add the liquid into a freezer bag. This way you can add more alcohol and don't have to worry about it fully freezing.
Homemade Popsicles for Kids
One of the best treats for kids during the summer is homemade fresh fruit popsicles. You can control how much and what kind of sugar the popsicles contain.
Layer pureed fruits, vegetables, and yogurt for a fun and colorful ice pop.
My son came up with the idea to make fresh orange juice popsicles. They ended up being the best morning treat for hot summer mornings! This was such a simple idea, but they absolutely loved them.
You can also make fun shapes using these monster molds!
Hiding Vegetables in Popsicles
Speaking of making popsicles for kids, there is no better dessert to hide veggies in than popsicles! You won't even be able to taste a 1/2 cup of spinach. So have fun with it and sneak in a few greens or carrots.
One rule of thumb is always to taste the mix before adding it to the molds. This way you can adjust if the flavor is too strong or not sweet enough.
Pro-tip: Orange juice is wonderful at masking green veggie flavors.
Our unique cold brew and cream popsicle with crushed peppermint.
Freezing Popsicles
Popsicles will take about 8 hours to fully freeze. It's best to leave them overnight to have enough time to properly freeze.
How long do popsicles last in the freezer?
Make sure to leave 1/4″ space at the top of the mold to drop in a thin orange slice (remove the rind!), and for the popsicle to expand.
When juice and water freeze, it expands. If the juice and ice expand over the mold, it makes the removal of the lid on the mold harder. Also, you don't get a clean edge to your popsicle.
How to Unmold a Popsicle
This part can be tricky and the last thing you want is a broken popsicle after you waited all night for them to freeze!
The best way to remove the popsicles is to run the bottom of the mold under warm water for about 2 minutes.
Gently pull on the stick to remove it. If it still feels hard to get out, run the mold underwater again. It will come out easily when it's ready.
Best Blenders for Making Popsicles
A good quality blender makes a difference when making frozen drinks. A powerful blender will yield a smooth consistency and quickly blend the cocktail. Here are some of our favorite blenders:
KitchenAid K150 3 Speed Ice Crushing Blender
Looking for more? Check out these 11 blenders to buy.
Popsicle Variations
There are so many types of popsicles you can make. Here are some ideas and variations you can do:
Try vegan and dairy-free ingredients.
Use natural dye instead of artificial colors.
Healthier versions without artificial sugar. Use natural sweeteners like honey or stevia.
Make fun shapes using different molds.
Add edible flowers and edible glitter to make them unique.
Use herbs and create unique flavor combinations.
Use vegetable juice in your recipes.
You can even make pops from cold brew coffee and cream! See the recipe above!
Also try our layered ice cream pops!
When to Serve Popsicles
This icy treat is perfect for so many special occasions and holidays like:
Summer Picnics and Garden Parties
4th of July or Tropical Parties
Pool Parties or Dining Alfresco
Frequently Asked Questions
Why are my homemade Popsicles icy?
The cornstarch is what keeps the popsicles creamy. It's a little secret ingredient we add to our cream-based popsicles. It makes the popsicle so it's not icy when you bite into it, which is super important for flavor and texture.
How do you make popsicles without mold?
If you don't have mold, you can use plastic cups or paper cups to make ice pops. That is how the very first ice pop was created! Pour the liquid into a cup, add a wooden stick and freeze overnight.
Are Popsicles good for you?
Homemade pops can be good for you. Use whole ingredients, fresh fruit, and even vegetable juice to make popsicles healthy. Choose a natural sweetener like honey or Stevia and keep them lower in calories and sugar.
How do you make popsicles creamy, not icy?
The secret to making a none icy popsicle is to add cornstarch to the recipe! This will make popsicles less icy and more creamy. Cornstarch acts as a stabilizer and keeps the liquid ingredients in the popsicle from moving and forming just chunks of ice. It's a genius hack that has been used for years in ice cream recipes too.

Let us know what you think!
We hope you've learned some new tips for making ice pops! Please don't hesitate to let us know if you make any of these homemade popsicle recipes! We'd love to hear your thoughts, so leave a comment below.
You can also FOLLOW US on FACEBOOK, INSTAGRAM, and PINTEREST to see more delicious recipes, cocktails, desserts, and parties!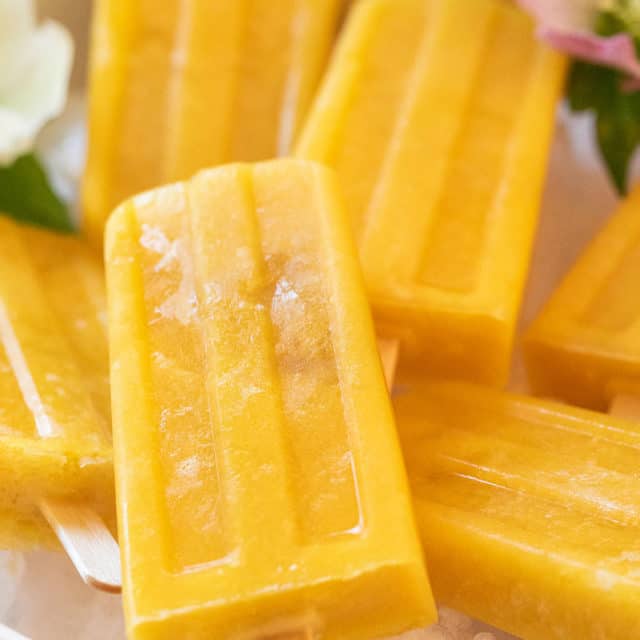 Homemade Popsicle Recipe
A simple orange cream popsicle recipe that you can alter and add your own twist to.
Print
Pin
Rate
Ingredients
3

cups

orange juice

1/2

cup

cream

1

tbsp

cornstarch
Instructions
Add all of the ingredients into a blender and blend until smooth.

Pour into a popsicle mold.

To remove in the morning, run warm water over the bottom of the mold to release the popsicles. 
Nutrition
Calories:
776
kcal
|
Carbohydrates:
88
g
|
Protein:
8
g
|
Fat:
46
g
|
Saturated Fat:
28
g
|
Polyunsaturated Fat:
2
g
|
Monounsaturated Fat:
13
g
|
Cholesterol:
163
mg
|
Sodium:
53
mg
|
Potassium:
1577
mg
|
Fiber:
2
g
|
Sugar:
63
g
|
Vitamin A:
3237
IU
|
Vitamin C:
373
mg
|
Calcium:
159
mg
|
Iron:
2
mg