This apple cider slushie recipe is easy to make and requires no special equipment or a slushie machine. We use simple ingredients for a refreshing fall dessert.
As the warm summer days give way to the cooler autumn months, we can't help but crave beverages that perfectly complement the season.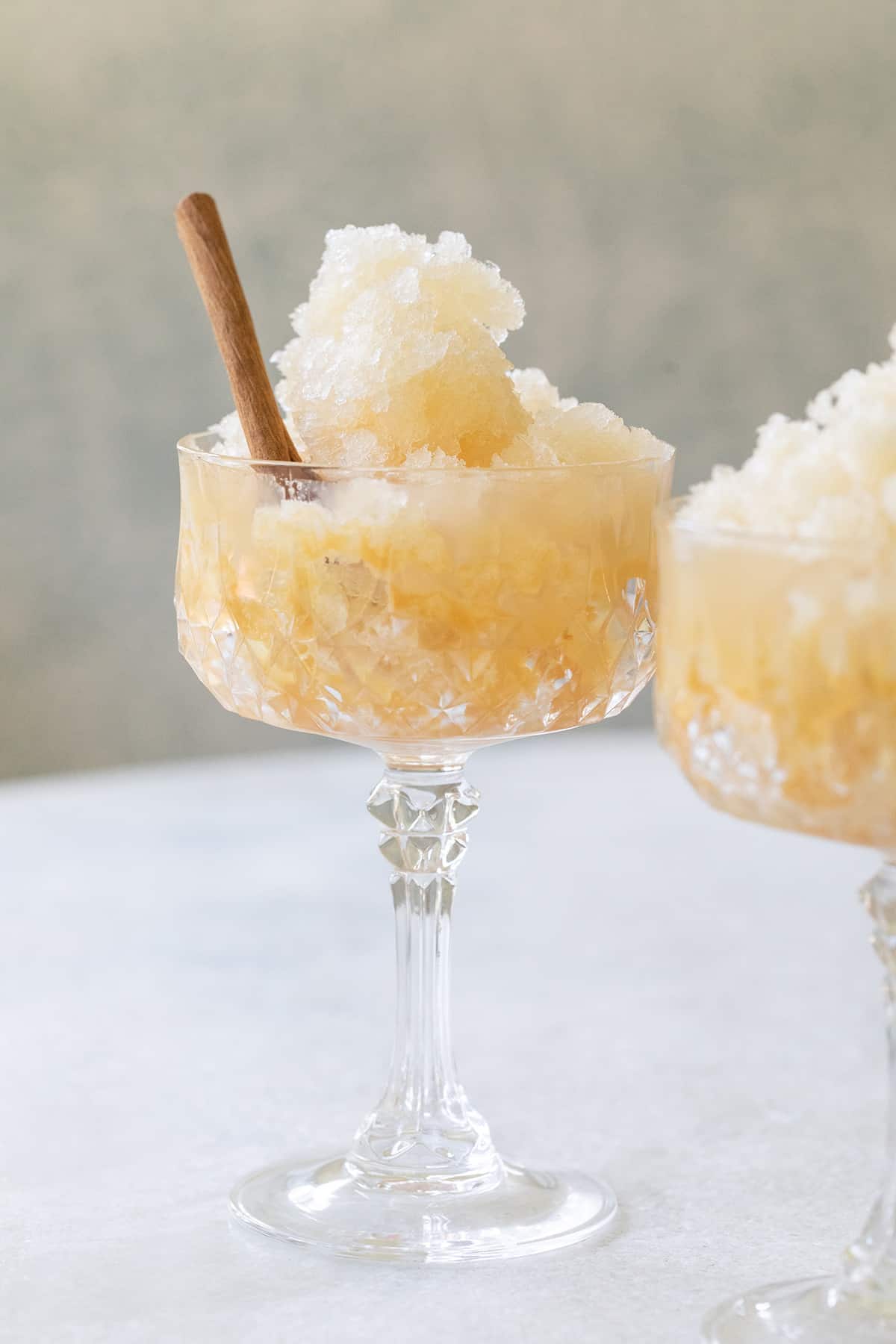 This apple dessert is a fabulous concoction that should be on everyone's must-try list. Refreshing ice combines the crisp taste of apple cider with a chilly, slushie texture that creates a perfect harmony between fall flavors and the last remnants of summer.
All you need to make this recipe is simple, store-bought ingredients and a freezer-safe dish. This recipe doesn't require any special equipment!
Additionally, this recipe is versatile, as you can customize it with various spices or even add a splash of caramel drizzle for an extra burst of flavor. Serve this with our apple cider donuts for the best fall treat!
Offering apple cider slushies at your next get-together will elevate the atmosphere and delight your guests, making it the ideal choice for a festive fall gathering. So grab your cozy sweaters, and let's begin!
Why You Should Make This Recipe
A delightful and refreshing treat for all ages, making it an ideal choice for gatherings with family and friends.
Combining apple cider, ice, and spices creates a delightful and cooling sensation, providing a unique twist on the classic fall dessert.
It's straightforward to prepare. With just a few ingredients, you can quickly have a delicious and festive slushie ready, and you don't need any special equipment.
This recipe can easily be tailored to individual preferences. You can adjust the spices if you prefer a more spiced beverage.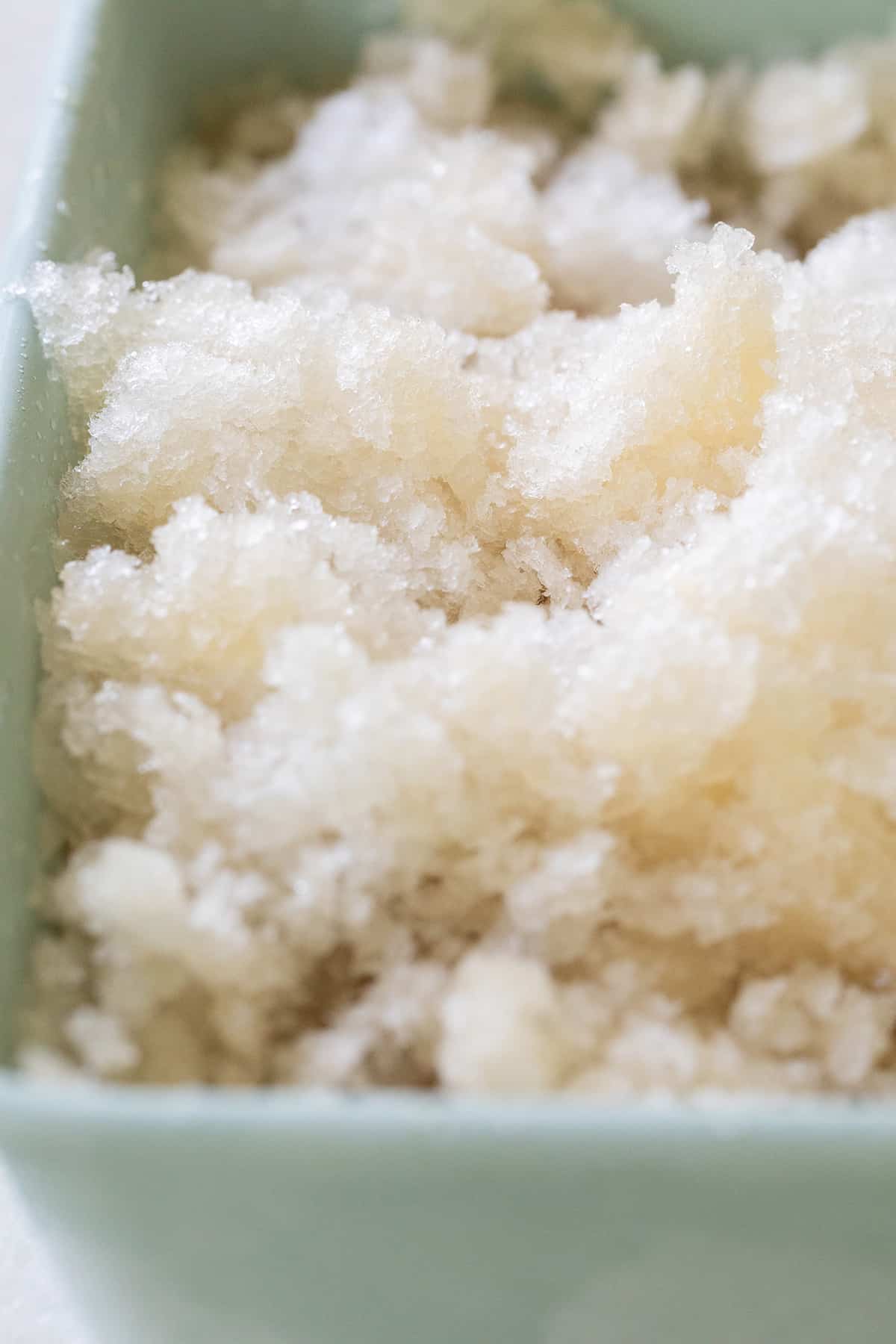 How to Make Easy Apple Cider Slushies
Ingredients
Fresh Apple Cider – You can use any cider, but fresh cider from the apple farm will always prevail! If you can't get cider, try using apple juice.
Whole Cinnamon, Nutmeg, and Star Anise – These spices add more flavor and depth to the cider.
Lemon Juice – gives the recipe a slight acidity and fresh flavor.
Instructions
Add apple cider, cinnamon, star anise, and nutmeg in a medium saucepan. Heat the mixture over medium heat, stirring occasionally. This step should take around 5 to 10 minutes.
Remove the saucepan from heat and stir in the lemon juice. Let the mixture cool down to room temperature.
Once cooled, remove the spices, and pour the mixture into a freezer-safe dish. Place the dish in the freezer overnight.
Take the dish out of the freezer and use a fork to scrape the icy edges of the mixture into the center. It will create a slushy consistency.
Scoop the ice into a festive glass and serve immediately.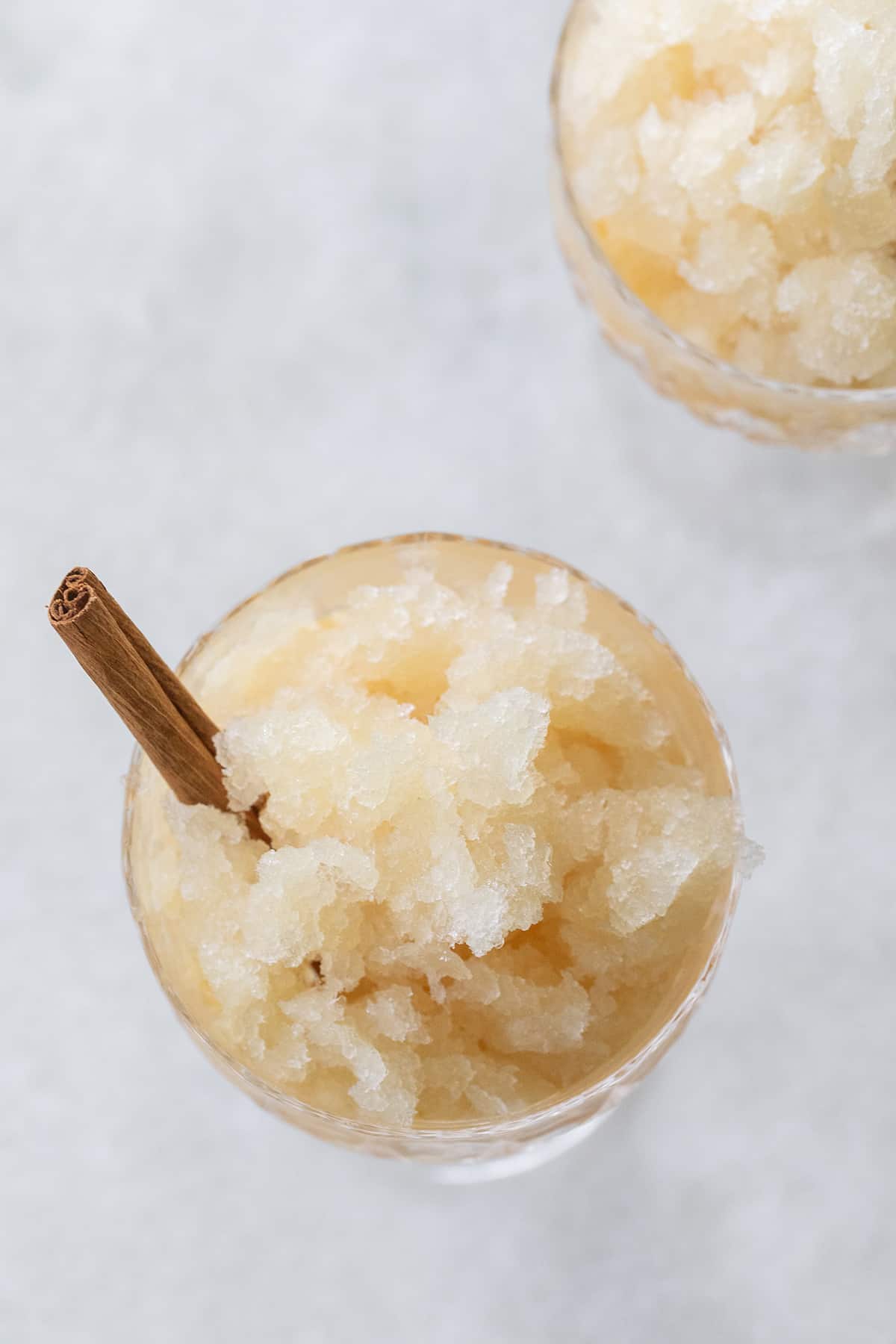 Serving
Scoop the icy mixture into chilled glasses or bowls to serve the Apple Cider Granita. Garnish with a cinnamon stick or a slice of fresh apple if desired.
For a caramel apple slushie, drizzle caramel in the glass and over the top.
Other Apple Cider Uses
Apple cider cubes by freezing cider into ice cube trays.
Whip up a refreshing apple cider cocktail to sip on a fall day.
Try our Old-Fashioned Apple Cider Cake for a fall dessert.
Frequently Asked Questions
What are the ingredients for a hard cider slushie?
For a hard cider slushie, follow our recipe and add 1/2 cup rum or vodka before freezing.
How many calories are in an apple cider slushie?
A typical non-alcoholic apple cider slushie has approximately 100-150 calories per 8-ounce serving. This number can vary depending on the type of sweetener used and any additional ingredients added. For a hard cider slushie made with alcoholic cider, the calorie count will be higher due to the alcohol content.
How is a caramel apple cider slushie made?
To make a caramel apple cider slushie, drizzle caramel sauce in the glass and over the top of the ice.
How to freeze apple cider for a slushie?
To freeze, follow these simple steps:
Pour apple cider into a shallow freezer-safe container, allowing enough room for expansion as it freezes.
Place the container in the freezer for 8 hours or overnight. Once frozen, use a fork to scrape the ice into what looks like shaved ice. It will have a slushie consistency. 
Add a pinch of cinnamon over the top.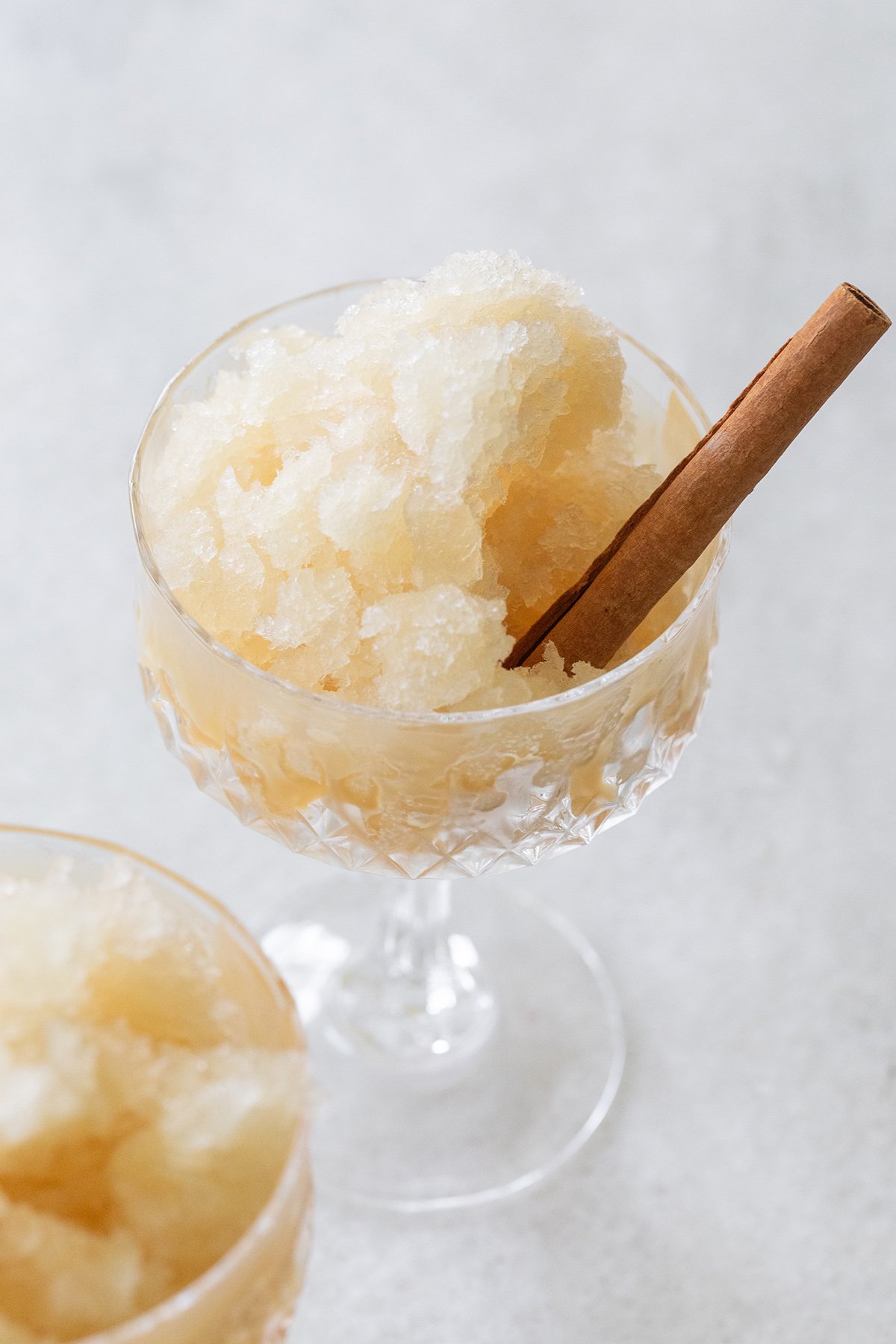 Expert Tips fro Recipe Success
Use high-quality apple cider. We recommend using fresh, locally-sourced cider from local farms. This will not only provide the best flavor, but it also supports local farmers and businesses. We love to pick up a fresh gallon of cider when we go apple picking. They also sell this at the pumpkin patch near our home.
Make this ahead of time and let it freeze overnight.
For a fun twist, you can also make spiked apple cider slushies by adding a splash of your favorite liquor, transforming them into a boozy sweet treat!
To enhance the flavor of your slushie, consider adding some additional ingredients. Here are a few suggestions:
Cardamom: A classic pairing with apple cider, a sprinkle of cardamom can add a warm and comforting flavor to your slushie.
Ginger: Add a pinch of ground ginger or a few slices of fresh ginger for a subtle spicy kick.
Maple syrup: If you prefer your slushie a bit sweeter, a drizzle of pure maple syrup can do the trick.
When to Serve
This is a versatile dessert to enjoy on multiple occasions. One of the best times to serve them is during the fall season, as the flavors in an apple cider slushie naturally complement the tastes associated with autumn.
This is also a unique and refreshing dessert to serve for Thanksgiving dinner or a cozy gathering of friends.
Another great time to serve this icy dessert is in the late summer month of August. It's a delicious alternative to traditional summer popsicles and ice cream.
Lastly, this slushie can be a fun and festive addition to your winter holiday celebrations.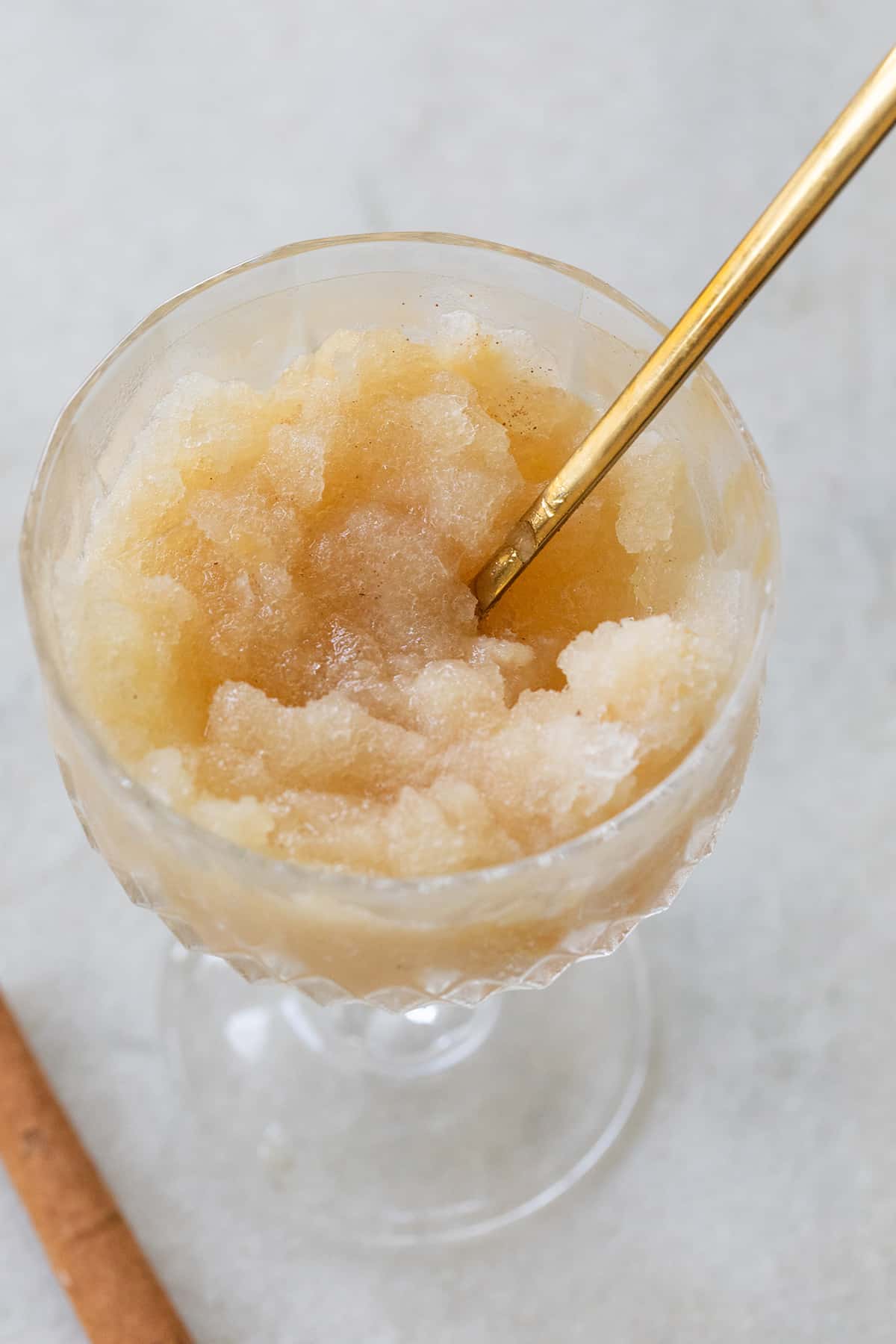 More Apple Cider Recipes
Try one of these 30 cocktails made with Apple Cider.
Let us know if you make this delicious apple cider slushie by leaving a comment and review below! We'd love to know your thoughts.
You can also FOLLOW US on FACEBOOK, INSTAGRAM, and PINTEREST to see more delicious recipes, cocktails, desserts, and parties!
Apple Cider Slushie
Easy recipe for apple cider slushie that requires zero equipment to make. This is a refreshing fall dessert made with pure apple cider.
Print
Pin
Rate
Ingredients
30

ounces

apple cider

1

stick

cinnamon

1

whole

nutmeg

2

whole

star anise

1

tsp

lemon juice
Instructions
Add apple cider, cinnamon, star anise, and nutmeg in a medium saucepan. Heat the mixture over medium heat, stirring occasionally. This step should take around 5 to 10 minutes.

Remove from heat and add the lemon juice.

Pour into a freezer-safe dish and freeze for 12 hours or overnight.

Use a fork to scrape the ice for an icy texture.

Serve in small glasses with a cinnamon stick.
Notes
This is an easy dessert to make ahead of time.
If you want a boozy version, add 1/2 cup of rum or vodka to the mixture once it's cooled and before freezing. 
Use a fork to scrape the ice to get a slushie texture. 
Nutrition
Calories:
69
kcal
|
Carbohydrates:
17
g
|
Protein:
0.2
g
|
Fat:
0.3
g
|
Saturated Fat:
0.1
g
|
Polyunsaturated Fat:
0.1
g
|
Monounsaturated Fat:
0.05
g
|
Sodium:
6
mg
|
Potassium:
152
mg
|
Fiber:
1
g
|
Sugar:
14
g
|
Vitamin A:
4
IU
|
Vitamin C:
2
mg
|
Calcium:
20
mg
|
Iron:
0.3
mg