We've given the classic Negroni a fun twist and created the most refreshing, grapefruit Negroni popsicles! See our step-by-step guide to these boozy freezer pops! Also if you need more tips, check out our complete guide to making popsicles!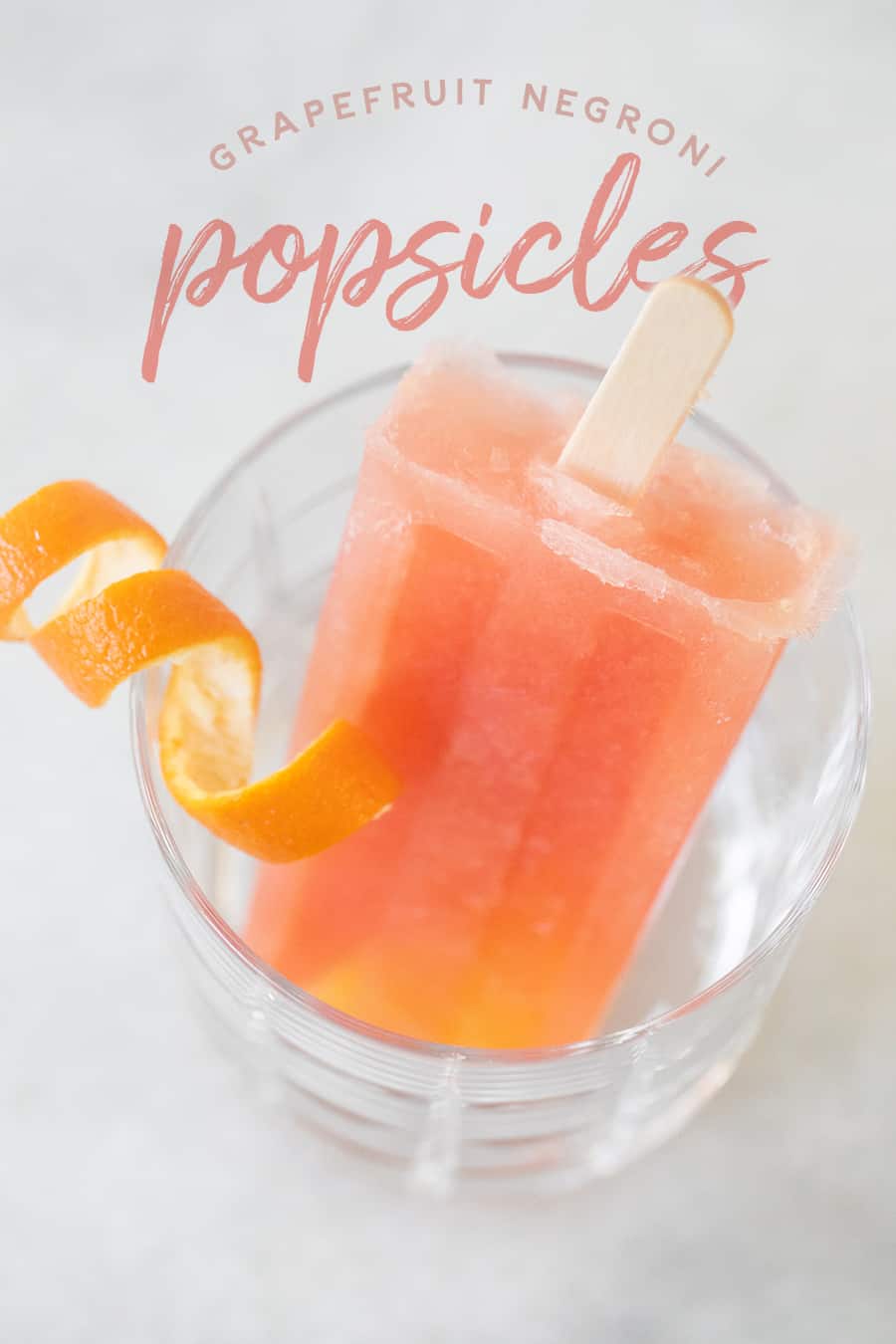 What's a Negroni?
A Negroni is a classic cocktail that consists of three simple ingredients: gin, Campari, and sweet vermouth. The cocktail is said to be created in Italy in the early 1900s and has become famous again by Campari and their genius creation of the ubiquitous Negroni week.
We thought making this wonderful libation into grapefruit Negroni popsicles sounded like a splendid idea! It's a recipe you can use in spring and all throughout summer!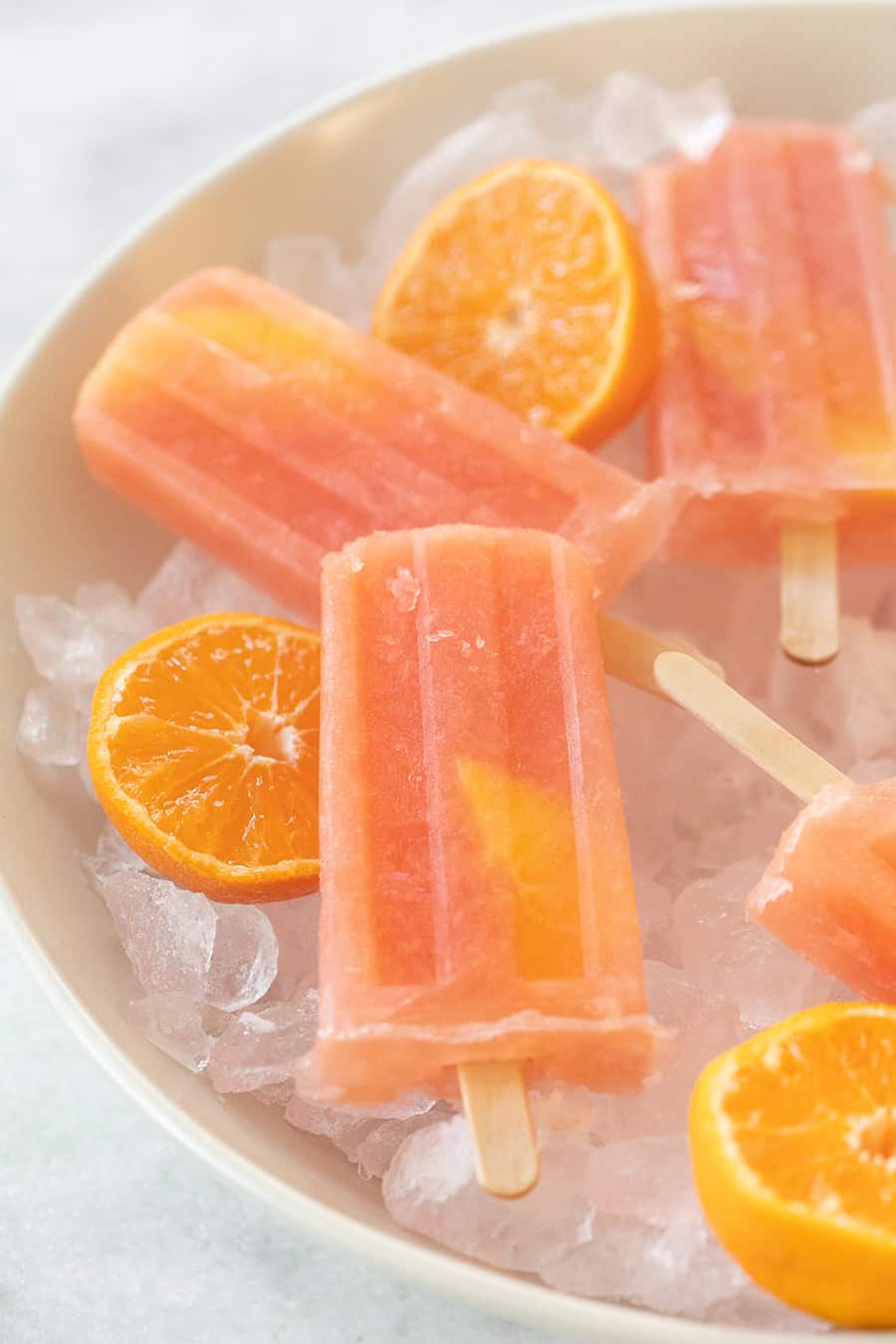 Best Gin for Negroni?
A gin that has floral notes is best when making a Negroni.
Tanqueray 10
Hendricks
Botanist
St George Gin
Gray Whale Gin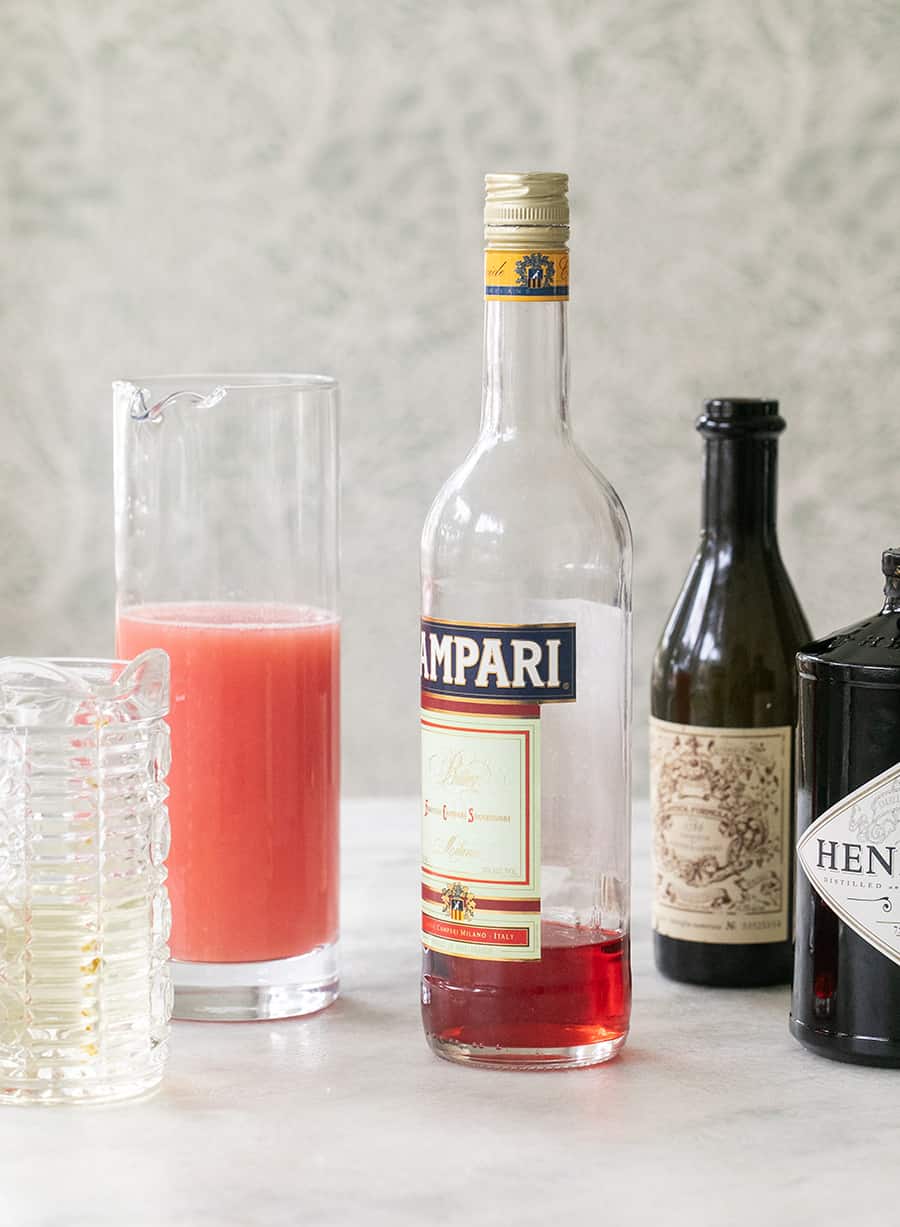 The Negroni is often served with an orange rind or a slice of orange. Campari liquor is a little bitter tasting, kind of resembling the bitterness in a grapefruit.
Those flavors were the inspiration behind our Negroni popsicles. We decided to do fresh grapefruit and fresh orange juice as the base of the cocktail. Then added in the vermouth, Campari, gin and simple syrup.
How do you make Simple Syrup?
We used the homemade simple syrup to sweeten the popsicles. Simple syrup is very easy to make. It's equal parts water and sugar, simmered in a saucepan until the sugar is dissolved.
This creates a liquid sweetener, which blends nicely into the popsicles.
To learn more about making simple syrup, check out our guide.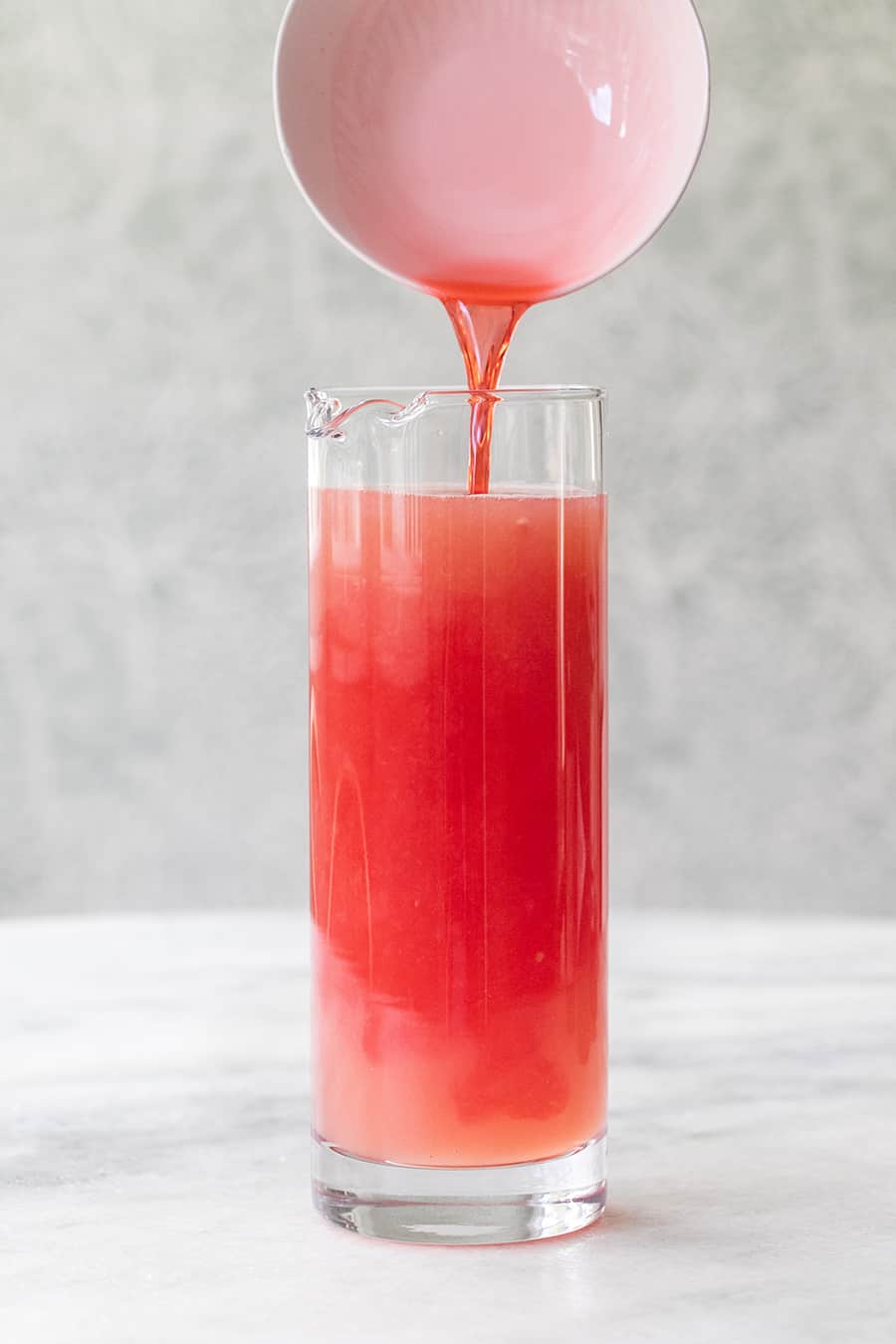 What is Campari?
Campari is a liqueur, considered an apéritif. It's made from the infusion of bitter herbs, fruits and plants in alcohol and water.
Although, we will never know the actual ingredients since it's still a very secret recipe! Campari tastes uniquely bitter, almost like the bitterness of a grapefruit, but has an overly sweet note to it.
How to Make Negroni Popsicles
Use fresh-squeezed grapefruit juice and orange juice.
Add all of the ingredients into a pitcher or a bowl with a spout and stir.
The spout is important because it makes it easy to pour into the popsicle mold. This is the popsicle mold we use all of the time.
Make sure to leave about 1/4″ space at the top of the mold to drop in a thin orange slice (remove the rind!), and for the popsicle to expand.
When juice and water freezes, it expands. If the juice and ice expand over the mold, it makes the removal of the lid on the mold harder. Also, you don't get a clean edge to your popsicle.
Let the popsicles freeze overnight. Since there is alcohol in these popsicles, and we all know that alcohol doesn't freeze, except when combined with enough juice, the pops need a lot of time in the freezer. At least 24 hours.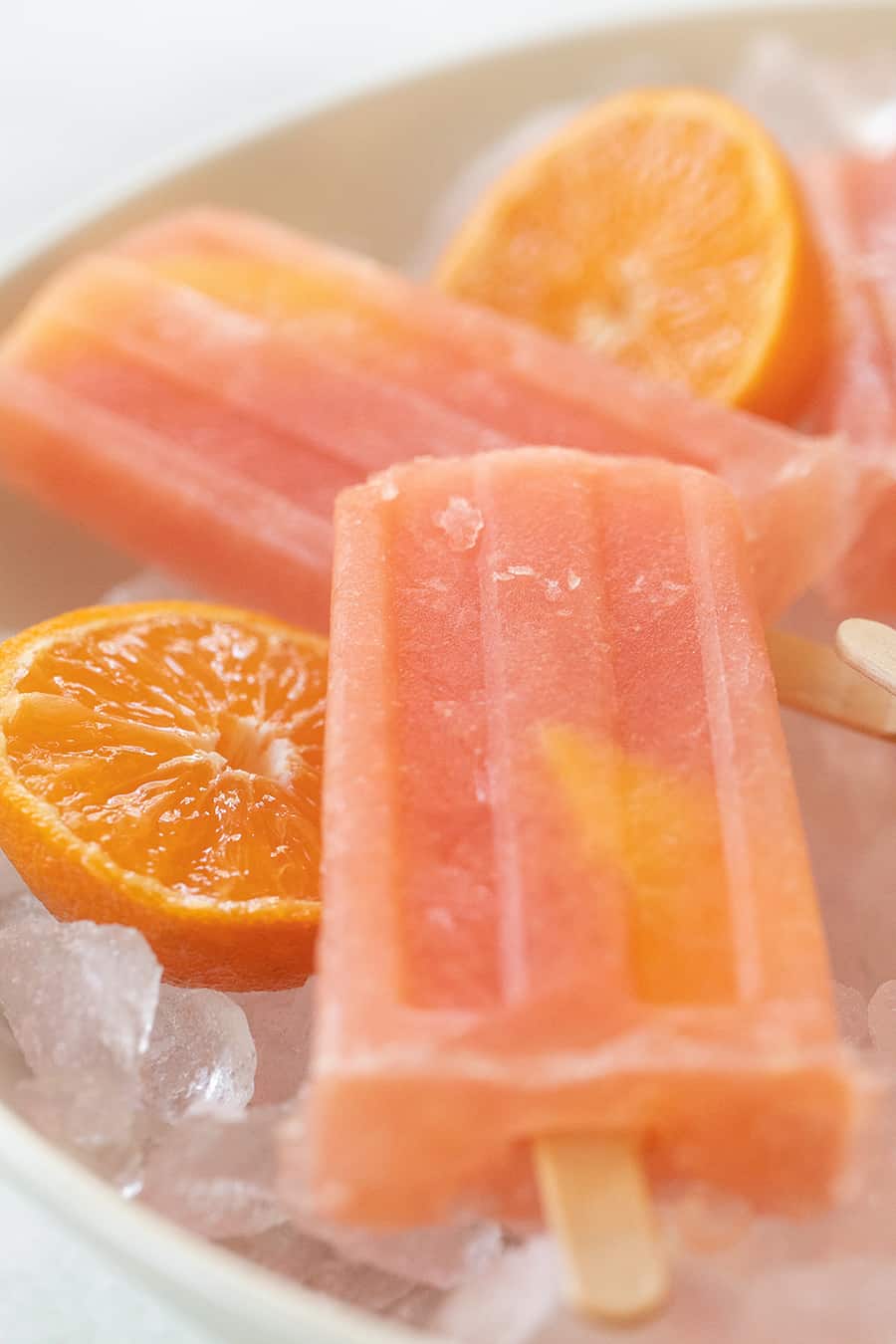 But it's worth the wait because look at these delicious grapefruit Negroni popsicles!! The color alone is gorgeous! They're bitter, sweet and fruity with a subtle taste of the classic drink! The perfect boozy ice pop!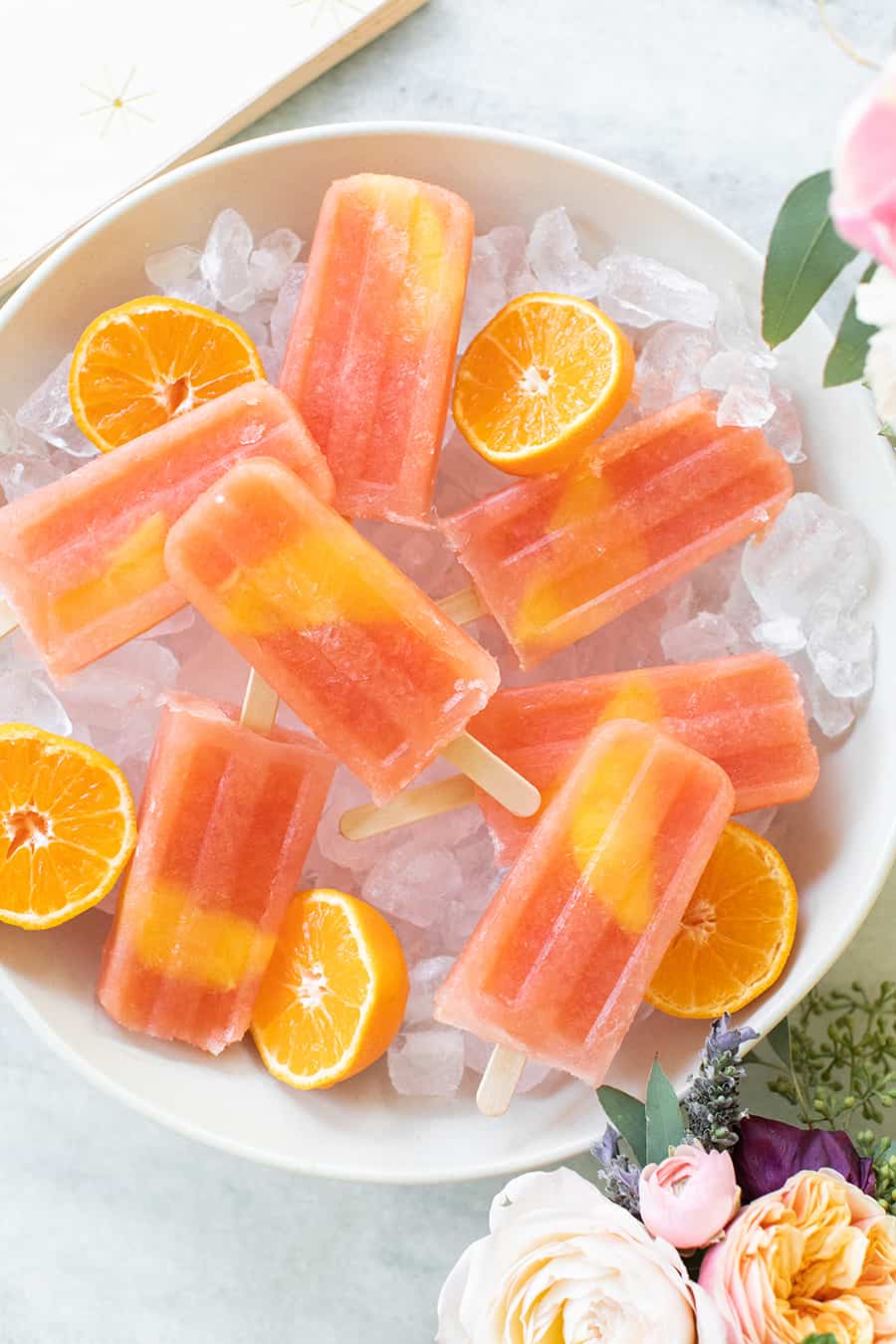 Serve the Negroni pops on a platter with ice and some orange slices.
Or serve them in a glass with an orange rind!
More Delicious Popsicle Recipes
We love making popsicles over here! Check out these other super refreshing and delicious recipes:
Let us know if you make these popsicles and share your pics with us @sugarandcharm on social!
You can also FOLLOW US on FACEBOOK, INSTAGRAM, and PINTEREST to see more delicious recipes, cocktails, desserts, and parties!
This post may contain affiliate links. Please read our disclosure and privacy policy.
Grapefruit Negroni Popsicles
We've given the classic Negroni recipe a fun twist and created the most refreshing, grapefruit Negroni popsicles! See our step by step guide to these boozy freezer pops!
Print
Pin
Rate
Ingredients
2

cups

fresh squeezed grapefruit juice

1

cup

fresh squeezed orange juice

1/4

cup

simple syrup

1/3

cup

gin

3

tablespoons + 1 teaspoon

sweet vermouth

1/3

cup

campari
Instructions
To make the simple syrup, combine 1/2 cup water and 1/2 cup sugar in a small saucepan and simmer until sugar is dissolved. Let it cool to room temp.

Combine 1/4 cup simple syrup (save the rest for another cocktail) with all of the other ingredients in a bowl or pitcher with a spout and stir.

Pour into the popsicle mold, leaving 1/4″ at the top for the mold for the popsicles to expand and to add in an orange slice. Make sure the orange rind is removed before.

Secure the top of the mold and the sticks and freeze the popsicles overnight.

Remove the top of the mold, it can be tricky getting it off between the sticks, but keep wiggling and it will come off.

To remove the popsicles run a little hot water on the bottom of the mold. Then gently pull on each stick.
Nutrition
Serving:
0
g
|
Calories:
124
kcal
|
Carbohydrates:
20
g
|
Protein:
1
g
|
Fat:
1
g
|
Saturated Fat:
1
g
|
Polyunsaturated Fat:
1
g
|
Monounsaturated Fat:
1
g
|
Sodium:
8
mg
|
Potassium:
164
mg
|
Fiber:
1
g
|
Sugar:
17
g
|
Vitamin A:
66
IU
|
Vitamin C:
31
mg
|
Calcium:
9
mg
|
Iron:
1
mg