Okay, brace yourself for these White Chocolate Peppermint Cold Brew Popsicles. Let's just clarify one thing, popsicles are a year-round treat! We love to make them during the summer using summery flavors and winter using seasonal flavors. You can get so creative with popsicles and I feel like it would be a disservice to not use yummy winter flavors and ingredients to make these delicious and festive popsicles! And trust me, they are just as good as they sound!
The pops are stripped using a white chocolate cream base we made and Dunkin' Donuts Cold Brew Coffee. Each layer takes about 20 minutes to freeze before you add the next, but it's as easy as pouring the ingredients in and letting them sit in the freezer, then repeating.
And since it's the holidays, I thought it would be cute to sprinkle some crushed peppermint candy canes onto the top. We even dipped them in white chocolate! These White Chocolate Peppermint Cold Brew Popsicles are so festive and a "cool" way to celebrate the holidays. Enjoy!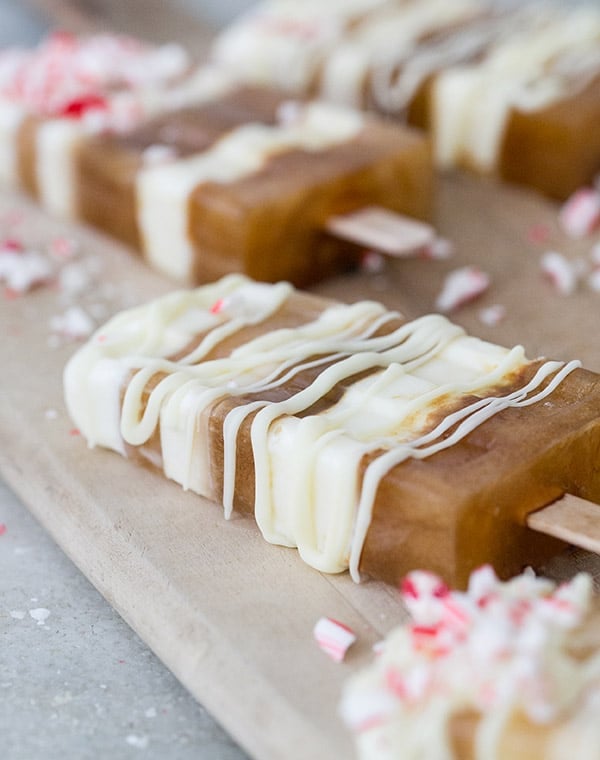 Ingredients
2

cups

heavy cream

1½

cup

white chocolate morsels

3

cups

Dunkin' Donuts Cold Brew Coffee
Instructions
Prepare Dunkin' Donuts Cold Brew Coffee

In a small sauce pan, melt the heavy cream and white chocolate together stirring constantly. Allow it to cool to room temperature.

Using a popsicle mold pour in the white chocolate and freeze, after an hour add in a layer of cold brew. Repeat until the molds are full and then freeze overnight.

Remove from the molds and garnish with melted white chocolate and crushed candy canes!