How to make the best, easy homemade lemonade recipe! It's lightly sweetened and perfectly tart. This easy recipe uses 3 simple ingredients, lemon juice squeezed from fresh lemons, water, and sugar.
It is perfect for a hot day and will become your favorite lemonade recipe! We're sharing everything you need to know for making the perfect lemonade.
And if you're looking for even more lemon recipes, check out all of our favorite lemon recipes.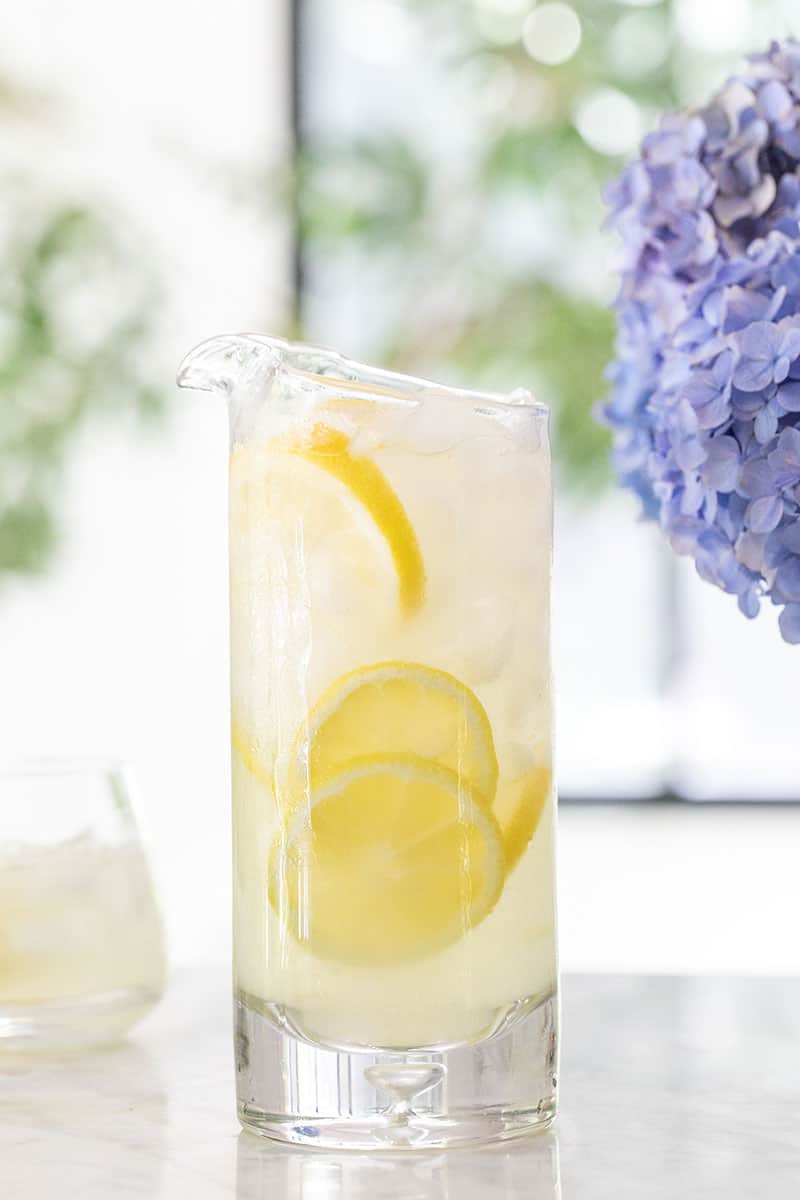 Lemonade is a classic drink that's made around the world. It consists of fresh lemon juice, water, and sugar. Our recipe for the best lemonade is lightly sweetened and made with fresh-pressed lemons. It has a bright and vibrant lemon flavor.
The lemon to sugar ratio has a perfect balance of flavor. There is no comparison to store-bought lemonade. When you make lemonade from scratch you can adjust the sweetness and use the freshest lemons.
This sweet spring and summertime drink is nostalgic for warm summer days and celebrations. Make a large pitcher for parties or store it away for the week. Kids love lemonade as much as adults!
If you're hosting an outdoor gathering, check out our lemonade stand for adults! It's a great entertaining idea!
The other great thing about lemonade is that you can use it to create other delicious recipes! We make the best lemonade popsicles and even a lemonade margarita!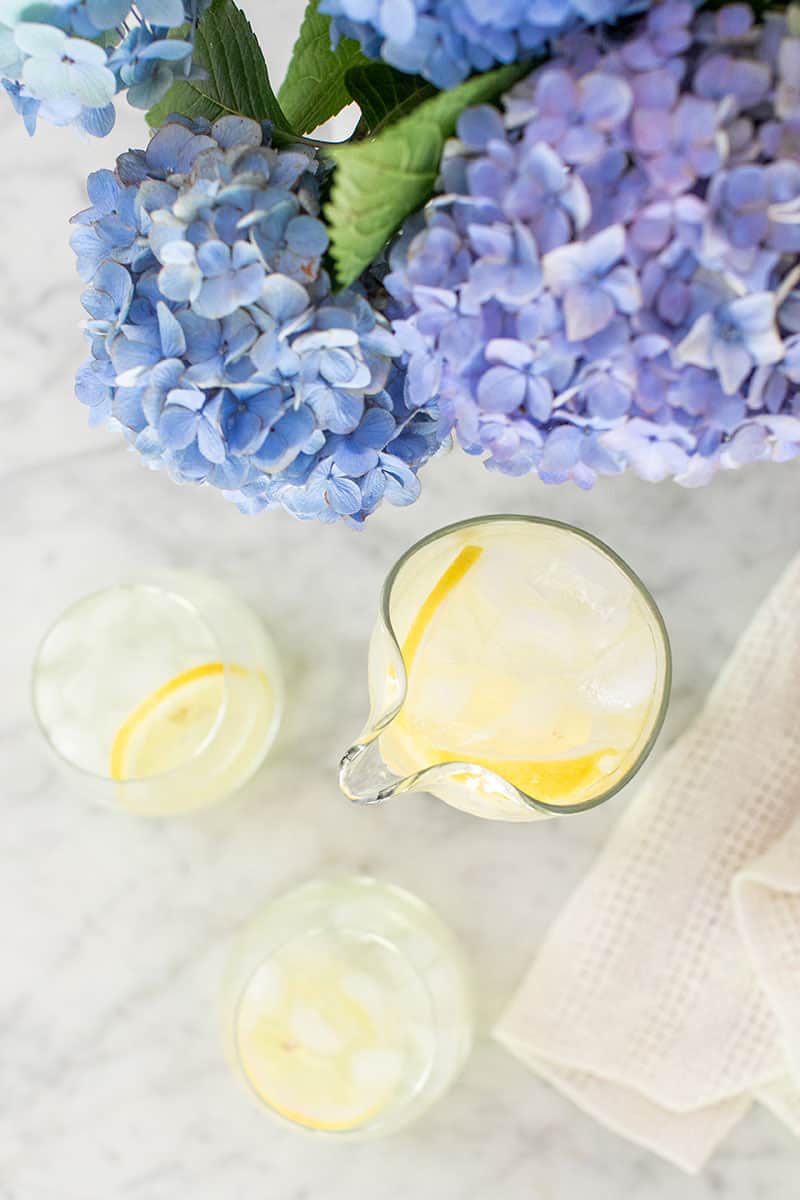 How do you make lemonade from scratch?
It's very simple! You will need a citrus squeezer and a medium saucepan as well as measuring cups.
Ingredients
Here are all of the ingredients you'll need to make this recipe. For recipe measurements, see the recipe card at the end of this post.
Lemon Juice – Squeeze a bunch of lemons, about 5 lemons will give you 1 cup of juice, to give this drink the best flavor.
Water – We use filtered water when making lemonade. This provides the best quality of lemonade.
Sugar – Granulated sugar, also known as white sugar is what we use to sweeten this drink. However, there are several other sweeteners that can be used too.
Try honey, maple syrup, coconut sugar, or stevia. However, using a different sugar will result in a darker color lemonade and a slightly different flavor.
Step by Step Instructions For Making The Easiest Lemonade
1. Squeeze enough lemon juice for the recipe. 
2. Next, in a saucepan combine 3 cups of water and 3/4 cup of sugar.
3. Then, heat on medium heat only until the sugar dissolves, then let it cool. This only takes a minute! It's a super simple step.
4. In a large pitcher add the lemon juice and 1 cup of water. Pour in the sugar water and mix. 
5. Lastly, let the mixture cool in the refrigerator. It tastes best when it's nice and cold! 
6. Serve in a big glass with ice cubes and lemon slices.
The Best Way to Juice a Lemon
To get the most juice out of the lemons, a citrus squeezer is the best option. These simple devices are made for squeezing all of the fresh juice and keeping the lemon seeds inside the squeezer.
So you don't need a strainer. Here's a list of our favorite citrus squeezers:
How to Make Lemonade by the Glass
Don't want to make a batch of lemonade, no worries! Make a glass! Here is a basic homemade lemonade recipe for one glass:
2 tablespoons granulated sugar
3 tablespoons fresh-squeezed lemon juice. This is about 1 1/2 lemons.
Simply squeeze the lemons to make juice.
Add the sugar to the glass and pour the warm (not hot) water over the sugar. Stir until melted.
Then add the lemon juice and cold water.
Fill the glass with ice and enjoy!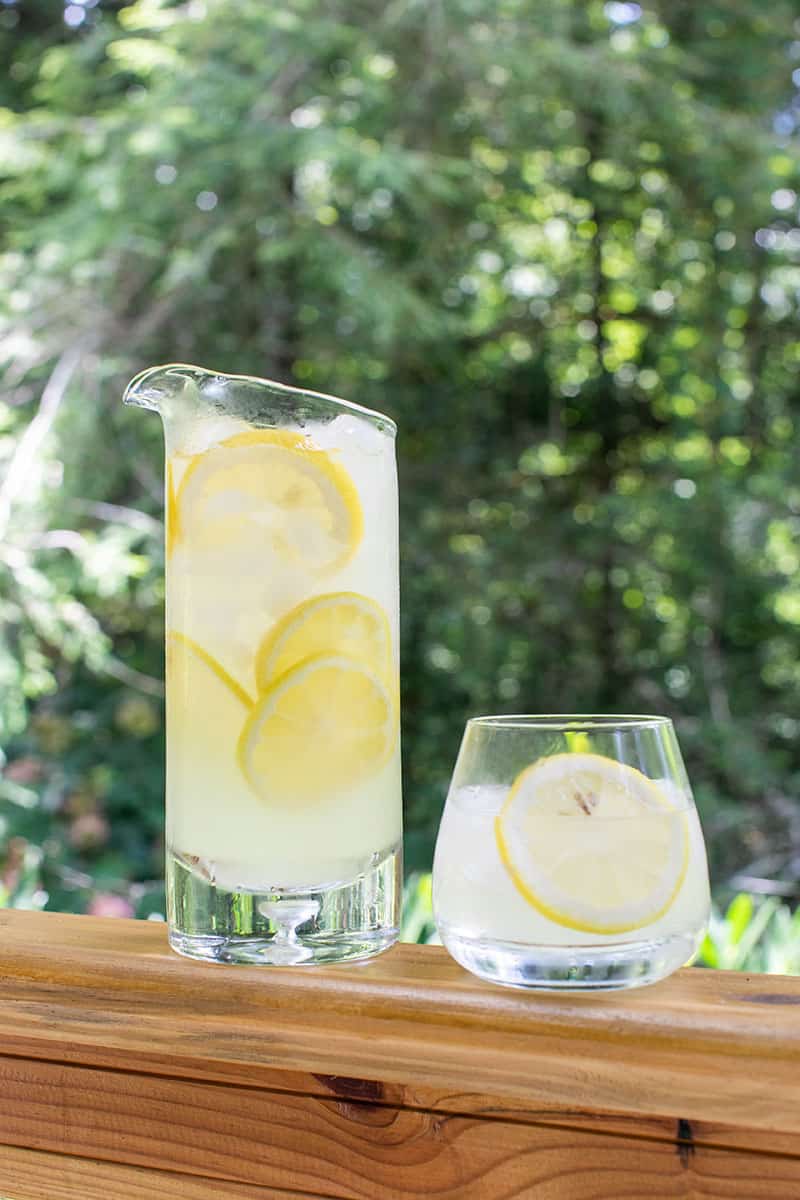 Easy Lemonade Recipe with Simple Syrup
Simple syrup is the best way to sweeten the tartness of the lemons. It's very easy to make as you just add it to a saucepan with water and let it simmer until the sugar has melted.
If you're making this recipe with honey, you will also need to melt the honey down with water before adding it to the lemon juice.
Frequently Asked Questions
Why is it called lemonade?
When you think of citrus juice, you would automatically assume it's the name of the fruit with juice at the end. For example, orange juice or pineapple juice. However, when juice from the fruit is mixed with sugar and water it becomes something different like limeade and lemonade. That is the drink form.

Lemon Juice on its own is too tart to drink and needs to be mixed with other ingredients. However, this lemonade recipe with lemon juice is made with sugar and water making it a light and refreshing drink.
Is Homemade Lemonade Healthy?
Depending on what sugar you use to sweeten it, it can be considered a healthy drink. If you use a natural sweetener or honey lemonade is healthy to drink. Lemon juice promotes hydration and has a good amount of vitamin c.
How long will homemade lemonade last?
It will last 7-9 days in the refrigerator.
What are the 7 steps of making lemonade?
Slice the lemons.
Squeeze the lemons to make lemon juice.
Heat sugar and water in a saucepan to create sugar syrup.
Pour the lemon juice into a pitcher,
Add a cup of cold water to the pitcher.
Let the sugar water cool slightly
Add the sugar water to the pitcher.
How many lemons make a cup?
Depending on the size of the lemon, there are roughly 3 tablespoons of lemon juice in a medium lemon. You need 16 tablespoons of juice to equal 1 cup. So you will need 5-6 lemons to make 1 cup of lemon juice.
How do you spruce lemonade?
We're all about the garnishes and sprucing up a drink! Here are three ways you can spruce lemonade:
Add fresh mint or thyme for extra color and aromatics to make mint lemonade.
Edible flowers are a great way to add color and charm to a drink.
Fresh berries go great with lemons. Add some berries into the glass and garnish with berries too.
Add a little lemon zest over the top of the lemonade for a colorful garnish.
What alcohol is best with lemonade?
Spiked lemonade is one of our favorite cocktails. Lemonade is versatile and pairs well with many spirits such as:
Vodka – A neutral spirit that lets the flavors of the lemonade shine. Add 2 ounces vodka to 1 cup of lemonade.
Tequila – When you add tequila the drink taste similar to a margarita.
Gin – Adds a botanical and floral flavor to the drink.
Different Types of Lemons
There are several types of lemons and they all of a unique flavor! At our house, we grow Meyer lemons and Eureka lemons. Meyer has a sweeter taste to them and they are really juicy!
Eureka is your standard, super yellow lemons with a tart lemon flavor. No matter what lemons you use this lemonade recipe with lemon juice will be your favorite!
Here are more varieties of lemons you can use!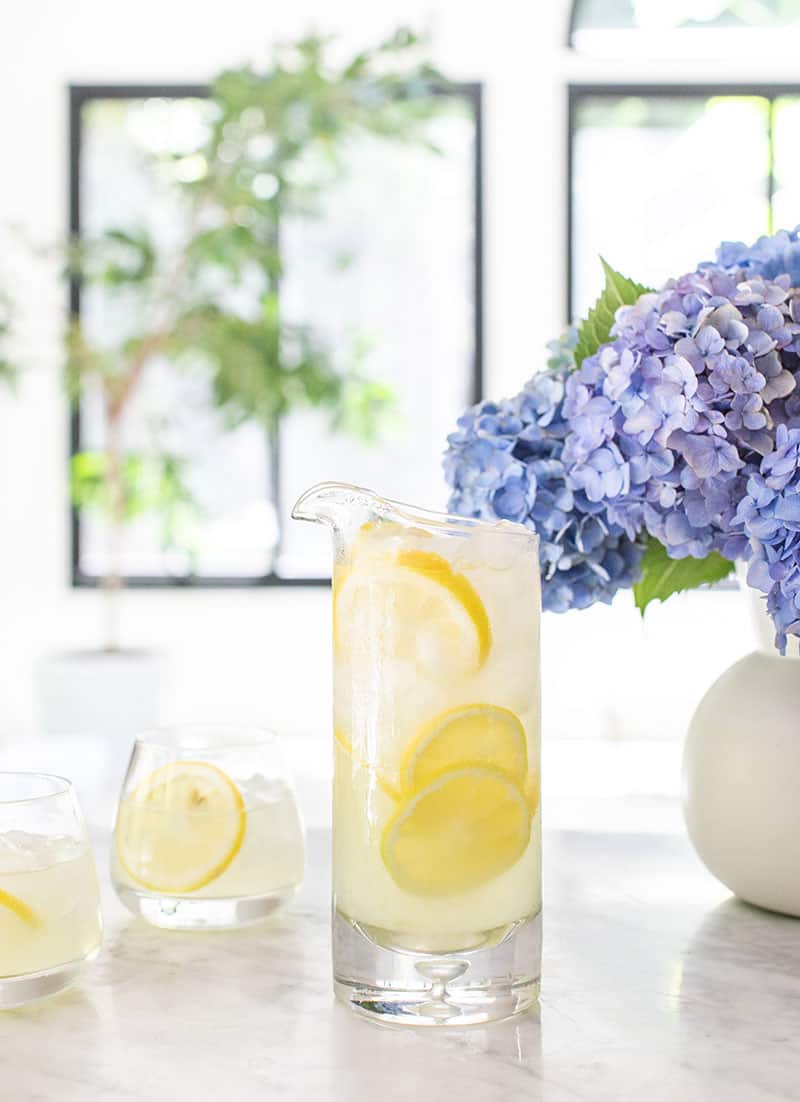 Sweeteners for Homemade Lemonade
There are several sweeteners you can use to make lemonade. Here are a few options that you can try.
Granulated Sugar – This is the most popular and traditional way of making lemonade.
Stevia – If you want to make a recipe with low sugar, stevia is a great, natural source to sweeten.
Honey – This is one of my favorite sweeteners when making lemonade.
Brown Sugar – Another unique sweetener is brown sugar which is sometimes used recipes in Northern Ireland.
How do you sweeten lemonade naturally?
Try using honey or maple syrup to sweeten lemonade naturally.
Lemonade Recipe Variations
Raspberry Lemonade – When you melt the sugar and water together, add 1/2 cup raspberries to the mixture as well. Let them simmer while the sugar is dissolving. Then strain the berries out when you add the sugar mixture into the pitcher.
Lavender lemonade – Add 1/4 cup lavender to the sugar water and let it simmer. Using a sieve, strain the lavender out when you add the sugar water to the pitcher.
Meyer Lemonade – Make this lemonade using sweet Meyer lemons.
Light Lemonade – Use half the sugar or use a sugar-free sweetener to make light lemonade.
Sparkling Lemonade – Add soda water to give this drink some bubbles and make it sparkle! Better yet, add lemon soda water to up the lemon flavor.
When to Serve Lemonade
Lemonade is perfect for a hot summer day. It's also a great drink for parties too as it's vegan, plant-based, gluten-free, and dairy-free. It's a great option for all guests.
Serve it on any of these sunny occasions:
Birthday Party it's also perfect for a last-minute birthday party!
Lemonade Recipes You'll Love
Here are more refreshing lemonade recipes you'll love!
Recipes Made with Lemonade
If you have extra lemonade and want to make something with it. Here are some of our favorite recipes that use lemonade:
Thyme Lemonade and Tequila Cocktail
Lemonade Mimosas with Blood Orange
Let us know if you make this homemade lemonade recipe by leaving a comment and review below!
You can also FOLLOW US on FACEBOOK, INSTAGRAM, and PINTEREST to see more delicious recipes, cocktails, desserts, and parties!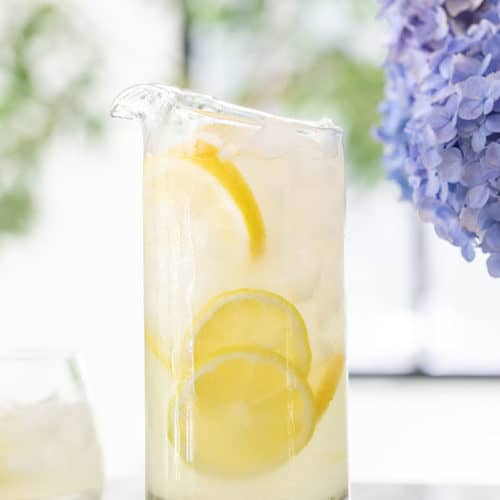 Homemade Lemonade Recipe
An easy homemade lemonade recipe using only 3 simple ingredients. This lemoande recipe is made with real lemon juice and is the perfect summer drink!
Print
Pin
Rate
Ingredients
1

cup

lemon juice

,

fresh-squeezed only

3/4

cup

sugar

4

cups

water
Instructions
Squeeze enough lemon juice for the recipe. 

In a saucepan combine 3 cups of water and 3/4 cup sugar. 

Heat on medium only until the sugar has melted, then let it cool.

In a pitcher add the lemon juice and 1 cup water. Pour in the sugar water and mix. 

Let the mixture cool in the refrigerator. It tastes best when it's nice and cold! 

Serve with ice and slices of lemons.
Notes
Always tastes test and add more lemon juice or sugar if needed!
Used Stevia, Truvia or honey to sweeten the lemonade naturally. 
Nutrition
Calories:
106
kcal
|
Carbohydrates:
28
g
|
Protein:
1
g
|
Fat:
1
g
|
Saturated Fat:
1
g
|
Sodium:
9
mg
|
Potassium:
42
mg
|
Fiber:
1
g
|
Sugar:
26
g
|
Vitamin C:
16
mg
|
Calcium:
7
mg
|
Iron:
1
mg