Baked Salmon is as nutritious as it is delicious and it's incredibly easy to make! It only takes about 6 minutes to bake and you'll the most tender, flavorful salmon. These are great for an easy everyday dinner or as an party appetizer when entertaining!
Check our more of our favorite lemon recipes too!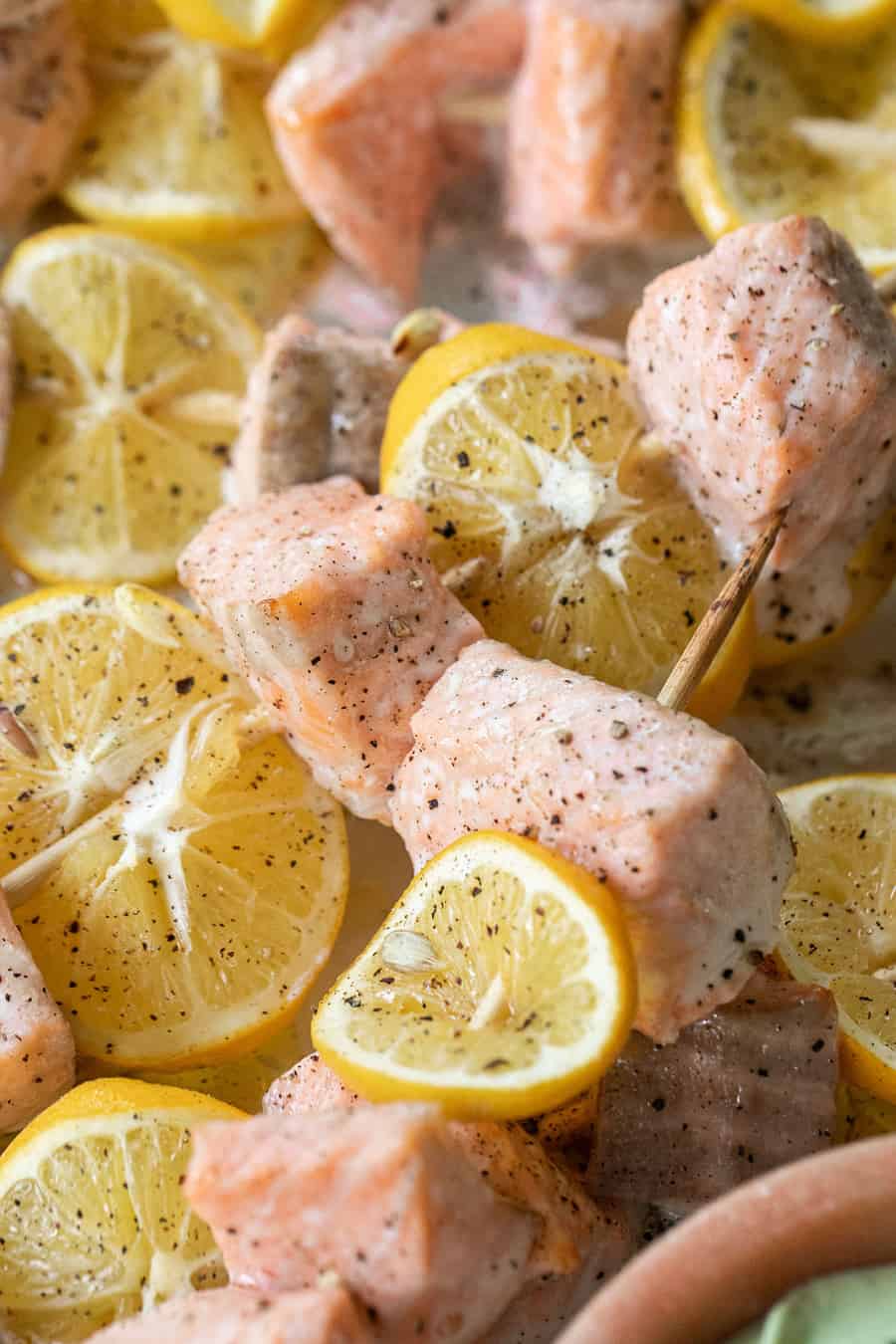 Baked salmon is incredibly easy to make It only takes about 10 minutes total. It's a wonderful dinner to make when having guests over and it goes SO well with our cilantro garlic sauce. Actually, you must serve it with our garlic sauce.
We love making salmon this way as they lemon adds a fresh flavor and the citrus actually helps cook the fish.
What Are the 5 Types of Salmon?
Did you know there are actually five different types of salmon? They are:
Coho
Chinook
Chum
Pink
Sockeye
What's the difference? Here's what you need to know.
Chum salmon is well known for its eggs, which you may see at a sushi restaurant. Pink salmon is often canned or tinned.
Coho, Chinook, and Sockeye salmon are the best choices for our baked salmon recipe. Chinook is often more expensive than the other two, though Coho and Sockeye are just as delicious.
How to Make Baked Salmon Skewers
Ingredients
Fresh Salmon
Lemons
Olive Oil
Salt and Pepper
Directions
Preheat the oven to 450 degrees.
Remove the skin and cut Salmon into 1 inch cubes.
Slice lemons to go between salmon on the wooden skewers.
Alternate salmon and lemons. You decide how many lemon slices and how much salmon you want per skewer. We prefer about 3-4 cubes of salmon and 2 lemon slices.
Lay the skewers on a baking sheet lined with tin foil.
Squeeze lemon juice and add a big pinch of salt over the top of all the skewers.
Bake for 6 minutes (until internal temp is 135-140 degrees)
It's as simple as that! Serve with a dipping sauce, a salad or some delicious coconut rice!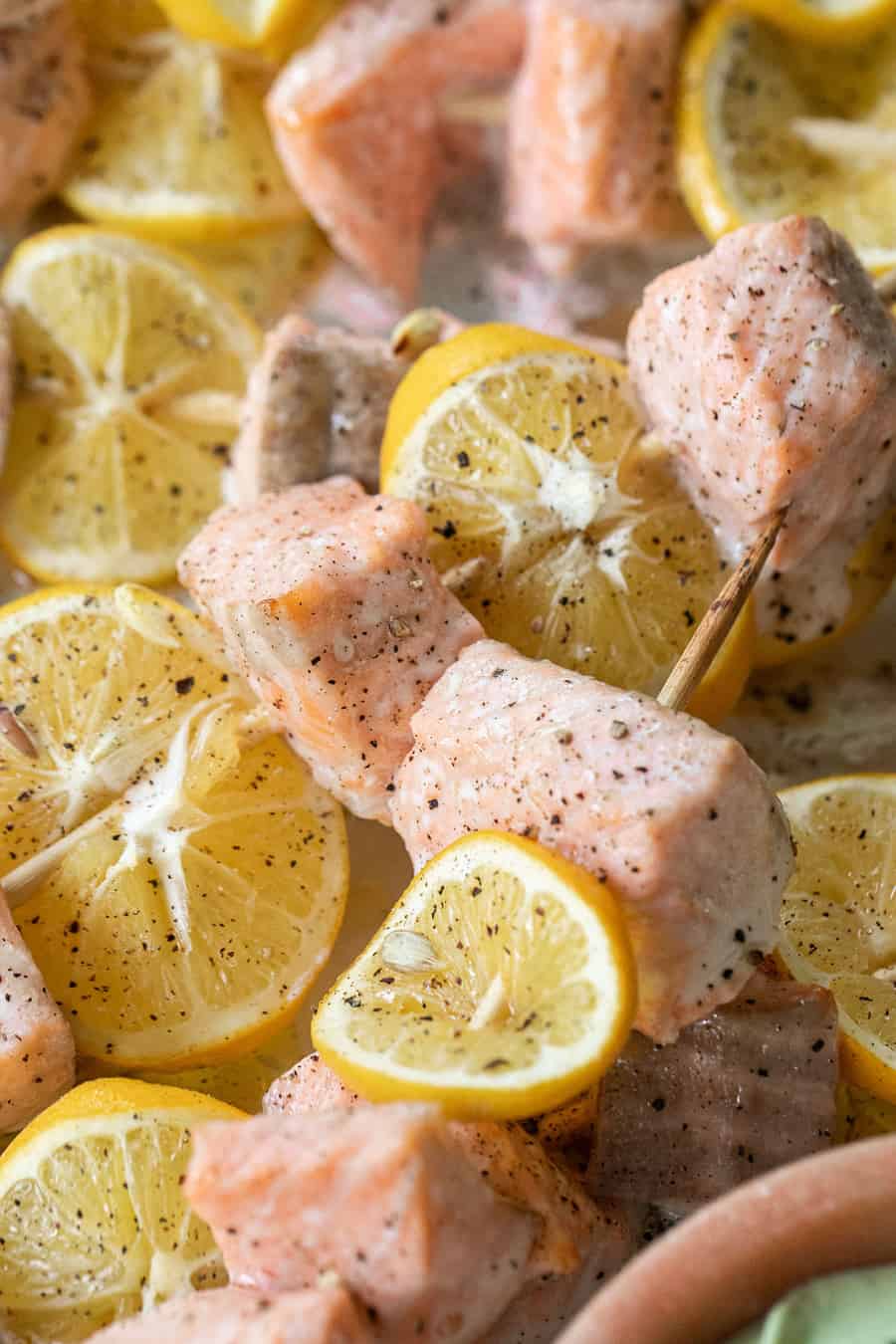 Frequently Asked Questions
What Temp Should Salmon Be Cooked?
The FDA recommends cooking salmon to "145°F or flesh is opaque & separates easily with fork". If you're following our recipe, preheat your oven to 450 degrees and bake for about 6 minutes.
How Long Should I Keep Salmon in the Oven?
Sometimes, the baking time of the salmon will have to be calculated based on thickness. If you cut it into 1″ cubes, it should be in a preheated 400 degree oven for about 6 minutes.
Can You Overcook Salmon?
Yes. In fact, many people accidentally overcook salmon because they don't know how to tell when it is done.

When your salmon is finished baking, it should have gone from a glossy orange color to opaque pink. As a test, press down on top of the salmon with a fork. If it flakes, your salmon is ready to eat.

Remember it cooks a lot faster than you think!
Is Salmon Skin Safe to Eat?
Yes! In fact, salmon skin is delicious when you bake it because it gets all oily and crispy.

Many people like to eat the skin with the salmon after it's done baking. But if not, it's easy to eat salmon off of the skin. You can also save the crispy skin to put on salads or sushi!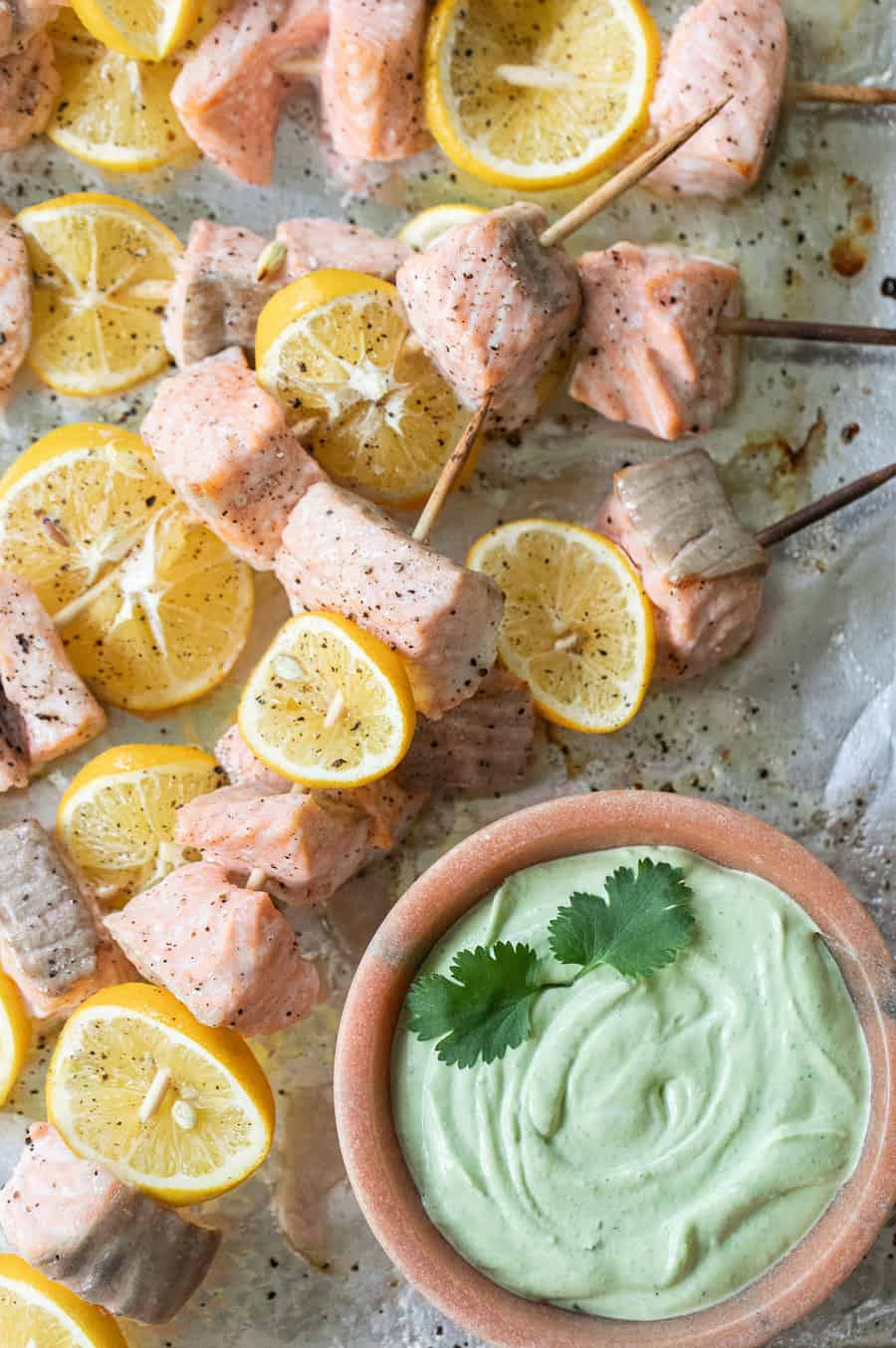 Tips for Making the Best Baked Salmon
Here are a few additional tips to make your baked salmon extra delicious! Think of these as expert kitchen hacks.
Only working with fish at room temperature helps your salmon to bake evenly. This simple trick will help you achieve salmon perfection.
And as always, invest in good kitchen tools. For baked salmon, a baking sheet is your best friend.
More Recipes You'll Love
Baked Salmon Made Easy
Once you've mastered this recipe, you'll want to make it every night! It's fast, easy, delicious, and really good for you! We're pretty sure you'll find this recipe to be a winner.
Let us know what you think by leaving a comment and review below. We'd love to know your thoughts!
You can also FOLLOW US on FACEBOOK and PINTEREST to see more delicious recipes, cocktails, desserts, and parties!
Baked Salmon on Skewers
Baked salmon is as nutritious as it is delicious and it's incredibly easy to make! It only takes about 6 minutes to bake and you'll the most tender, flavorful salmon.
Print
Pin
Rate
Ingredients
2

lbs

salmon

,

fresh, not frozen

3

lemons

,

sliced

3

tbsp

olive oil

pinch

salt

,

course

pinch

pepper

,

course
Instructions
Preheat the oven to 450 degrees.

Remove the skin and cut Salmon into 1 inch cubes.

Slice lemons to go between salmon on the wooden skewers. 

Alternate salmon and lemons. You decide how many lemon slices and how much salmon you want per skewer. We prefer about 3-4 cubes of salmon and 2 lemon slices.

Lay the skewers on a baking sheet lined with tin foil. 

Drizzle olive oil over the skwers.

Next, squeeze lemon juice and add a big pinch of salt over the skewers. 

Bake for 6 minutes (until internal temp is 135-140 degrees) 
Nutrition
Calories:
292
kcal
|
Carbohydrates:
5
g
|
Protein:
31
g
|
Fat:
17
g
|
Saturated Fat:
2
g
|
Cholesterol:
83
mg
|
Sodium:
68
mg
|
Potassium:
815
mg
|
Fiber:
2
g
|
Sugar:
1
g
|
Vitamin A:
72
IU
|
Vitamin C:
29
mg
|
Calcium:
32
mg
|
Iron:
2
mg
Related Posts