This is the tastiest Turkey Meatball recipe… a great alternative to beef and they're seasoned with most the flavorful ingredients. They're cooked to a beautiful deep golden brown in a cast iron skillet and moist inside, with a delicious browned outside. A family favorite!
Also, try our meatball appetizers too!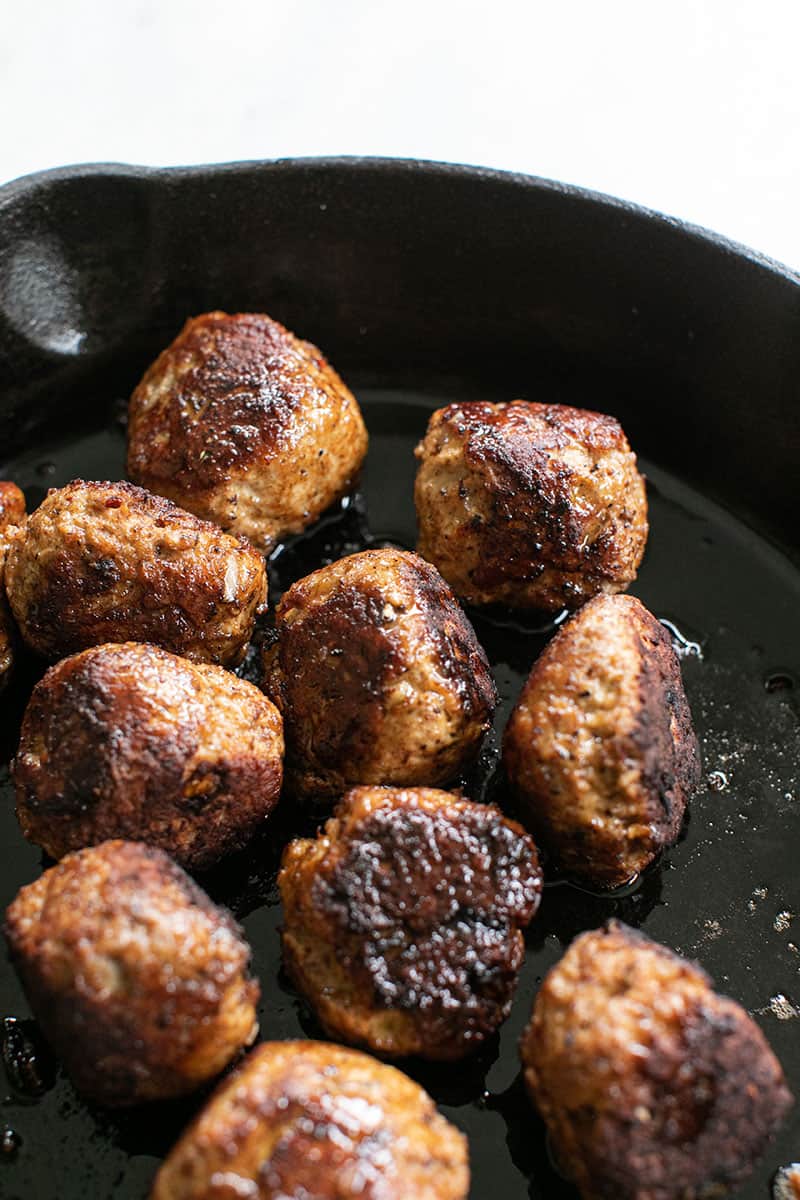 These turkey meatballs are unique and have been one of my family's favorite recipes for the past 10 years. We use flavors like Worcestershire sauce, soy sauce, yellow mustard, cajon seasoning and onions to give them a unique taste and absolutely to-die-for flavor! They're easy to make too. Everything is in one bowl, and then seared in a cast iron skillet. This recipe is truly my favorite meatball recipe ever.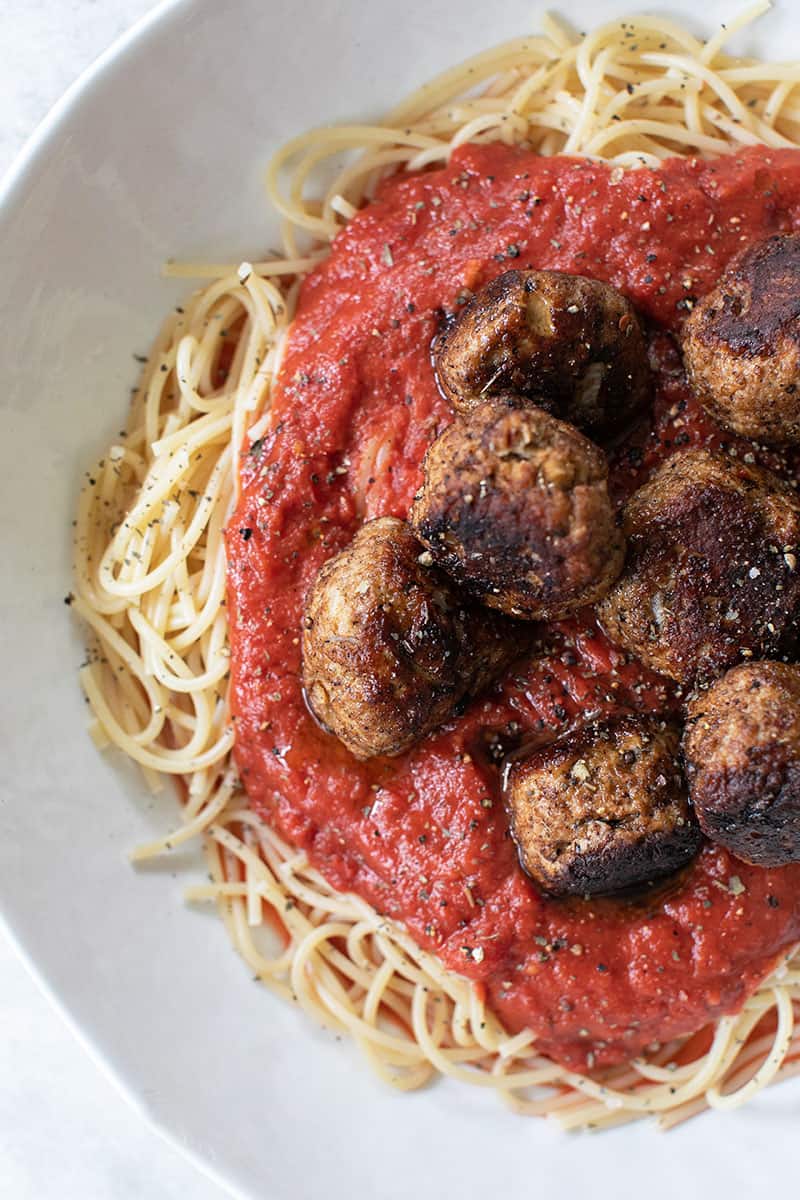 They're flavorful enough to eat alone or just add them to your favorite sauce!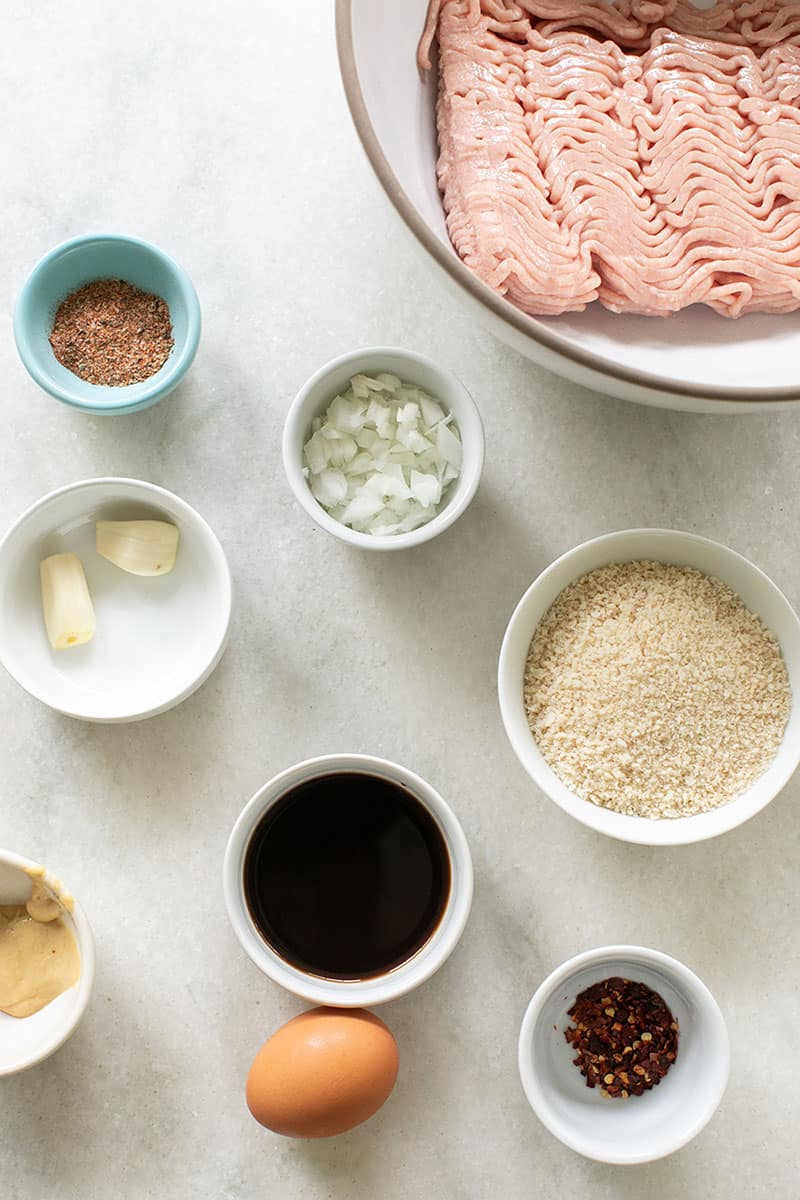 Turkey Meatball Recipe Ingredients
The flavors in these meatballs sound so different and interesting, but when it all comes together, it's the best flavor combo ever!!
Sweet onion (yellow is fine too)
How to Make Meatballs (Step by Step)
It's easier than you think to make these meatballs! You only need one bowl and one cast iron pan!
Add all of the ingredients into a medium mixing bowl.
Have a baking sheet or platter close by to set the meatballs on while you shape them.
Why do my meatballs fall apart?
To keep meatballs together, you need to use a binder such as an egg or breadcrumbs. The breadcrumbs need to be very small, like Panko, and you can't use too many or it will result in a loose meatball. We use 1 egg and 3/4 cup Panko breadcrumbs. These meatballs never fall apart!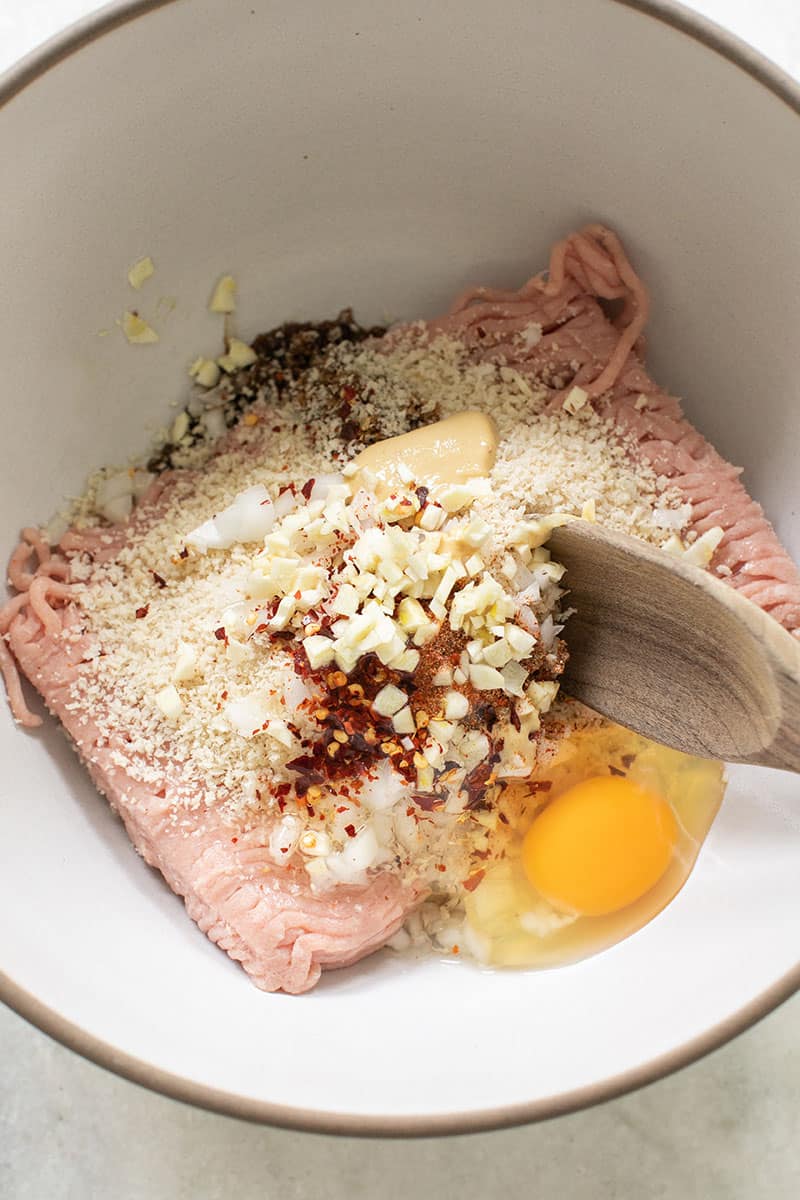 Using clean hands or a wooden spoon, mix the ingredients well.
Using clean hands, shape the meatballs into small gold sized balls.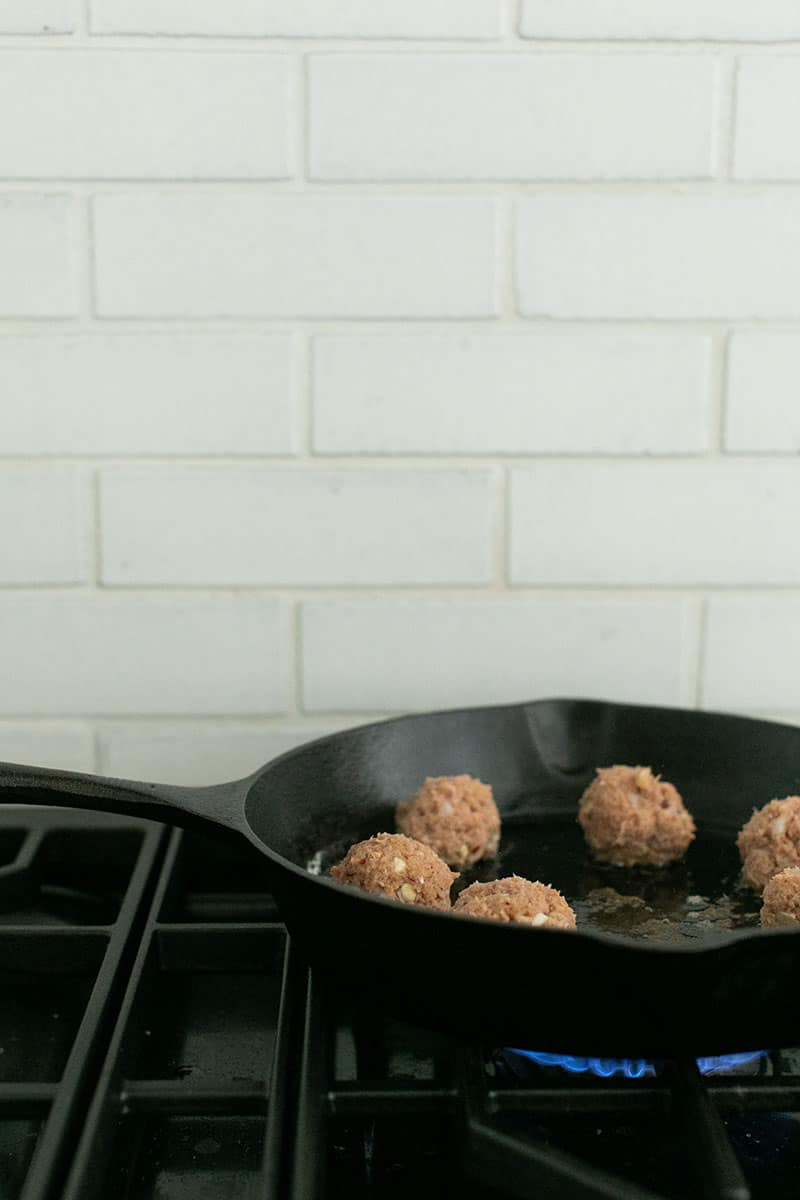 Once all of the meatballs are shaped (should be about 12 for this recipe), heat butter and oil in a cast iron pan until sizzling.
Turn heat to medium and place all of the meatballs in the cast iron pan.
Brown them on each side.
Cover and let them up for a few minutes, turning them occasionally.
They will turn a deep, deep brown color which is what you want.
Using a meat thermometer, put it in the center of one meatball. When it reaches 140 degrees, the meatball should be done.
Cut one in half (this one can be yours to eat!), and check the center to make sure it's cooked, but still moist inside.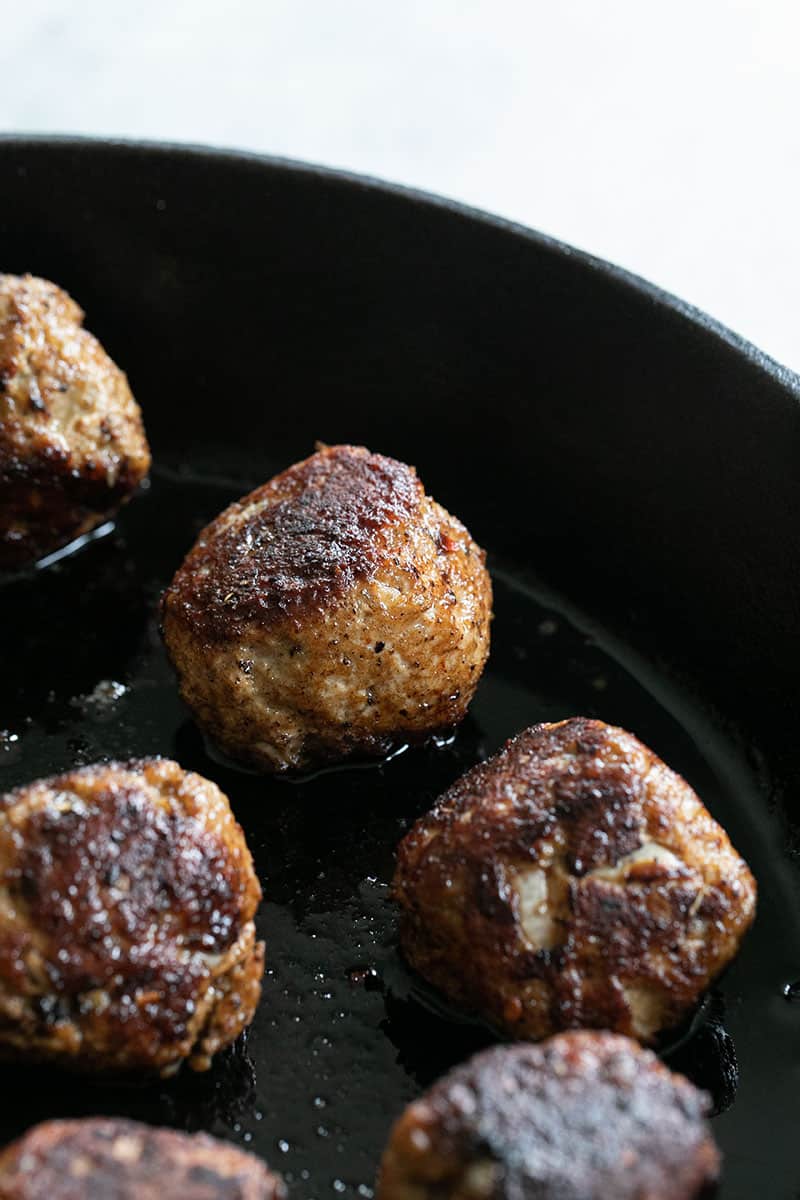 How to Cook Meatballs
There are a few ways to cook meatballs. Personally, our favorite is to cook them in a cast iron pan with melted butter and olive oil. They get brown and crispy on the outside and stay juicy and plump inside. They are SO good cooked this way!
Purchase a pre seasoned cast iron pan with lid here.
You can also cook meatballs in a preheated 400 degree oven for about 15-20 minutes. Make sure to turn them once or twice.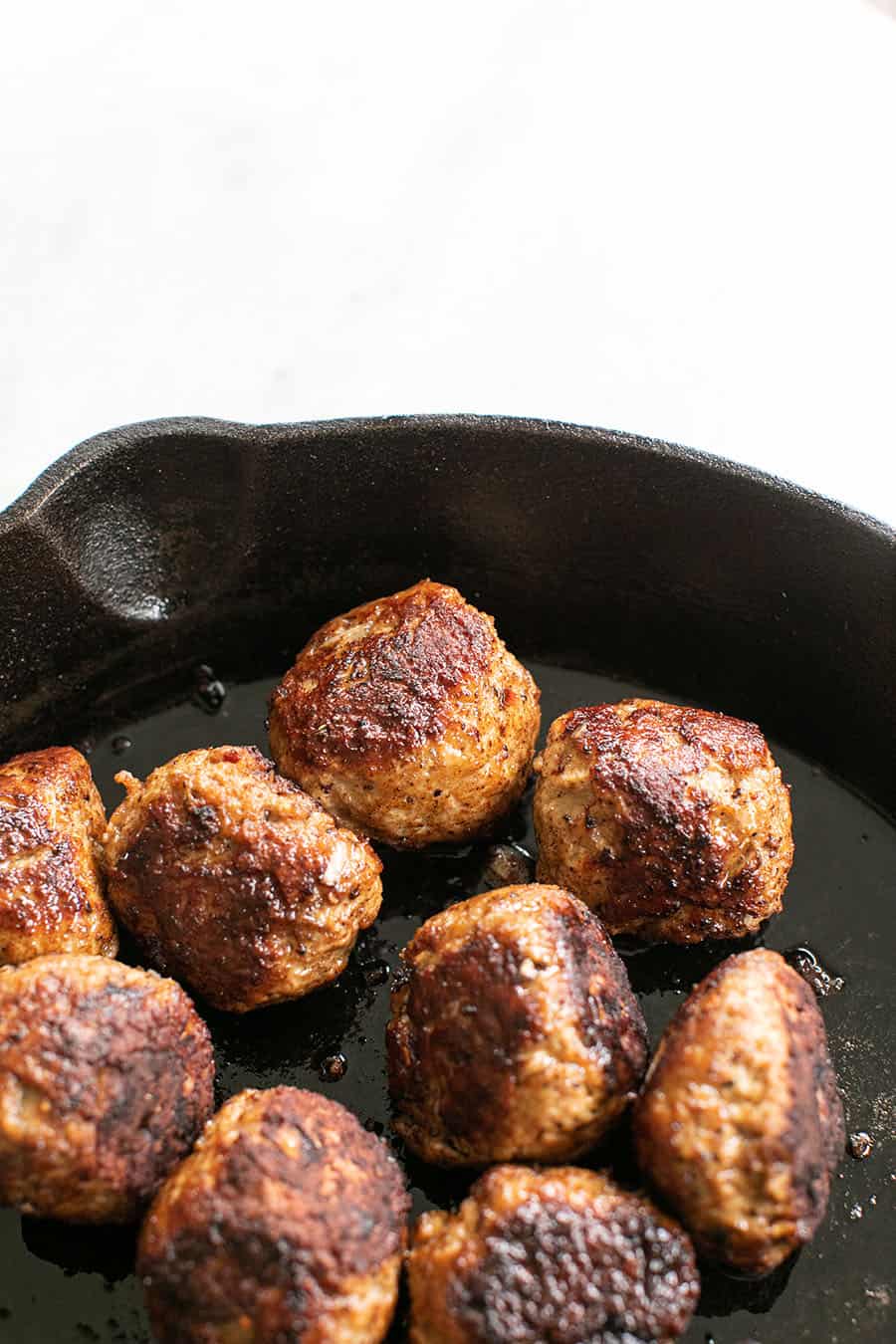 Why are my meatballs tough?
The meatballs are most likely tough because they're overcooked. The recommendation for cooking turkey is 160 degrees. Personally, this is a little high for a meatball and can result in dryness. Usually anything around 140 degrees will still result in a thoroughly cooked turkey meatball without drying it out.
Cut one open around 140 and check the center. It should not be fully gray and dry. It should be moist and more of a white, cooked center.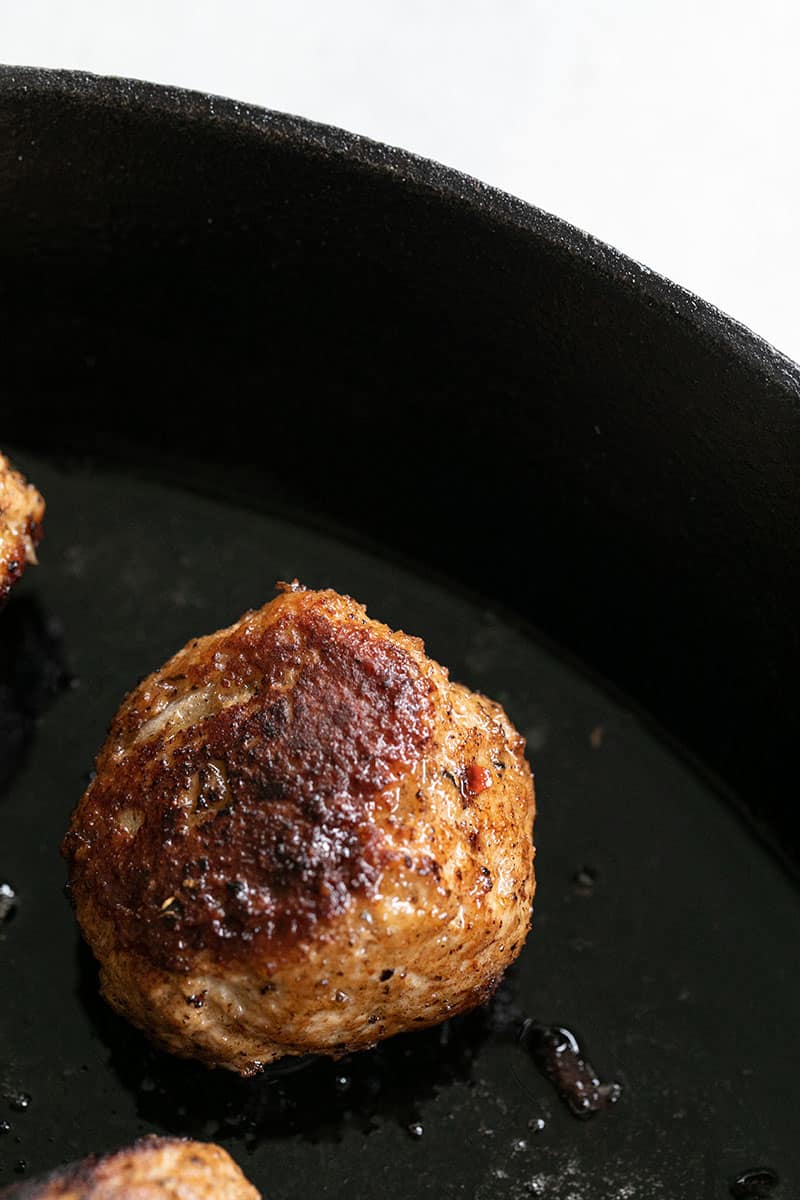 Variations for Meatballs
You can use a different meat with this recipe, like beef or pork and they will be just as good or better, depending on your favorite meat!
Try a combination of meat, like beef and pork together.
If you don't like the meatballs too spicy, leave out the red pepper flakes.
Eat them with a red sauce or they're good alone!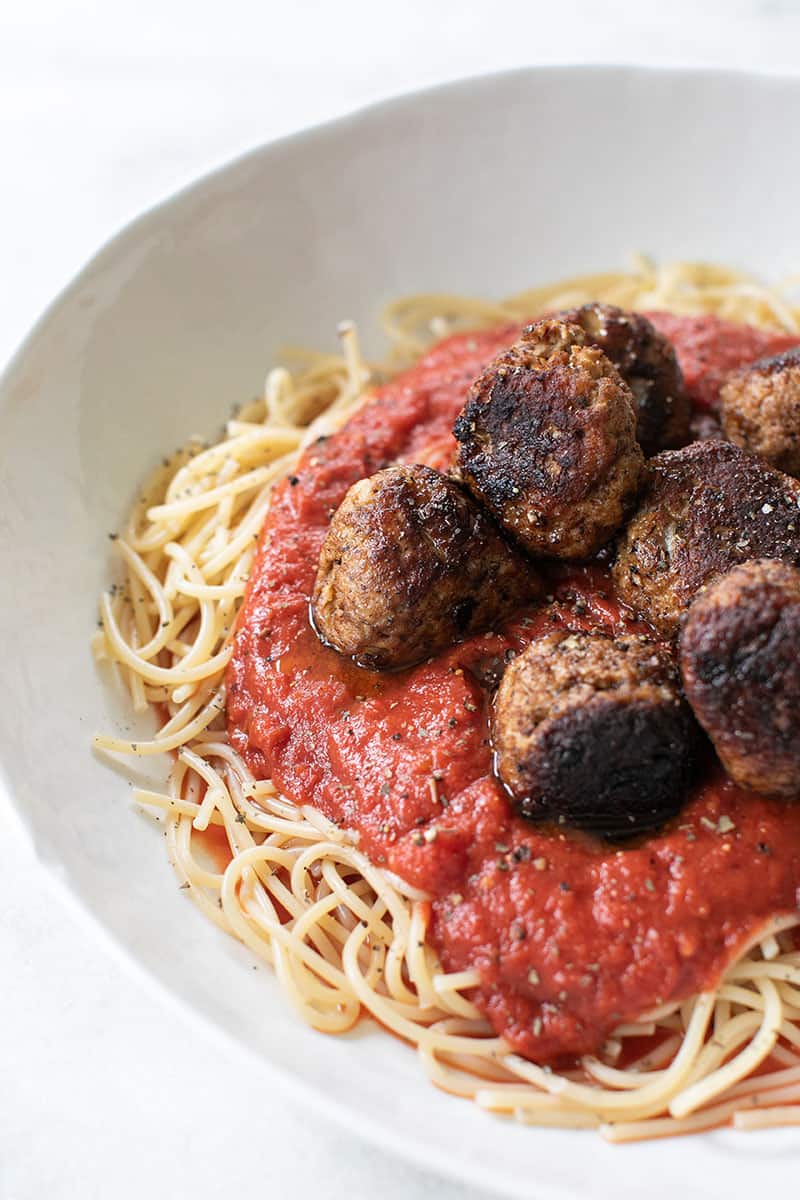 How to Freeze Meatballs
You can freeze meatballs cooked or uncooked. It will be the same both ways.
Place the meatballs in a freezer bags and seal tightly.
Both will last for up to 3 months in a sealed freezer bag.
Best Way to Reheat Meatballs?
Preheat oven to 350 degrees.
Place frozen meatballs in a single layer on a baking dish.
Heat for about 20-25 minutes or until thoroughly heated.
How to Make a Quick Red Sauce
Truly, there is no recipe for this! I quickly like to whip up a yummy red sauce after the meatballs are done cooking. It requires zero chopping and it's quick and easy. I do everything to taste. It's a great lesson in cooking and you can do it too!
Leave all the oil and butter fat from the meatballs in the cast iron skillet.
With heat on low, add in a 28 ounce can of crushed tomatoes.
Add in some garlic and onion powder to taste.
Add in dried basil to taste (usually like 1 teaspoon).
Toss is about 1/2 cup to 3/4 cup red wine.
Pour in a little cream, about 1/4 cup.
Season with salt and pepper and let it simmer while stirring.
Pair these with our Salad that Goes with Everything for a complete meal!
More Dinner Recipes You'll Love!
Sheet Pan Chicken and Sausage Bake
Sausage and Pepper Sheet Pan Meal
One Pan Basil and Tomato Pasta
Simple Green Salad that Goes with Everything!
Classic Wedge Salad with THE BEST DRESSING EVER!!
The yummiest carbonara recipe!
Let us know how you like these meatballs by leaving a comment and review below!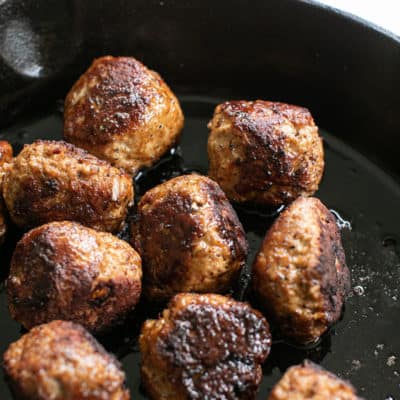 Turkey Meatball Recipe
The best ground turkey meatballs with a little spice in them! They've been our families favorite for years!
Print
Pin
Rate
Ingredients
1

pound

ground turkey lean

3/4

cup

Panko bread crumbs

1/4

cup

sweet onion

,

chopped sweet onion purple or yellow onion will work

1

large

egg

,

lightly beaten

2

cloves

garlic

,

chopped or pressed

3

tbsp

Worcestershire sauce

1

tbsp

soy sauce

1

tbsp

yellow mustard

1

tsp

red pepper flakes

,

optional if you don't like spicy

1 1/2

tsp

cajun seasoning

1/2

tsp

ground cumin

1/2

tsp

ground sea salt

1/2

tsp

ground pepper

2

tbsp

butter

1

tbsp

olive oil
Instructions
Add the ground turkey and all of the ingredients (except butter and oiinto a mixing bowl.

Stirring turkey meatballs with a wooden spoon.

Mix well with clean hands or a wooden spoon.

Make small golf size balls and shape with your hands.

Shaping turkey meatballs with hands

Place them on a plate or platter.

In a large skillet, heat butter and olive oil on medium heat.

Add in the turkey meatballs and let them cook on each side for a few minutes.

Cooking turkey meatballs in butter and olive oil in a cast iron skillet pan.

Turn them using a wooden spoon. Continue to turn them so they cook evenly.

Turkey meatballs can get really dark, you want them to have a deep, dip golden brown (sometimes they almost look brunt, but they're not!) color to them.

After each side has been browned, cover the pan and cook for about 5 more minutes.

Turkey meatballs cooked in a cast iron skillet

Use a meat thermometer and when it reaches 120-135 degrees, you can remove the meatballs from the pan.

To be extra sure, cut one of the meatballs in half and check if it's done. With turkey, it's important the meat is fully cooked.
Notes
These meatballs can be a little spicy. If you don't like spicy, do not add the red pepper flakes. 
Add a few grinds of course sea salt to the meatballs before serving. 
Make a yummy red sauce in the pan the meatballs were cooked in. Leave the oil and butter in the skillet for more flavor!
Nutrition
Calories:
98
kcal
|
Carbohydrates:
4
g
|
Protein:
10
g
|
Fat:
4
g
|
Saturated Fat:
2
g
|
Polyunsaturated Fat:
1
g
|
Monounsaturated Fat:
2
g
|
Trans Fat:
1
g
|
Cholesterol:
39
mg
|
Sodium:
308
mg
|
Potassium:
182
mg
|
Fiber:
1
g
|
Sugar:
1
g
|
Vitamin A:
266
IU
|
Vitamin C:
1
mg
|
Calcium:
20
mg
|
Iron:
1
mg