When it comes to feeding a crowd, nothing beats having a variety of easy party appetizers! You want your guests to have plenty of choices, but that doesn't mean you should spend all day in the kitchen! We're sharing over 60 easy appetizer recipes and ideas for your next celebration!
You'll find every type of appetizer you can think of, from dips and finger foods to cheesy goodness and beyond! So get ready to wow your guests with some amazing eats!
What are party appetizers?
Party appetizers are small, bite-sized foods that are served before a meal. They can be simple or complex but are usually served before dinner. However, it's also very common to serve only appetizers for a party too.
Appetizers can be served cold or hot, and they can be cooked or uncooked. Some common party appetizers include dips, spreads, finger foods, canapés, and sushi.
When it comes to choosing party appetizers, the sky's the limit! But if you're looking for some easy and delicious options, we've got you covered. Check out our list of over 60 easy-party appetizers below!
What You'll Need to Serve Appetizers
Before we get started on the best list of party appetizers, here is a list of items you'll need when serving appetizers at a party:
The Best Easy Party Appetizers
Here is a list of the best appetizers to serve at your next party!
The best parties are the ones where the appetizer are plenty! So go ahead and get your party started with our big list of easy appetizers!
Dips and Spreads
Dips and spreads are a great option for easy party appetizers because they can be made ahead of time and served cold or at room temperature. Serve these dips with fresh veggies, crackers, pretzels, and chips!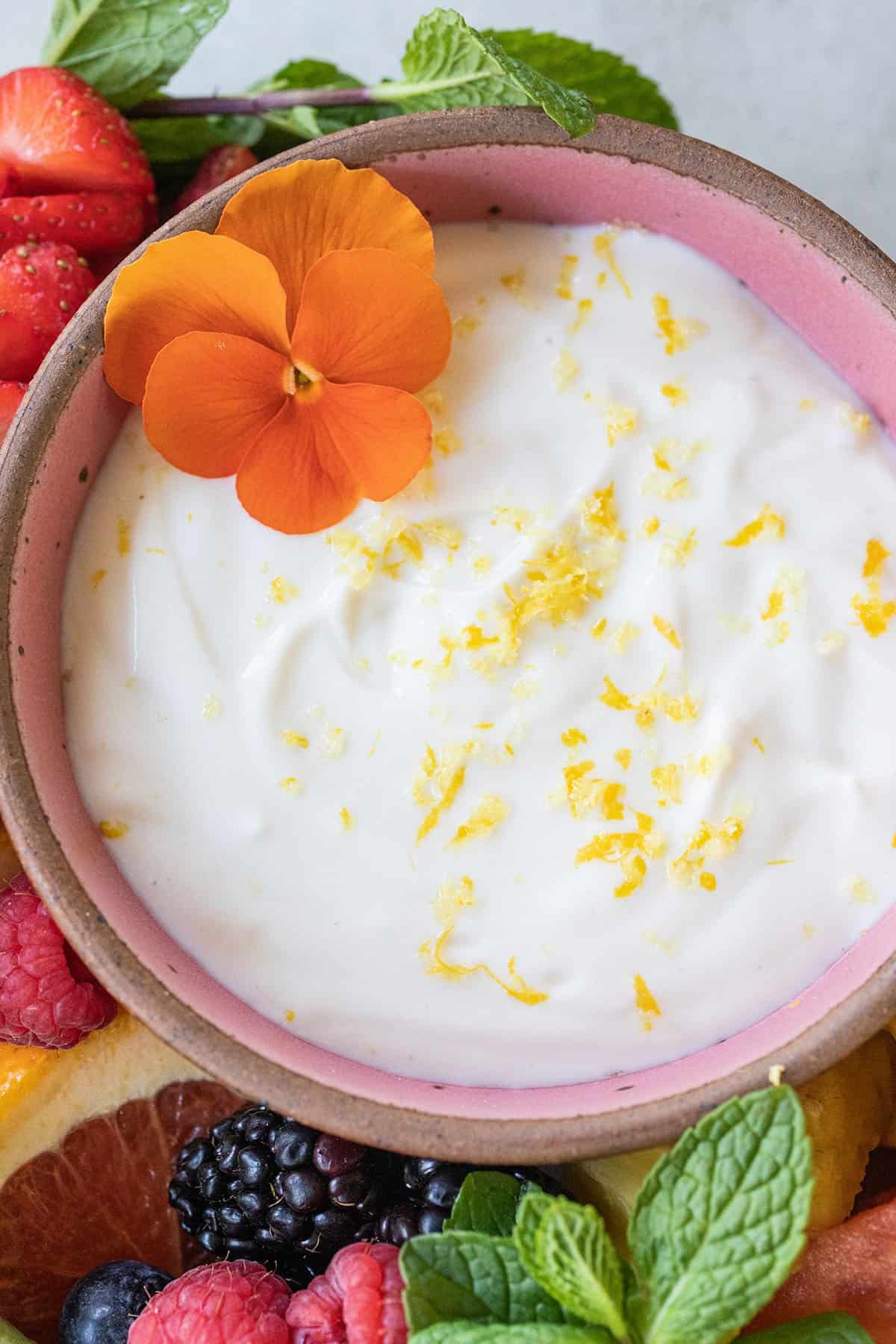 This is truly the best yogurt fruit dip to dip in your favorite fruit in. It's perfect for a fruit platter too. This dip is flavorful, made with vanilla yogurt, and sweetened with honey, and lemon curd. It's light and pairs perfectly with any fruit. This is a fresh, homemade dip that comes together in minutes using just four ingredients.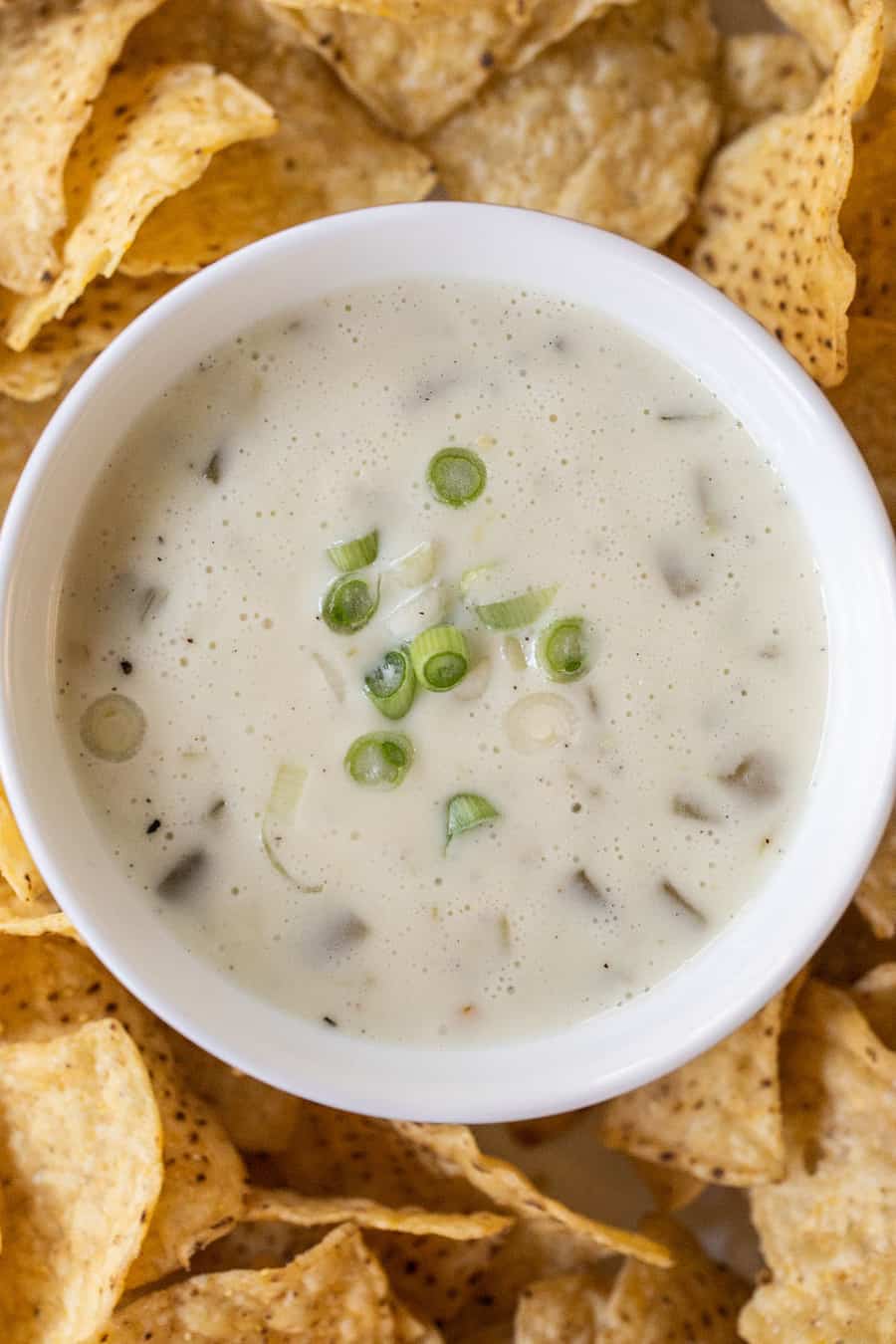 The most flavorful, easy queso Blanco dip ever! It's perfect for dipping tortilla chips in. This is made with American white cheese, whole milk, diced chilies, and green onion. This will be your favorite dip ever! It's also very easy to make.
If you love the rich flavor of goat cheese, then this is your dip! A whipped goat cheese served with fresh, crisp veggies and crackers is the ultimate party appetizer. It's an easy recipe to make!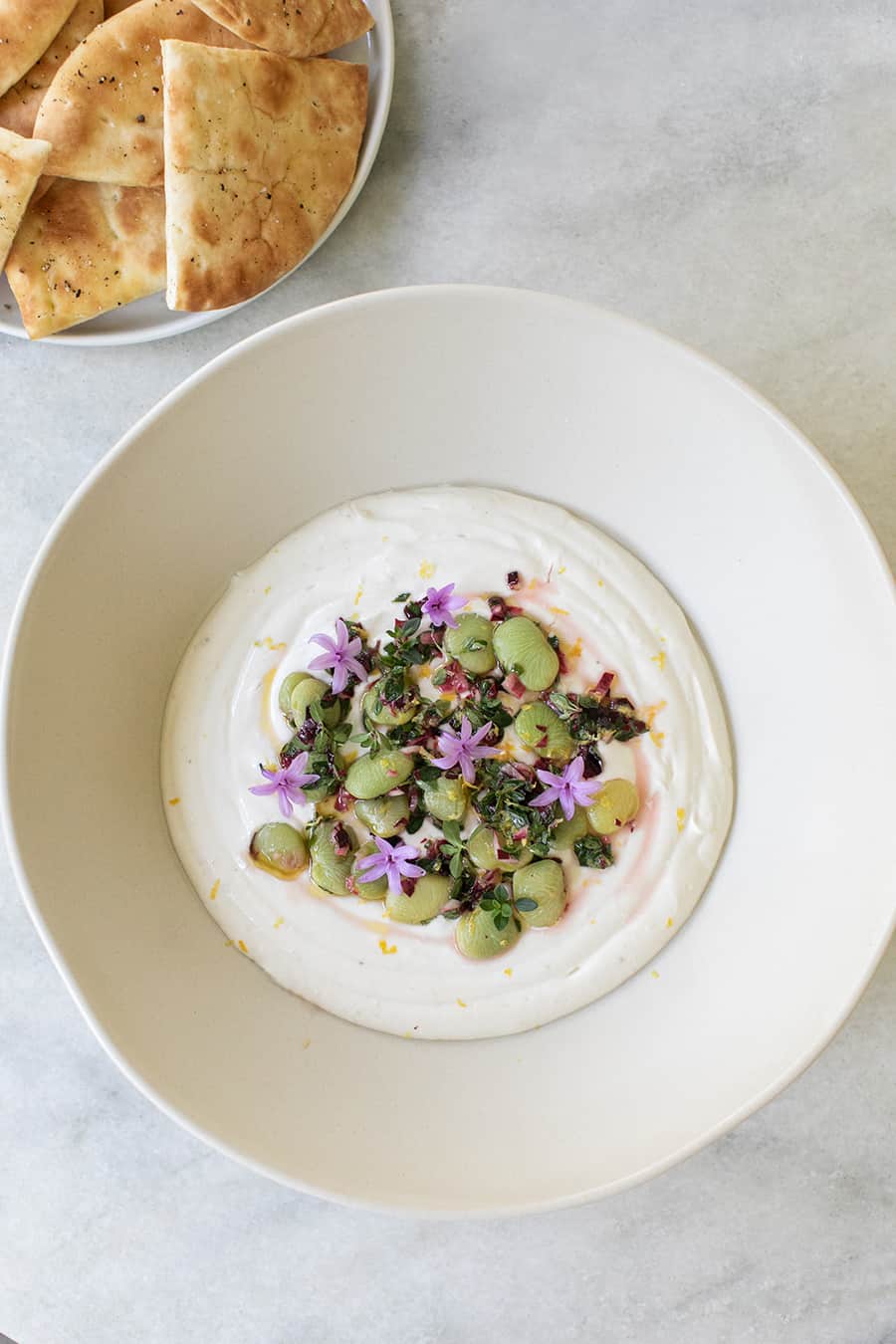 A creamy dip made with tahini! We made this dip for a party and it was a huge hit! It goes perfectly served with soft pita bread or pita chips.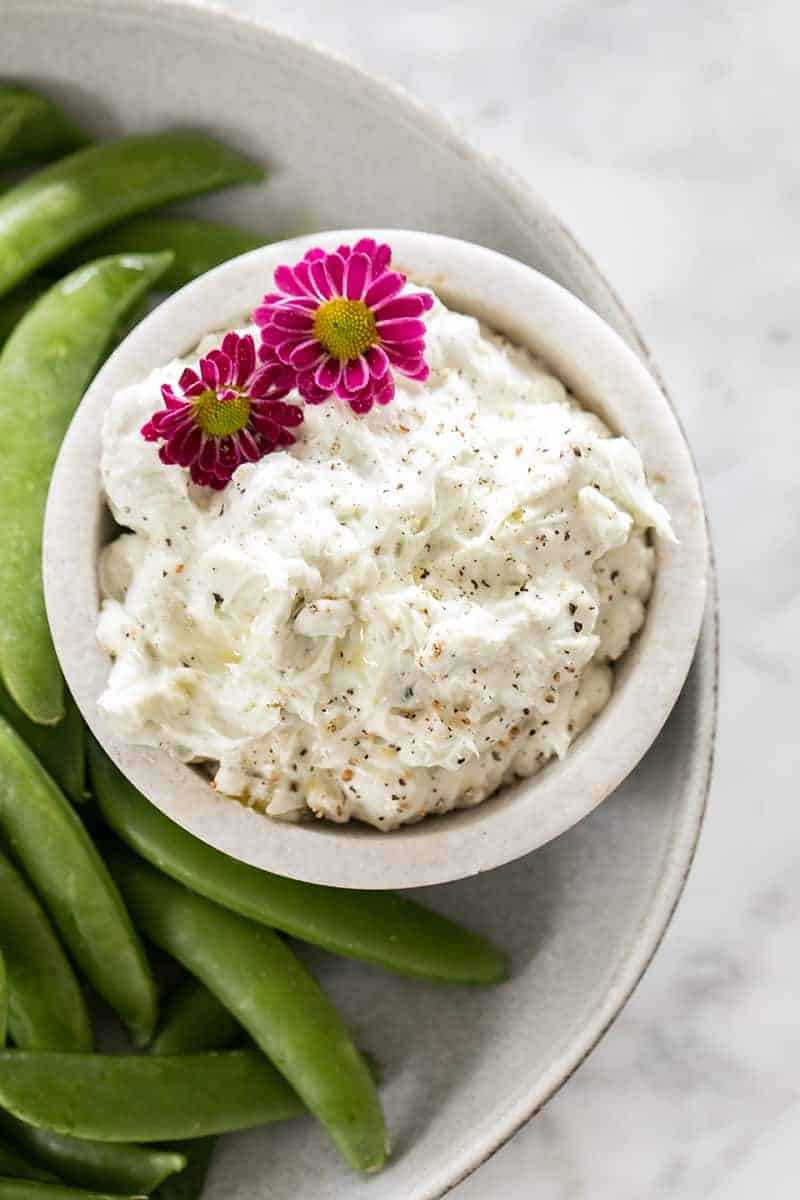 If you're looking for delicious blue cheese dip to go with chicken wings, this is the best! Another super easy party dip to make that's so flavorful and made with just 3 ingredients! It doesn't get easier than that!
You can make your own homemade hummus, which tastes nothing like store-bought! Creamy, delicious hummus is a perfect appetizer.
Not only does this dip have a vibrant color, but it's also so incredibly flavorful! Made with greek yogurt, beets, and garlic. It's a great dip for crackers and pita!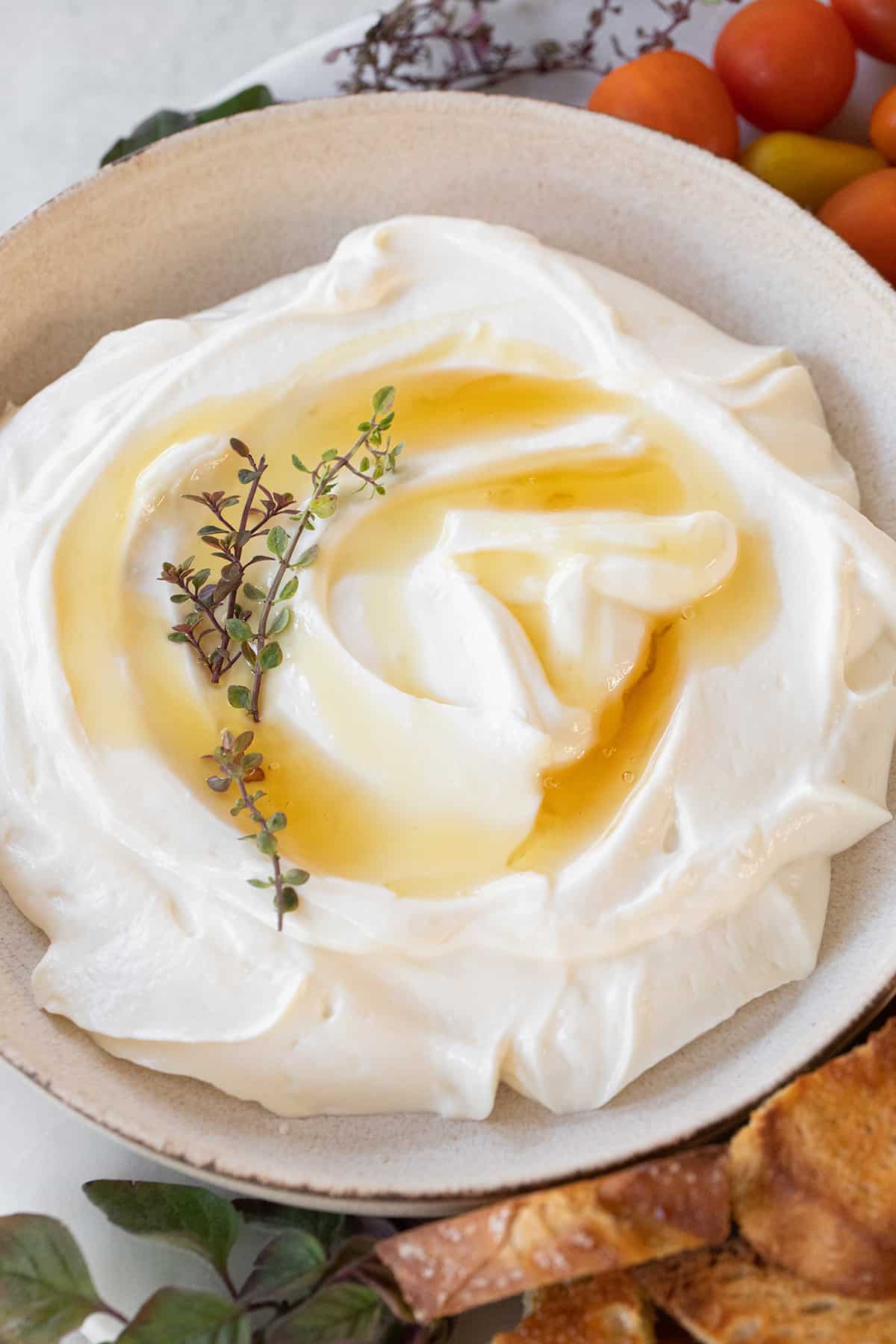 A fluffy, creamy dip that only uses 3 ingredients and takes less than 5 minutes to make!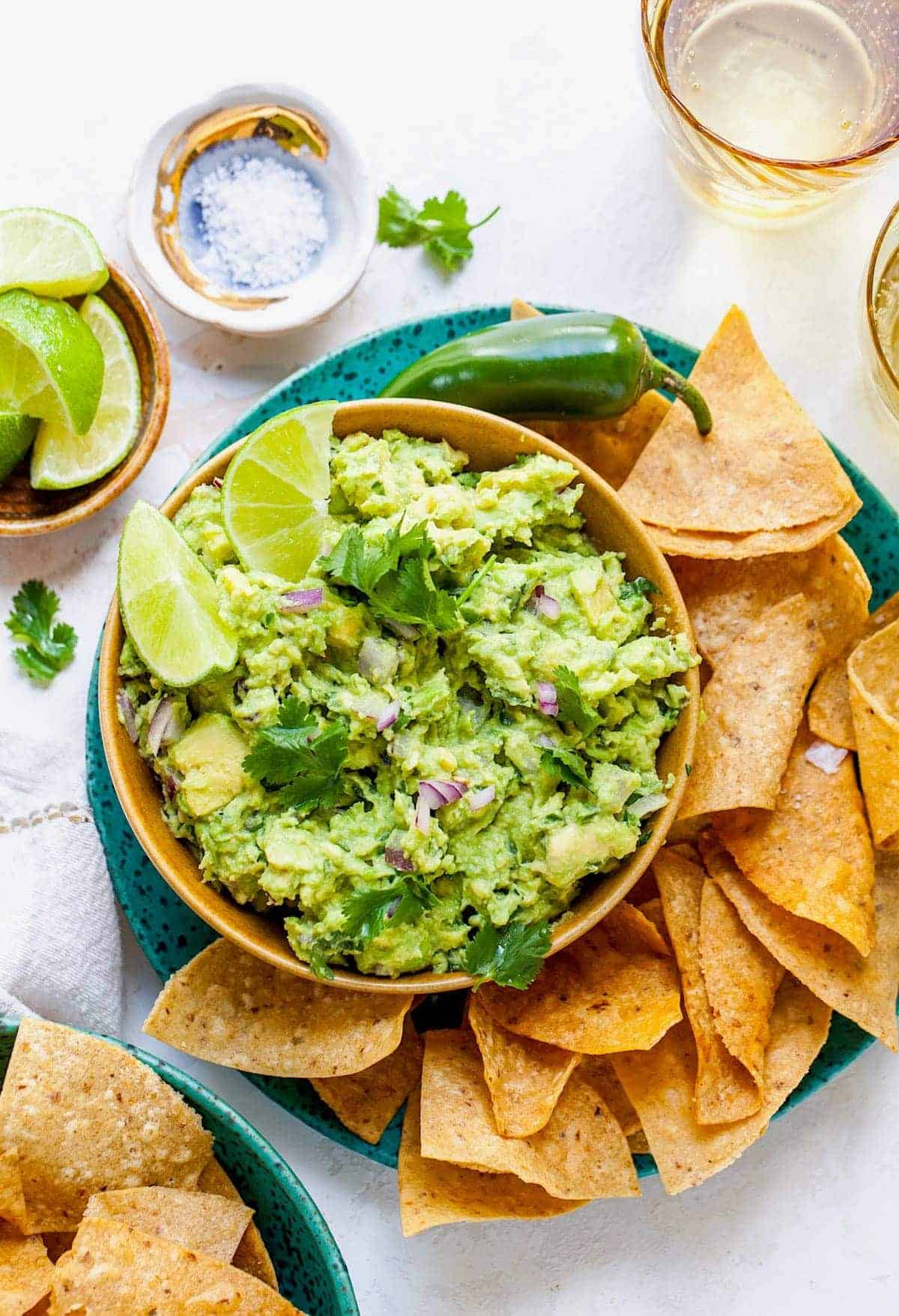 There is nothing better than a good guac! Always a crowd favorite and perfect for fiestas!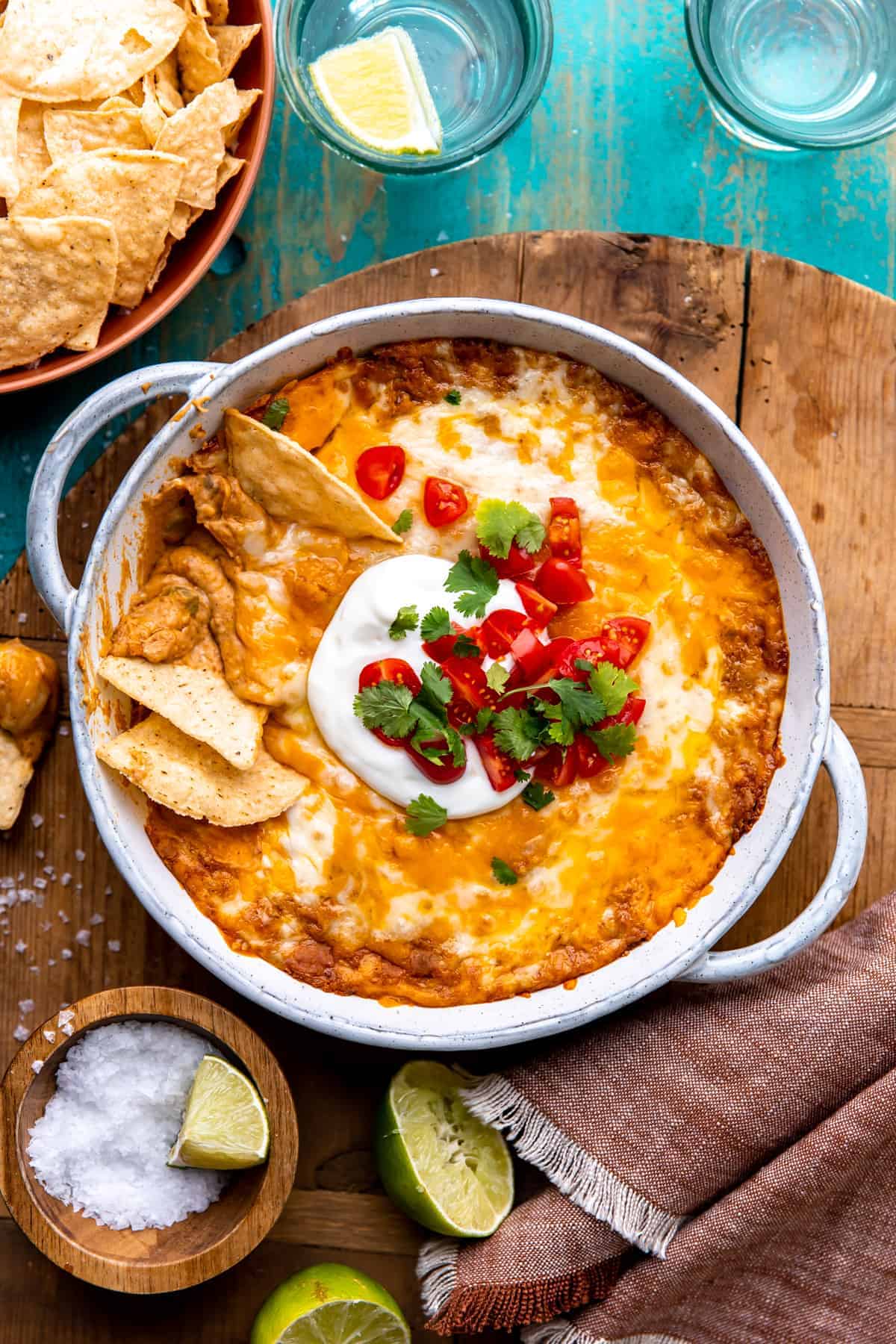 We love a good bean dip, especially one with a little kick. Serve this with corn chips for an easy appetizer.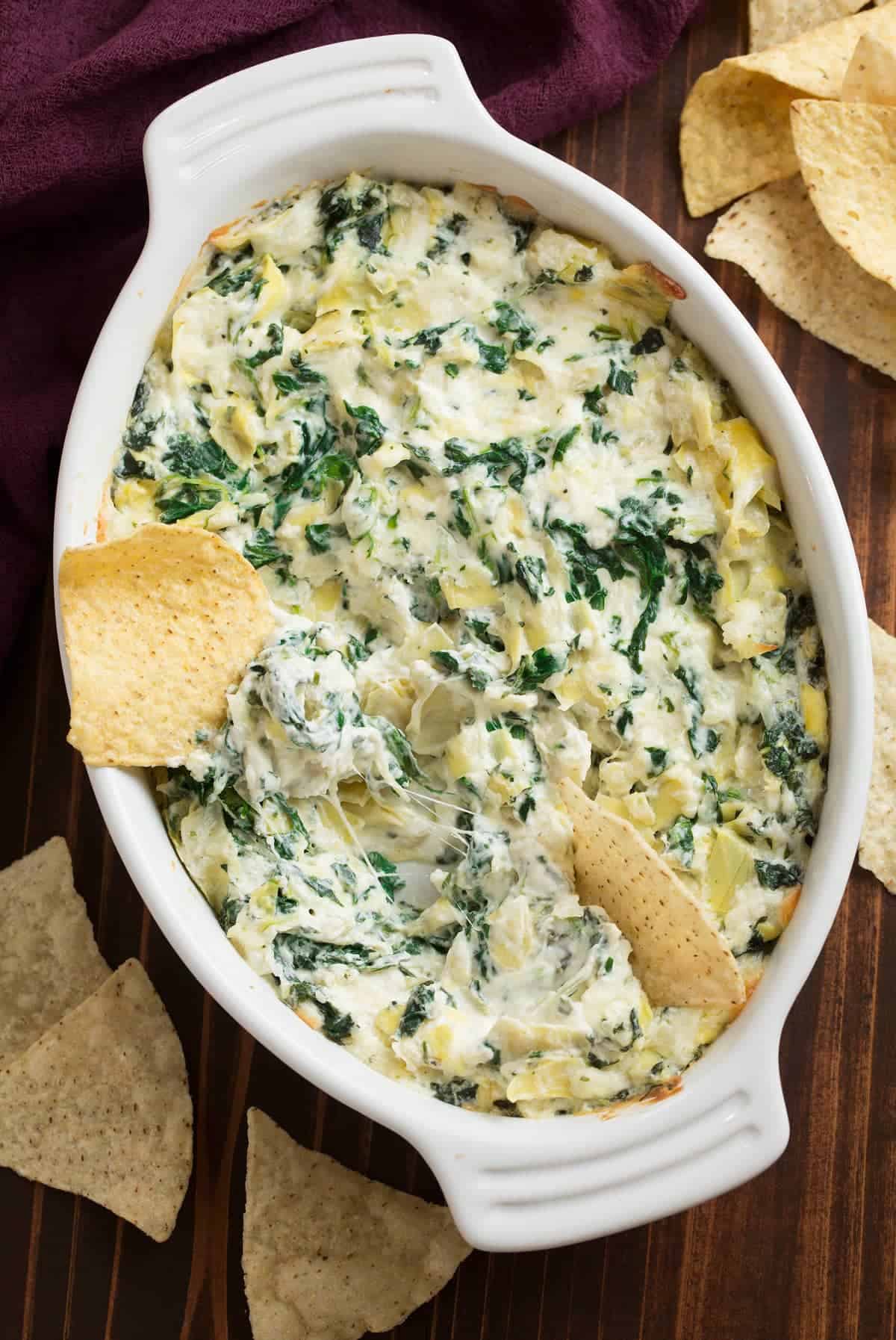 A creamy, cheesy dip that is typically made with spinach, artichokes, mayonnaise, Parmesan cheese, and garlic. It is often served with chips, crackers, or bread for dipping.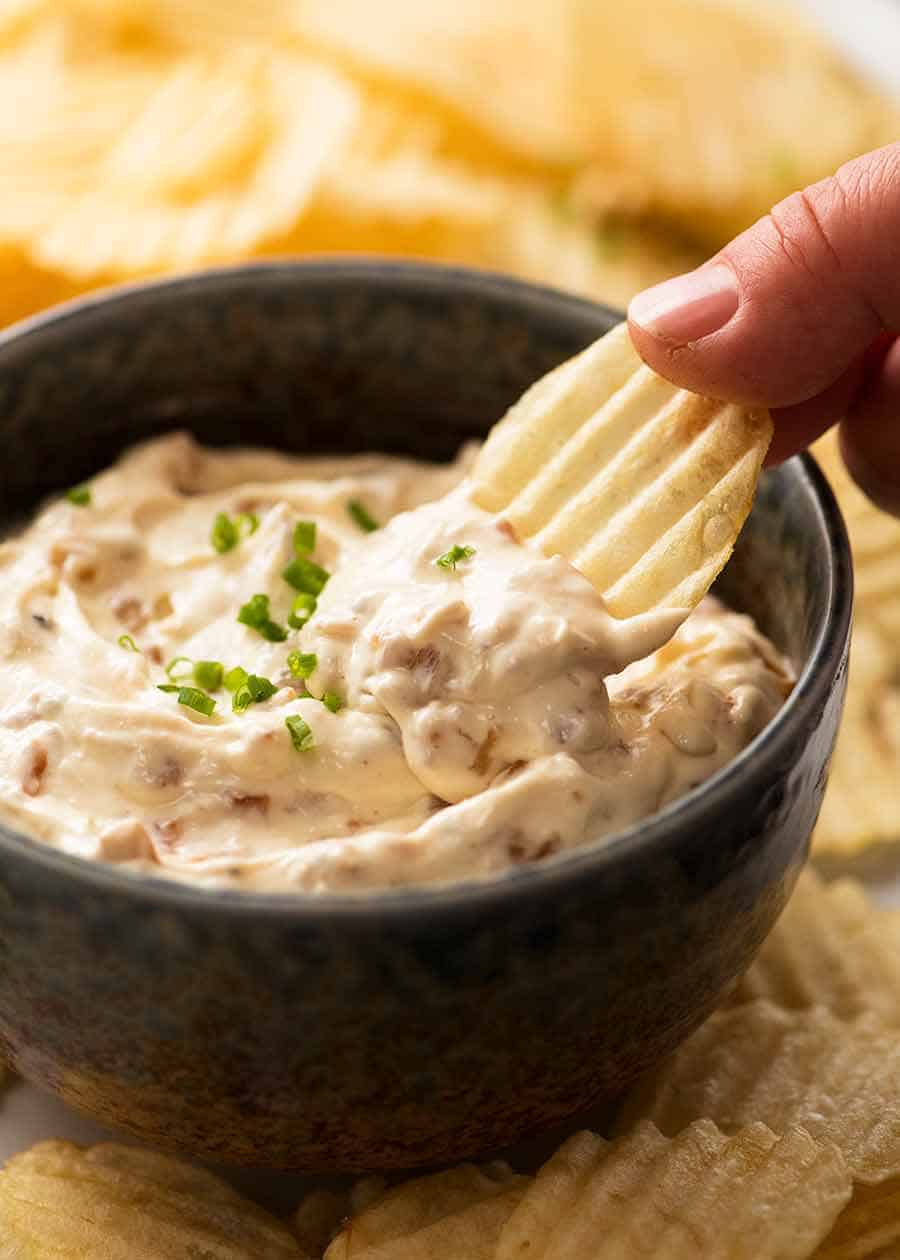 There is nothing more flavorful than French onion dip. We love it served with potato chips!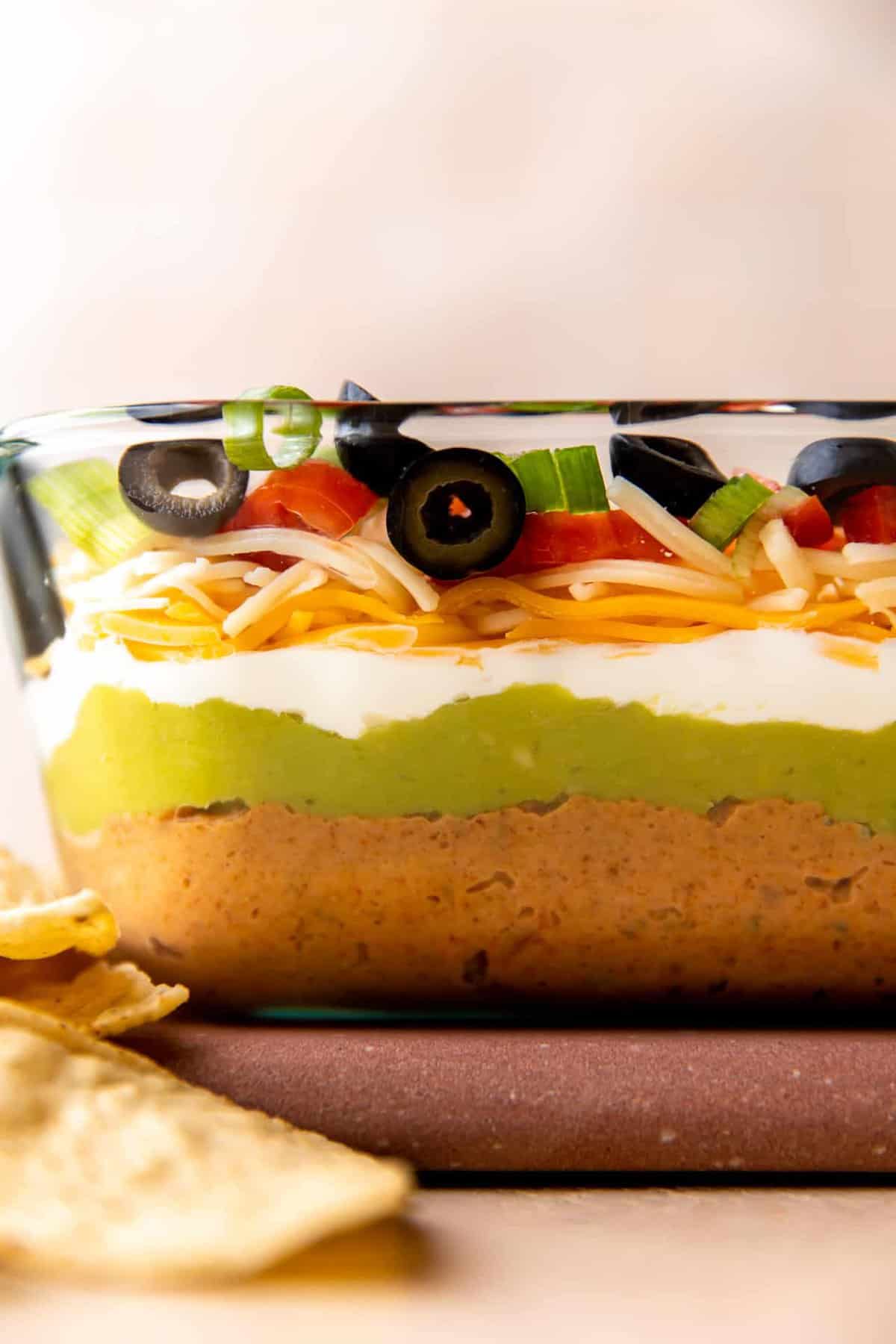 A popular dip that's made with 7 ingredients such as black beans, party mole, sour cream, and more. This dip is often served at a super bowl party or game day.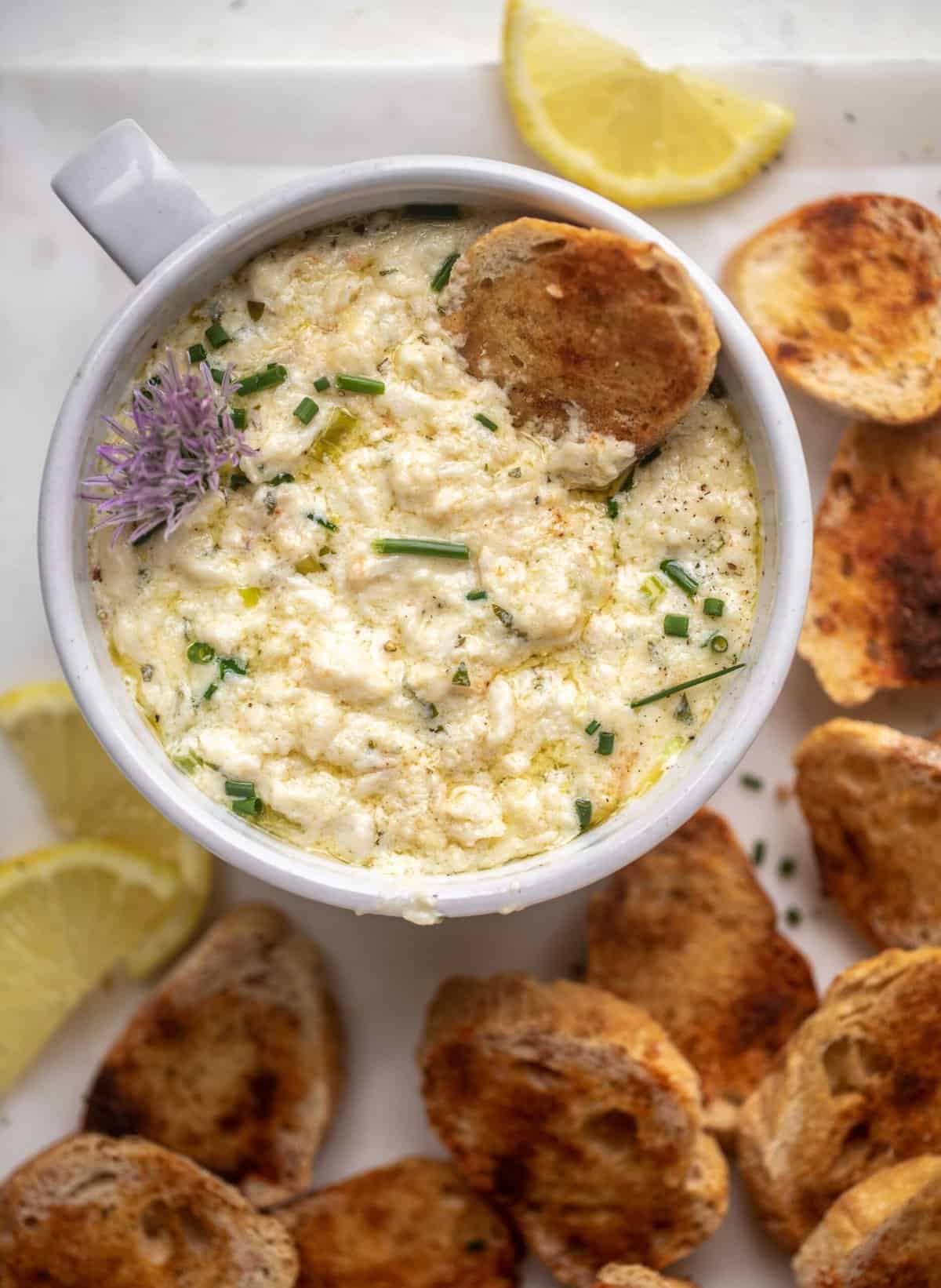 If you love seafood, try making this Cranberry dip with lump crab meat, cream cheese, mayonnaise, Parmesan cheese, and garlic.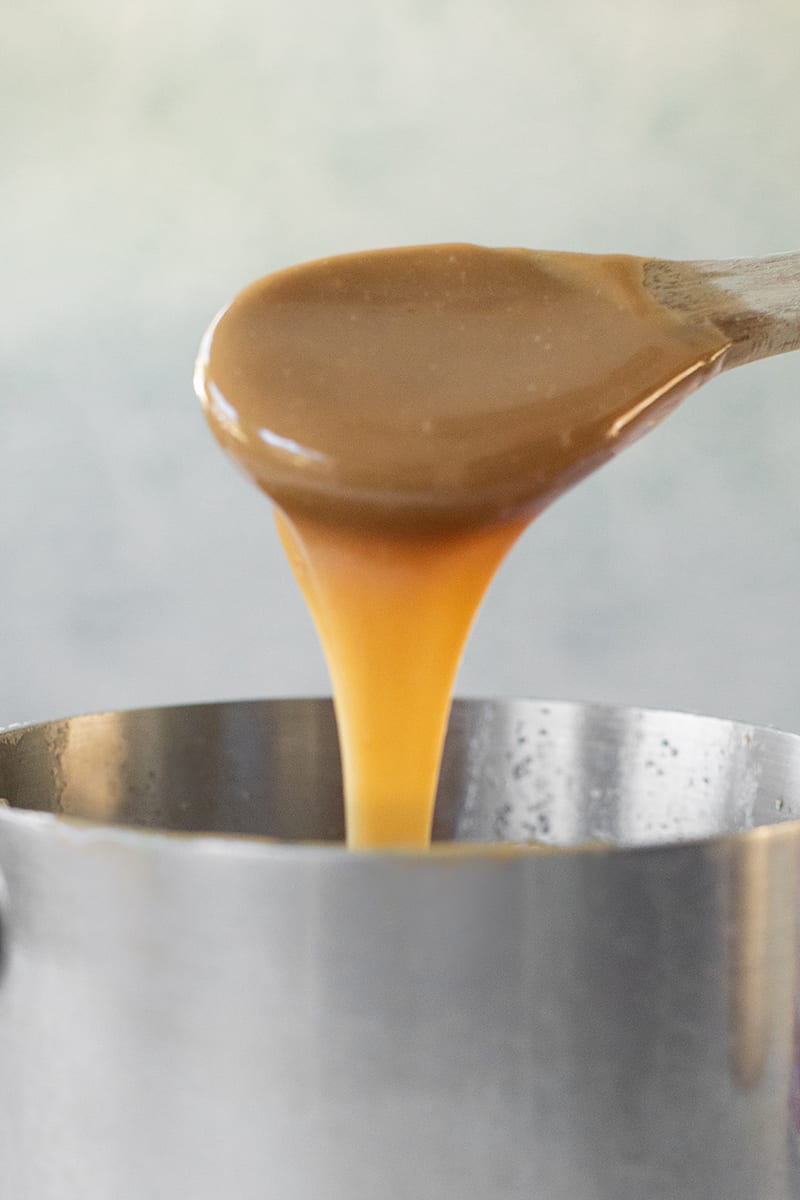 This dip is sweeter, but it still works as a great appetizer when paired with fresh apples and fruit.
More Dip Recipes:
Everyone talks about cowboy caviar! It requires a lot of chopping but it's totally worth it! Serve it with chips for the ultimate app!
This dip has so much flavor. It's a delicious dip made with shredded chicken, buffalo sauce, cream cheese, and blue cheese.
A twist on the classic spinach artichoke dip, this lemon dip is just as flavorful with bright citrus flavors!
Easy Finger Foods
Finger foods are another great option for easy party appetizers because they're easy to eat and don't require any utensils.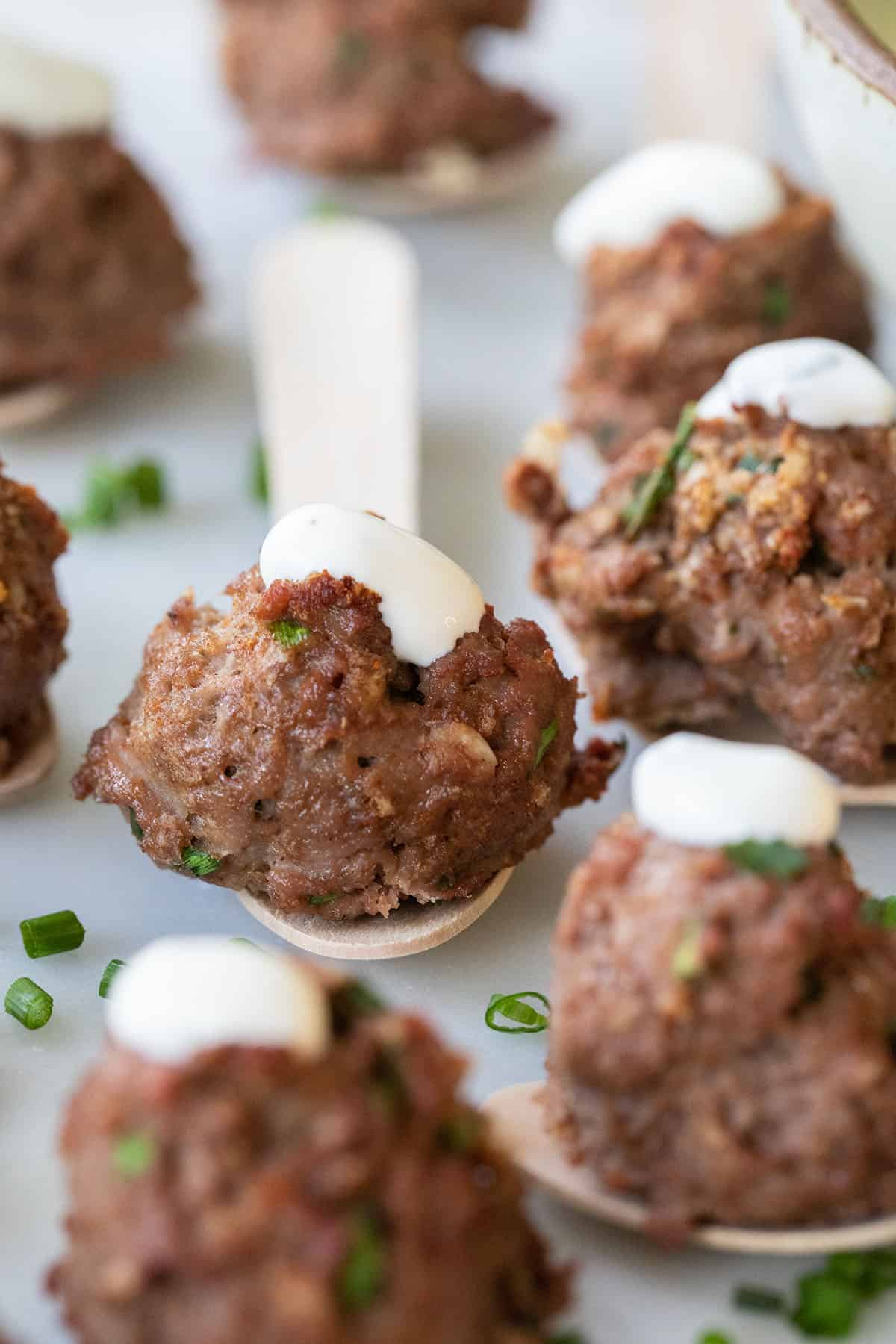 Don't underestimate a mini meatball appetizer! Not only are they great if you're just serving apps at a party but they will fill each guest up. But they are also incredibly flavorful and easy to make!
They're seasoned with fresh chives, cumin, paprika, cinnamon, and cayenne pepper. Pair them with our garlic dipping sauce for the most flavorful cocktail meatballs.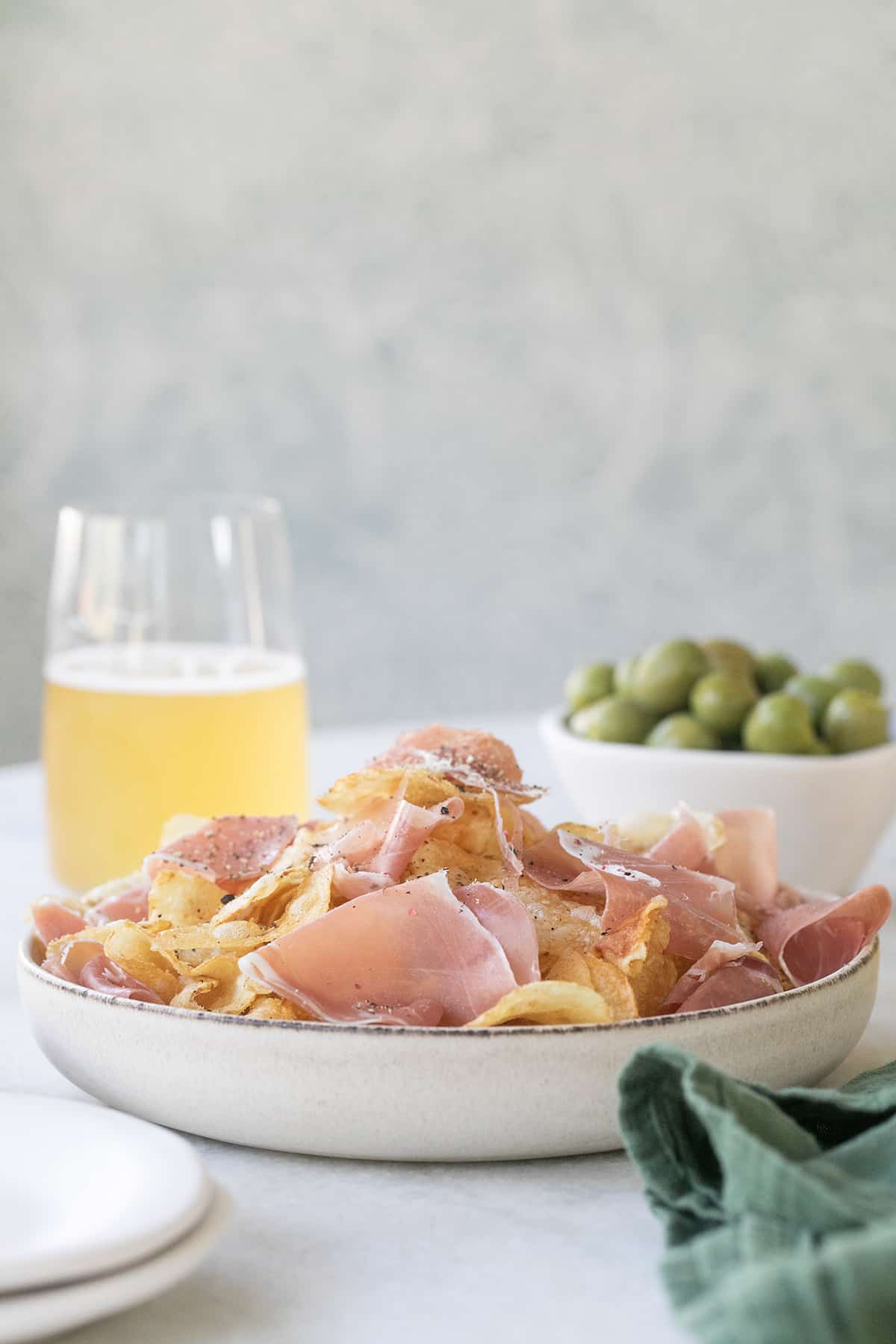 This is a unique party appetizer that will wow your guests! It's super simple to make using potato chips, truffle oil, and prosciutto!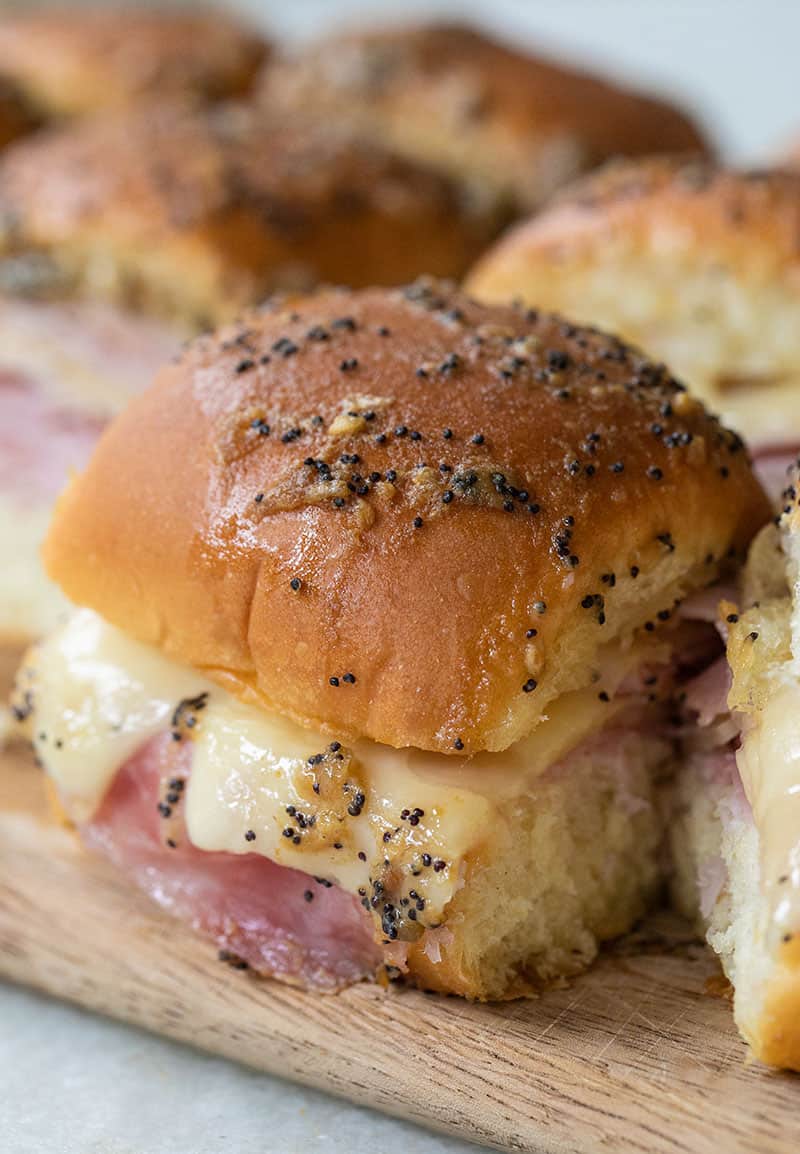 One of our most popular party appetizers is our ham and cheese sliders. These will go very fast at your party so make a few batches! They're savory with ham and cheese and baked on a Hawaiian roll.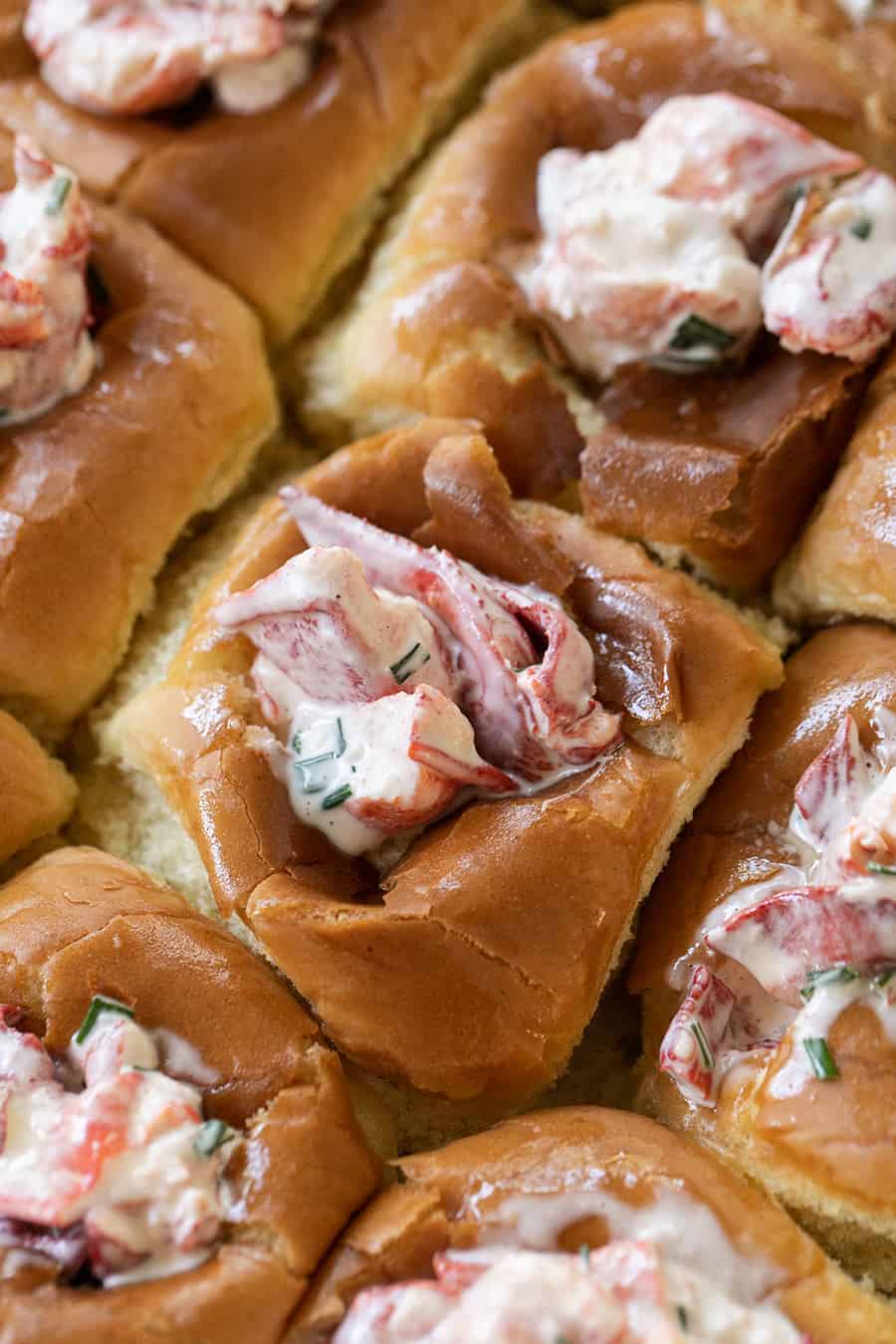 These mini lobster rolls are a delightful play on the New England classic! It's an easy lobster recipe that's the perfect party food. Quick to whip up and they look great, no to mention taste delicious.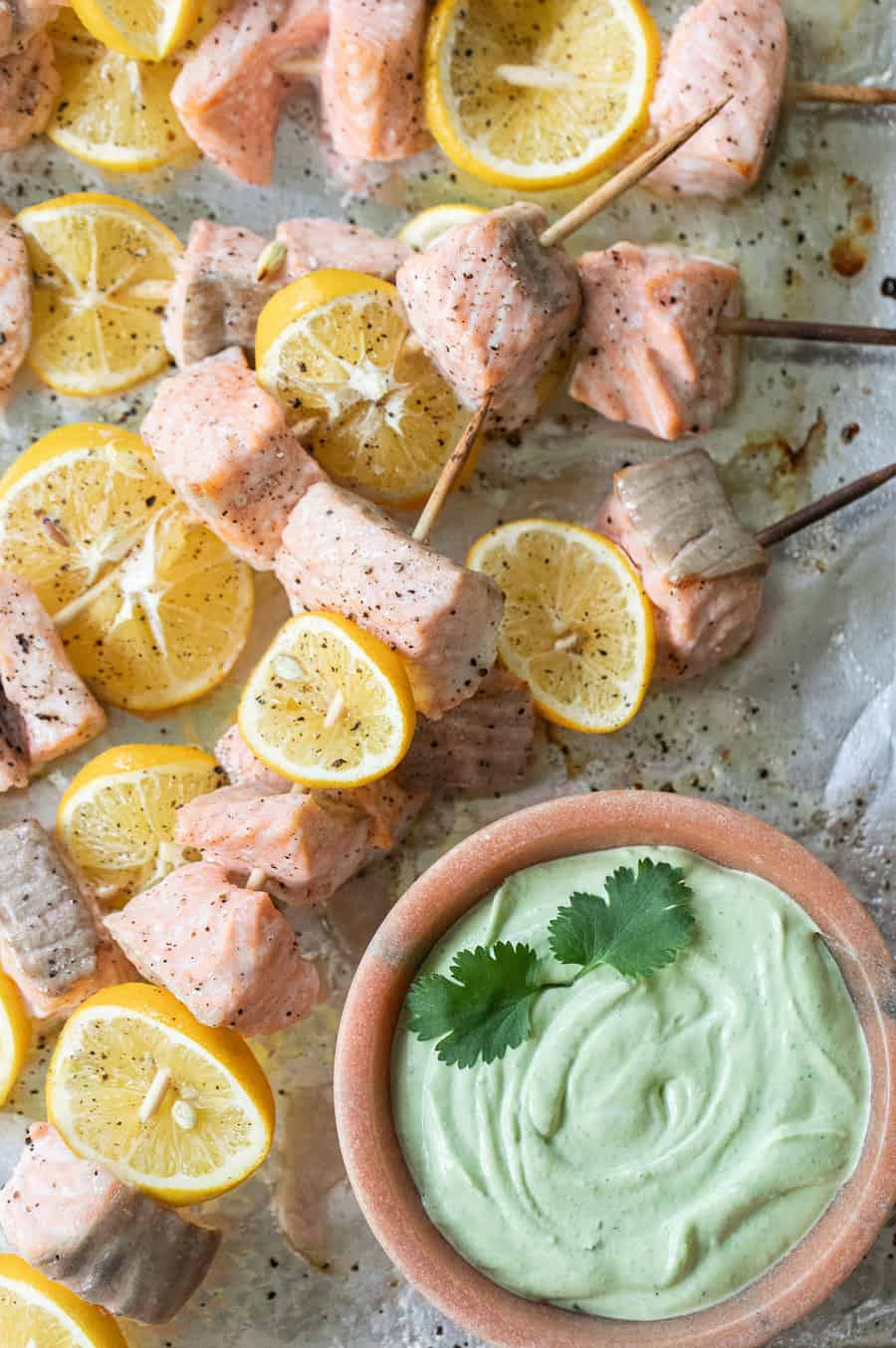 Our salmon skewers are not only a healthy appetizer for a party but they are so easy to make! They only take about 6 minutes to bake in the oven and are so well served with our cilantro sauce.
When you're at the grocery store, ask the seafood department to cut off the salmon skin. This will save you so much time. You can even have them cube the salmon for the skewers too!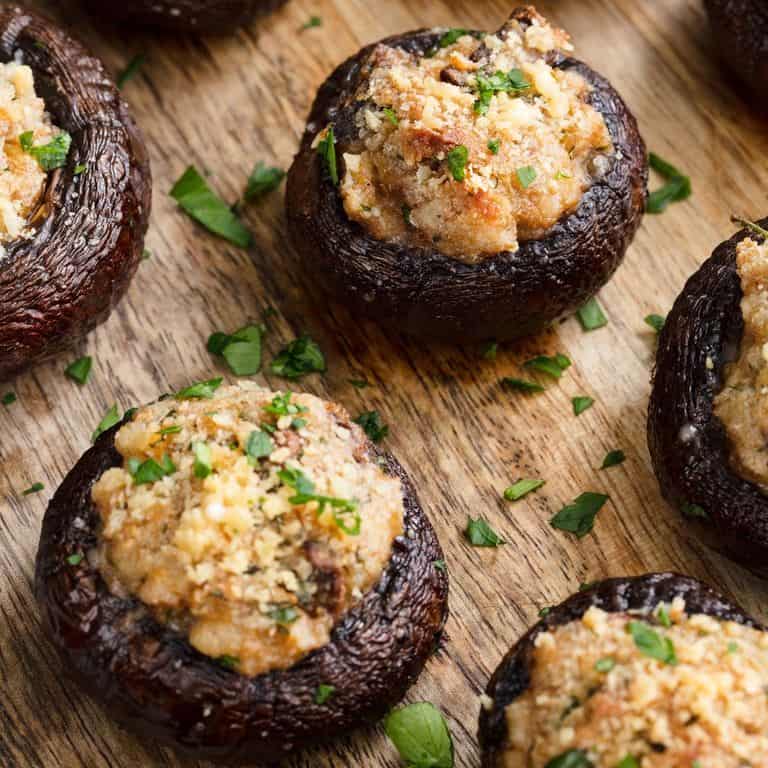 Baby Bella mushrooms are perfect for stuffing with breadcrumbs, cheese and herbs! They're flavorful and easy to make.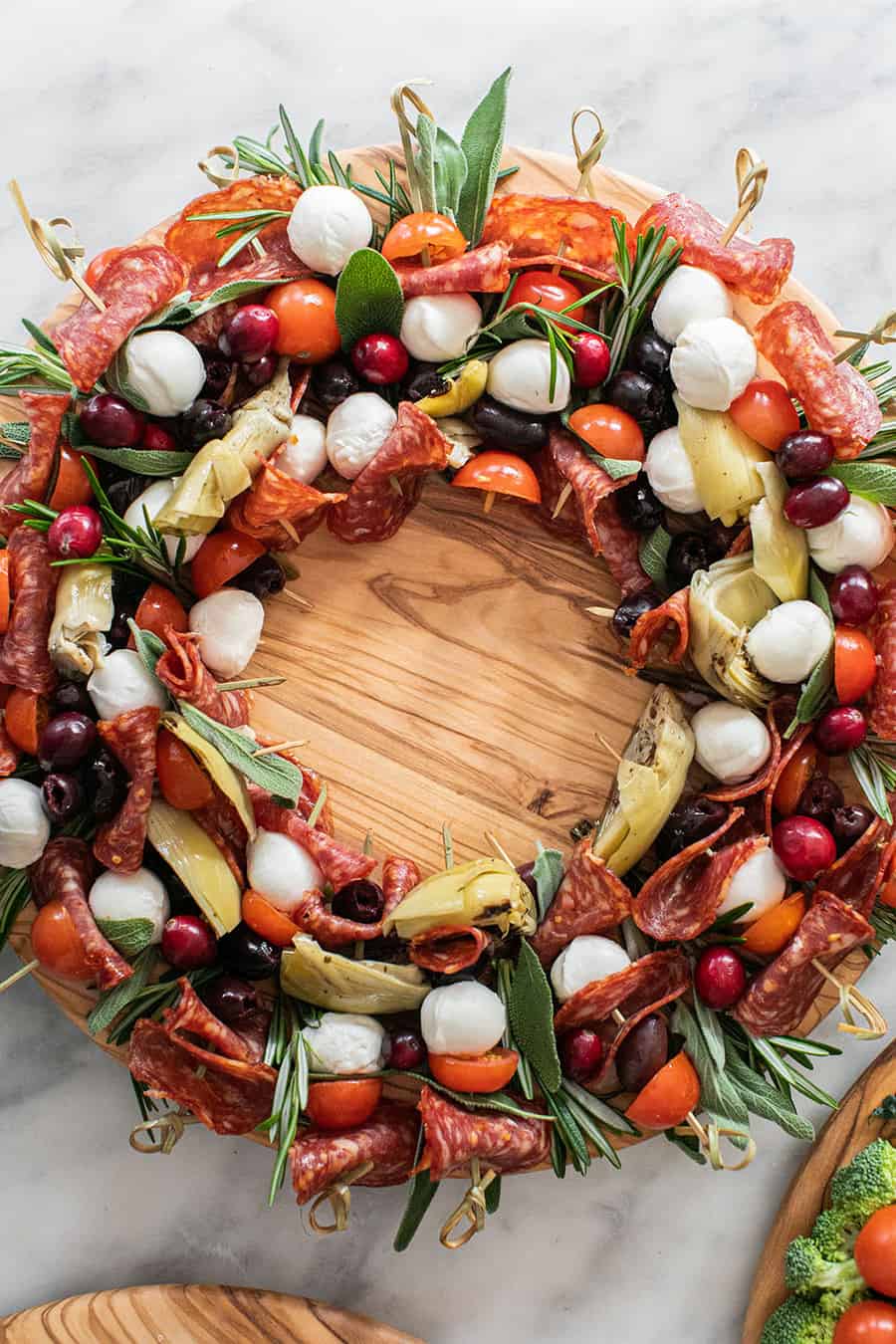 Truly a very easy appetizer that is made by adding fresh mozzarella balls, olives, cherry tomatoes, salami, and fresh herbs onto a skewer. We make them as one of our Christmas appetizers each year.
Also, check out our holiday appetizer platter for kids too.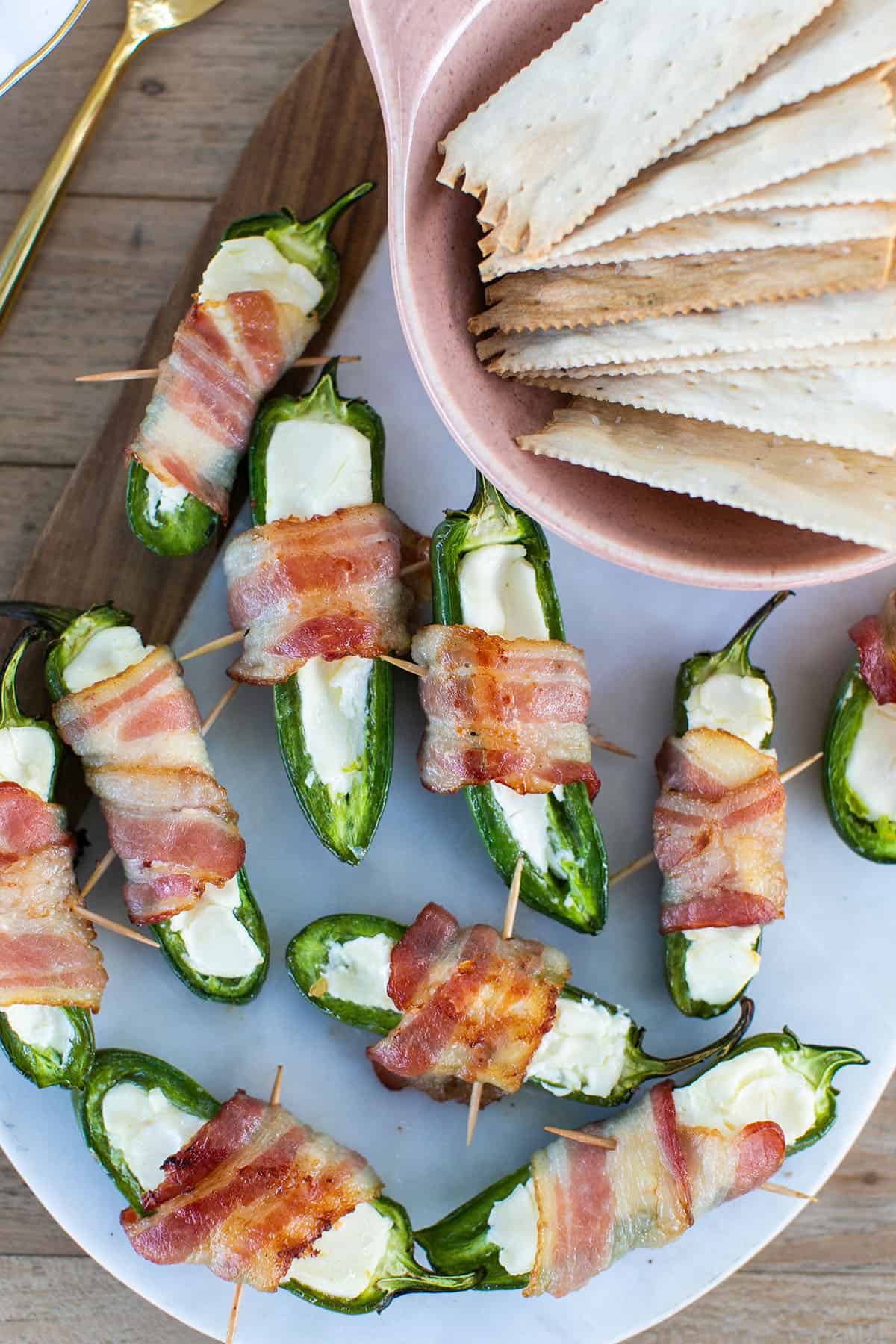 If you haven't had a jalapeño popper, you're missing out! One of our favorite appetizers on this list and they are so easy to make. It's jalapeño pepper, stuffed with cream cheese and wrapped with bacon. They're baked until golden brown and delicious! Great for game-day parties!
Chicken wings are a popular party food that consists of chicken wing sections that are fried, baked, or grilled. They are often served with a dipping sauce.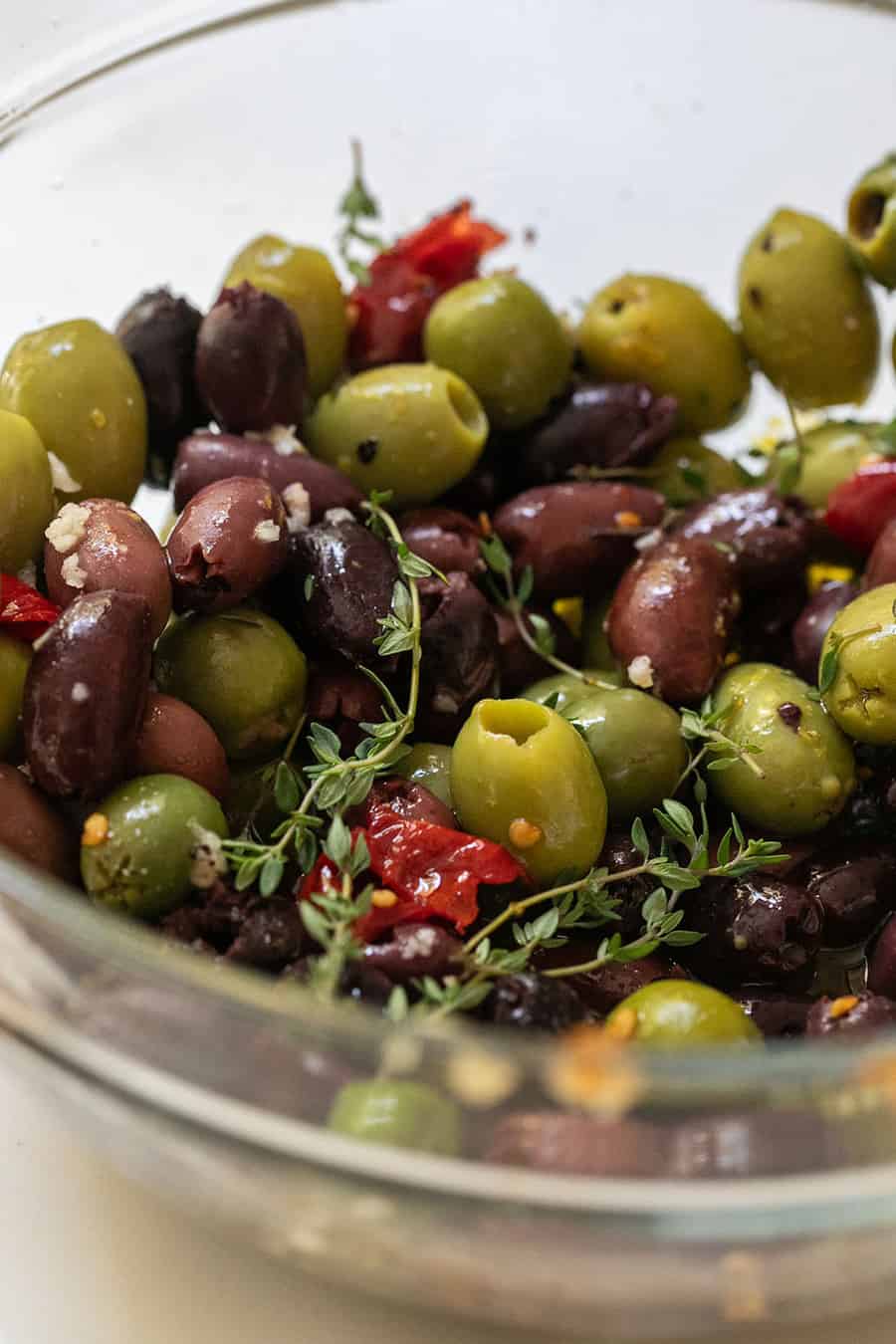 These are the best-marinated olives! They're warmed in a skillet with olive oil, lemon zest, and chili pepper. They're perfect to serve with a cheese board.
Bite-sized pieces of chicken that are coated in a buffalo sauce and then fried or baked. They are often served with a buffalo dipping sauce.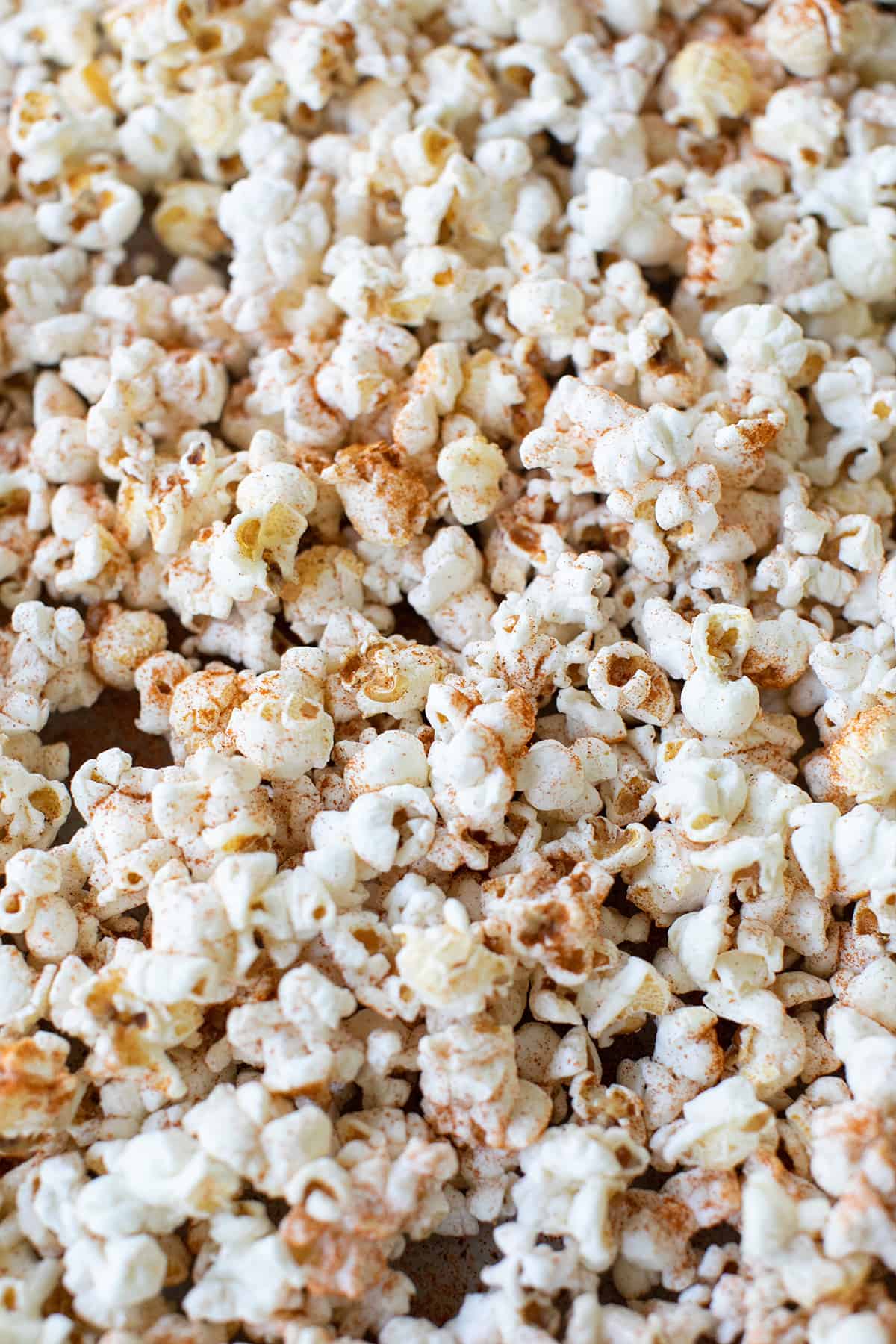 Seasoned Popcorn
Popcorn will always be the easiest appetizer ever! Everyone loves snacking on popcorn and it's great for movie nights, Oscar parties, and more. To elevate it, add spices, herbs, and seasonings to it.
We added Old Bay spice to buttered popcorn and served it with seafood appetizers. It was perfect!
A classic mini hot dog appetizer made with small hot dogs and crescent rolls. They are often served with dijon mustard and are the perfect finger food!
Super flavorful mini hot sausages that are cooked with honey and garlic in a slow cooker! The slow cooker keeps these warm and you can serve them right before guests arrive.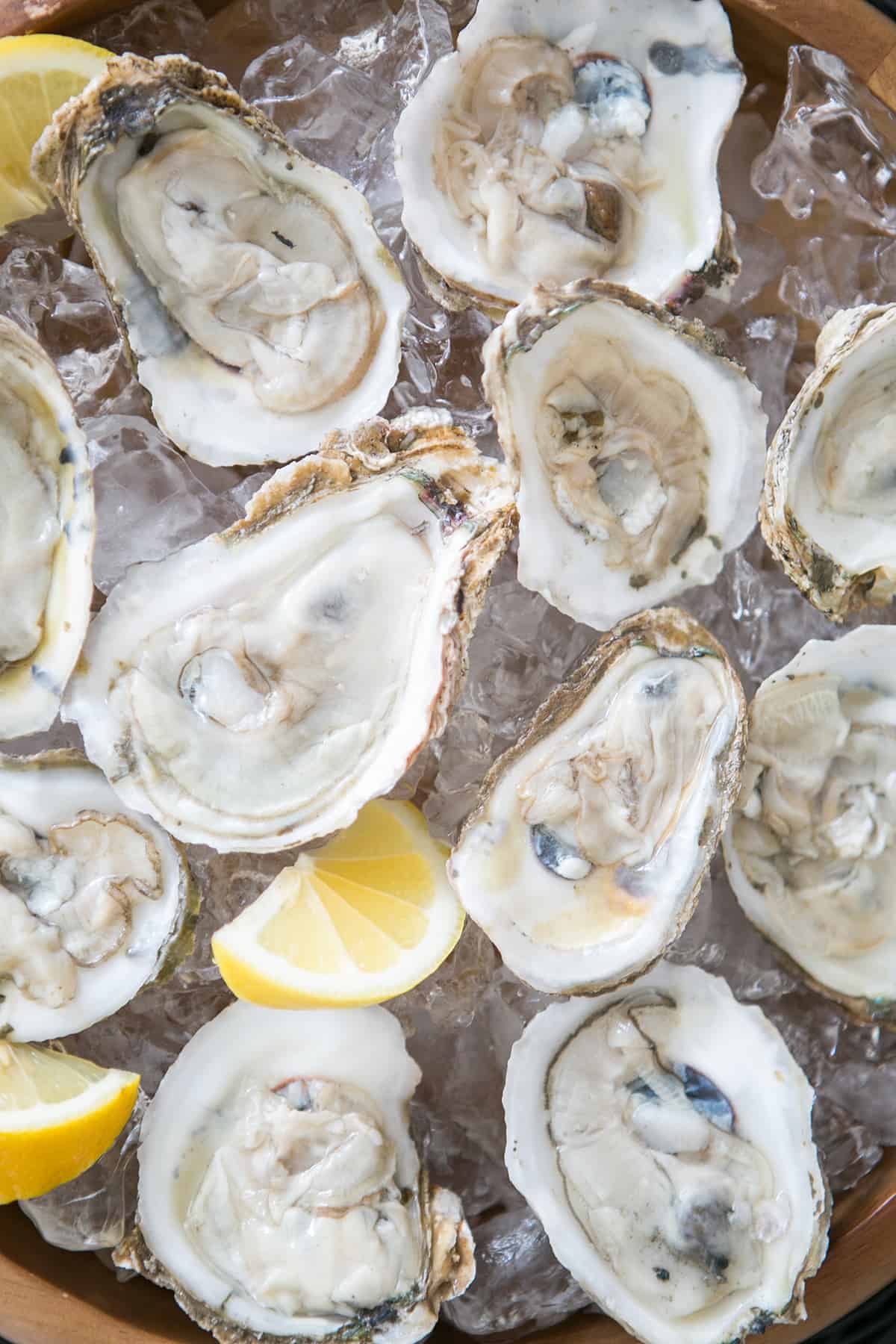 Oysters on The Half Shell
Serve oysters as an elegant party appetizer. They can be made a few different ways and served with a yummy sauce and lemon juice. When you buy them from your local seafood store or grocery store, have them open the oyster shells for you, this will save you a lot of time.
We also love pairing oysters and other seafood appetizers with Champagne.
If you want to add more flavor and take oysters up a notch, then these grilled oysters are for you! They are grilled with a garlic butter sauce and are so flavorful!!
This is an easy, three-ingredient appetizer made with bacon, dates and goat cheese. It's so flavorful and easy to make, they're always a hit!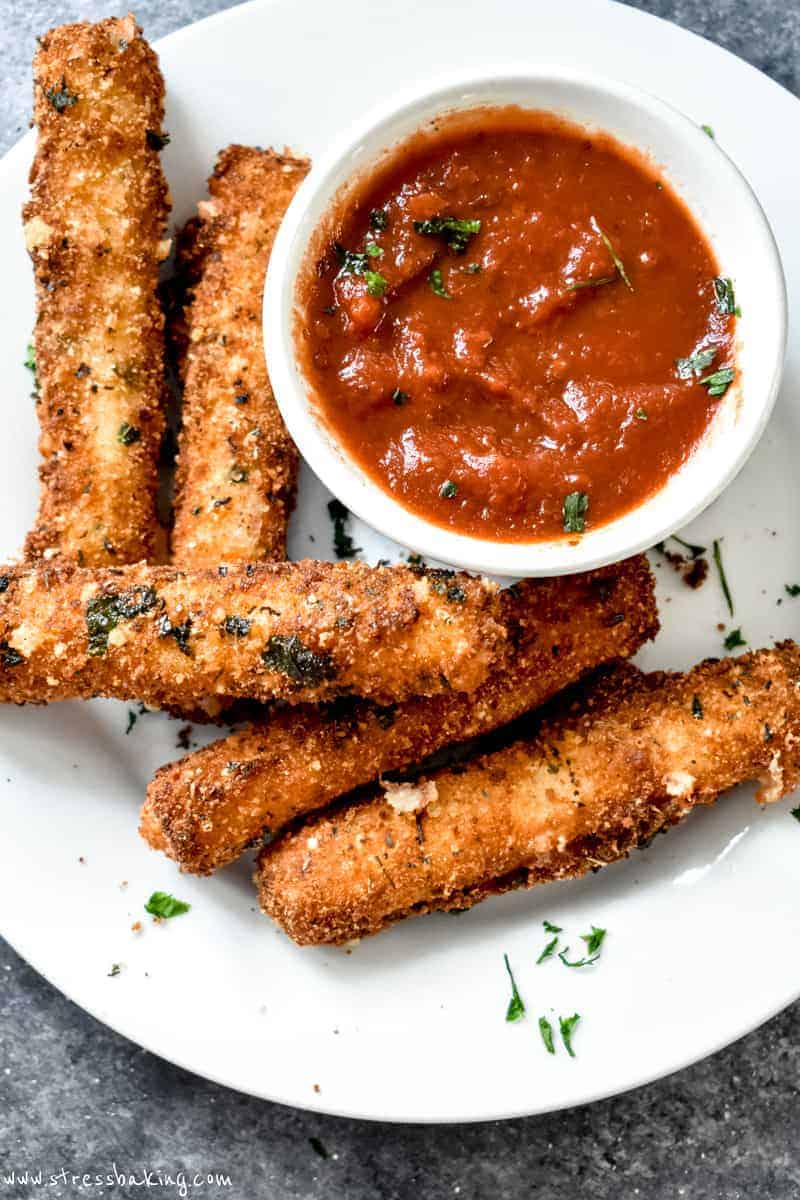 Thee take a little more time, but they're still pretty easy to make. They are also super flavorful and creamy with a crunch texture. Serve them with marinara.
These are the best when they're topped with cheese, sour cream, and bacon! We especially love them served with ranch.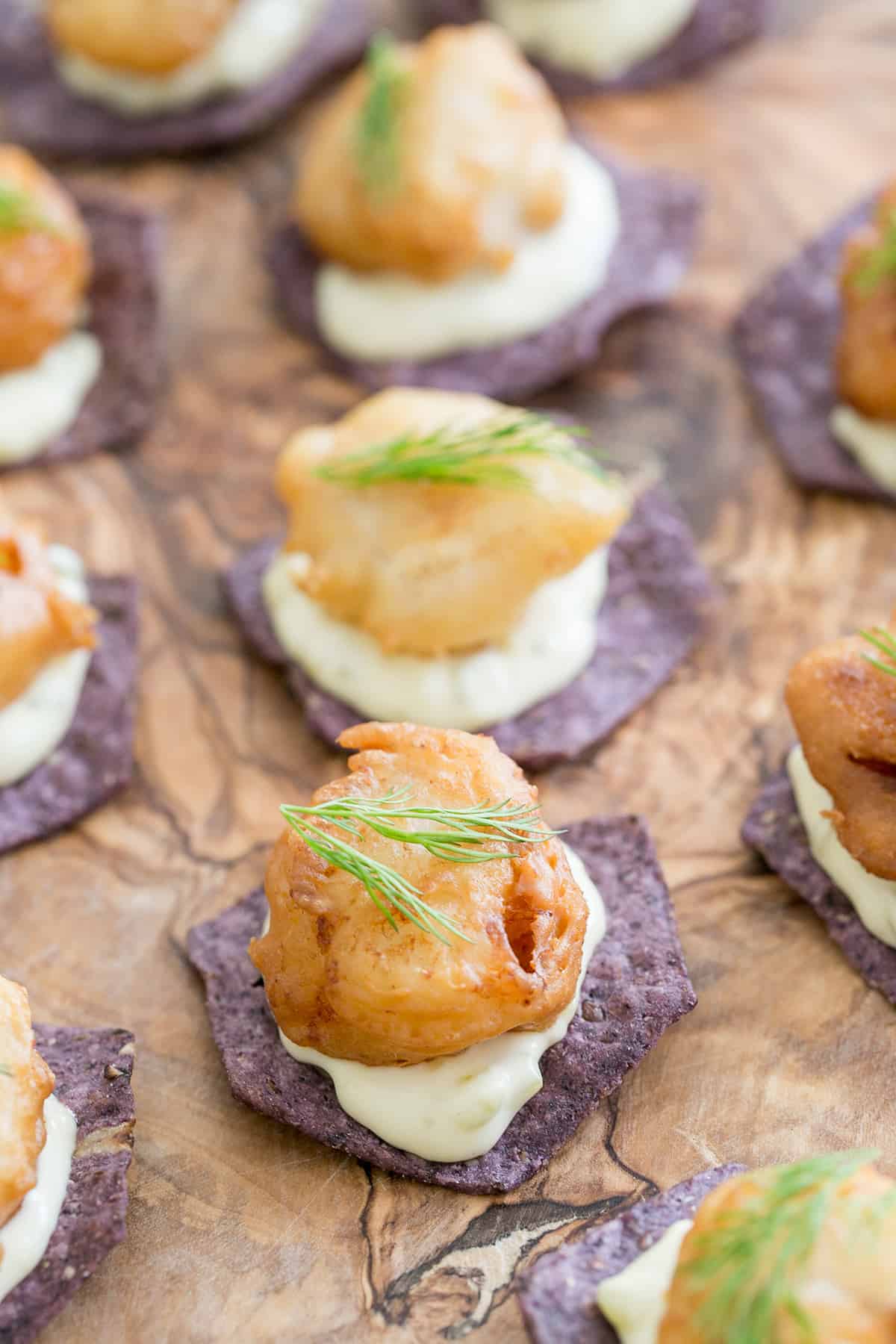 This is a fun take on real fish n chips! We made these for our Oscar party and it was such a hit. It's fresh cod, dipped in a quick homemade batter, and then pan-fried. Then we add it to a chip with a dollop of tartar sauce!
Boiled or steamed shrimp is served with a special cocktail sauce consisting of horseradish, Worcestershire sauce, and ketchup!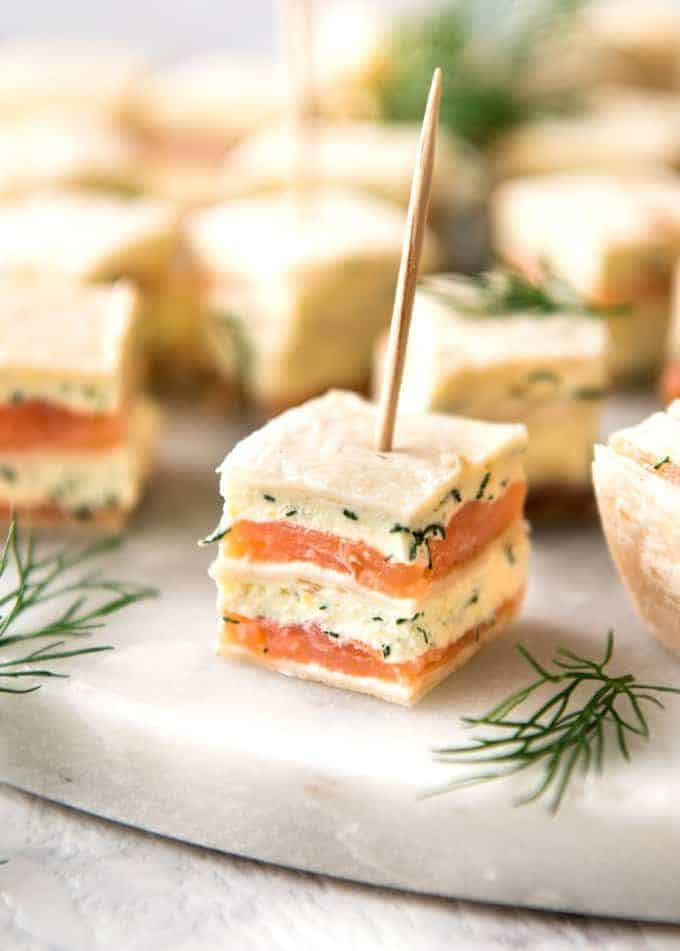 Similar to little tea sandwiches these are bite-sized savory app made with smoked salmon. You can also make this with tuna fish too.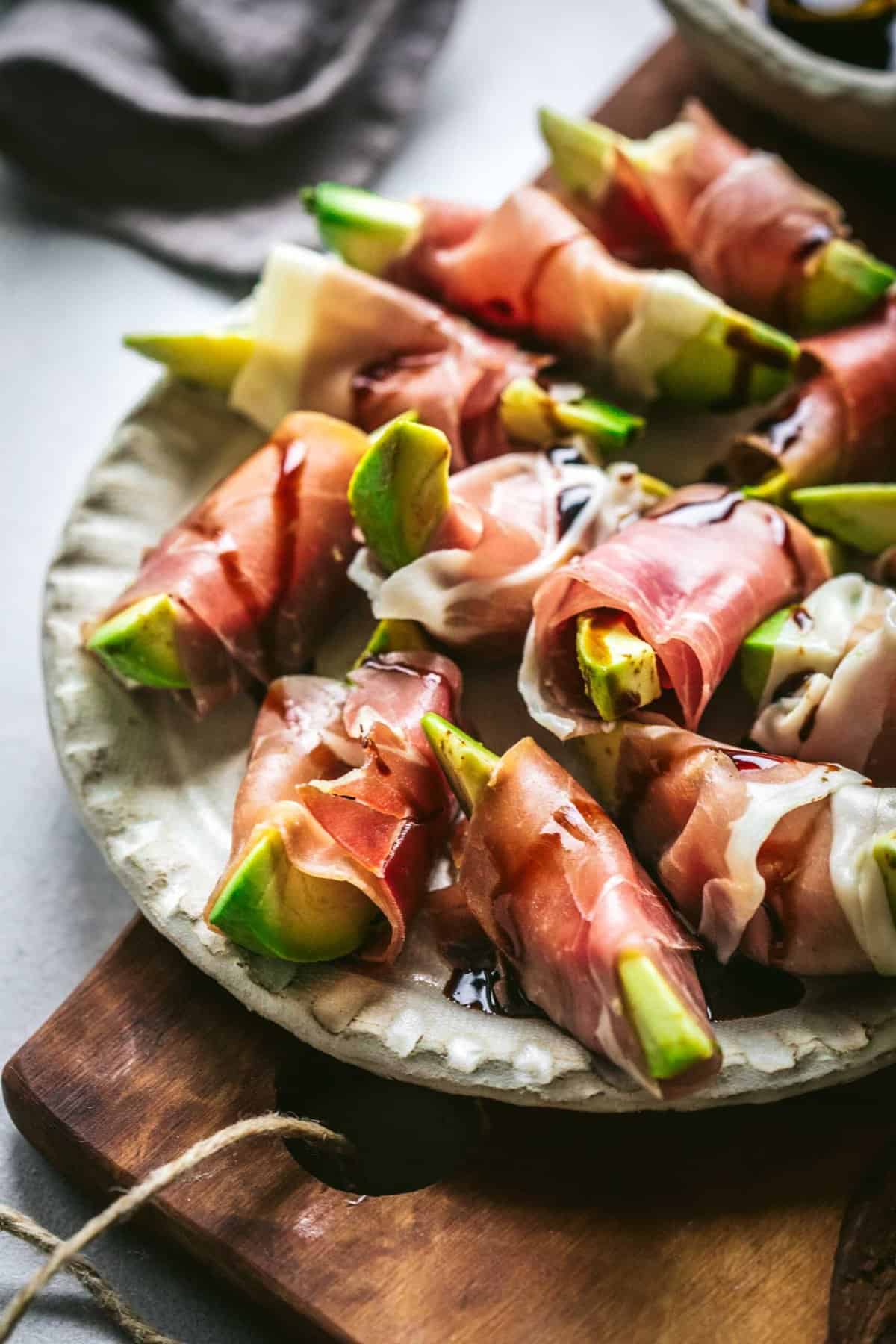 These are as delicious as they look! A different take on jalapeño poppers, for this easy appetizer you just need avocado and prosciutto!
You can also wrap prosciutto over cantaloupe too for an easy and delicious party app.  
Mini Ahi Poke Bowls
We are huge fans of poke! Fresh ahi marinated in delicious soy sauce and oils. You'll be surprised that it's an incredibly easy appetizer to make and serve! Find the full recipe in the recipe card below.
Cheesy Goodness
Everyone loves a cheesy appetizer! These recipes could not be easier. They are savory and super flavorful.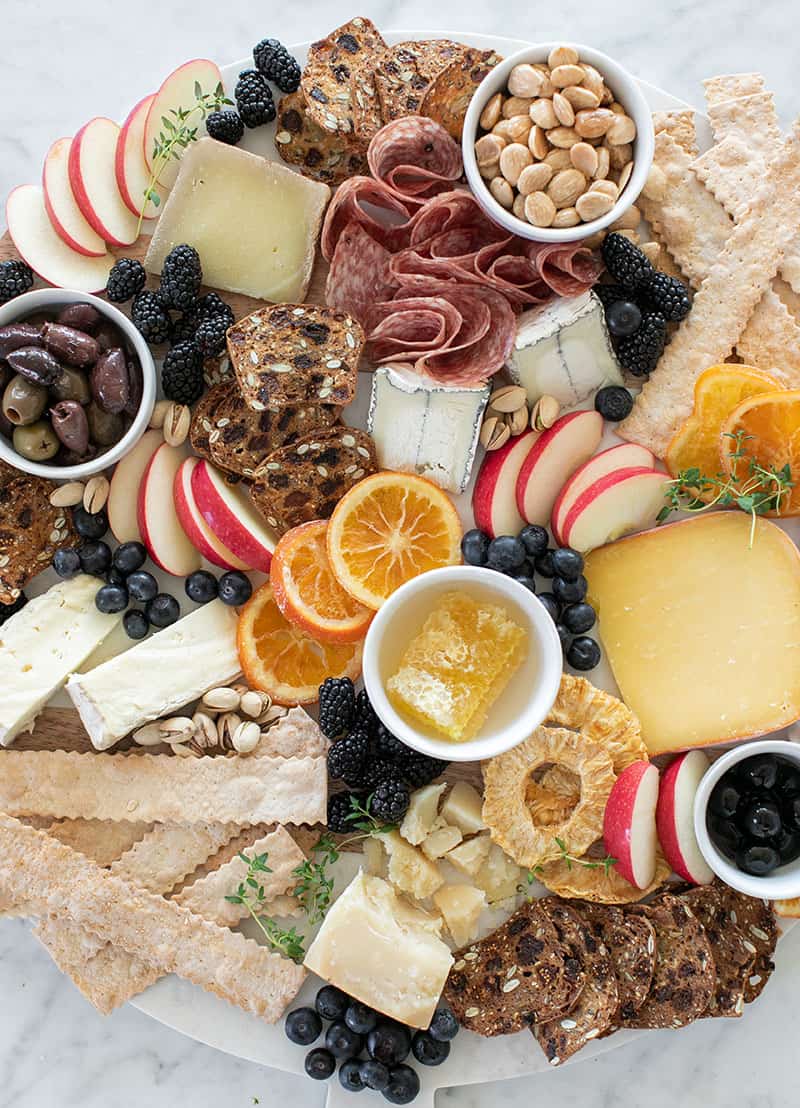 Make a wonderful cheese board for your party. It's an easy appetizer to make and you can customize it to a theme or season. We've made cheese boards for Halloween and for Thanksgiving!
This is one of our favorite appetizers! It's rich and creamy and beyond easy to make. You can also wrap it in puff pastry for extra goodness. You can make it with marinated olives or baked brie with figs! This recipe is always a hit and perfect for a party.
Creamy mozzarella cheese, marinated in herbs and spices red pepper, and garnished with olive oil. Serve it with olives, crackers, and charcuterie.
This is a very simple recipe to make using just a few ingredients. The creamy goat cheese pairs nicely with the nutty flavor of the walnuts. You can add apple or pear to this for even more flavor.
This recipe is similar to our baked brie, but it's made with fig jam and baked in refrigerated pie dough.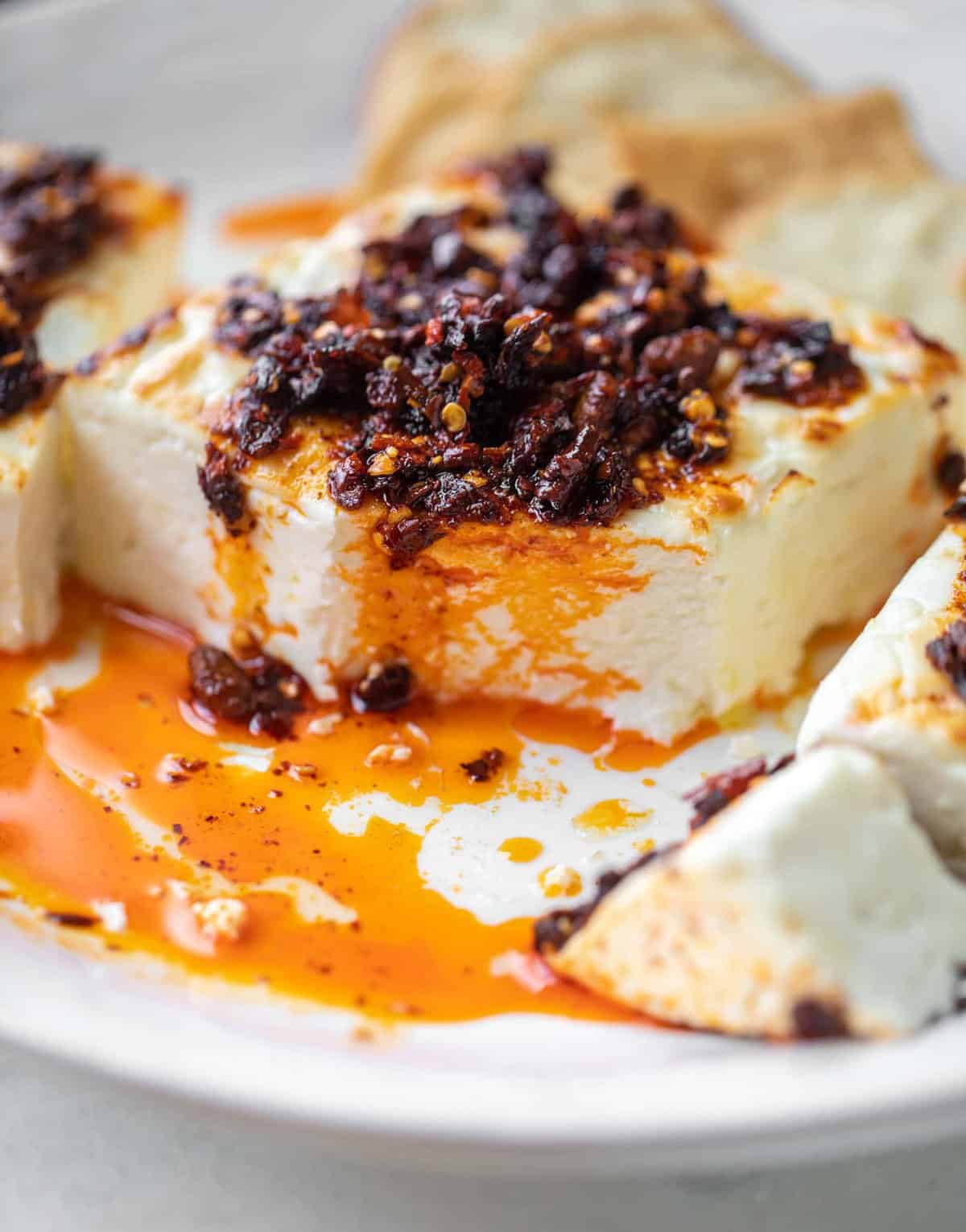 An irresistible cheese dish that is all tossed into one dish and baked. The chili crunch goes perfectly with the creamy, melted feta!
A classic cheese ball is one of our favorite party appetizers! It's nostalgic but also very delicious. Serve it with some crispy garlic bread or crackers for a fun party app.
Parmesan crisps are perfect to serve with dips or eat on their own. They're gluten-free and have a cheesy, nutty flavor.
The ultimate nachos, cooked in a cast iron skillet. This is a cheesy and delicious appetizer your guests will love.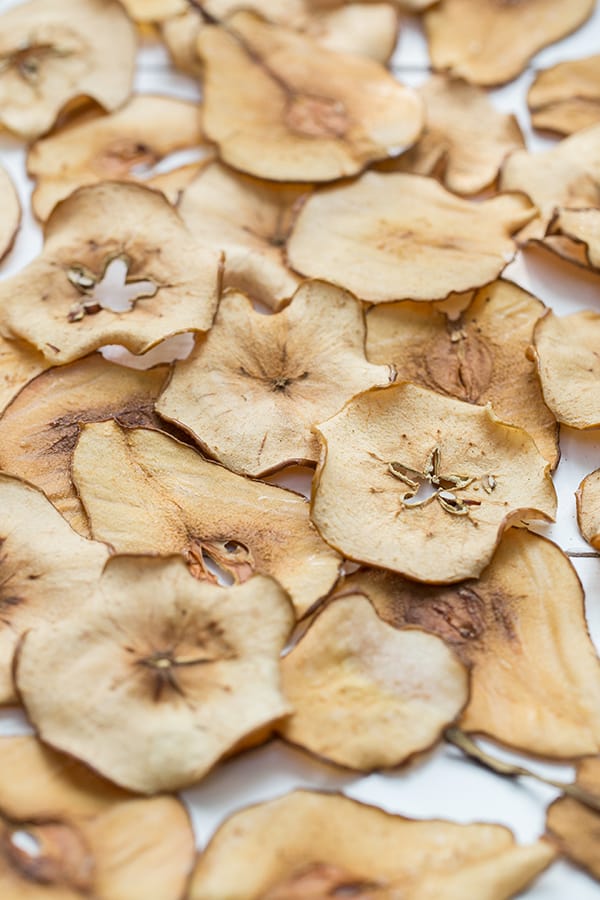 A an easy fall party appetizer are pear and apple chips. These are thinly sliced and then baked until crispy. They're a great pairing with dips.
Canapés
Canapés are small, bite-sized pieces of bread or crackers that are topped with various savory or sweet toppings. They make for an elegant and sophisticated appetizer option.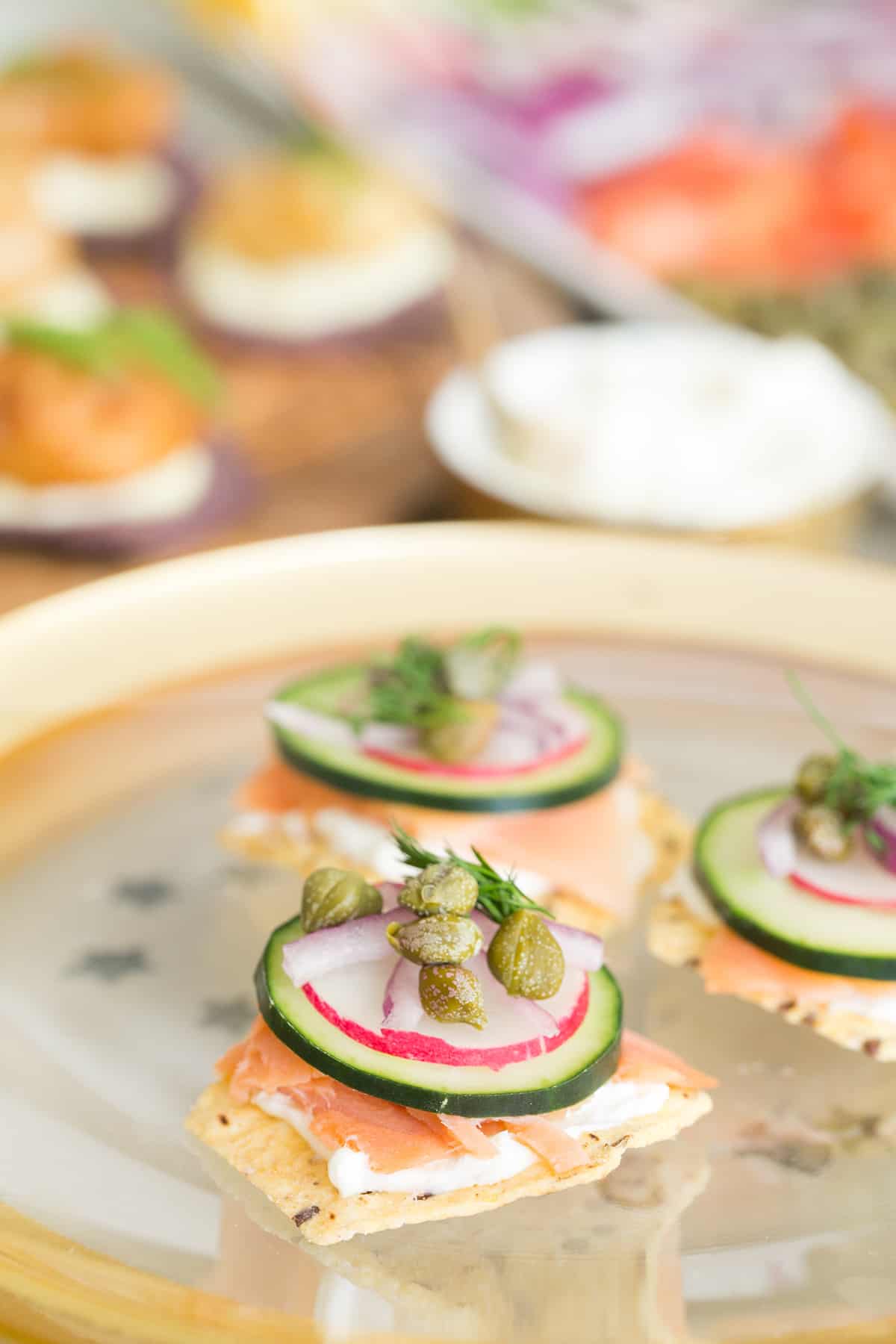 Easy Chip and Smoked Salmon Canapé
This is a fun appetizer idea! Using good quality chips (we used Food Should Taste Good), packaged smoked salmon, cream cheese, cucumber, reddish, a little onion and capers just stack the ingredients onto a chip and viola!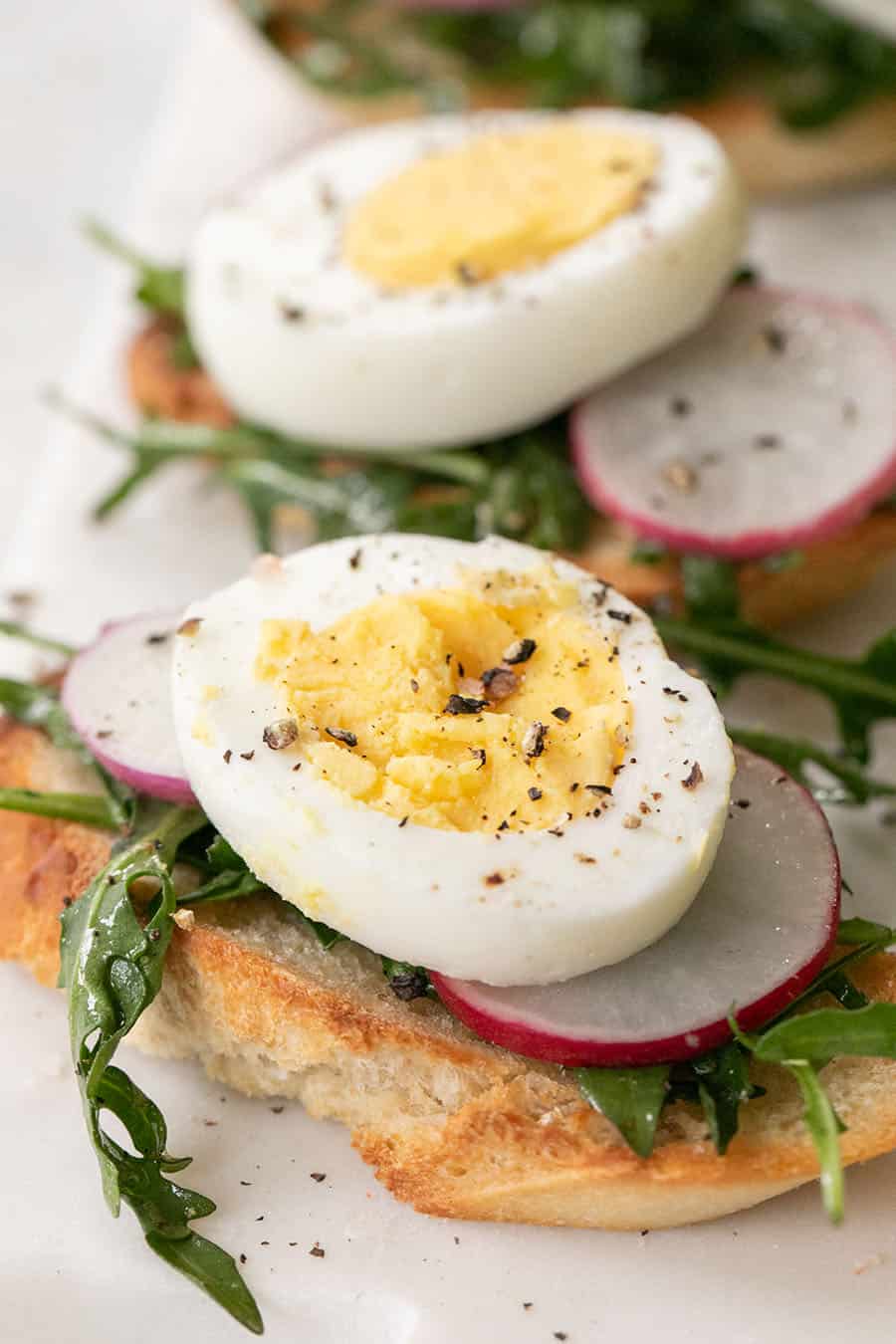 An easy-to-make crostini recipe with hard-boiled eggs, radish, and arugula! It's the perfect brunch appetizer and festive for Easter or spring.
Juicy pears add so much flavor to his crostini. Drizzle with a little honey for some added sweetness.
These fluffy pastries are easy to make with crescent roll dough, brie, and cranberry sauce. You can use any jam when making this appetizer.
bite-sized pieces of smoked salmon that are served on a cracker or bread.
Boards and Platters
Making easy appetizer boards is also a great way to feed a crowd. They're easy to make as most of the ingredients are already made it's just about assembling a board. Here are a few of our favorite boards: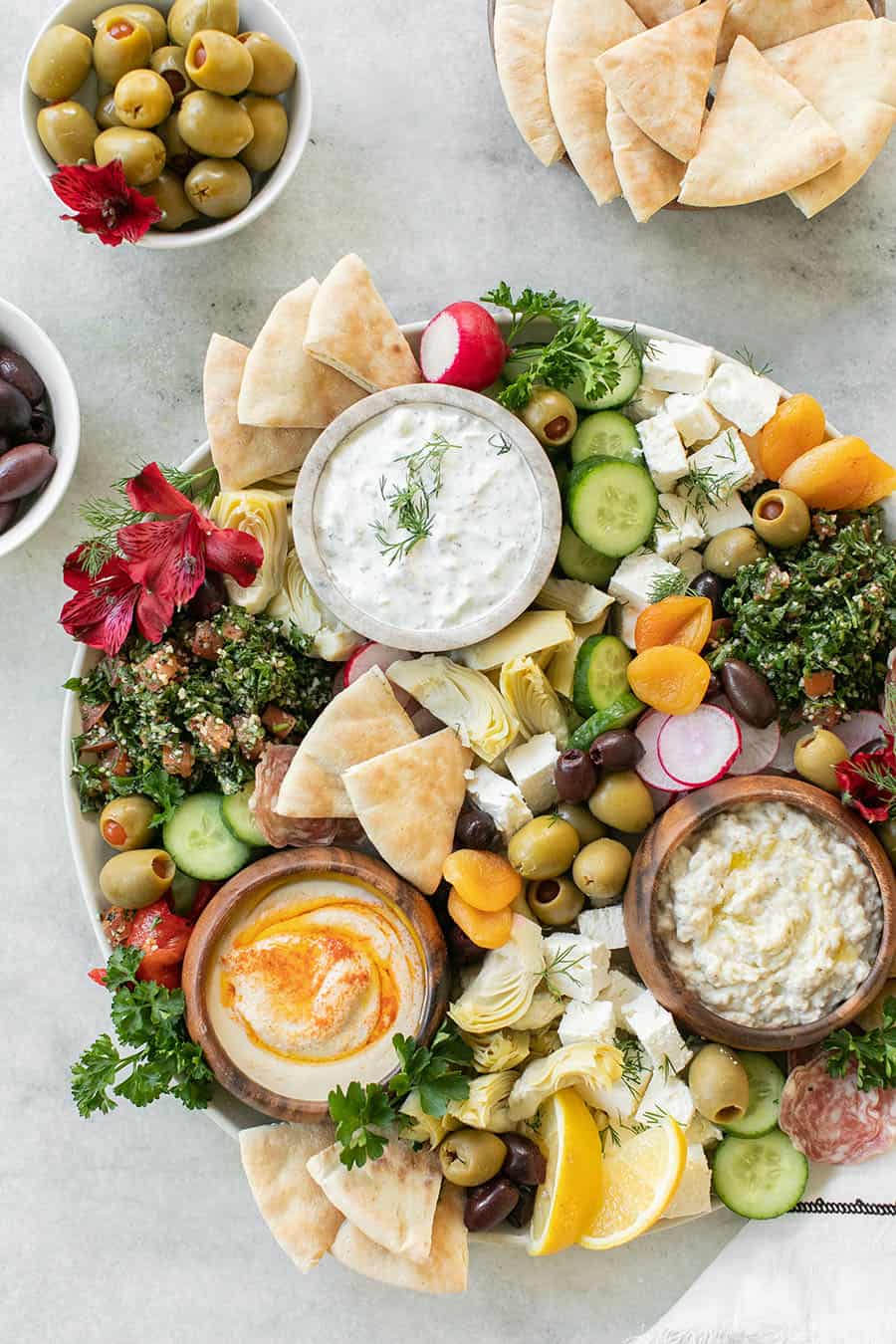 Our Easy Greek Mezze (Meze) Platter is perfect for a simple evening with friends! You don't have to cook any of this and it's all about artfully preparing a gorgeous platter with easy ingredients!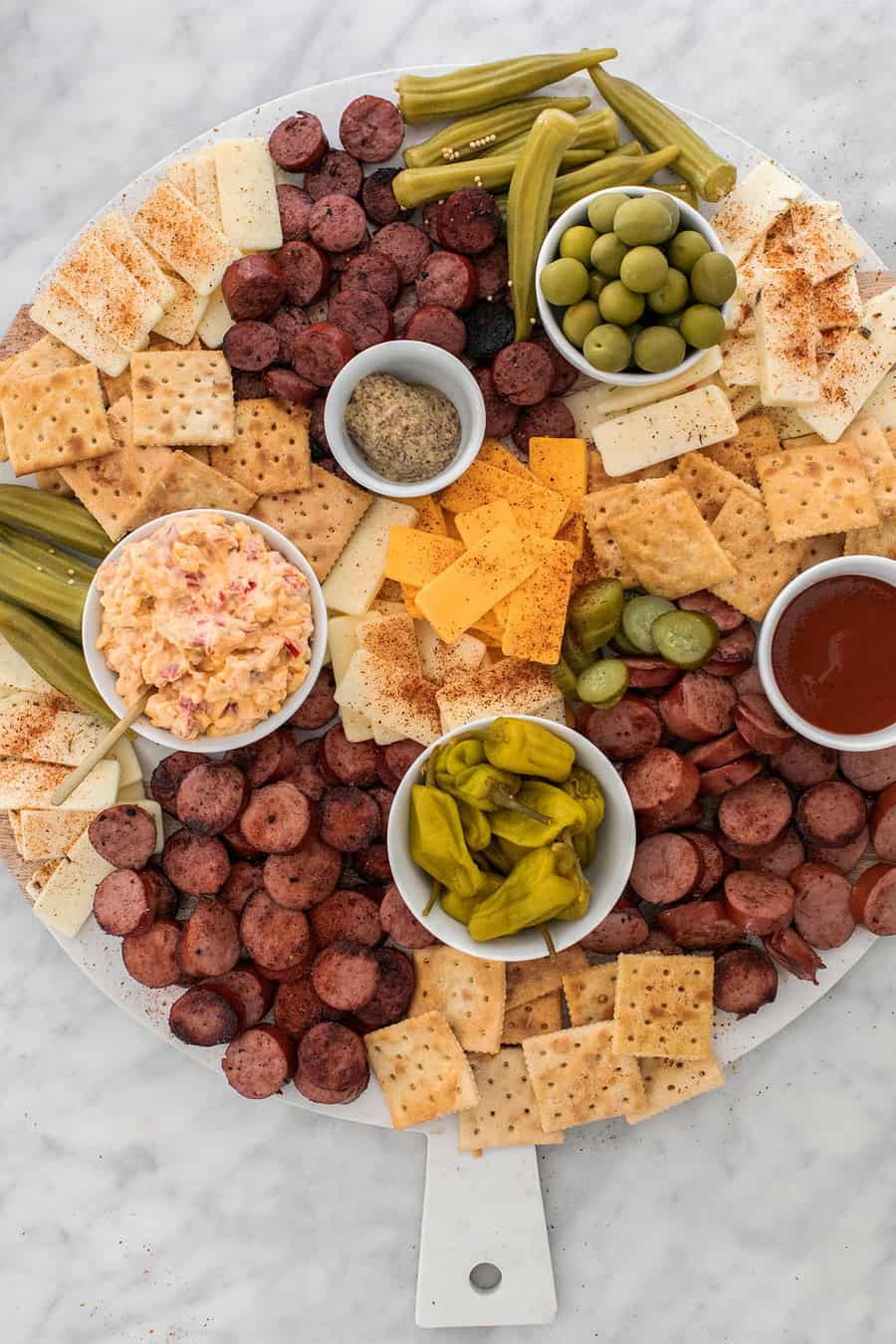 One of our favorite versions of cheese and charcuterie board is this southern-inspired board filled with three types of sausage, pickled vegetables, BBQ sauce, pimento cheese, and more!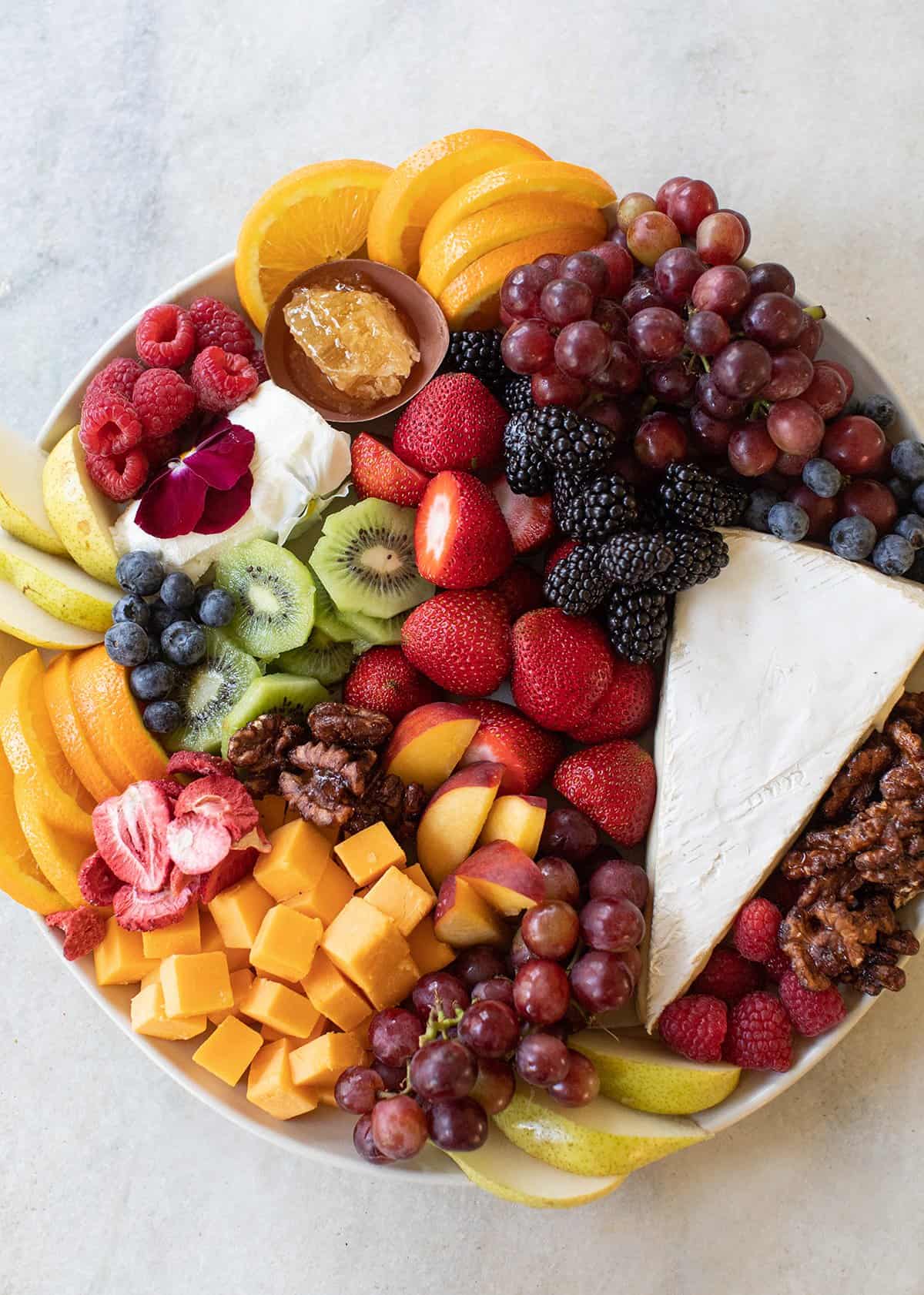 Cheese and fruit platters are a great way to wow your guests while feeding them some universally loved food items. They're easy to assemble and look beautiful!
Check out all of our easy party desserts to go with these savory appetizers!
Tips for Serving Easy Party Appetizers
When it comes to serving appetizers, there are a few things to keep in mind.
First, you'll want to make sure you have enough appetizers to feed your guests. A good rule of thumb is to have at least five or six different options for a small gathering, and eight to ten options for a larger party.
Second, you'll want to think about how you will serve the appetizers. If you're having a sit-down dinner, you can place the appetizers on a kitchen island or a separate table.
If you're having a cocktail party, you can set up a buffet with all of the appetizers so guests can help themselves.
You'll want to make sure you have enough napkins and plates for your guests.
Lastly, if you're serving food outside, make sure you use food covers to keep bugs away.
How Many Appetizers per Person?
This really depends on the type of party you're throwing and the time of day. If you're having a cocktail party, you can plan on about six to eight appetizers per person. If you're having a dinner party, you can plan on three to four appetizers per person. And if you're having a buffet, you can plan on two to three appetizers per person.
Drinks to Serve with Party Appetizers
No party is complete without a few delicious drinks! Here are some of our favorite beverage options to serve with appetizers:
Wine – Any type of wine from red wine, to white wine to sparkling wine goes great with party appetizers! Check out our easy and helpful wine-serving tips and types of wine chart.
When to Serve Easy Party Appetizers
You can serve easy party appetizers at any type of party or gathering. They are a great way to start off a meal or to have a light snack.
One of our favorite parties to throw is one that is only appetizers and cocktails! Here are a few of our favorite celebrations to serve easy appetizers:
Holiday Party
Frequently Asked Questions
What are easy appetizers for a party?
There are many easy appetizers for a party, but some of the most popular options include dips and spreads, finger foods, cheese-based appetizers, and canapés. You can also assemble a cheese board for a really easy appetizer.
What are some good cold appetizers for a party?
Some good cold appetizers for a party include hummus, guacamole, various dips and spreads, vegetable tempura, and crudité canapés.
What is an easy appetizer to bring to a party?
An easy appetizer to bring to a party could be anything from store-bought hummus to homemade mini quiche. You can also make a quick cheese and fruit platter to bring as well. We also love pings in a blanket and jalapeño poppers or a seven-layer dip.
What are some easy low-carb appetizers?
Some good low-carb appetizers include vegetable platters, meatballs, and salmon skewers. You can also serve low-carb crackers with easy dips too.
What are some good vegetarian appetizers?
Some good vegetarian appetizers include vegetable tempura, crudité canapés, and various dips and spreads.
What are the most popular appetizers?
Here is a list of the top 10 party appetizers:
Buffalo chicken dip
Spinach artichoke dip
Hot crab dip
Pigs in a blanket
Buffalo chicken bites
Cocktail meatballs
Jalapeno poppers
Cheesy bacon-wrapped dates
Crostini
Deviled eggs
Now that you have the best list of appetizer ideas, it's time to make your own! Let us know which one of these you like the best in the comments below.
You can also FOLLOW US on FACEBOOK, INSTAGRAM, and PINTEREST to see more delicious recipes, cocktails, desserts, and parties!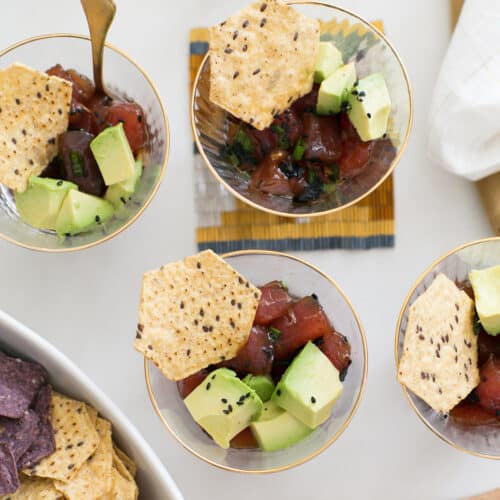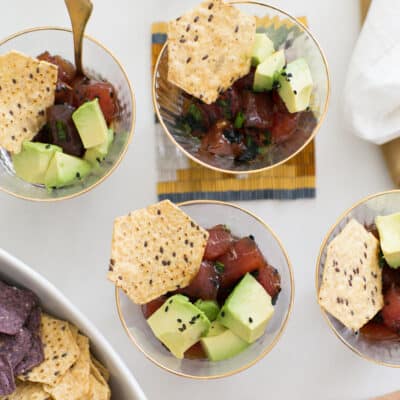 Easy Party Appetizers Mini Poke Bowls
One of our favorite easy party appetizers are mini poke bowls! Not only is this recipe delicious, but it's elegant too! Serve it with chips and avocado for the ultimate party appetizer. Make sure to check out all of our easy party appetizer ideas too!
Print
Pin
Rate
Ingredients
2

lb

sushi-grade ahi tuna

5

tbsp

soy sauce

1

tbsp

sesame oil

1/2

cup

green onions

,

sliced

1

tbsp

back sesame seeds

2

large

avocados

,

cubed

1/4

cup

dry seaweed

,

1 to 2 sheets

2

garlic cloves

,

roasted and chopped
Instructions
Cut the tuna into small cubes with a sharp knife.

In a medium mixing bowl, add tuna, soy sauce, garlic, sesame oil, seeds and dried seaweed and toss to combine.

Let the tuna marinate in the refrigerator for a bit while you slice the avocado.

In little bowls dive the tuna up.

Add in a few pieces of avocado.

Garnish with a few chips and green onions.
Notes
Use this recipe as a guide. You can always add more or less of each ingredient. You can also add cucumber, carrots, or a spicy mayo sauce over the top. 
You can find ahi tuna at your local seafood store or even Whole Foods.
When serving these for a party, do not add any garnishes over the top until right before you serve. Store the tuna in the refrigerator and have everything ready to go so you can just garnish and then set them out for guests to grab.
Nutrition
Calories:
183
kcal
|
Carbohydrates:
4
g
|
Protein:
19
g
|
Fat:
10
g
|
Saturated Fat:
2
g
|
Polyunsaturated Fat:
2
g
|
Monounsaturated Fat:
5
g
|
Cholesterol:
29
mg
|
Sodium:
452
mg
|
Potassium:
386
mg
|
Fiber:
3
g
|
Sugar:
0.5
g
|
Vitamin A:
1746
IU
|
Vitamin C:
4
mg
|
Calcium:
22
mg
|
Iron:
1
mg