This dip at a Stonyfield event we attended was a HUGE hit. Everyone was raving about how good it was! We got the recipe and we're happy to share it! It's a creamy yogurt dip made with organic whole milk yogurt, tahini, lemon juice and salt. Topped with flavorful lima beans, it's absolutely amazing and goes well with pita bread or fresh vegetables!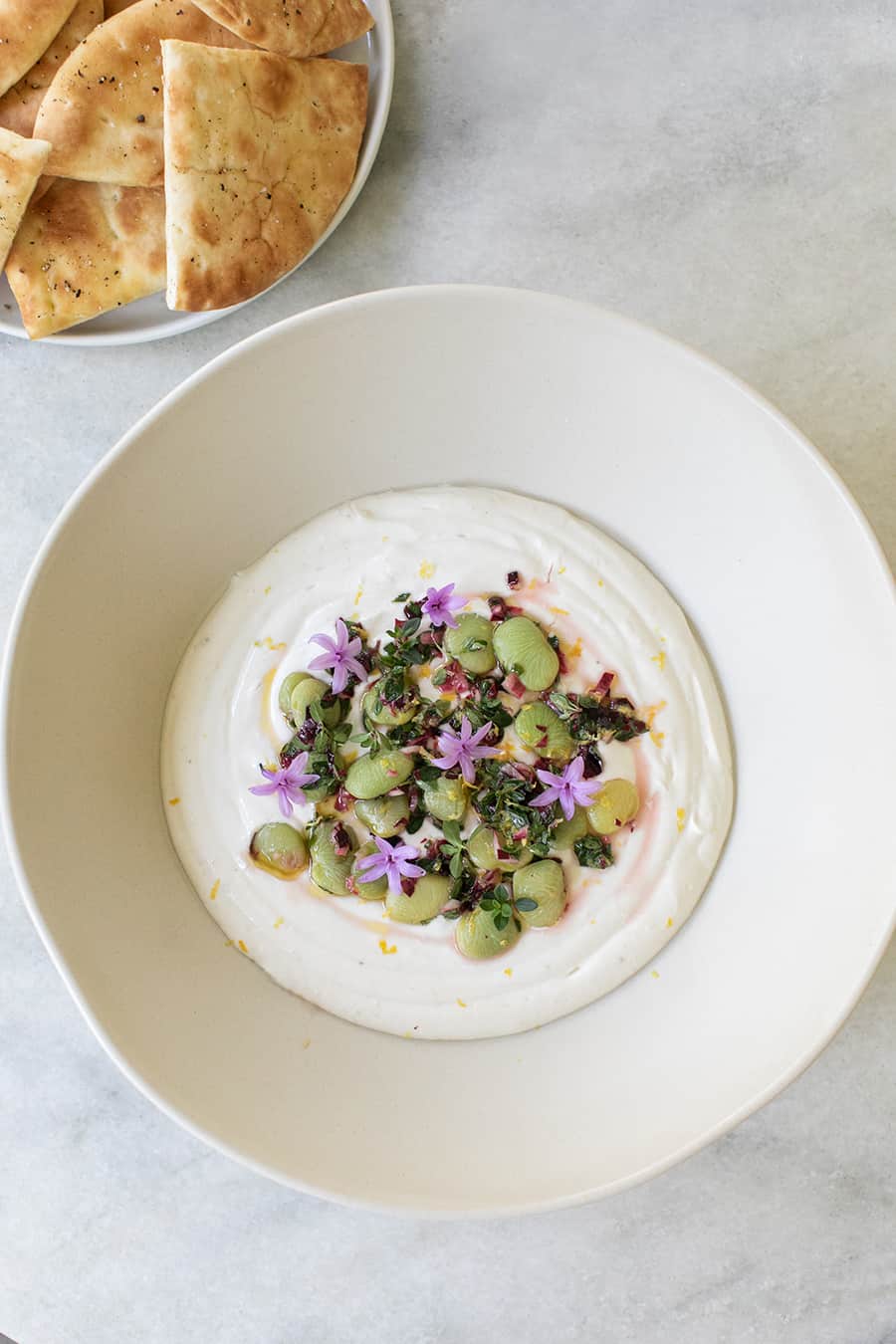 I was definitely the one eating all of this dip at our dinner in Sonoma with Stonyfield and Blue Apron. The chef from blue Apron was amazing and we were all so impressed with his skills. I'm happy he shared this easy recipe with us because I'll be making it over and over!
Supplies to Make a Yogurt-Tahini Dip
Cheesecloth – Find in the baking section of the grocery store.
Strainer
Large bowl
Citrus squeezer
Small pot (to boil lima beans)
Knife
Cutting Board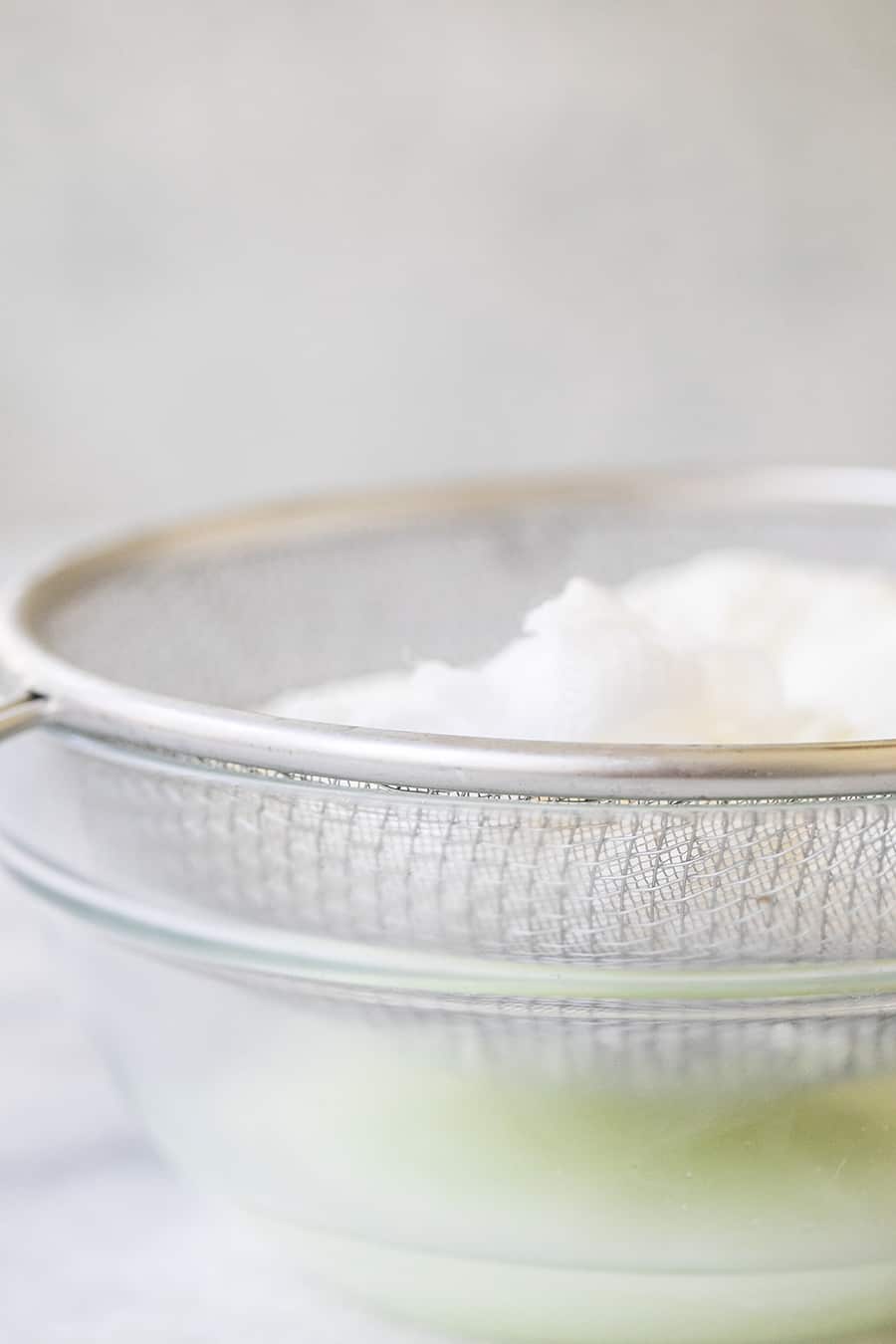 How to Make a Yogurt-Tahini Dip
1. Add 1 quart of plain whole-milk organic yogurt into a cheesecloth that is placed in a strainer. We used Stonyfield Organic Plain Whole-Milk Yogurt for this dip.
2. Let the yogurt drain like this in the refrigerator for 30 minutes all the way up tot 4 hours! This process removes the liquid from the yogurt, creating a thicker consistency.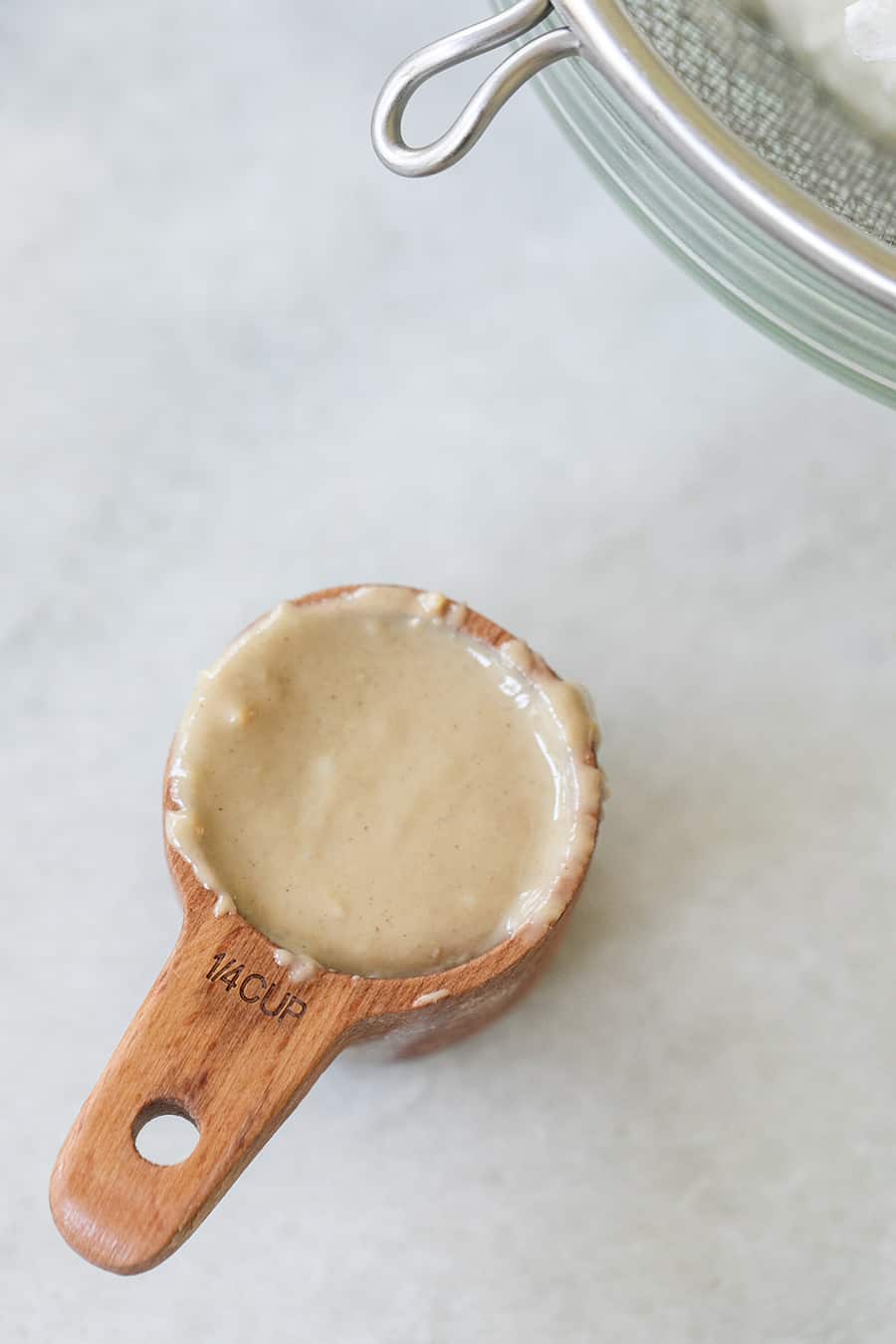 4. Add in 1/4 cup of tahini. You can buy tahini at most grocery stores or order it on Amazon. The jar last a long time and it's nice to have it on hand.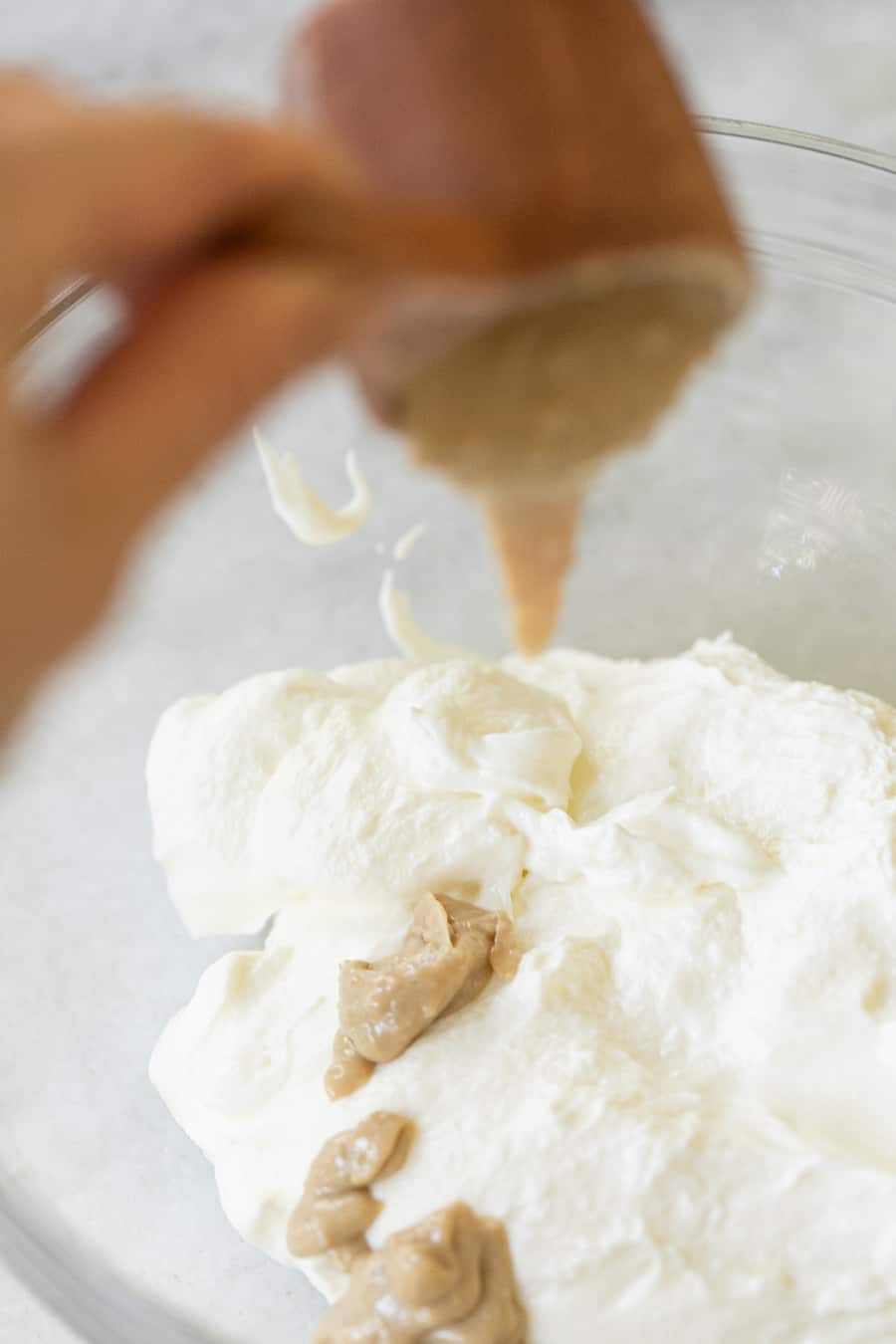 What is tahini?
Tahini is a a paste that is made from ground, toasted sesame seeds. It has the texture of a nut butter and it's creamy and savory. I like it alone! You'll want to buy a decent bottle of tahini since some can be too acid. It should really taste like a very mild, nutty flavor that can be eaten alone. That's how you know it's good tahini!
What can I substitute for tahini?
Technically you can substitute tahini for another rout butter but it won't taste the same! It will have a similar texture though. Another idea is to leave eat out, add in 1/8 cup olive oil and ground cumin. Cumin has a little bit of that nutty flavor.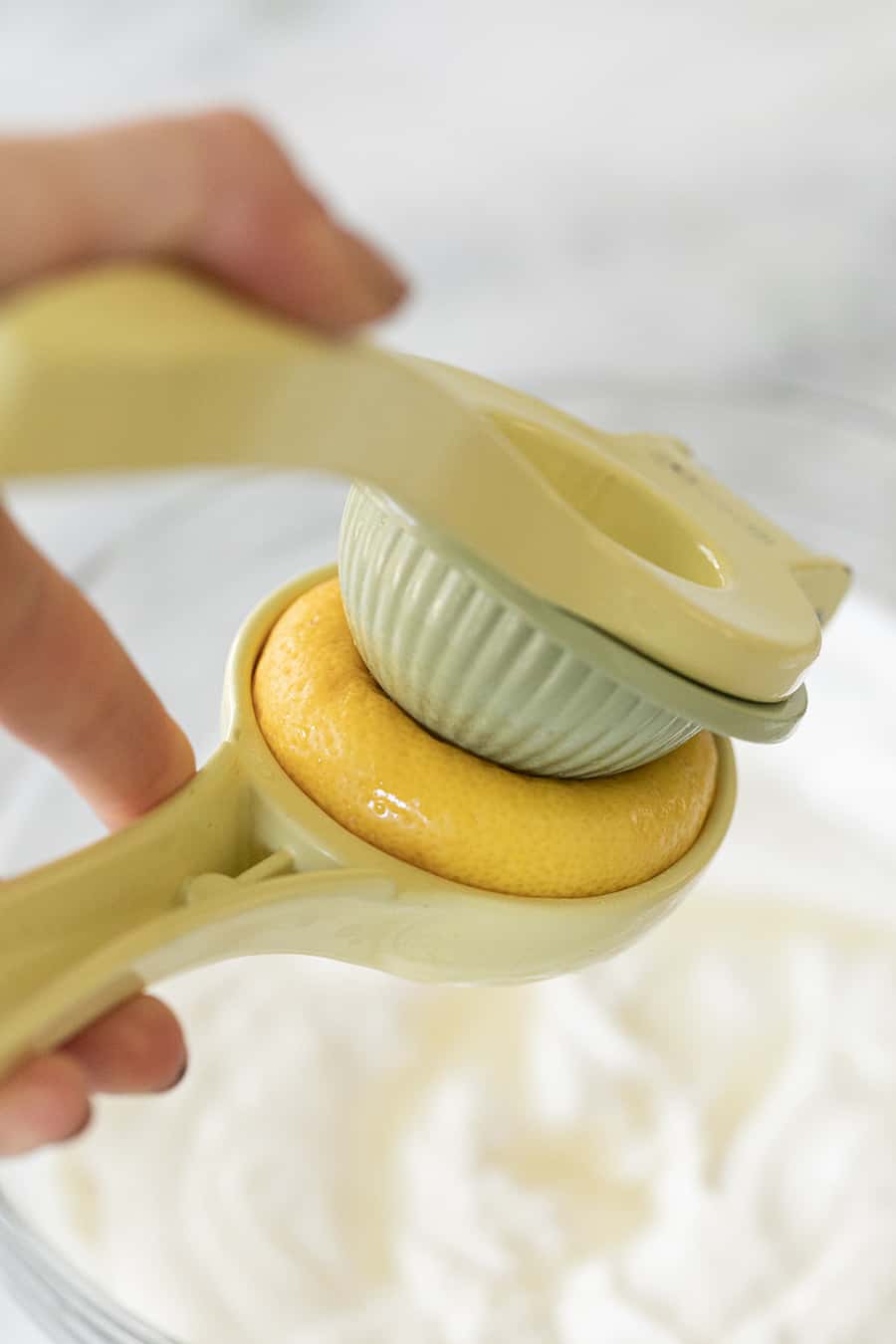 5. Squeeze a whole lemon into the yogurt/tahini mix and stir.
6. Add a good amount of sea salt over the top. Continue to taste test until it reaches your desired flavor!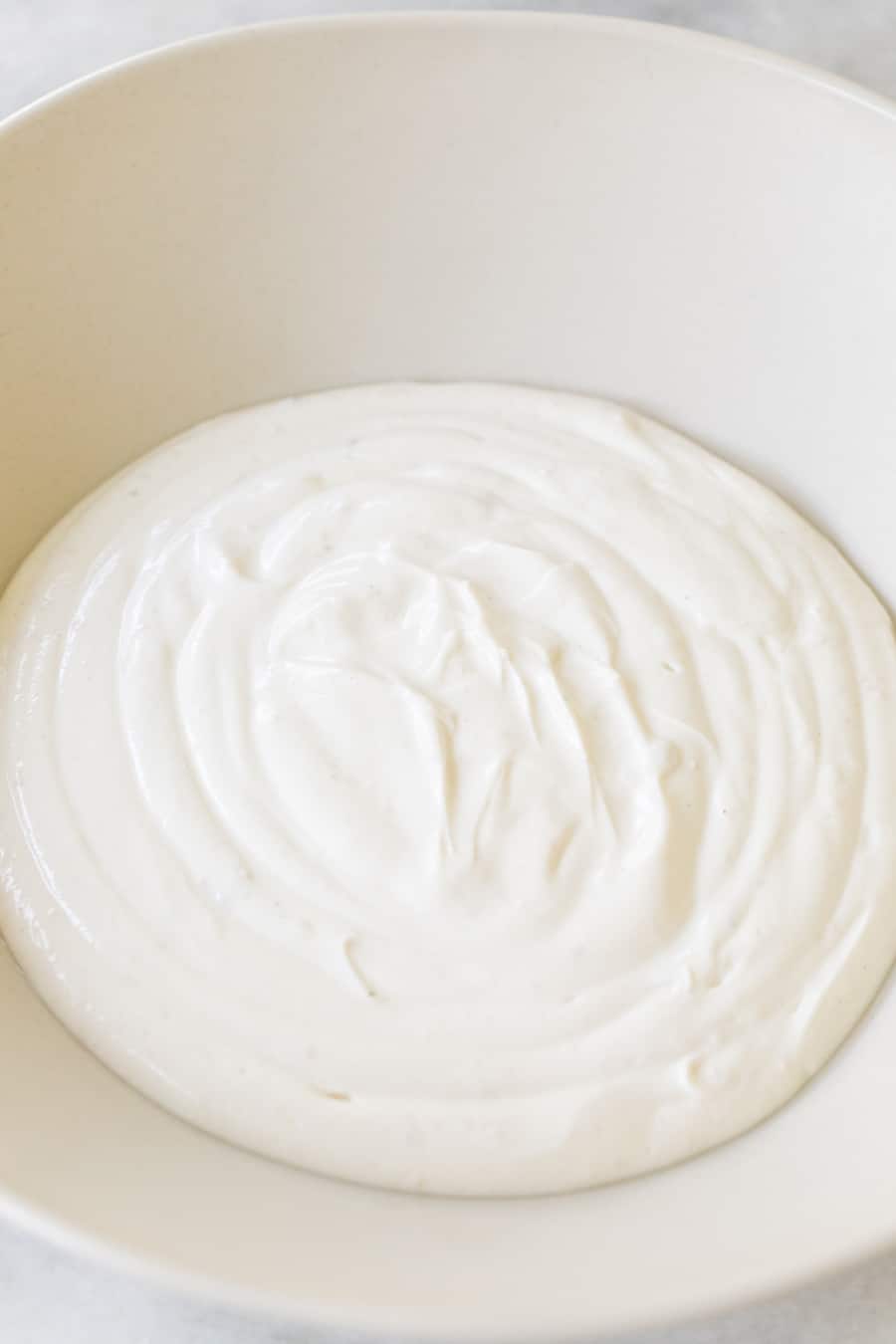 7. Stir until it all comes together. It will be smooth and look so pretty! You can swirl it with a spoon to make a beautiful top! That's all you need to do to make the yogurt portion of the dip.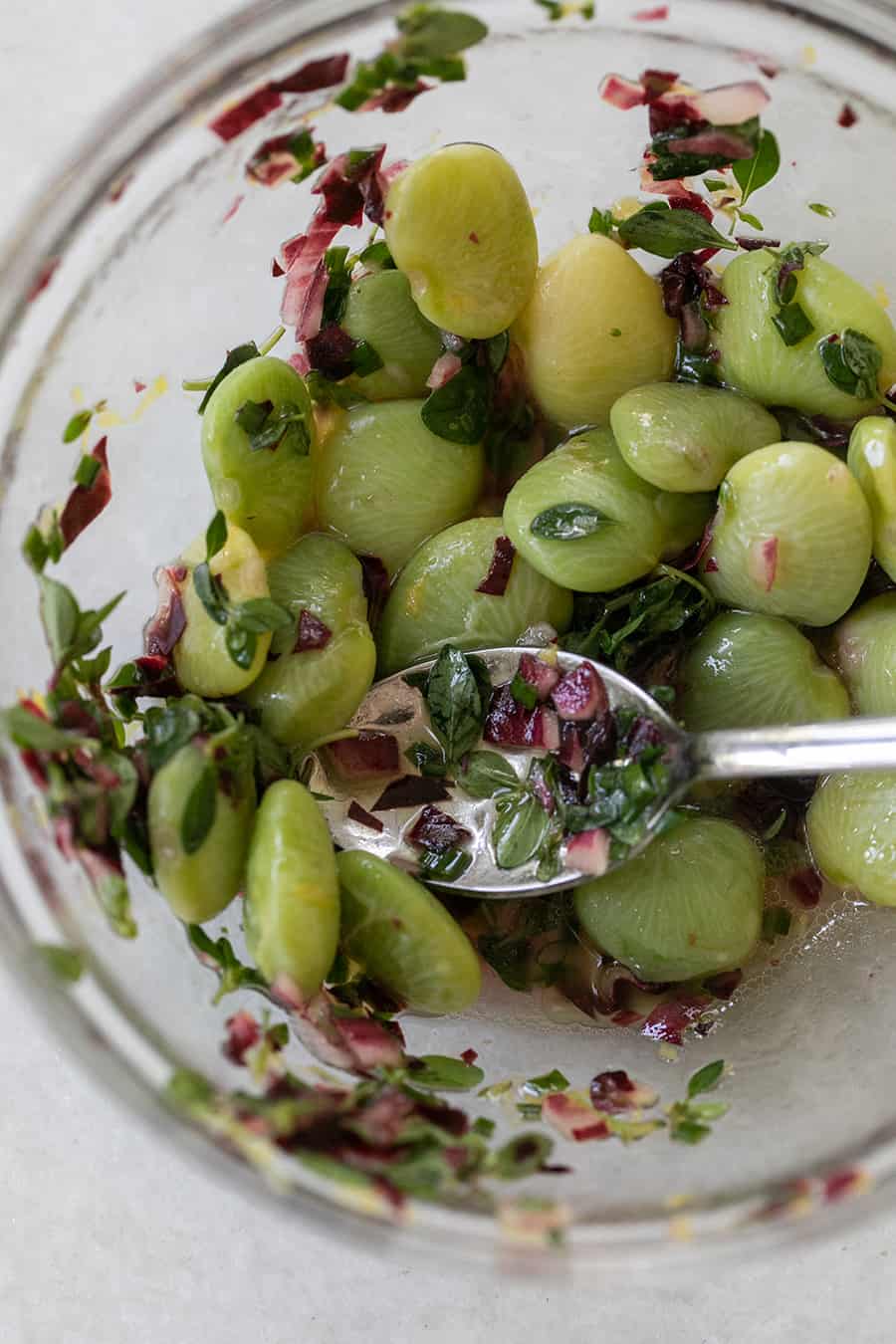 Lima Bean Yogurt Topping
The yogurt dip itself is absolutely amazing, but what really takes it to the next level is this flavorful topping. I don't even love lima beans, but for some reason they go SO well with this dish! Here are the ingredients we used. You can also add in whatever you think is good and keep tasting until you're happy with the flavor!
Lima Beans – cooked
Green onions – sliced small
Thyme – pull leaves off the stem
Red Endives – slice the purple/red part thinly to add color to the dip.
Olive oil
Lemon juice and zest
Salt and Pepper – don't be shy with the salt and pepper!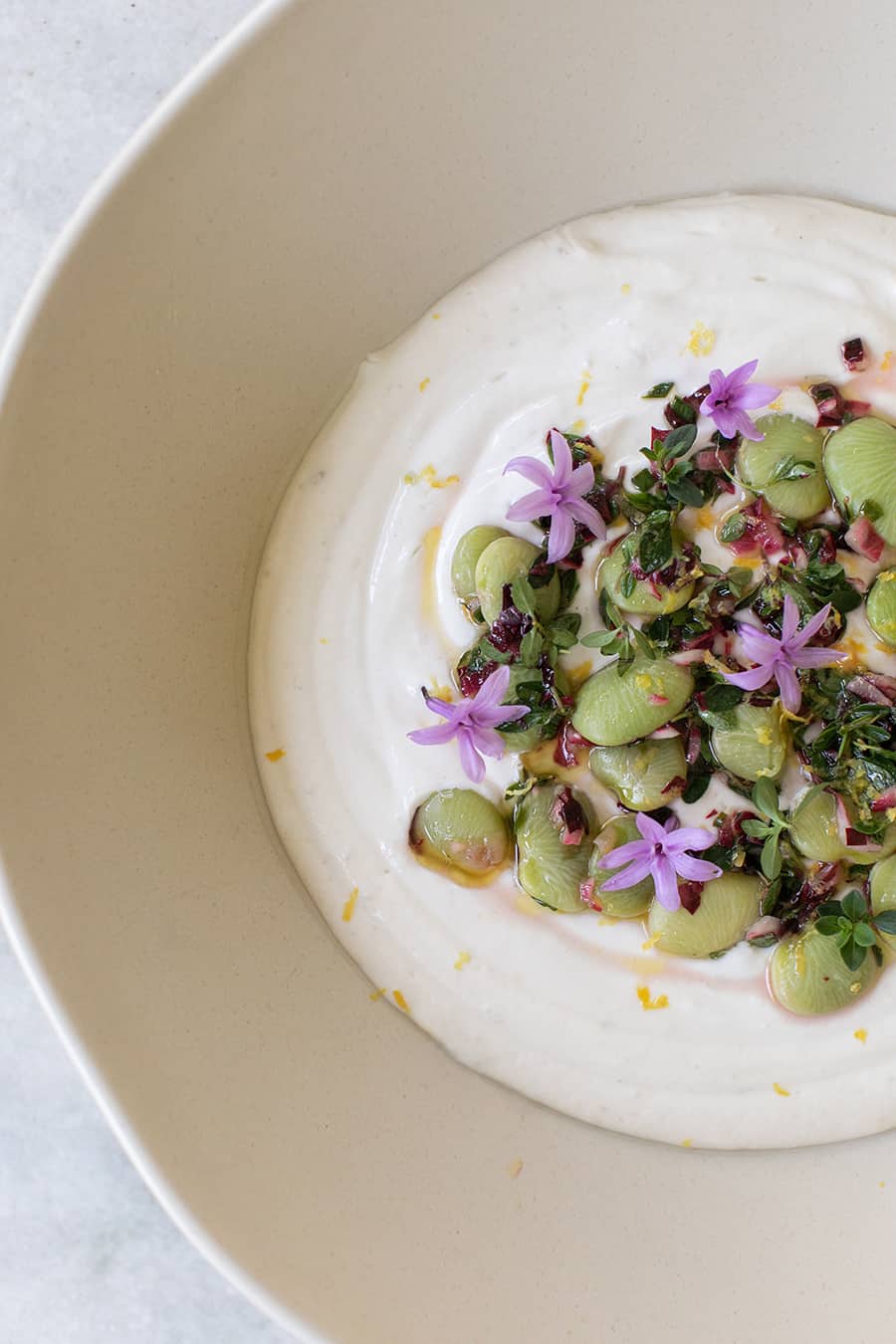 Once the lima beans are cooked and drained, add everything in a small bowl and mix. You can do this ahead of time too! Wait util you're just about to serve before topping the yogurt.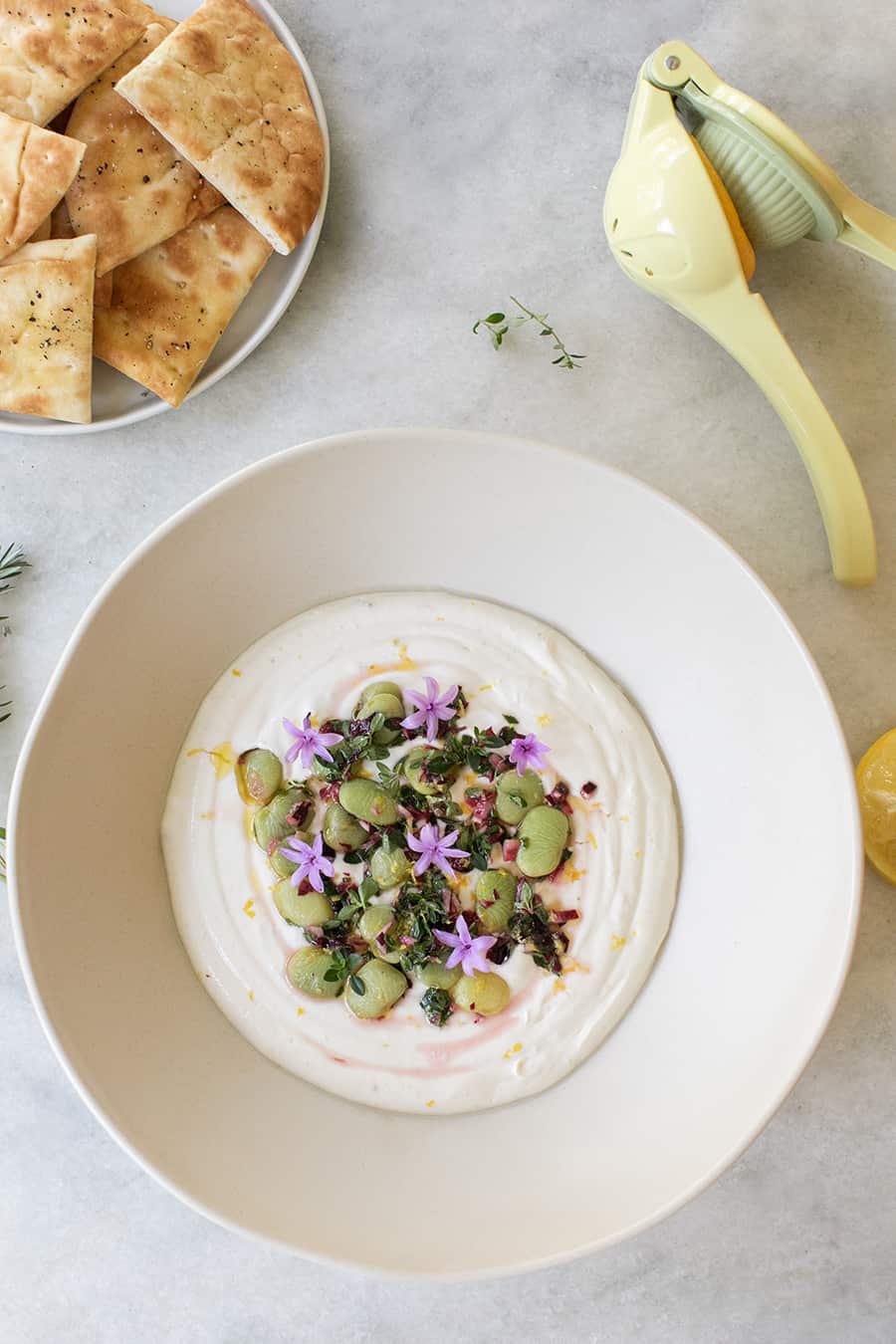 Add the lime bean topping over the top of the yogurt, add fresh lemon zest, more olive oil and a grind of sea salt and pepper! We used more salt than I thought it would take, but the salt really brought out the delicious flavors.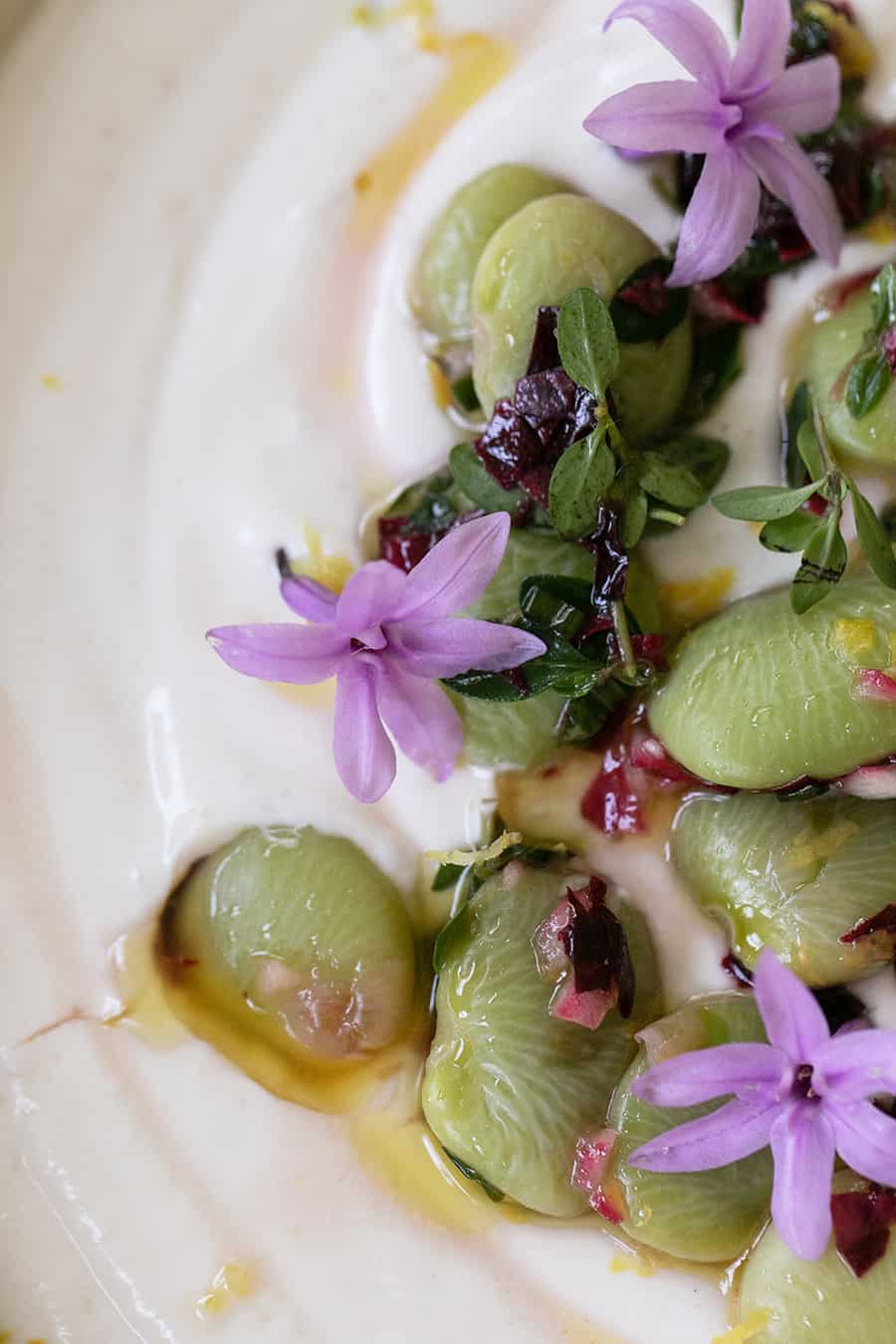 We added some little purple flowers to the dish too. You can also add edible flowers to make it look even more beautiful!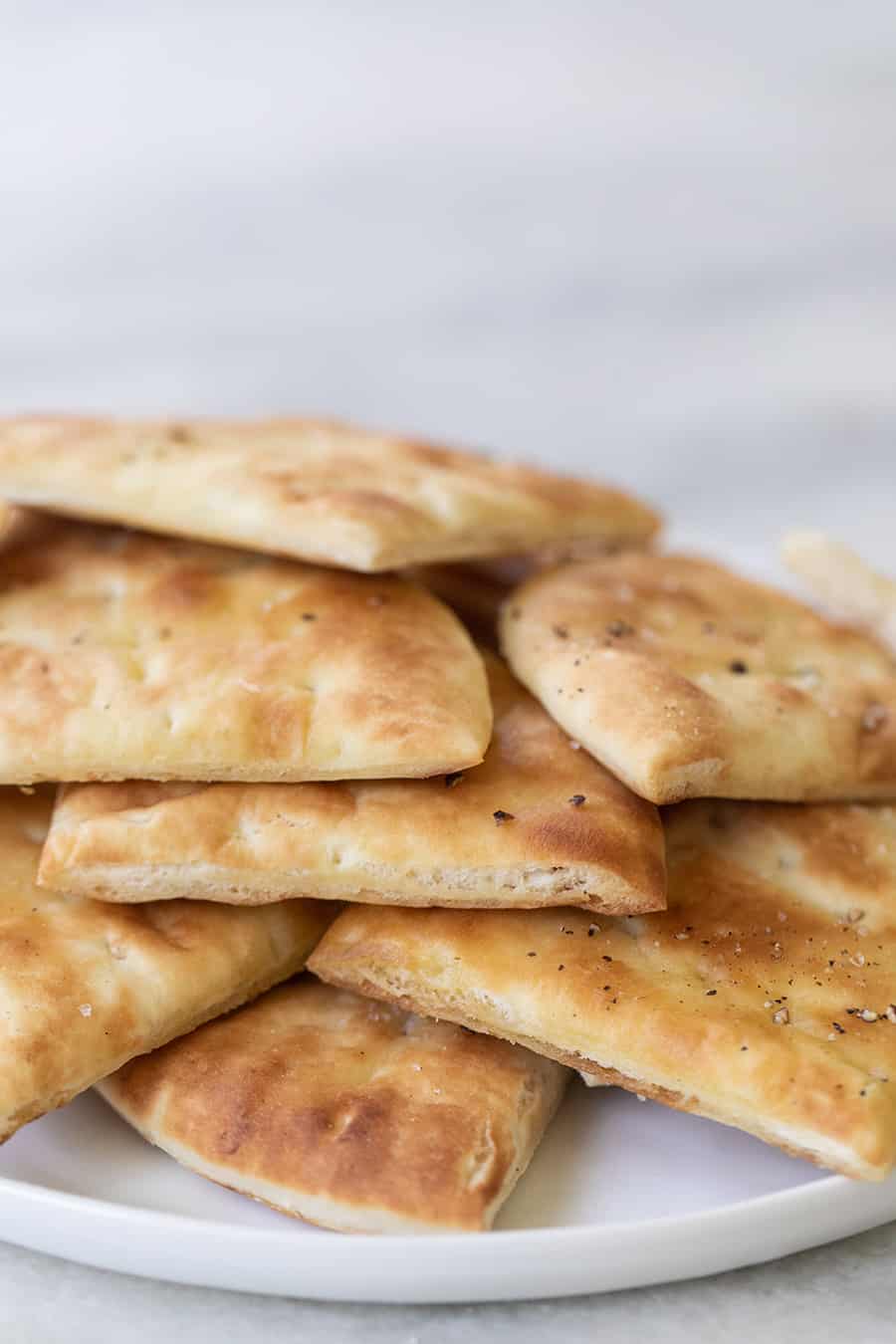 Serve with warm, toasted fluffy pita bread!
The Best Way to Warm Pita Bread
Preheat the oven to 375 degrees.
Cut the pita bread into four or 8 triangles, depending on the size you like.
Place the pita, single layer on a cookie sheet lined with tinfoil.
Drizzle some olive oil and salt over the top of the pita.
Warm in the oven for about 8-10 minutes.
You want the bread to get warm and golden brown but not totally toasted. It's better when it's fluffy and soft!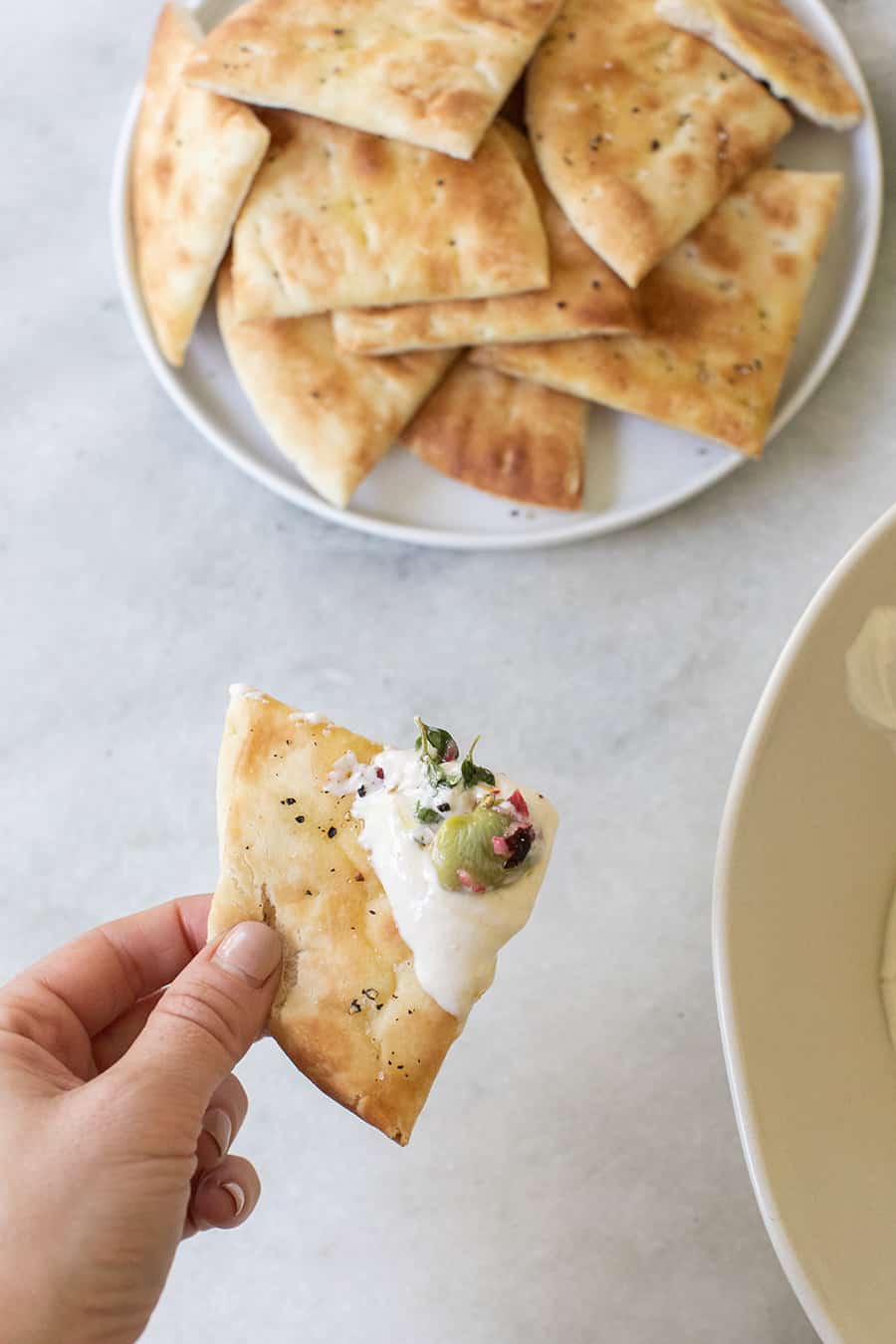 Dips are fun to make and can be served in different ways. They're perfect for an appetizer, to add to cheese or charcuterie board or as a side dish with salmon or even grilled steak.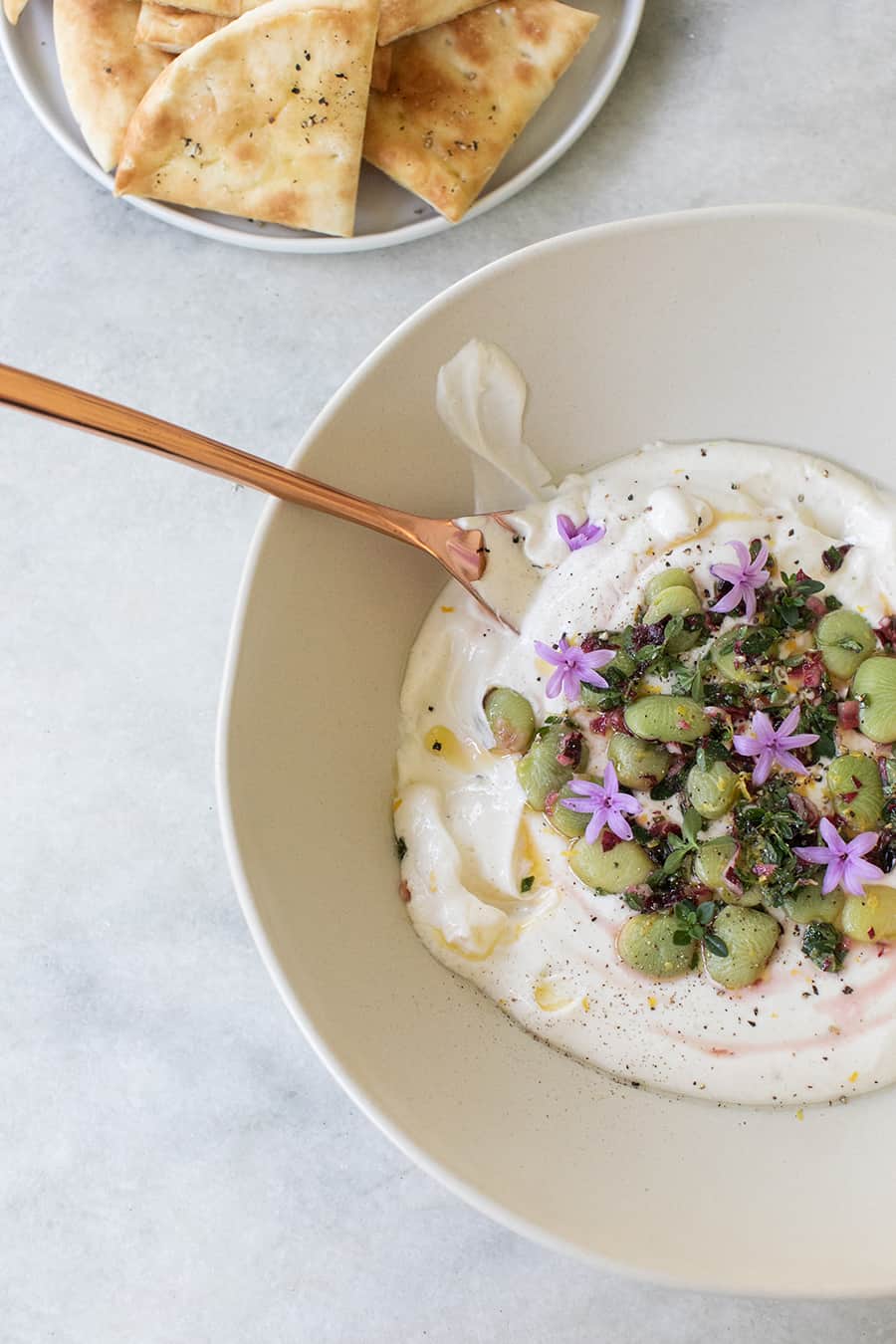 This dip is great for different seasons and perfect for parties. We're making it for our tropical summer kick off party!
Remember if you're serving outside to cover the dip with one of these charming food covers!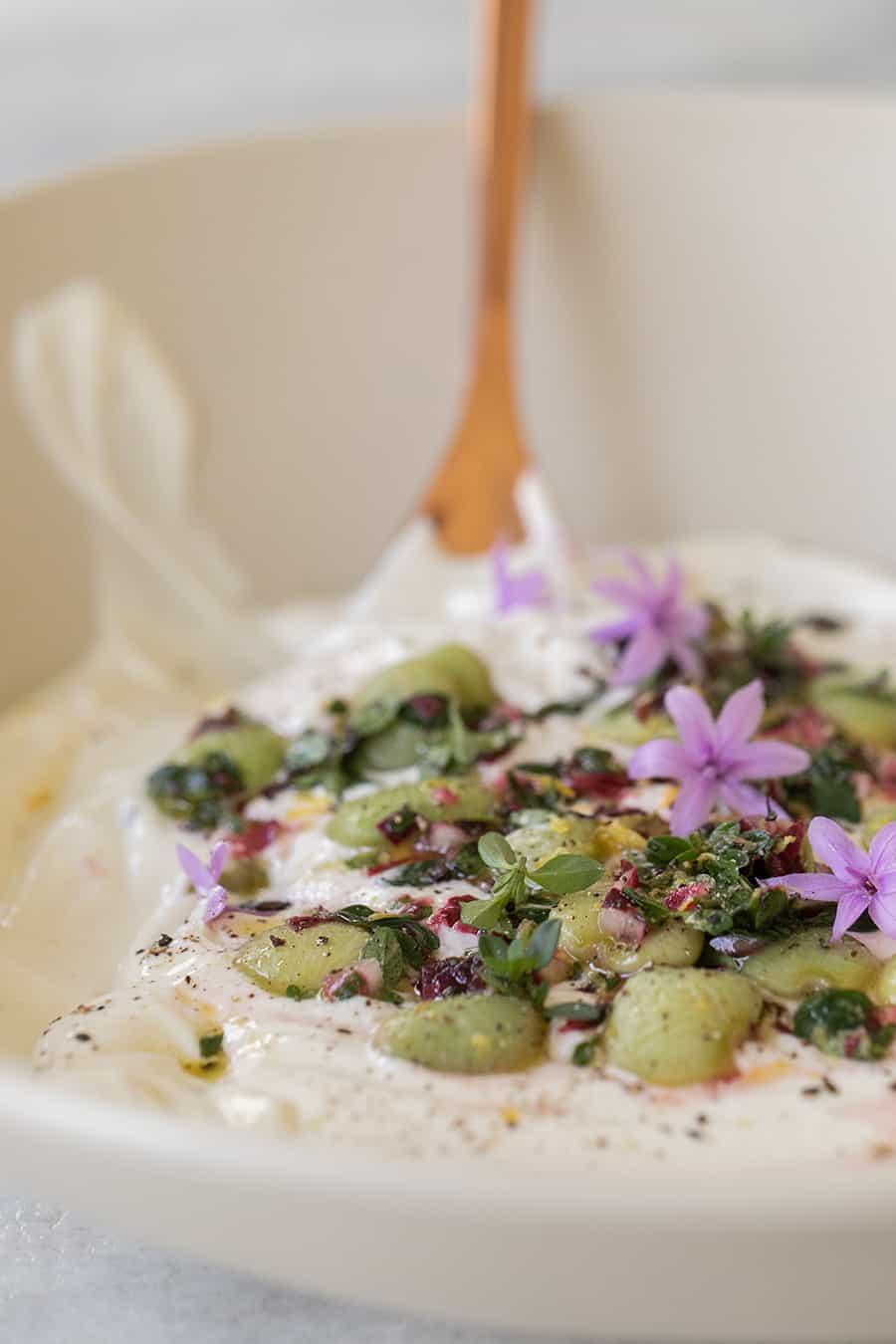 Pair this dip with any of these fun ideas and parties!
How to Make an Easy Greek Mezze Platter – Sugar and Charm
Fall Charcuterie Platter and Party – Sugar and Charm
How to Host a Wine and Cheese Party – Sugar and Charm
Outdoor Movie Night – Sugar and Charm
A spring brunch with girlfriends – Sugar and Charm
Pizza party with grilled pita bread! – Sugar and Charm
If you make this recipe, let us know by leaving a comment below! Also tag us on social @sugarandcharm #sugarandcharm so we can see what you've made!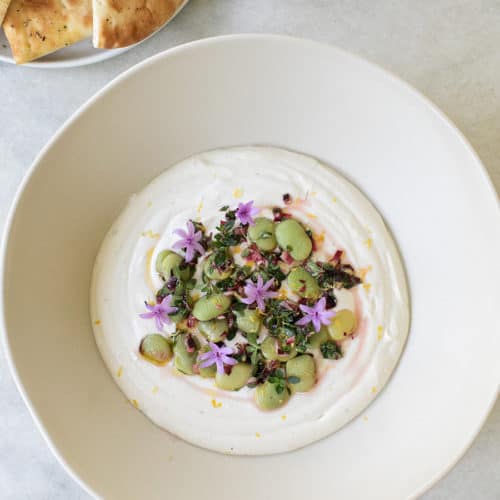 Yogurt-Tahini Dip
Flavorful and easy dip made with yogurt and tahini. Delicious served with pita bread or vegetables.
Print
Pin
Rate
Ingredients
1

quart

plain whole milk yogurt preferably Stonyfield Organic

1/4

cup

tahini

1

whole juiced lemon

3

teaspoons

sea salt plus more to garnish and for topping

1

cup

cooked lima beans

1/3

cup

olive oil

3

sprigs fresh thyme

1/4

cup

sliced green onions

2

small red endives

,

sliced only use the purple part of the endive and slice small to add to the topping.

1

tablespoon

lemon zest

1/2

lemon juice for lima bean topping

2

teaspoons

ground black pepper
Instructions
Place cheesecloth over a strainer and add in 1 quart plain, whole milk yogurt.

Place the strainer filled with yogurt over a bowl to drain and then the refrigerator.

Let the yogurt drain for 30 minutes all the way to 4 hours, depending on how much time you have. This will remove the liquid from the yogurt.

Discard the liquid in the bowl and place the thicker yogurt into a separate bowl.

Add in tahini, lemon juice, and salt and stir until smooth and combined. Place in the refrigerator while making the topping.

Boil 3 cups water in a small saucepan and add in 1 cup lima beans.

Cook for about 15 minutes until tender and then drain removing the water.

In a small bowl add lima beans, 1/3 cup olive oil, juice of 1/2 lemon, green onions, thyme, and red endive.

Add a little more salt and pepper over the top and stir.

Taste and add more lemon or salt and pepper if needed.

Add the topping to the yogurt dip right before serving. Give it another grind of sea salt, black pepper, and lemon zest.
Nutrition
Calories:
306
kcal
|
Carbohydrates:
18
g
|
Protein:
10
g
|
Fat:
23
g
|
Saturated Fat:
6
g
|
Polyunsaturated Fat:
4
g
|
Monounsaturated Fat:
12
g
|
Cholesterol:
21
mg
|
Sodium:
78
mg
|
Potassium:
520
mg
|
Fiber:
4
g
|
Sugar:
9
g
|
Vitamin A:
238
IU
|
Vitamin C:
7
mg
|
Calcium:
224
mg
|
Iron:
2
mg