More than 30 easy party desserts to serve for any special occasion. If you're hosting a party and need easy dessert ideas, no-bake desserts and last-minute dessert ideas look no further! Everything you need to know about making easy desserts to bring to a party.
Dessert is one of the most popular indulgences, with 57% of people eating it at least once a week. Whether you're grabbing a quick cookie or whipping up something for your next party, you can't go wrong with delicious treats after a meal.
Making desserts for a lot of people doesn't have to be complicated. There are so many easy party desserts you can quickly throw together for your next potluck. Impress your guests with the perfect treat that took you a short amount of time to make.
Easy Party Desserts
Here are our favorite easy party desserts to bring to a party. Our favorite indulgent dessert recipes for your next dinner party!
Also, check out more than 60 of the best easy party appetizers to go with your desserts!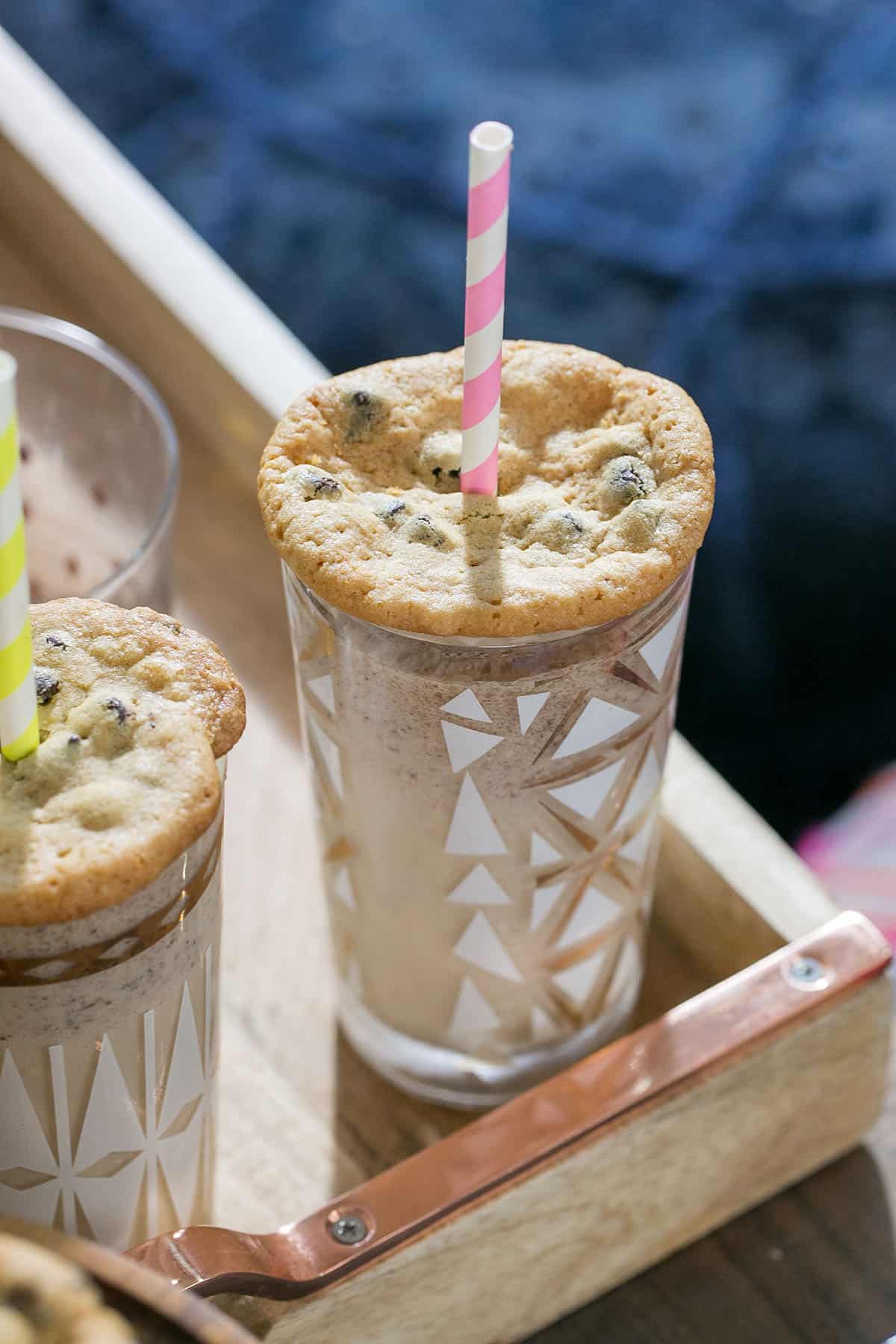 These are simple to whip up in just a few minutes! These easy milkshakes are made with coffee ice crem and bourbon. They're perfect for a party. Serve them in smaller glasses on a serving tray.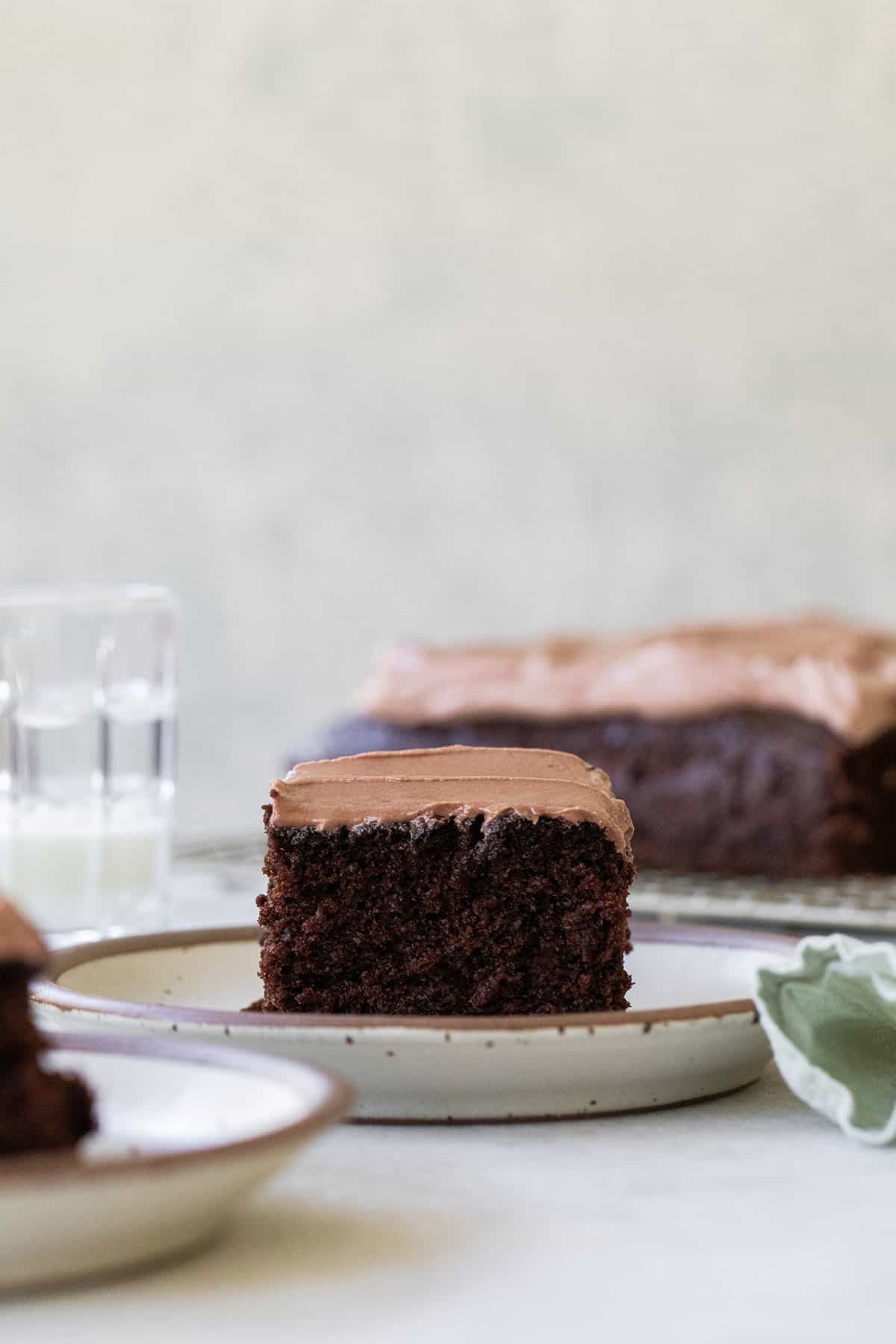 This chocolate sheet cake is incredibly moist and fluffy. It's so easy to make and always turns out wonderful. You can serve it without frosting as a snacking cake and it's just as good.
Also check out our chocolate orange cake, it's filled with orange flavor and so good!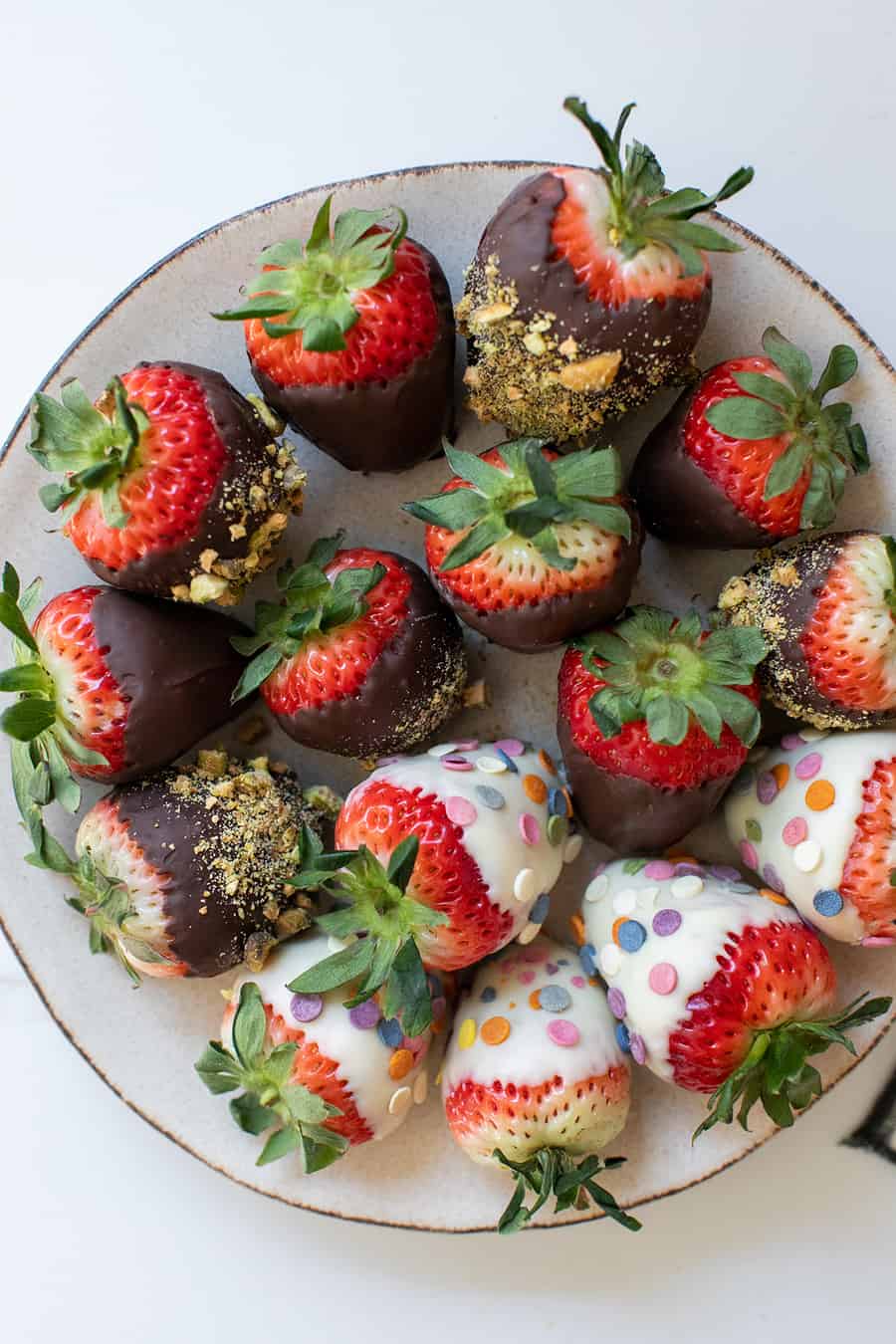 Chocolate-covered strawberries don't get enough credit! One of the easiest desserts to make and they are so juicy and delicious.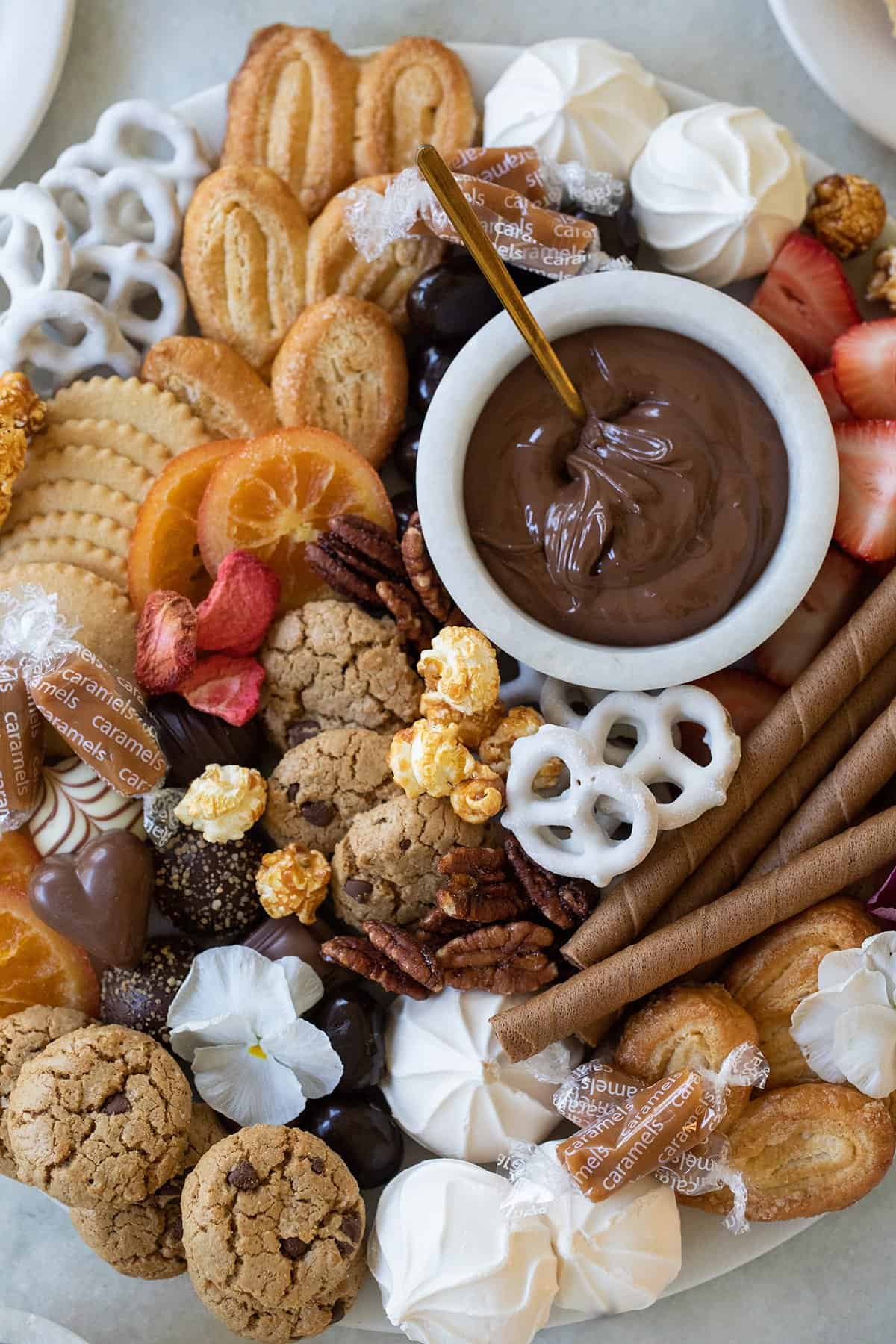 The easiest dessert you can make for a party, if you don't want to bake, is a dessert platter! Purchase your favorite cookies and candy from your local grocery store and put together a charming dessert board filled with treats!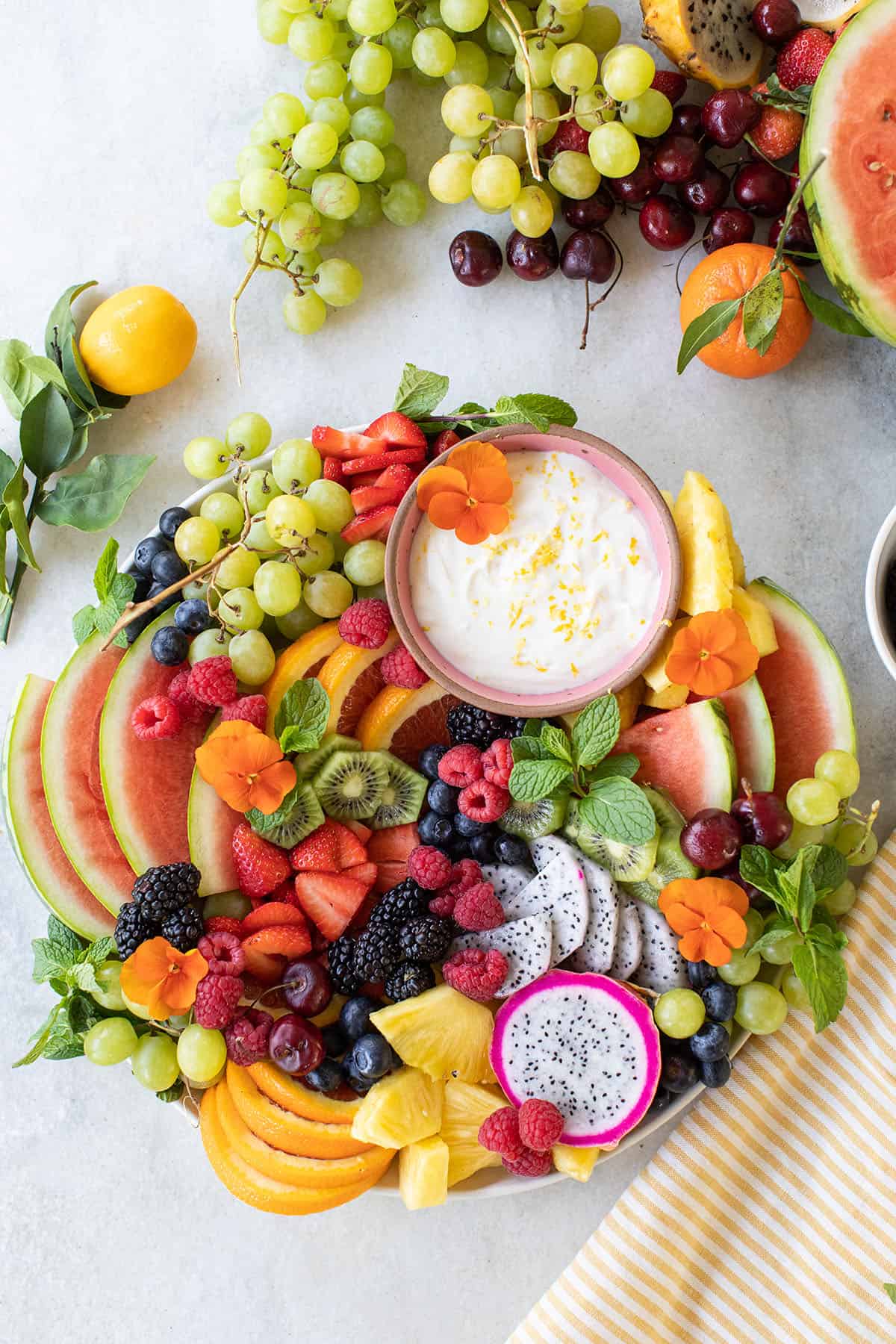 Juicy, fresh fruit is a great idea for a healthier dessert. It's light, sweet, and comes in all different flavors. Serve it with our yogurt fruit dip made with tangy lemon curd.
You can also make our fruit and cheese platter.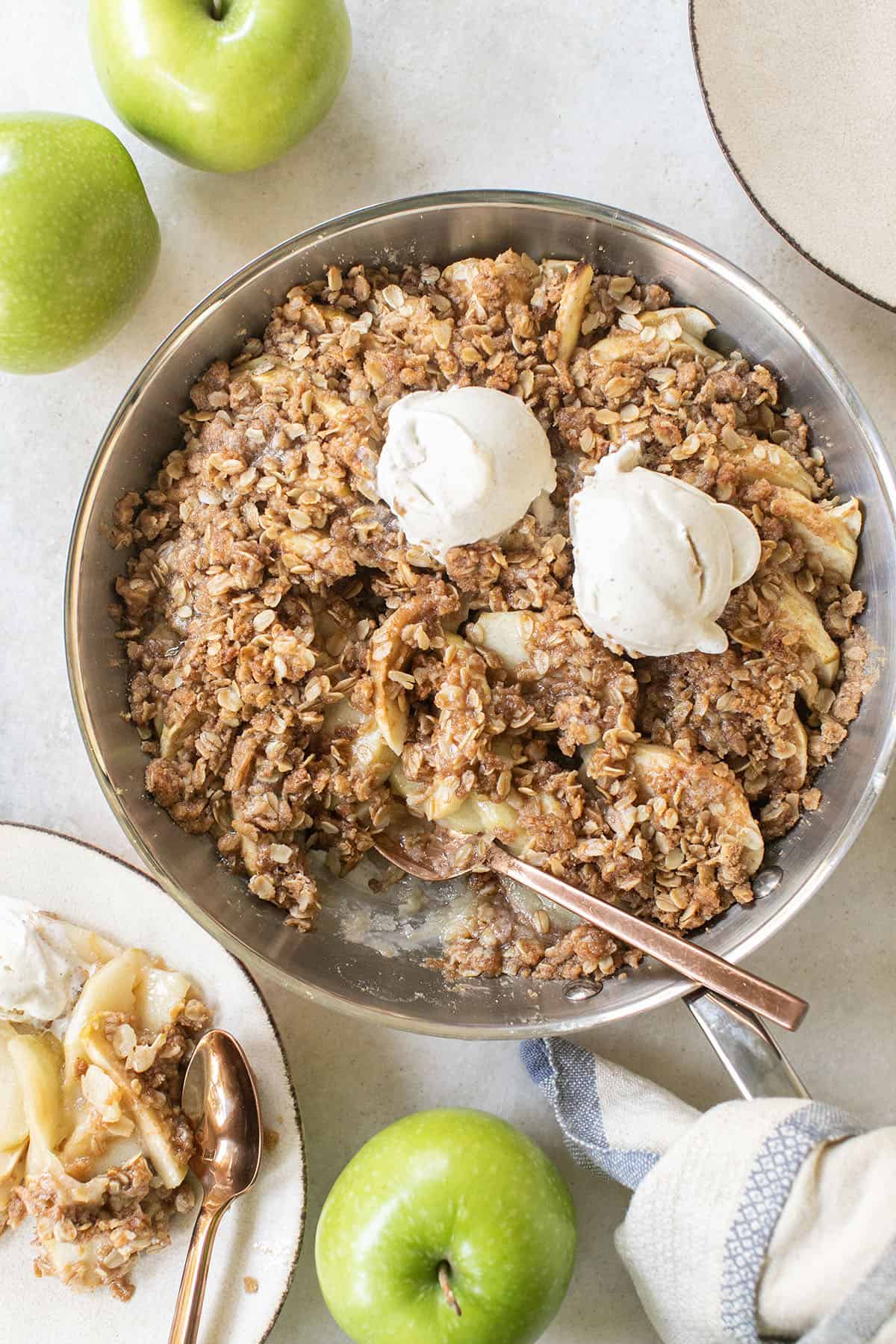 Apple crisp is one of the easiest and most delicious desserts to make. This homemade apple crisp recipe is full of fall flavors, a juicy sweet buttery flavor, topped with a baked oat apple crisp topping.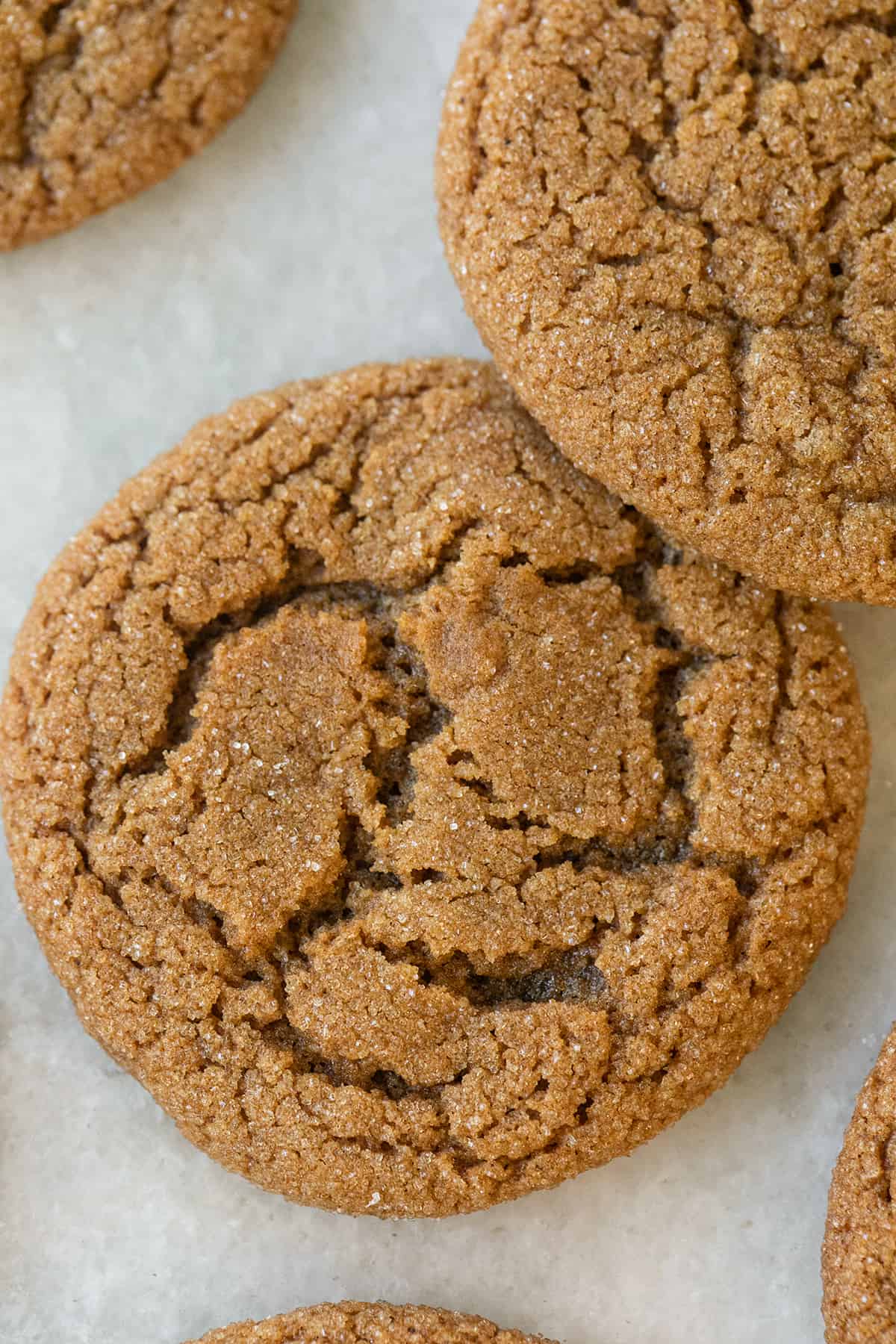 We are fans of serving warm cookies for gatherings! What makes this so easy is that you can make and prepare everything ahead of time, even scoop the dough into balls and then bake them 15 minutes before you serve. There is nothing better than warm cookies as a dessert!
Here are more cookie recipes you can make for a party:
This is truly the best lemon bar recipe! They're made with a 3-ingredient buttery shortbread crust and the lemon custard is sweet, tart, and gooey! These are the perfect dessert for a dinner party or potluck.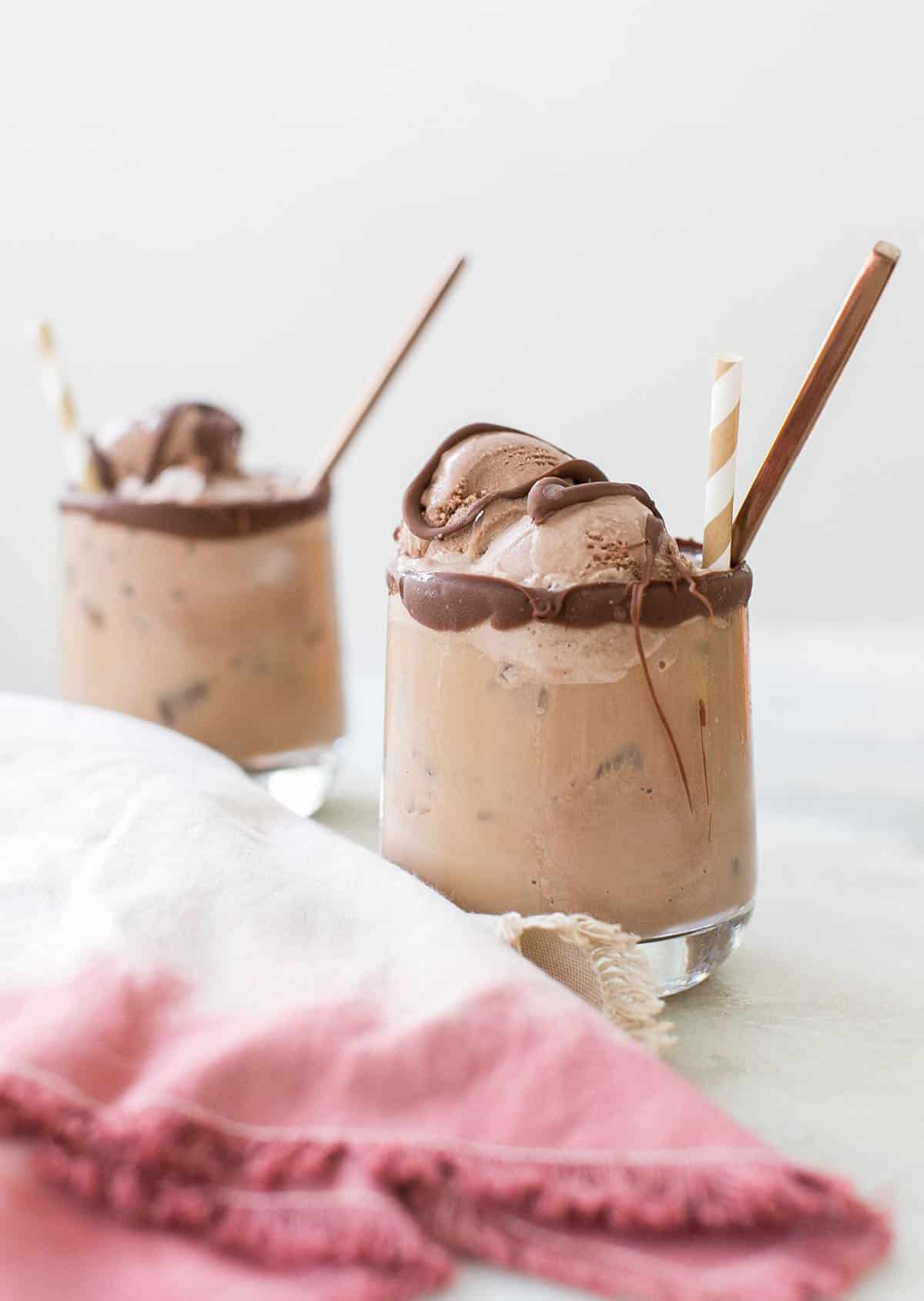 Cold-brew coffee floats are super easy to make and a perfect, quick dessert to make for parties. The chocolate ice cream and cold coffee pair perfectly together.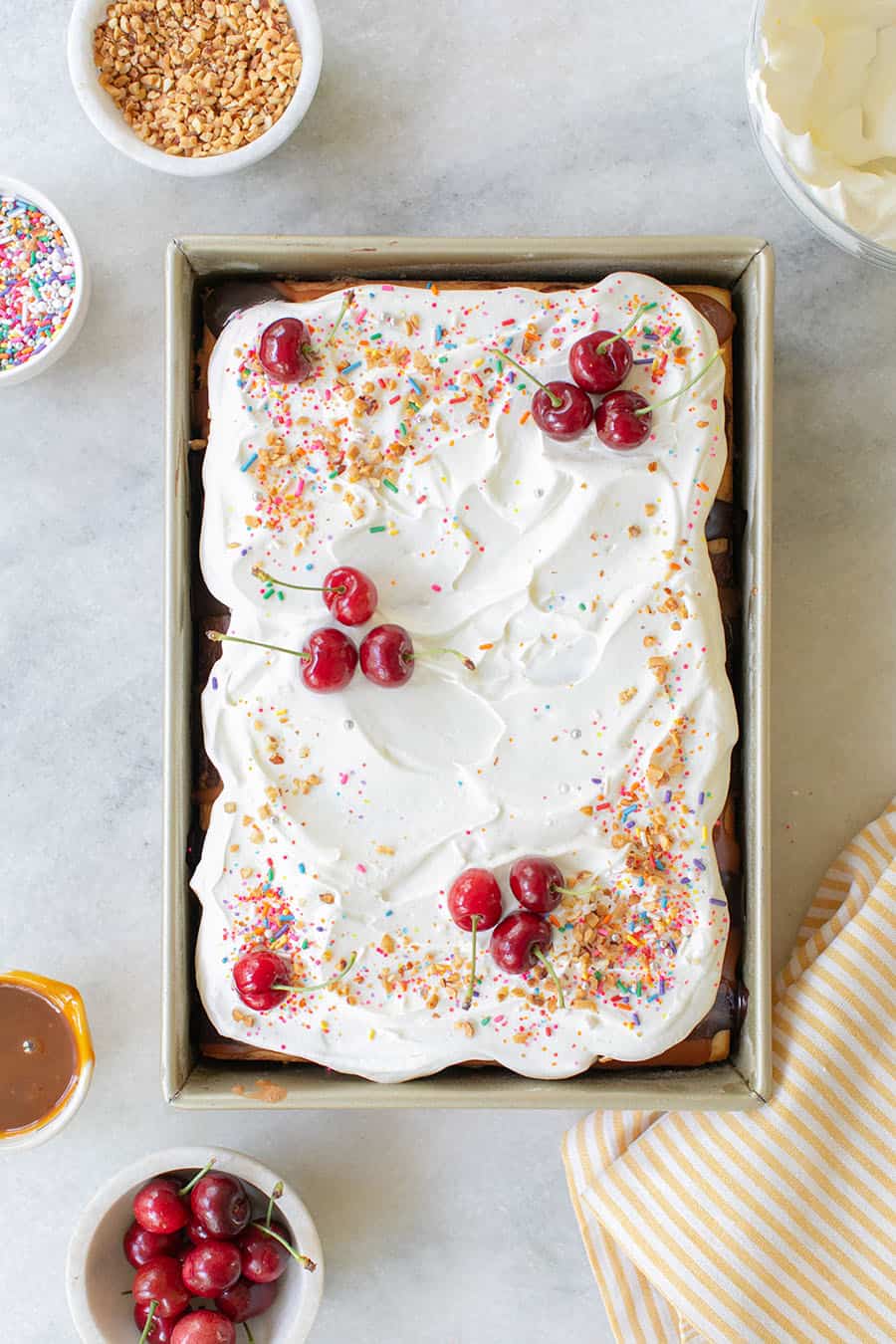 Our ice cream sundae sheet cake recipe is always a hit! Made from boxed cake mixes this cake is super moist, and easy to make and decorate. If you're up for it, drizzle our homemade caramel sauce over the top.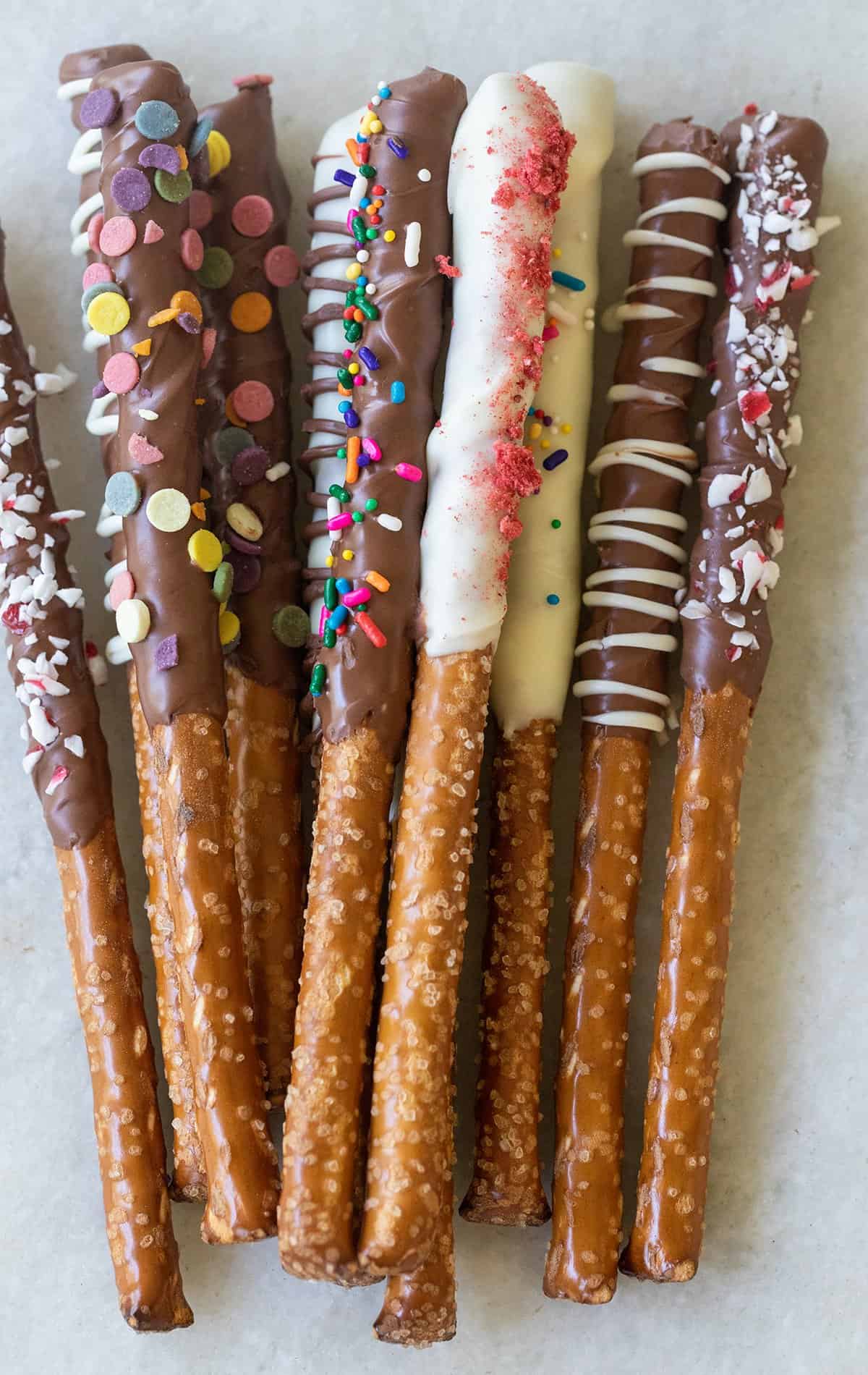 An easy treat to make that everyone loves! These sweet and salty chocolate-covered pretzel rods are the perfect easy party dessert that your guests will love. You can make them ahead of time and store them for later!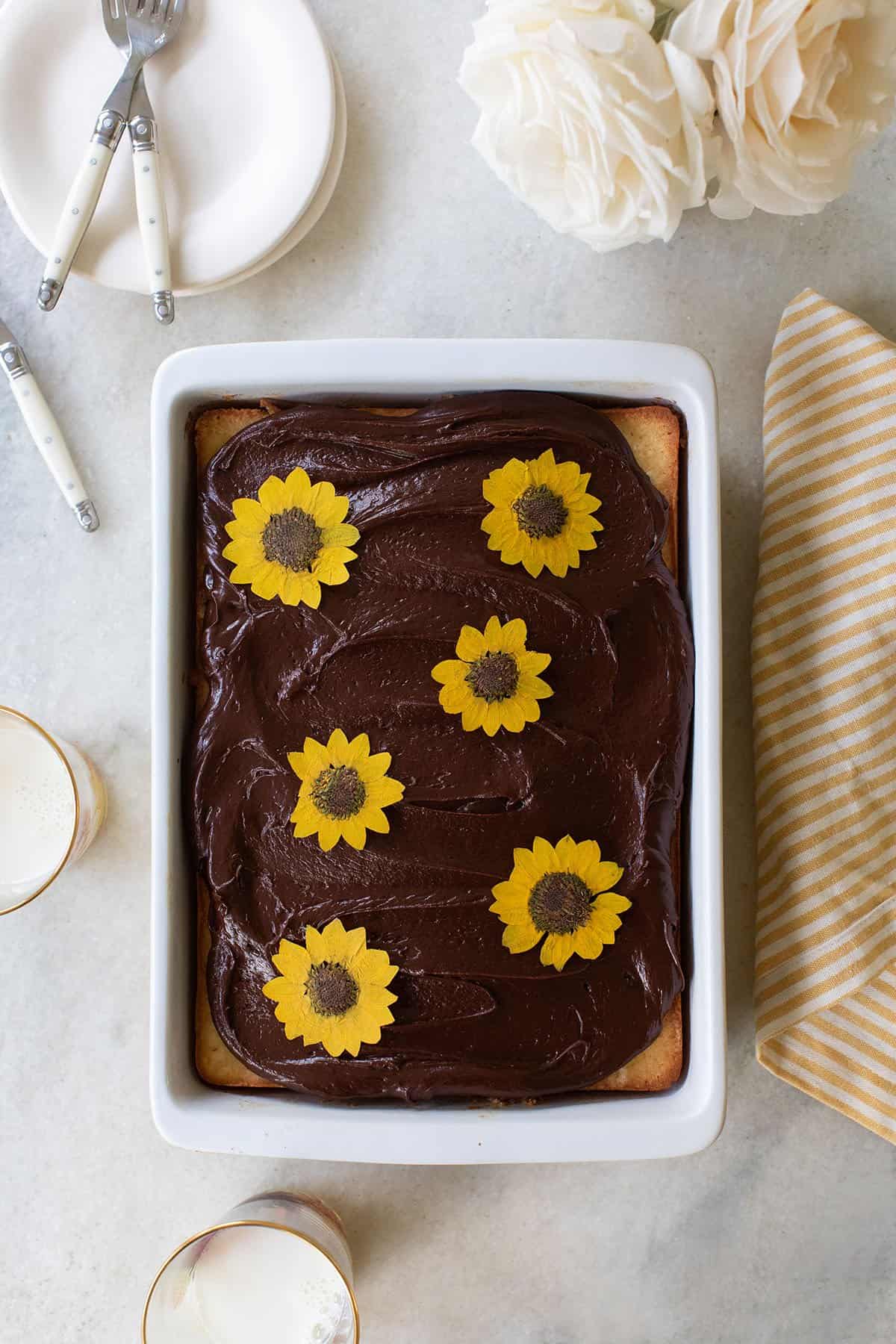 This is another straightforward sheet cake recipe. You can make your own frosting or use store-bought chocolate frosting. Everyone will love this cake!
Also try our lavender sheet cake and funfetti sheet cake too, it's so delicious!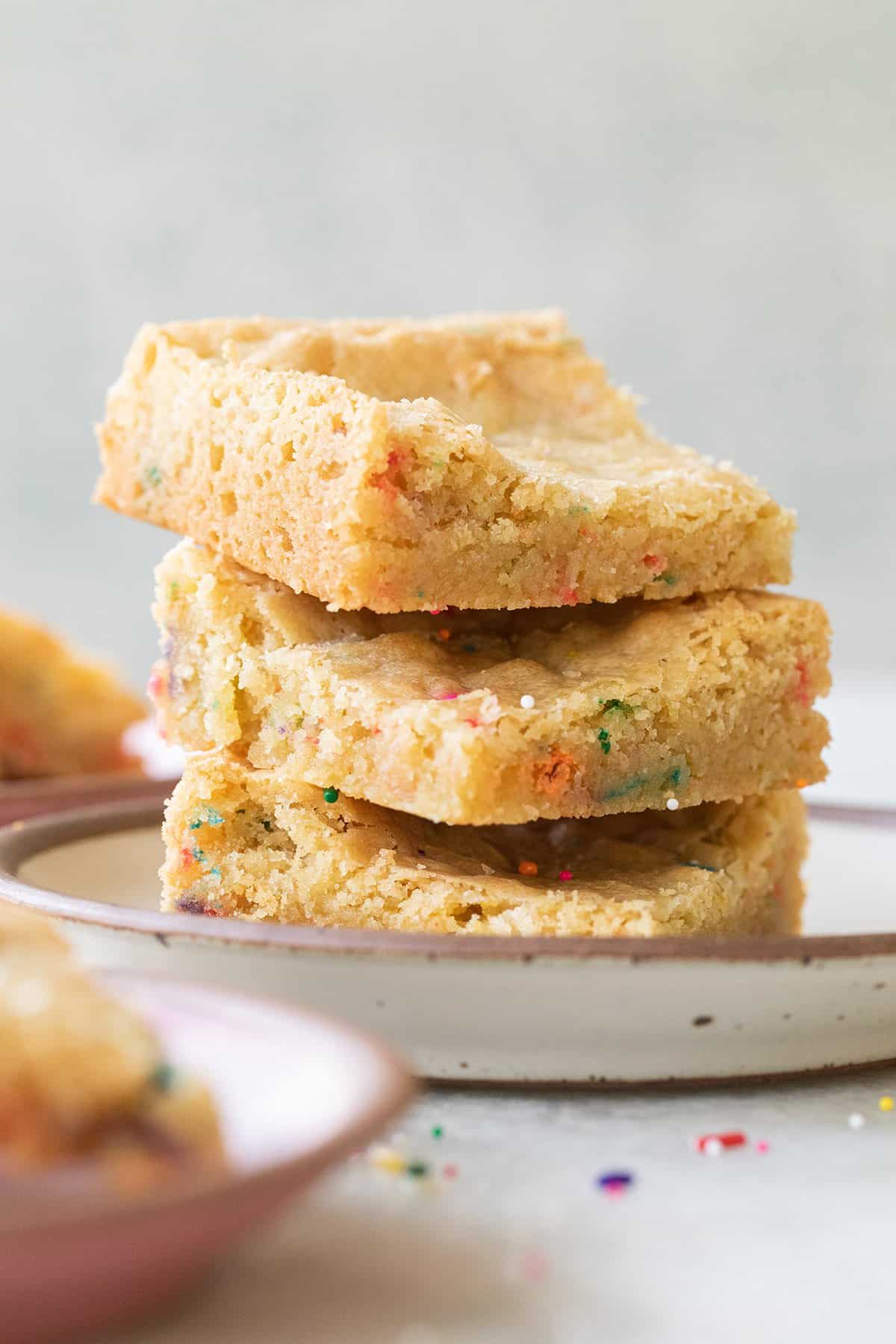 This is a beautiful party dessert and so flavorful! These brownies are chewy and filled with vanilla flavor. One of our favorite recipes!
If you love recipes with colorful sprinkles, our confetti cupcakes are so fun to make and perfect for parties!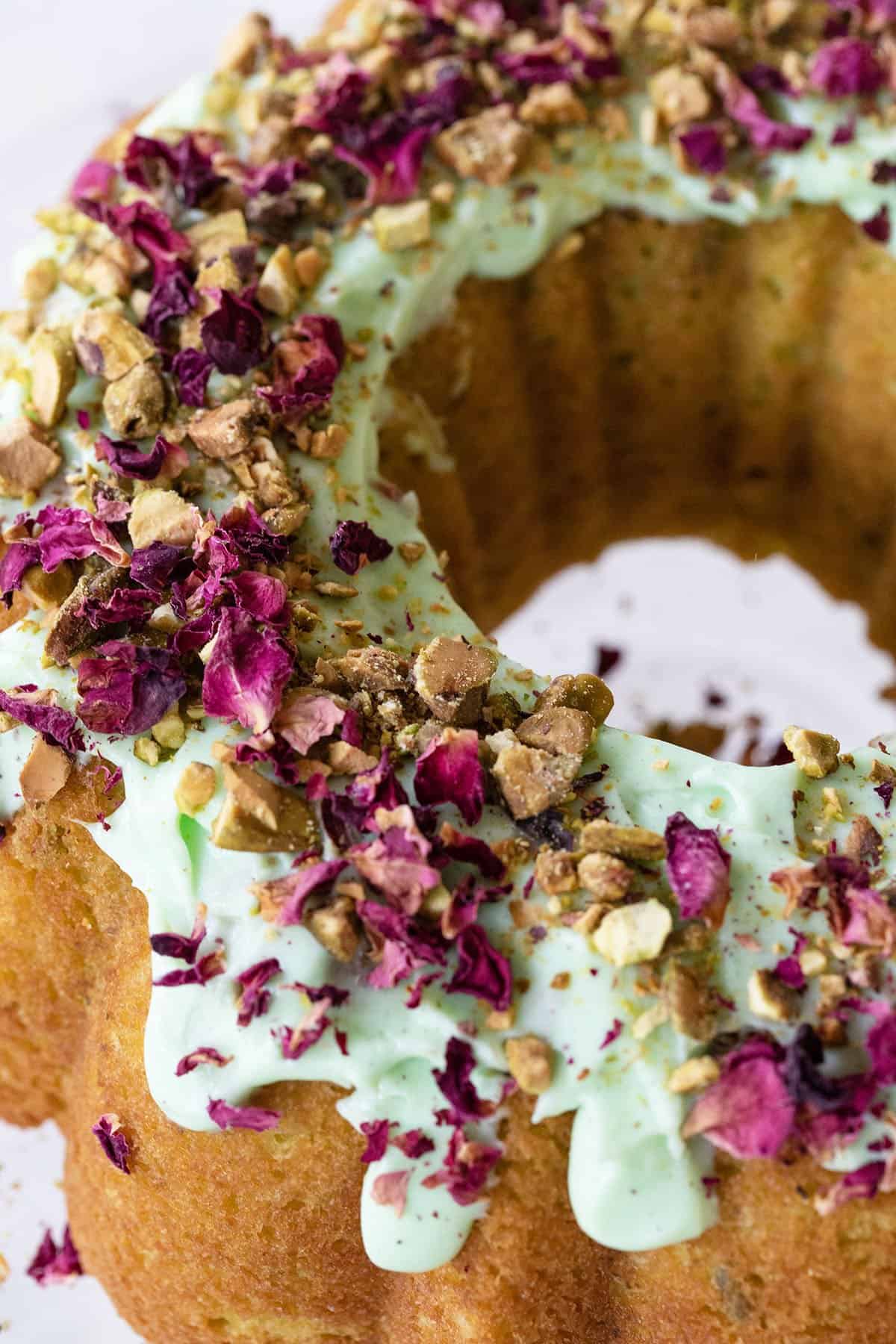 This cake is made with yellow cake mix and pistachio pudding! It's easy, super tender and so good. You can even serve it without frosting and just a dusting of powdered sugar.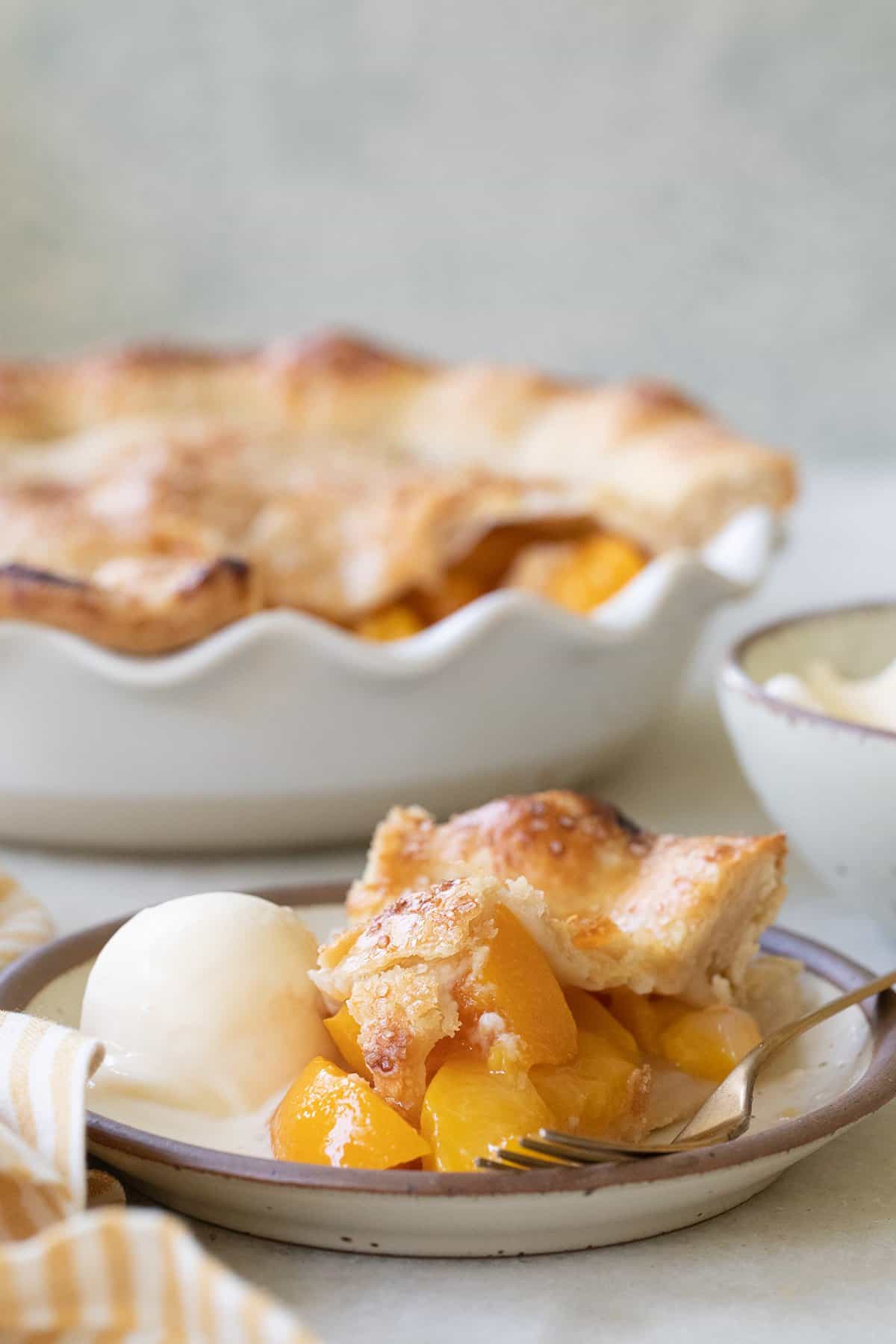 This peach pie is made with canned peaches, making it so easy to make! You can make your homemade pie crust or use a store-bought one. The filling is so good, it's one of our favorite pies!
List of Easy Party Desserts
You have enough things to do when planning a party. Let's talk about the best crowd-pleasing desserts that are simple to make:
Easy Party Desserts — No Bake
If you're making a dessert for a holiday like Memorial Day, the last thing you want to do is turn on your oven. Some easy desserts to bring to a party don't require you to turn on your oven at all.
Keep your house feeling cool while you whip up a delicious dessert.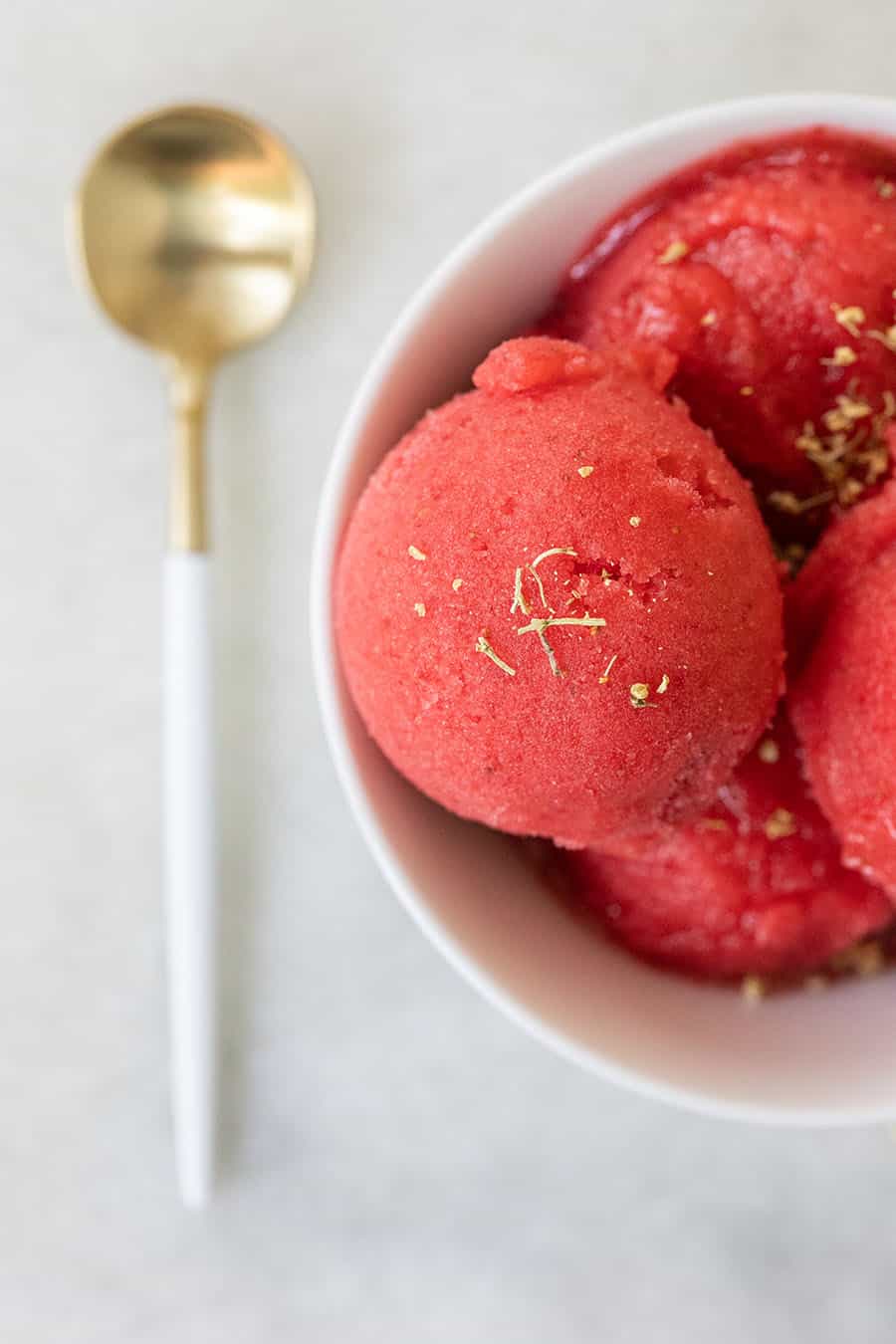 An easy no-bake sorbet recipe we created for California Strawberries. This recipe is easy to make and full of flavor. It's the perfect, light after-dinner dessert.
Homemade popsicles are also an easy party dessert to make. They're great because you can make them ahead of time too!
Some more easy no-bake party desserts:
Many of these recipes require graham crackers for the crust and brief periods of chilling in the fridge. Cool Whip is also one of the primary ingredients in most of the toppings.
While you might need your stovetop to melt some ingredients, you can whip up a last-minute dessert without turning on your oven.
You can also buy premade graham cracker crust to make this recipe easier.
Looking for more no-bake easy party desserts? Check out these top 20 no-bake desserts.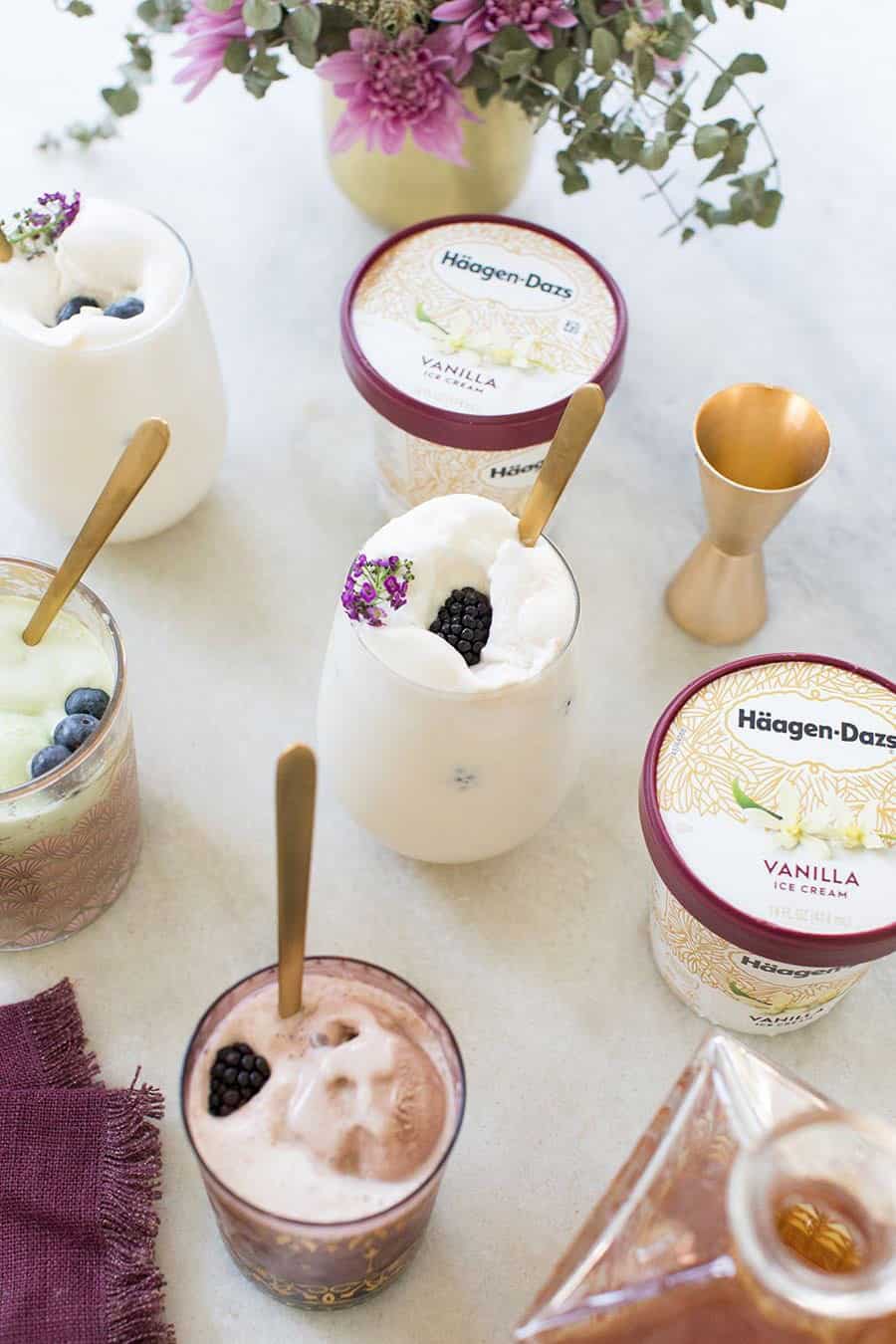 Last Minute Easy Party Desserts
If you're running late to a party and need to pick up a last-minute easy party dessert, here are the best fast, easy party desserts for a crowd. These are desserts that you can make from pre-made grocery store items:
Ice Cream Sundaes – Grab ice cream, cones, and a few toppings to make ice cream sundaes. You can also make a boozy ice cream tray too!
Ice Cream Cookie Sandwiches – Get large bakery-style cookies and ice cream to make ice cream sandwiches.
Vanilla Ice Cream and Brownies – Pre-made brownies with a scoop of vanilla ice cream is always a win.
Angel Food Cake – Grab a pre-made angel food cake, strawberries, and whipped cream.
Mini Chocolate Fondu – Get fresh fruits and thick chocolate sauce to make melted chocolate for an easy fondu.
Chocolate Platter – Bars of dark chocolate, milk chocolate, and white chocolate are presented on a platter with fresh berries.
Tips for Making Easy Party Desserts
Here are tips for making these easy dessert recipes:
Make any of the desserts the day before.
Use good quality ingredients.
What Dessert Should You Bring to a Party?
Need to bring a dessert to a party? An easy dessert for kids for an upcoming birthday party? We've got you covered!
A dinner party is a great way to celebrate an achievement or milestone. Kick it up a notch with one of our delicious dessert ideas.
Whether you're hosting a party or in charge of bringing dessert to someone else's, you want something that'll be a crowd-pleaser.
You can't go wrong with a simple chocolate raspberry pie. It has layers of chocolate, cream cheese, and fresh raspberries. It's tart and light without being over the top.
A caramel apple tart is another great idea and easier to make than apple pies. You finish off this dessert by drizzling salted caramel over the top.
What Are the 10 Most Popular Desserts?
Need some more party dessert ideas? Let's talk about the 10 most popular desserts in the country:
Fudge
German chocolate cake
Ice cream
Jell-O
If you're stumped trying to come up with a dessert to make, explore recipes for one of the above.
When to Serve Easy Party Desserts
Now that you have some easy party dessert recipes to make you're ready to party! These crowd-pleaser recipes are great for many parties and occasions. Perfect dinner party desserts for a family gathering or simple desserts for a celebration, here are some occasions to serve easy party desserts:
Dessert Table
A dessert table is a great way to display desserts for a party. Place platters and cake stands filled with cookies, cakes, and pies on a table.
Add jars of candy, napkins, and plates.
For decorations add fresh flowers.
Frequently Asked Questions
What Dessert Does Everyone Like?
The goal of bringing dessert to a dinner party is to have it gobbled up within minutes. Check out some of our personal favorites for parties below:
What is a Good Dessert for After Dinner?
What dessert you eat after dinner depends on what you had for your meal. If you had a heavy dinner, you'll want something light. Explore chocolate-dipped strawberries or a homemade sorbet if you have a meal on the heavier side.
If you didn't have a heavy dinner, you can explore more sumptuous desserts. You can't go wrong with a classic cheesecake. Take it to the next level by drizzling strawberry sauce over the top.
Another option is a classic affogato recipe.
How Much Desserts Do I Need for 30 People?
Hosting an event for 30 people? Plan on one serving for each person coming to your event.
However, if you're hosting a dessert bar, you likely want to account for two to three pieces for each person. People will likely grab more than one dessert from the table so they can sample.
It's always best to have more than less. If you have extra, it's just more for you to take home afterward.
How Many Cupcakes Do You Need for a Party?
How many cupcakes you need for a party depends upon how many flavors you'll have. We recommend making one to two standard-sized cupcakes for each person at the event.
If you're making mini cupcakes, you'll want to make two to three of them for each guest. You'll also want to think about if there'll be other desserts at the party as well.
What Is the #1 Dessert in the World?
It's hard to narrow down the most popular dessert in the entire world. Let's go over the top desserts from various places around the world. Expand your dessert palate as you try these delicious treats.
France: Creme Brulee
Japan: Mochi
United States: Apple Pie
Canada: Nanaimo Bar
India: Gulab Jamun
Turkey: Baklava
Austria: Kardinalschnitten
Indonesia: Dadar Gulung
Netherlands: Poffertjes
Hungary: Kremes
Satisfy your sweet tooth with one of these worldwide favorites.
When Do You Serve Dessert at a Party?
It's best to serve dessert 15-30 minutes after your guests have finished eating dinner. That gives them enough time to digest their food. You can follow dessert up with coffee after everyone has cleared their plates.
How Many Cookies Do I Need for a Party?
One of the best desserts to bring to a party is cookies. The general rule of thumb to follow is three to five cookies per person.
If you have extra afterward, no problem. You can throw the remaining cookies in the freezer in an airtight container for when you need a quick snack.
Easy Party Desserts for the Holidays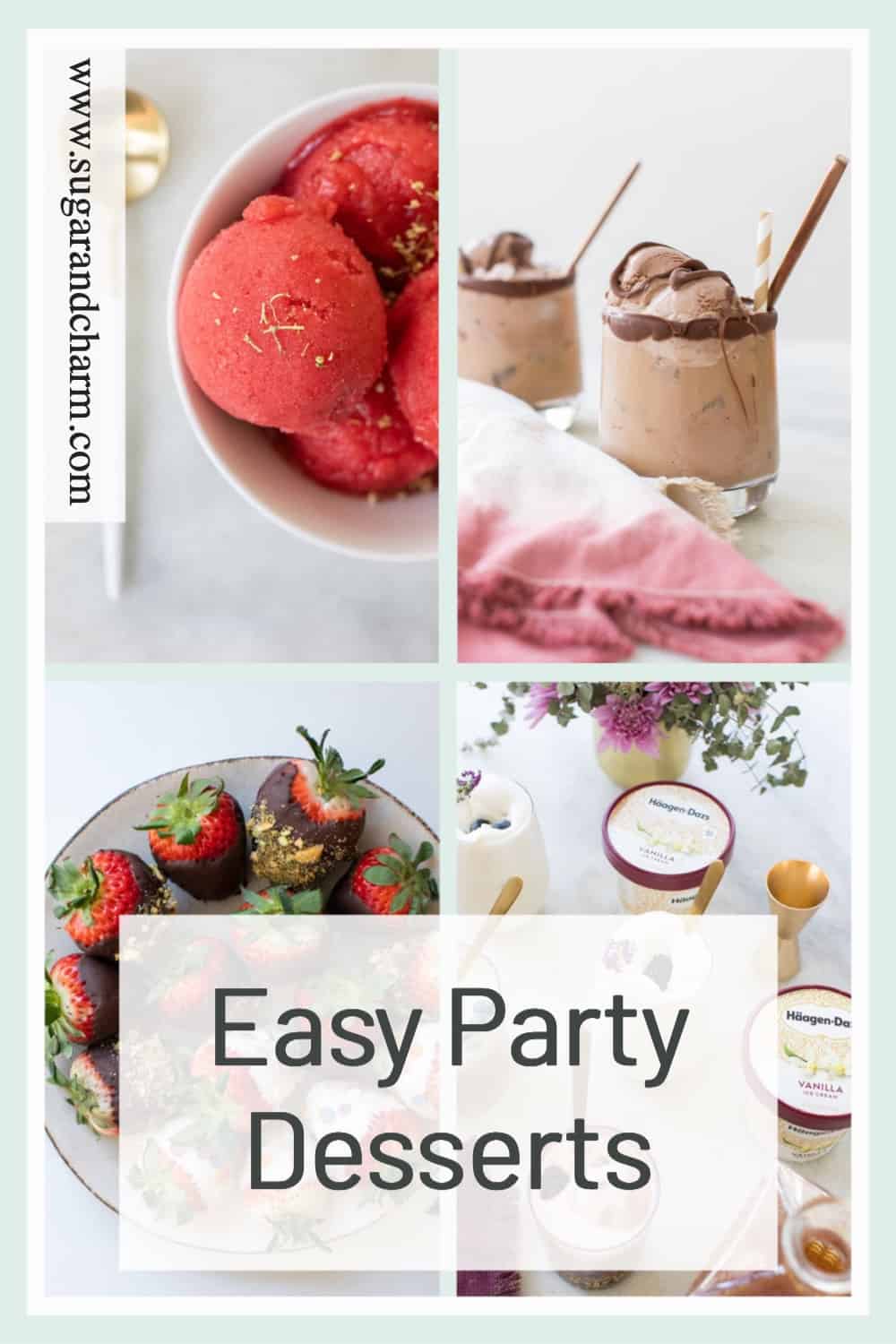 Let us know your thoughts!
We can't wait to see what dessert you make! Let us know your thoughts and try our recipe for the easiest affogato! Leave a comment and review below.
You can also FOLLOW US on FACEBOOK, INSTAGRAM, and PINTEREST to see more delicious recipes, cocktails, desserts, and parties!
Easy Party Desserts – Affogato
We're sharing over 30 of our favorite party desserts, like this affogato. An affogato is one of the easiest party desserts you can make!
Print
Pin
Rate
Ingredients
2

scoops

vanilla ice cream

1

shot

espresso

,

or 3 tbsp strong coffee
Instructions
Scoop vanilla ice cream into a glass.

Pour espresso or coffee over the top.

Drizzle with caramel if you want!
Notes
If you don't have an espresso machine, no worries! Use 3 tbsp strong brewed coffee to make this recipe. 
Nutrition
Calories:
276
kcal
|
Carbohydrates:
32
g
|
Protein:
5
g
|
Fat:
15
g
|
Saturated Fat:
9
g
|
Polyunsaturated Fat:
1
g
|
Monounsaturated Fat:
4
g
|
Cholesterol:
58
mg
|
Sodium:
110
mg
|
Potassium:
297
mg
|
Fiber:
1
g
|
Sugar:
28
g
|
Vitamin A:
556
IU
|
Vitamin C:
1
mg
|
Calcium:
170
mg
|
Iron:
1
mg
Explore Easy Party Desserts for Special Occasions
Impress your guests with one of our ideas for easy party desserts. Whether you're looking for something no-bake for the hot summer months or want to mix it up, we've got you covered.