Chewy, buttery espresso cookies that are loaded with chocolate chips! These cookies have a coffee flavor to them and they are perfect for serving year-round. Whether you are looking for a dessert to take to a cookie party or just want something sweet to snack on, these cookies will hit the spot!
I'm combing two of my favorite things, warm baked chocolate chip cookies, and coffee! I truly love coffee anything and everything! Coffee ice cream, coffee cake, coffee cookie milkshakes, and specialty coffee drinks, I've even made coffee ice cubes before! I LOVE coffee!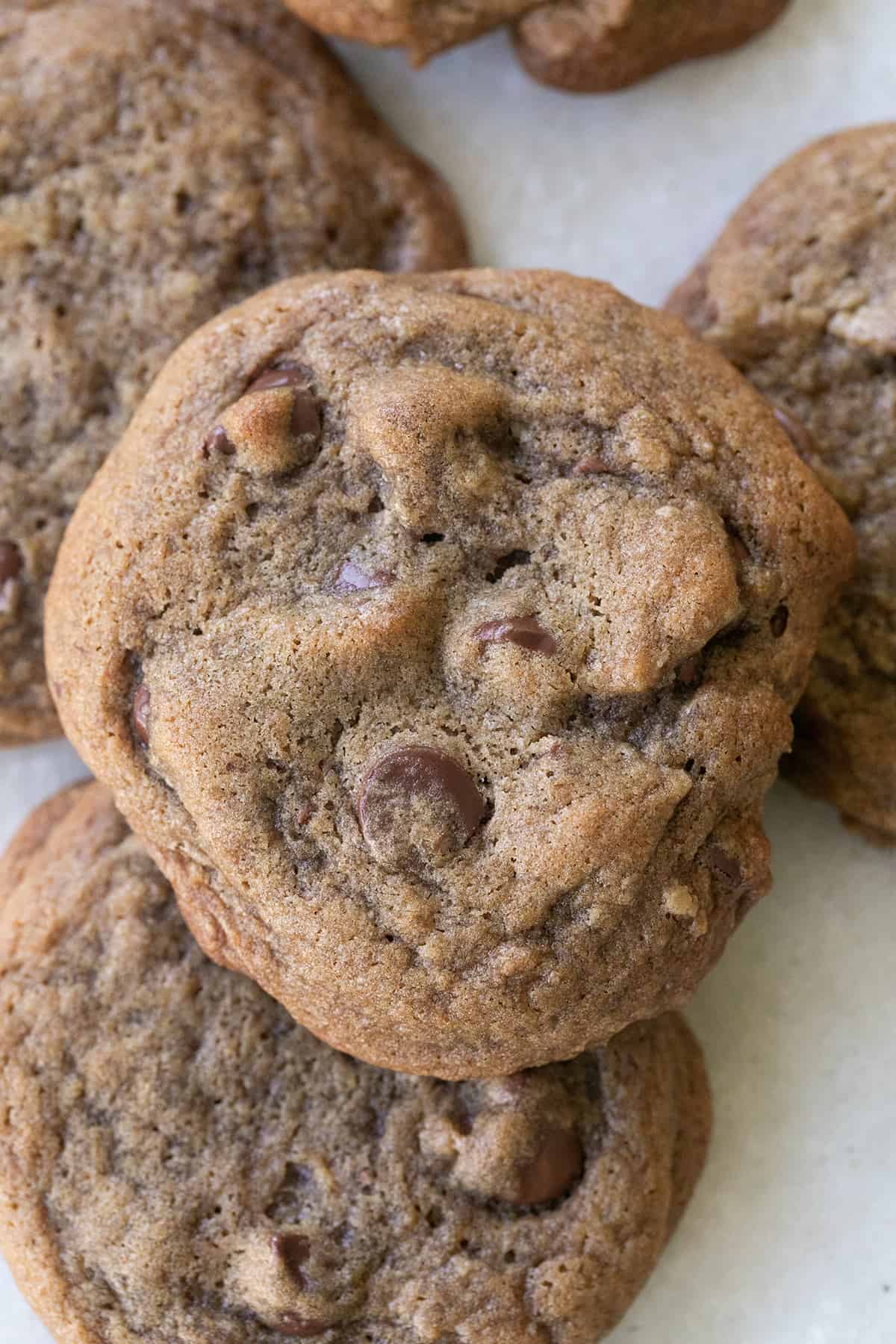 These cookies have the perfect amount of espresso flavor in them and the perfect crispy edge. They make a wonderful after-dinner treat and go perfectly with a cup of coffee. They also have a delightful coffee fragrance that I can appreciate!
I also always have cookies in my freezer for when I need a quick sweet treat. So if you make a batch and have leftovers, store the in the freezer for a quick cookie run!
These cookies are perfect all year and easy to make!
Recommended Tools
Here are some tools you'll need to make these cookies: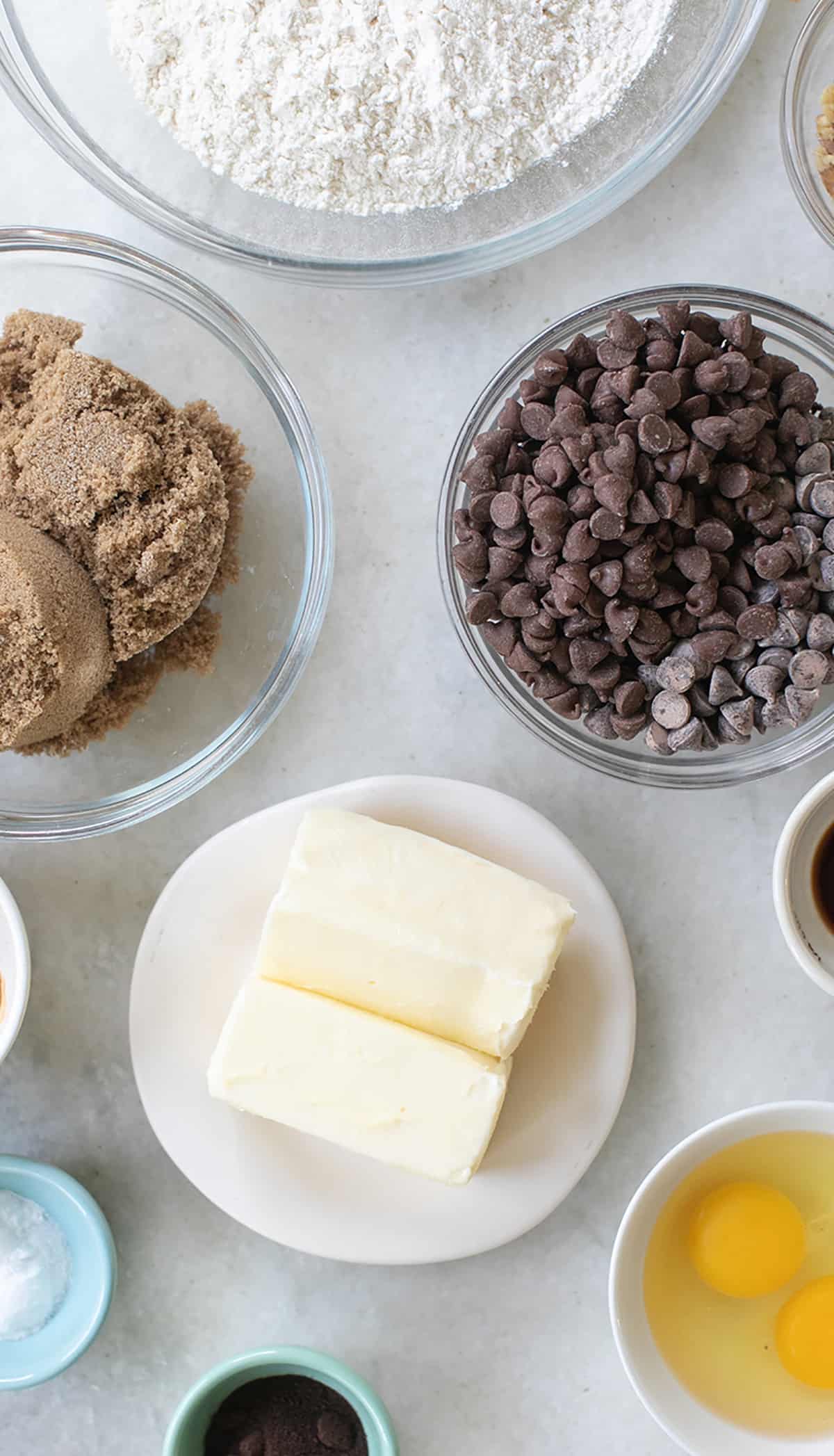 Espresso Cookie Ingredients
You can find all of these ingredients at your local grocery store.
All-Purpose Flour – White flour is perfect for making these cookies. Make sure you measure the flour correctly when baking.
Baking Soda + Salt – Baking soda acts as a leavening agent and salt adds and enhances the flavors in the recipe.
Dark Brown Sugar – I love using dark brown sugar when baking. Dark brown sugar has molasses which gives these cookies a deep, rich flavor.
Unsalted Butter – Use pure butter for baking. You want the butter to be at room temperature.
Eggs – Use organic, room-temperature eggs when possible.
Espresso Powder – This is where the cookies get their espresso flavor. Espresso instant coffee is made of coffee crystals that have been ground down. Use an instant espresso or King Arthur Espresso.
Vanilla Extract – Pure vanilla extract is the best for baking.
Chocolate Chips – We use a mixture of semisweet chocolate chips and milk chocolate chips.
How to Make Espresso Cookies
This recipe is easy to make! The full recipe is in the recipe card below.
Prep – Preheat the oven to 350 degrees. Line a baking sheet with parchment paper and set it aside.
Combine Dry Ingredients – Add the flour, baking soda, and salt to a mixing bowl.
Beat – In the bowl of an electric mixer, on medium speed, beat the butter, brown sugar, vanilla extract, espresso powder, and one egg at a time.
Combine Dry and Wet Ingredients – Add the flour mixture to the mixing bowl and beat on low until incorporated. Scrape down the sides and edges.
Chocolate Chips – Turn the mixer to low speed add in the chocolate chips and give it a quick mix.
Refrigerate – Allow the dough to chill in the refrigerator for 30 minutes.
Scoop and Bake – Use a 1 1/2″ cookie scooper to make balls and line them on the baking sheet. Bake for 9-10 minutes.
Rest – The cookie will need to rest for about 10 minutes once they're out of the oven. Give them a few minutes before indulging to enjoy the perfect texture!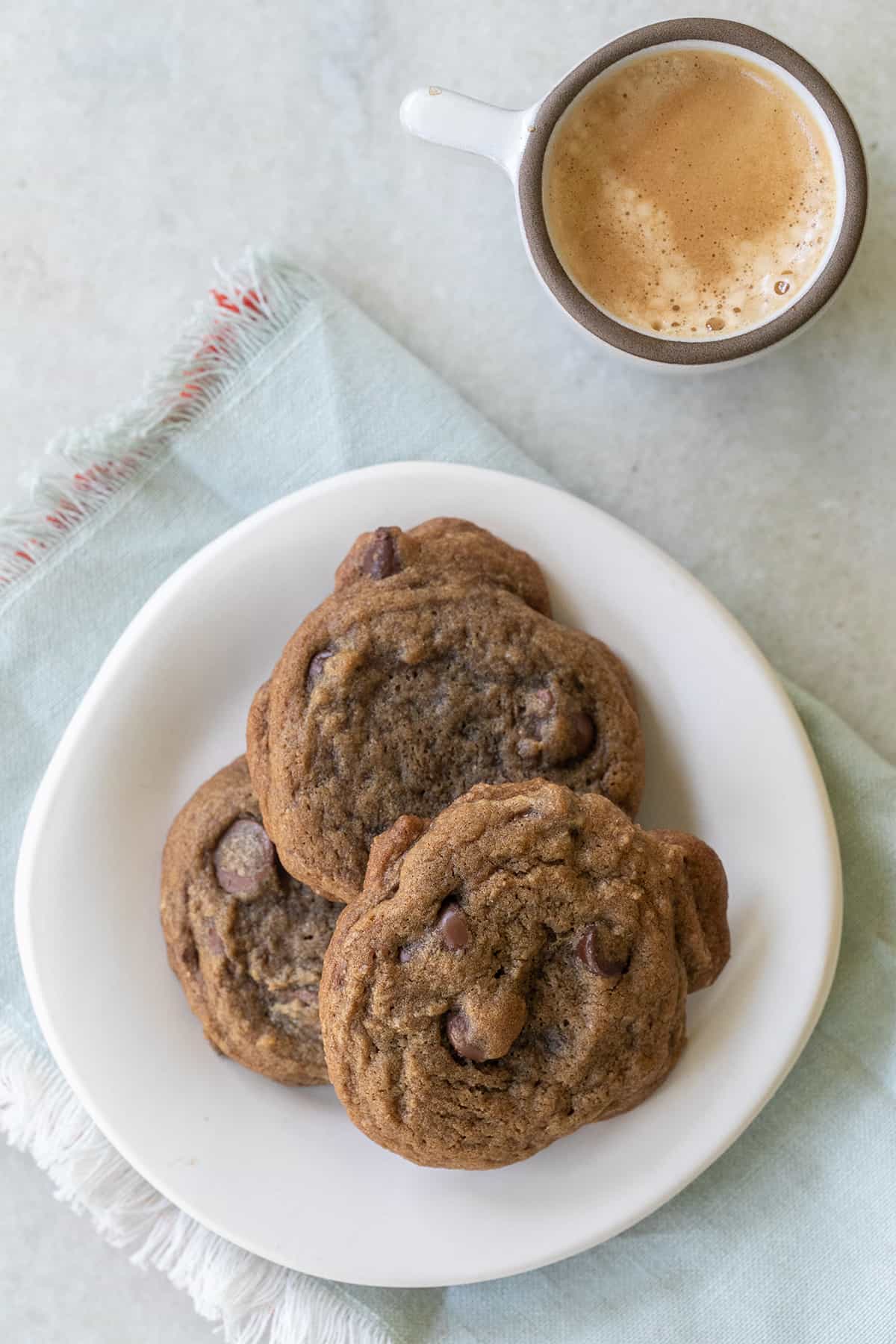 Tips for Making the Best Cookies
Good quality ingredients make a difference in the flavor and texture of the cookies. We love King Arthur Flour and Espresso.
Refrigerate the cookie dough for 30 minutes. This helps the fat in the dough cool and then the cookie will expand slower while baking. This will give them a better texture and more height.
Let the cookies rest after baking. The texture when the cookie first comes out is totally different when you allow it to rest for 10 minutes. They become super gooey and chewy and so good!
Don't overmix the flour once you add it to the wet ingredients. Use a spatula to scrape the bottom and sides and beat just until combined.
Add nuts or more spices like cinnamon and cardamon if you like!
A pink sea salt over the top is always a good idea!
Use chocolate chips or chocolate chunks.
Instant Espresso Powder
Espresso powder used for baking isn't the kind that goes into a coffee maker. It's a special formula designed for cooking and baking. You can find it near the baking aisle or coffee aisle at your local grocery store. Here are a few brands I love:
King Arther Espresso Powder – You can order this online. It's high quality, just like all of King Arthur's baking products.
Medaglia D'Oro – This is the one that most grocery stores have in stock.
Willaims Sonoma Espresso Powder – A blend of high-quality beans from the world's top growing regions.
Trouble-Shooting
There is nothing more frustrating than a recipe doesn't work! So many factors can change the outcome of a cookie, such as oven temperature, baking time, the size of the cookie, the quality of the ingredients, and properly measuring.
Baking Times – In the photo above, I used the same cookie dough and slightly tweaked the baking time by 1 and 3 minutes. You can see how drastically these cookies look just after a few minutes. Overall, the learning lesson is that you don't want to overbake the cookie. If you overbake it will be dry and cakey.
Properly Measuring – When baking, measurements are important. I don't normally use a kitchen scale when cooking at home but that is the best way to get accurate results. You can also make sure you're measuring the flour correctly, as well as the brown sugar.
Freshness – Make sure all of the dates are current for the ingredients you use. Eggs and baking soda are crucial for being fresh.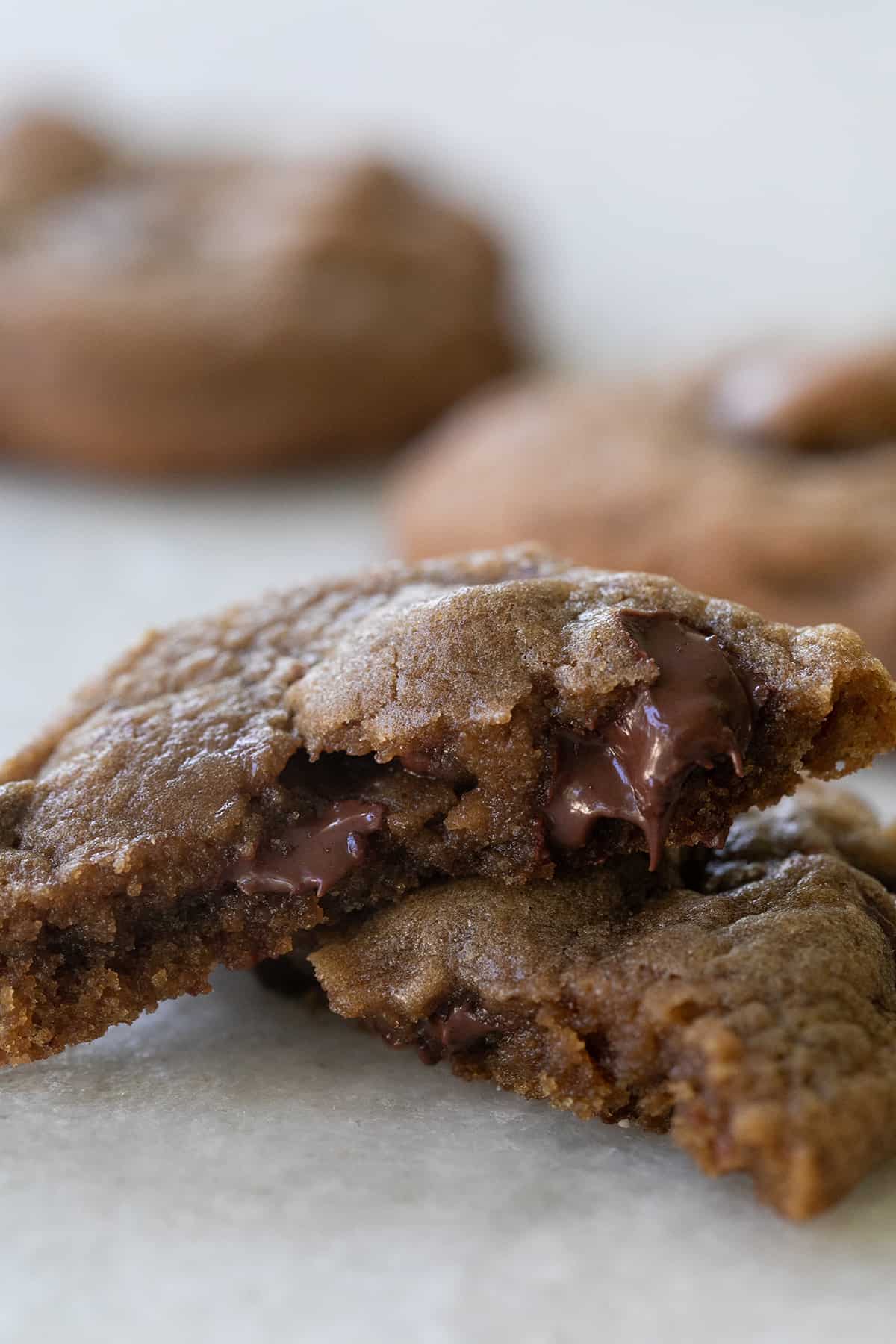 How to Store Espresso Cookies
These cookies can be stored in an airtight container for up to a week.
If you want them to last longer, you can store them in the freezer for a couple of months. Wrap them tightly and store them in a freezer bag. Always write the date on the bag so you know when they were made.
I like to eat them right out of the freezer! You can also let the cookies thaw at room temperature.
What to Serve with Espresso Cookies
If you're wondering what to serve with espresso cookies, I've got you covered! Here are a few ideas:
Frequently Asked Questions
What does espresso powder do in cookies?
Espresso powder enhances the chocolate flavor in these cookies. It gives them a deeper, richer flavor that is perfect for any time of year. For this recipe that is specifically for espresso cookies, we use more espresso so that the flavor of the coffee is present in the cookie.
Do espresso cookies have caffeine?
Yes, espresso cookies do have caffeine since they are made with espresso powder. However, the amount of caffeine in each cookie is relatively tiny. If you are sensitive to caffeine, you may want to limit your intake of these cookies.
What is the best cookie with coffee?
There are many different types of cookies that go well with coffee. However, we think espresso chocolate chip cookies are the best! You can also try any of these cookies:
Biscotti – Is a traditional Italian cookie that is often dipped in coffee.
Chocolate chip cookies – classic chocolate chip cookies are always a good choice.
Oatmeal cookies – these cookies are hearty and filling.
Shortbread cookies – these cookies are rich and buttery.
Espresso chocolate chip cookies – these are my personal favorite!
More Cookie Recipes You'll Love
If you love these cookies, try some more of my favorite recipes!
I hope you enjoy this recipe for espresso chocolate chip cookies! If you try them, leave a comment and review them below!
You can also FOLLOW US on FACEBOOK, INSTAGRAM, and PINTEREST to see more delicious recipes, cocktails, desserts, and parties!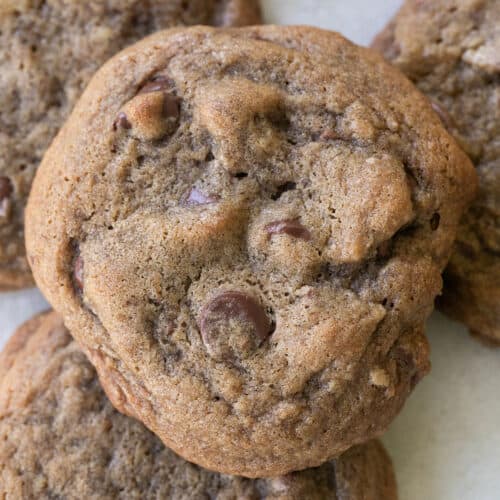 Espresso Chocolate Chip Cookies
These are chewy, delicious chocolate chip cookies made with espresso. They have a coffee flavor and are loaded with chocolate chips.
Print
Pin
Rate
Ingredients
2 1/4

cup

all-purpose flour

1

tsp

baking soda

1

tsp

salt

1 1/2

cups

dark brown sugar

1

cup

unsalted butter

,

2 sticks, soft

2

large

eggs

5

tsp

instant espresso powder

2

tsp

vanilla extract

8

oz

semi-sweet chocolate chips

,

1 cup

8

oz

milk chocolate chips

,

1 cup
Instructions
Preheat the oven to 350 degrees.

Prepare the cookie sheets with parchment paper.

In a medium mixing bowl, combine flour, baking soda and salt.

In the bowl of an electric stand mixer, beat butter and brown sugar on medium speed.

Add in the eggs one at a time and blend.

Pour in the vanilla and the espresso powder.

Scrape the bottom and sides of the bowl.

Turn the mixer to low and gradually add in the flour mix.

Mix until combined and then pour in the chocolate chips and fold them into the batter.

Refrigerate the dough for 30 minutes.

Using a cookie scooper, scoop 1 1/2" balls onto the cookie sheet. I like to do 6 at a time on one sheet. You can fit 6 if you like.

Bake for 9 minutes. Remember baking times vary, might need 10 or 11 minutes.

Let the cookies rest for 15 to 30 minutes before eating them.
Nutrition
Calories:
218
kcal
|
Carbohydrates:
27
g
|
Protein:
2
g
|
Fat:
11
g
|
Saturated Fat:
7
g
|
Polyunsaturated Fat:
0.4
g
|
Monounsaturated Fat:
3
g
|
Trans Fat:
0.3
g
|
Cholesterol:
30
mg
|
Sodium:
129
mg
|
Potassium:
79
mg
|
Fiber:
1
g
|
Sugar:
18
g
|
Vitamin A:
228
IU
|
Vitamin C:
0.05
mg
|
Calcium:
28
mg
|
Iron:
1
mg