Chocolate crinkle cookies are one of the most delightful, fudgy treats! They have the perfect crinkle on top when baked and stay super chocolatey inside! This is an easy chocolate crinkle cookie recipe and makes perfect fudgy cookies. Serve the year-round and one of our favorite Christmas cookies!
Check out all of our favorite cookie recipes too!
If you haven't had a chocolate crinkle cookie, you're missing out! These cookies are not only perfect for the holidays but all year! They're a family favorite, seriously will not last more than a day in our house, and are very easy to make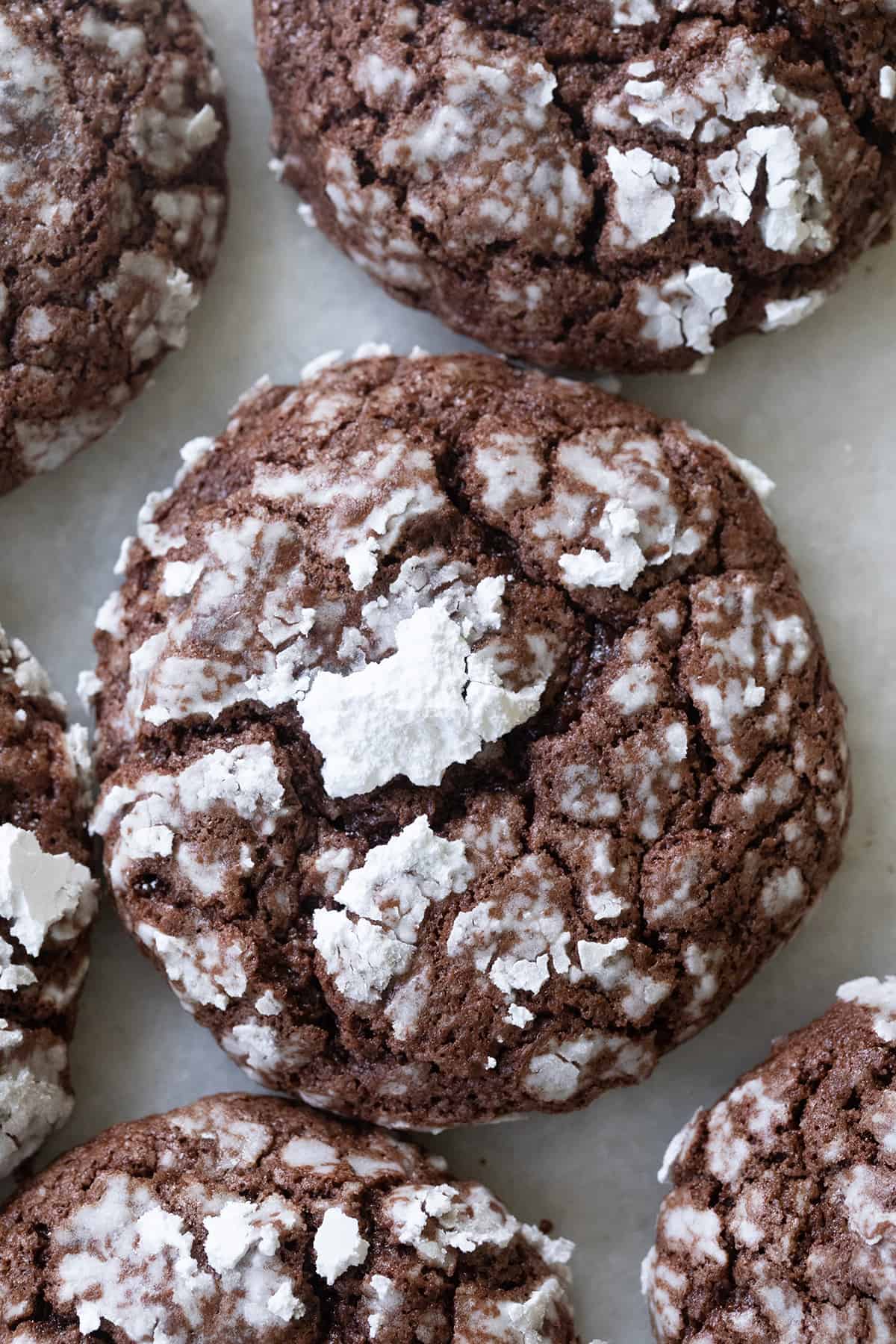 Why These Are The Best Chocolate Crinkle Cookies
The texture on the outside of the cookie and then the chewy, soft center makes this one of our favorite cookies.
The center is super fudgy and the crinkle top has a little crunch.
They're easy to make ahead of time so you can serve them right out of the oven.
We're sharing our favorite recipe below and answering all your questions!
What is a chocolate crinkle cookie?
Chocolate crinkle cookies are chocolate cookies with a cracked or crinkled surface. The cracks are created by the cookies being rolled in powdered sugar before baking. This results in delightful, brownie-like cookies that are perfect for any chocolate lover!
Supplies to Make Crinkle Cookies
Mixer
Cookie Sheet
Parchment Paper
Measuring Cups
Bowls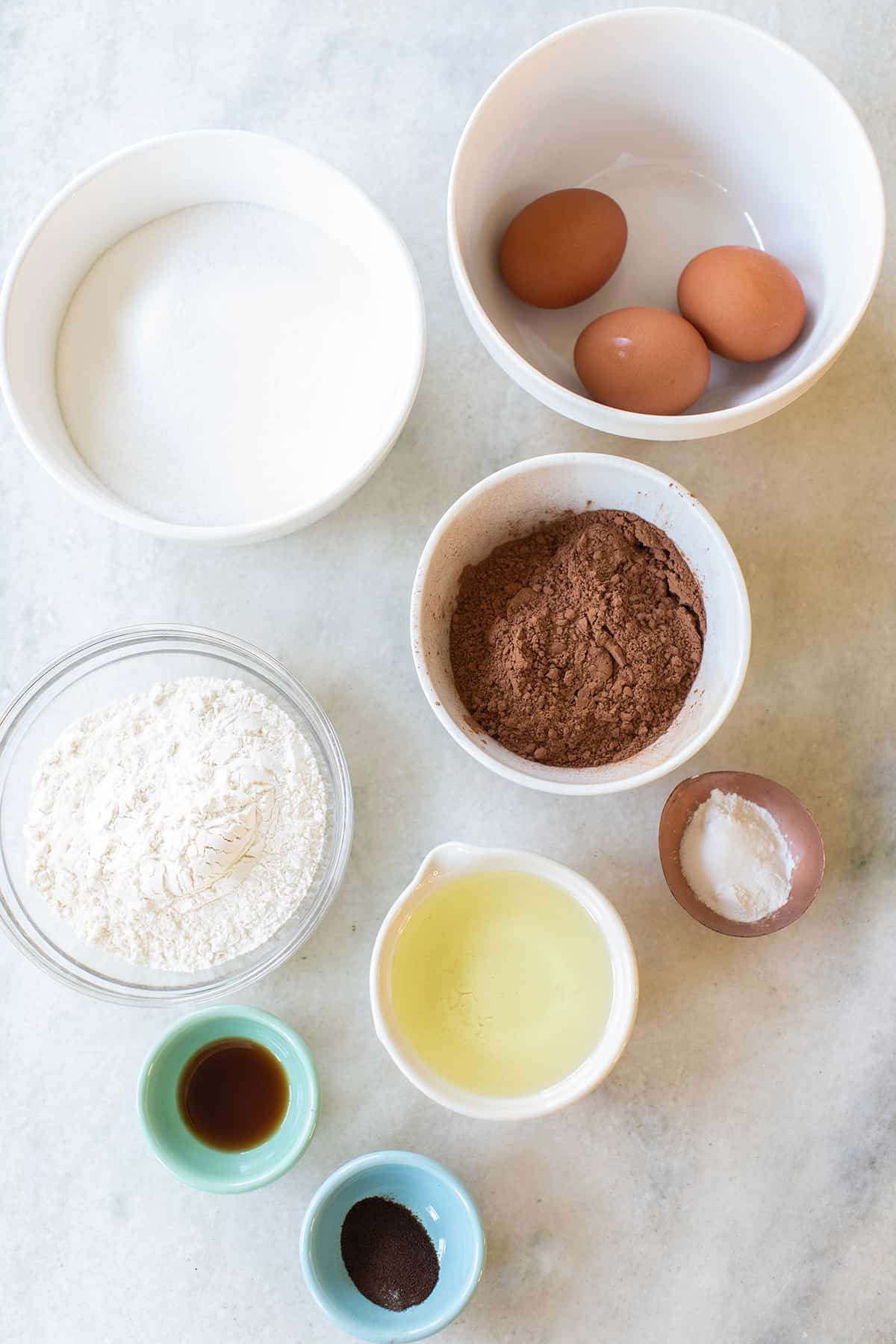 Chocolate Crinkle Cookie Ingredients
All-Purpose Flour – used in cookie recipes as it helps to bind the ingredients together and gives the cookies structure. In this chocolate crinkle cookie recipe
Unsweetened Cocoa Powder – This is what gives these cookies their rich chocolatey flavor. It's important to use a good quality cocoa powder for the best flavor.
Baking Powder – Baking powder is a leavening agent that helps cookies to rise and become fluffy.
Espresso Powder – A small amount of espresso powder enhances the flavor of the chocolate.
Granulated Sugar – Sugar is what gives these cookies their sweetness. It also helps to create a crisp exterior.
Oil – Helps to create a soft and fudgy interior and a super moist, chewy cookie. Use vegetable oil or canola oil.
Eggs – Help to bind the ingredients together and give the cookies structure and moisture. Use room temperature eggs if possible.
Vanilla Extract– Adds and enhances the flavor of the cookies. Use a good quality, pure vanilla when baking.
Powdered Sugar – Confectioners sugar is used to roll the cookie dough in to create the crinkle look.
Directions for Making The Best Chocolate Crinkle Cookie Recipe
The full recipe is in the recipe card below.
Preheat the oven to 350 degrees F. Line a baking sheet with parchment paper.
In a medium bowl whisk together the flour, cocoa powder, espresso powder, salt, and baking powder.
In the bowl of a stand mixer, with the paddle attachment, whisk together the eggs, sugar, and oil.
Add the dry ingredients to the wet ingredients and mix until well combined.
Refrigerate the soft dough for at least 2 hours or even overnight.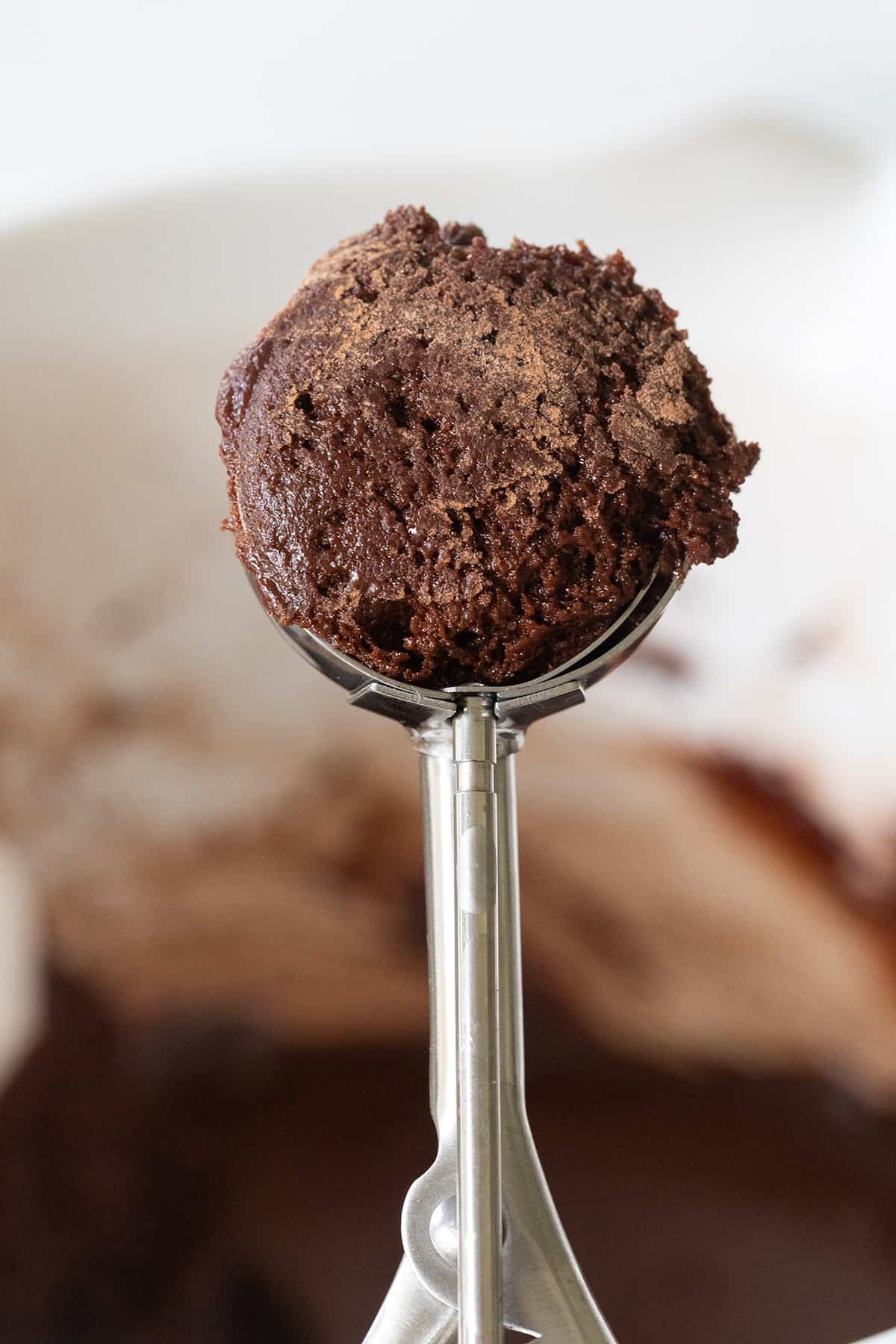 Using a medium cookie scooper, scoop 1-inch balls and roll them into a bowl of powdered sugar.
Place the dough balls on the lined baking sheet and bake for about 9-10 minutes, or until the cookies are puffed and cracked.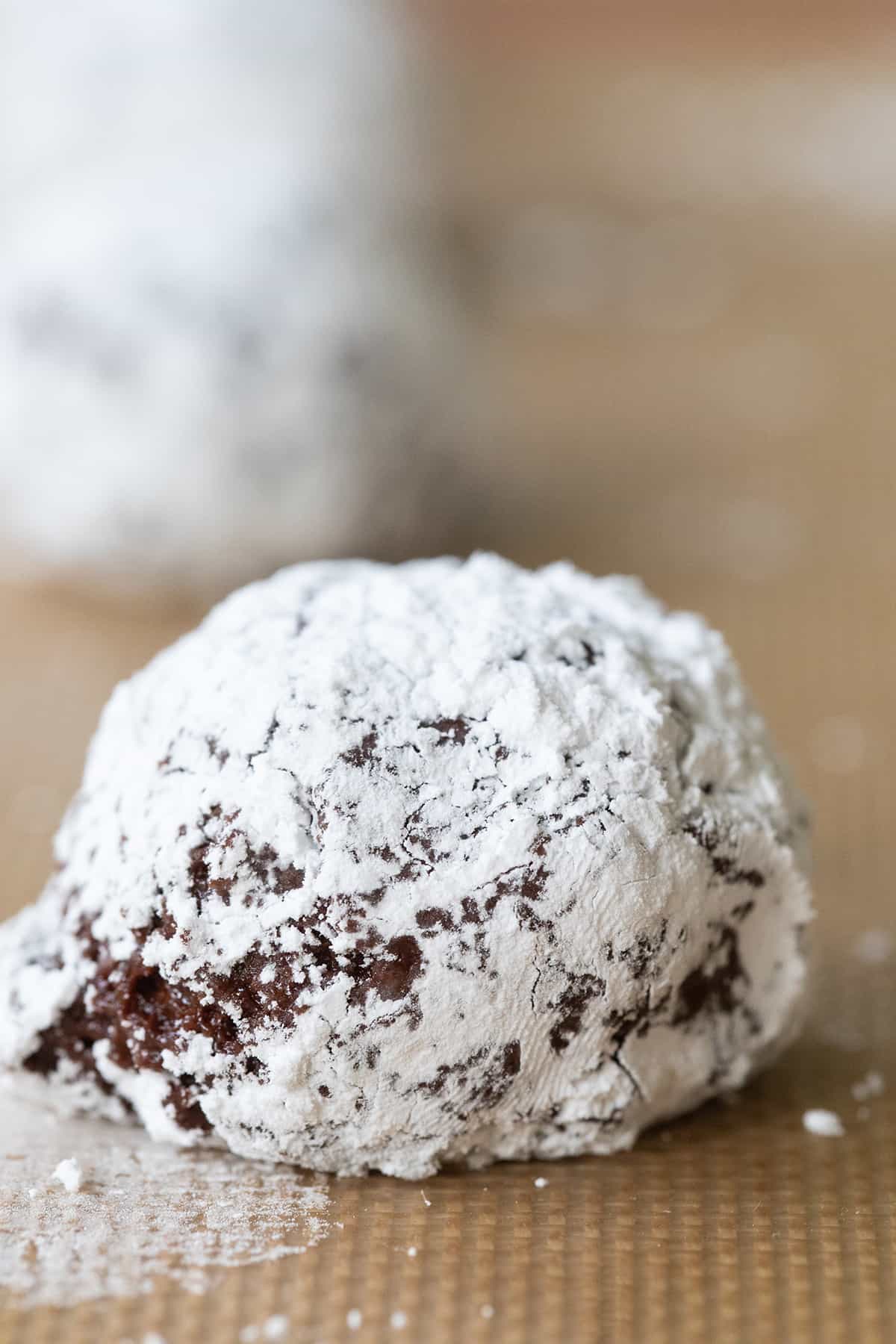 Allow cooling on the baking sheet for a few minutes before transferring it to a wire rack to cool completely.
Tips for Making these Cookies
The dough is sticky and not super thick. It has to be refrigerated for 2 hours before use.
Don't worry about rolling the cookie dough in your hands to form balls. Use a cookie scooper and drop the cookie ball directly into the powdered sugar. Then roll it around in the sugar to shape the dough.
Make sure the dough is chilled or it will be impossible to work with this cookie dough as it has a very soft texture, almost like fudgy brownies.
Use quality ingredients when making these cookies.
Baking time will vary, so start with less time and then add more if you need. Do not overbake these cookies, they should be fudgy inside.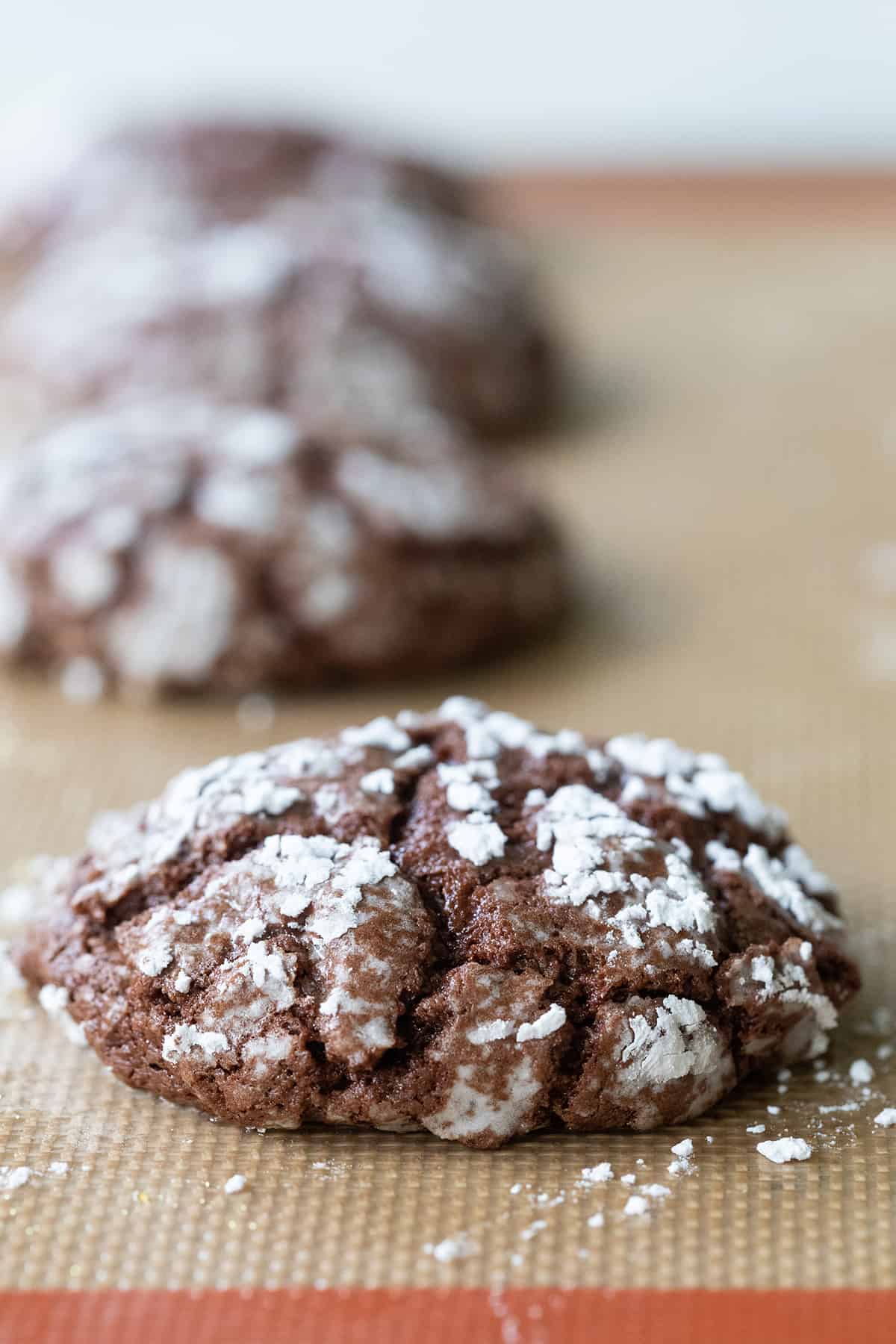 Gluten-Free Chocolate Crinkle Cookies
Yes, you can make gluten-free chocolate crinkle cookies! Substitute the flour for gluten-free all-purpose flour and be sure to use a good quality gluten-free cocoa powder. You may need to add a bit more flour to the recipe to get the right consistency.
Unsweetened Cocoa Powder
There are a few different brands of unsweetened cocoa powder that you can use for chocolate crinkle cookies. Some of our favorites include Hershey's, Ghirardelli, and Dutch-processed cocoa powder. Be sure to use a good quality cocoa powder for the best flavor and texture.
Types of Oil
There are a few different types of oil that you can use for chocolate crinkle cookies. You can use vegetable oil, canola oil, or even coconut oil. We prefer to use vegetable oil as it has a neutral flavor and provides the perfect texture for these cookies.
How to Store Chocolate Crinkle Cookies
These cookies are best stored in an airtight container at room temperature. They will stay fresh for up to one week.
Varieties of Crinkle Cookies
You can adapt the heavenly texture of crinkle cookies to many different flavors and recipes. Here are some ideas:
Red Velvet
White Chocolate
Walnut
Hazelnut
Double Chocolate
Fudge
Nuts and Chocolate
Frequently Asked Questions
What Makes a Cookie Crinkle?
A few factors make the cookie crinkle. They don't have a lot of flour, but they do have many eggs so the cookie bakes but the outside bakes a little harder. They're also rolled in powdered sugar which amplifies the crinkle effect. Also if you chill the dough before baking!

They'll stay tall, thick, and crinkle properly thanks to the thickness of the dough during baking.
What is a Chocolate Crinkle Cookie?
A chocolate crinkle cookie is a crinkle cookie with chocolate chips, fudge, or cocoa powder. It combines delicious, chocolate flavor with the crunchy and chewy texture of a crinkle cookie.
You can also make double or triple chocolate crinkle cookies by using more types of chocolate or by making dough with cocoa powder and chocolate chips.
What Do Crinkle Cookies Taste Like?
Crinkle cookies can have many different tastes based on the recipe. There are flavors such as hazelnut, chocolate, walnut, and many more. What crinkle cookies all have in common is that the outside becomes crisp and crunchy while baking.

On the other hand, the inside takes on a delicate, chewy texture that serves as the perfect contrast to the exterior.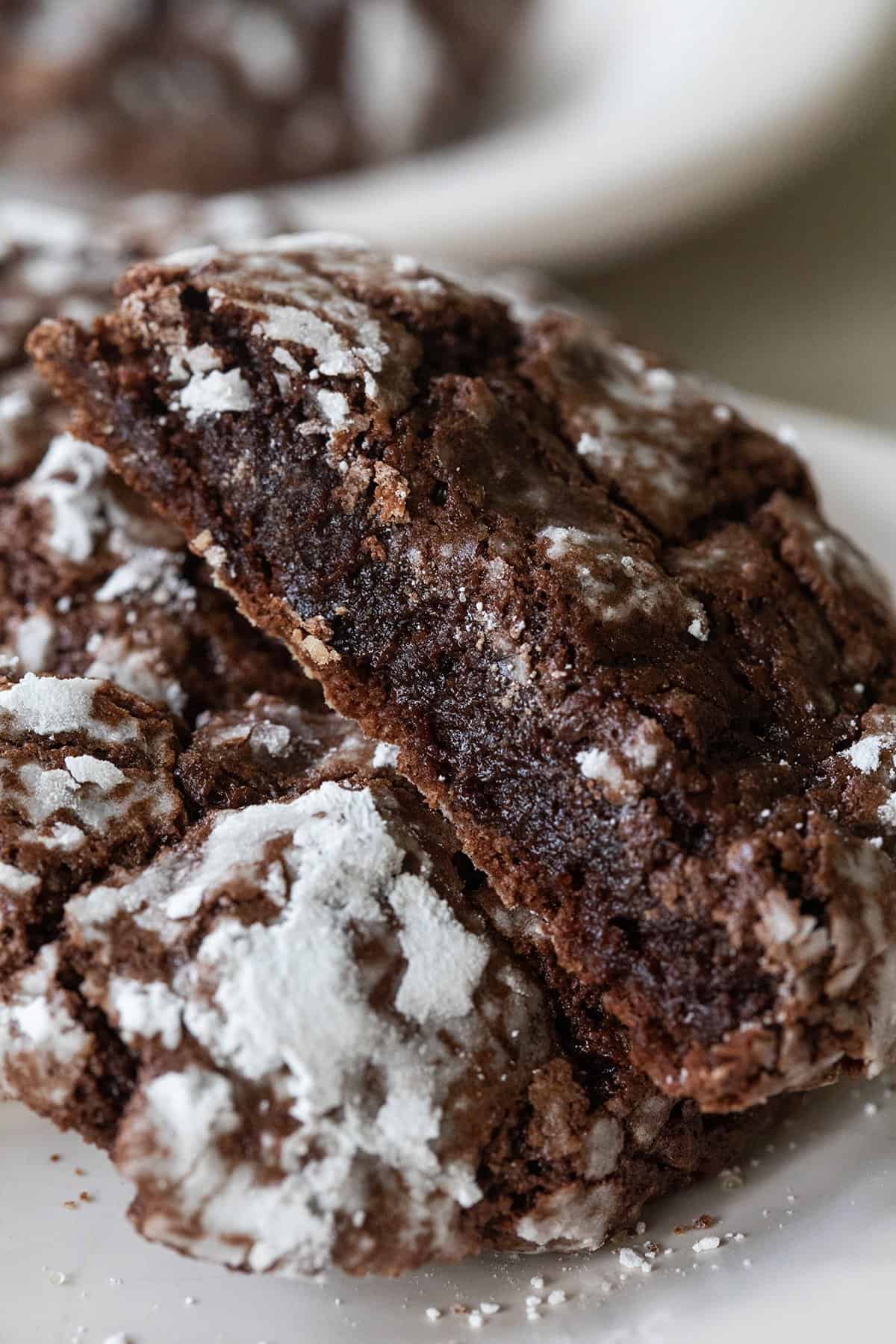 Can You Freeze Crinkle Cookies?
Crinkle cookies freeze extremely well. The process is simple, as well. First, you should pick out an airtight, sealable container. For best results, lay the cookies in a single layer throughout the container.
If the surface area of one cookie comes into excessive contact with another, then they might cling to each other and break when you remove them. However, you can still stack crinkle cookies in the freezer by laying wax paper between the layers.
This way, you'll be able to fit more cookies into the same space.
Is Confectioners Sugar the Same as Powdered Sugar?
If you've always thought that confectioners' sugar and powdered sugar seem remarkably similar, there's a good reason for that! They're two different names for the same type of sugar.
How Do You Unfreeze Crinkle Cookies?
When you're thawing out your frozen crinkle cookies, you should remove the cookies from the container and let them defrost at room temperature. This avoids condensation build-up.
Afterward, you can reheat them at a low temperature such as 250, but this is a matter of personal preference.
Are crinkle cookies soft or hard?
Chocolate crinkle cookies are soft and fudgy on the inside with a slight crunch on the outside. They are the perfect combination of textures!
How long do chocolate crinkle cookies last?
Chocolate crinkle cookies will stay fresh for up to one week when stored in an airtight container at room temperature.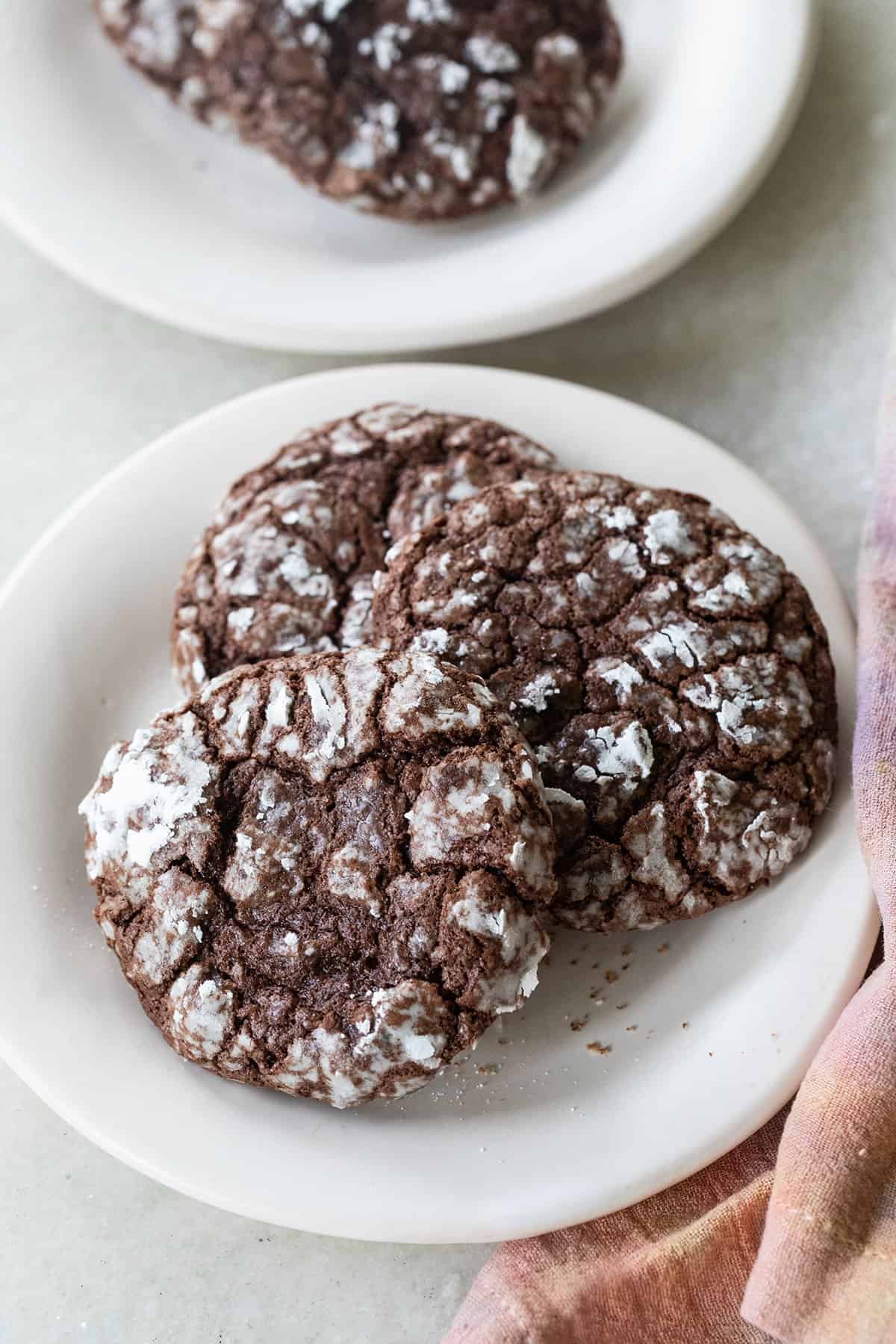 Why are my chocolate crinkle cookies flat?
There are a few reasons why your chocolate crinkle cookies might be flat.
One possibility is that you didn't use enough flour.
Another possibility is that you overmixed the dough. Be sure to mix the dough just until the ingredients are combined. Overmixing can result in flat, tough cookies.
It's also imperative to chill the cookie dough when making crinkle cookies.
How do you know when crinkles are done baking?
Chocolate crinkles are done baking when they are puffed and cracked. Be careful not to overbake them, or they will be dry. Allow the cookies to cool on the baking sheet for a few minutes before transferring to a wire rack to cool completely.
Why is my chocolate crinkles not fudgy?
If your chocolate crinkle cookies are not fudgy, it's likely because you used too much flour. Be sure to measure the flour correctly and don't overmix the dough. You can also add a bit more chocolate to the recipe if you want your cookies to be even fudgier!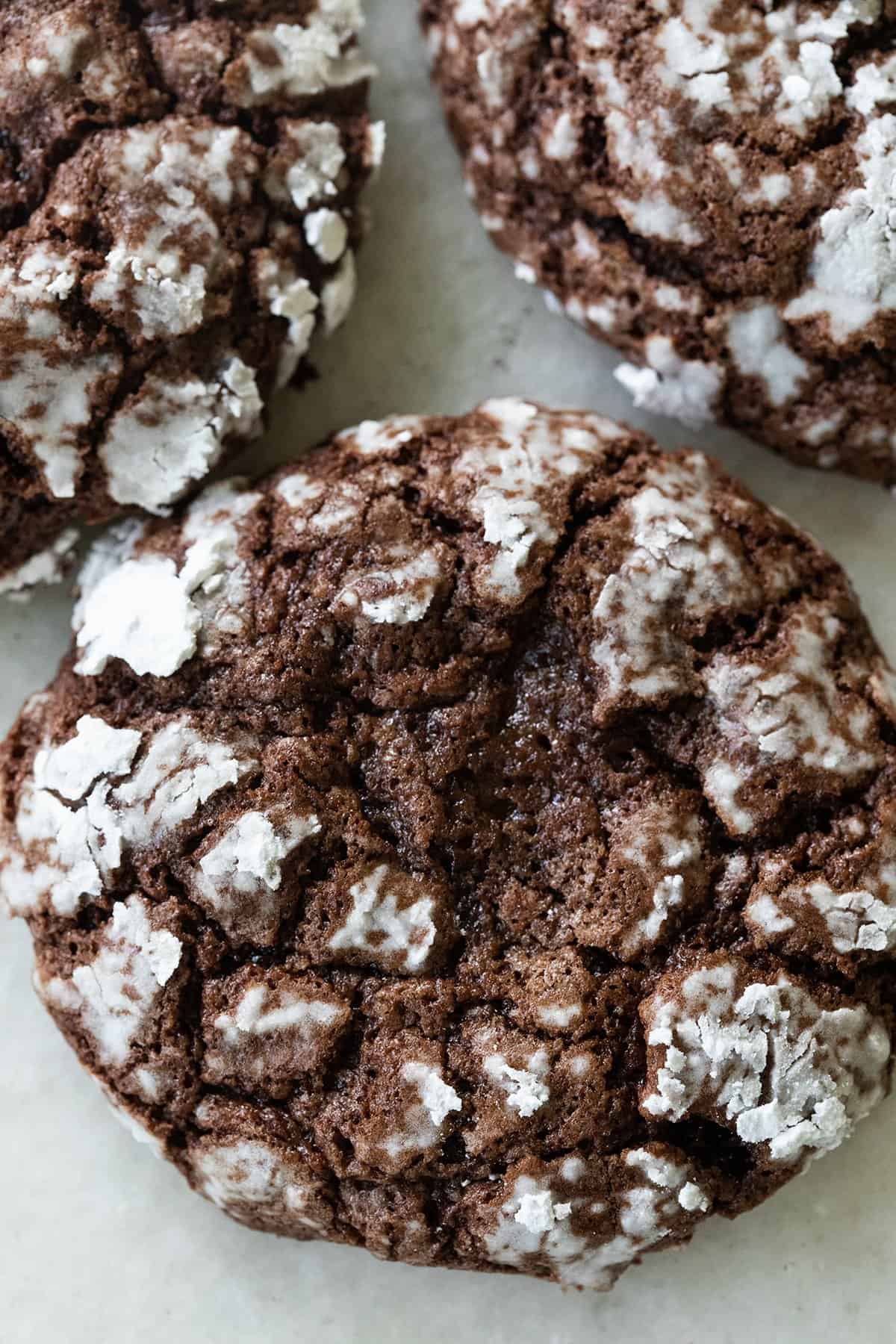 When to Serve Chocolate Crinkle Cookies
Chocolate crinkle cookie recipe is the perfect treat for any occasion! They make a great addition to a holiday cookie tray or a fun after-school snack. They are also perfect for a chocolate-themed party or event. Here are some special occasions when you can serve the best chocolate crinkle cookies:
Holiday Party – These are very popular Christmas cookies and are perfect for Christmas parties.
Cookie Exchange – If you're hosting a cookie exchange, make this recipe! It's perfect for chocolate lovers.
Fall Dinner Party – Make the dough ahead of time so you can quickly bake warm, gooey chocolate cookies for a dinner party dessert.
Halloween Party – These dark chocolate cookies are perfect for Halloween!
More Cookie Recipes You'll Love!
Butter-less Chocolate Chip Cookies
Chocolate Cherry Chunk Cookies
The Perfect Chewy Snickerdoodle Cookies
Crinkle cookies are an excellent treat for any occasion, from your favorite holiday to any old rainy day. Let us know if you make this incredible chocolate crinkle cookie recipe by leaving a comment and review below!
You can also FOLLOW US on FACEBOOK, INSTAGRAM, and PINTEREST to see more delicious recipes, cocktails, desserts, and parties!
Chocolate Crinkle Cookies
Chocolate crinkle cookies that are easy to make, fudgy, and perfectly crinkly!
Print
Pin
Rate
Ingredients
1 1/2

cups

all-purpose flour

3/4

cup

unsweetened cocoa powder

2

tsp

baking powder

1

tsp

espresso powder

1/2

tsp

salt

1 1/2

cups

sugar

3

large

eggs

1/2

cup

oil

,

canola oil, vegetable oil

1

tsp

vanilla extract

1/2

cup

powder sugar
Instructions
Preheat the oven to 350 degrees.

In a bowl combine flour, cocoa powder, baking powder, espresso powder, and salt.

With an electric mixer, beat the oil, vanilla, sugar, and eggs.

Slowly mix in the flour, cocoa mixture into the beaten sugar mixture until combined.

Cover the bowl and refrigerator for 2-4 hours until the dough firms up.

Pour powdered sugar into a bowl and set off to the side.

Using a cookie scooper, scoop 1" round balls.

Roll the ball in the powdered sugar.

Place the cookies 2" apart on a lined cookie sheet.

Bake the cookies in batches for 9-10 minutes until the tops of the cookies have cracked. Add a few more minutes if they need.

Let them cool and then move them to a cooling rack.
Nutrition
Calories:
172
kcal
|
Carbohydrates:
27
g
|
Protein:
3
g
|
Fat:
7
g
|
Saturated Fat:
1
g
|
Polyunsaturated Fat:
2
g
|
Monounsaturated Fat:
4
g
|
Trans Fat:
1
g
|
Cholesterol:
28
mg
|
Sodium:
70
mg
|
Potassium:
112
mg
|
Fiber:
1
g
|
Sugar:
18
g
|
Vitamin A:
41
IU
|
Calcium:
27
mg
|
Iron:
1
mg