Looking for the best cookie recipes? We're sharing all of our favorite recipes that we've been making for years! These are the most popular cookie recipes and are perfect for all occasions.
Cookies are one of the world's most popular desserts. Typically the main ingredients in a cookie recipe are flour, sugar, butter, and eggs. There are several types of cookies and even more flavors! There is also truly nothing better than a freshly baked cookie and when made right, they are our favorite dessert.
What makes these cookies the best cookie recipes? Well, we've been making them for years. These recipes are tested, work and are all very good.
When baking, it's always best to follow some of our baking tips, see below. Also, use our conversion chart if you need and always use good-quality ingredients.
The Best Cookie Recipes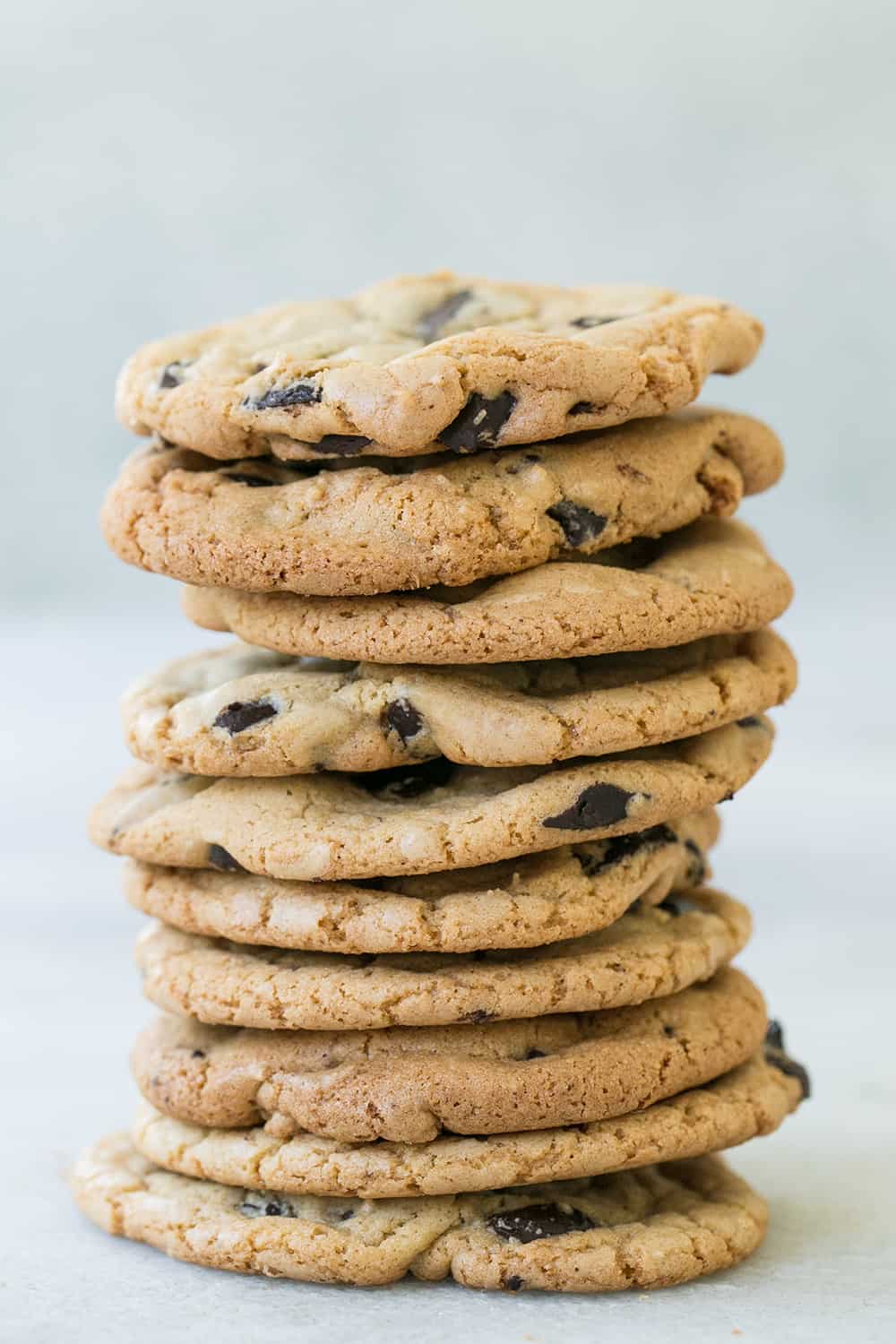 Butterless Chocolate Chip Cookies
Butterless Chocolate Chip Cookies are one of our most popular cookie recipes! They are made without butter and have the most perfect chewy and delicious texture and flavor!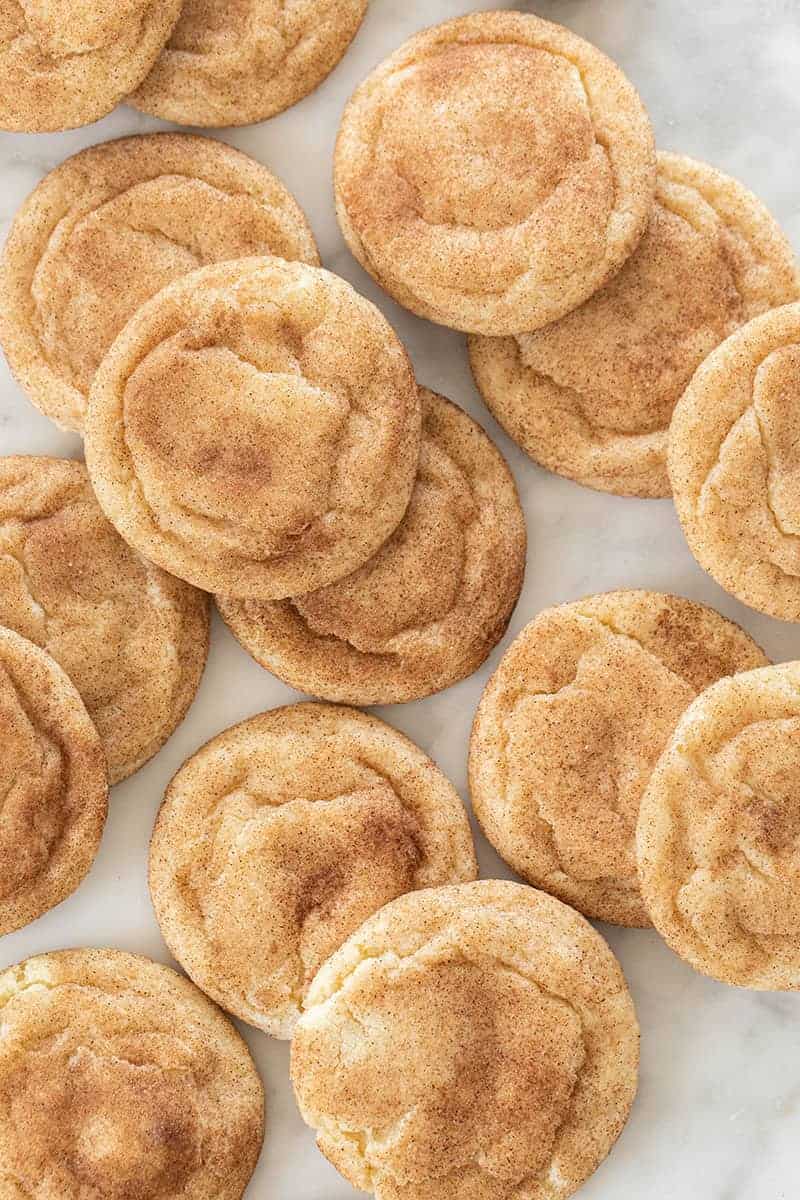 Snickerdoodle Cookies
Snickerdoodles Cookies are a classic cookies made with shortening and rolled in cinnamon and sugar. Furthermore, they're also great for ice cream sandwiches!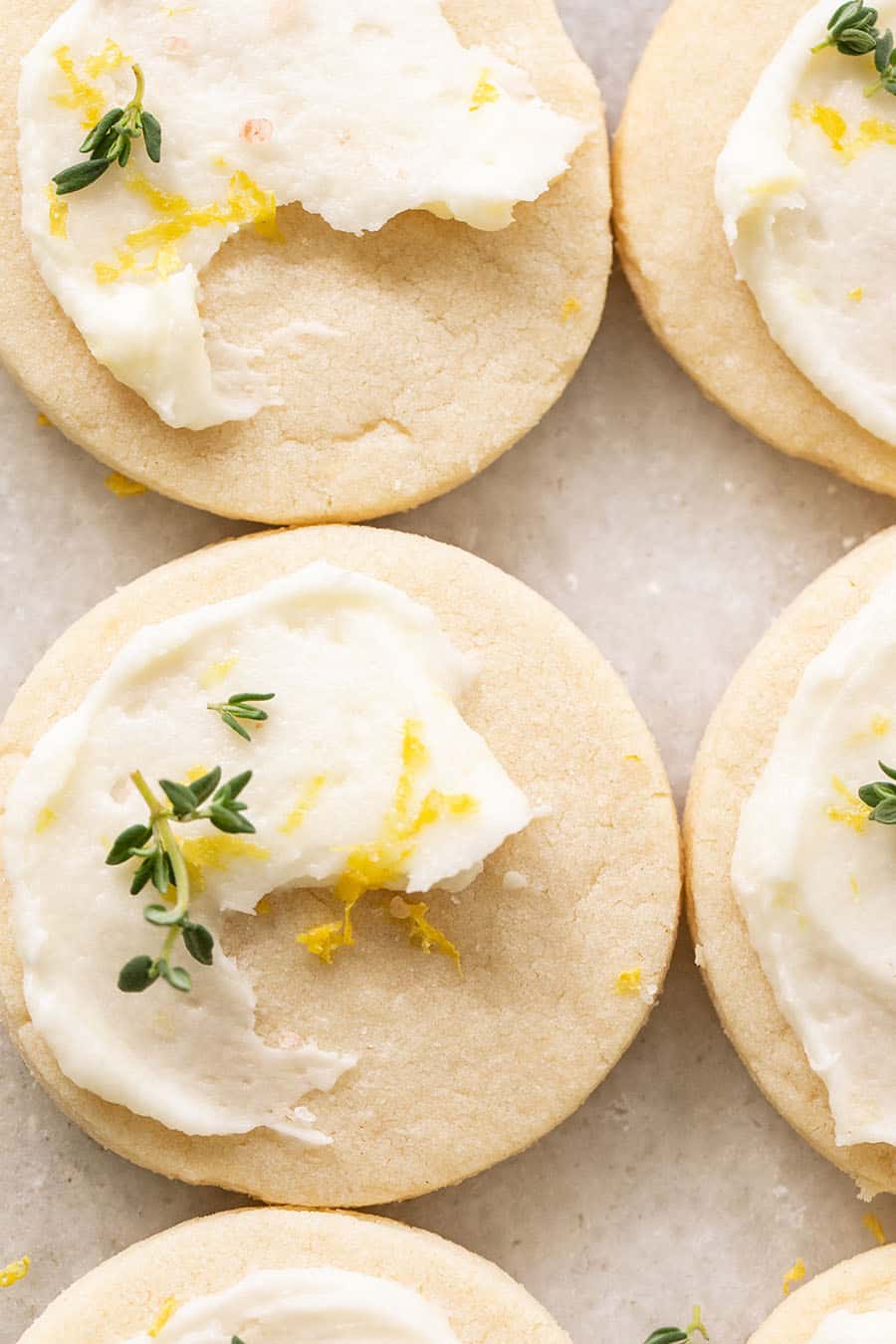 Lemon Thyme Shortbread Cookies
Lemon Thyme Shortbread Cookies have a buttery flavor and are made with granulated sugar rather than powdered sugar for a snappy texture. These are the perfect shortbread cookies and the thyme can be replaced with rosemary too.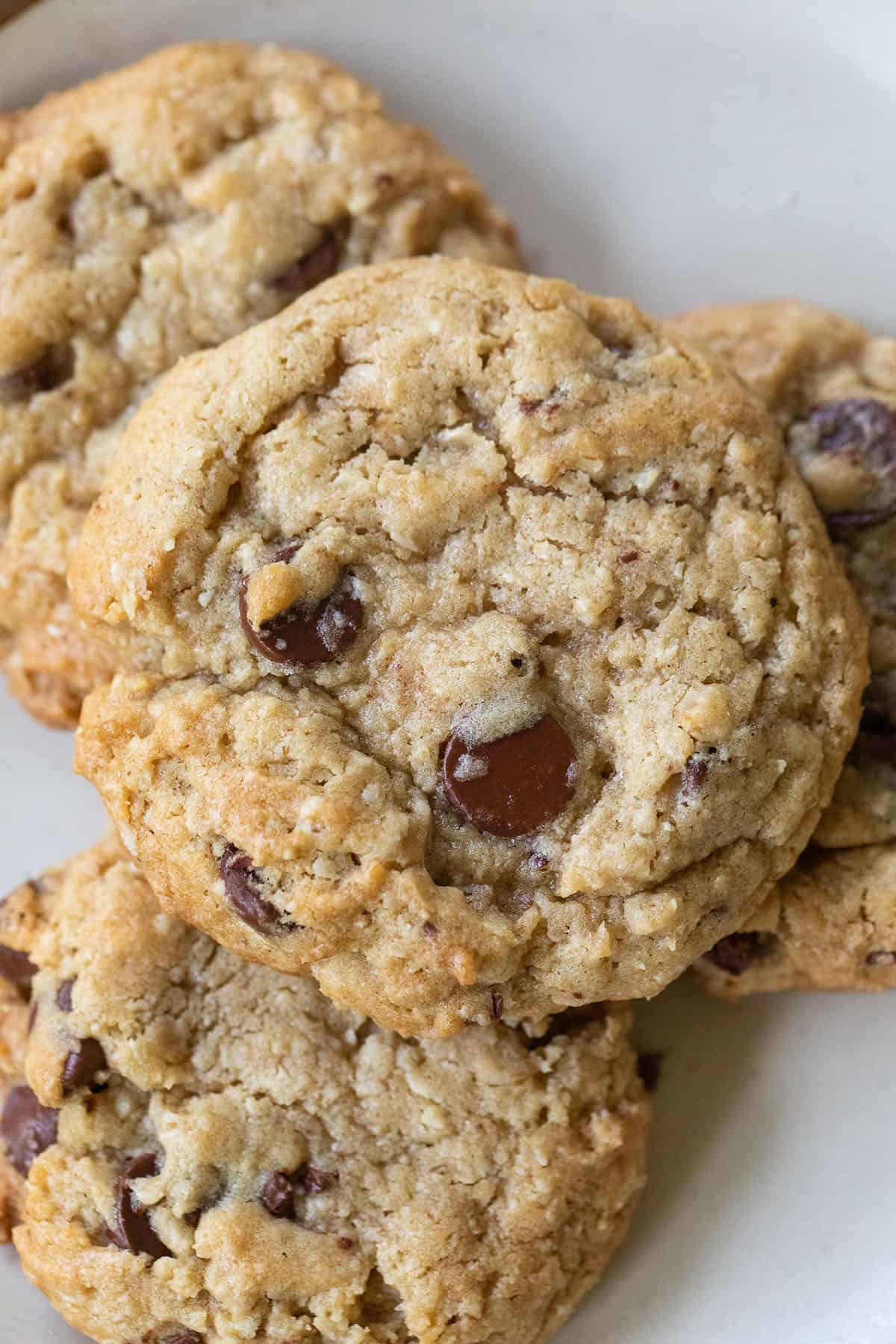 Oatmeal Chocolate Chip Cookies
Oatmeal Chocolate Chip Cookies are super moist and flavorful. They're made with rolled oats and chocolate chunks. Great for any season!
Mini Hart Shaped Sugar Cookies
Mini Sugar Cookies are bite-sized cookies with royal icing. They are buttery and have the perfect sugar cookie texture. These are fun for parties or Valentine's Day.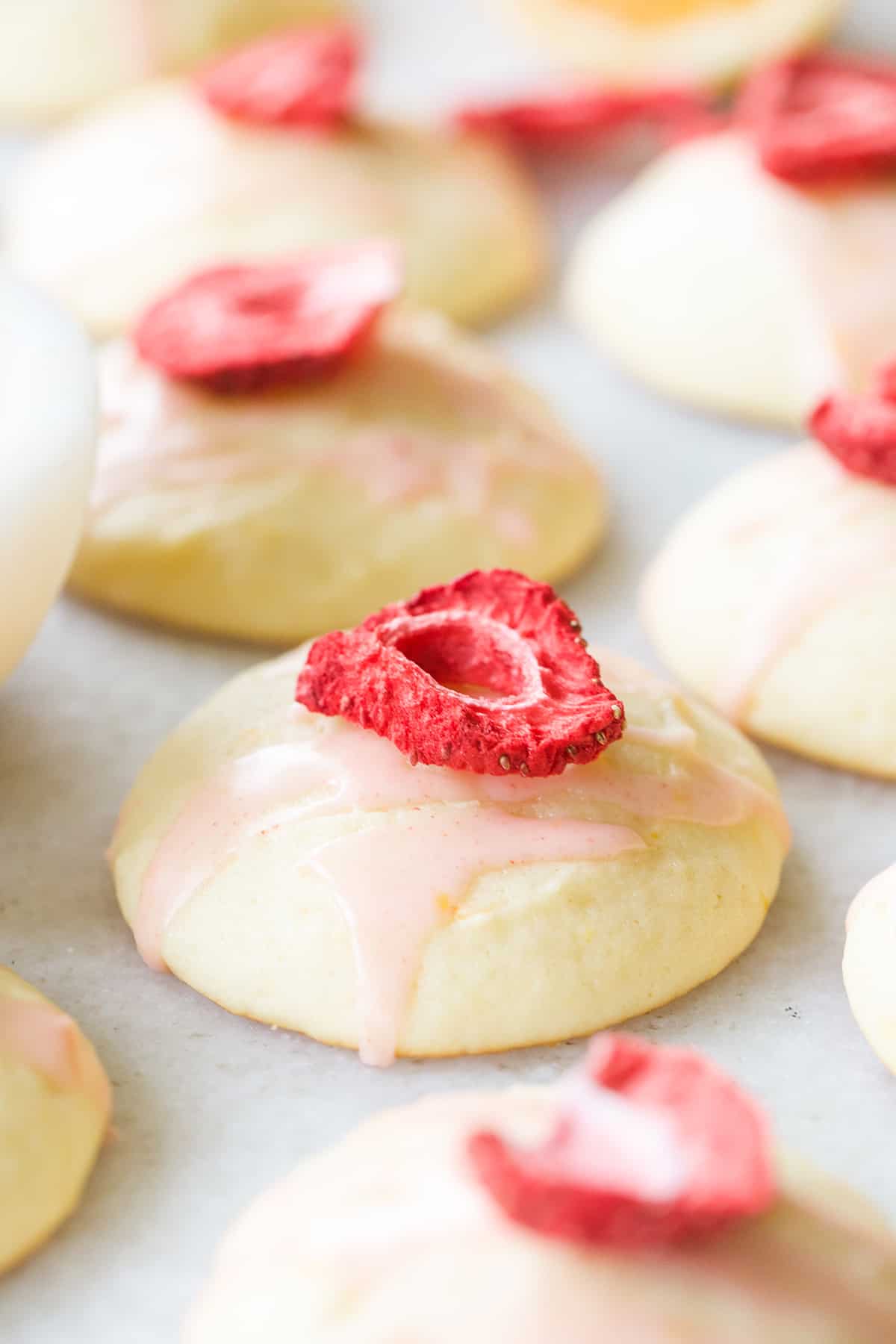 Lemon Ricotta Cookies
These lemon ricotta cookies are soft and fluffy with a cake-like texture. They are filled with lemon flavor and buttery soft!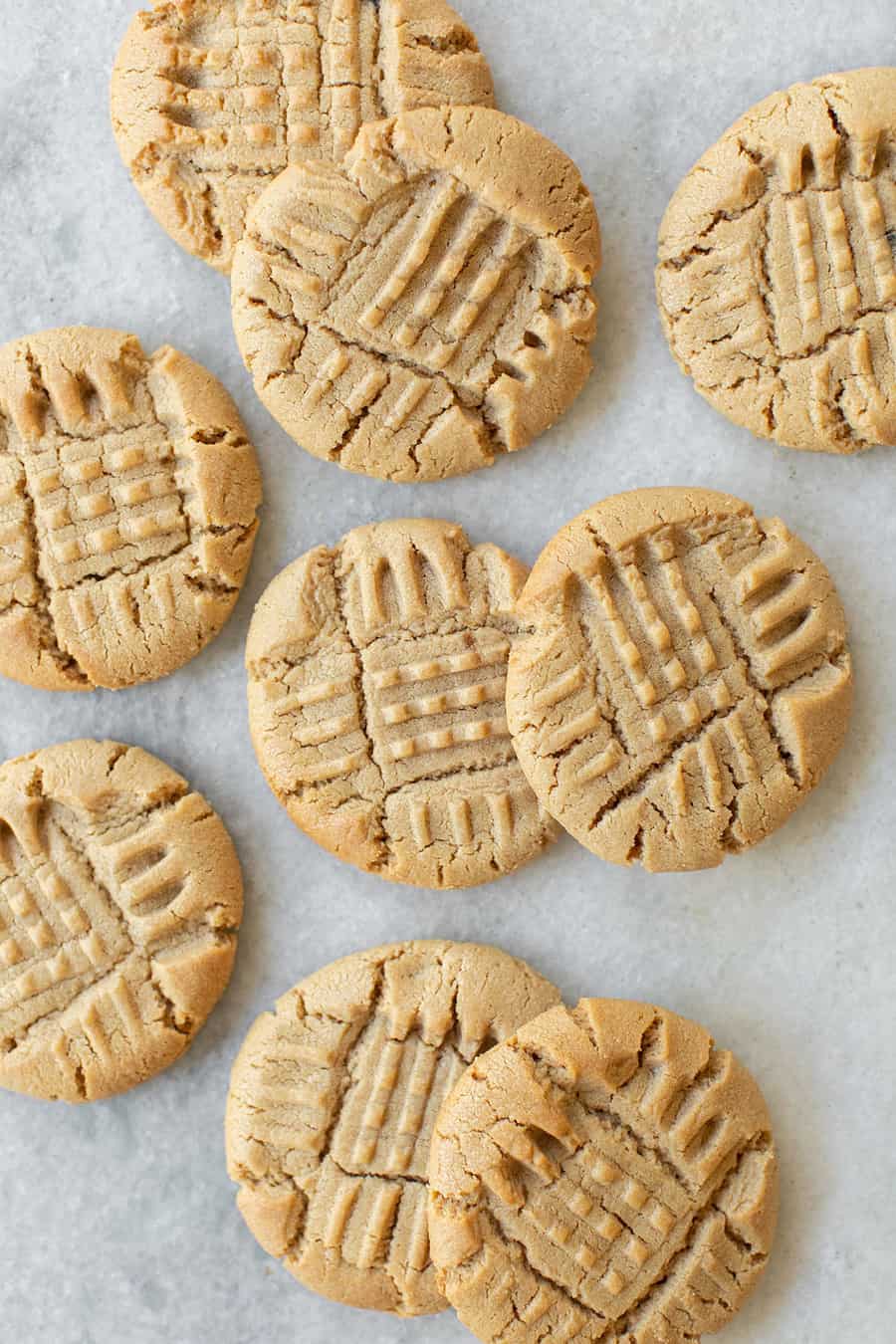 Classic Peanut Butter Cookies
Classic Peanut Butter Cookies are just like the ones from childhood. They are full of peanut butter flavor and have the best texture. A classic cookie that is great year-round.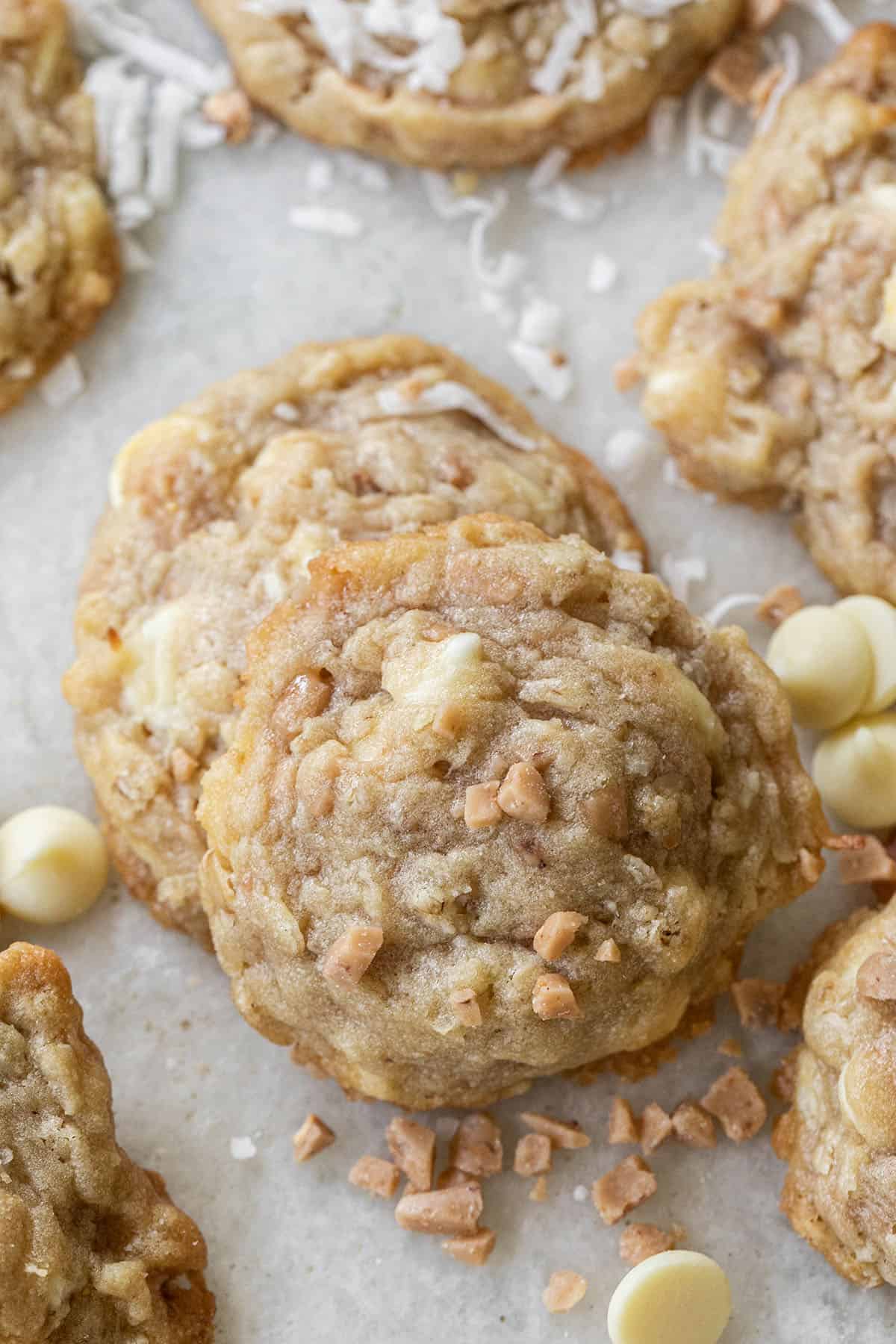 Kitchen Sink Cookies
Kitchen Sink Cookies are so fun to make! These cookies are filled with chocolate chips, toffee, coconut, and oats. Furthermore, add in other ingredients you have lying around the kitchen like potato chips or pretzels… everything but the kitchen sink.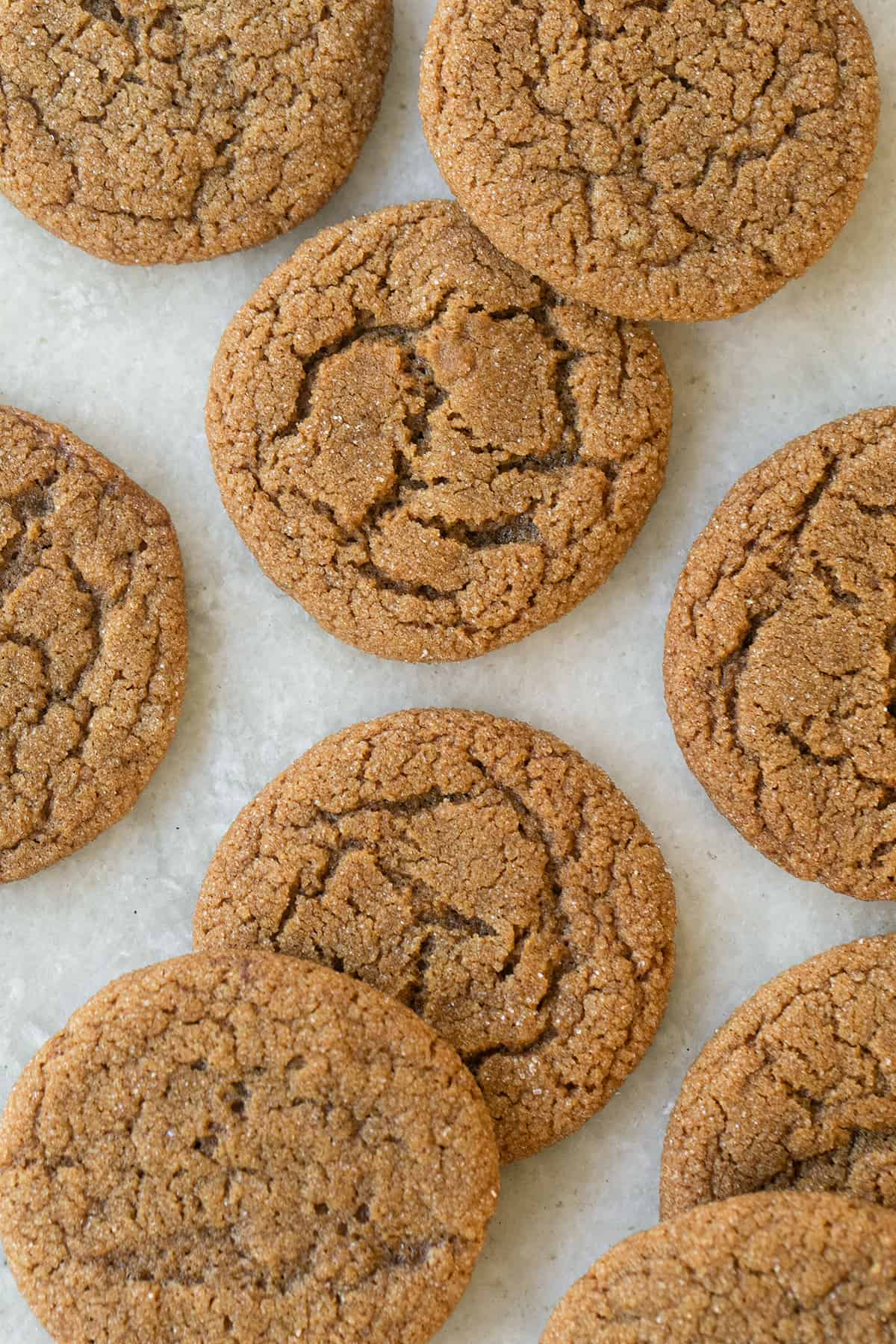 Gingersnap Cookies
Gingersnap Cookie Recipe creates the most flavorful, gingery, and snappy cookie! This is a classic gingersnap recipe and has the exact texture and flavor of the ones we know and love!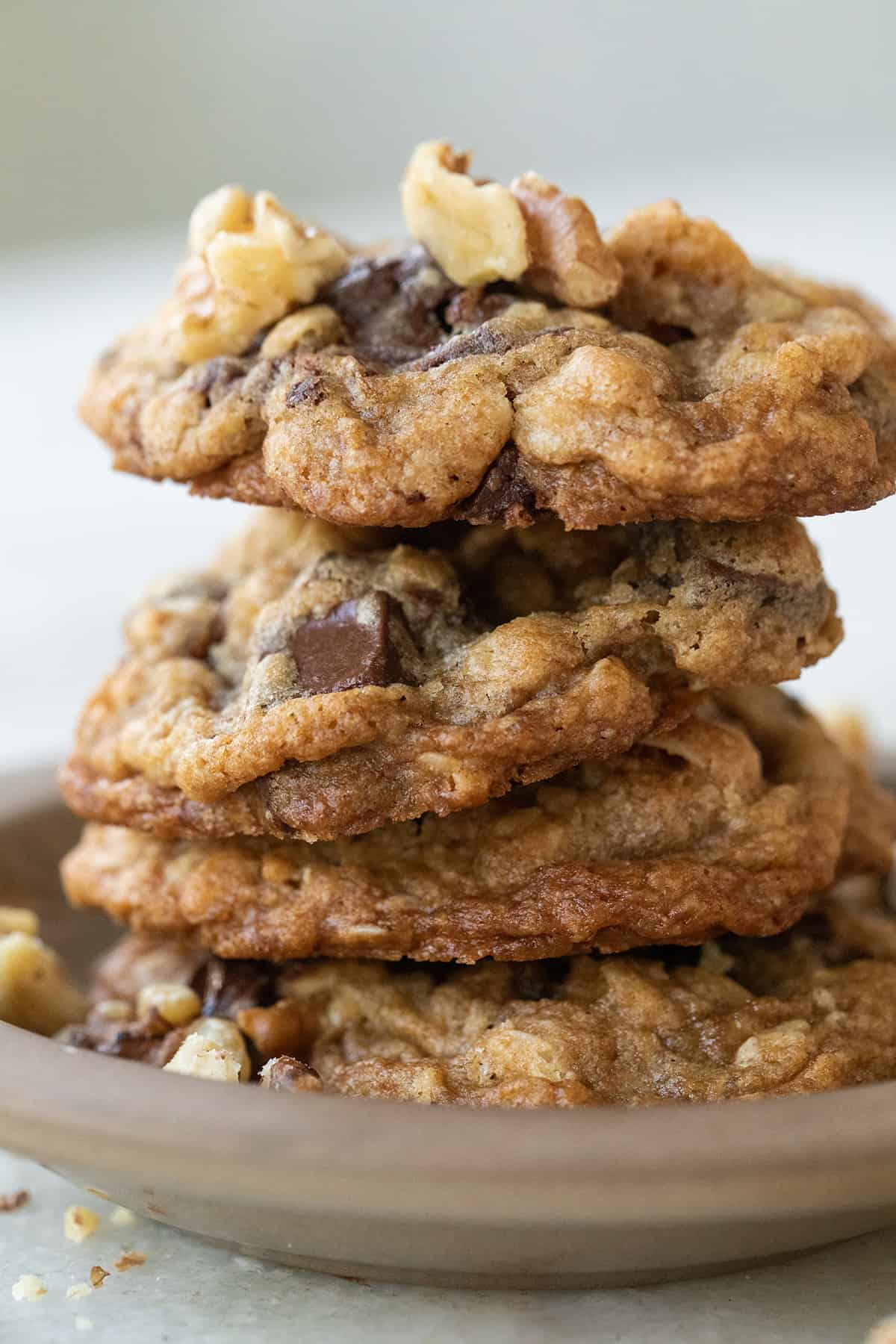 Chocolate Chip Cookies with Walnuts
These chocolate chip walnut cookies are gooey, chewy, and buttery and SO good They are not cakey cookies at all the walnuts really stand out. They're wonderful to make and serve any time of the year.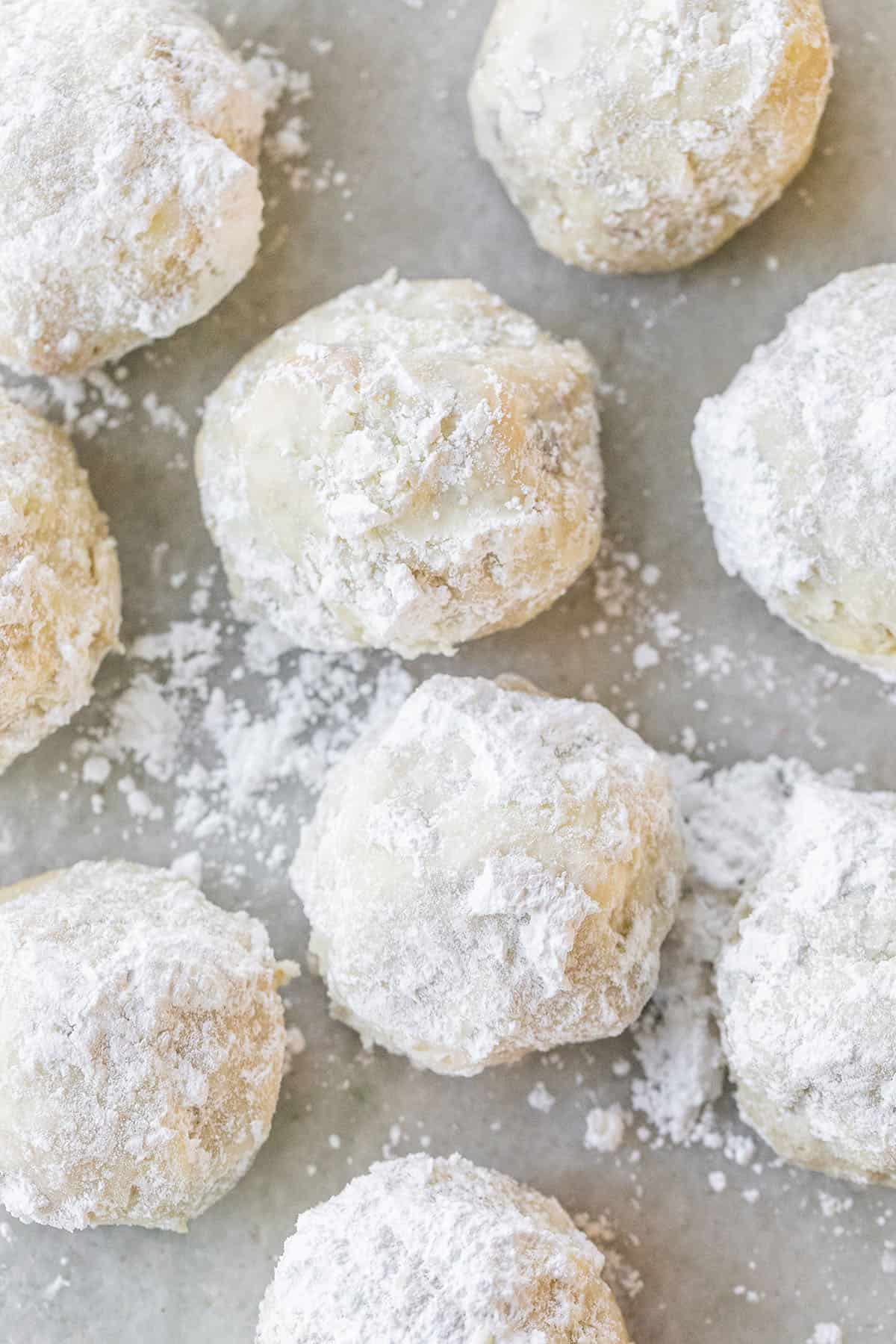 Snowball Cookies
Snowball Cookies or Mexican Wedding Cookies are little balls of butter cookies rolled into powdered sugar. These little cookies are easy to make and so buttery and good! Even though they are popular around the holidays, we like to make them all year!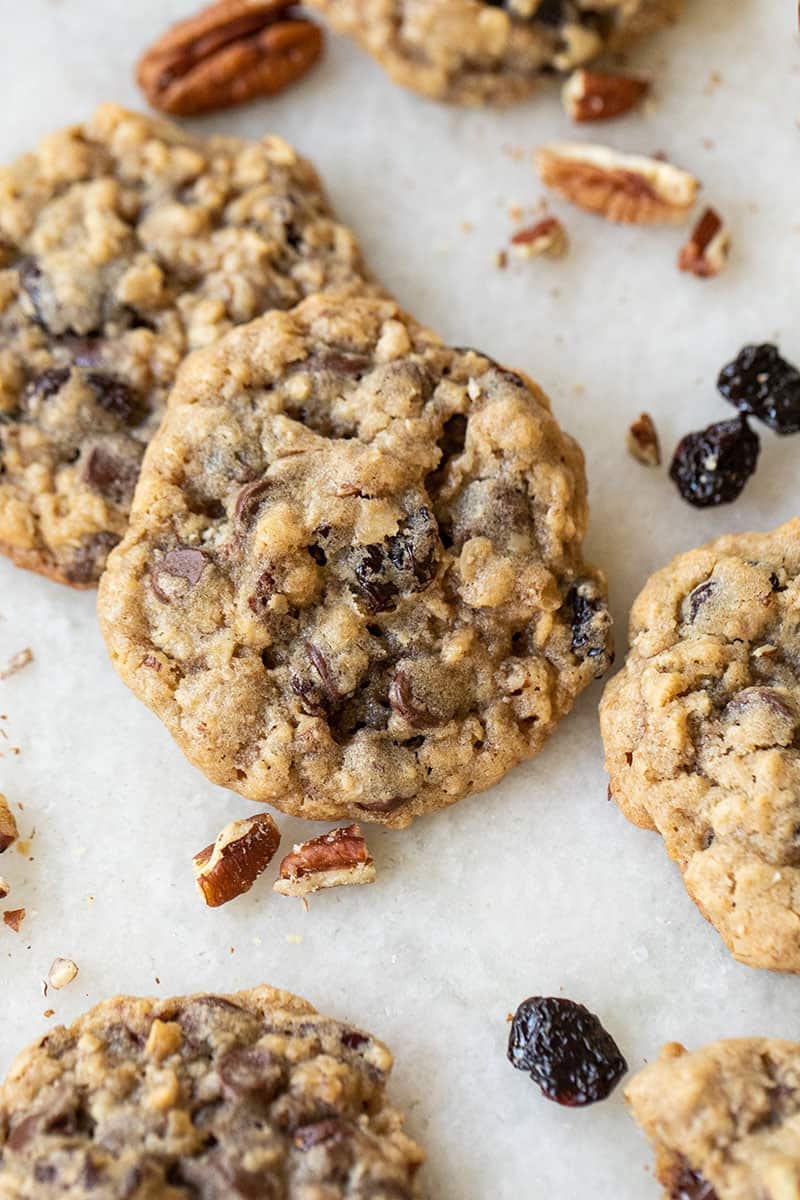 Chocolate Cherry Chunk Cookies
Chocolate Cherry Chunk Cookies have been a family favorite for years! They're made with dried chewy cherries, oats, and pecans and can be enjoyed right out of the freezer! Actually, they're our favorite cookies to eat out of the freezer as the cherries are still chewy.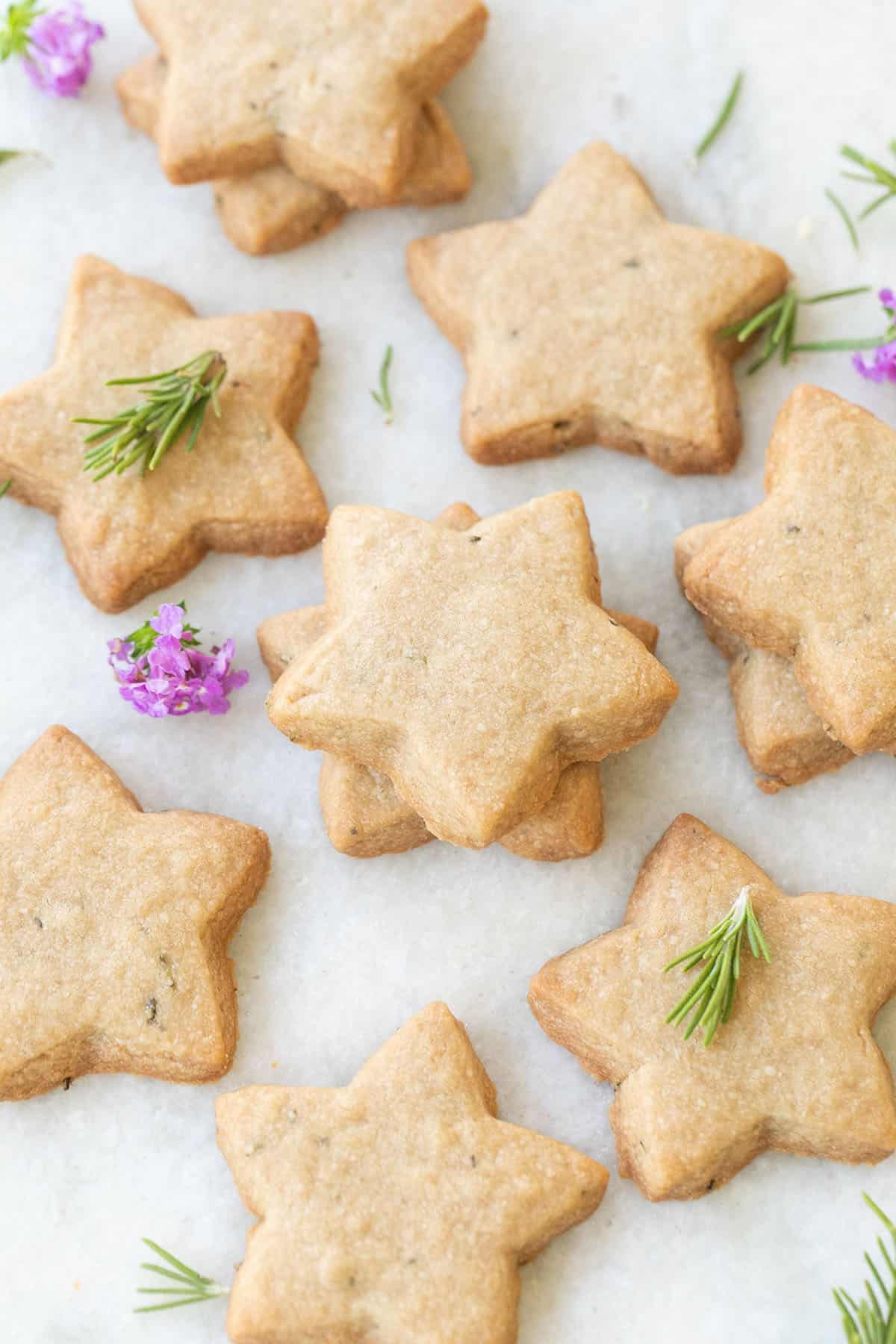 Rosemary Shortbread Cookie with Brown Sugar
Rosemary Shortbread Cookies are made with brown sugar instead of granulated. They're buttery, chewy, and have the perfect shortbread crisp with a classic shortbread flavor. The best part is, you can make them into any shape you want!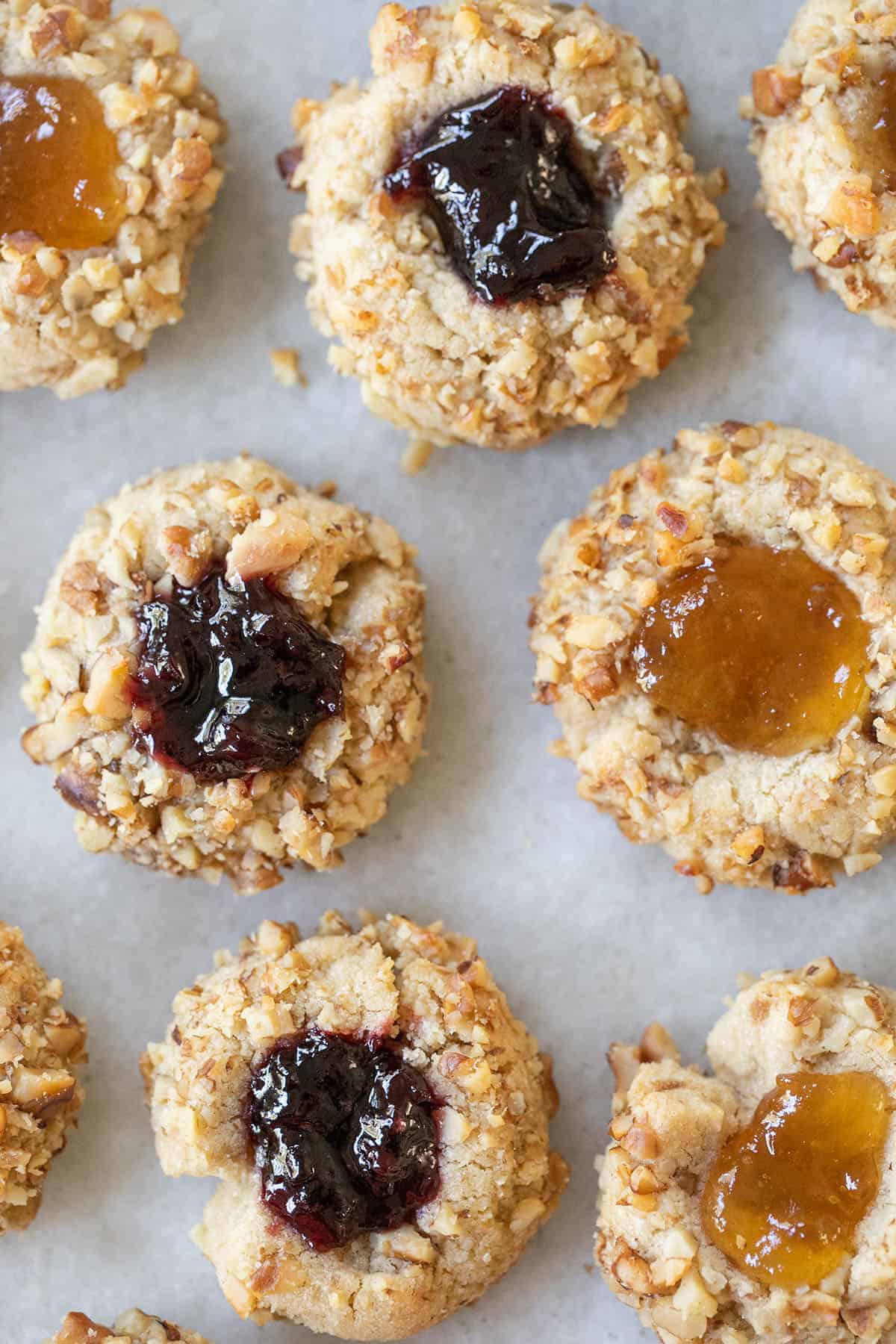 Thumbprint Cookies
Thumbprint Cookies are little butter cookies, rolled in chopped nuts and filled with jam. They are beyond good and perfect for tea parties and make a wonderful Christmas cookie. Most importantly, use any seasonal jam flavor to fill them.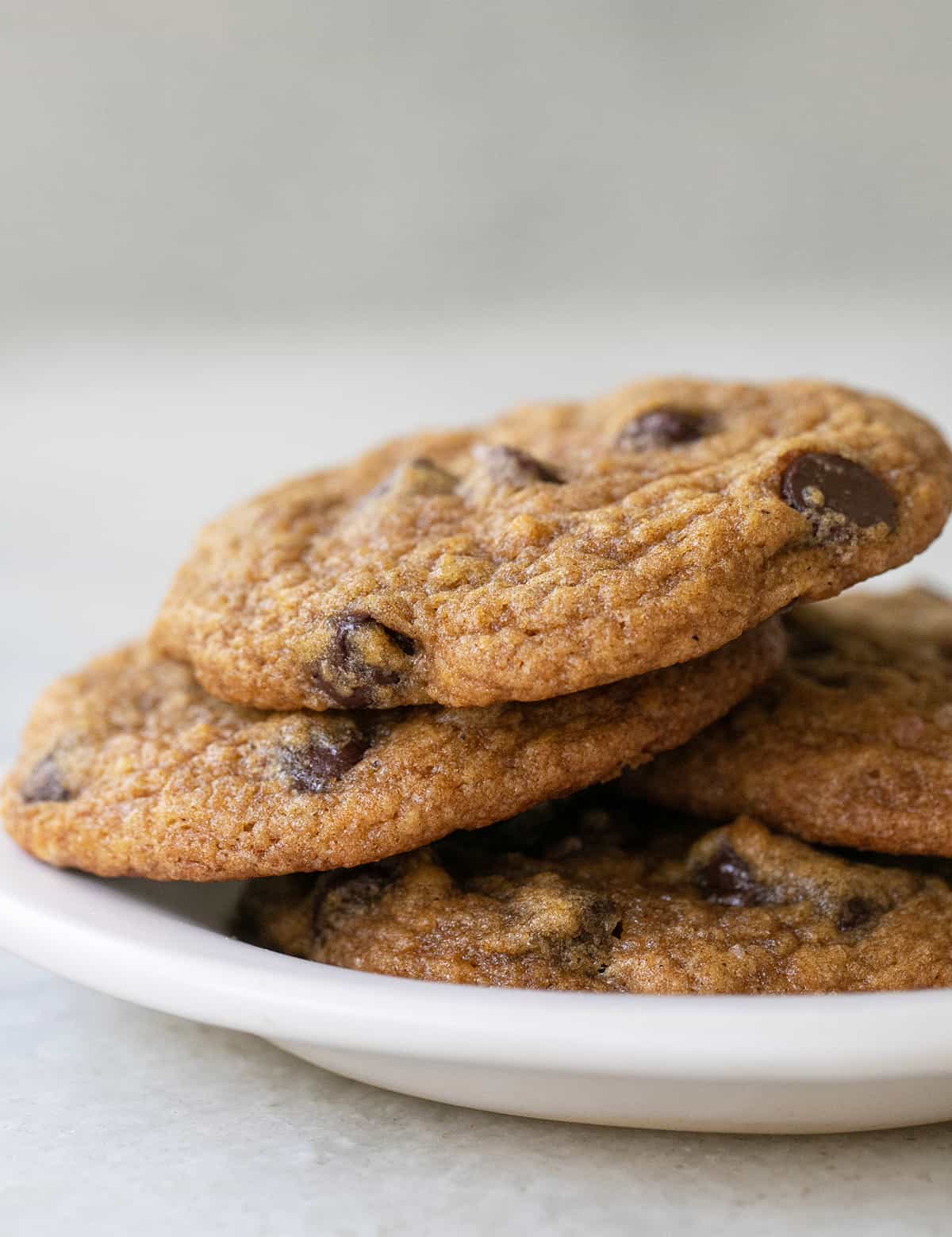 Pumpkin Chocolate Chip Cookies
Pumpkin Chocolate Chip Cookies are made with actual pumpkins! These cookies have a pumpkin spice flavor and a super moist texture. A perfect cookie for fall!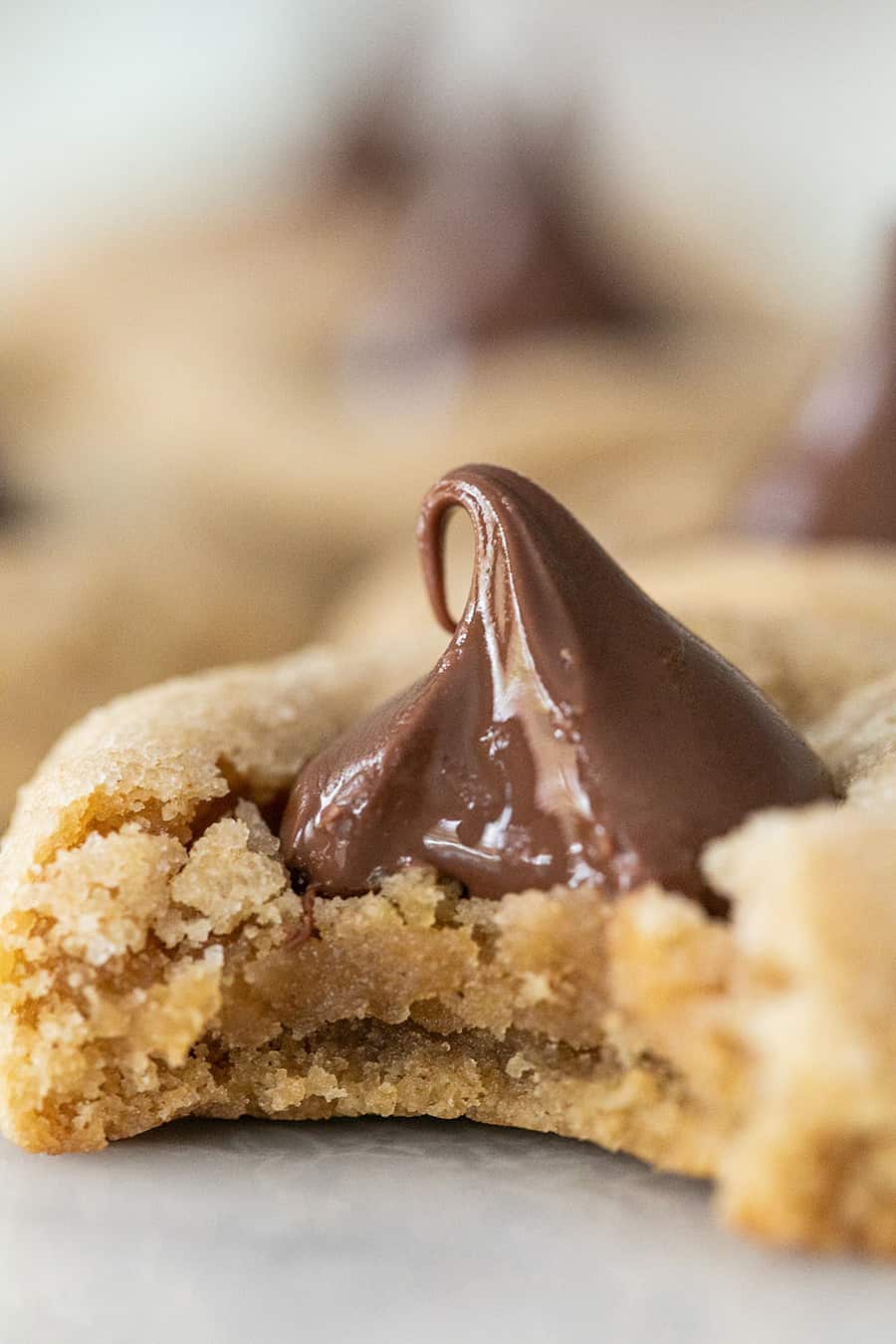 Peanut Butter Blossoms
Peanut Butter Blossoms are soft and chewy and combine a nutty winter flavor with a smooth chocolatey center. These are perfect for holidays or for an indulgent snack!
Biscotti Recipe with Cranberries
Biscotti Recipe is truly the best! This recipe uses sweetened dried cranberries, and pistachios and each cookie is dipped in melted white chocolate. Pair them with coffee and espresso for a perfect snack. Furthermore, these are great for anyone who likes a less sweet cookie to snack on.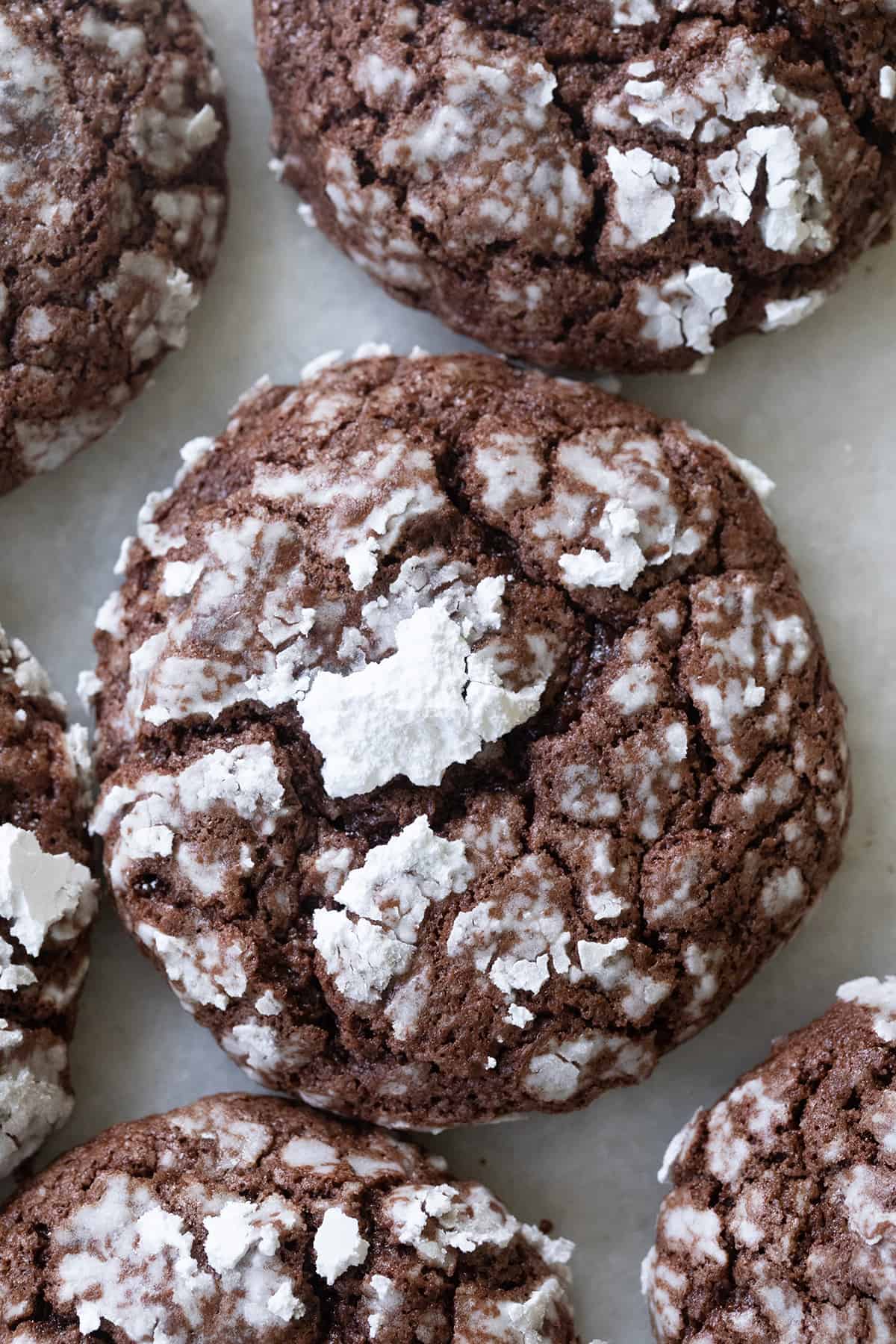 Chocolate Crinkle Cookies
Chocolate Crinkle Cookies are one of the most delightful, chocolate treats! They have the crinkle on top when baked and stay super chocolatey inside!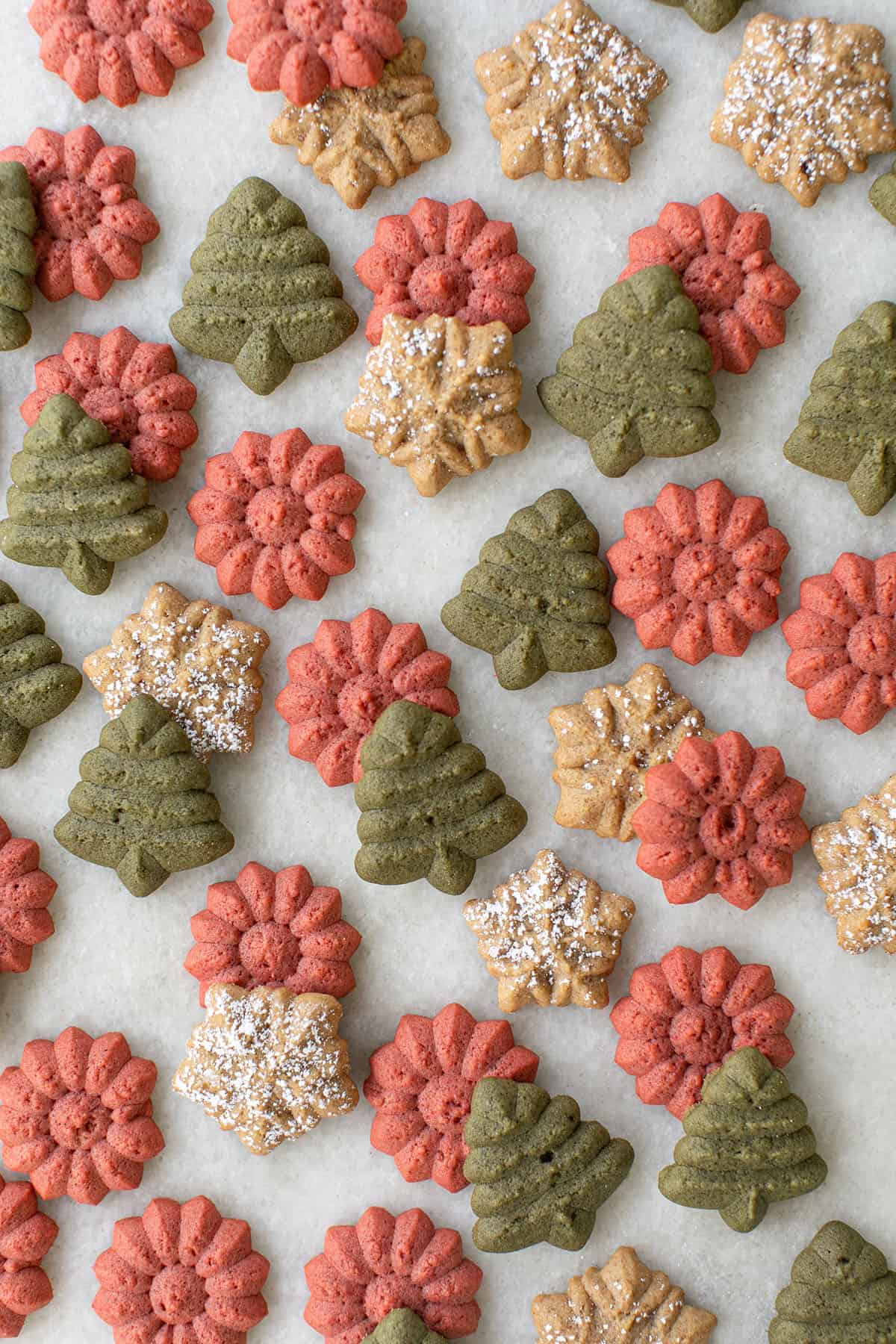 Spritz Cookies
Gingerbread Spice Spritz Cookies are a classic buttery, spritz cookie recipe with gingerbread flavor and spice. They're totally addicting and once you taste 1, you'll eat 15! Make them without the gingerbread spice and molasses if you want a standard spritz cookie. You can also use different types of extracts to give them the ultimate flavor. See our recipe below.
Baking Tips for Making These Cookie Recipes
Quality of Ingredients – Use good quality ingredients when baking. This means organic eggs, whole butter, pure vanilla. etc. It changes the outcome of the cookie and makes them even better.
Oven Temperature – True oven temperature varies which can be caused by indoor temperature, sea level, the type of oven, and more. It's important to note that baking times vary because of this. Set the timer for a few minutes less than the recommended time, then check and add more time as you go. Sometimes it can be as much as 5 minutes more a recipe will need.
Room Temperature – Most ingredients should be room temperature. The most important ingredient that must be room temperature is the butter. Place it in a bowl and microwave for 10 seconds to soften.
Spoon Flour – When measuring flour, use a spoon and lightly add it to the measuring cup. Then level off the back of a butter knife. It should never be packed into a measuring cup.
Gluten-Free Cookie Recipes – Make these recipes gluten-free by using Bob's Red Mill Gluten-Free 1-to-1 Baking Flour.
Frequently Asked Questions
What are the top 3 cookies?
The three most popular homemade cookie recipes are:
Chocolate Chip Cookies
Peanut Butter Cookies
Oatmeal Raisin Cookies
What are the 6 types of cookies?
Cookies by definition are baked desserts that are usually sweet, small, and flat. However, modern cookies can come in all different shapes and sizes. In most English-speaking languages, cookies are actually called biscuits, except for the United States. Here are the 6 types of cookies you can make:
Drop Cookies – Made from a soft dough that is dropped onto a cookie sheet.
Pressed Cookies – Made using a cookie press and baked on a cookie sheet.
Cutout Cookies – Made from stiff, chilled dough that is rolled out and then cut into shapes using cookie cutters.
Sliced Cookies – Also known as refrigerated cookies are made with chilled dough and sliced before baking.
Molded Cookies – Molded by hand, usually into a ball-shaped and rolled into nuts or sugar.
Bar Cookies – Baked in a baking dish and cut into bars. Similar to these shortbread cookie bars.
More Cookie Recipes You'll Love
In addition to all of the recipes above, if you're a cookie connoisseur like us, try these cookie recipes too:
Shortbread Cookie with Edible Flowers
If you make any of these cookies, leave a comment telling us which ones you like best. Furthermore, leave a review for our best cookie recipes below.
FOLLOW US on FACEBOOK, INSTAGRAM, and PINTEREST to see more delicious recipes, cocktails, desserts, and parties!
Best Cookie Recipes – Spritz Cookies
These is the best spritz cookie recipe! These are one of our most popular cookie recipes and perfect for all occasions.
Print
Pin
Rate
Ingredients
2

cups

all-purpose flour

1

cup

unsalted butter

1/2

cup

brown sugar

1

large

egg

1 1/2

tsp

vanilla extract

1/2

tsp

salt
Instructions
In a mixing bowl, beat butter and sugar until light and fluffy.

Add in the egg, vanilla extract and continue to beat on high.

Scrape the bottom and sides of the bowl.

With the mixer on low add in the flour and salt.

If you're making different colors, divide the dough and place it in different bowls. 

Add a few drops of coloring to each bowl and stir with a spoon until combined. 

Next, add the dough into the cookie press and follow the directions listed on the cookie press directions.

Line a cookie sheet with parchment paper and then press the cookies on the lined baking sheet 2″ apart.

Bake in a 375-degree oven for 6 minutes.

Let them cool and then devour!
Notes
Make these cookies into different colors by using gel food coloring. 
Replace vanilla extract with a different flavor like almond to give them a different flavor. 
Refrigerate the dough if it's too soft, so it will easily come out of the cookie press. 
Nutrition
Calories:
127
kcal
|
Carbohydrates:
12
g
|
Protein:
1
g
|
Fat:
8
g
|
Saturated Fat:
5
g
|
Polyunsaturated Fat:
1
g
|
Monounsaturated Fat:
2
g
|
Trans Fat:
1
g
|
Cholesterol:
28
mg
|
Sodium:
54
mg
|
Potassium:
23
mg
|
Fiber:
1
g
|
Sugar:
5
g
|
Vitamin A:
248
IU
|
Calcium:
9
mg
|
Iron:
1
mg