Everything you need to know for hosting a beautiful tea party. We're sharing tea party ideas for a classic, tea party that can be for a bridal shower, birthday party, or any special occasion!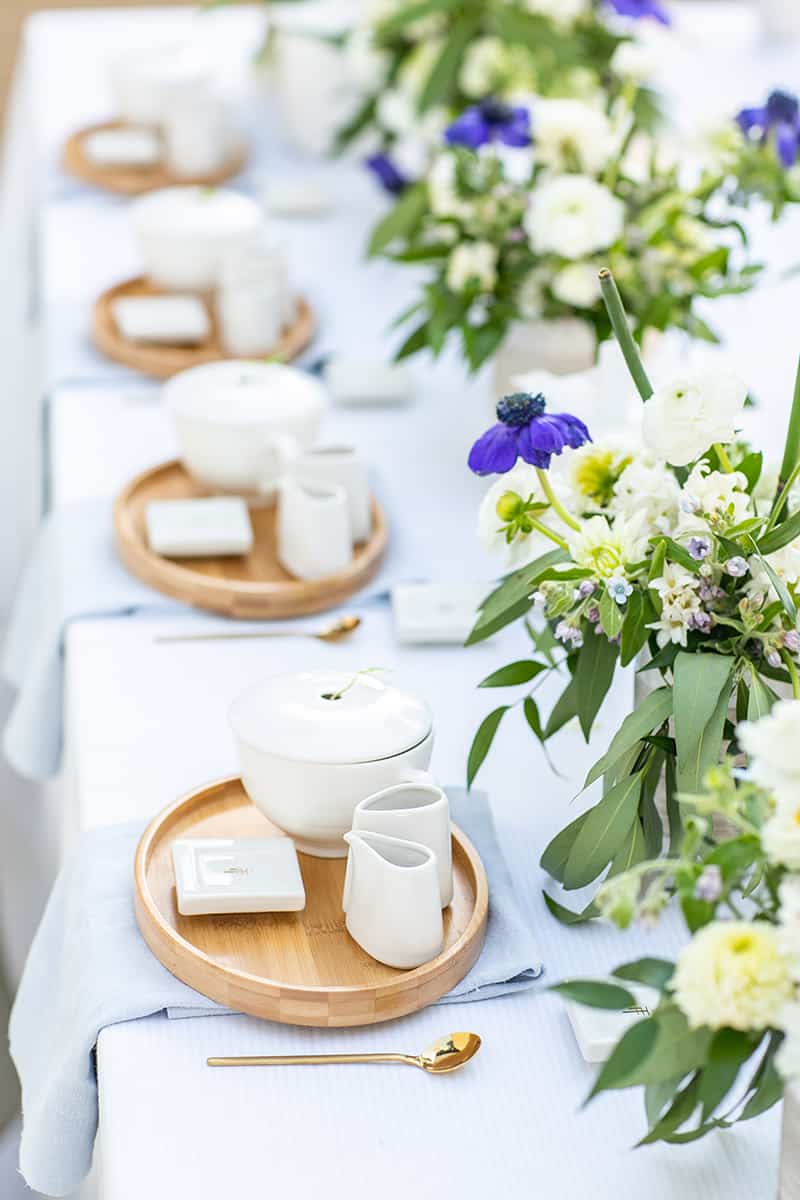 Afternoon tea is one of my favorite activities. We've enjoyed tea around the world from Sketch London to tea at the Signet Library in Edinburgh to Tea at the Empress in Victoria BC. There is something special about little tea sandwiches, scones and a cup of tea that warm my heart.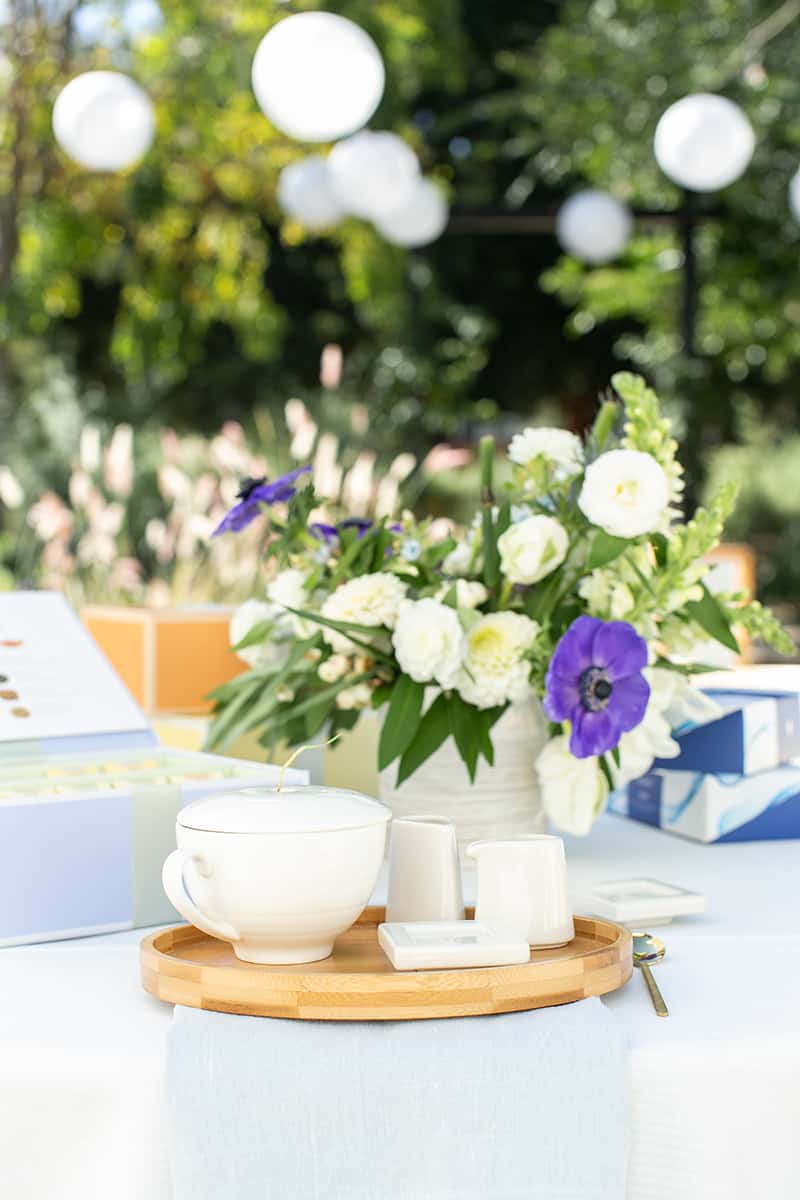 I was ecstatic to host a tea party bridal shower in my own backyard! We designed and planned a modern tea party and it was such a wonderful bridal shower!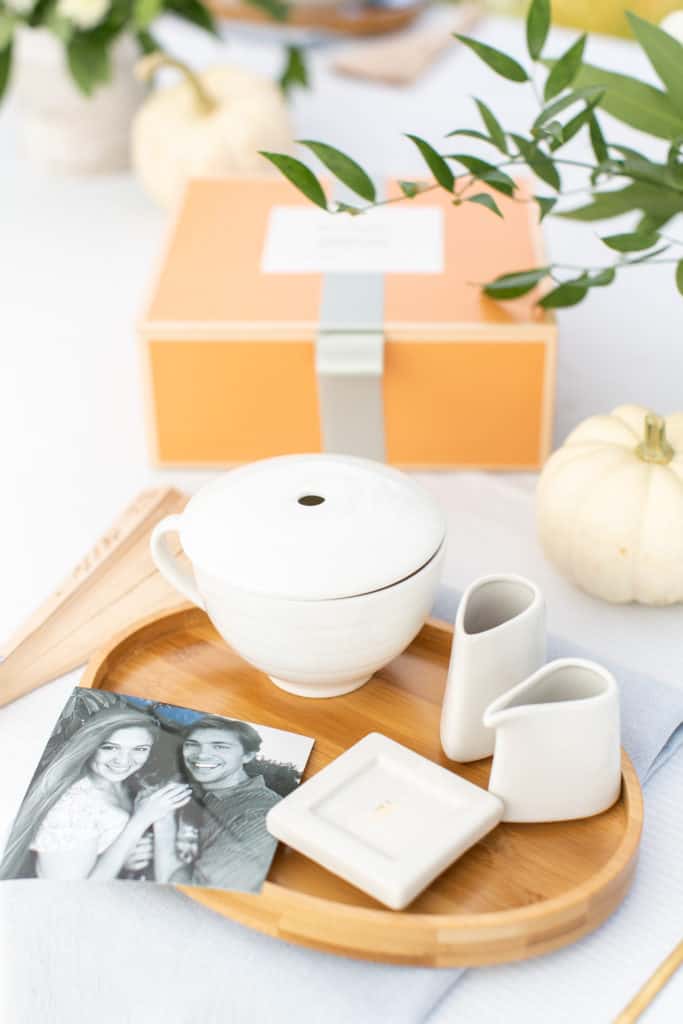 How to Plan a Tea Party Bridal Shower
Pick a Bridal Shower Theme
For this bridal shower we chose to host a tea party. Since the party took place in October we added fall elements with a modern twist. I wanted something different than the mismatched tea cups and instead found inspiration from my favorite tea brand Tea Forté.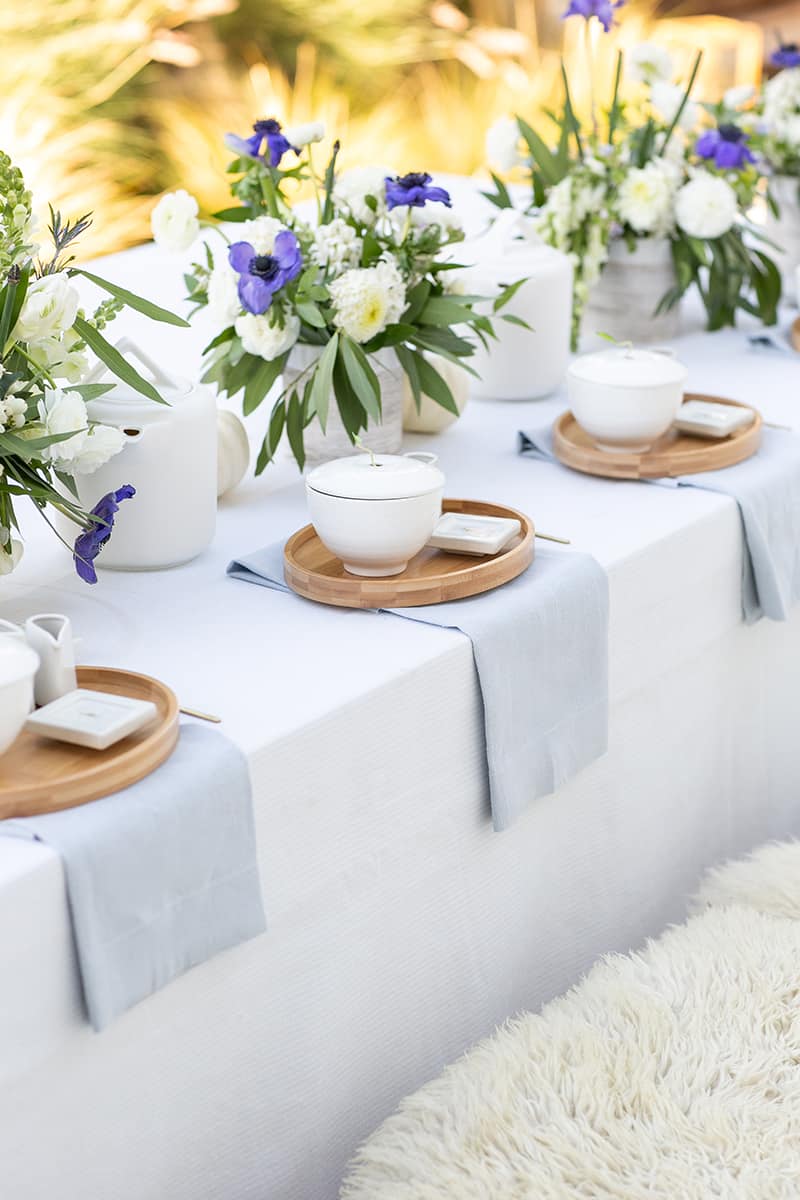 Tea Party Invitations
Sending an invitation via email is perfectly acceptable for a tea party. Online sites like Paperless Post, Evite or Tiny Prints are perfect for picking out an invitation and managing the guest list.
Furthermore, an invitation can inspire a color scheme for the event or the design of the event. Below is a picture of the one we used for our tea party. It also inspired the color blue throughout the party.
Tea Party Decorations
For our tea party bridal shower, I ordered everything from Tea Forté. I fell in love with the way they make drinking tea an experience.
For each place setting we used the tea sets. It was the perfect way to set a table for a tea party. Also, by far the best experience for drinking tea and perfect for guests to enjoy. Here's what we ordered: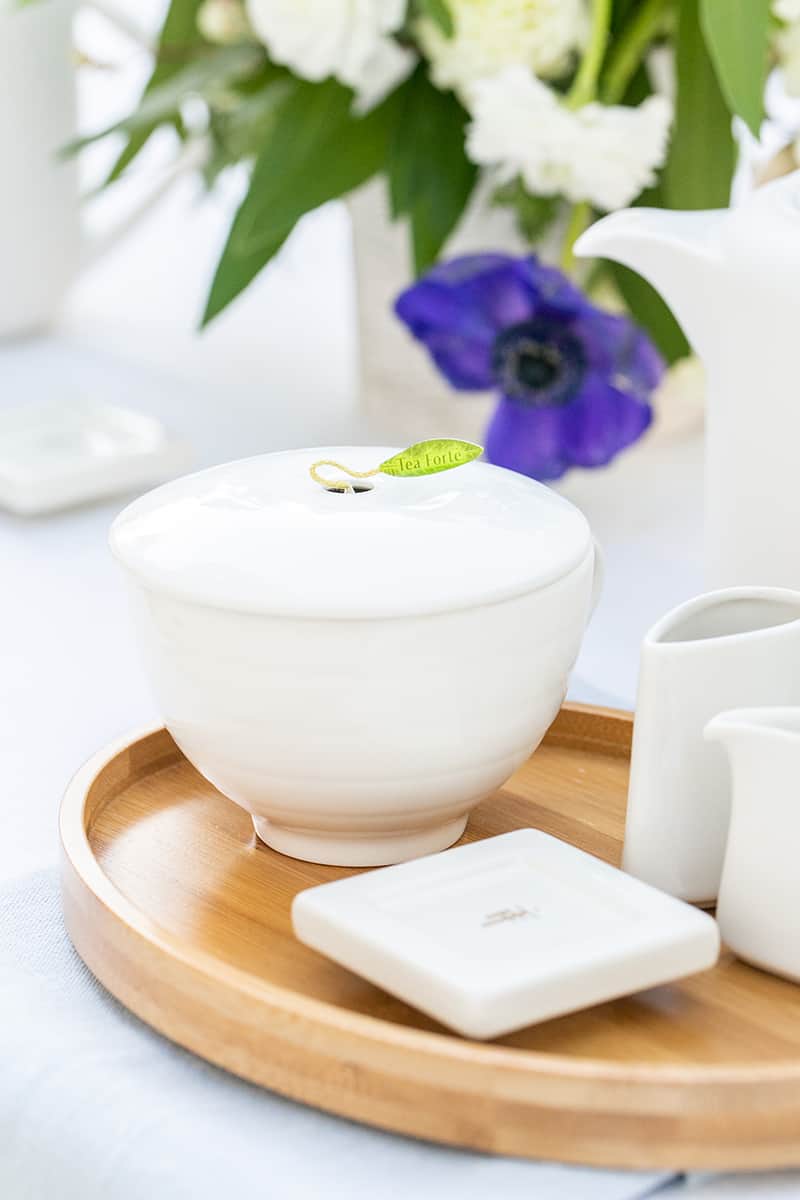 Tea Forté
More Tea Party Supplies
An electric tea kettle is crucial for a tea party. We suggest having someone help inside, constantly making hot water, and serving it in kettles. Here are some of our favorite electric tea kettles:
COSORI Electric Kettle with Upgraded Stainless Steel Filter and Inner Lid
Fellow Stagg EKG Electric Gooseneck Kettle
Pohl Schmitt 1.7L Electric Kettle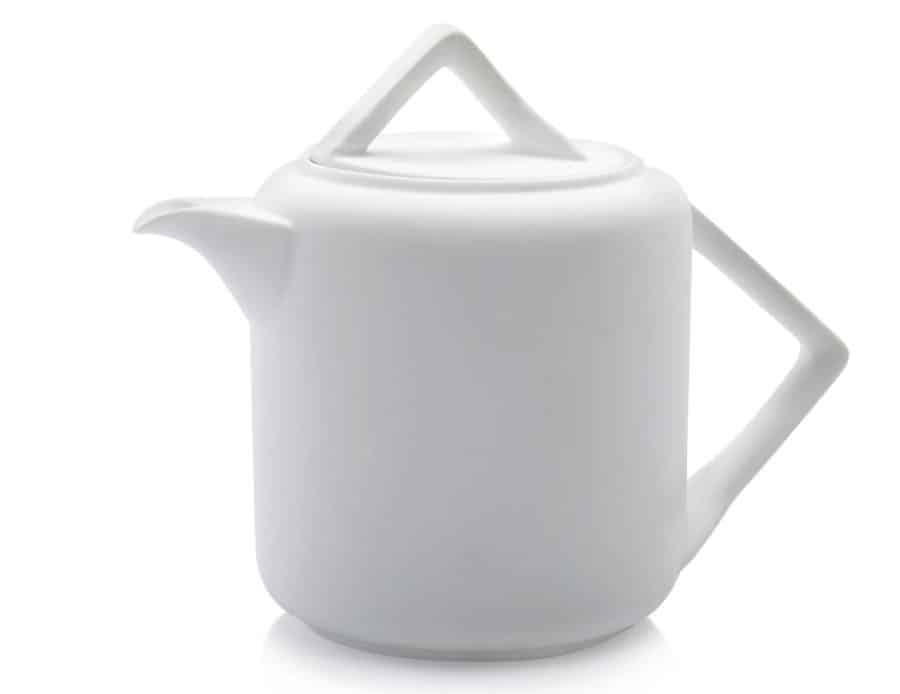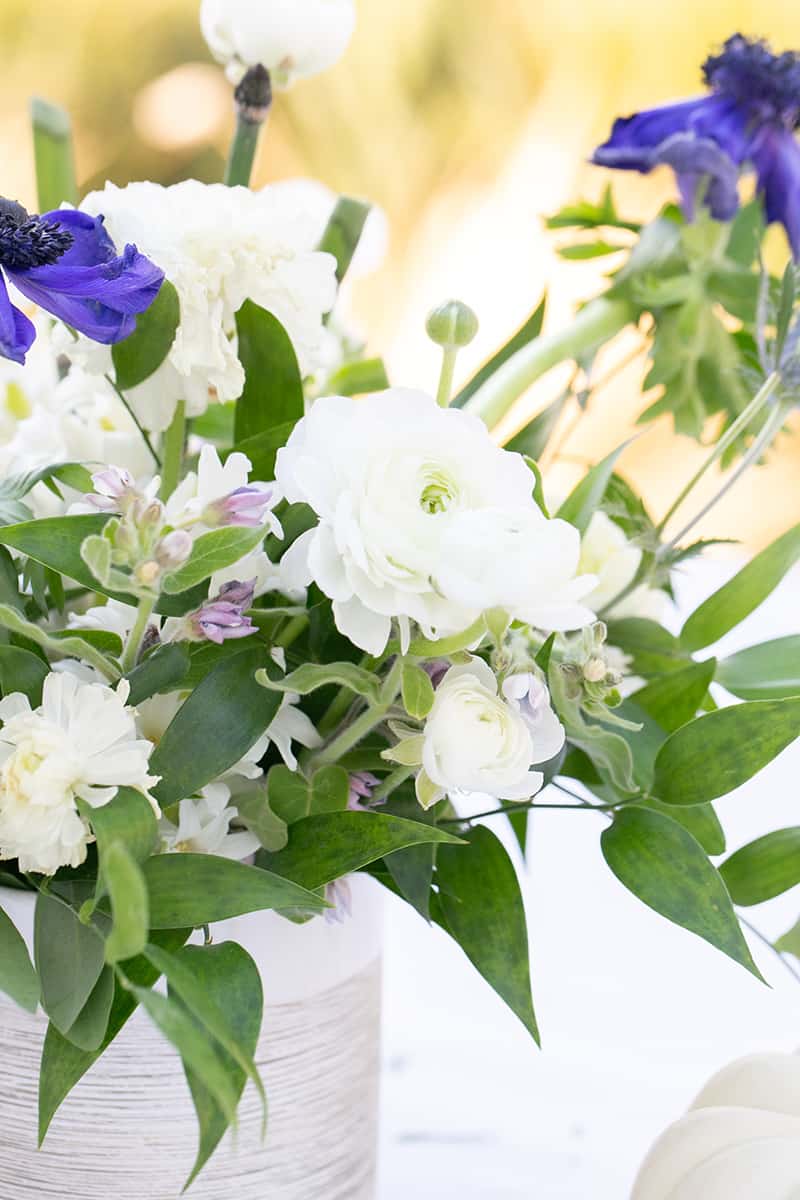 Flowers
Flowers are the perfect decor for a tea party. Have a local florist create arrangements within the color theme you've chosen. We also used eucalyptus (looks beautiful by itself) and pumpkins for fall.
Garland
Heart Shaped Confetti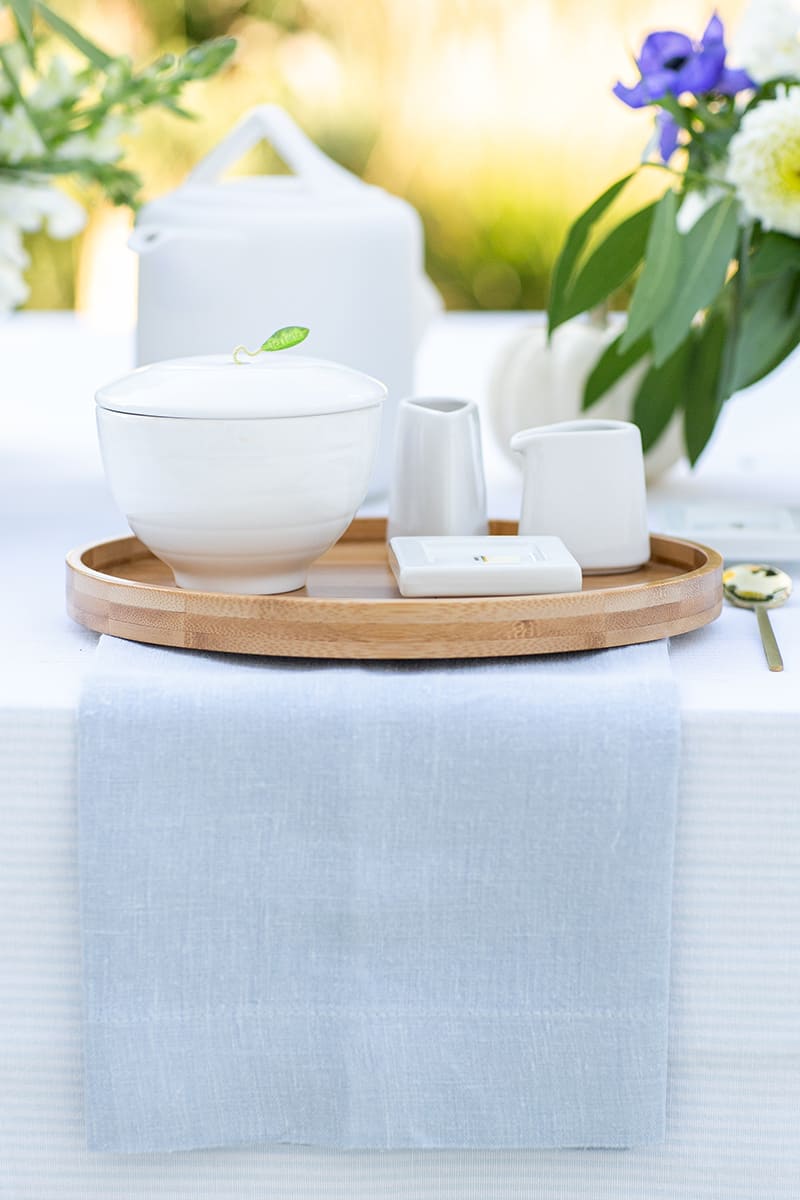 Linens
Linens are a very important part of hosting a tea party. Purchase or rent linens that fall to the floor to create a modern, elegant look.
Linen napkins should be placed at each setting.
Rent linens from La Tavola and they will deliver them to your door and schedule a pick-up for the linens. They are not cheap, but they do make such a beautiful presentation.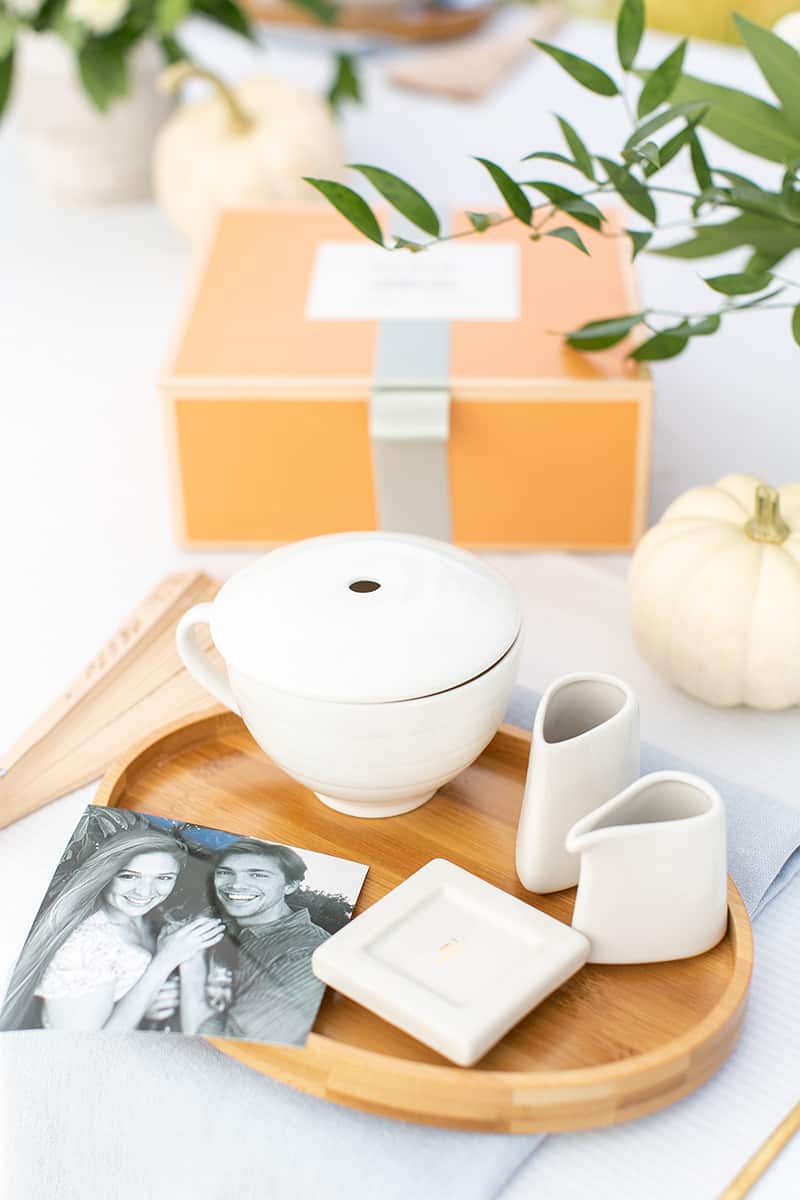 Personal Photos
Print personal photos of the bride and groom together to place at each setting. This is a great conversation starter and you can make a game out of it too. Have each guest try to guess where the picture was taken!
For this tea party, we printed the photos in black and white and made them all 4×4. We made and printed them at Walgreens.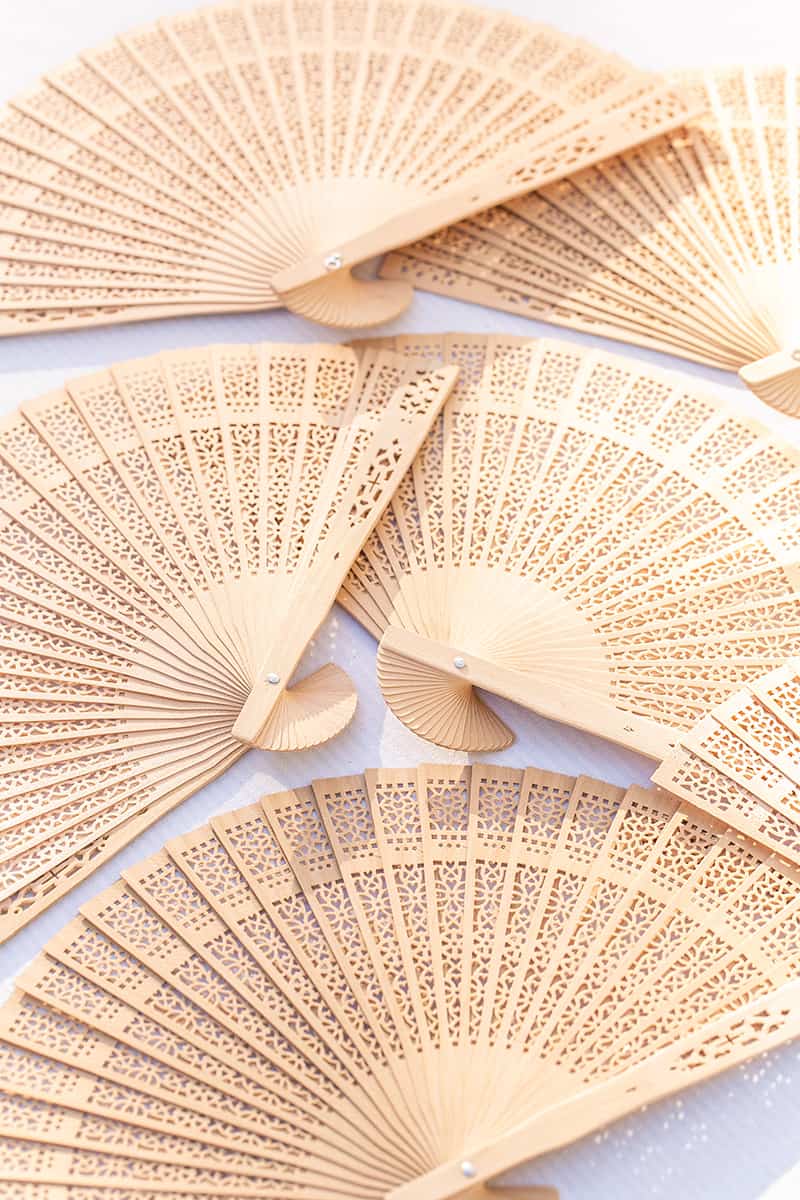 Party Fans
Personalized Cocktail Napkins
It's a nice touch to have personalized items at a bridal shower. Order cocktail napkins with the bride and groom's name or initials. Add a little graphic like a teacup or champagne flutes.
Order the napkins in the color scheme of the party.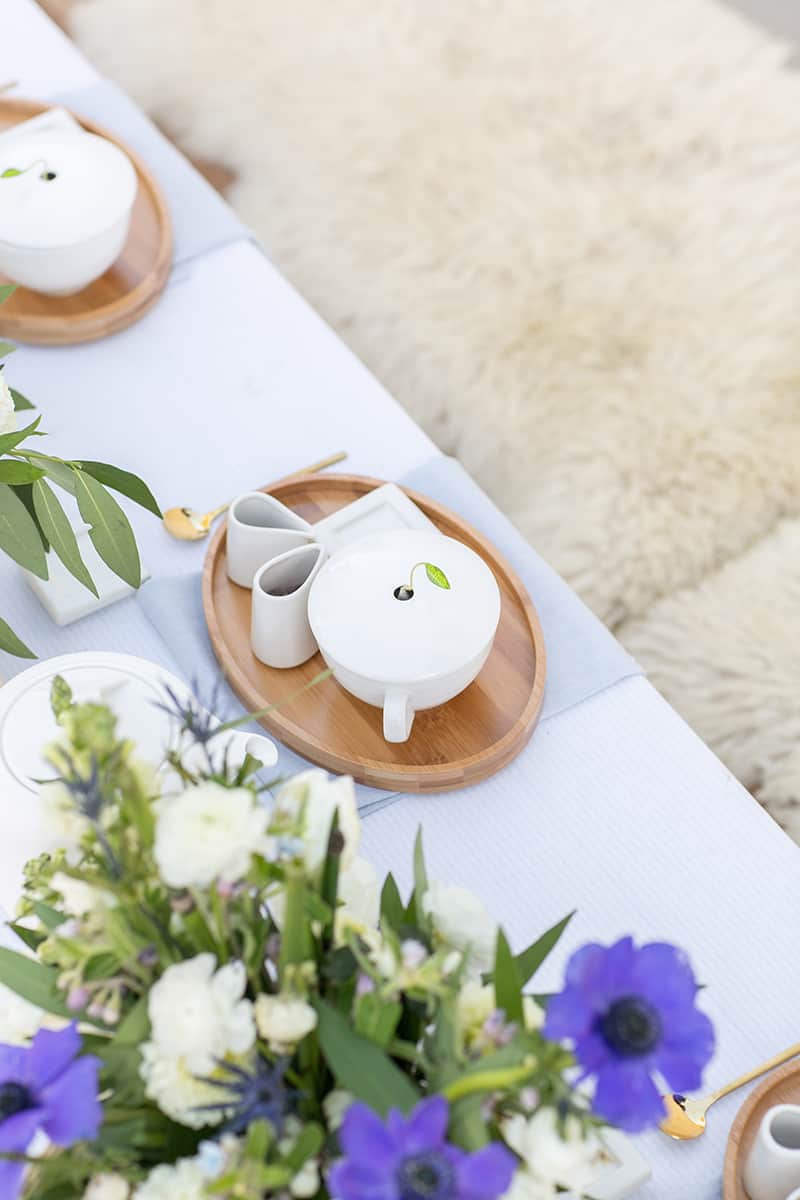 Faux Sheepskin Throws
Small Spoons
Place a small spoon near the tea set. We used these gold ones that were perfect and affordable.
Cake Stands and Serving Tiers
Fill a dining table or kitchen bar with cake stands, platters and tiered stands to fill with food.
Use wooden boxes to give the table height.
Tea Party Food
A tea party menu is fun to plan! Create a menu that is achievable. Don't feel like you need to make everything you're serving. Have a good mix of food items that are made and purchased.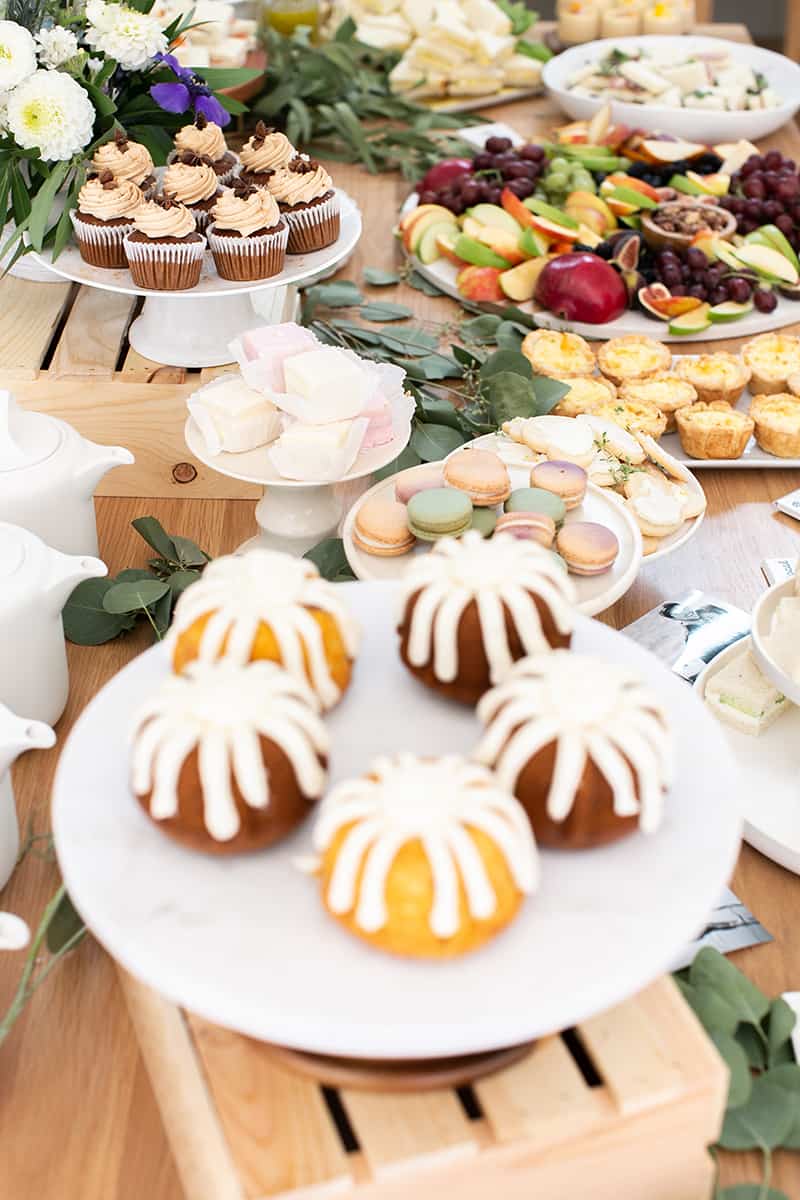 The best part about tea party food is that everything is small and served individually, making it a little easier.
To serve the food, we used bamboo plates and utensils. They make for easy cleanup!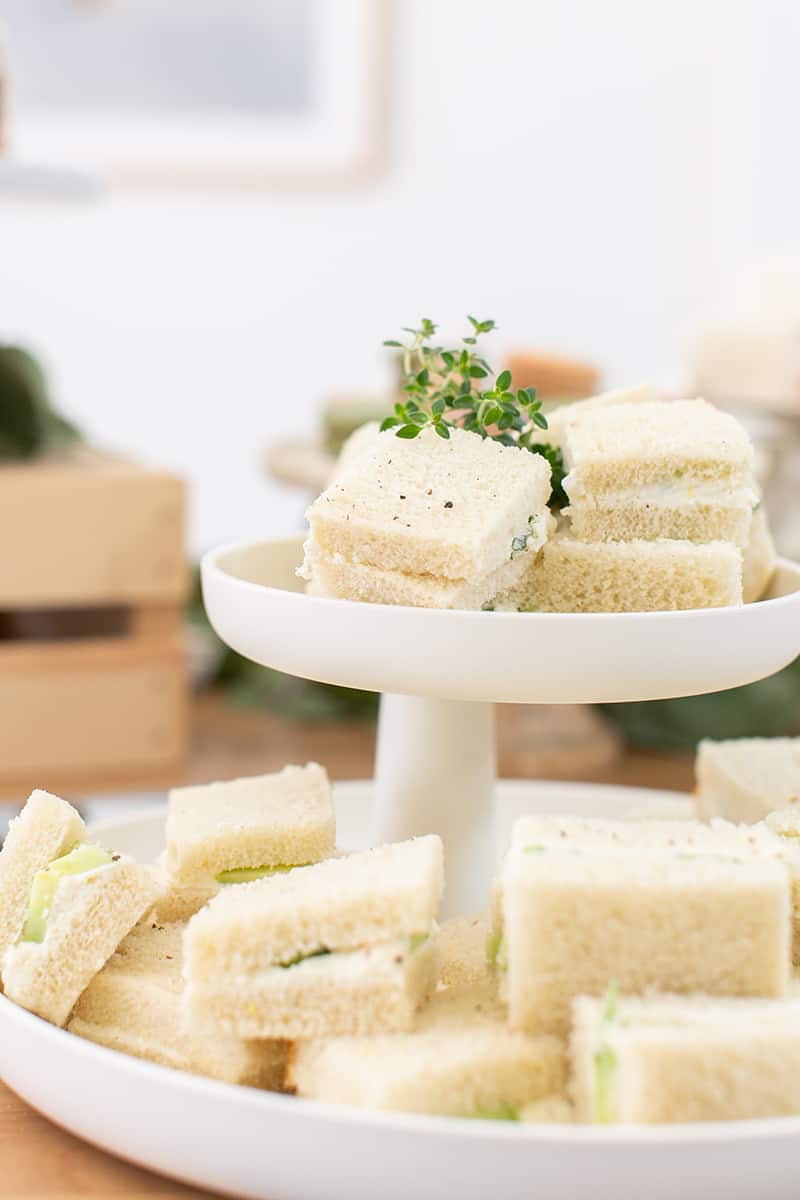 Tea Party Sandwiches
Here are a some ideas for sandwiches and what we served. These were made 45-30 minutes before the shower so they were nice and fresh.
Curried Deviled Egg Sandwiches
Cucumber and Whipped Ricotta with Salt and Pepper
Smoked Salmon and Cream Cheese with Capers
Tea Party Food Ideas
We also served the below food options all in individual servings.
Blue Cheese, Fig, Pear, Walnut Salad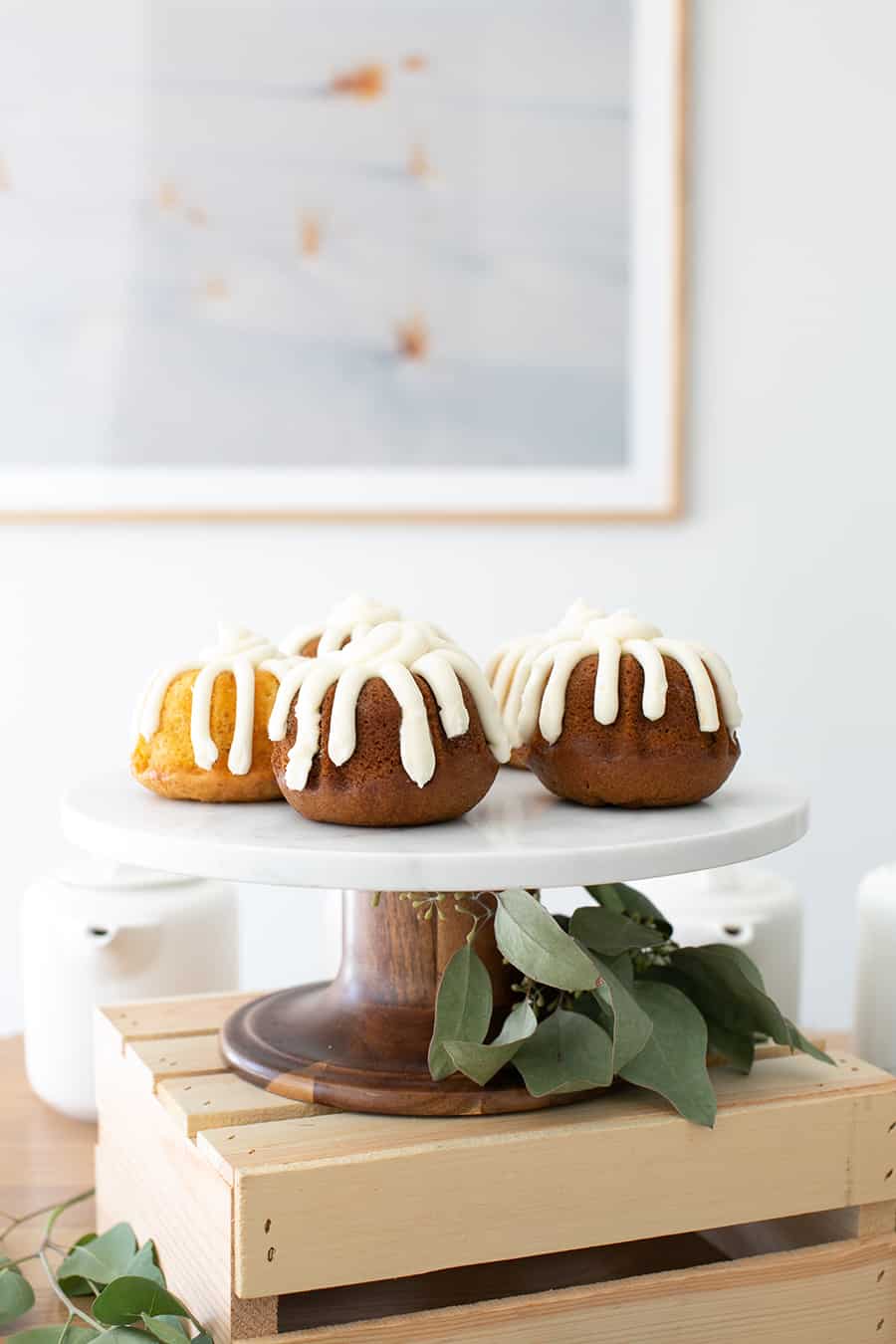 Tea Party Desserts
Mini Bundt Cakes
Earl Grey Macaron Cookies
Mini Chocolate Pumpkins
Tea Cakes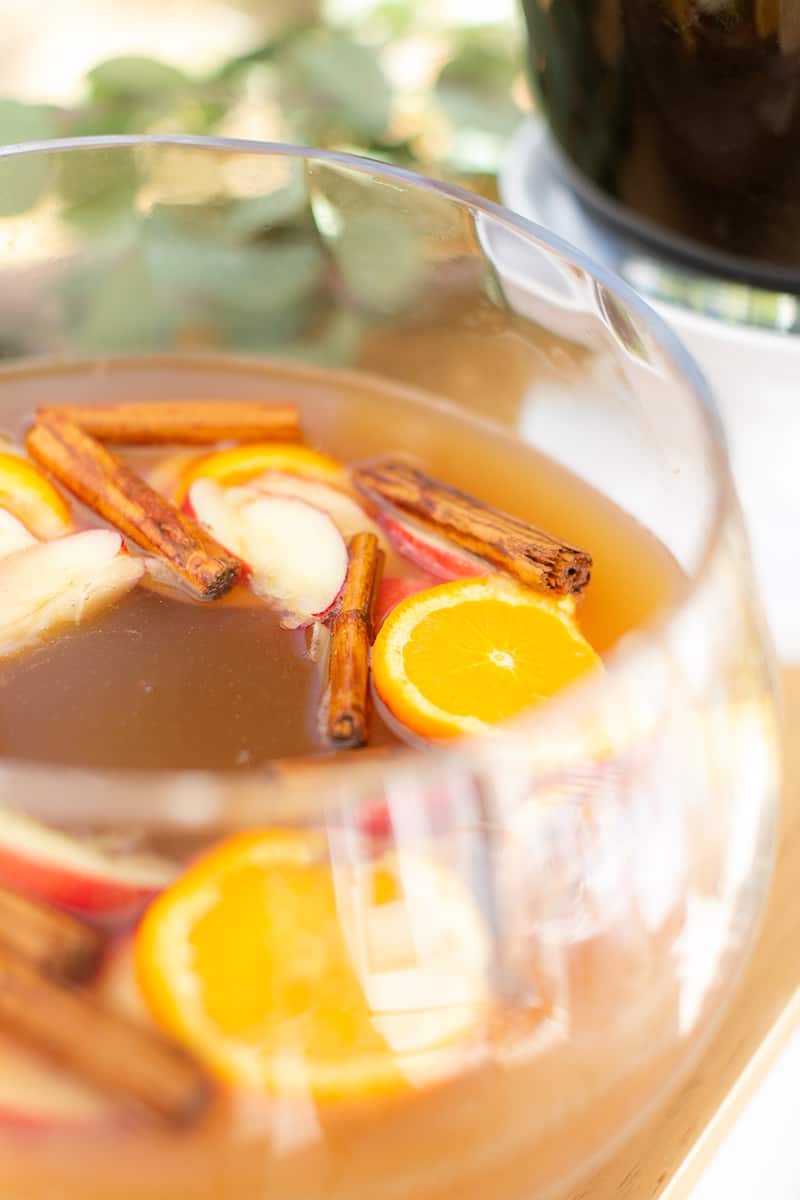 Tea Party Drinks
In addition to hot tea, give guests more options. We served a spiked tea punch and Champagne. The champagne was the perfect cocktail to serve when guests arrived!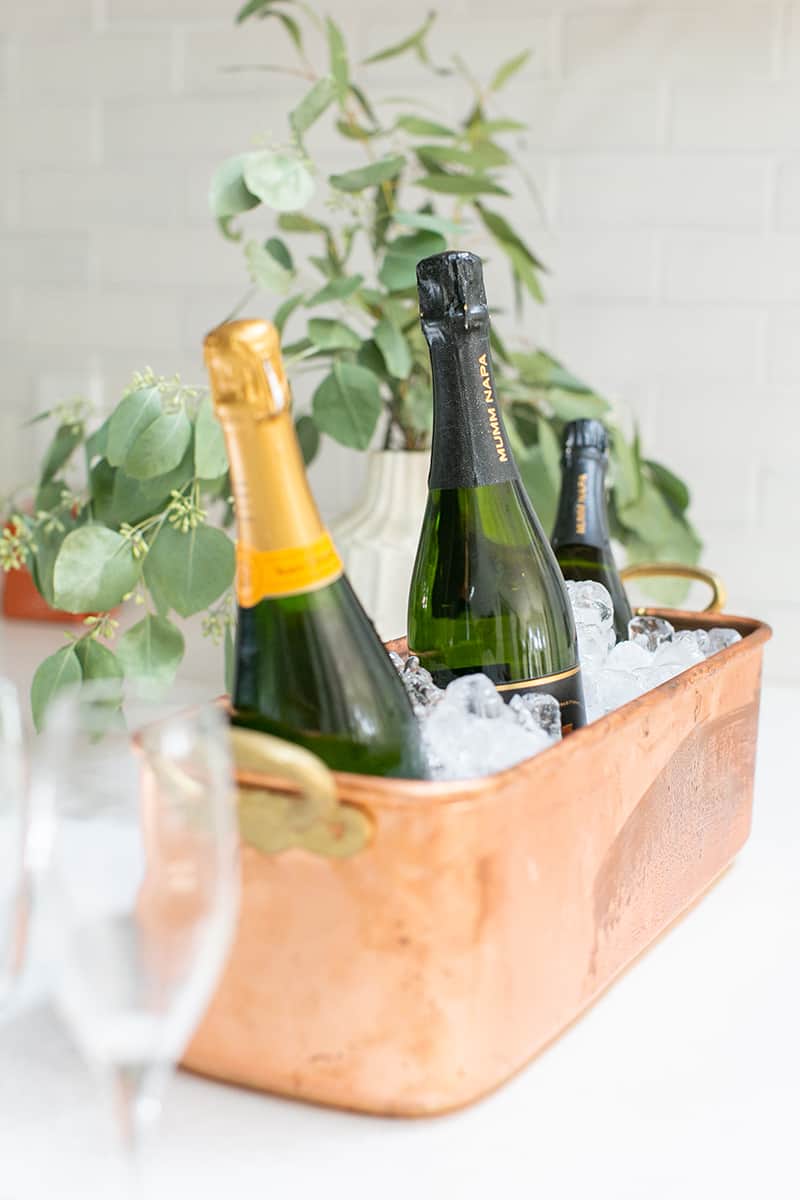 Spiked Apple Cider Tea Punch
Champagne
Iced Tea
Water (always when serving alcohol)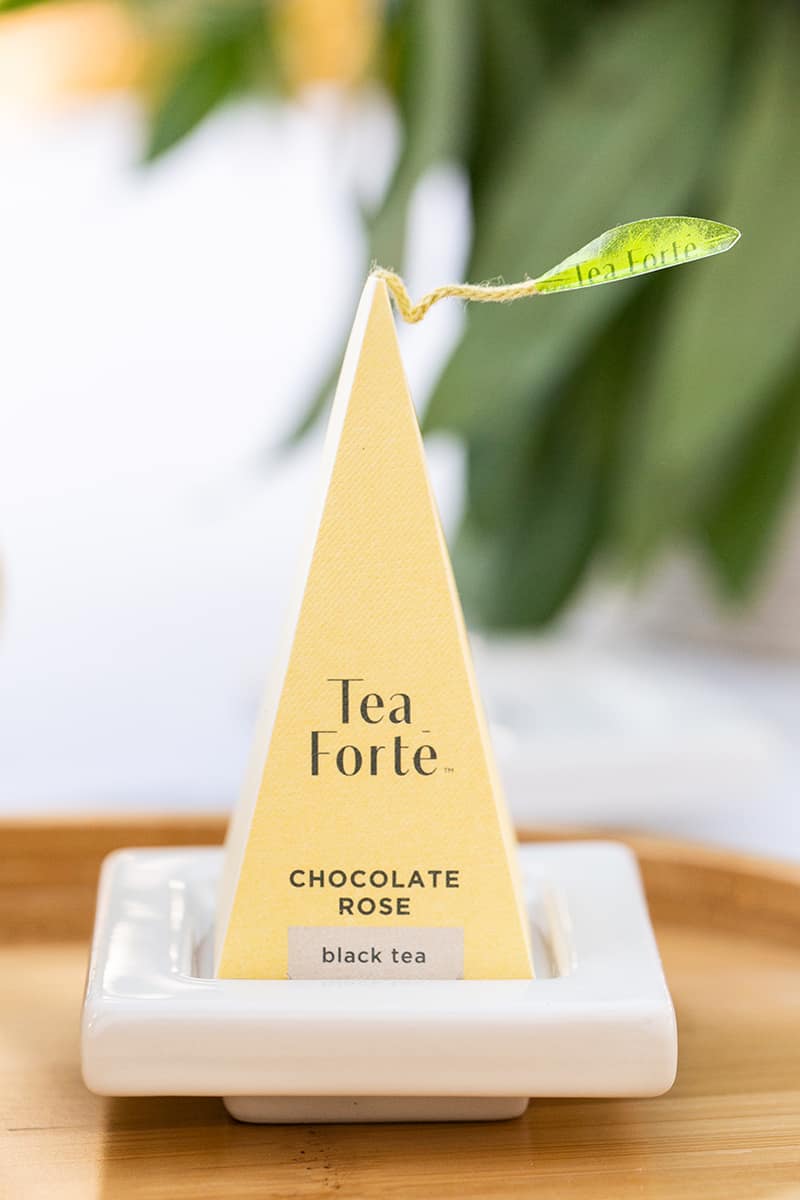 Tea Party Food Tips
Prep and make anything that can be made the day before. We made the filling for the quiche and the pie crust the day before and stored both in the refrigerator.
Scones, cookies, pumpkin panna cotta were all made the day before. This helps tremendously when preparing the day of the party. We even boiled the eggs the day before for the egg sandwiches.
Sandwiches should assemble an hour before and one of the last things you do to keep them fresh. They're easy to make but should not be made ahead.
Fruit salad should also be made about an hour before for freshness. Squeeze lemon over apples and pears so they don't brown.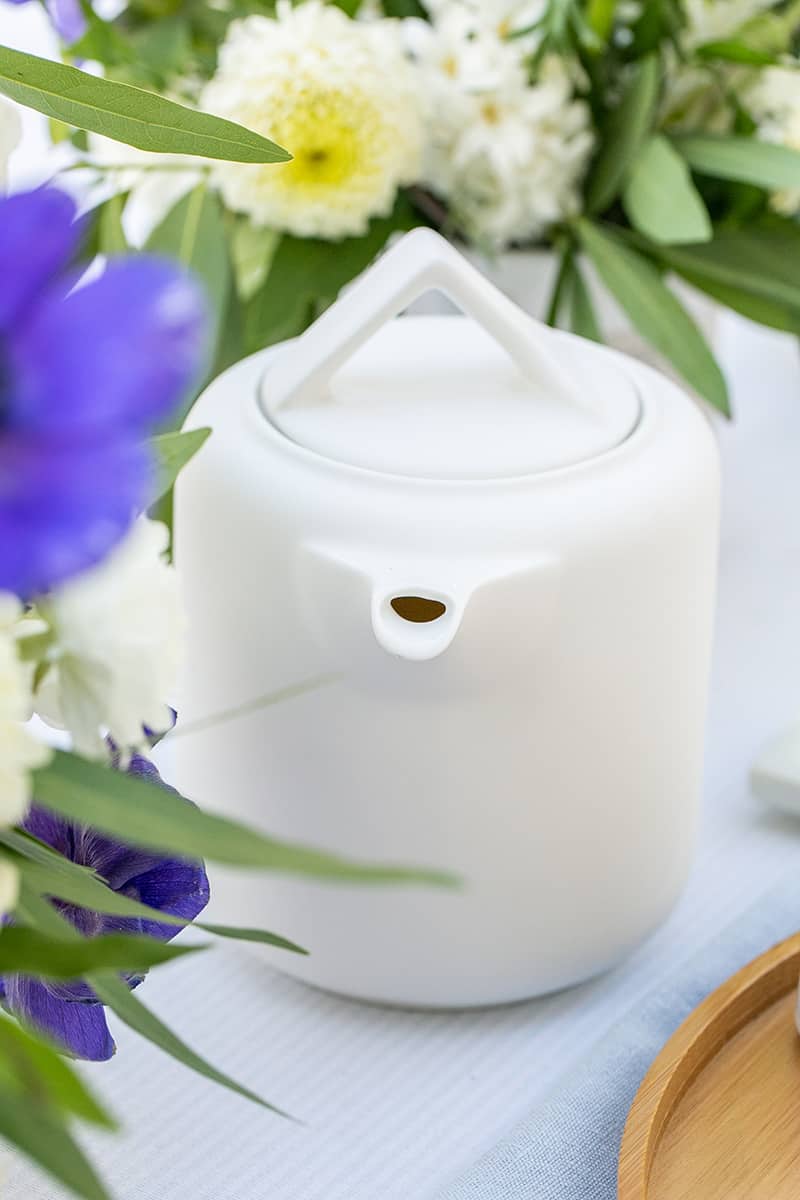 Brewing Tea Tips
Before guests arrive, you'll want to fill each tea kettle with hot water. This is a great task to give to someone helping you prep before the party. Hot water duty!
Here are the temperatures you'll want the water to be when brewing tea.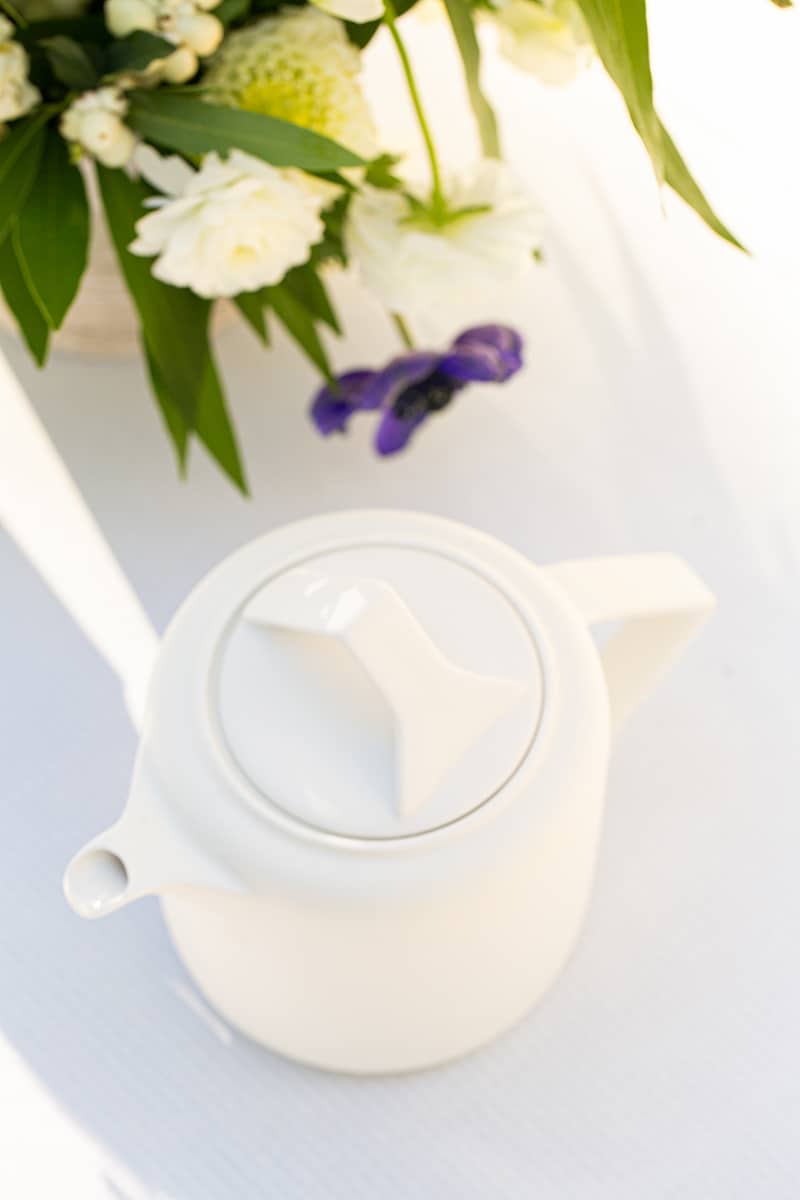 To make it easy, we used this electric glass teapot that boils water within a few minutes! We were able to fill all 5 ceramic teapots with hot water in about 15 minutes. I can't recommend this item enough.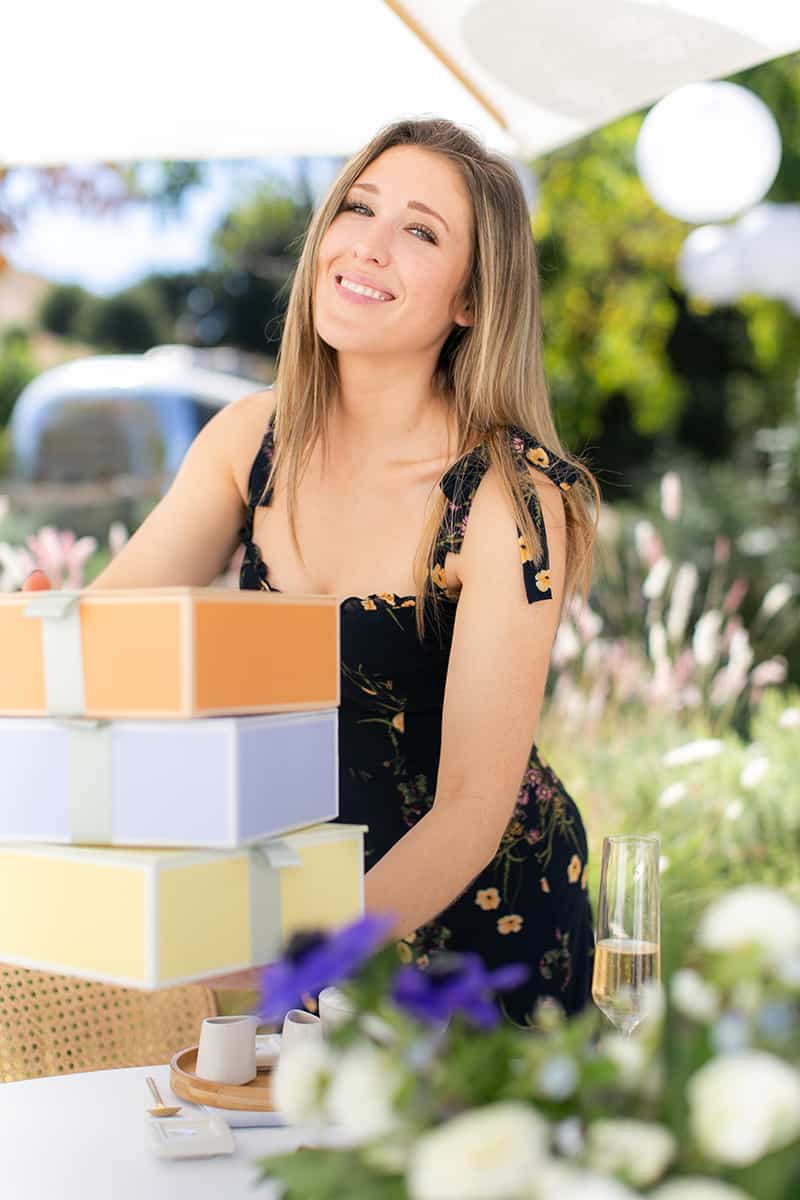 Have boxes of Tea Forté on each table so guests can choose their flavor. This is the fun part!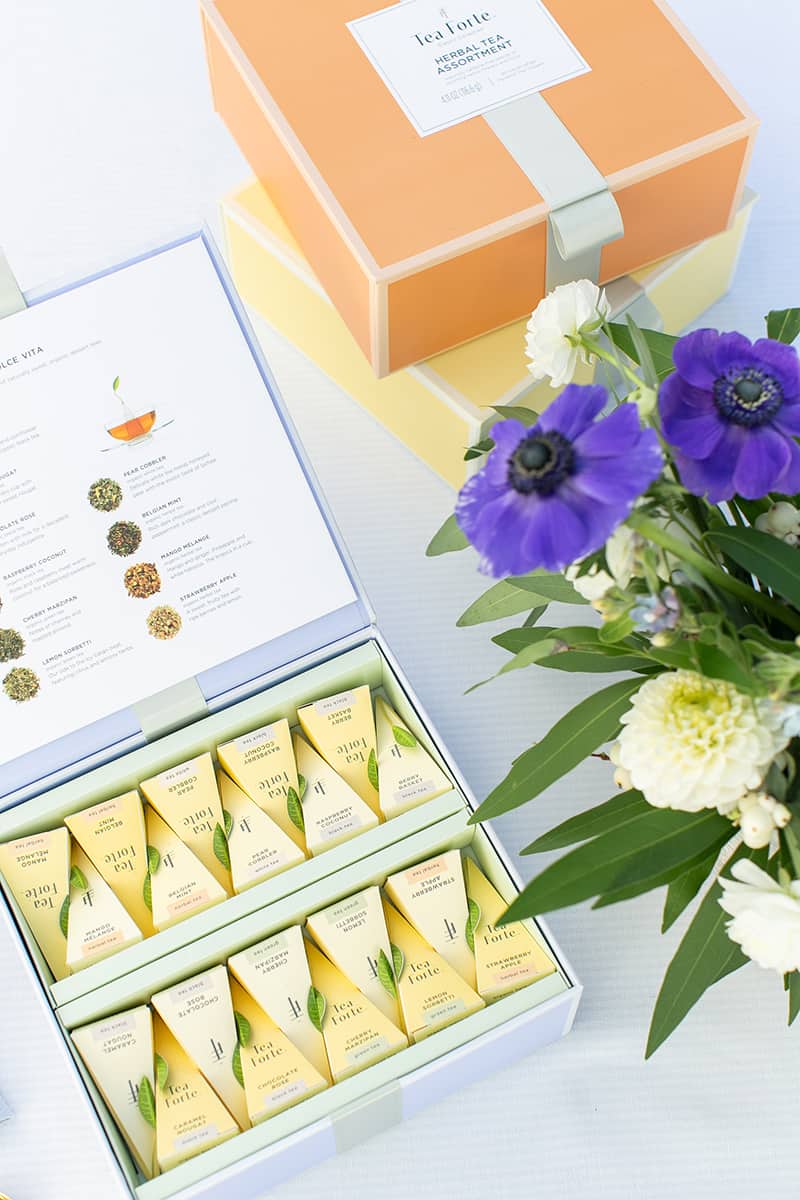 Make sure to refill the teapots throughout the party.
Also have cream, sugar and honey on the side to sweeten the tea.
Also, read The Ultimate Guide to Tea Preparation from Tea Forté. It provides wonderful resources like varieties and temperatures of tea.
Tea Party Favors
We gave each guest their own box of Tea Forté to take home! It was the best favor we could give! Here are some ideas for tea party favors:
Bridal Shower Games
Bridal shower games and activities are great conversation starters and add a lot of fun to the party. Here's a list of our favorite games and a free Guess Who Said It printable to use at your party.
Where Are They? – Use pictures of the bride and groom and have guests guess where it was taken.
Guess Who Said It – A game where guests fill out a card with questions and write down who they think would have said it.
Date Night Jar – Guest fill out their most memorable date on a card and put it in the jar.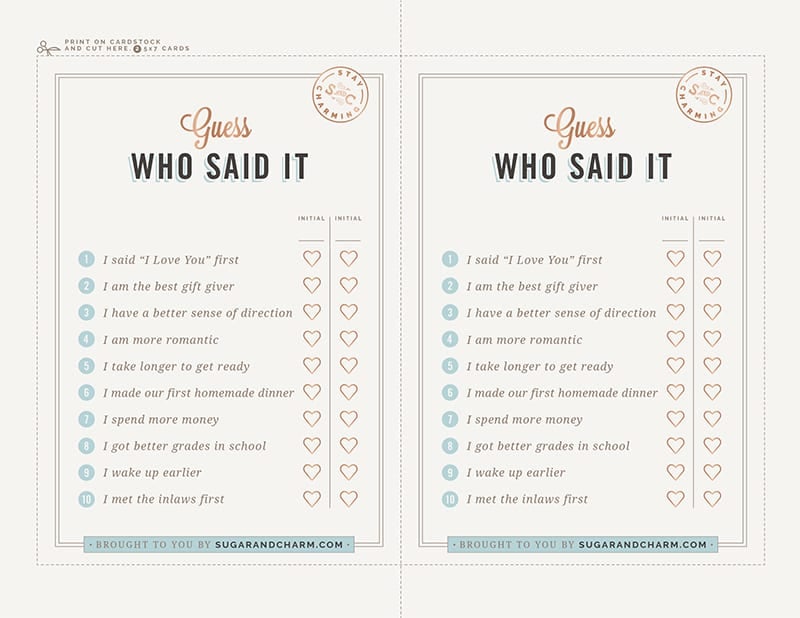 Check out more bridal shower games here!
Bridal Shower Hostess Gifts
As a host, I never expect anything from guests, but when they do bring a little something it makes me smile! Here are some great bridal shower hostess gift ideas: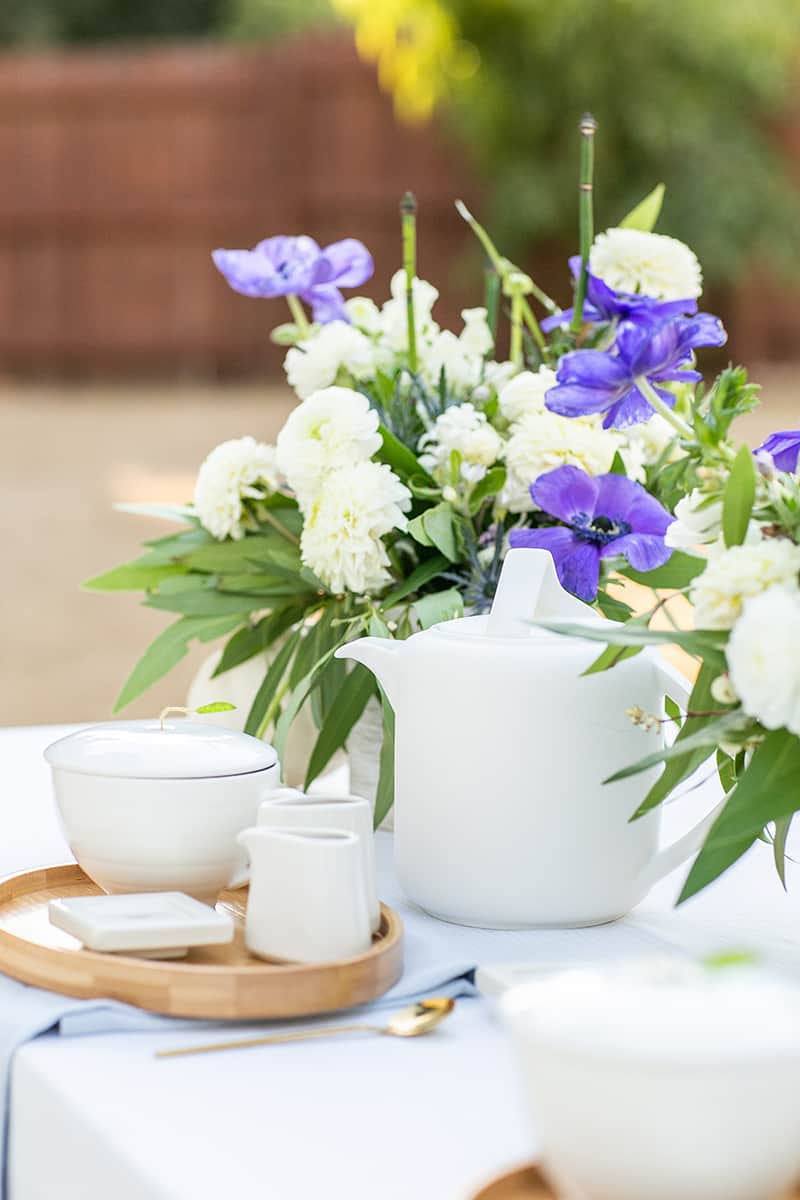 Frequently Asked Bridal Shower Questions
Who throws a bridal shower for the bride?
Anyone close to the bride or even the groom can host a bridal shower. This can be a mother, soon to be mother-in-law, sister, cousin, aunts, groups of friends.
What are some ideas for a bridal shower?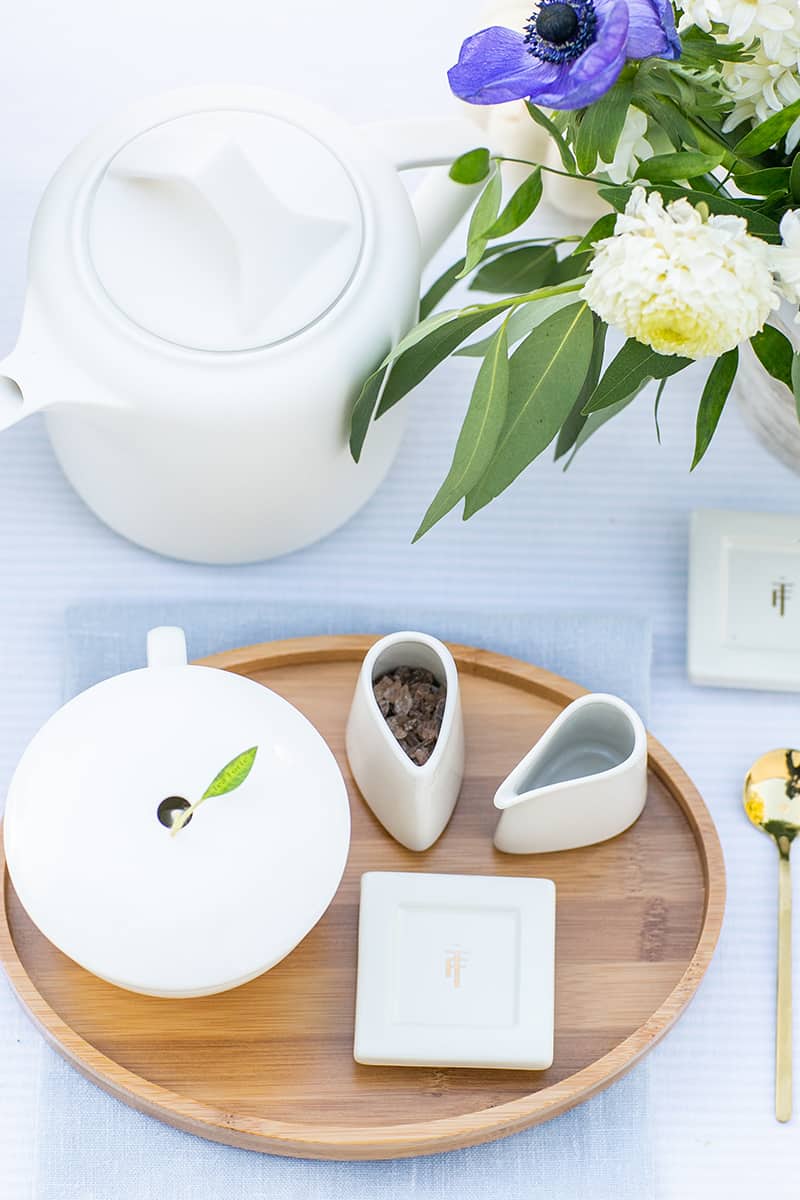 Who should pay for the bridal shower?
Whoever is hosting the party will be the one to pay for it. If it's a few people, you can split the cost of the shower. Usually this is a maid of honor, family member or special friend.
When should the bridal shower be?
The shower should take place 1 to 3 months from the wedding date. This gives your guests time between the bridal shower and wedding.
What food is served at a bridal shower?
Select a menu based on the season, time and theme of the party. If it's an afternoon tea party, see our menu above. If you're doing wine and cheese party make boards of charcuterie and have a lot of wine. It all depends on your theme.
We suggest a few sides, few mains, salad, fruit and desserts.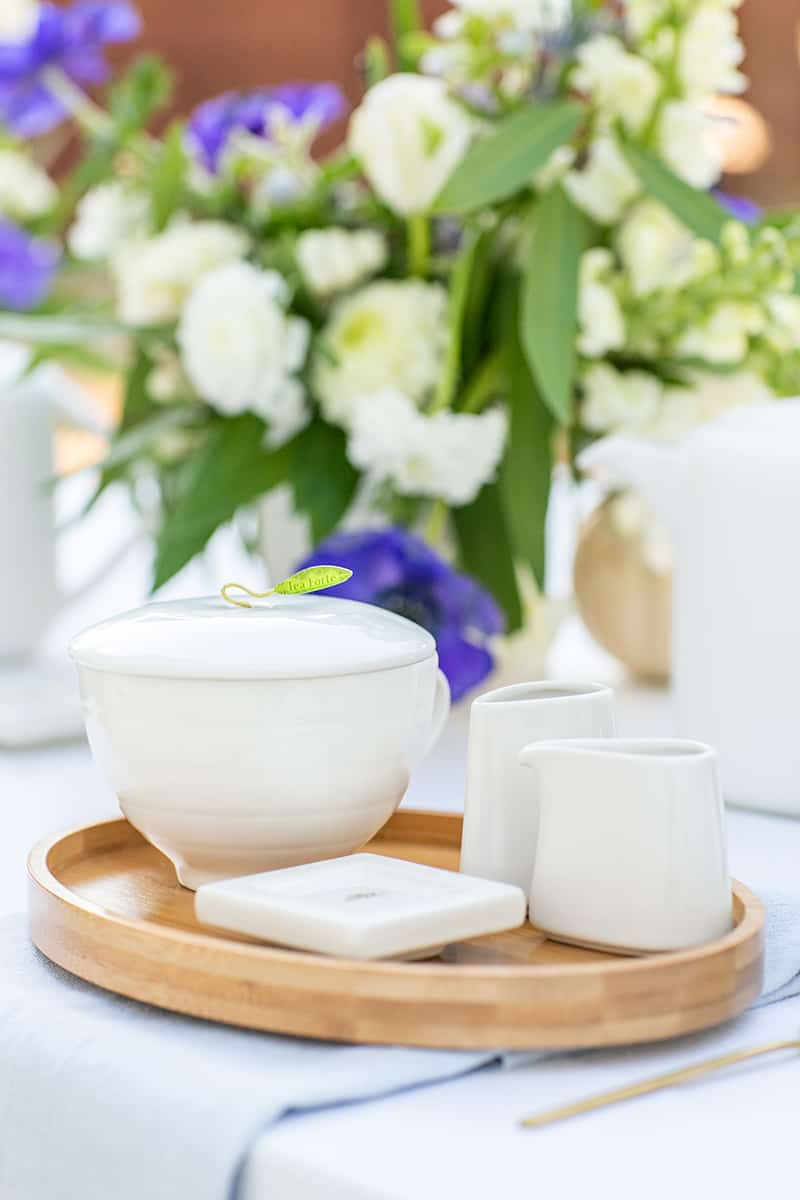 What is etiquette for bridal showers?
Any guests that is invited to the wedding can be invited to the bridal shower. Do not invite guests who are not invited to the wedding.
The guest list for a bridal shower is close friends and family members as well as anyone in the wedding ceremony.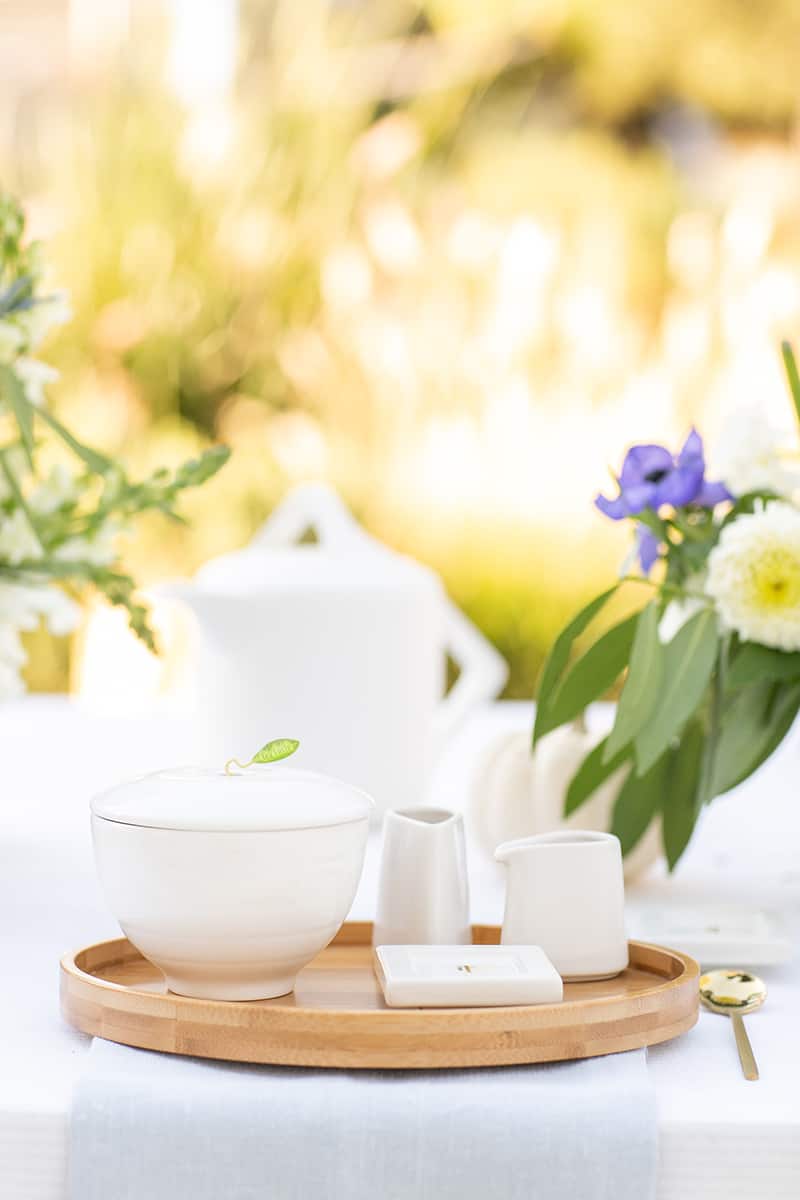 Frequently Asked Tea Party Questions
What do tea parties do?
There are several activities you can do at a tea party! Here are a few of our favorites:
Bridal or baby shower printable games.
Make your own tea blends.
Make your own oil blends.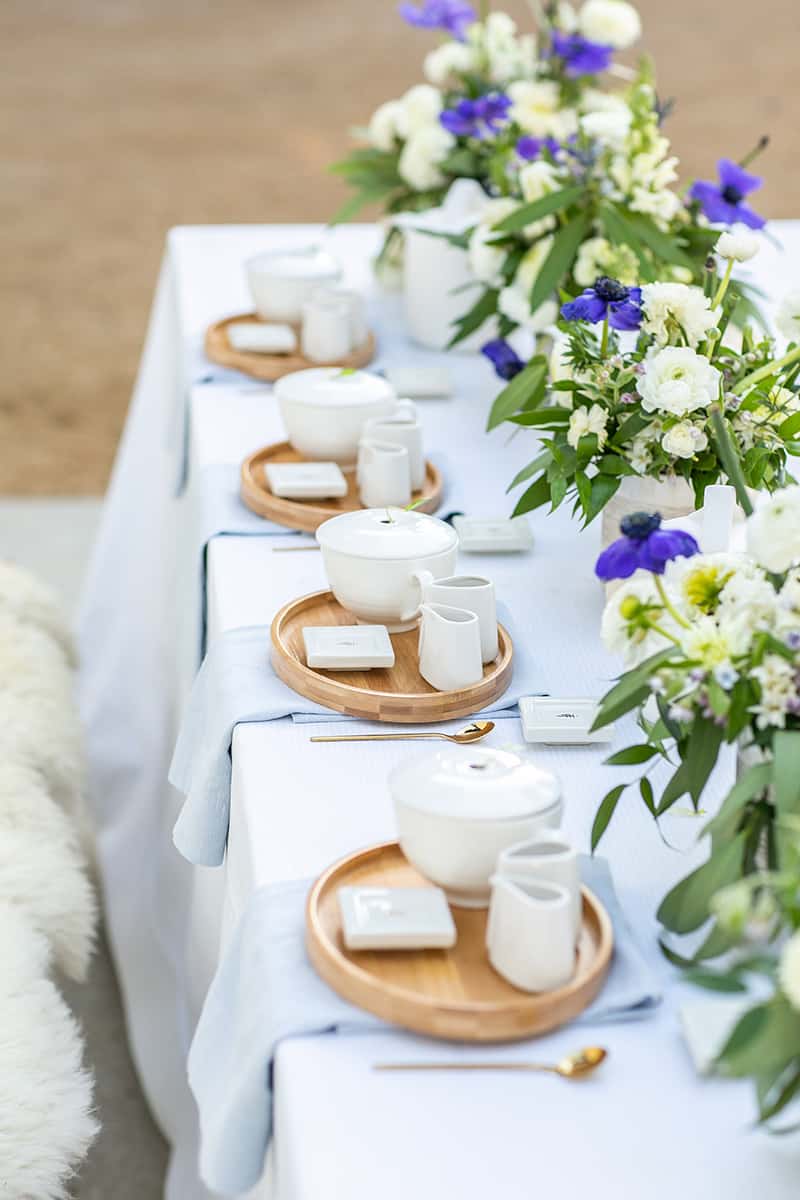 Now that you've learned a few great tips for hosting a tea party bridal shower, we want to see your pics! Tag us @sugarandcharm on social so we can see your hosting skills.
Also, if you have any questions leave them in the comment box below and we'll answer. Happy tea time!