This chorizo quiche with homemade buttery flaky pie crust is always a hit! It's a recipe my mother-in-law has been making for years and it's literally the best quiche ever!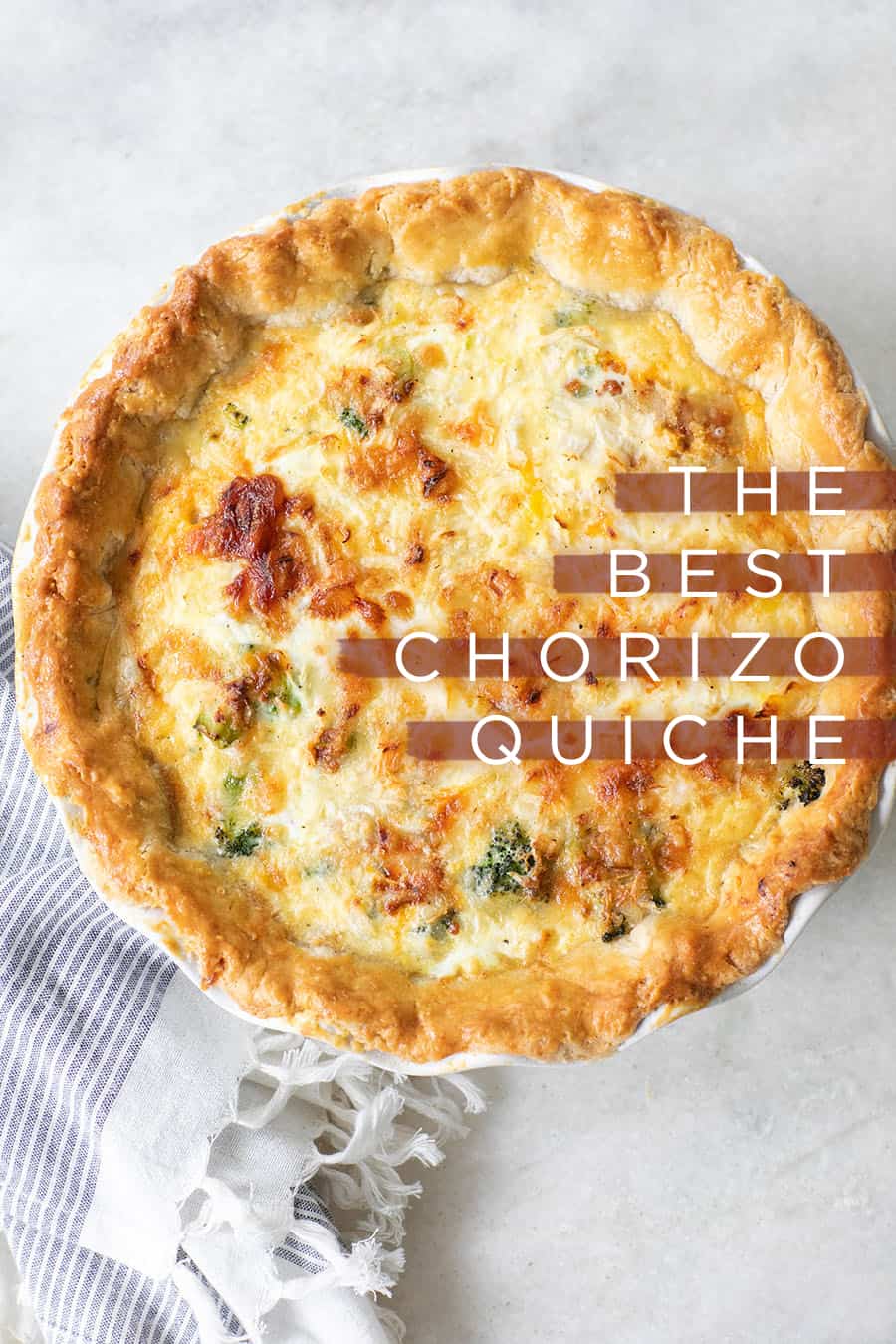 The flavor of this quiche is so delicious, it's perfect for breakfast, brunch or dinner! It's amazing served with our salad that goes with everything. The filling is incredibly easy to make and homemade buttery flaky crust is a no fail recipe. This recipe has chorizo, but you can make it vegetarian by simply leaving it out.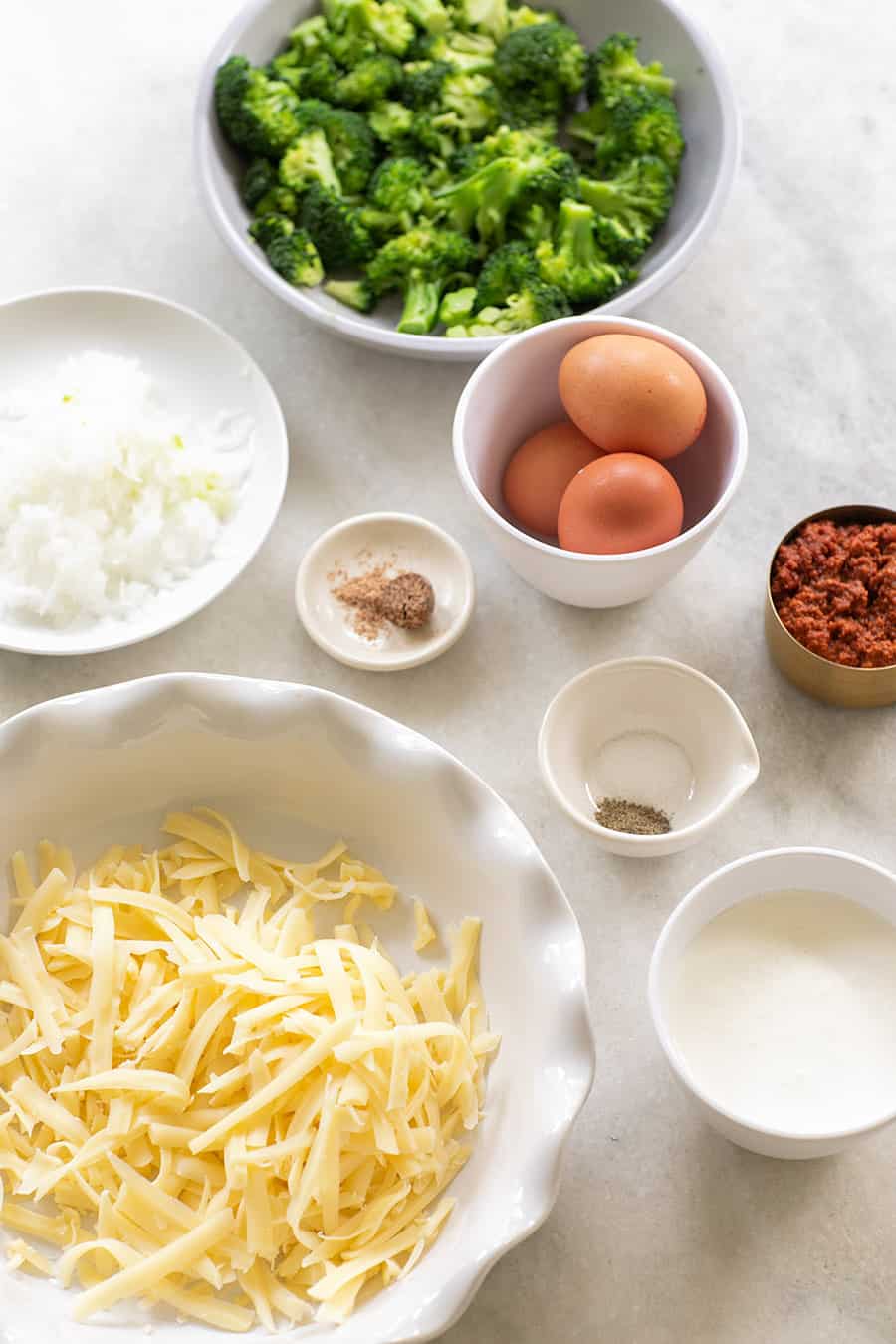 Ingredients in a Chorizo Quiche
Cooked broccoli
Cooked chorizo
Heavy cream
Jarlsberg cheese
Eggs
Onions
Nutmeg
Salt + Pepper
This recipe does not use flour in the filling, but the buttery flaky crust has flour. The crust is one of my favorite all time crusts for pies and pastries too!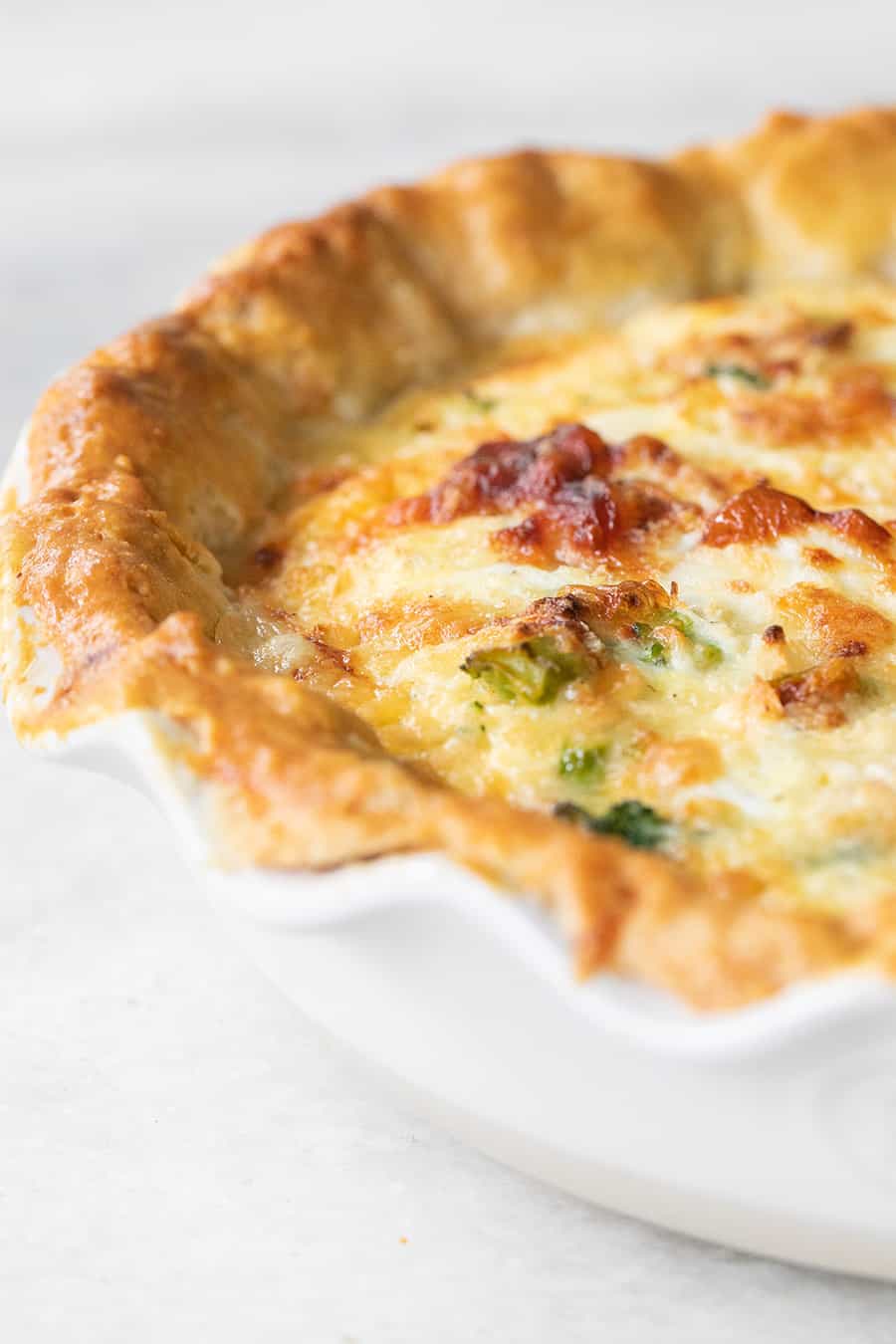 Can I make a quiche ahead of time?
You can absolutely make the crust and filling ahead of time! Make them both separately and pour the filling into the crust when it's ready to be baked. You can keep the crust in the refrigerator or freezer.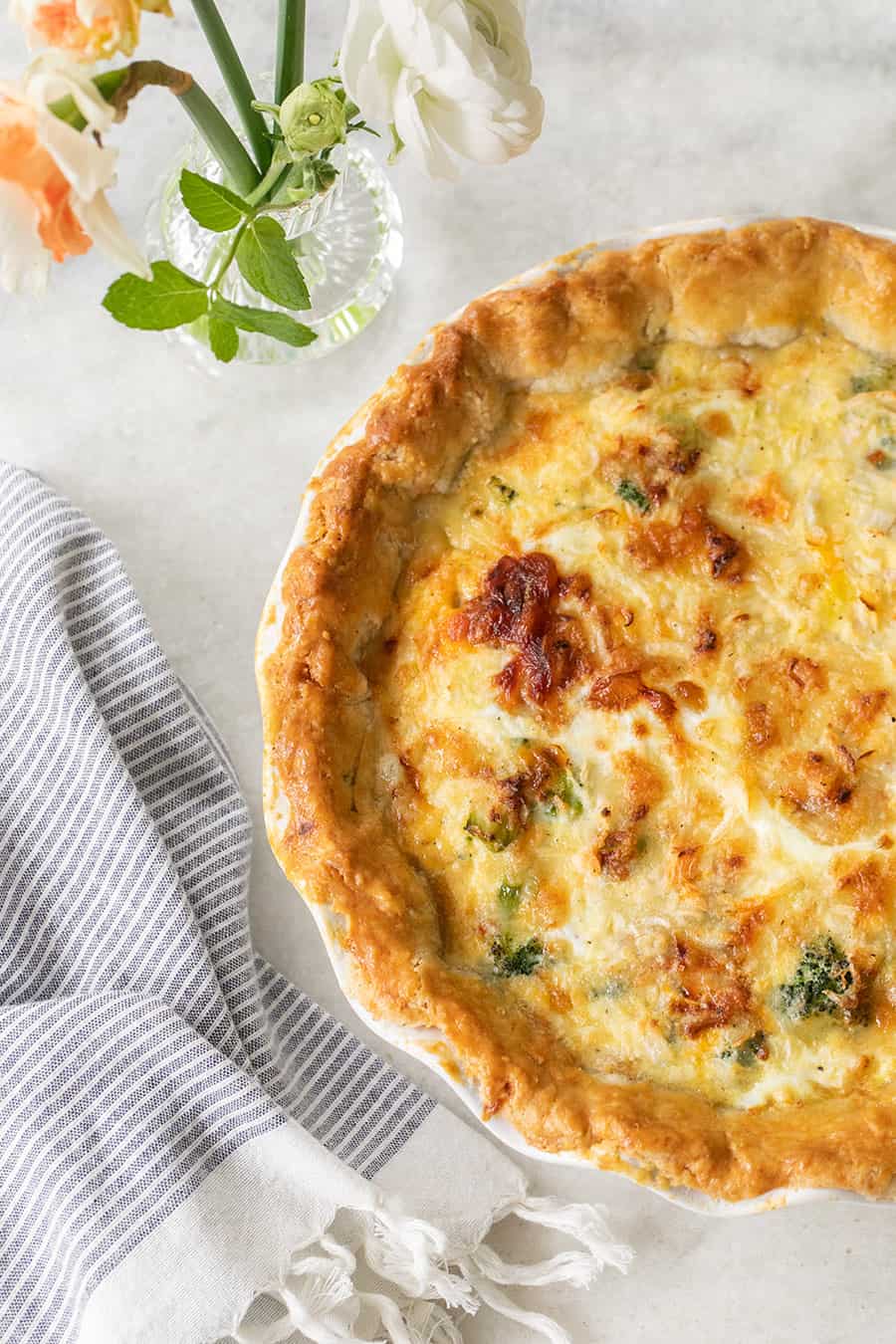 Crust for a Quiche
There are a few options for the crust depending, you can make our buttery crust, buy store-bought pie crust in the freezer section or make a quiche without a crust.
It's similar to a frittata but the texture is different. All of these options make it easy to make this quiche. Also, if you like quiche you'll love our frittata recipe too! Its' always a hit!!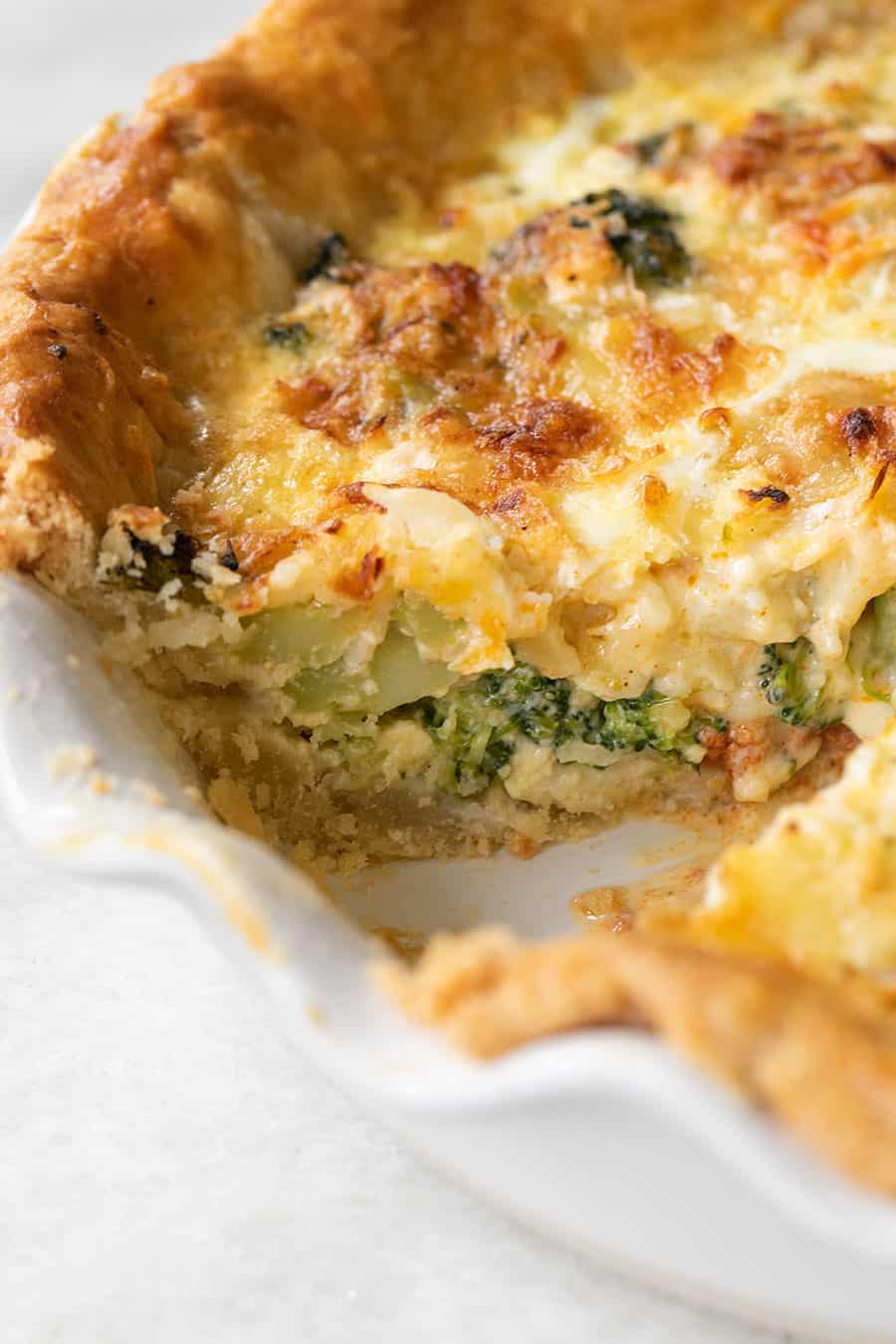 How to Make a Quiche
Cook the broccoli and the chorizo before. Then add the cream, eggs, cheese and onions, spices, salt and pepper and the broccoli and chorizo in a medium bowl and whisk until everything is combined.
Pour it into the prepared pie curst, either frozen pie crust or homemade, give the crust an egg wash and then bake in 350 degrees for about 45 minutes.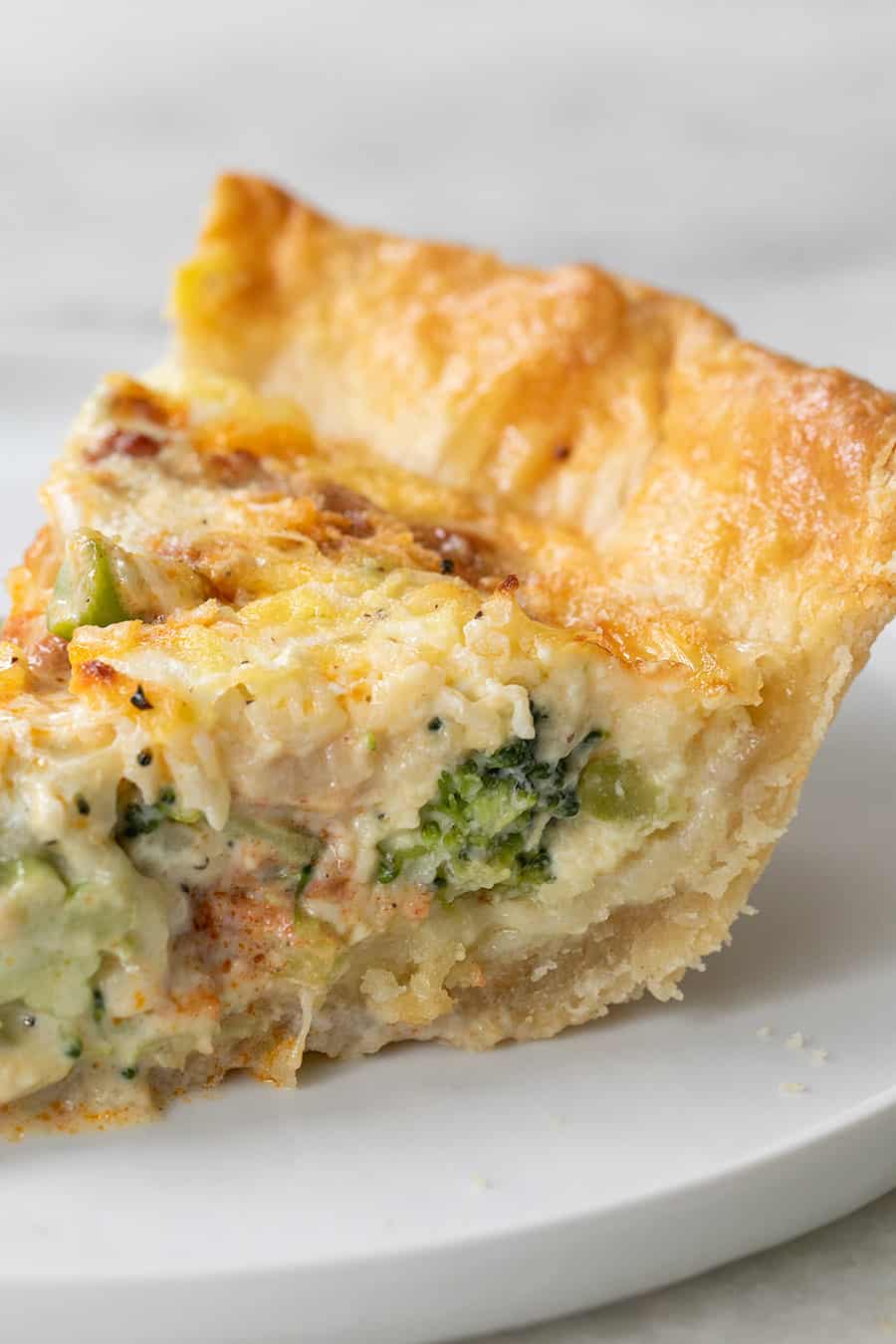 More Recipes You'll Love!
Traditional New Orleans Beignets
Chocolate Chip Biscuit S'mores
How to Make You're Own Yogurt Bowl
The broccoli in this quiche is delicious! It adds so much flavor and the color is a plus too.
If you make this chorizo quiche, let us know your thoughts by leaving a review and comment below!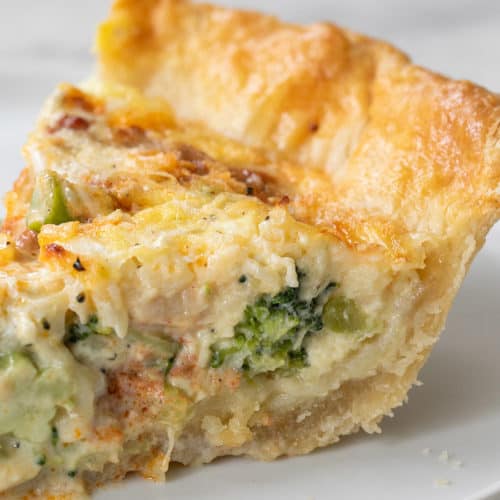 Ingredients
Chorizo Quiche Filling
1 1/2

cup

cooked broccoli

1/2

cup

cooked chorizo

1 1/2

cup

shredded Jarlsberg cheese

3

large organic eggs

1

cup

heavy cream

1/2

small yellow onion

,

grated

1/8

teaspoon

nutmeg

1/4

teaspoon

pepper

1/2

teaspoon

salt
Buttery Flaky Crust
2 1/2

cups

all-purpose flour

1

tablespoon

white sugar

1

teaspoon

salt

1/2

pound

unsalted cold butter

,

2 sticks

1/4

cup

cold Crisco

1/3

cup

ice water more or less depending on the consistency of the dough
Instructions
Buttery Flaky Crust
In a large bowl combine flour, sugar, and salt.

Cut 2 sticks butter into small chunks and add to the flour mixture. With your hands or a pastry cutter, blend until butter chunks are the size of peas.

Add in Crisco and with your hands' & combine. It should resemble coarse crumbs. This mixture should remain dry and powdery.

Add ice water and mix the dough with hands until combined. The dough should hold a loose ball and be more on the dry side. It should look rough.

Roll the dough out and fit it into the pie dish. You can refrigerate freeze it for 30 minutes in the pie dish, which I recommend doing.
Chorizo Quiche Filling
Steam the broccoli until it's cooked and set aside.

In a skillet heat a little oil and remove the casing from the chorizo. Cook the ground chorizo. It can be a little liquidy.

Add all of the quiche ingredients in a bowl and whisk until incorporated.

Poor the mixture into the prepare buttery flaky crust pie dish

Beat 1 egg and brush over the crust before baking.

Cook in a preheated 350-degree oven for 45-50 minutes until the quiche is golden brown and the middle has set.