This is the best way to make a delicious iced matcha latte! If you're looking for an easy recipe for an iced matcha latte then look no further! This creamy, frothy latte has only 3 ingredients and takes a minute to make!
The best part is, that no milk frother or matcha whisk is needed to make this latte. It's creamy, lightly sweetened, and has the perfect flavor of matcha.
Recently we've switched from having an afternoon coffee to enjoying a delicious matcha latte. Not only does it provide wonderful health benefits, but it also contains less caffeine than iced coffee. So for an afternoon pick-me-up, this is our favorite.
Also, check out our matcha spritz recipe. It's a refreshing drink made with just a few ingredients.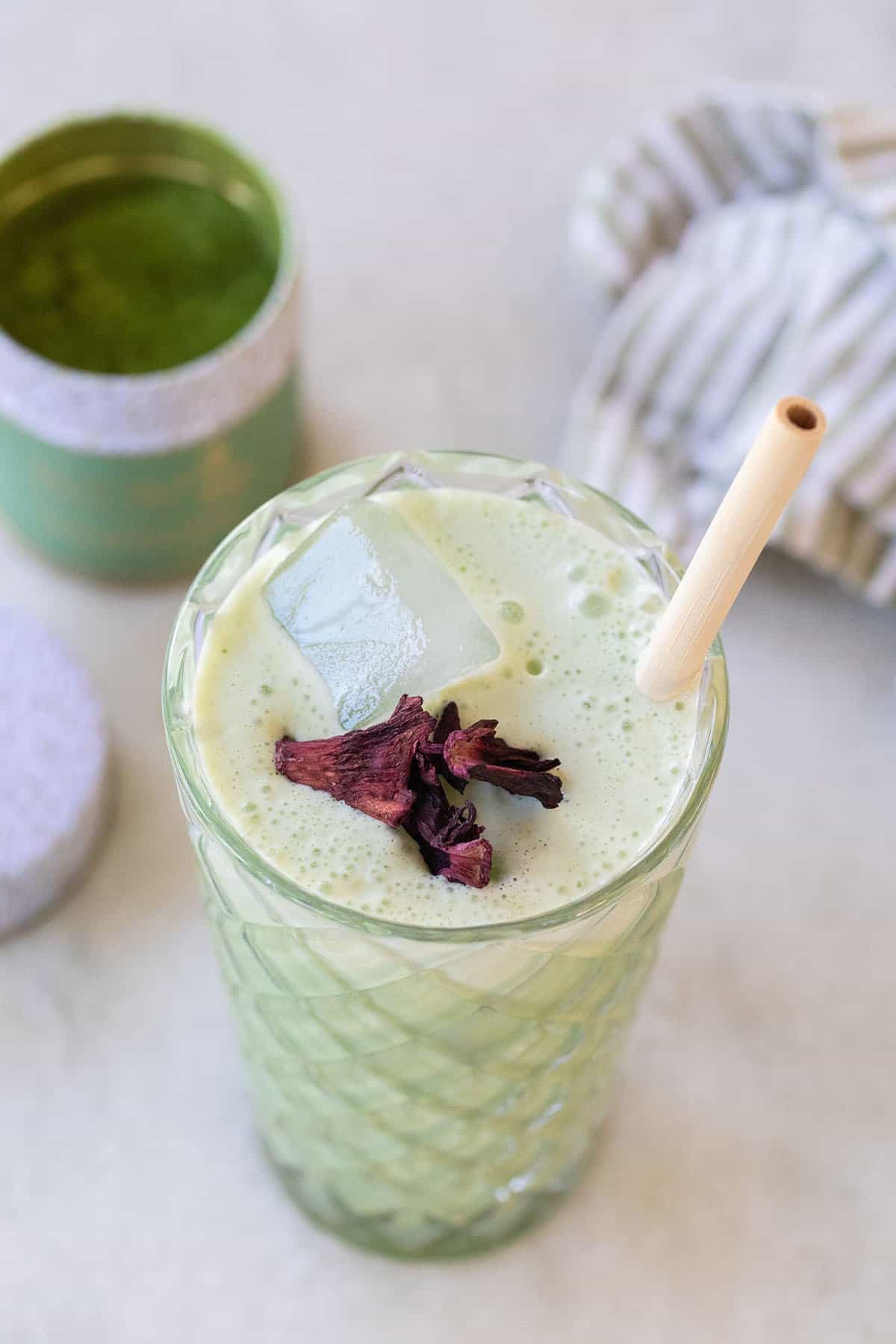 We've enjoyed matcha at many coffee shops and cafes and knew we could recreate a drink that tastes just as good. The one stipulation, it has to be easy. This is the easiest iced matcha latte and it can be customized to your liking! Pair with our homemade matcha donuts for the best afternoon treat!
Iced matcha lattes have grown in popularity over the last few years. With matcha being used in everything from drinks to baked goods, it's a tasty and nutrient-rich ingredient that people love. But what exactly is matcha? And what is involved in an iced matcha latte?
Keep reading for all of the answers!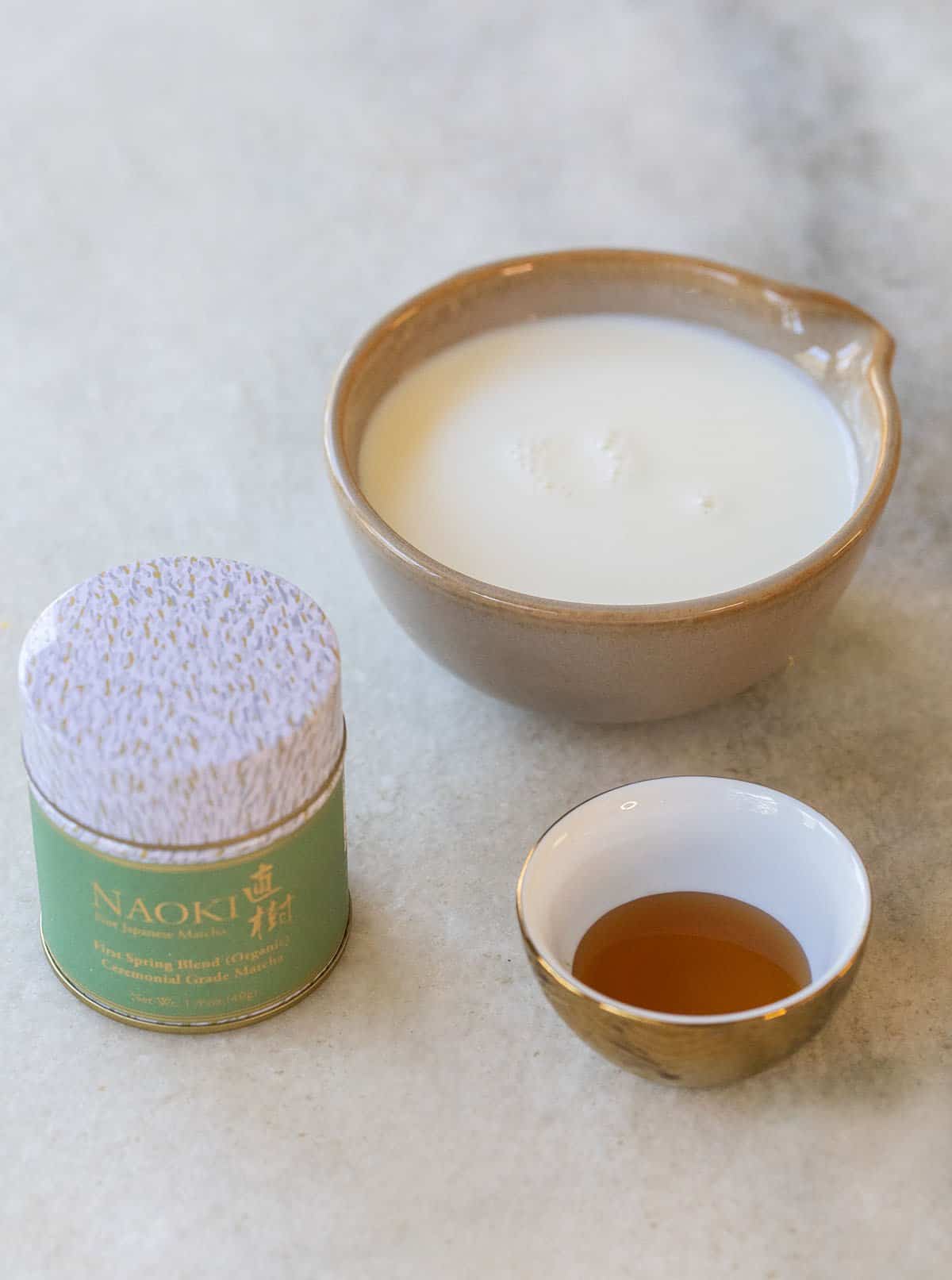 How to Make Iced Matcha Latte
Here's what you'll need to make an easy iced matcha latte:
Ingredients
High-quality Matcha Powder – Use a good-quality matcha powder for the ultimate flavor.
Milk of Choice – We prefer 2% milk but also love oat milk and almond milk.
Honey – We use honey because it's a natural sweetener with its own health benefits. It goes great with tea and gives a subtle sweet flavor.
Simply add the ingredients into a blender and whip for a minute until frothy. This is the easiest way to make a super frothy drink. No other drink will compare to the creaminess and frothiness of whipping it in a blender!
If you don't have a blender use a matcha whisk and bowl to create a paste, then pour it over milk. However, this does not create a really frothy drink and personally, we like our iced lattes whipped!
Expert Tips
No blender, no problem. Use a cocktail shaker or mason jar with a lid and shake vigorously for 30 seconds until frothy.
Add a dried flower to garnish this drink. Hibiscus or rose petals look beautiful.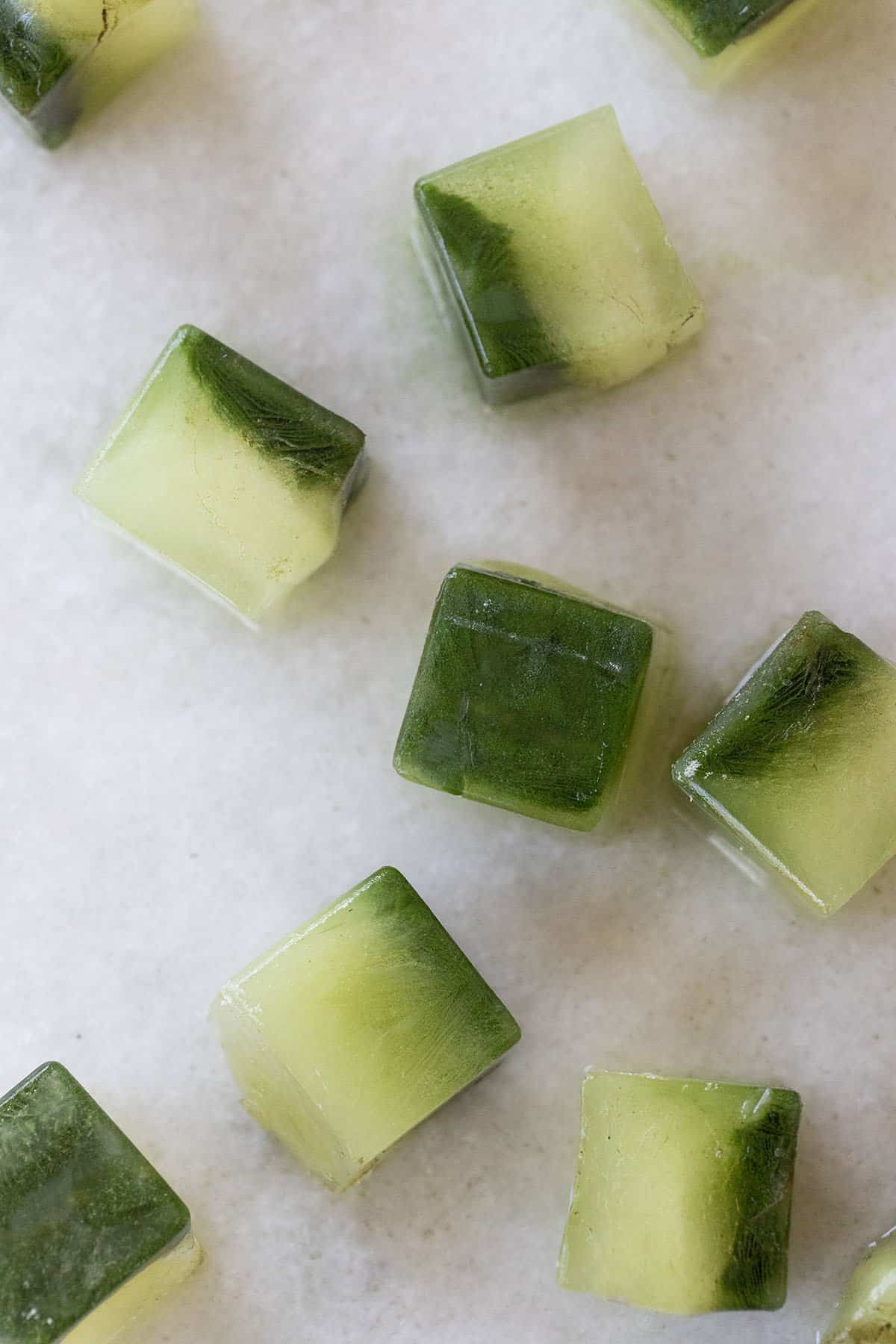 How to Make Matcha Ice Cubes
If you're feeling like you want to go above and beyond with this latte, make matcha ice cubes to go with it! These ice cubes are made with hot water and matcha powder. They add a fun twist to the drink.
Simply add 1 tbsp matcha powder to 2 cups of warm water. Whisk, then pour the matcha mixture into an ice cube tray and freeze overnight.
They'll be ready for you in the morning!
Benefits of Matcha
Matcha is filled with antioxidants and amino acids such as L-theanine. It's been shown to boost energy while reducing the risk of a caffeine crash later. Furthermore, matcha can boost metabolism and is rich in fiber and chlorophyll.
There are many health benefits to drinking matcha. If you want to know more, check out 7 proven health benefits of matcha tea.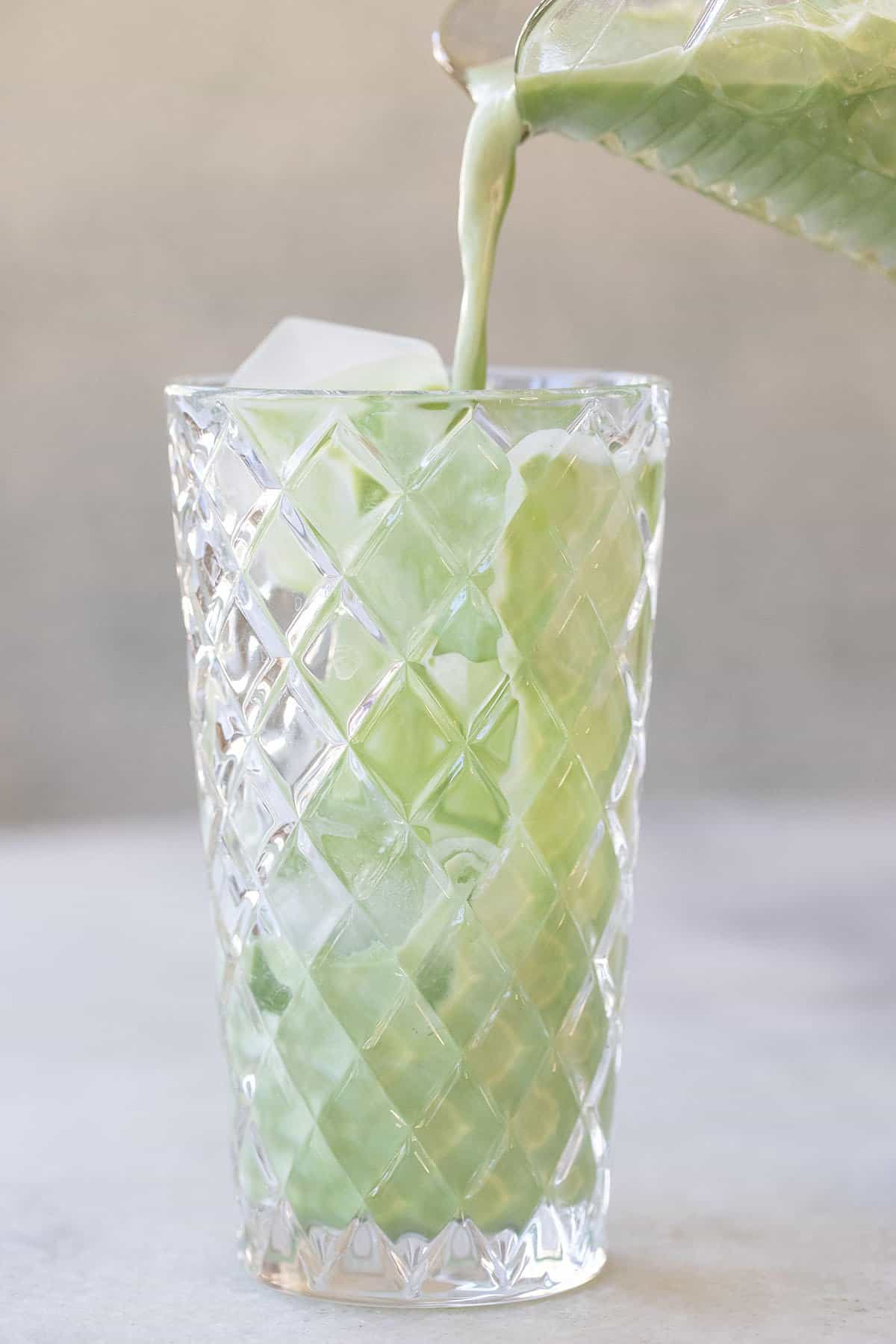 Types of Milk
Use your milk of choice to make a homemade matcha latte. Our personal preference is 2% milk but they all taste good. Here are some more suggestions:
Regular Milk or Whole Milk– Any dairy milk will work for this iced latte. This milk will be the creamiest and frothiest.
Soy Milk – A plant-based milk made from soybeans.
Almond Milk – A plant milk with a creamy texture made from almonds. We recommend getting a flavored one such as vanilla. If you want pure almond milk try Malk.
Oat Milk – A plant milk made from whole oat grains. Oat milk has a creamy texture and oatmeal-like flavor. We recommend getting a flavor like vanilla for this recipe.
Coconut Milk – Made from the grated pulp of mature coconuts. Coconut and matcha go really well together.
Sweeteners
This homemade iced matcha latte recipe uses honey for sweetness. However, there are other sweeteners to try, such as:
Also, enjoy an unsweetened matcha drink too! Leave out any additional sweetener to make it unsweetened.
Our Matcha Picks
It's imperative to use a good quality matcha powder for the best-tasting latte. Here are our picks:
Naoki Matcha Organic Ceremonial First Spring Blend
Encha Ceremonial Grade Matcha Green Tea
Encha Latte Grade First Harvest Organic Matcha Green Tea Powder
Recipe Variations
Here are ways you can switch up this recipe:
Add a dash of sea salt to the top. The salt enhances the matcha flavor.
Use a different sweetener like vanilla simple syrup.
Make an iced matcha green tea latte by adding in 1 tsp green tea powder.
When to Serve a Matcha Latte
A creamy iced latte can be enjoyed daily and also served at these occasions:
Sushi Dinner
Spa Party
Bridal Showers
Frequently Asked Questions
What Is Matcha?
Matcha is a type of green tea that's crushed into a fine powder. It's made using tea bushes that were grown in the shade and protected from harsh light, giving them a bright green color and lots of nutrients.
While regular green tea is made by infusing the water with the tea leaves and then taking them out, when you drink matcha, you're drinking the actual leaves.
What Are the Grades of Matcha?
There are two main grades of matcha: ceremonial and culinary.
The ceremonial grade is the highest quality and tastes the best, not needing any sweeteners or extra ingredients. Culinary grade matcha isn't as bright green and is best for mixing with milk or other liquids for delicious drinks (and it's also less expensive!).
What Is an Iced Matcha Latte?
An iced matcha latte is a drink made of matcha, water, milk, and ice.
It's made by mixing matcha powder with hot water and then adding in your choice of milk, finishing it off with ice to cool it down. It's a frothy and refreshing drink with many options for customization.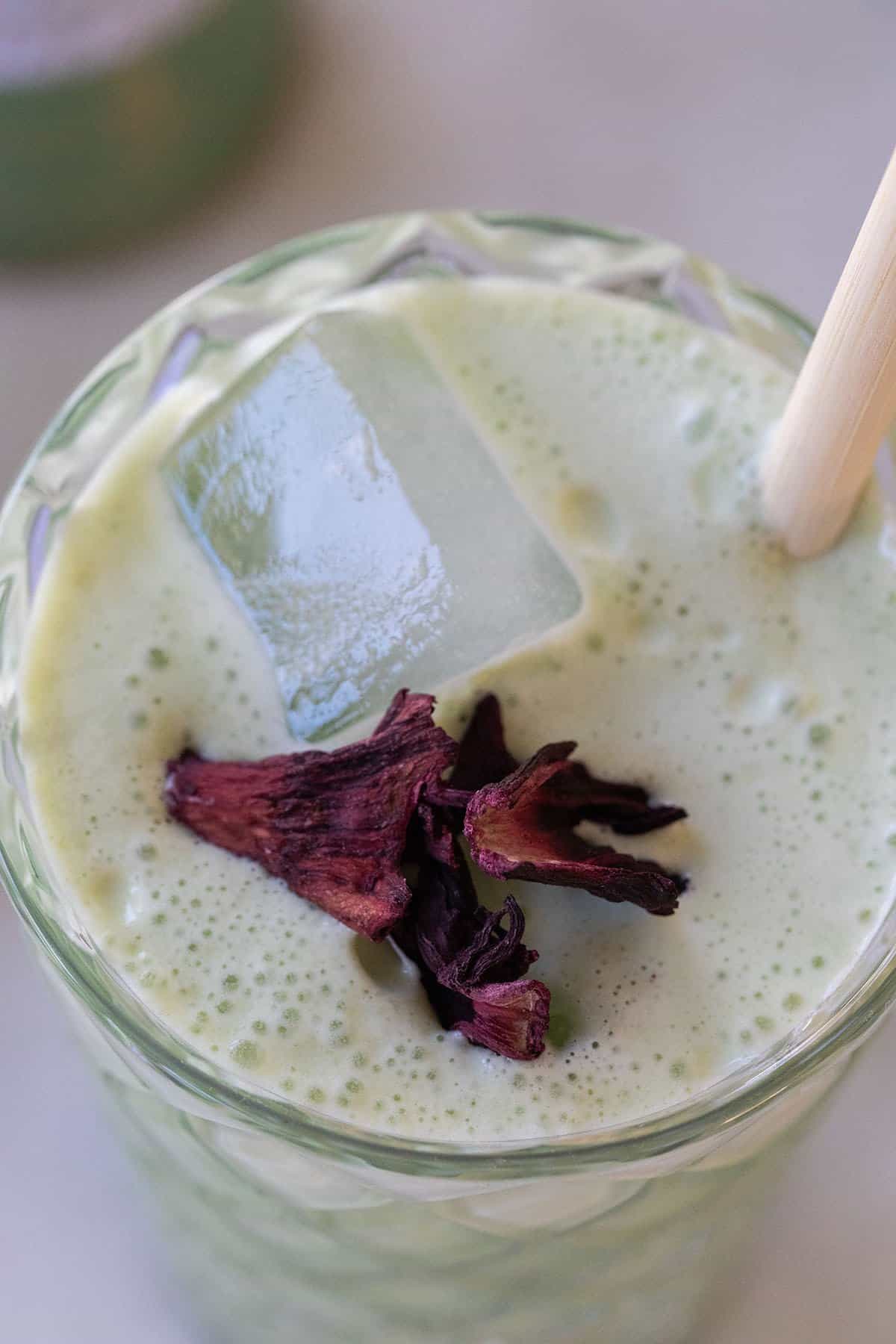 Does Iced Matcha Latte Have Caffeine?
Yes! An iced matcha latte won't have as much caffeine in it as a cup of coffee, but it will give you a little caffeine boost.
Because matcha is grown in the shade and you're consuming the actual leaf, it has more caffeine in it than regular green tea powder. Exactly how much caffeine is in your drink will depend on the recipe and the specific type of matcha powder.
What Variations Can You Make?
Almond and coconut milk are popular choices when it comes to making an iced matcha latte, but soy and oat milk are also common. Which type of milk you use (and how much) will depend on your personal preferences.
Some matcha powder will be sweeter than others. If you want to try some sweetener variations with your drink, consider adding honey, maple syrup, sugar, or agave.
If you'd rather drink your matcha latte hot, that's okay too! Just skip the ice. Cold matcha is known for its smoothness, while hot matcha will taste a little sweeter.
My Matcha Was Clumpy, What Happened?
Matcha has a hard time dissolving perfectly in the water. Using stone ground, fine powder and water that's the right temperature will help you avoid clumps.
If you want to avoid clumps, add a tablespoon of warm water to the powder and whisk using a matcha whisk before adding it to the blender,
It's important to make matcha tea first before adding milk or sweeteners. Mixing matcha powder directly with milk will create clumps.
More Drink Recipes You'll Love
Try an Iced Matcha Latte for Yourself
Iced matcha lattes are the creamy and delicious drink you didn't know you were missing.
Ready to try one out for yourself? Follow our iced matcha latte recipe for a tasty treat. Let us know if you make this iced matcha latte recipe by leaving a comment and review below!
You can also FOLLOW US on FACEBOOK, INSTAGRAM, and PINTEREST to see more delicious recipes, cocktails, desserts, and parties!
Easy Iced Matcha Latte
This is the best way to make a delicious iced matcha latte! If you're looking for an easy recipe for an iced matcha latte then look no further!
Print
Pin
Rate
Ingredients
2

tsp

matcha powder

1

cup

milk

,

your choice! we prefer 2% milk.

1

tbsp

honey
Instructions
Add all of the ingredients into a blender.

Blender for 1-2 minutes until frothy.
Notes
Add more honey or use a different sweetener. 
To avoid clumps, whisk the matcha powder with 1-2 tbsp hot water in a small bowl before adding it to the blender. We did not do this, however if you want a super smooth latte you can try this. 
Serve with matcha ice cubes for a fun twist.
Garnish with dried flowers. 
Add a dash of sea salt over the top for extra flavor. 
Nutrition
Calories:
234
kcal
|
Carbohydrates:
29
g
|
Protein:
12
g
|
Fat:
8
g
|
Saturated Fat:
5
g
|
Polyunsaturated Fat:
1
g
|
Monounsaturated Fat:
2
g
|
Cholesterol:
29
mg
|
Sodium:
94
mg
|
Potassium:
377
mg
|
Fiber:
1
g
|
Sugar:
29
g
|
Vitamin A:
795
IU
|
Vitamin C:
1
mg
|
Calcium:
301
mg
|
Iron:
2
mg