A matcha spritz is a refreshing matcha drink made with matcha powder, honey, lemon, and sparkling water. It's the perfect alternative to a matcha latte and a wonderful drink to sip on a sunny day. If you're looking for a healthy matcha drink recipe, this is for you!
This matcha spritz is healthy, contains no dairy or artificial sweeteners. It has all of the amazing health benefits of matcha without being overly sweet and filled with milk. Of course, we love our iced matcha latte recipe, but sometimes it's nice to have something light and refreshing.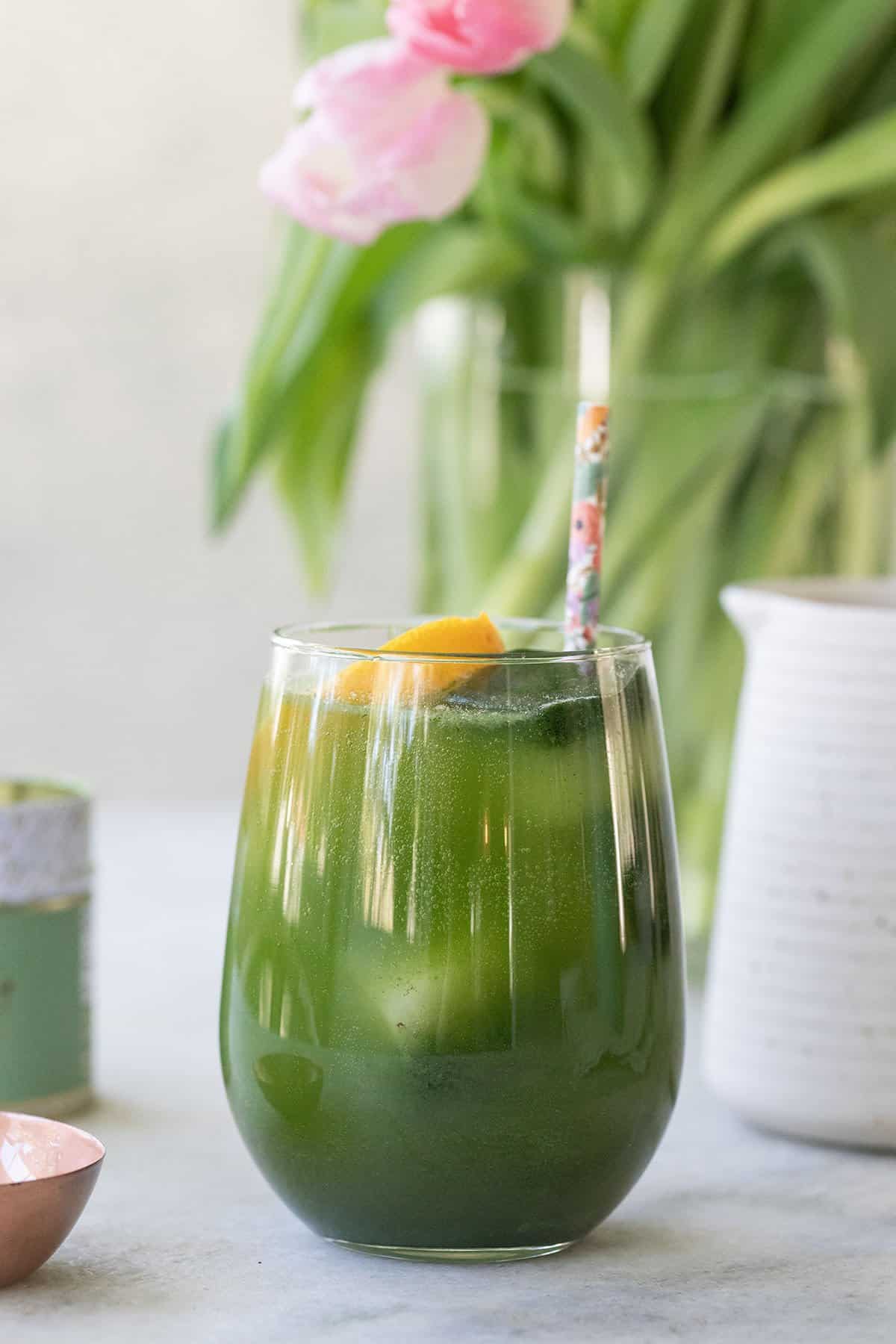 This recipe is perfect for a quick pick-me-up on a hot summer day. Here's how you make it:
How to Make a Matcha Spritz
Before you start, there are a few items you'll need. Once you purchase these, you'll have them forever and can make as many matcha spritzers as you like!
Matcha Whisk – This bamboo whisk will froth the matcha. These whisks have more prongs than a standard baking whisk. They're traditional when making matcha tea hot or cold.
Small Bowl – You'll need a small bowl that will fit the matcha whisk.
Matcha Powder – Use a good quality matcha powder for the ultimate flavor.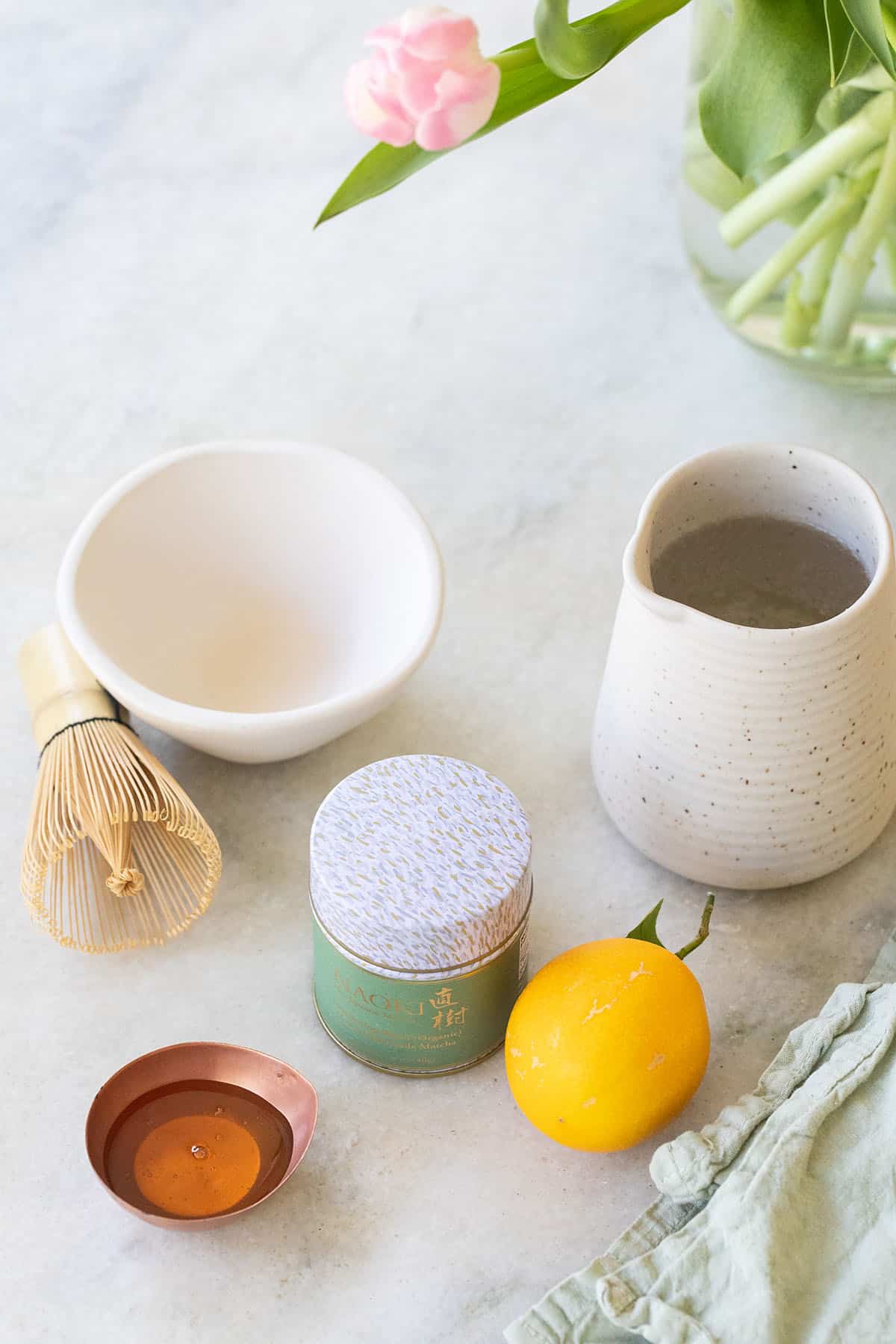 Ingredients
Full recipe in the recipe card below.
Honey – We use honey because it's a natural sweetener with its own health benefits. It goes great with tea and gives a subtle sweet flavor.
Lemon Juice – Lemon juice and matcha go well together and the lemon juice adds acidity to the spritz.
Club Soda – Sparkling water gives the drink carbonation and bubbles.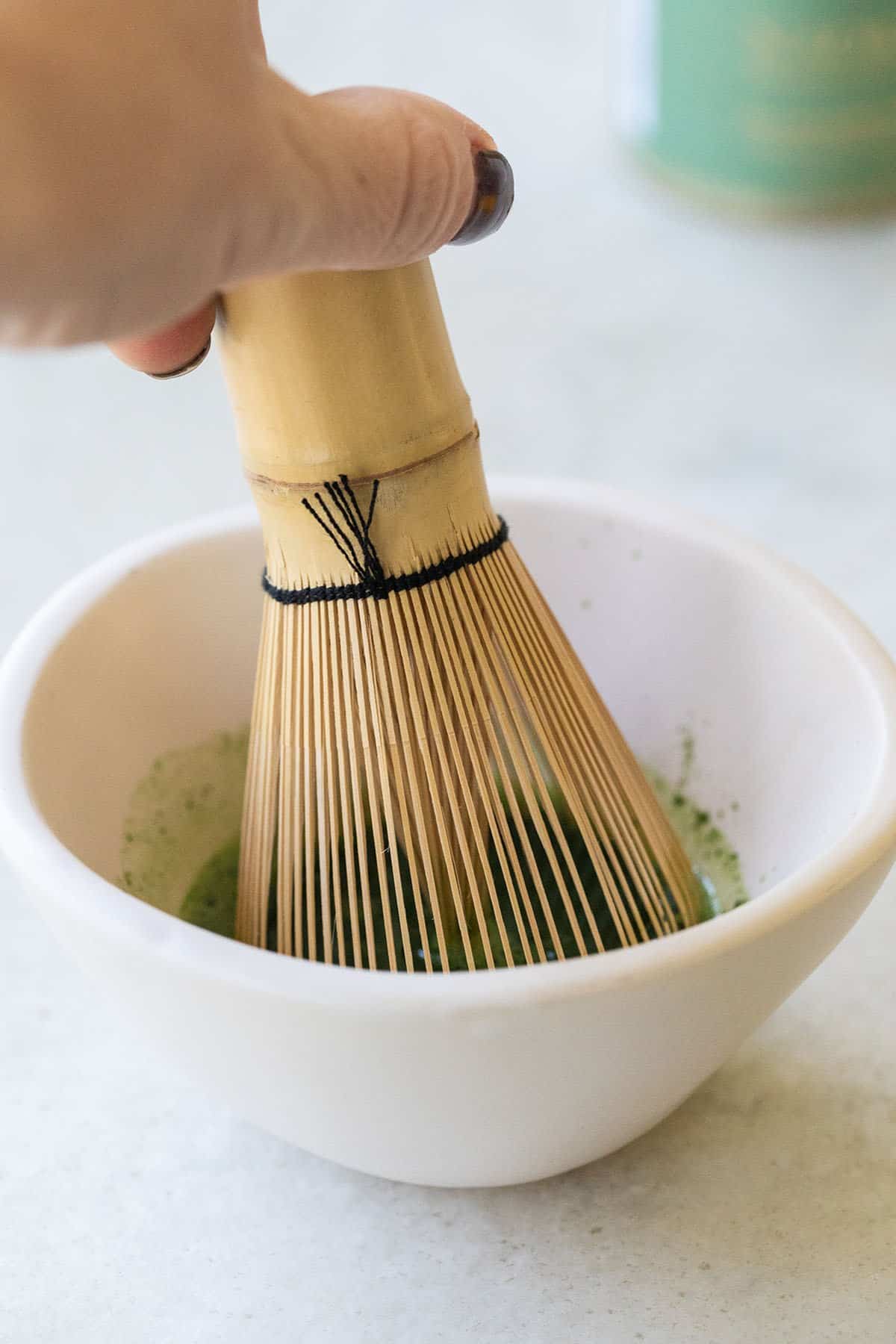 Matcha Spritz in 4 Steps
Make a paste with matcha, hot water, and honey.
Gently whisk the the ingredients together in a small bowl.
Pour the matcha over a glass filled with ice.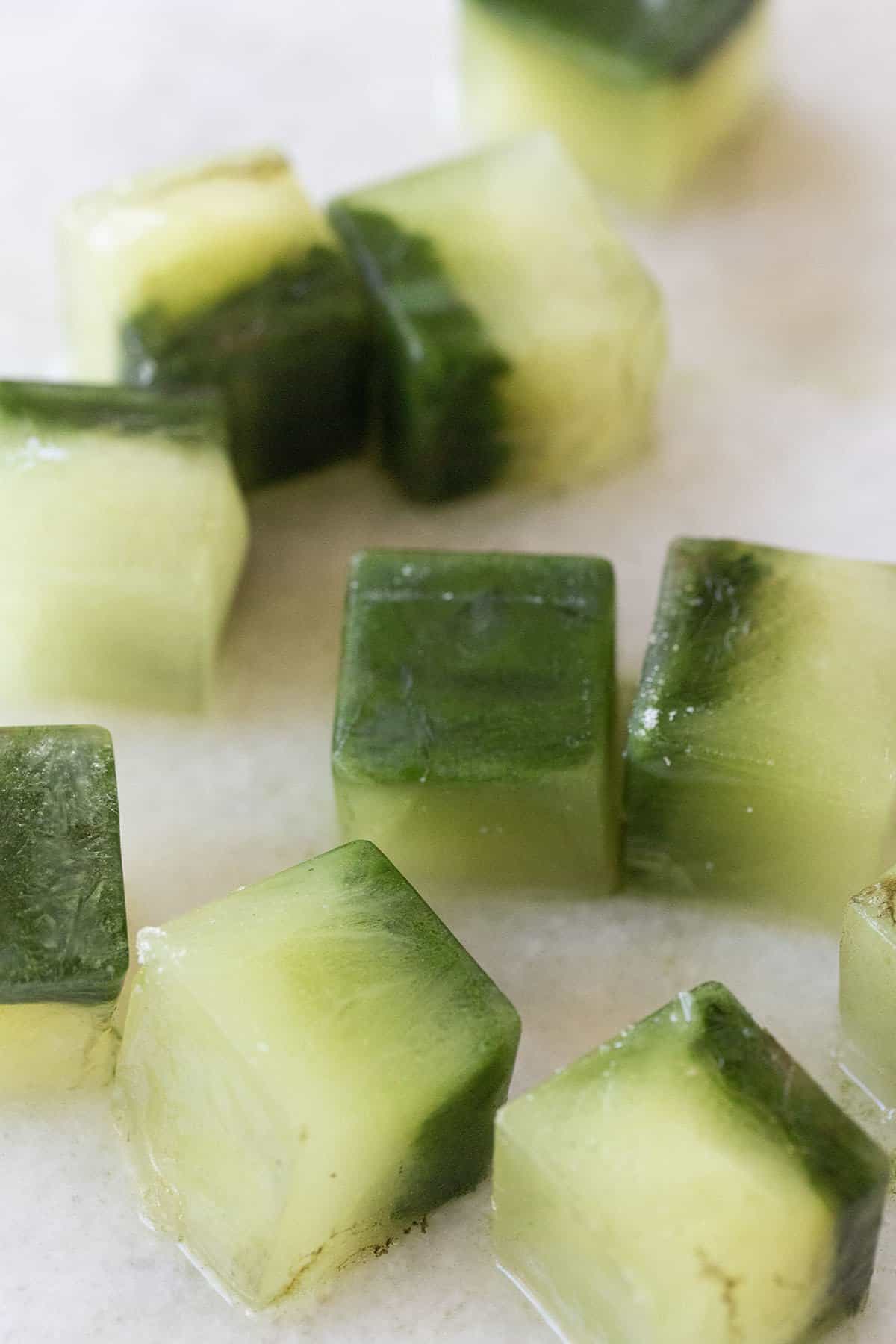 Matcha Ice Cubes
If you're feeling like you want to go above and beyond with this latte, make matcha ice cubes to go with it! These ice cubes are made with hot water and matcha powder. They add a fun twist to the drink.
Simply add 1 tbsp matcha powder to 2 cups warm water. Whisk, then pour the matcha mixture into an ice cube tray and freeze overnight.
Benefits of Matcha
Matcha is filled with antioxidants and amino acids such as L-theanine. It's been shown to boost energy while reducing the risk of a caffeine crash later. Furthermore, matcha can boost metabolism and is rich in fiber and chlorophyll. 
Sweeteners
We use honey for this matcha spritz recipe, however, there are other sweeteners to try, such as:
Also, enjoy an unsweetened matcha drink too! Leave out any additional sweetener to make it unsweetened.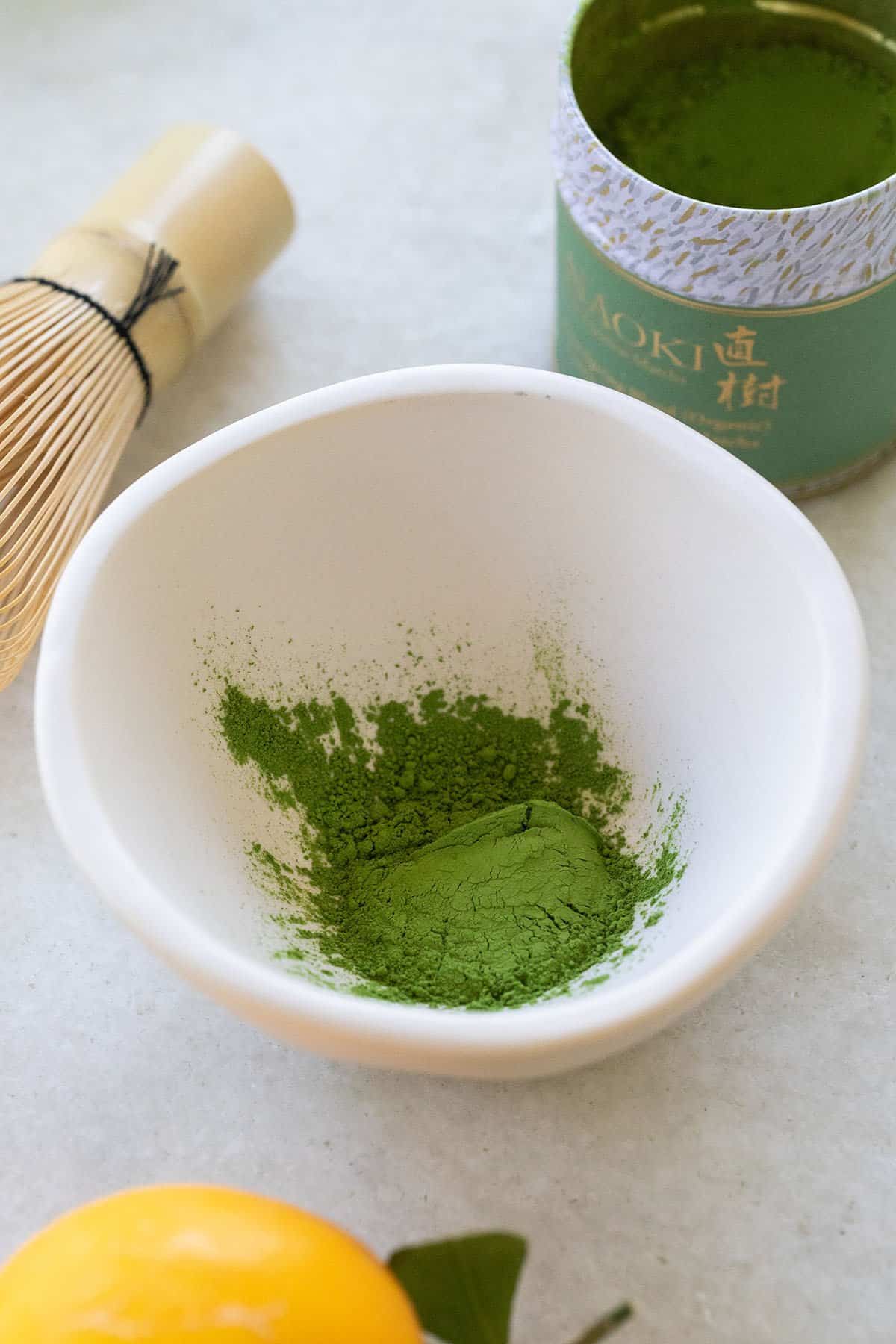 Best Matcha Powder
Naoki Matcha Organic Ceremonial First Spring Blend
Encha Ceremonial Grade Matcha Green Tea
Encha Latte Grade First Harvest Organic Matcha Green Tea Powder
When to Serve a Matcha Spritz
A refreshing matcha spritz can be enjoyed daily and also served at these occasions:
Sushi Dinner
Spa Party
Bridal Showers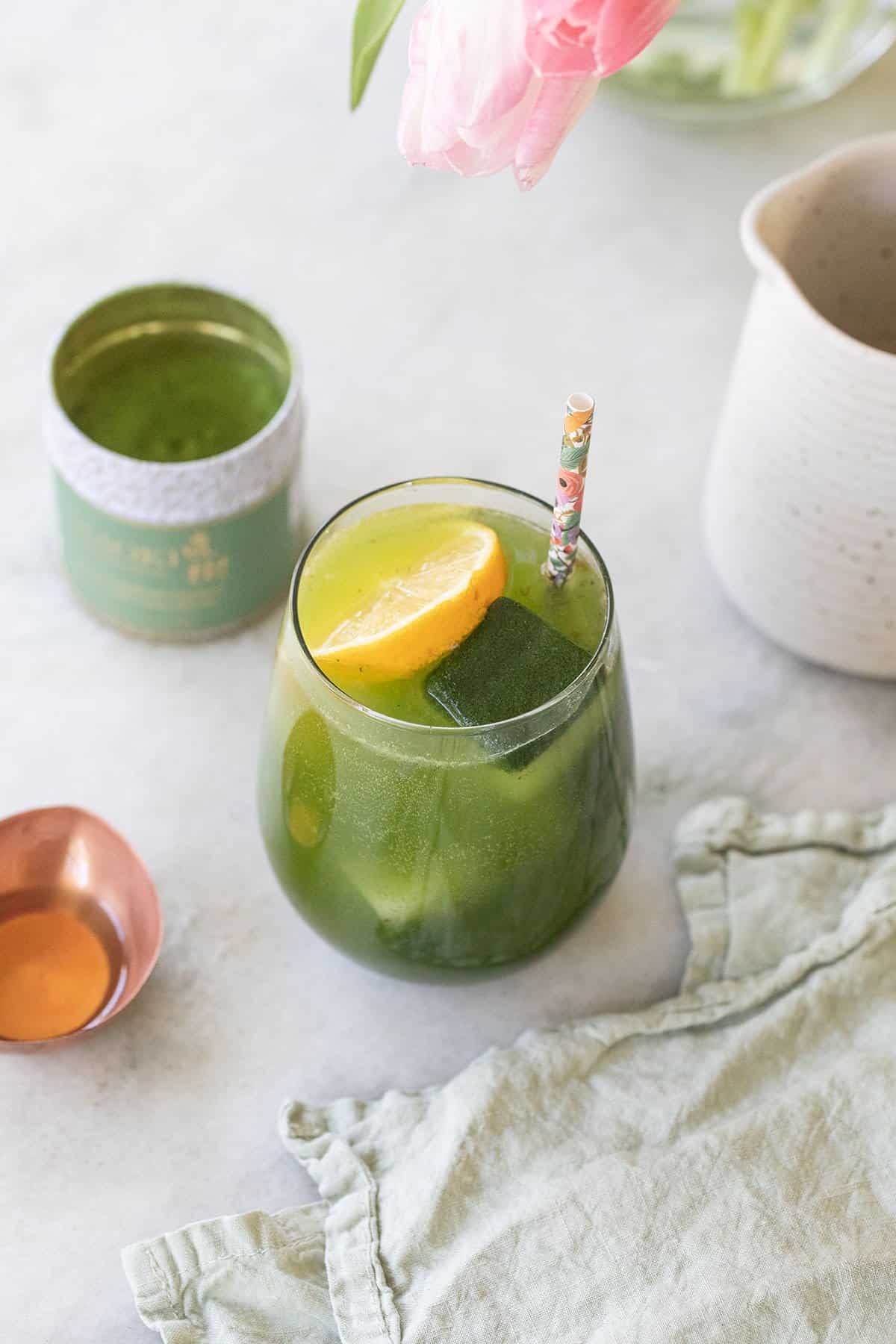 More Drink Recipes You'll Love
How to Make Refreshing Watermelon Juice
Frequently Asked Questions
What is Matcha?
Matcha is a type of green tea that's crushed into a fine powder. It's made using tea bushes that were grown in the shade and protected from harsh light, giving them a bright green color and lots of nutrients.
While regular green tea is made by infusing the water with the tea leaves and then taking them out, when you drink matcha, you're drinking the actual leaves. 
What are the grades of matcha? 
There are two main grades of matcha: ceremonial and culinary.
The ceremonial grade is the highest quality and tastes the best, not needing any sweeteners or extra ingredients. Culinary grade matcha isn't as bright green and is best for mixing with milk or other liquids for delicious drinks (and it's also less expensive!). 
Does Matcha have caffine?
Yes! An iced matcha latte won't have as much caffeine in it as a cup of coffee, but it will give you a little caffeine boost.
Because matcha is grown in the shade and you're consuming the actual leaf, it has more caffeine in it than regular green tea powder. Exactly how much caffeine is in your drink will depend on the recipe and the specific type of matcha powder
Let us know what you think!
Now that you know how to make a delicious matcha spritz, please leave a comment below! We'd love to know your thoughts!
You can also FOLLOW US on FACEBOOK, INSTAGRAM, and PINTEREST to see more delicious recipes, cocktails, desserts, and parties!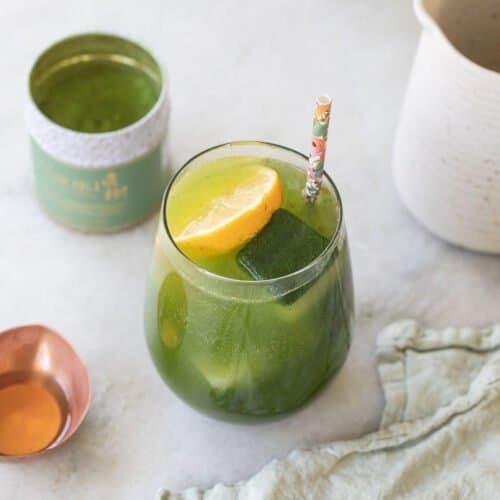 Matcha Spritz
A refreshing matcha spritz made without dairy or artificial sweeteners. This drink is vibrant and perfect for a hot summer day.
Print
Pin
Rate
Ingredients
1

tsp

matcha powder

1

tbsp

hot water

1

tbsp

lemon juice

1

tbsp

honey

6

oz

sparkling water
Instructions
In a small bowl whisk the matcha, water and honey together using a matcha whisk.

Fill a class with ice and pour the matcha paste over the ice.

Pour sparkling water over the top.
Notes
Add more sweetener if you'd like.
Nutrition
Calories:
79
kcal
|
Carbohydrates:
18
g
|
Protein:
2
g
|
Fat:
1
g
|
Saturated Fat:
1
g
|
Sodium:
37
mg
|
Potassium:
30
mg
|
Fiber:
1
g
|
Sugar:
18
g
|
Vitamin A:
201
IU
|
Vitamin C:
6
mg
|
Calcium:
11
mg
|
Iron:
1
mg
You can also FOLLOW US on FACEBOOK, INSTAGRAM, and PINTEREST to see more delicious recipes, cocktails, desserts, and parties!