Cucumber lemon water is so quick and easy to make, as well as being a super refreshing drink on a hot summer day. Pop in a few ice cubes for even more refreshing relief. It takes less than 5 minutes to make this recipe!
We love that this lemon cucumber water is full of detox ingredients, it has so much flavor when compared with plain old water.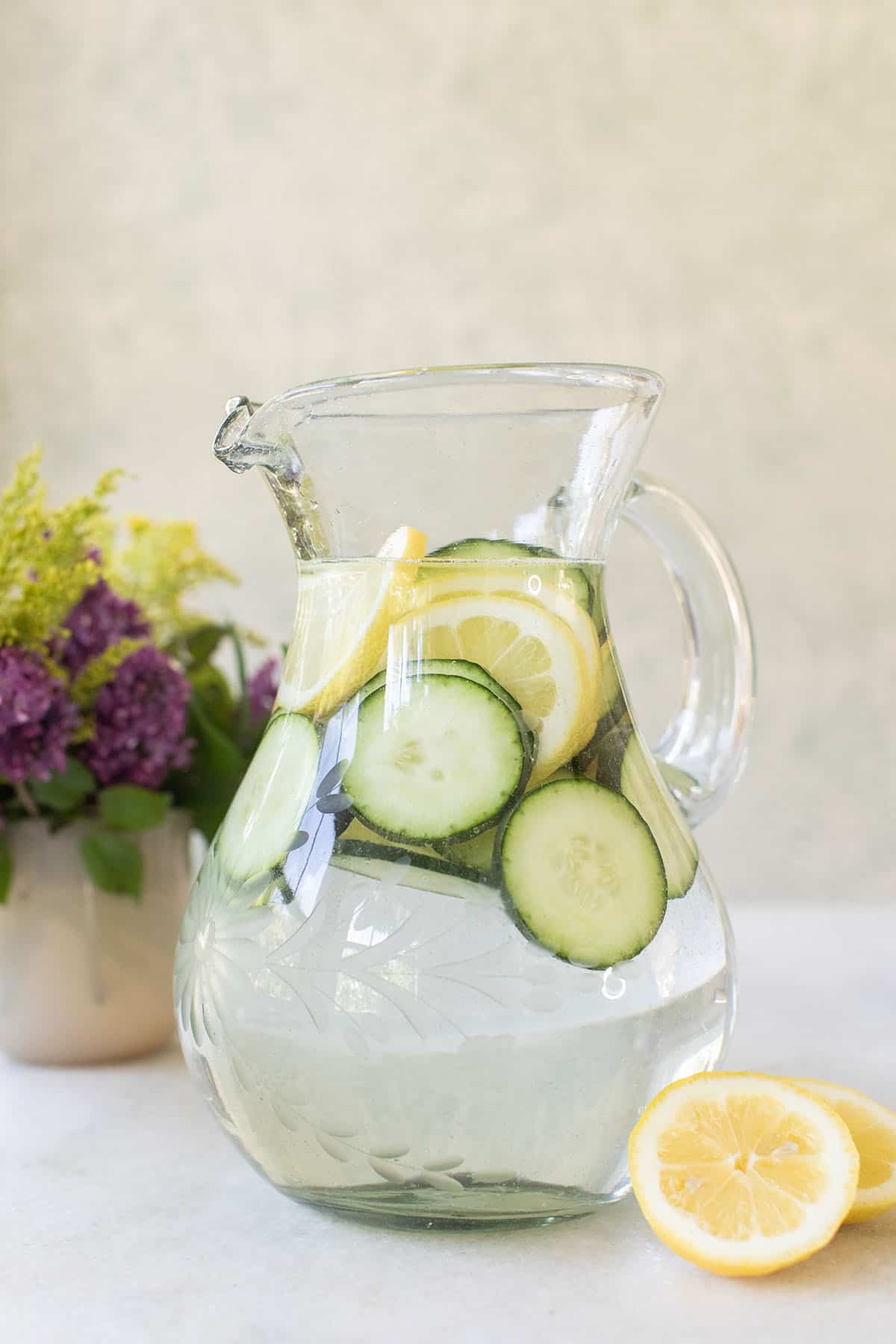 With a recommended daily water intake of around 15.5 and 11.5 glasses for men and women respectively, drinking lemon cucumber water makes it easier to consume enough water each day. As well as keeping you hydrated, there are plenty of other health benefits of cucumber water.
When entertaining we always serve water no matter what. This is the perfect drink to serve because it feels fancy and tastes so good and refreshing. However, it's effortless to make but adds a special touch to the evening, especially when dining alfresco or for an evening of wine and cheese.
Infusing water is simple and can be done within minutes. Continuing for everything you need to know about making this refreshing drink!
How to Make Cucumber Lemon Water
This is so simple to make but makes water refreshing and full of flavor. The full recipe is below, but here are the simple ingredients you'll need:
Lemon – A citrus fruit that is a species of a small evergreen tree in the flowering plant family Rutaceae. They are acidic and have a sweet and sour flavor.
Cucumber – A widely-cultivated vine plant in the Cucurbitaceae family. They are low in calories but high in many important vitamins and minerals.
Filtered Water – Use cold filtered water to make cucumber lemon water.
You'll simply slice the lemon and cucumber, then the sliced fruit into a pitcher of cold water.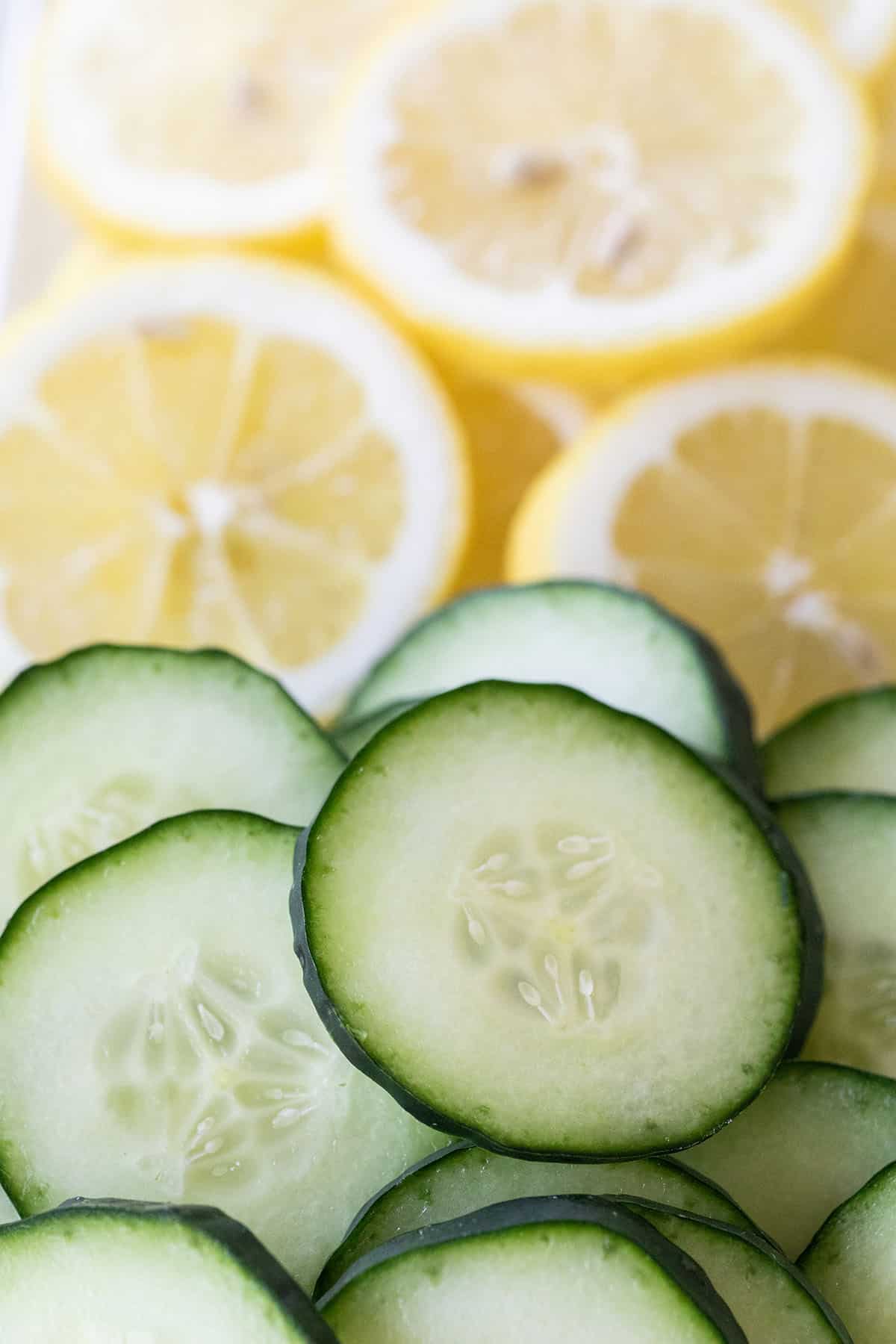 How to Store Cucumber Lemon Water
Keep cucumber and lemon water in the fridge for a crisp, refreshing flavor-packed taste. Although you can certainly store individual cups, water is better when stored in a jug or water bottle.
Tips for Making Cucumber Lemon Water
While there aren't really any wrong ways to make tasty lemon cucumber water, there are certainly better ways than others.
Although plain tap water is okay, as with any detox tea or drink, fresh spa water, or mineral water, is better.
While most drink recipes list using regular cucumber slices, an English cucumber works too; both have a high water content, but your drink may taste a little sweeter.
Essentially, fresh ingredients are best and organic cucumbers enhance the healthiness of your drink.
Similarly, always use fresh lemons. Keep in mind that it's easier to slice a large lemon than a small one. Plus, you get more lemon in your drink!
Once you've discovered the delight of adding sliced lemon and slices of cucumber to your water, you can also try enhancing the flavor (and health benefits!) with the addition of extra fresh herbs and ingredients.
You might try, for example:
Start enjoying the benefits and taste of cucumber lemon water without delay!
Fun Ice Cubes
If you're making cucumber water for a special event, jazz it up with some festive ice cubes! Fill glasses with blue, pink, or even edible floral ice cubes to make the water fun and festive.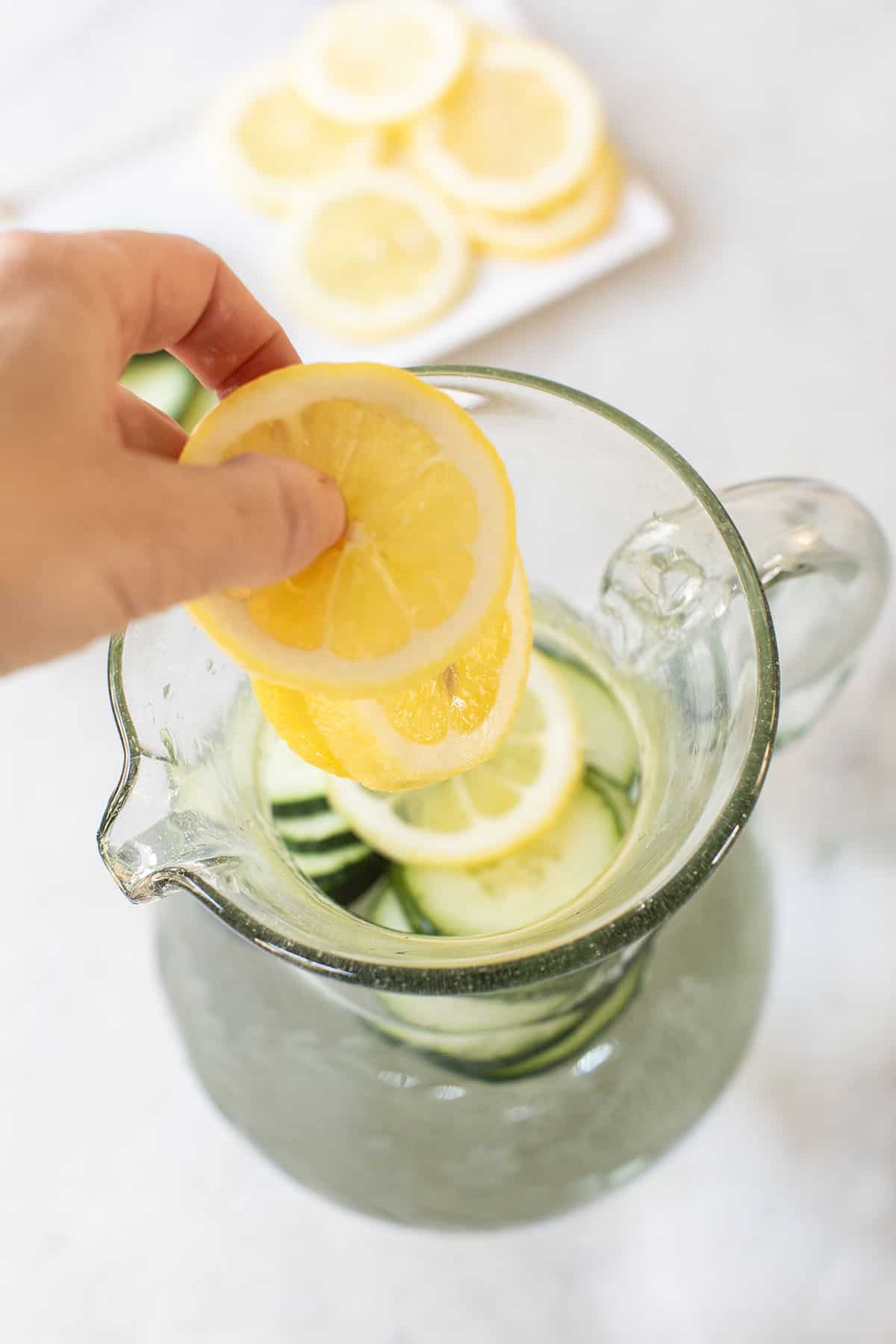 Cucumber Lemon Mint Water
It's easy to make cucumber lemon mint water by simply adding fresh mint into the water to infuse it with the fruits. Mint leaves have a fresh, aromatic, sweet flavor and a cool aftertaste.
Add 1/2 cup fresh mint leaves into the water to make cucumber lemon mint water.
You can grow your own herbs year-round too!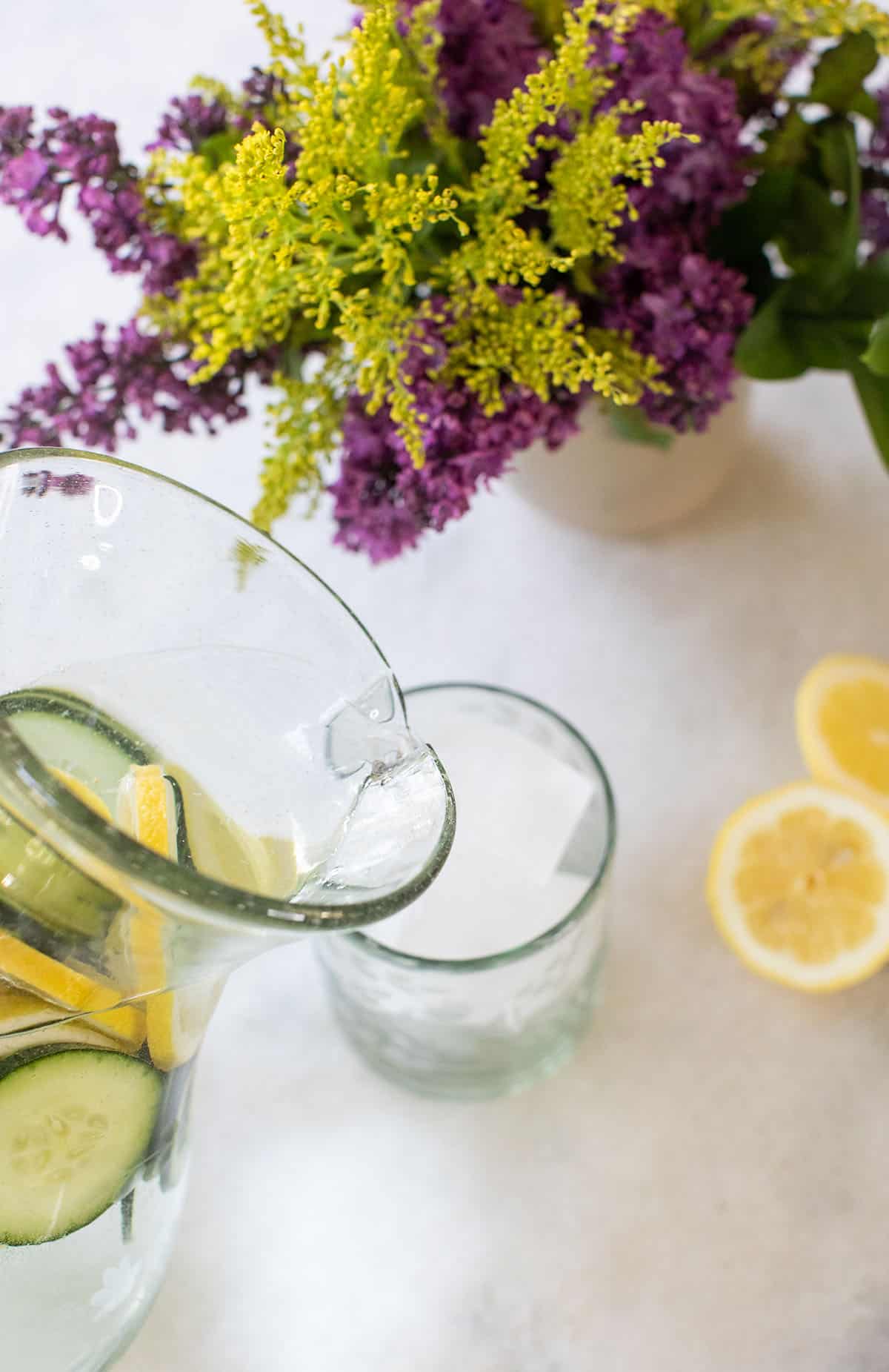 When to Serve Cucumber Lemon Water
This water is perfect to keep in your fridge for everyday drinking or for any of these special occasions:
Birthday Party it's also perfect for a last-minute birthday party!
Spa Party
Baby and Bridal Showers
You can also serve this on the side if you're having a garden cocktail bar, spritzer bar, mojito bar or lemonade stand.
Frequently Asked Questions
What are the Benefits of Cucumber and Lemon Water?
Great detox water recipes are packed with antioxidants that can delay, prevent or reverse cell damage caused by free radicals and toxic substances.
Cucumber is loaded with nutrients, so makes for a perfect drink for anyone hoping for clearer skin and a healthy complexion. The combination of pantothenic acid, or vitamin B-5, antioxidants, and silica is ideal for maintaining healthy skin.
Silica is also great for muscle health, making cucumber lemon water a great substitute for sugar- or caffeine-laden sports drinks.
Vitamin K, found in cucumbers, helps to support bone health, while the dietary flavonoid fisetin has been shown to boost brain health.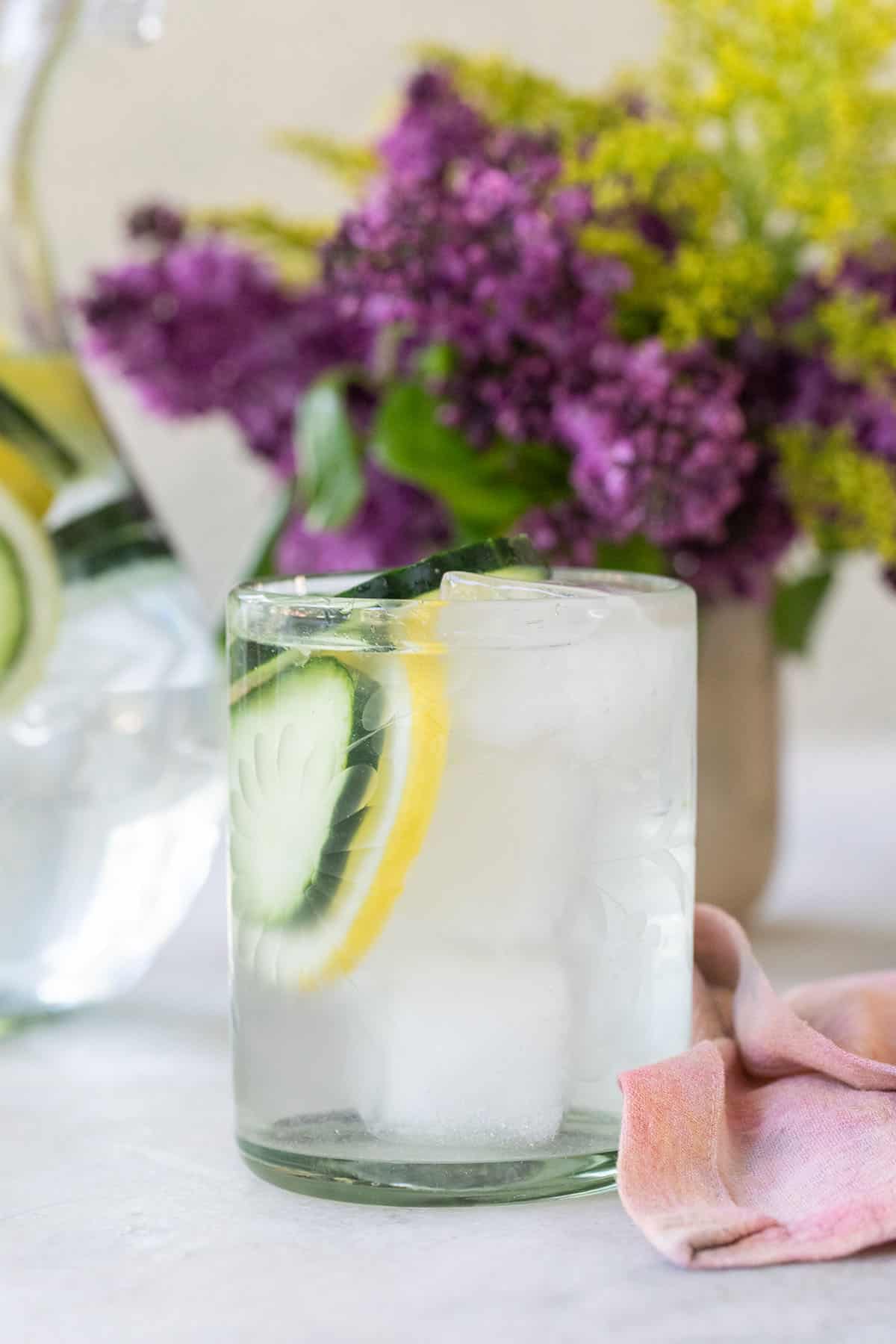 Drinking cucumber detox water is a great way to lower blood pressure. Cucumbers are a good source of potassium, which helps the body to get rid of excess sodium, which is a major contributor to high blood pressure.
Lemon juice is full of vitamin C, which can boost the immune system and help the digestive system, as well as add to the great flavor of infused water recipes.
Lemons can also help keep your breath fresh and support liver health, particularly important if you've had too much of a good time recently!
The citric acid in lemons can help to reduce the risk of kidney stones.
Some research suggests that cucumber lemon water, loaded with natural ingredients, can boost energy levels, particularly when enjoyed early in the morning.
Throughout the day it can also sustain your activity level in a healthier way than the buzz and crash created by sugary sodas and junk food.
There are many benefits of detox water when incorporated into your daily routine alongside healthy eating.
Does Cucumber and Lemon Water Help You Lose Weight?
Evidence suggests that not only is cucumber and lemon water a terrific detox drink, but the healthy drink can also support weight loss when enjoyed as part of a healthy lifestyle on a daily basis.
We all know that drinking lots of water is good for us. But plain water can be boring, tempting us to reach for sugary drinks.
Soft drinks can be loaded with hidden calories, making weight loss difficult. Adding fresh flavors to your glasses of water is the best way to resist the urge to gulp down something unhealthy. The best part? Our cucumber water recipe is low-calorie.
And another good thing? Cucumber lemon water fits various diets and lifestyles, from keto and vegan to gluten-free and paleo.     
Enjoying the extra flavor is also an ideal way to drink as much water as you should. This keeps you hydrated, which can reduce hunger pangs. Often, dehydration is confused with hunger, so staying hydrated is an easy way to achieve a flat belly.
Next time you're hungry, try drinking cold water infused with fresh ingredients before reaching for a snack.
Does the Flavor Improve Over Time?
While you can definitely enjoy cucumber and lemon water immediately, the flavor improves after the cucumber and fresh fruit have had time to steep in the water.
Aim to prepare a large pitcher to rest in the refrigerator for a couple of hours before drinking. If you just can't wait, an hour is fine too.
How Long Does Cucumber Lemon Water Last?
When refrigerated, your delicious cucumber lemon water should last for around a day.
Although sliced cucumbers and lemon slices will last in water for around two days, your drink may start to taste bitter after a day.
More Refreshing Drink Recipes You'll Love
If you love this simple drink, try any of these! All refreshing and perfect year-round.
Hydrating Watermelon Cucumber Drink
Everything You Need to Know About Topo Chico
This recipe is also vegan, plant-based, dairy-free, gluten-free, and refined sugar-free.
Let us know if you make infused water at your next party! Leave a comment and review below.
You can also FOLLOW US on FACEBOOK, INSTAGRAM, and PINTEREST to see more delicious recipes, cocktails, desserts, and parties!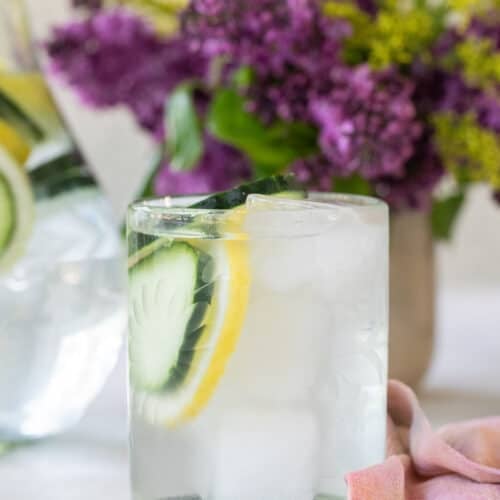 Cucumber Lemon Water
Cucumber lemon water is so quick and easy to make, as well as being a super refreshing drink on a hot summer day. Pop in a few ice cubes for even more refreshing relief.
Print
Pin
Rate
Ingredients
3/4

cucumber

,

sliced

2

lemons

,

sliced

8

cups

water

,

more or less depending on the size of your pitcher
Instructions
Wash the lemons and cucumbers.

Thinly slice the lemons and cucumbers.

Fill a pitcher with cold water.

Add in the sliced lemons and cucumbers.

Refrigerate for 30 minutes or more for ultimate flavor.

Serve in a glass over ice.
Notes
Add more or less water to this recipe depending on the size of the pitcher. 
You can refill with cold water, using the same fruit during an event or dinner. 
Use the recipe as a guide and add your own twist to it. Add more or fewer lemons and cucumbers depending on how you like it. 
Add fresh mint for cucumber lemon mint water.
Nutrition
Calories:
11
kcal
|
Carbohydrates:
3
g
|
Protein:
1
g
|
Fat:
1
g
|
Saturated Fat:
1
g
|
Polyunsaturated Fat:
1
g
|
Monounsaturated Fat:
1
g
|
Sodium:
13
mg
|
Potassium:
76
mg
|
Fiber:
1
g
|
Sugar:
1
g
|
Vitamin A:
26
IU
|
Vitamin C:
15
mg
|
Calcium:
18
mg
|
Iron:
1
mg