Everything you need to know about tonic water, how to use it, what it is and more! We use tonic water in many of our cocktail recipes, like our gin and tonic recipes. It's a bubbly and refreshing drink made with sugar and Quinine.
It's a great mixer for mixed drinks and easy cocktails. There are several brands, including lower sugar and calories too. Keep reading to find out everything you need to know about this popular bubbly water.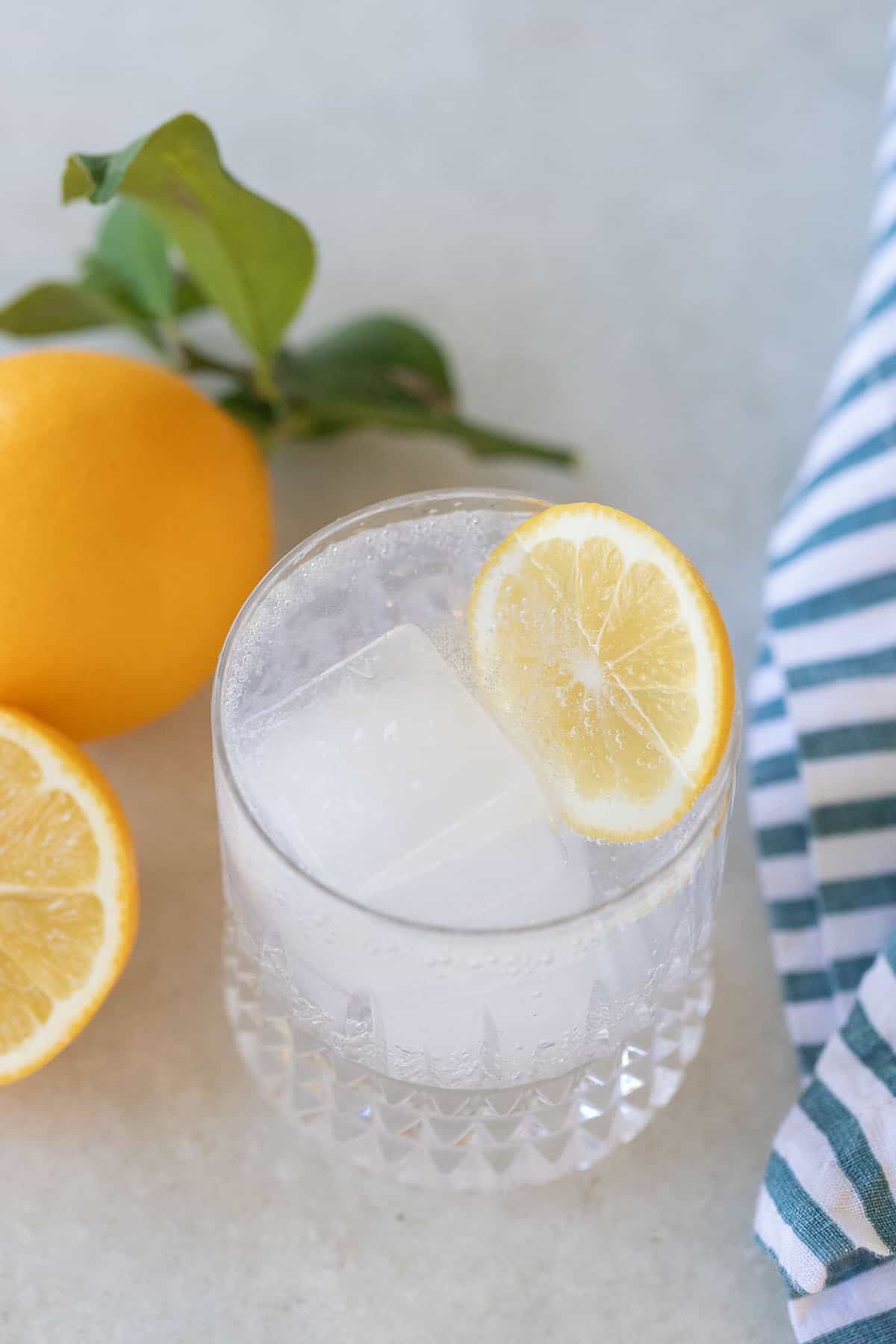 Whether you're drinking it straight or as a mixer, it's time to learn all there is to know about this bubbly water.
Also check out our guide to Topo Chico, sparkling water and cucumber lemon water.
What Is Tonic Water?
So, what is tonic water exactly? It's a type of water with some additives. It includes:
Quinine (more on this later)
Sugar or high fructose corn syrup
Many brands are adding other flavorings to it like botanical, limes, and lemongrass which give a hint of flavor to the water.
Tonic Water And Quinine
When you consider tonic water ingredients and drinking it, you might wonder what is quinine? Some might say that quinine is what makes it different from other water-based mixers.
It's what gives it the slightly bitter taste that makes it so unique. Quinine is a bitter type of compound. It comes from cinchona tree bark. The cinchona tree is most commonly grown in:
Originally, the bark would be used for medicinal purposes before it became the key ingredient in tonic water. Quinine was commonly used to fight malaria which was prevalent in these locations.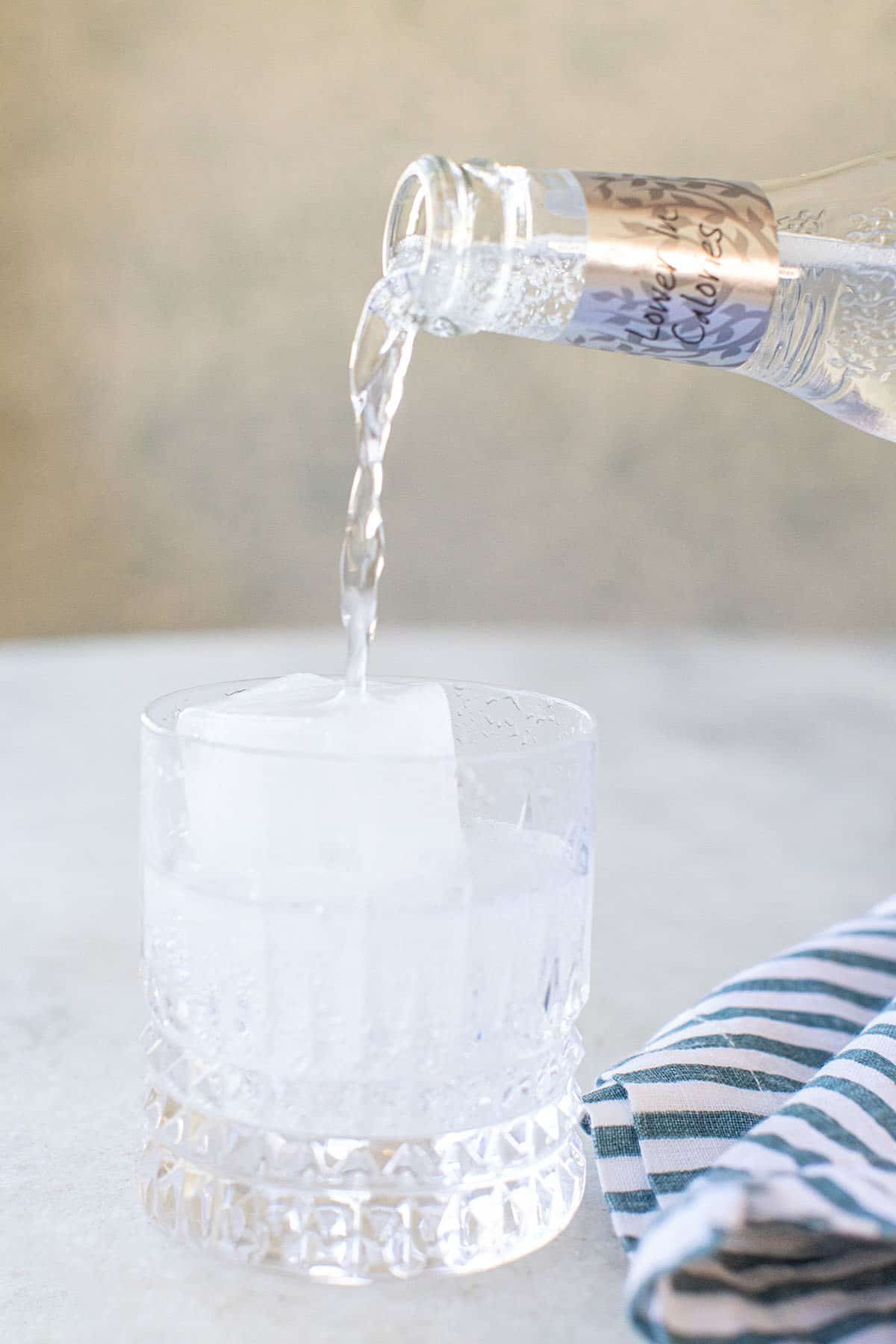 Tonic Water Benefits
There are some benefits to drinking tonic water. Back in the day it was used to treat malaria. Quinine can be beneficial if you suffer from leg cramps.
Some believe that quinine can actually help to alleviate stress (even without the gin included). You do want to take note of the sugar content in it though if you plan to drink it regularly.
What is tonic water vs soda water?
Tonic water is sweet, carbonated water made with quinine and has a bitter taste. Soda water is just carbonated water. Soda water tastes like water with bubbles.
Is tonic water alcoholic?
It is not alcoholic, it's carbonated water with quinine. It has a bitter, sweet taste to it. The most popular cocktail made with it is a gin and tonic.
Best Tonic Water Brands
There used to be only a few brands of tonic water used specifically for mixers. Now though, there are many new brands with altered flavors that you can drink straight or as mixers in a cocktail. Here are a few of our favorite brands:
Canada Dry and Schweppes are the most well-known and standard tonic waters. You'll taste the slightly bitter quinine in both brands.
Fever-Tree is a new tonic brand that is slightly less sweet than some others. It also comes with several botanical versions including elderberry, cucumber, and citrus to name a few.
Fentiman's is another brand great for drinking straight or in a cocktail. They make several botanical versions infused with lemongrass and juniper.
Betty Buzz – A refreshing American style, not overly sweet or bitter.
Are you looking for an option that doesn't include quinine?
Try Love Tonic, which is also naturally sweetened, making it less calorie-filled than some previous options.
Drinks and Cocktails with Tonic Water
How to Make a Classic Gin and Tonic
More Cocktail Ideas
Add 2 ounces of liquor to 5 ounces of tonic water to make any of these cocktails:
Vodka Tonic
Whiskey Tonic
Tequila and Tonic
St Germain and Tonic
Lillet and Tonic
Now you're ready for a refreshing drink! Add fresh lemon or lime juice to the water and a shot of gin for an easy cocktail!
Also check out more great cocktail recipes our favorite brunch recipes, tequila cocktails, gin cocktails, vodka cocktails, and cheap drinks to make at home!
You can also FOLLOW US on FACEBOOK, INSTAGRAM, and PINTEREST to see more delicious recipes, cocktails, desserts, and parties!c
Tonic Water and Lemon Juice
A refreshing drink made with tonic water and lemon juice.
Print
Pin
Rate
Ingredients
5

ounces

tonic water

1

ounce

lemon juice
Instructions
Fill a glass with ice and pour tonic water over the top.

Add lemon juce and garnish with a lemon wheel.
Nutrition
Calories:
6
kcal
|
Carbohydrates:
2
g
|
Protein:
1
g
|
Fat:
1
g
|
Saturated Fat:
1
g
|
Polyunsaturated Fat:
1
g
|
Sodium:
30
mg
|
Potassium:
32
mg
|
Fiber:
1
g
|
Sugar:
1
g
|
Vitamin A:
2
IU
|
Vitamin C:
11
mg
|
Calcium:
9
mg
|
Iron:
1
mg
Whether you want your tonic water on the rocks or mixed with a little gin, it's a great tangy mixer that will awaken your taste buds. For more great recipe ideas including cocktails, sign up for our newsletter here.