This is the best, chewy snickerdoodle recipe! It makes perfect snickerdoodle cookies with all the classic ingredients. Easy to make and full of cinnamon and sugar flavor. They also make delicious ice cream sandwiches. Be sure to check out all of our best cookie recipes! 
Among the most beloved cookie recipes, there's the snickerdoodle. Simple, sweet, and delicious, you truly can't go wrong when making snickerdoodles. They also don't contain butter, just like our very popular butterless chocolate chip cookies. They're also a perfect cookie to serve year-round.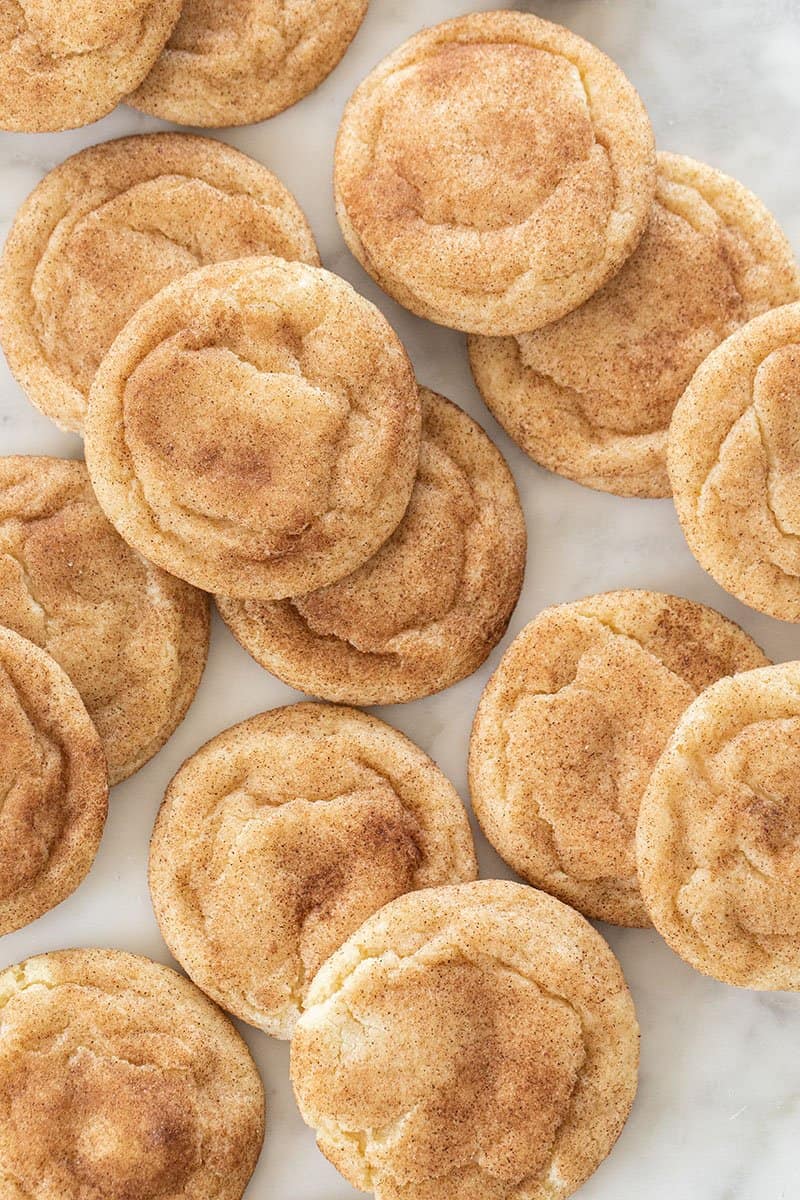 I have a lot of fond memories of making snickerdoodle cookies as a kid. They've always been my pop's favorite cookies, and we would always make a big batch of them around the holidays. The snickerdoodle cookie recipe is pretty simple, but it's all about getting the perfect balance of ingredients.
You want the cookies to be nice and chewy, with just the right amount of sweetness. And of course, they have to be covered in that classic snickerdoodle cinnamon-sugar coating. There is nothing better than biting into a warm, soft chewy cookie.
This is a chewy snickerdoodle cookie to sink your teeth and you'll instantly fall in love with this recipe. Pair it with our snickerdoodle coffee for the best dessert, and coffee combo ever! Traditionally these are Christmas cookies, but they can be served year-round.
How to Make Snickerdoodle Cookies (Step by Step)
We're covering everything you need to know to make these amazing snickerdoodle cookies!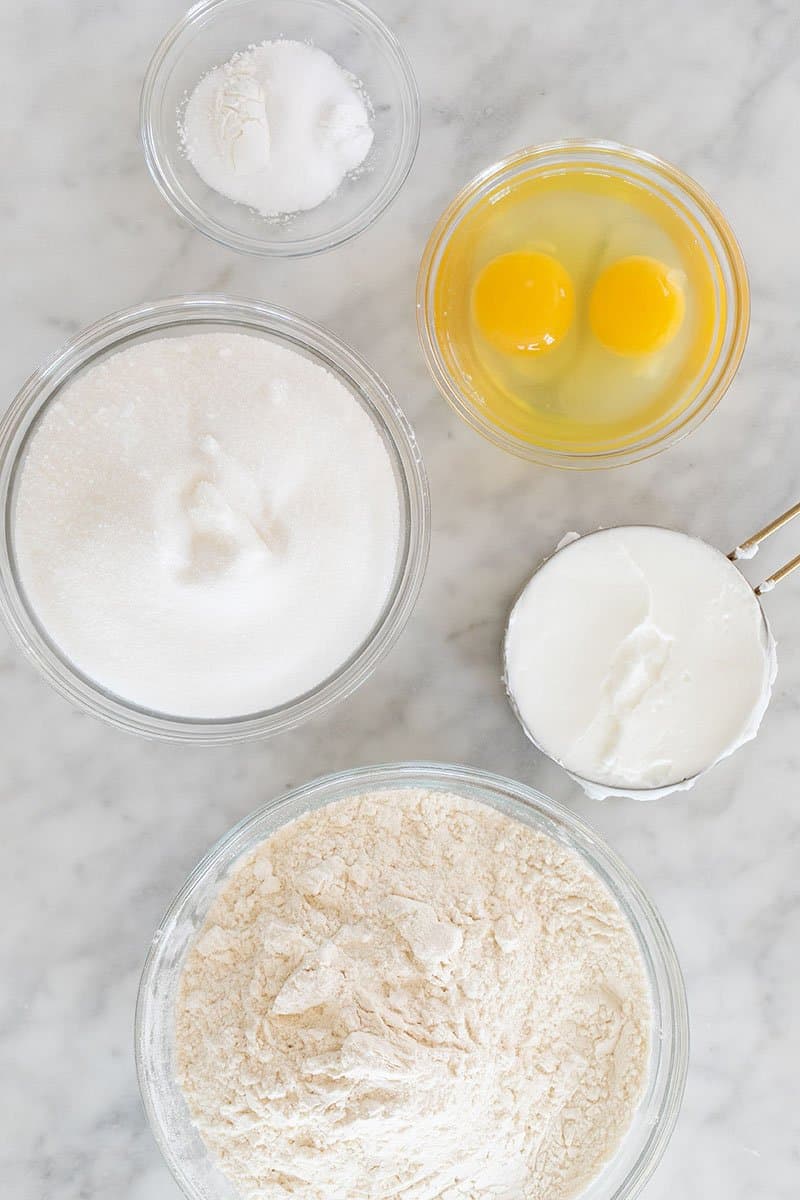 Ingredients in Snickerdoodles Cookies
A list of ingredients you'll need to make these snickerdoodle cookies. The full recipe and measurements are at the bottom.
All-Purpose Flour – Flour adds structure to the recipe. We use King Arthur Flour to make these cookies
Granulated Sugar – Sugar is what sweetens the cookies.
Eggs – Provide moistness and give structure. Use whole, organic eggs when possible.
Vegetable Shortening – Also known as Crisco. This creates a chewy texture in the cookie.
Cream of Tartar – Cream of tartar serves as a leavening agent for baked cookies.
Baking Soda – Used as a leavening agent.
Cornstarch – This is used to give the cookies a chewy texture.
Groud Cinnamon – Adds the cinnamon flavor on the outside of the cookie.
We add cornstarch in this recipe because it softens the thickens cookie, giving it a chewy consistency too.
Directions
Measure out all of the ingredients first and place them in small bowls before starting the baking process. It makes it much easier!
Measure the Dry Ingredients: Flour, salt, and cream of tartar into a medium mixing bowl.
Beat Butter and Sugar: In the bowl of a stand mixer with the paddle attachment, beat sugar, eggs, and vegetable shortening on medium speed until light and fluffy. Scrape down the sides of the bowl.
Add Dry Ingredients: Slowly add in the flour, salt, and cream of tartar and continue beating on medium until mixed together.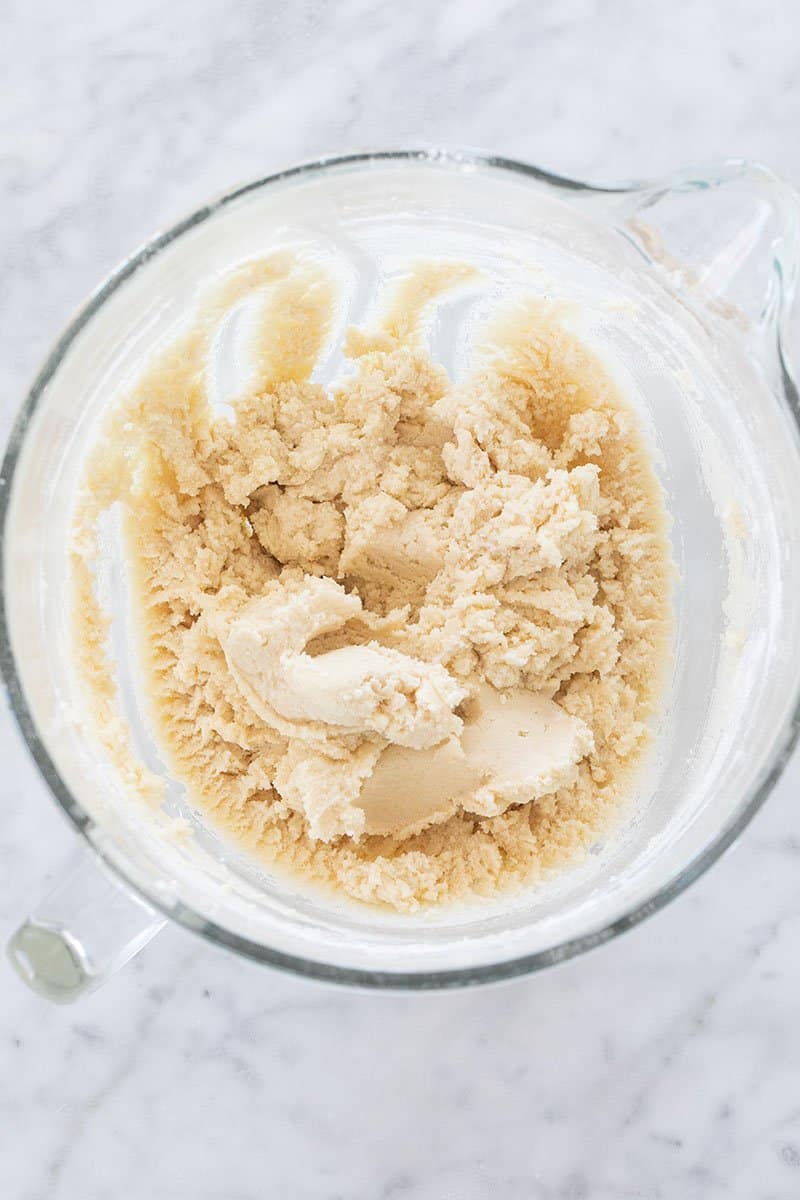 Refrigerate: Chill the dough for at least 2 hours or even overnight.
Cinnamon Sugar Mixture: On a plate, mix sugar and cinnamon for rolling the dough in.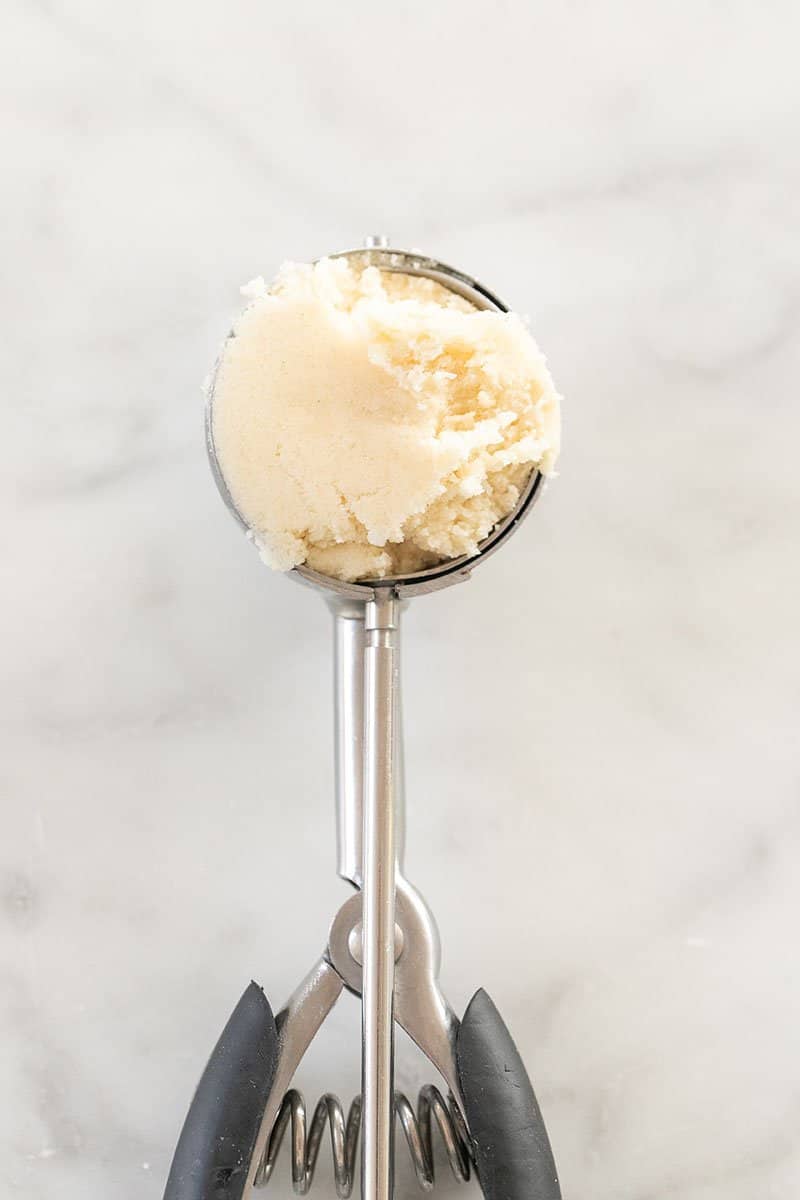 Cookie Dough Balls: Using a cookie scoop, scoop the dough, and roll it in your hands to make a perfect ball.
Roll: Coat the cookie dough balls in the cinnamon-sugar mixture by rolling them in the sugar.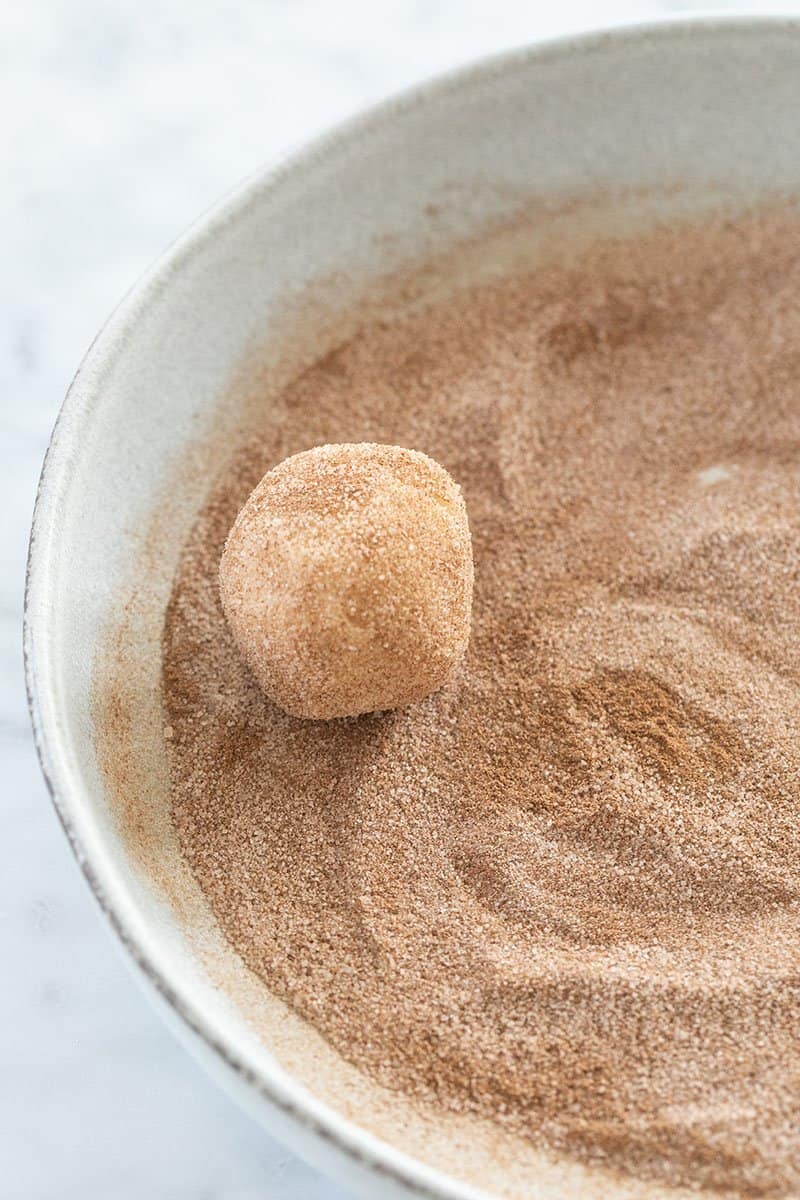 Bake: Place 9 cookies, spaced out on a lined baking sheet. Bake in a preheated 350-degree oven for 10 minutes. 
Cool: Let the cookies cool on a wire rack.
Serve when they're warm and chewy!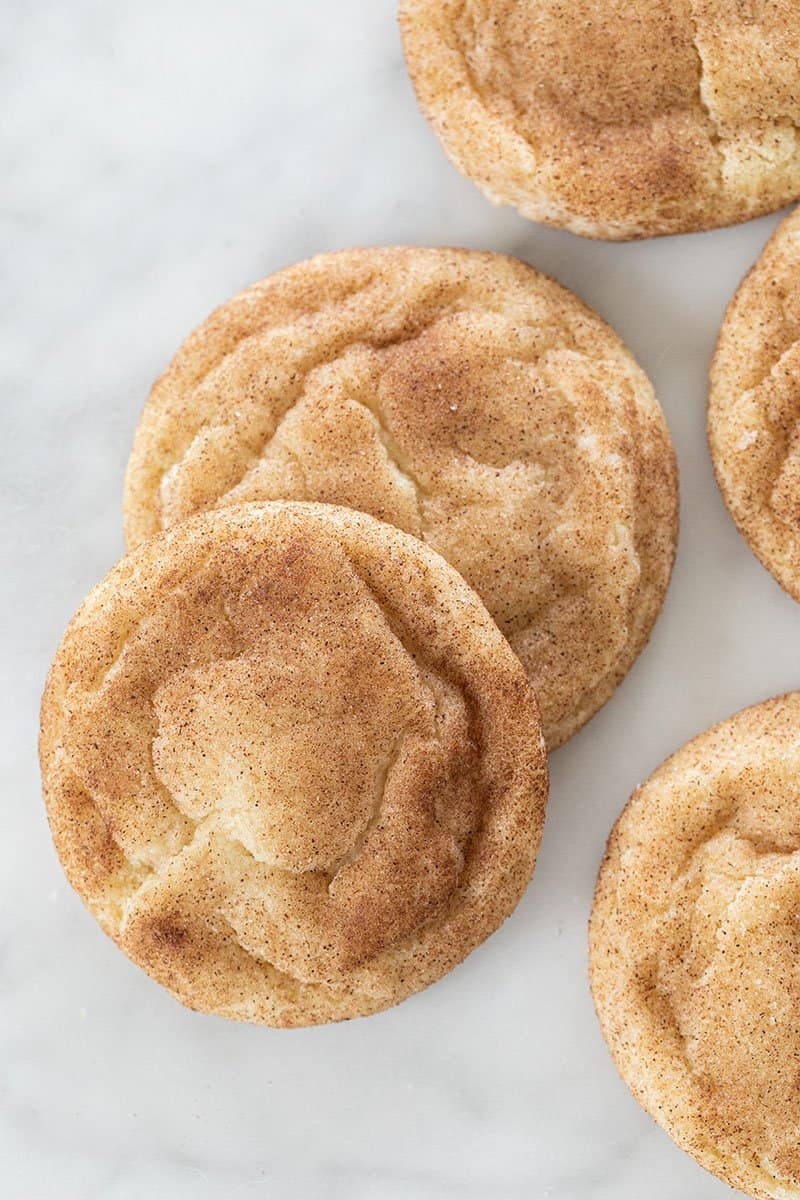 Tips for Making Snickerdoodle Cookies
Cinnamon sugar cookies are one of the best snickerdoodle cookies and a family favorite. Here are 7 tips for making the best cinnamon-sugar snickerdoodles:
Refrigerate the dough for at least an hour before baking. this will help to firm up the dough so that it doesn't spread too much when baking.
Double roll the cookies dough balls in the cinnamon and sugar to make sure they're extra coated.
Always line the cookie sheet with parchment paper or Silpat. Baking the cookies on a silicone baking mat or parchment paper will prevent them from sticking to the pan and makes for easy cleanup.
Bake time will vary as everyone's true oven temperatures are different. Make sure to check the cookies often.
Use good quality ingredients when baking. It does make a difference in the outcome of the cookies.
How to Store Snickerdoodle Cookies
Wondering how you store snickerdoodles? Here are a few ways you can store cookies:
Snickerdoodles should be stored in an airtight container. Let them cool to room temperature before storing them. They will stay fresh for 3-4 days.
You can also keep them in the refrigerator to extend their freshness.
To freeze snickerdoodle cookies, wrap them in plastic wrap and then place them in an airtight container or freezer bag and freeze for up to 3 months.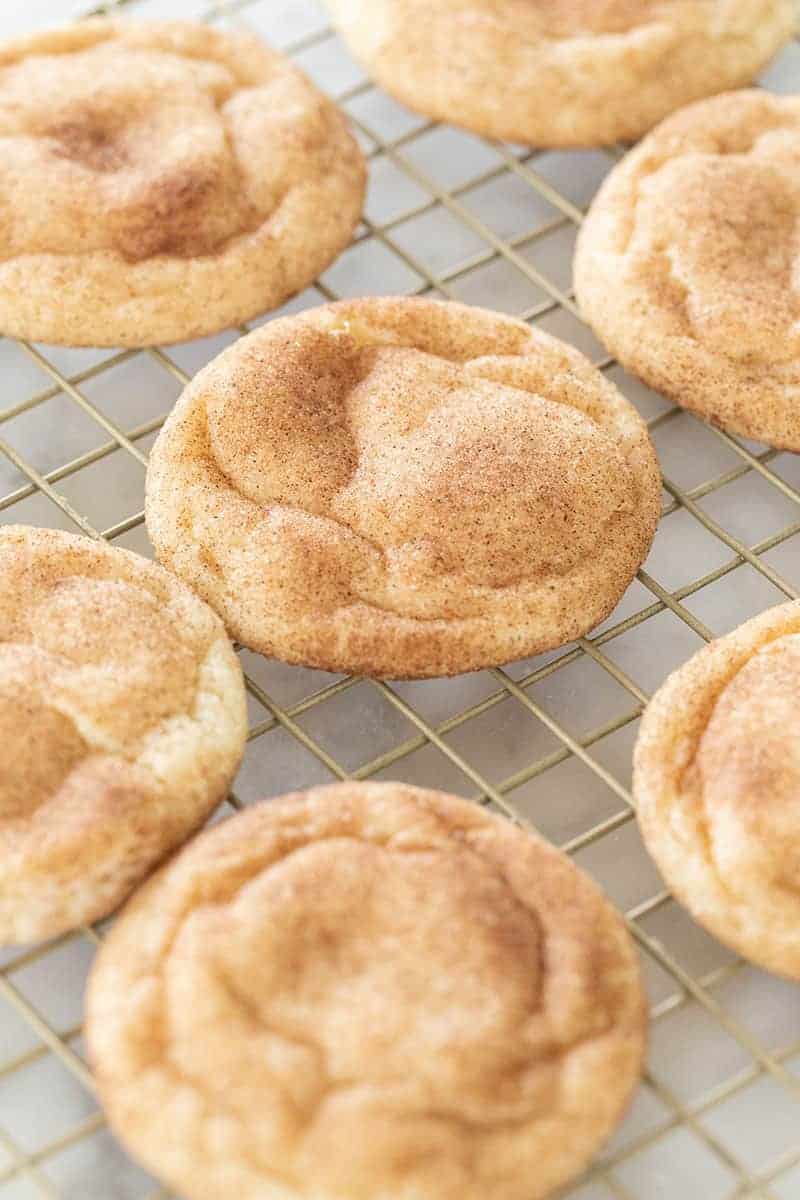 Snickerdoodle Cookie Variations
These really are the best cookies and you can even try one of these variations below:
Peanut Butter Snickerdoodles: Add 1/4 cup of peanut butter to the dough.
Chocolate Snickerdoodles: Add ½ cup of cocoa powder to the dough.
Orange Snickerdoodles: Add the zest of one orange to the dough.
Gluten-Free: Substitute the all-purpose flour for 1-to-1gluten-free baking flour.
Vanilla Chai Snickerdoodles – Add 1 tbsp vanilla extract and 1/8 tsp ground cardamom, 1/8 tsp allspice, 1/8 tsp nutmeg, and 1/4 tsp ginger.
Frequently Asked Questions
Can I substitute butter for shortening in snickerdoodles?
Yes, you can substitute butter for shortening in snickerdoodles. However, the cookies will have a different flavor and texture. Shortening is made from vegetable oils, so it has a neutral flavor. Butter is made from milk, so it has a creamy flavor.
Shortening also has a higher melting point than butter, so it will make the cookies crispier. If you use butter, be sure to use unsalted butter so that the cookies are not too salty.
Why Do You Need Cream of Tartar in Snickerdoodles?
Since cream of tartar acts as a leavening agent, it creates a soft, chewy snickerdoodle.

Without it, the snickerdoodles will be flat and possibly crunchy. If cream of tartar isn't an option, use baking powder for a similar effect!
Why is it Called a Snickerdoodle?
There are a few different theories about where the Snickerdoodle's name came from, but a lot of people think it's a Dutch or German translation.

Snickerdoodle is a translation of the German word, "Schneckennudeln," which means "snail dumpling." Or, it may come from the Dutch word, "Snekrad," which also describes the cookie as a snail shape.

So, whichever story you like better, just go with it!
What Exactly is a Snickerdoodle?
A snickerdoodle is a cookie made with butter or oil, sugar, and flour.

Then, it's rolled in cinnamon sugar for a sweet finish! Check out our easy snickerdoodle recipe to learn how to make snickerdoodles.
Do You Flatten Snickerdoodles Before Baking?
We don't flatten the cookies before we make ours, yet, this is a matter of personal preference.
If you want a thinner cookie, feel free to flatten it. If you want thick, chewy snickerdoodle cookies like the recipe we've created, go ahead and skip this step.
Can I Skip Cream of Tartar in a Recipe?
If you skip cream of tartar, you'll want to add another leavening agent.
Baking powder would be a great choice!
What Does a Snickerdoodle Taste Like?
Snickerdoodle recipes often include vanilla, sugar, and cinnamon.
So, imagine a sugar cookie, but it's coated in cinnamon sugar!
Is Baking Powder the Same As Cream of Tartar?
While baking powder and cream of tartar are both leavening agents, they aren't exactly the same ingredient.
Cream of tartar is a white powder, made up of tartaric acid, which is the substance left in wine barrels once the wine has been taken out of them. It is used as a leavening agent in baking, and it helps to give snickerdoodles their characteristic chewy texture. Cream of tartar is also an acidic ingredient, so it helps to balance the sweetness of the cookies.
While baking powder has cream of tartar in it, it also has baking soda in it. The reaction created by the cream of tartar mixed with baking soda is what makes these ingredients different!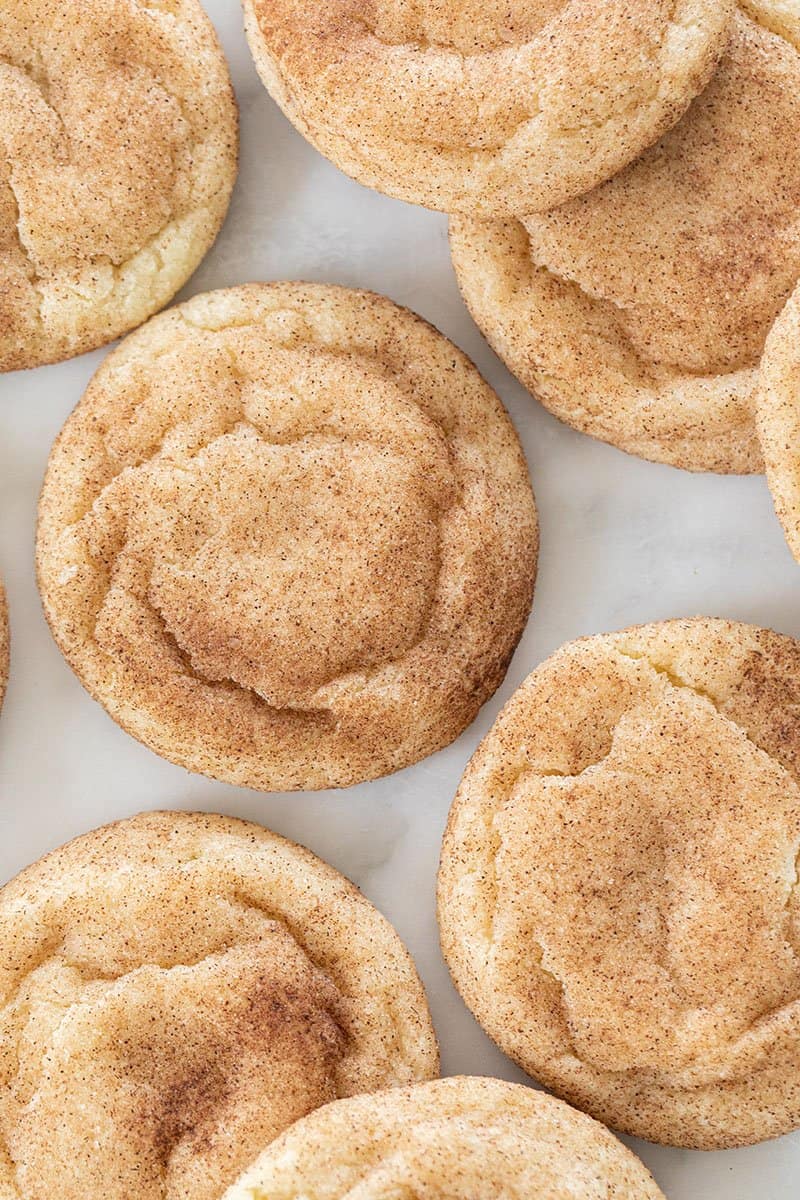 Should Snickerdoodle Dough Be Chilled?
Should Snickerdoodle Dough Be Chilled?
Again, this is a matter of personal preference. While it's not a necessity, chilling snickerdoodle dough creates cookies that are:
Thick in texture.
Chewy snickerdoodles
Easier to roll in the cinnamon-sugar coating.
What's the difference between a snickerdoodle and a sugar cookie?
Snickerdoodle cookies are typically made with vegetable shortening, which gives them a unique flavor. The dough is rolled in a mixture of sugar and cinnamon. Sugar cookies are made with butter and have a different flavor. A sugar cookie is a type of cookie made with sugar, flour, butter, eggs, and vanilla extract. They are commonly decorated with icing or sprinkles. Sugar cookies can be made in a variety of shapes and sizes.
What is the history of snickerdoodle cookies?
The origin of the snickerdoodle is unknown, but they are believed to have originated in the United States. Some food historians believe that the cookies were created by German immigrants, while others believe that they are of Native American origin. The first snickerdoodle recipe was published in 1892, and the cookies have been a popular treat ever since.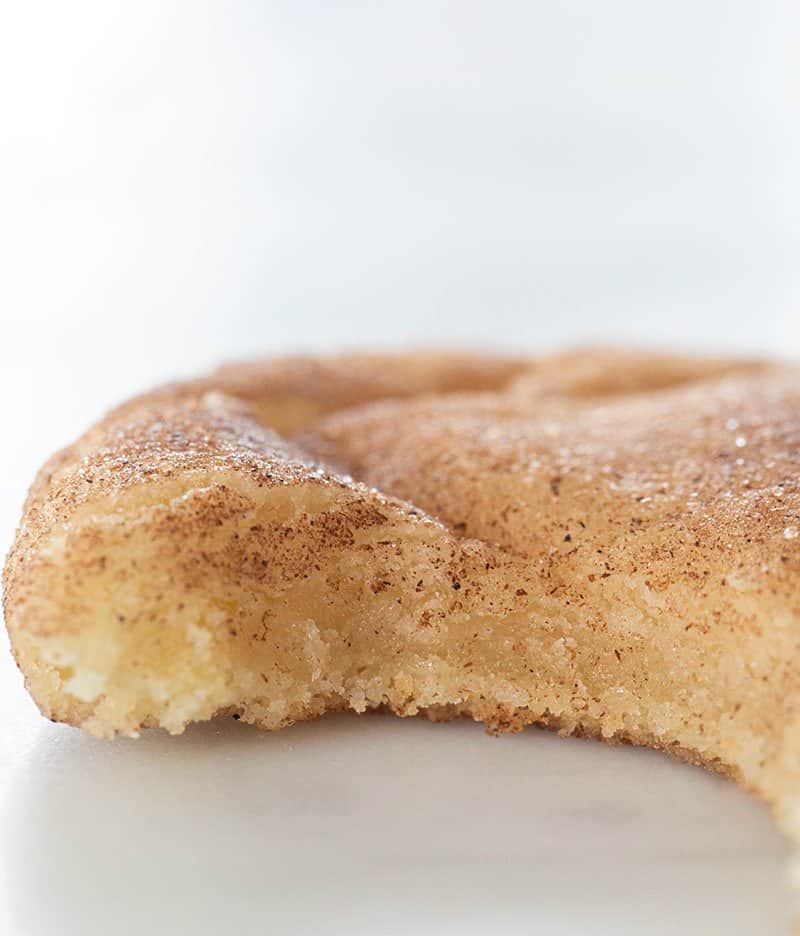 When to Serve Snickerdoodle Cookies
These cookies can be served year-round! They are perfect for the holidays but also wonderful for any of these occasions:
Cookies and Cocktail Gathering
Baby Shower and Bridal Showers
More Cookie Recipes You'll Love
The Best Gingersnap Cookies and chewy ginger cookies.
Chocolate Cherry Chunk Cookies
Oatmeal Chocolate Chip Cookies
Now that you know the secrets of how to make snickerdoodle cookies, it's time to bake your own! Full recipe below!
If you make these cookies, let us know what you think by leaving a comment and review below!
You can also FOLLOW US on FACEBOOK, INSTAGRAM, and PINTEREST to see more delicious recipes, cocktails, desserts and parties!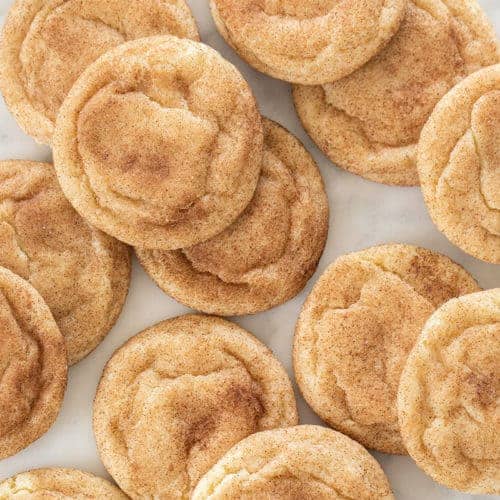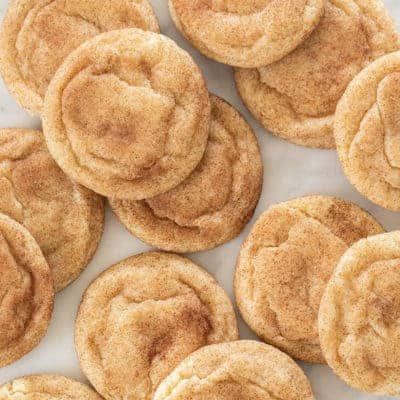 Snickerdoodle Recipe
An easy, classic recipe for chewy homemade snickerdoodles! This is the best chewy snickerdoodle recipe!
Print
Pin
Rate
Servings: 22 cookies
Calories: 194kcal
Ingredients
1 cup shortening , like Crisco
1 1/2 cups sugar
2 large eggs
2 1/4 cups all-purpose flour
2 tsp cream of tartar
1` tsp baking soda
1/2 tsp cornstarch
1 tsp salt
2 tbsp sugar, for rolling cookies
2 tsp cinnamon, for rolling cookies
Instructions
Preheat the oven to 350 degrees.

Beat sugar, eggs, and vegetable shortening in a mixer on high until light and fluffy.

Slowly add in the flour, salt, cream of tartar, cornstarch and baking soda continue beating on medium until mixed together. 

Refrigerate the dough for at least 2 hours.

On a plate, mix sugar and cinnamon for rolling the dough in.

Using a cookie scooper, scoop the dough, roll it in your hands to make a perfect .

Roll the ball in the cinnamon and sugar mixture.

Place 9 cookies, spaced out on a lined cookie sheet. 

Bake in a preheated 350-degree oven for 10 minutes. 

Let the cookies cool on a cookie rack. Serve when they're warm and chewy! 
Notes
TIPS FOR MAKING SNICKERDOODLE COOKIES
Nutrition
Calories: 194kcal | Carbohydrates: 25g | Protein: 2g | Fat: 10g | Saturated Fat: 2g | Cholesterol: 17mg | Sodium: 163mg | Potassium: 65mg | Fiber: 1g | Sugar: 15g | Vitamin A: 25IU | Calcium: 6mg | Iron: 1mg