"© The J.M. Smucker Company. © 2017. DD IP Holder LLC (as to Dunkin' Donuts and all other trademarks, logos and trade dress of DD IP Holder LLC) used under license."
Affogatos are one of our favorite, easy entertaining desserts! They literally consist of just a few ingredients with no baking required! We gave the traditional Affogato recipe our own twist and used Dunkin' Donuts Pumpkin Spice coffee and Dunkin' Dark coffee to make a custom brewed coffee to pour over 3 yummy scoops of vanilla bean ice cream! We loved the combo of using a rich dark coffee and then blending it with a fall pumpkin flavor. The coffee aromas filled the house with the scent of fall, which is so lovely this time of year. After pouring the coffee over the ice cream, we topped our Affogato with caramel sauce and pumpkin pie spice creating the most perfect fall coffee dessert!
To make, use 5 scoops of Dunkin' Pumpkin Spice coffee and 5 scoops of Dunkin' Dark coffee, then brew 10 cups. Pour over 3 scoops of your favorite vanilla bean ice cream and top with caramel and pumpkin pie spice. Cheers!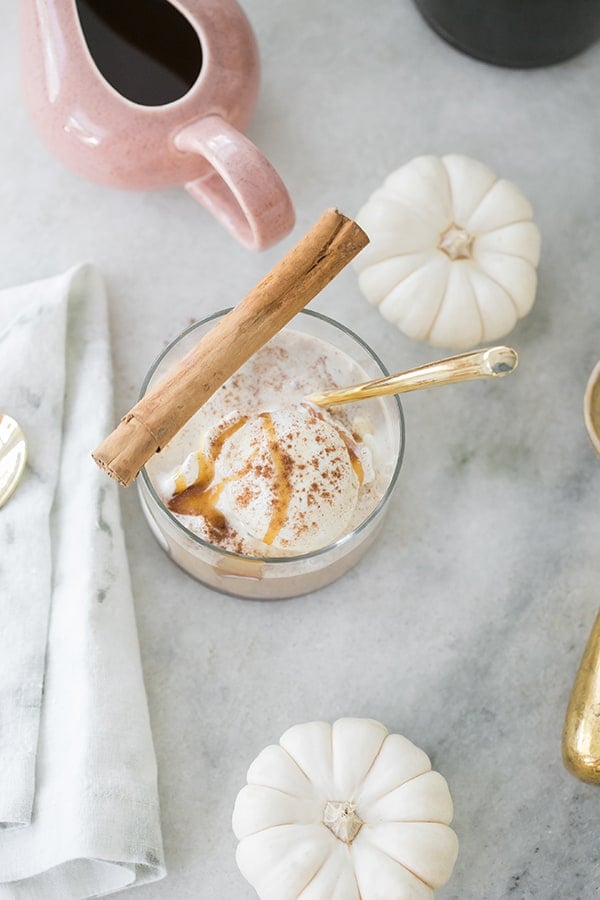 This post is sponsored by Walmart