<span"> "© The J.M. Smucker Company. © 2017. DD IP Holder LLC (as to Dunkin' Donuts and all other trademarks, logos and trade dress of DD IP Holder LLC) used under license." </span">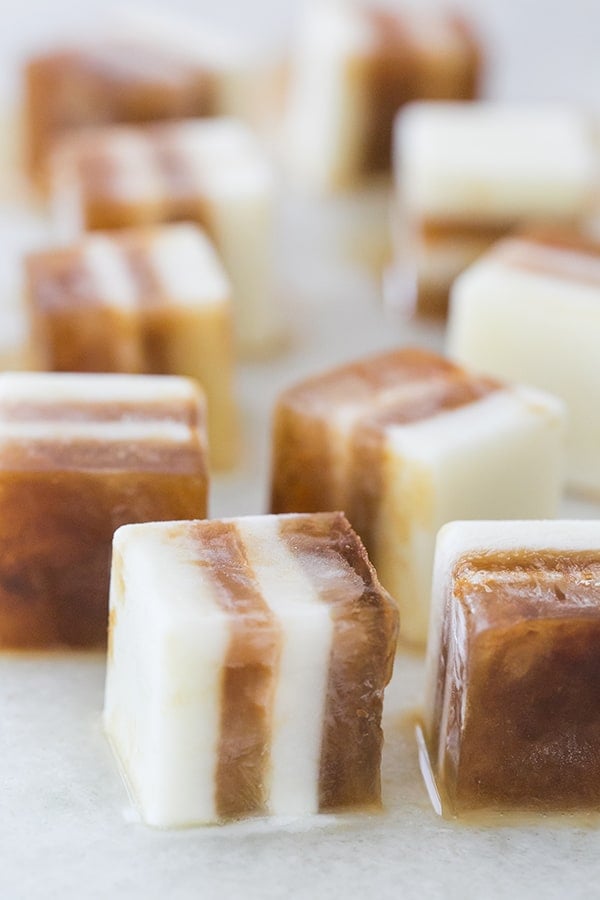 Fall is here and we are so ready for everything pumpkin spice, including these delicious pumpkin spice & hazelnut coffee cubes! We've been using these coffee cubes almost every day in our iced coffee. They keep any iced coffee drink from getting watered down with water cubes and add a little extra kick. Coffee cubes are such a charming detail when entertaining as well! And yes, in Cali, we still drink iced coffee throughout a good amount of our fall days!
For these cubes, we teamed up with Dunkin' Donuts Coffee (we'll be doing a complete coffee series with them!) and created our own custom blend using Pumpkin Spice and Hazelnut coffees! Pumpkin and Hazelnut flavors compliment each other so well and make the most perfect fall blend. I brewed 10 cups of coffee with 5 scoops of Hazelnut and 5 scoops of Pumpkin Spice, and then poured the coffee into square silicone ice molds and froze them overnight.
We also made Pumpkin Spice & Hazelnut layered Coffee and Cream Cubes! These look incredibly charming and although they take a little longer to make, they're worth the presentation! To make the layered coffee ice cubes, pour in a layer of cream and freeze. Then pour cooled brewed coffee over the top and freeze overnight. You can create as many layers as you want!
Once the coffee cubes are frozen, toss them into a glass and pour Pumpkin Spice & Hazelnut brewed coffee over the top! Add in cream and if you want, a little pumpkin spice syrup to sweeten it up. Cheers and try these out, you'll love them!
This post is brought to you by Dunkin' Donuts and Walmart!