Homemade confetti cupcakes are perfect for birthday parties and celebrations! They're moist vanilla cupcakes with sprinkles in the batter to look like confetti! These cupcakes are topped with buttercream frosting and are perfect for serving year-round!
We've been making this recipe as a funfetti cake for years. It's one of the best recipes and makes super tender delicious confetti cupcakes!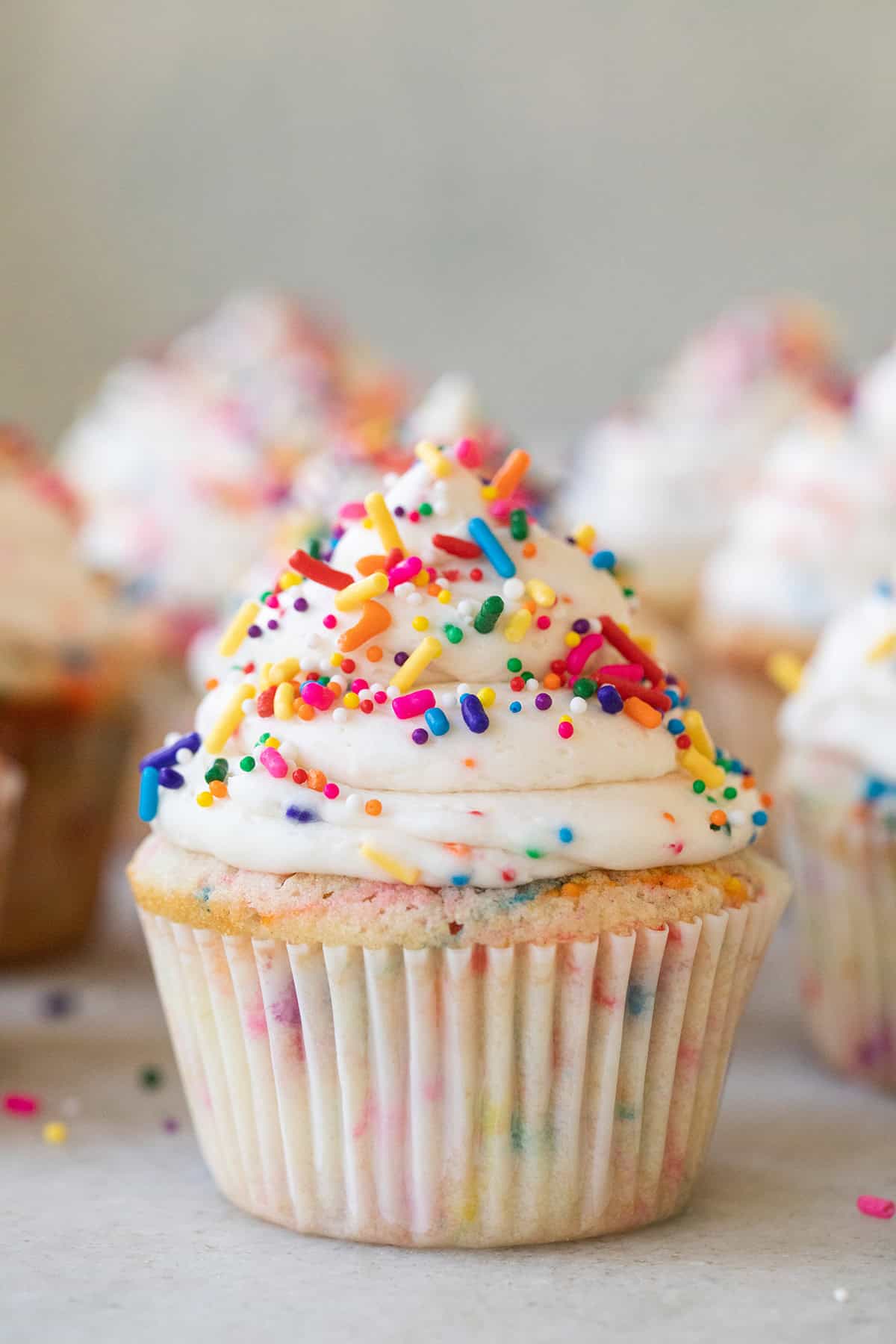 Reasons You'll Love This Recipe
Their colorful confetti swirls: The bright confetti speckles in each cupcake instantly add a festive atmosphere to any occasion.
They're super easy to make: The batter is quick and easy to whip up and you can add any frosting you want to the top.
Super moist cupcakes: These confetti cupcakes are so moist they practically melt in your mouth.
How to Make Confetti Cupcakes
We'll cover everything you need to make these cupcakes, share our expert tips, and answer frequently asked questions.
If you prefer to jump to the recipe, head to the bottom of the post where you'll find the recipe card and measurements.
Supplies
Here are a few supplies you'll need to make this dessert:
Confetti Cupcake Ingredient Notes
This recipe is made with simple ingredients you can find at your local grocery store.
All-purpose Flour – This is used to create create a light texture and structure in the cup cupcakes.
Granulated Sugar – Adds sweetness to the confetti cupcakes cakes.
Baking Powder – This is used as a leavening agent to help the cupcakes puff up while baking. Make sure to check the date for freshness before using.
Sea Salt – Salt helps enhance other flavors in the confetti cupcakes.
Unsalted Butter – Unsalted butter adds moisture to confetti cupcakes and helps create a tender crumb.
Whole Milk – Whole milk adds moisture and richness. If you don't have whole 2% milk will also work.
Egg Whites – The egg whites add moisture and structure to the confetti cupcakes.
Whole Egg – The yolk of a whole egg adds moisture and richness to the confetti cupcakes.
Vanilla Extract – This adds flavor and enhances the flavor of the ingredients. Use pure vanilla for a natural vanilla flavor.
Almond Extract – Almond extract adds nutty, sweet flavor to the confetti cupcakes.
Vegetable Oil – Vegetable oil adds more moisture and a tender texture to the confetti cupcakes. You can use canola oil or vegetable oil
Colorful Sprinkles – The star of the confetti cupcakes! Make sure to use a mix of confetti sprinkles or rainbow jimmies.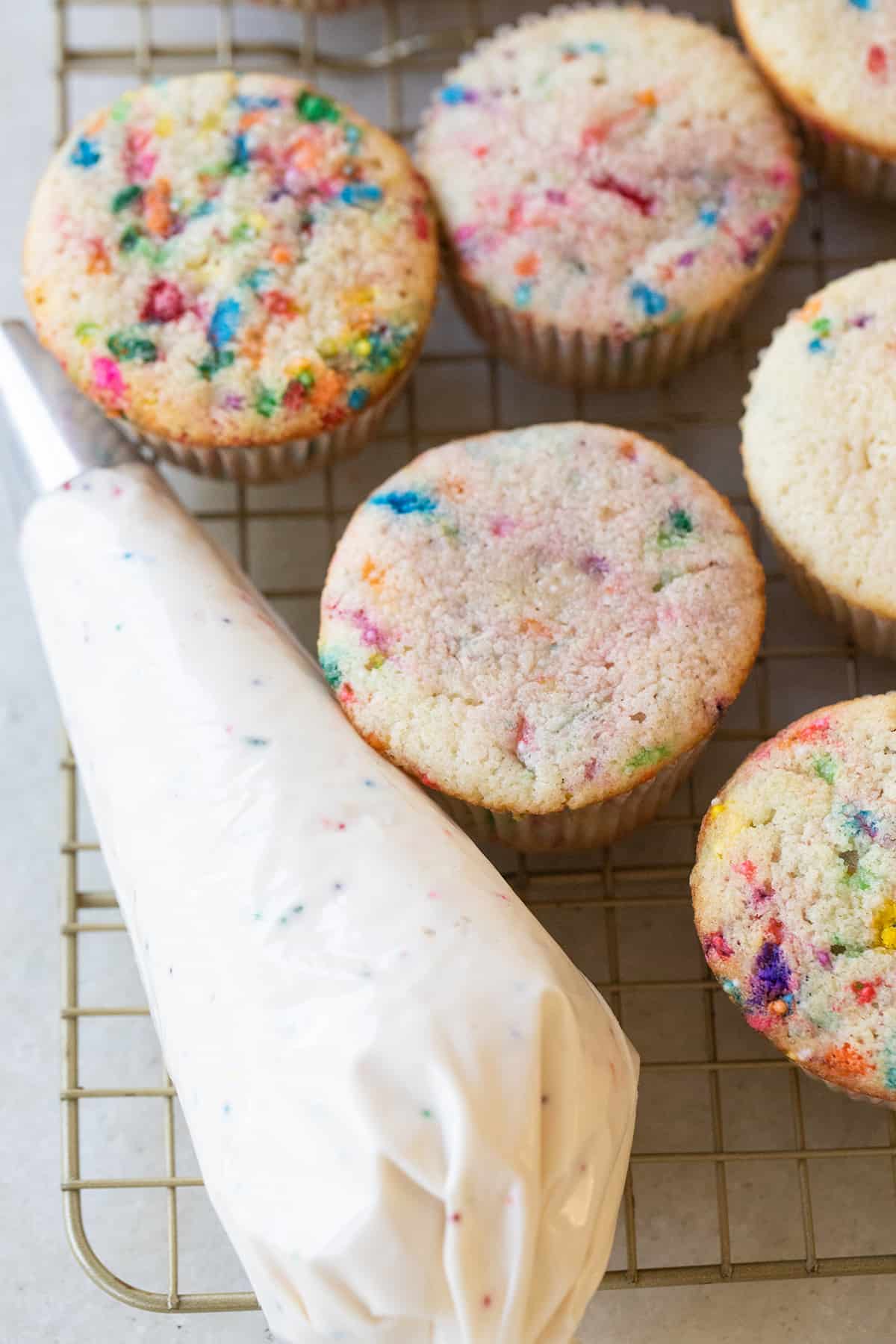 Homemade Frosting
We used our buttercream frosting to make this recipe. You can use any frosting you like, just add sprinkles to the top!
You can also use chocolate frosting or our buttercream meringue frosting.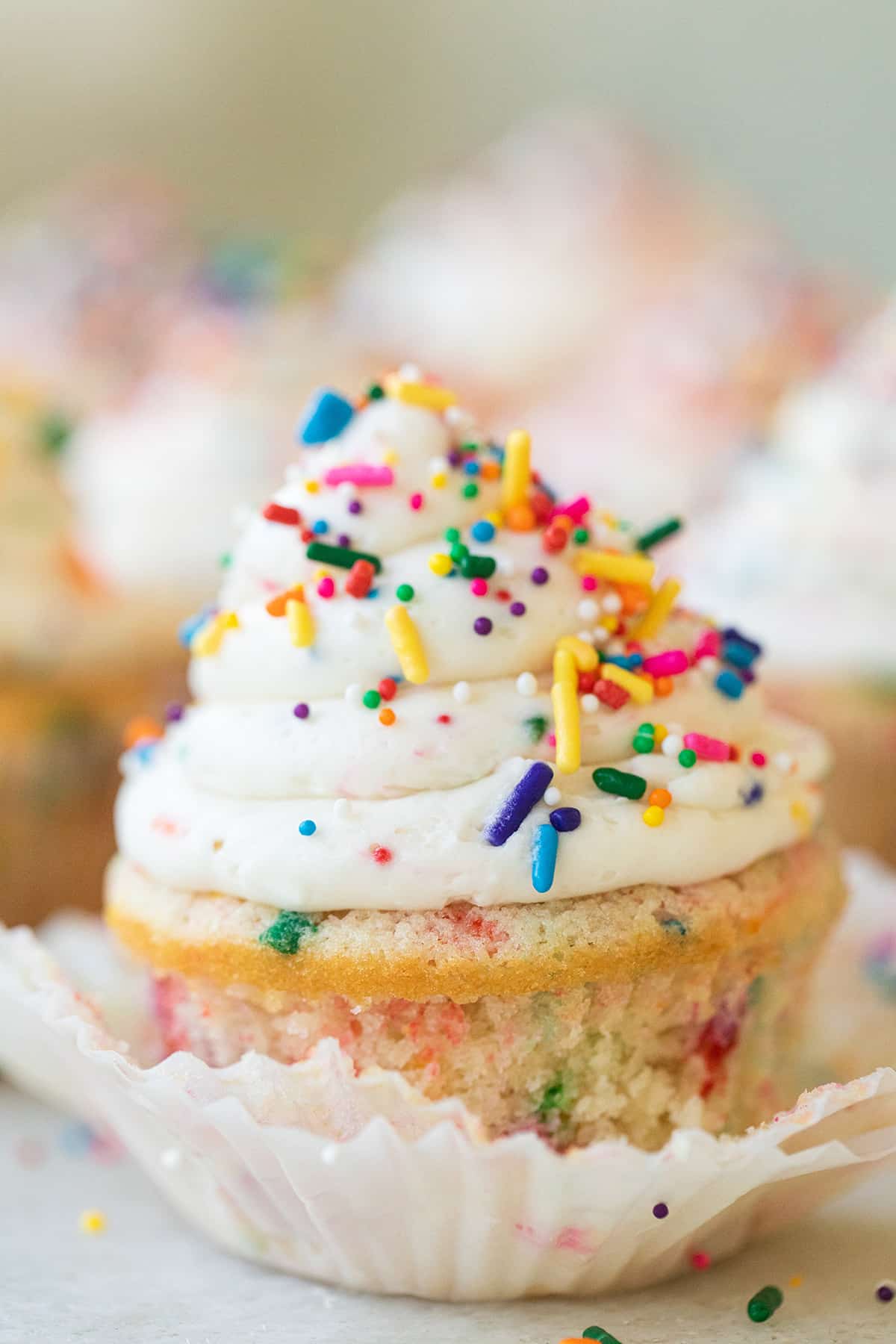 Tips For Recipe Success
Here are a few of our expert tips for making confetti cupcakes that come out moist and delicious every time:
Cream the butter and sugar together for at least two minutes to incorporate air into the confetti cupcakes. This will give you light and fluffy confetti cupcakes!-
Line your muffin tin with paper liners to ensure easy removal of the confetti cupcakes.
Don't over-mix the confetti cupcake batter or you'll end up with dense confetti cupcakes.
Fill each muffin tin 3/4 of the way full for perfectly-popped confetti cupcakes.
Use a large cookie scoop to fill the cupcake tin.
Add extra sprinkles for a confetti explosion.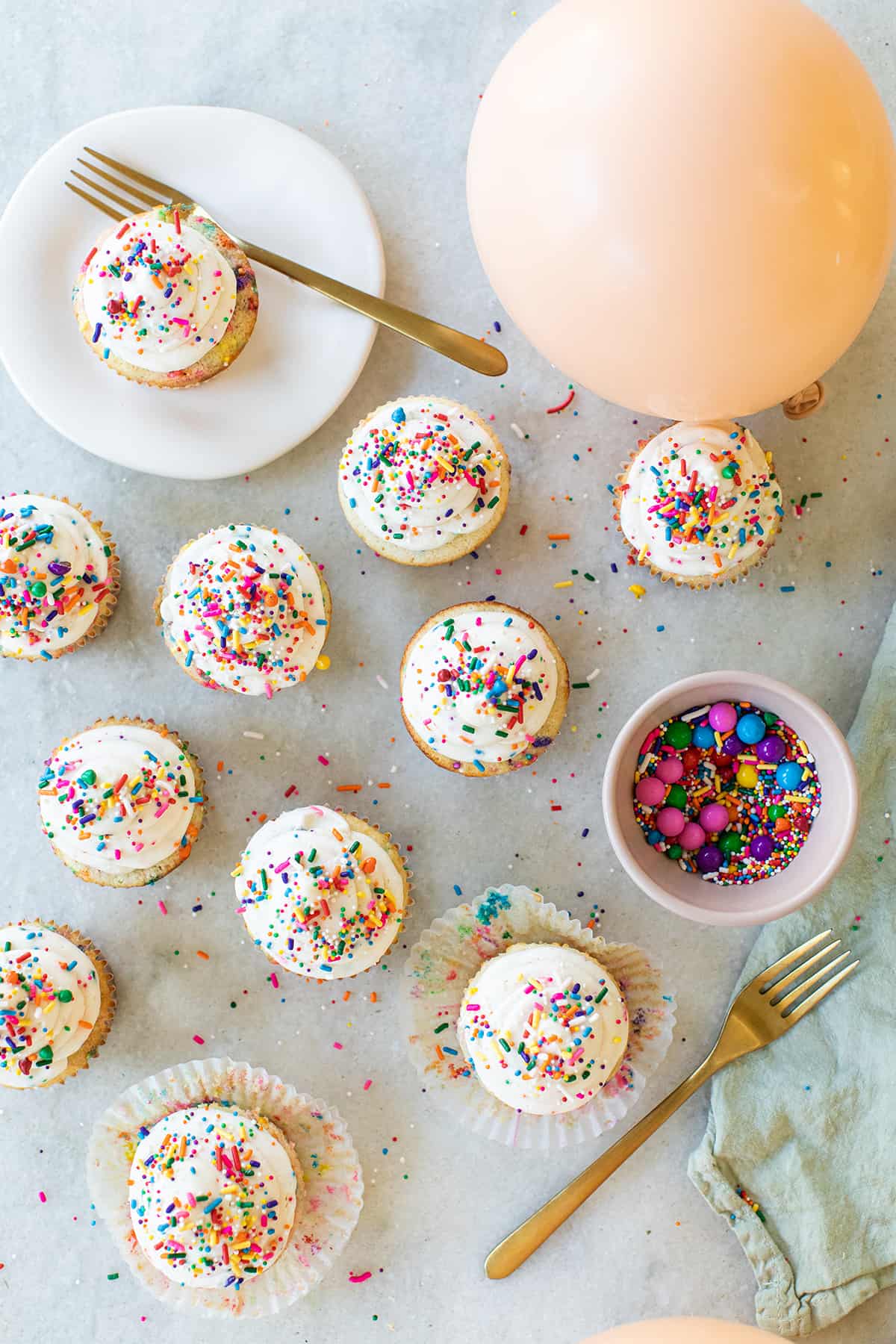 Recipe Variations and Alternatives
Gluten-Free – To make these confetti cupcakes gluten-free, substitute the all-purpose flour for a 1:1 gluten-free baking flour.
Organic Cupcakes – All of the ingredients in this recipe can be organic, including the sprinkles.
Naturally Dyed Sprinkles – If you prefer to use naturally dyed sprinkles you can, the colors will be muted but still pretty!
Whole Wheat – You can substitute all-purpose flour with whole wheat flour. Just note, it will change the look and the flavor.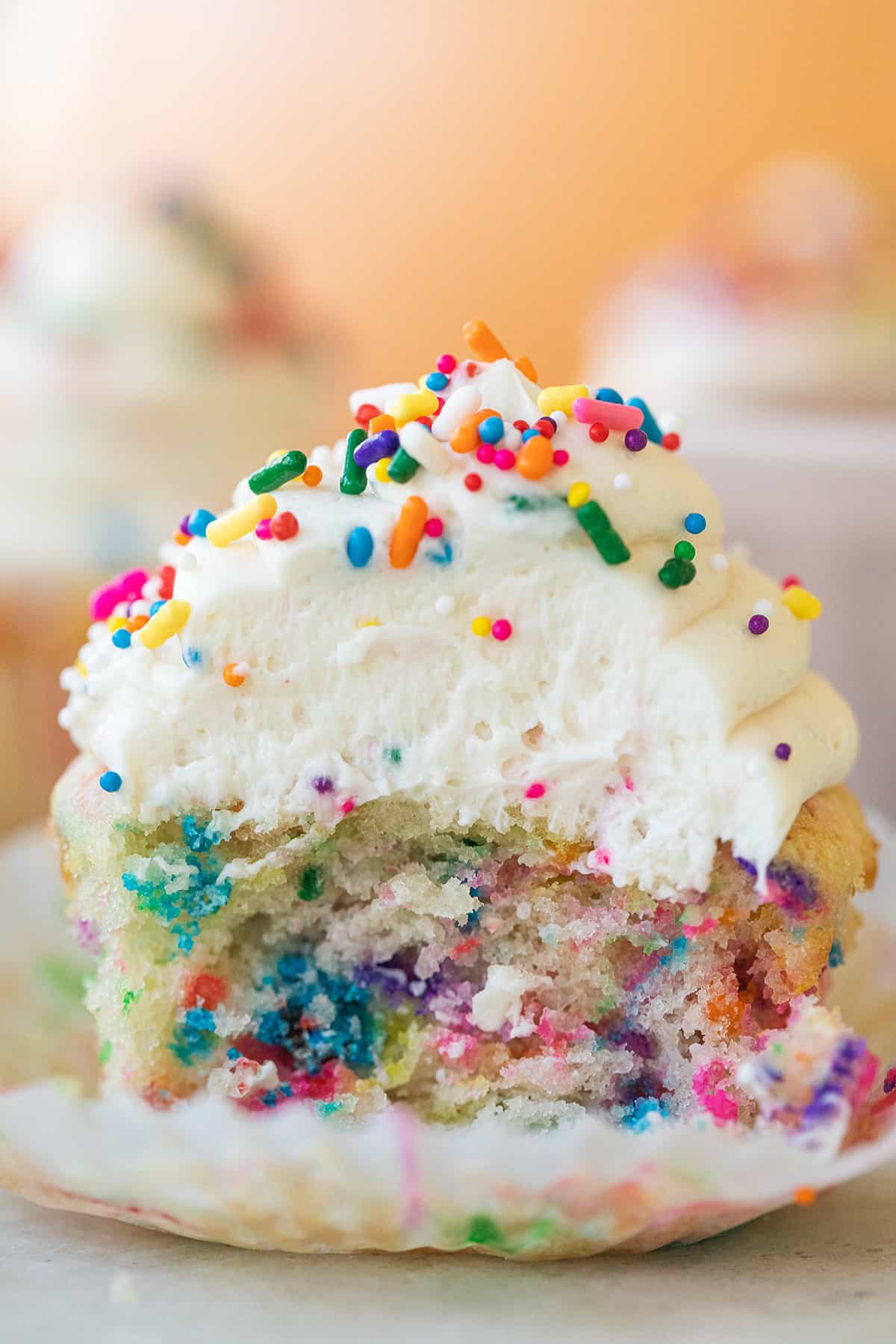 How to Tell When Cupcakes Are Done
Use the bounce-back test to check for doneness. Gently press the confetti cupcakes with your finger and if it bounces back, they are done.
If your finger left a dent, then the cupcakes need a little more time. However, I don't like to overbake my desserts either, so it's key to know when they're done.
You can also use the toothpick test, insert a tooth toothpick pick into the center center of the cupcake cake and if it comes out clean the cupcakes are done.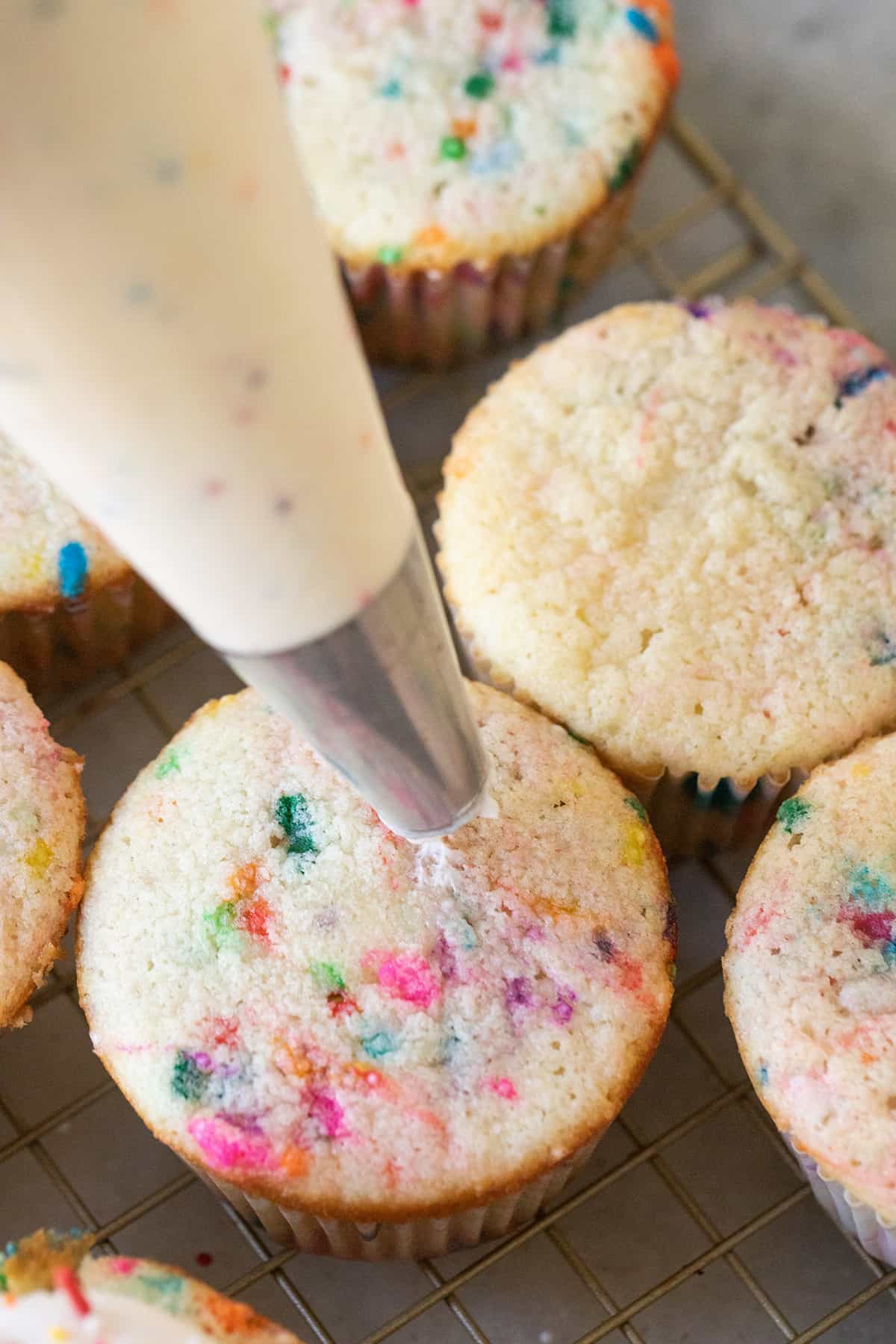 How to Decorate Confetti Cupcakes
If you want to make it easy, you can simply spread buttercream over the top of then dip them into a bowl of sprinkles.
You can also use a piping bag with a round tip or star tip and make swirls on top of the confetti cupcakes.
Once you've frosted your confetti cupcakes, top them with colorful rainbow sprinkles mix to finish them off!
How to Store Cupcakes
Here's how to store cupcakes:
Room Temperature
Place them in an airtight container and store them at room temperature for up to 2 days.
Refrigerate
They can be stored in the refrigerator for up to three days. Let cool completely before transferring to an airtight container.
Freeze
We recommended freezing unfrosted cupcakes. Wrap them in plastic wrap and store them in a freezer bag with the date written on the outside. They can be stored in the freezer for up to three months.
When you're ready to serve them, let them defrost in the refrigerator overnight. Then add the frosting.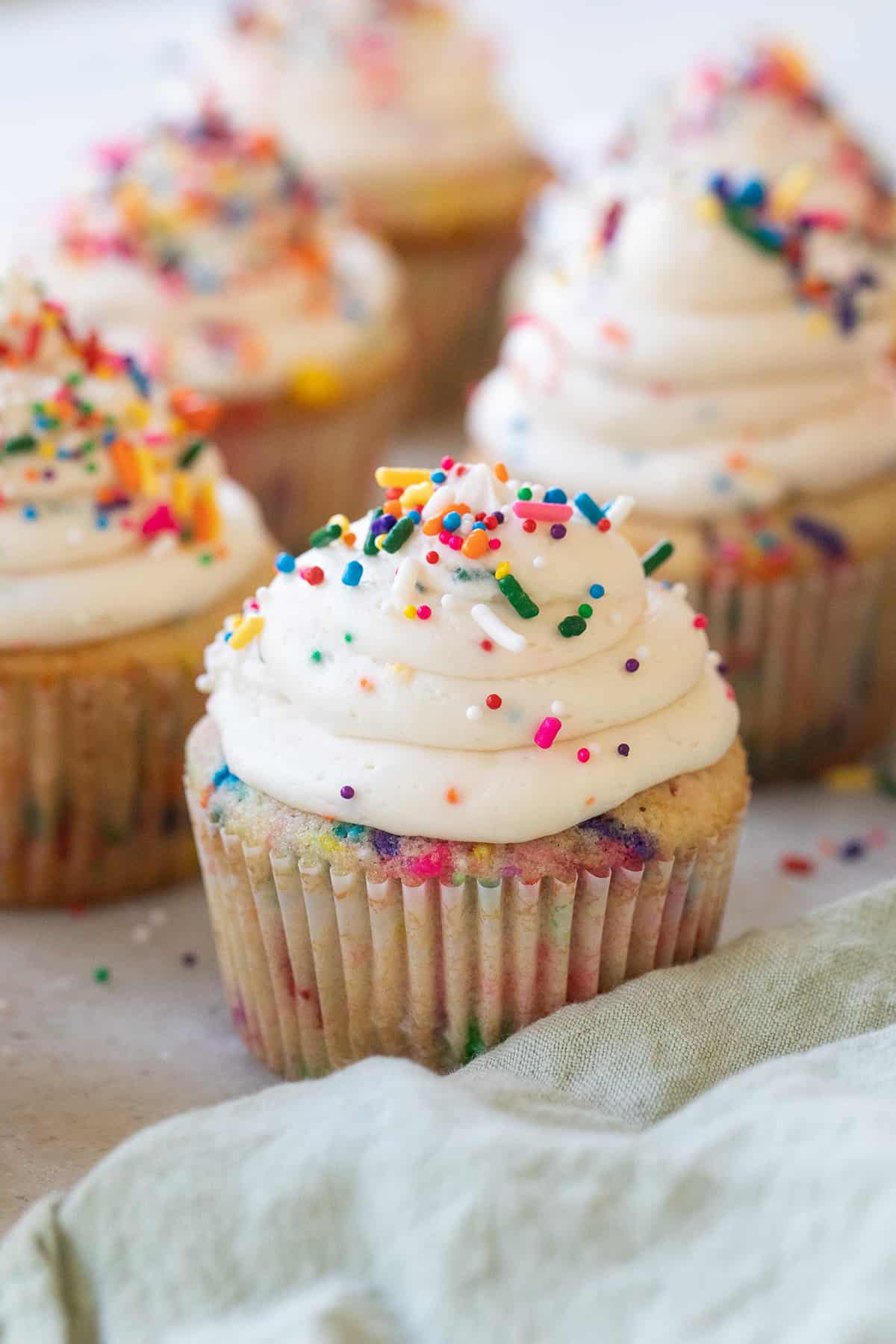 Frequently Asked Questions
What kind of oil do you use for funfetti cupcakes?
We recommend using vegetable oil such as canola oil or sunflower oil. Any natural oil is great for baking. If you love the flavor of coconut, you can also use coconut oil. 
What is the secret to super moist cupcakes?
There are many variables that affect the outcome of a moist cupcake. The recipe and the ratio of wet and dry ingredients are key to a moist texture. Overmixing the batter once the flour is incorporated can cause the cupcakes to be dense and dry.
Overbaking the cupcakes can also lead to dry confetti cupcakes. So be sure to use a timer and use our methods above to tell when the cupcakes are done.
What is confetti in baking?
Confetti in baking is essentially rainbow sprinkles added to the batter before baking. This gives the confetti cupcakes a bright and fun confetti look. 
What does adding an extra egg do to cupcakes?
Adding an extra egg to the batter adds moisture and structure, resulting in a more tender confetti cupcake. The egg helps to bind the ingredients together and gives the cupcakes a lighter texture. In our recipe, we add an extra whole egg and it creates a super moist cupcake. 
Is Funfetti just vanilla with sprinkles?
Yes! Funfetti is a confetti cupcake with vanilla cake with rainbow sprinkles. It's the same idea as confetti cupcakes, just with a different flavor. Funfetti cupcakes are also topped with vanilla frosting. 
When to Serve Cupcakes
These are great for many special occasions! Serve them with ice cream or a fresh fruit platter for the ultimate dessert.
Here are some special occasions we love to serve these cupcakes:
If you're making these for an adult birthday party, make sure to serve them with our birthday cake shots!
More Cupcake Recipes You'll Love
Let us know what you think!
This recipe makes perfect cupcakes that are great for any celebration. If you try this funfetti cupcake recipe, leave a comment and review below. We'd love to know your thoughts!
You can also FOLLOW US on FACEBOOK and PINTEREST to see more delicious recipes, cocktails, desserts, and parties!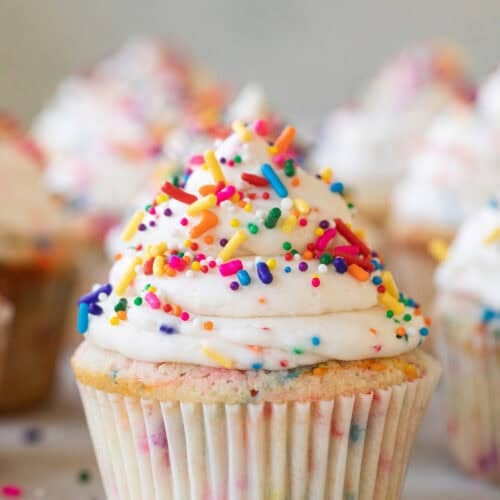 Confetti Cupcake Recipe
Moist vanilla cupcakes with sprinkled batter to look like confetti! They're topped with a rich buttercream frosting and are perfect for parties!
Print
Pin
Rate
Ingredients
Confetti Cupcakes
2 1/2

cups

all-purpose flour

1

tbsp

baking powder

1

tsp

salt

1

cup

unsalted butter

,

room temp.

1 1/2

cups

granulated sugar

4

large

egg whites

1

whole

egg

1

cup

whole milk

1/2

cup

vegetable oil

2

tsp

vanilla extract

1

tsp

almond extract

1/2

cup

colorful sprinkles
2

cups

buttercream frosting
Instructions
Combine all of the dry ingredients together in a bowl and set aside.

In a mixer, beat butter and sugar until light and fluffy.

Add each egg white one at a time and continue beating.

Combine the milk, oil, and extracts together in a bowl with a spout.

With the mixer on low, alternate the dry ingredients with the wet ingredients, beating until combined each time.

Fill a cupcake tray 3/4 of the way full.

Bake for 20 minutes at 350 degrees. This will vary depending on your cake pan, true oven temperature, and location.