Sharing our favorite recipes, drinks, decor and charming ideas for hosting a fabulous Easter brunch!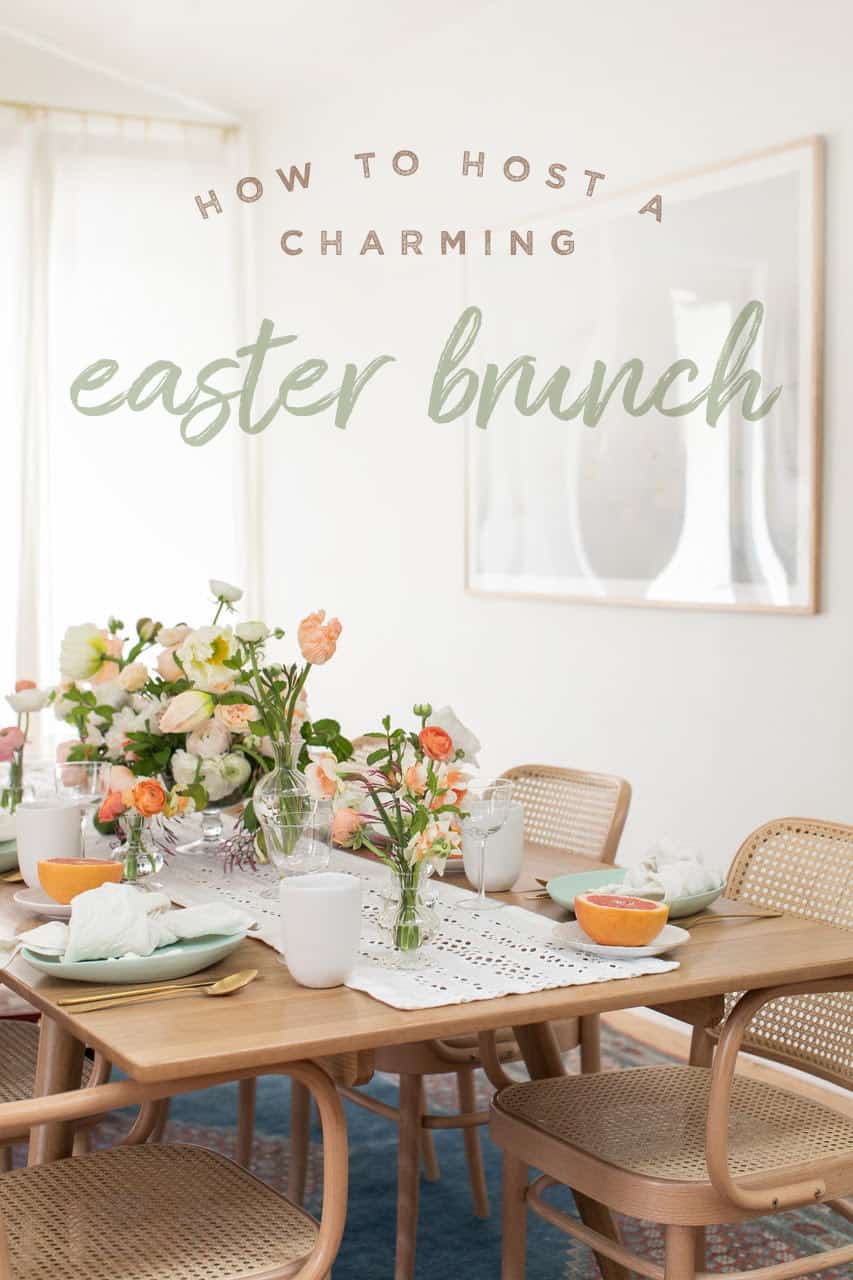 Easter has always been one of my favorite holidays to celebrate… probably because I loved spring candy and the beautiful Easter baskets my mom made us. These days, I'm more excited about hosting a beautiful brunch, putting together baskets for my boys and dying eggs.
I get so much joy creating these memories for my family. Below is a guide for creating your own Easter brunch and wonderful memories for your family and friends.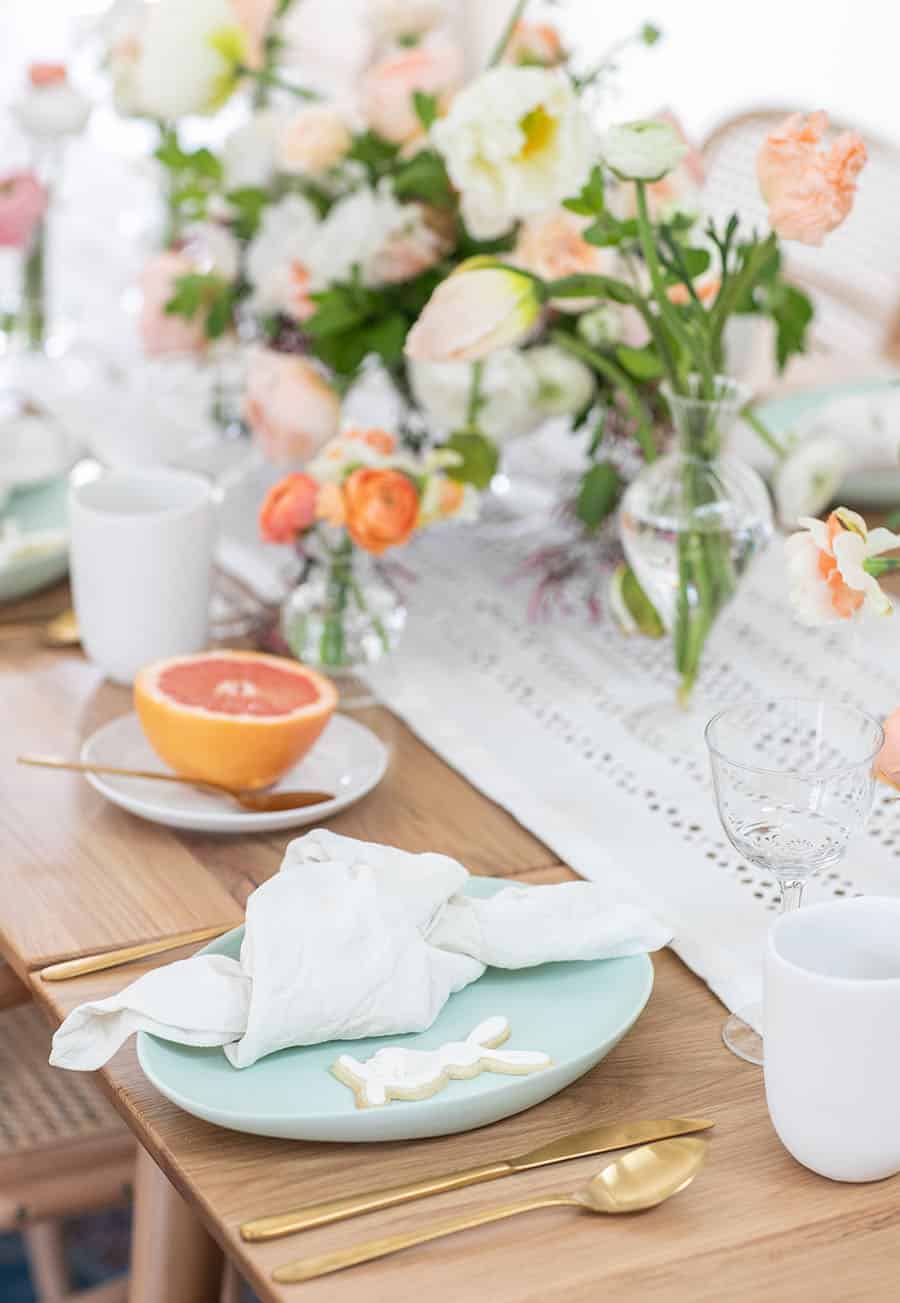 How to set a charming Easter table
Creating a beautiful table setting is an important part of hosting an Easter brunch. You can use what you have, like white dishes and gold flatware. Add a table runner and spring flowers down the center.
Here's a guide for setting a modern table and below we've created a shopping guide with links to all of the items used on our Easter table!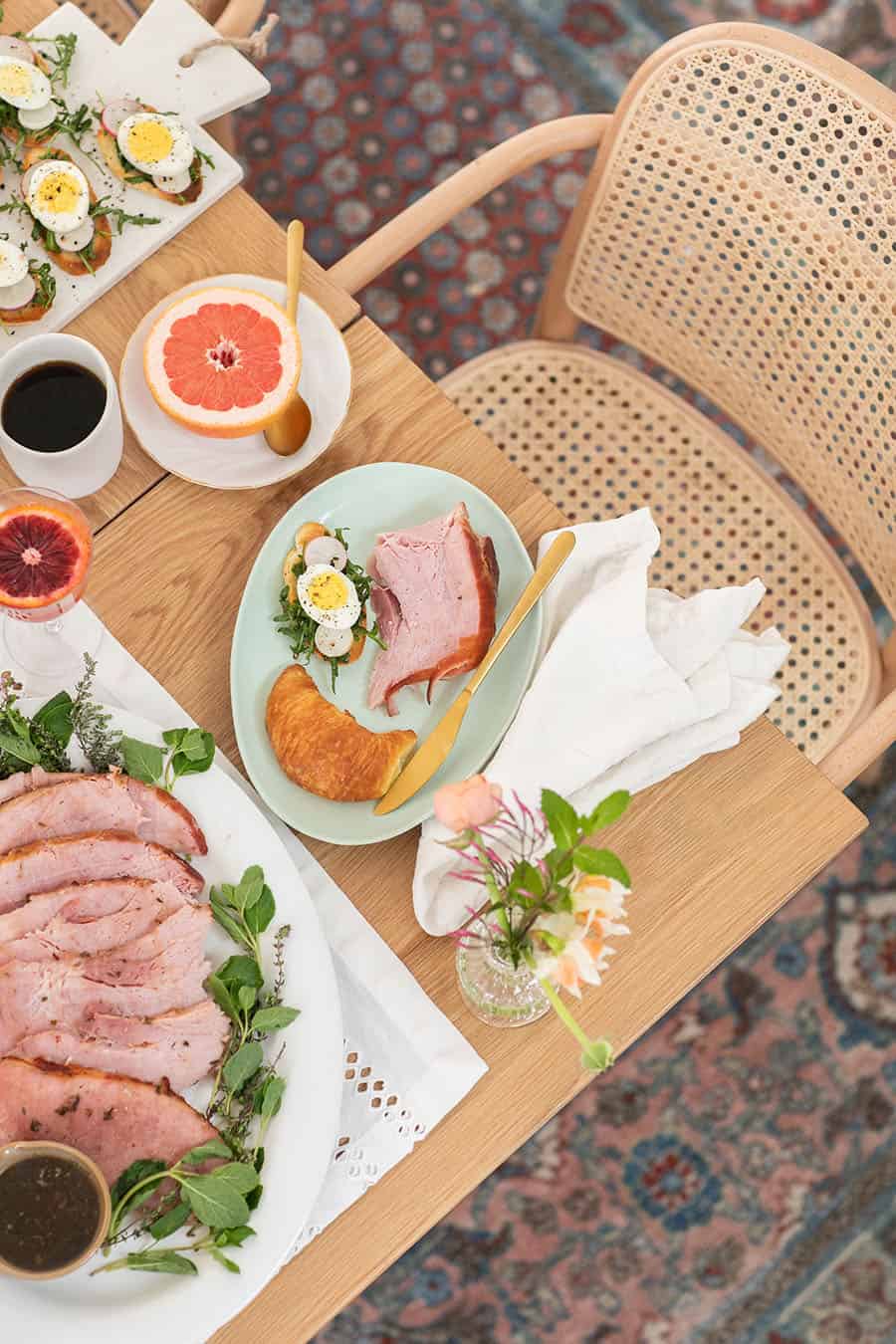 What should I serve for Easter?
A main dish like a baked ham is great for Easter. Then choose one to two side dishes to accompany the ham. Here are a few of our favorite Easter brunch recipes. We made the baked ham and chorizo quiche for this brunch and it was the perfect combo!
Salad the Goes with Everything
Overnight Brown Butter Waffles
The Best Frittata Recipe EVER!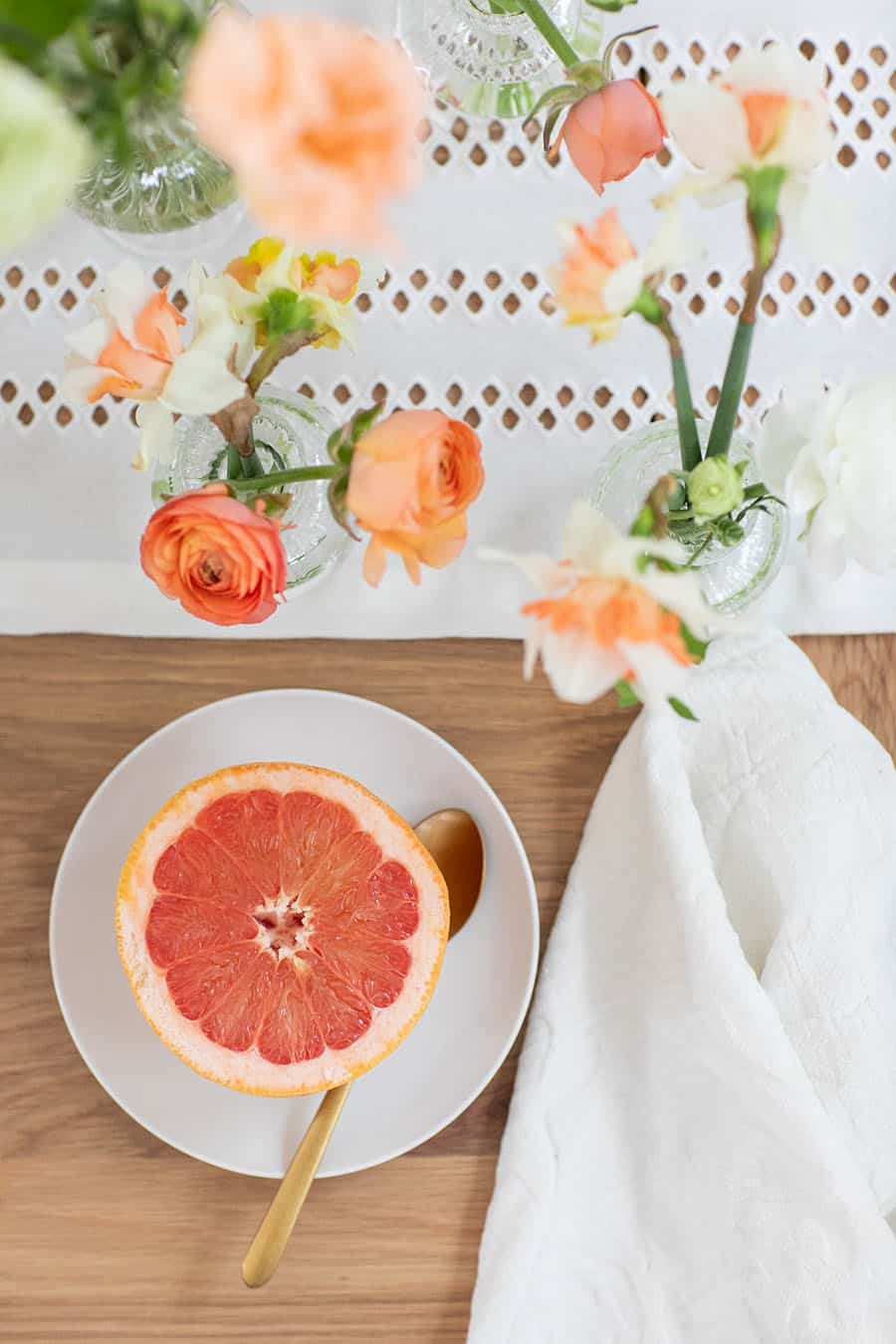 I also love adding a grapefruit cut in half with a little sugar on it. It gives the table more color, charm and fresh grapefruit taste so good!
What to Serve For Easter Dessert
Oh how we love spring desserts! From fresh citrus pies to the cutest bunny cookies… here is a list of our favorite Easter desserts!
Old Fashioned Easter Candy Tray
How to Make an Easy Candy Tray
Chose your favorite Easter candy like chocolate eggs, cute chocolate tulips, fluffy marshmallows, malt balls, jelly beans. Everyone, including adults, love a little nostalgic Easter candy! I buy most of my candy at Target, World Market and Williams Sonoma.
What drinks should I serve for Easter brunch?
For Easter brunch, it's fun to serve a punch, mimosas, sparkling water and coffee. Just make sure cocktails and coffee are ready to serve when guests arrive. Here are a few of our favorite recipes.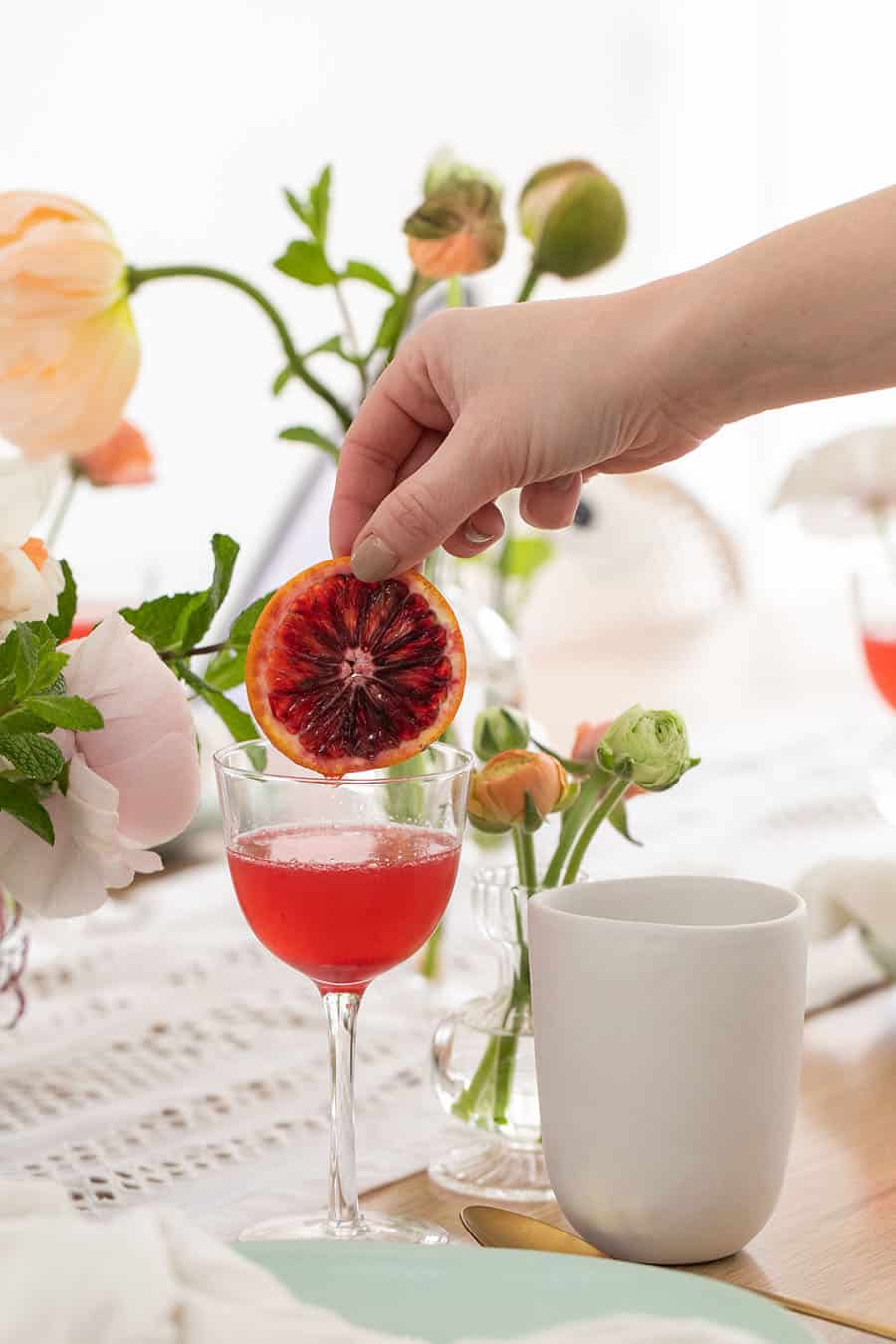 Blood orange mimosas are so easy to make. Serve your favorite champagne and add about 1/4 cup fresh blood orange juice in each glass.
How to Make an Easter Flower Arrangement
Spring flowers are a must for an Easter brunch! You don't have to be a skilled florist to create a beautiful display. Instead, pick up some spring blooms at your local grocery store or farmers market and place them individually in small glass vases. Line them up down the center of the table for a pop of color!
We hope you're inspired to host an Easter brunch gathering. If you have kiddos coming, you can do an egg hunt or color Easter eggs. There are so many fun spring games to do outside too or download our pin the tail on the Easter bunny poster!
Easter Brunch Shopping Guide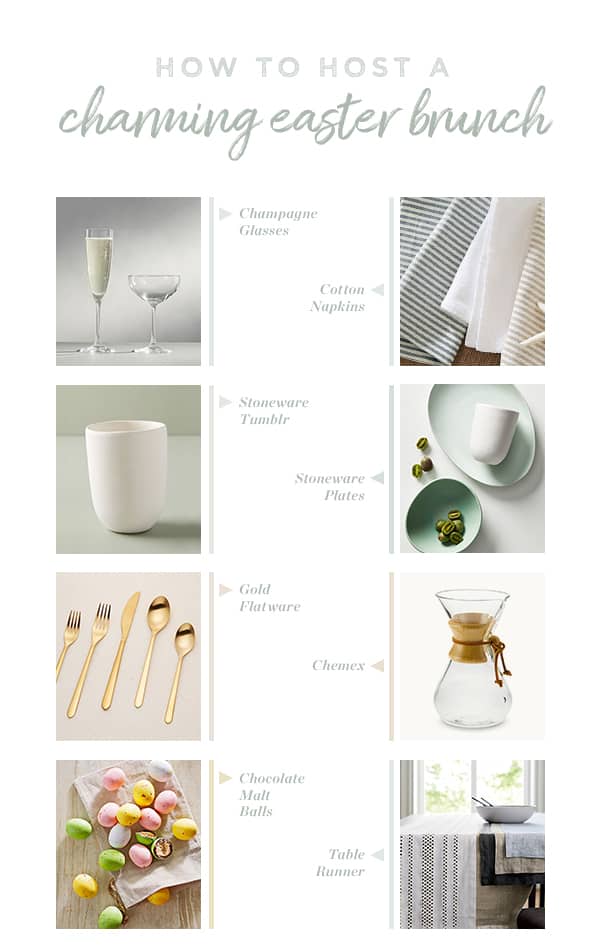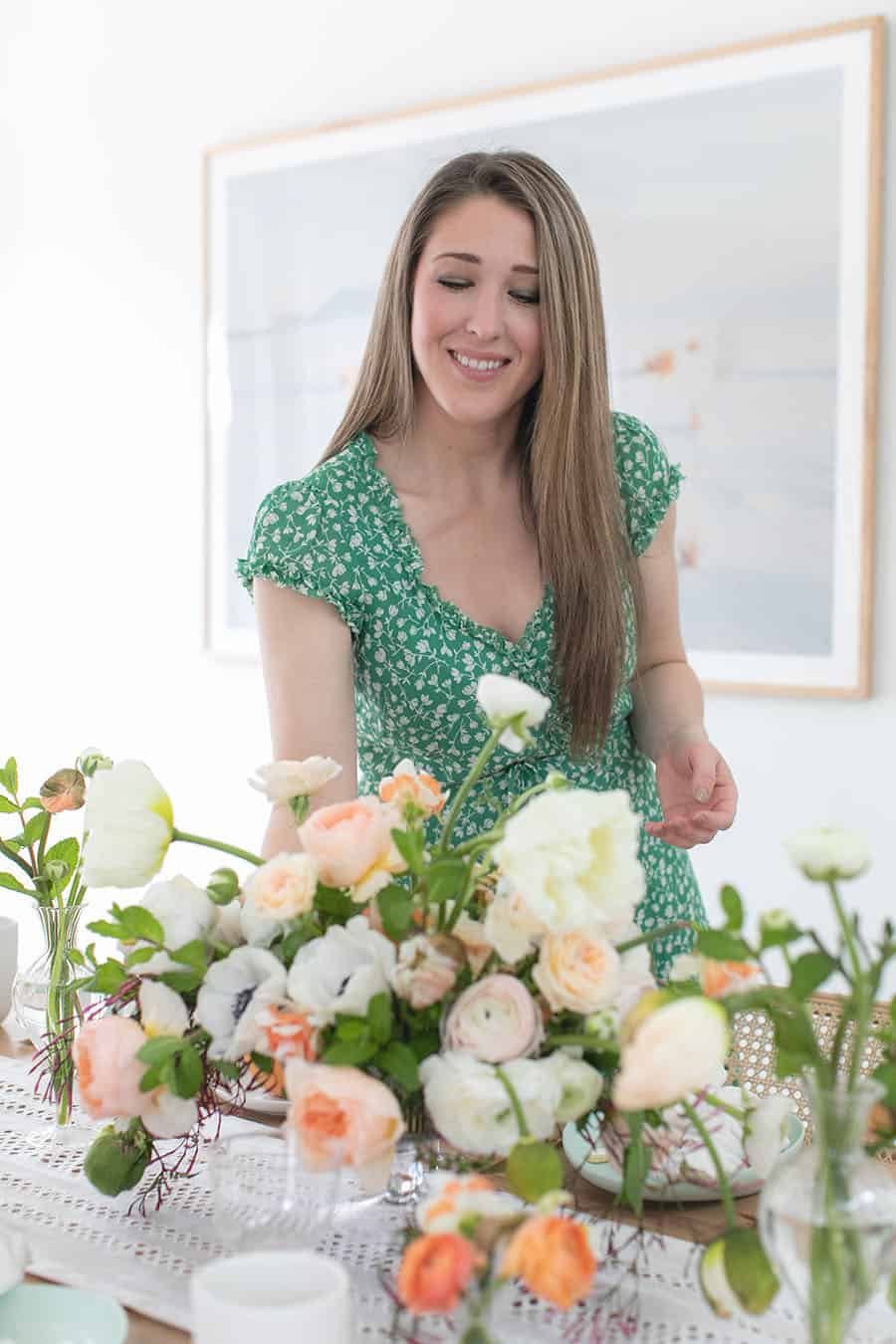 Let us know if you make any of these recipes and leave a comment below! We love to see what you all make and what you're inspired by in this post.
I hope you all having a wonderful Easter!!