Inspired by the classic baseball game snack boxes, we created an old-fashioned Easter candy box filled with beautiful Easter candy.
It's perfect to use outside while the kids are on the hunt for their Easter eggs!
Did you know Easter candy is the best-selling candy after Halloween? It's also one of my favorite traditions from the holiday.
Easter candy is nostalgic and brings up the best sunny and colorful memories!
Furthermore, Easter candy dated back to the early 19th century and started with chocolate eggs. I can picture little kids rejoicing over a few chocolate eggs they received in a basket!
I just love the history of traditions!
So we put together a fun, old-fashioned Easter candy box with all of our favorite spring candy! From gummy carrots to spring lollipops and chocolate bunnies, there's a little something for everyone in this box.
Easy Candy Ideas
My favorite place to buy spring candy is Williams-Sonoma. They have the best, gourmet selection of the best candy. I also love Sugarfina, a boutique candy store that you can buy online. Here are some of our favorite ideas for a candy box:
You can also add other surprised to your candy box, like surprise carrots that can be popped open for a small treat!
It also makes it so much fun for the host to serve candy in a charming, old-fashioned way!
How to Make an Old-Fashioned Candy Box
Supplies
Wooden Crate / Box – We used one from Michael's Arts and Crafts and spray-painted it white.
Soft Balsa Wood – Comes in a long flat strip, spray painted white, and cut it to create sections in the box. It was extremely easy!
White Spay Paint – If you need it! You can also do a natural colored wooden box.
Directions
Spray paint the box and balsa wood and let it dry. Use any color of spray paint you like!
Cut the balsa wood to fit the inside of the box. Get a perfect cut so you don't even have to glue or do anything! It will stay by itself.
Make as many little compartments as you need. We made six for our box.
Tie the ribbon around the box's handles to make it look like an old-fashioned candy box!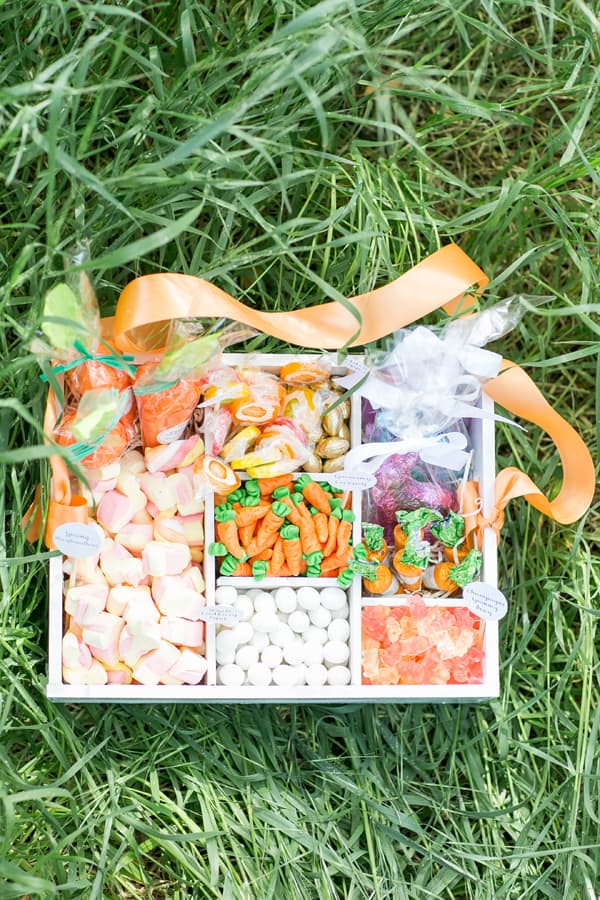 Print Candy Labels
We printed labels for each candy by choosing a pretty spring font, then used a 1 1/2-inch circle cutter to cut them out. Super easy! You don't need a template or anything. Just print it on regular paper and glue it to wooden skewers or popsicle sticks.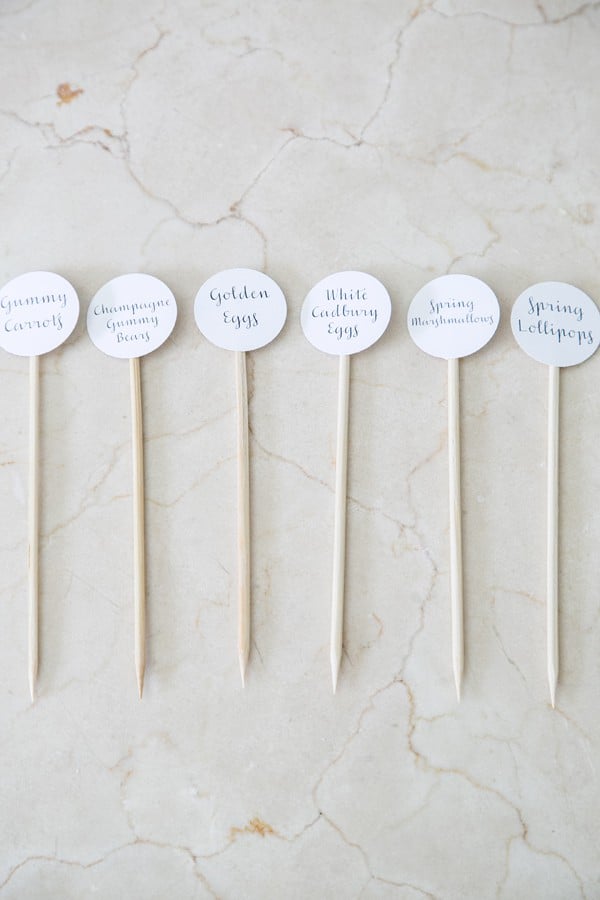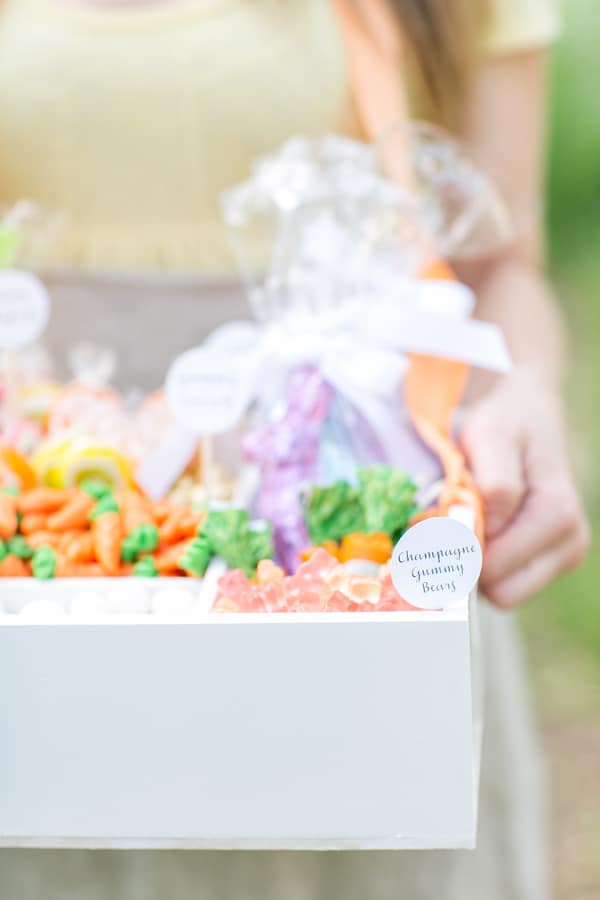 What is the most popular candy on Easter?
Chocolate eggs and jelly beans continue to be the most popular Easter candy! Little kids get baskets full of Easter candy and other sweet treats to celebrate the holiday.
The marshmallow treat Peeps are also one of the most popular sweets for Easter. They have been sold here in the United States since the 1950s by a Pennsylvania candy manufacturer.
Add these marble candy apples or this kit kat candy sushi, but make sure they are nicely wrapped.
Where did Easter candy originate?
Easter candy originated in the 1800s when European candy makers created handcrafted chocolate eggs. As time passed, Easter candy became a novelty and by the 1920s factories would spend their entire year just creating Easter candy! It's still the second best selling candy in the US!
What candy fits in an Easter egg?
If you're filling eggs, use smaller candies like jelly beans, tiny gummies, and small chocolate eggs. These are all fun candies that will fit perfectly inside an Easter egg!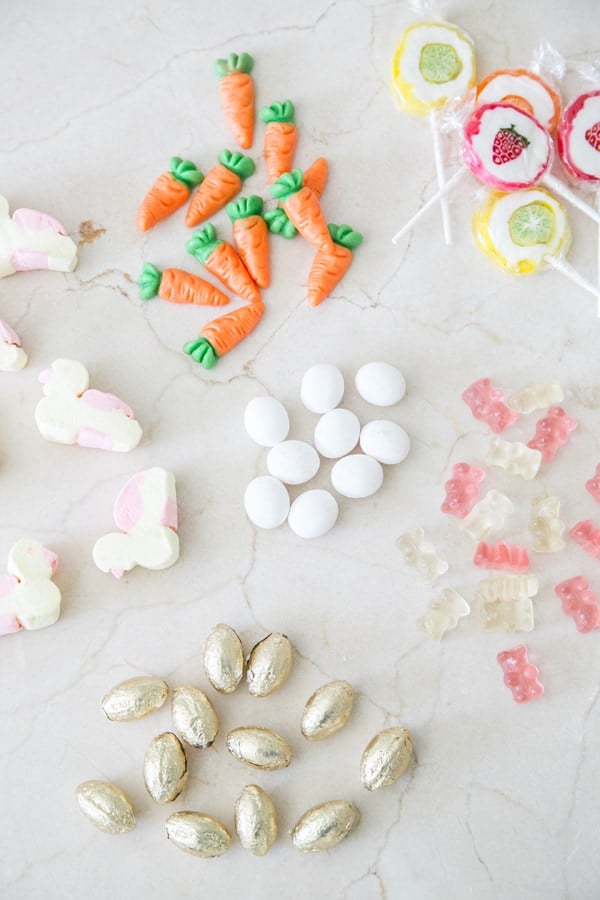 Easter is a time of year that brings happiness and fond memories for many. What better way to celebrate than by filling an old-fashioned Easter candy box with beautiful Easter candy?
Whether you're spending the day outside hunting for eggs or just relaxing at home, this sweet treat is sure to bring a smile to your face.
More Easter Ideas You'll Love!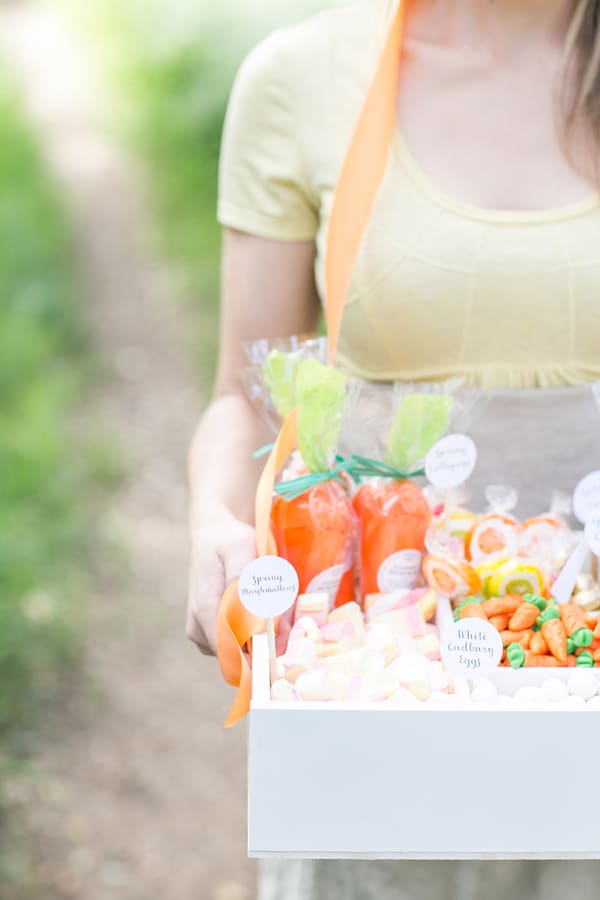 We hope you're inspired to make your own Easter candy box! Let us know if you do in the comments below. Also, tag your photos @sugarandcharm on social so we can see!