Is there anything sweeter than adorable kids, gathering for an afternoon of crafts and treats?! We're everything you need to know to host your own Easter egg decorating party for kids!
I thoroughly enjoy hosting intimate parties for my son, family, and friends, so this year I put together a watercolor, Easter egg decorating party!
We painted eggs (the metallic watercolor eggs came out awesome!) and snacked on the bite-sized bunny and carrot sandwiches, rainbow deviled eggs, and a yogurt serving bar.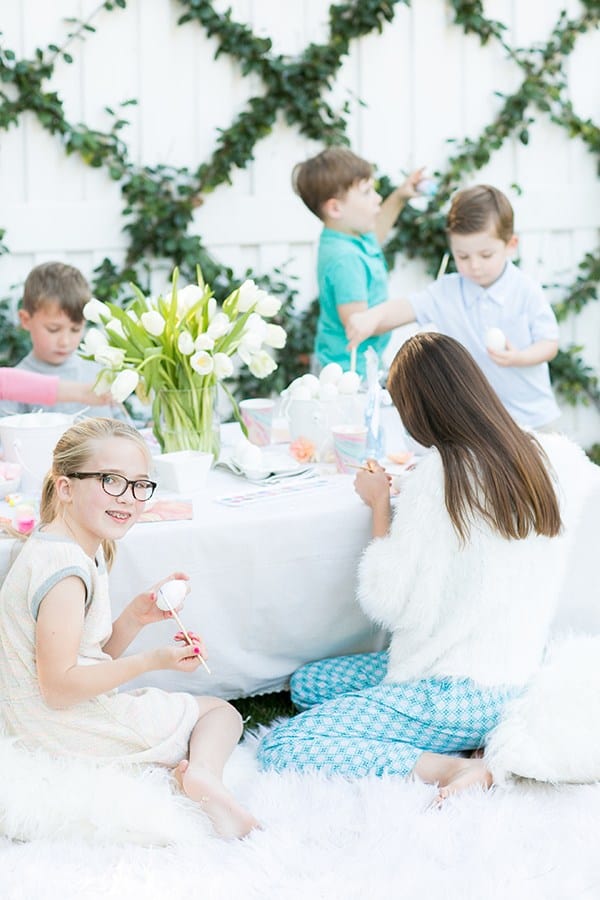 The adults' sipped pineapple and coconut cocktails and we made the most creamy and delicious white hot chocolate for the kids!
We also made chocolate-dipped apples covered in coconuts and marshmallows!!
The kids always have such a good time and the joy I get from creating special memories for their childhood is priceless! Below are all of the details you need for hosting an Easter party for kids.
Easter Party Food for Kids
Serve fun, bite-size food that kids can grab and go! Here are some tasty ideas!
Little Bunny Sandwiches
Colored Deviled Eggs
Yogurt Cups
Fruit Salad
Hummus and Carrots
Easter Desserts for Kids
Of course, it's not a party without dessert! Here are some delicious Easter dessert ideas that kids will just love!
Easter Bunny Sugar Cookies
White Hot Chocolate
Candied Apples
We covered this apple with marshmallows and it was so fun for the kids!
Bunny Candy Apple
This candy apple is made by dipping an apple into white chocolate, adding shredded coconut while the chocolate is warm and then making little ears using a piping bag and candy melts.
You can pipe the ears on wax paper and let them dry before adding them to the apple.
Easter Party Supplies
Here is a list of supplies to think about when you're hosting an Easter party for kids:
Table and Tablecloth
Watercolors
Paintbrushes
Paper Cups and Plates
Small Bowls for Water
Buckets of Hardboiled Eggs
Flowers for Decor
Stickers
Throw Pillows
Games
Wipes
Flowers add so much to a simple table setting. Even for a kids party, we still love the look of them and I truly believe the kids do too!
For the Adults!
Even at a kids' party, I always try to have a little cocktail for the adults! Serve something fun like a frozen pina colada! Parents can sip on a cocktail and enjoy while the kids play! Here are some more ideas too!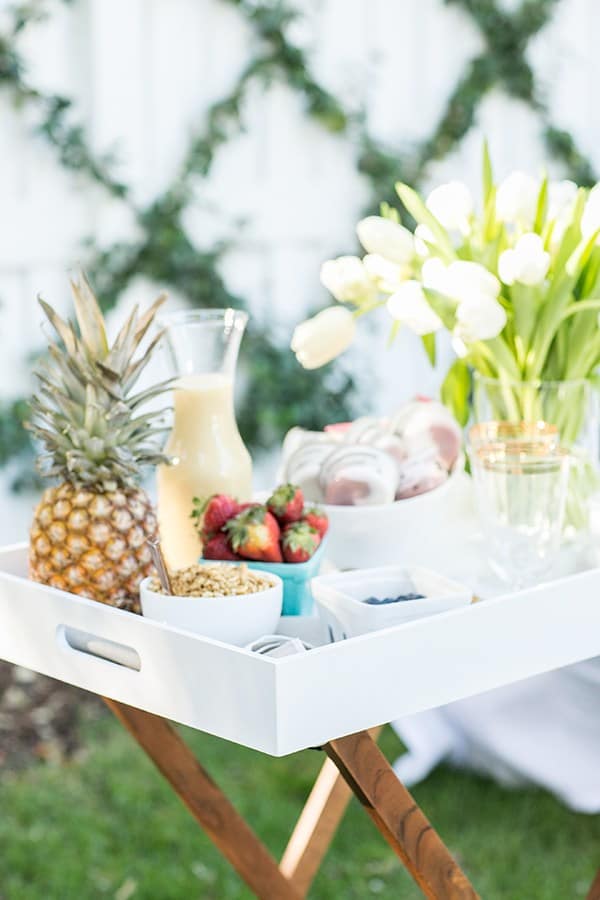 Easter Egg Decorating Ideas
Here are two easy Easter egg decorating ideas that are fun for kids!
Watercolor Eggs
Using paintbrush and watercolors, kids can paint their eggs giving them a pretty pastel, marble look!
Watercolor is easy to clean and such a fun craft for kids.
Stickers
Stickers are mess-free and let kids add words and letters to their eggs! Gab cold letter stickers at a craft store.
Easter Games for Kids
We love playing games at Easter! It's not always about the egg hunt! There are other fun activities you can do as well. Here are a few of our favorites:
Pin the Tail on the Easter Bunny
Confetti Eggs – A little messy but fun!
More Easter Ideas You'll Love!
White Chocolate Lavender Bunnies
Old-Fashioned Easter Candy Box
How to Host A Charming Easter Brunch
Watercolor Easter eggs look soft and leave a pretty pastel color and design on the eggs.
You can also use regular paint for older kids too.
The little toddler hands painting eggs is just the sweetest thing! The happiness and joy it brings me and them is priceless!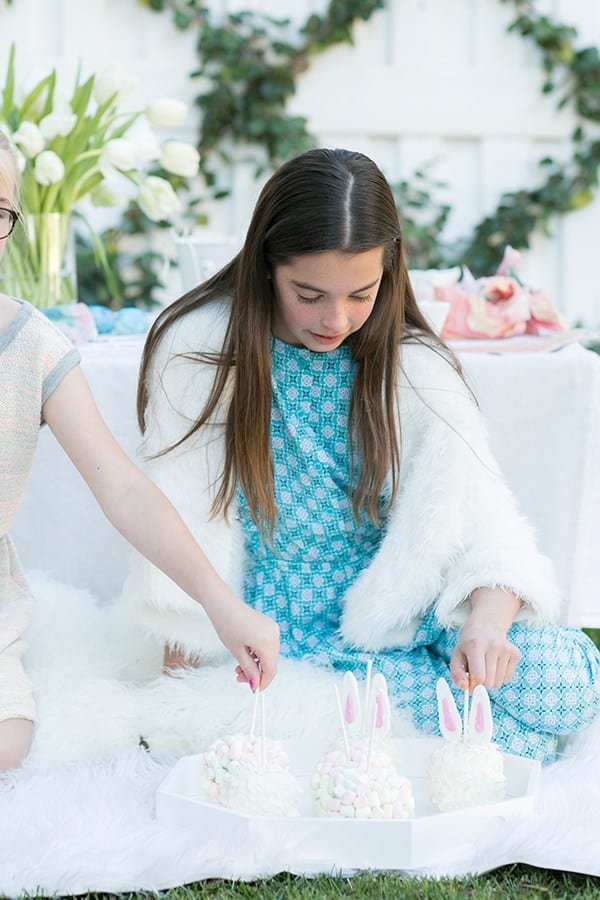 The candy apples were a hit at out party. This is a fun dessert for kids to help you make the day before the party too!
Let us know if you host an Easter party for kids and how it turns out! Leave us a comment below and tag your photos @sugarandcharm on social so we can see your pictures!
Photos by Zan Passante