The most charming and delicious Easter dessert ideas for your celebration!
Like most holidays, Easter is filled with nostalgic sweets and desserts. We're sharing our favorite Easter dessert ideas and recipes. From an easy Easter candy platter to an old-fashioned candy box or Easter dessert bar. These are fun ideas and delicious recipes you can make!
If you're looking for Easter recipes, we gathered over 20 of our favorites!
Our Favorite Easter Dessert Ideas
Banana Pudding Recipe
A whipped and delicious banana pudding that is perfect for a crowd.
Classic Coconut Cream Pie
This coconut cream pie recipe is one of our favorites. It's so creamy and full of coconut flavor, topped with toasted coconut. It's perfection!
The Best Thumbprint Cookies
These thumbprint cookies are addicting! They are SO good and you can fill them with any flavor jam you like for Easter.
Easter Candy Platter
Make a simple Easter candy platter with all of your favorite Easter treats! You can also check out our classic dessert charcuterie platter for more ideas.
Coconut Macaroons
We love these chewy coconut macaroons. They're not too sweet, but so good and great for Easter.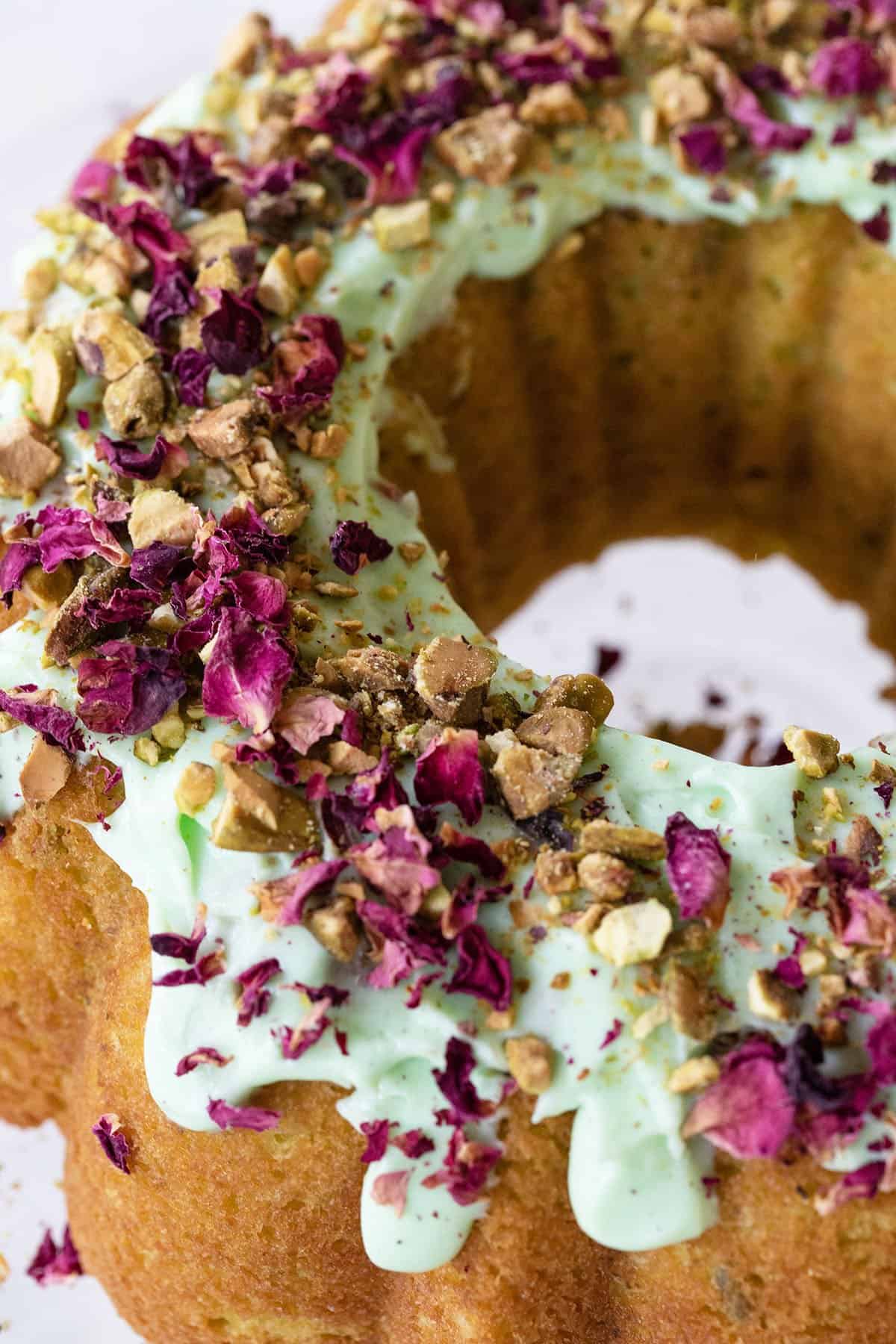 Easy Pistachio Cake Recipe
If you're looking for an easy cake recipe, we use a boxed cake to make this pistachio cake! It's been in the family for years and it is always a hit.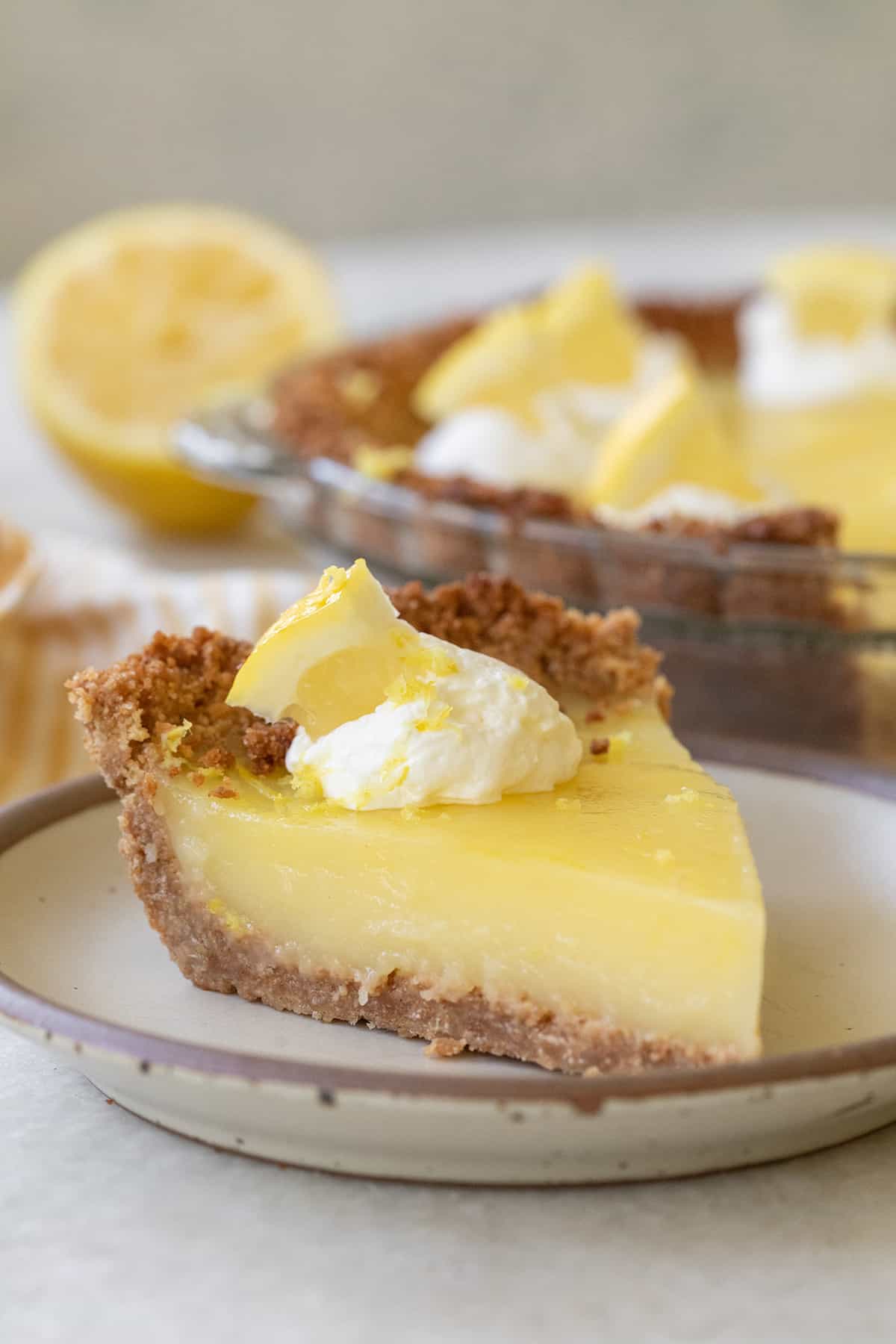 Real Lemon Pie Recipe
This lemon pie is made with real lemon juice and has a perfect, creamy texture. It's a wonderful Easter dessert!
Lemon and Thyme Shortbread Cookies
Buttery, flaky shortbread cookies that melt in your mouth. These are beyond good with lemon and thyme flavors. The perfect Easter cookie.
Bunny Shaped Sugar Cookies
If you're looking for a bunny shaped dessert, these bunny cookies are adorable and uses are favorite sugar cookie and royal icing recipe.
No-Bake Cheesecake
Another colorful and fun cheesecake recipe! This one is a no-bake cheesecake, making it super simple to make, colorful and perfect for spring!
Fluffy Homemade Marshmallow Recipe
Fluffy marshmallows go very well with Easter. They're great for an Easter dessert bar or candy platter. You can also use a bunny cookie cutter and make bunny shaped marshmallows.
Lemon Elderflower Cake
This elderflower cake is a white fluffy cake with lemon meringue frosting. It's perfect for spring and Easter.
The Best Lemon Bar Recipe
A family lemon bar recipe that's been passed down. It's made with a buttery shortbread crust and a lemon custard.
Coconut Loaf Cake
One of our most popular recipes is this coconut loaf cake. It's buttery and full of coconut! It's moist and perfect to serve as an Easter dessert.
Old-Fashioned Carrot Cake Cupcakes
These old-fashioned carrot cake cupcakes are made with pineapple, carrots and shredded coconut. They're unique moist and flavorful.
Easter Dessert Tower
Another easter dessert idea is to fill a tower with your favorite Easter desserts like macarons, cupcakes, marshmallows and cookies to serve for dessert.
Ricotta Cheesecake
This ricotta cheesecake is made with ricotta and cream cheese for a light and fluffy texture. It's sweet, buttery and creamy. The whipped sour cream topping is the secret to this recipe and it's absolutely delicious! 
You can also make our classic cheesecake recipe too. It's one of the best and we have been making it for over 15 years!
Coffee Cake Recipe
This delicious, moist coffee cake recipe is perfect for brunch and spring parties! Packed with lovely flavors, such as cinnamon and vanilla, it's also got a great punch of espresso in the mix.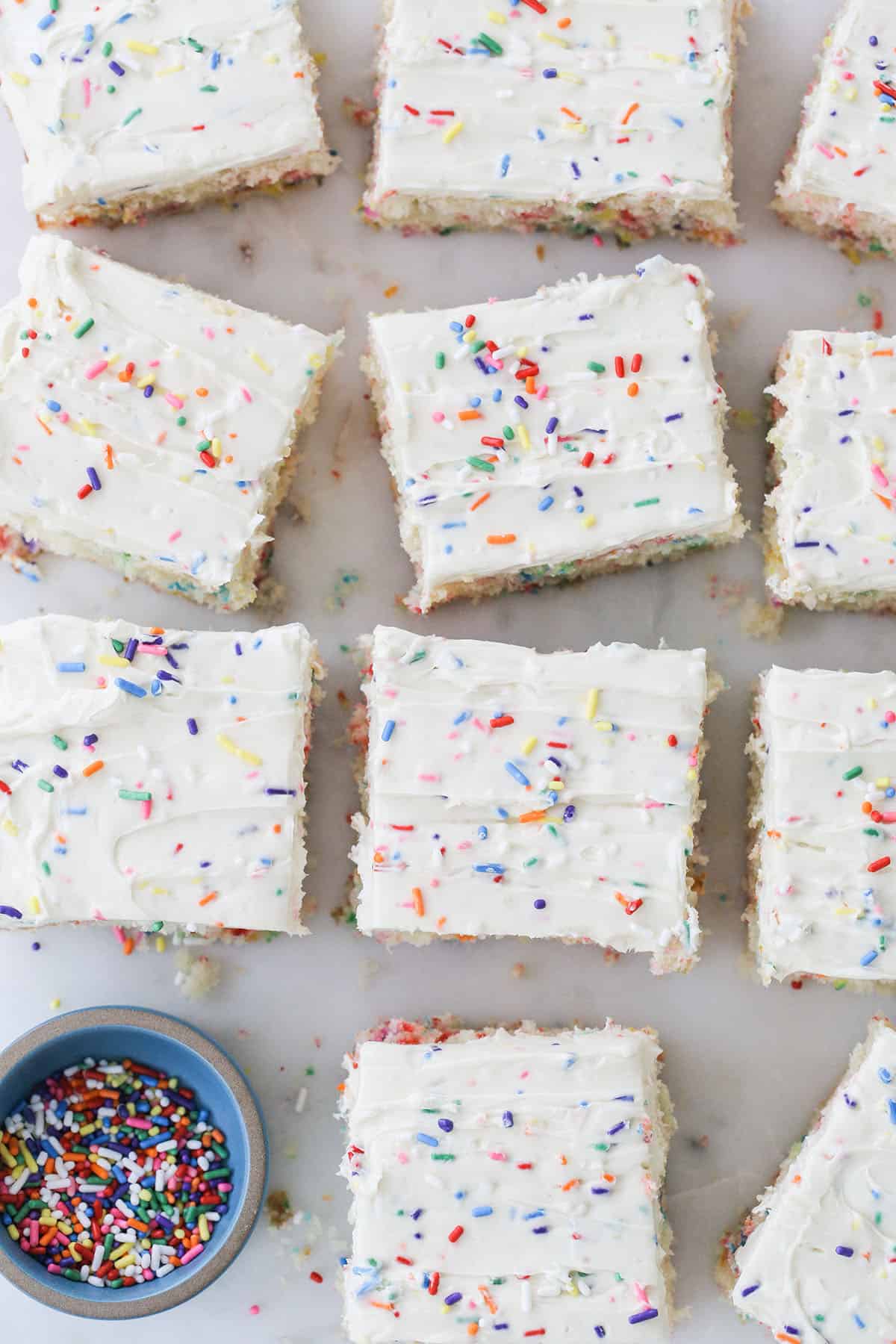 Homemade Funfetti Cake Recipe
If you're looking for a delicious confetti cake this recipe is perfect! It's great for Easter as it's colorful, fluffy, and delicious! Everyone will love this cake!
Old-Fashioned Candy Box
This old-fashioned candy box is one of our favorite Easter dessert ideas! It's perfect to use outside while the kids are on the hunt for their Easter eggs!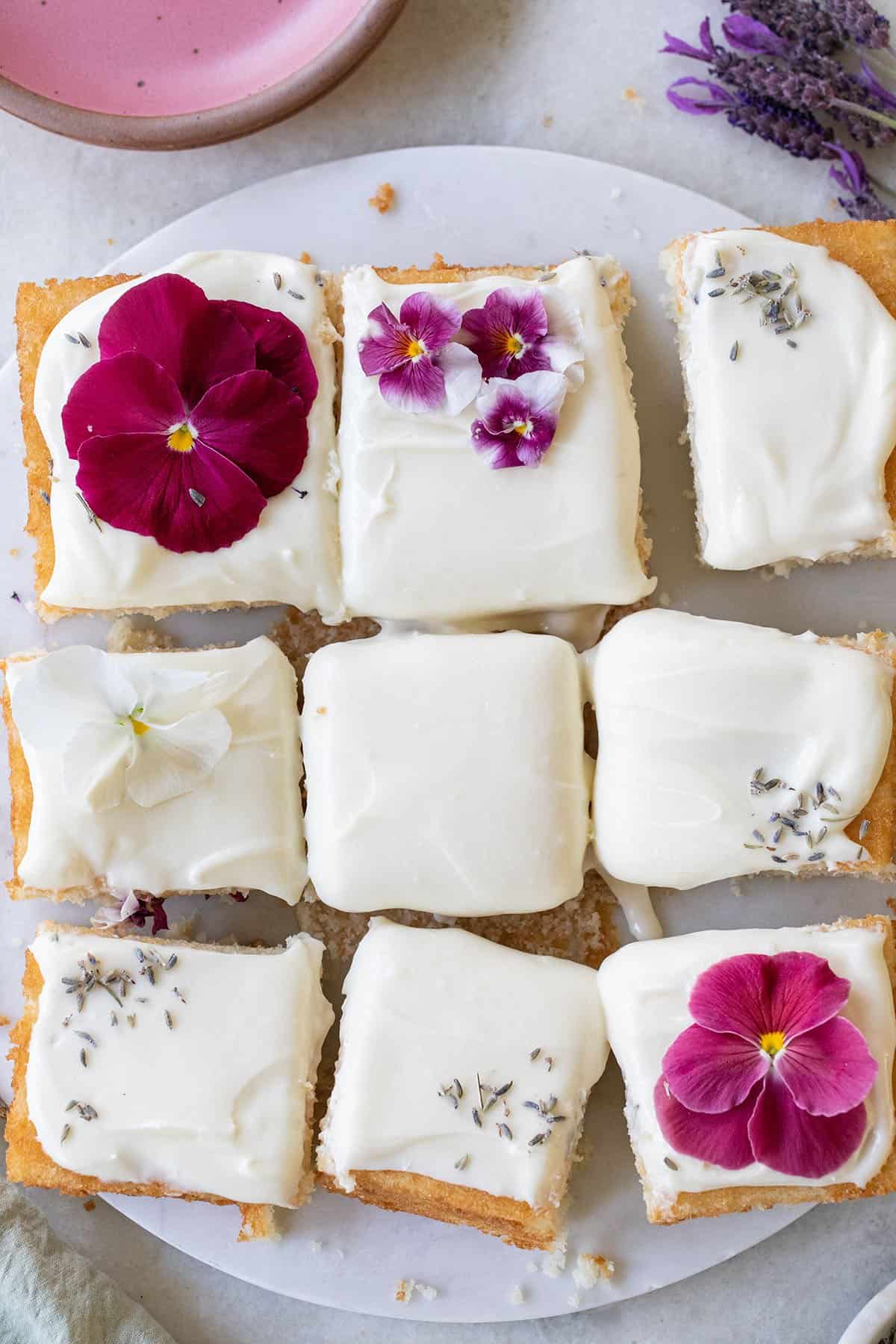 Lavender Cake Recipe
This lavender cake is filled with lavender flavor. It's perfect for spring and Easter and has a super moist texture.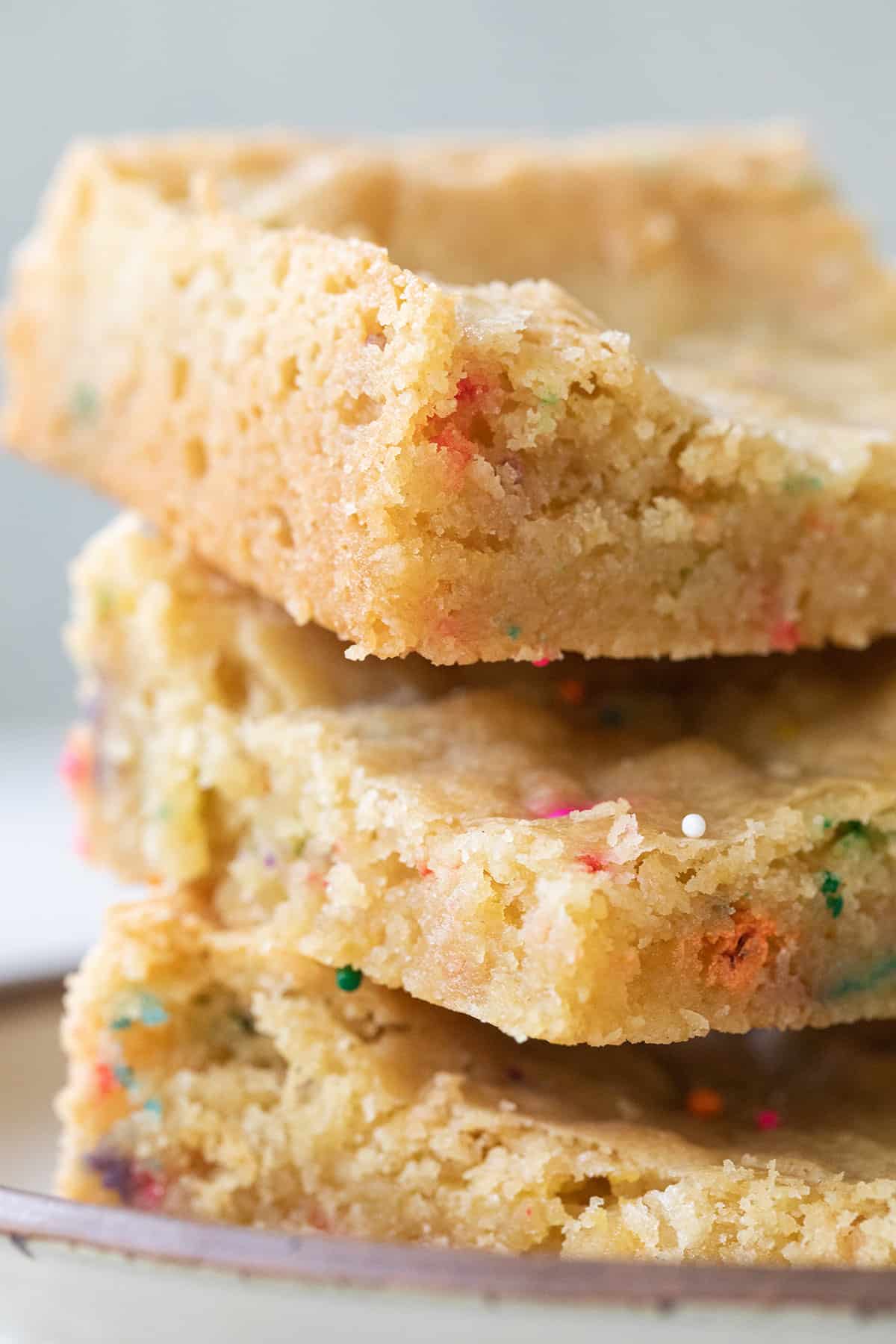 Chewy Vanilla Brownies
These vanilla brownies have the best texture and flavor! They are super buttery, chewy and so good! They're great for Easter, especially when you add sprinkles!
Ginger Mango Popsicles
Depending on the weather, we can have warm Easter days here in California and popsicles just sound good! These mango ginger popsicles are truly one of the best and are perfect for spring. The flavors are so good and they're great for adults and kids.
More Easter Ideas
Let us know if you make and of these Easter dessert ideas!
Leave a comment below and tell us your favorite Easter dessert.
You can also FOLLOW US on FACEBOOK, INSTAGRAM, and PINTEREST to see more delicious recipes, cocktails, desserts, and parties!