Spring has sprung and we teamed up with our friends at Pottery Barn to create a very colorful and charming Easter brunch to celebrate!! We wanted to create something a little different than the traditional pastels and bunny rabbits, so instead we went with bold colors and palm leaves, inspired by Pottery Barn's very colorful Moroccan glasses!
We lined the table with small vases filled with colorful flowers, and placed copper and speckled Easter eggs down the middle. We made calligraphy eggs and used Pottery Barn's beautiful wooden napkin holders to hold them! It worked perfectly!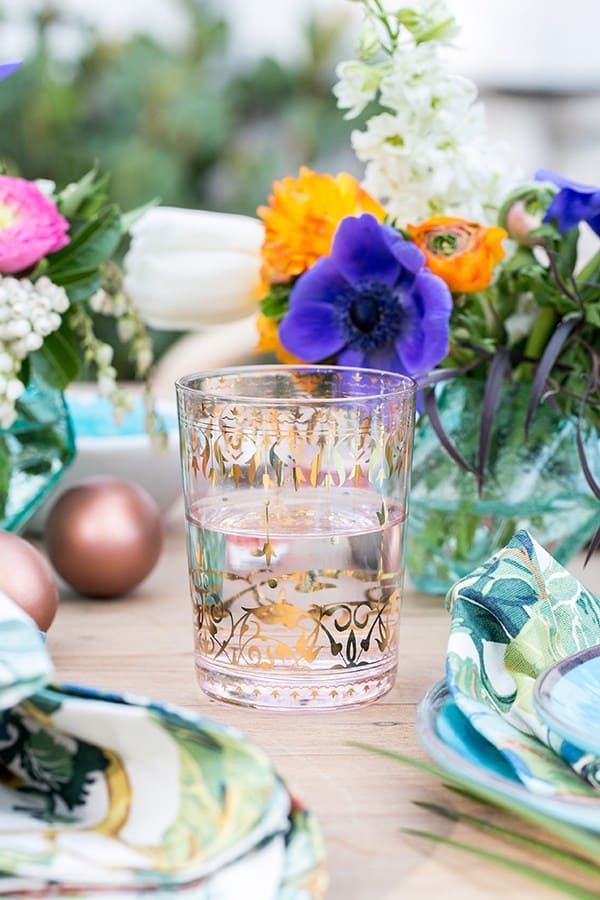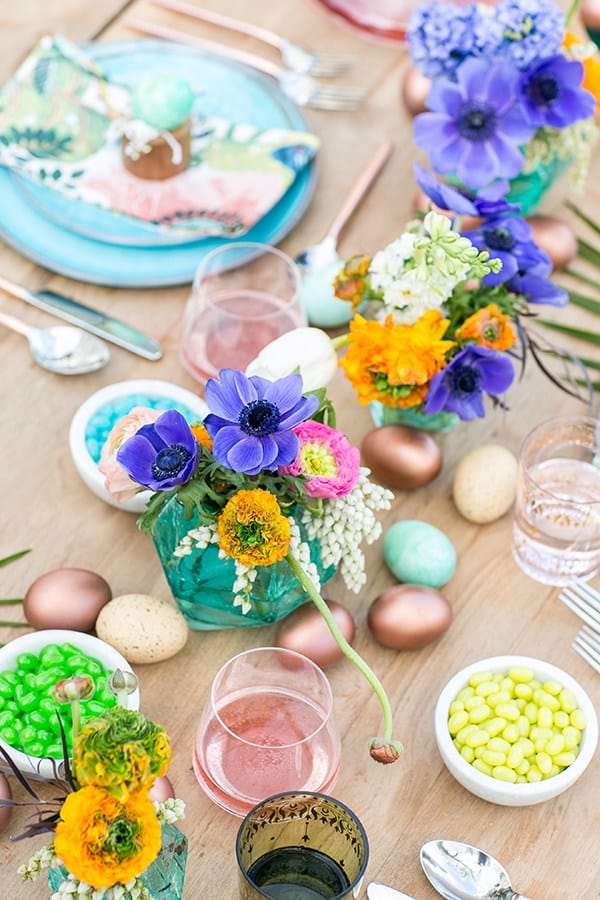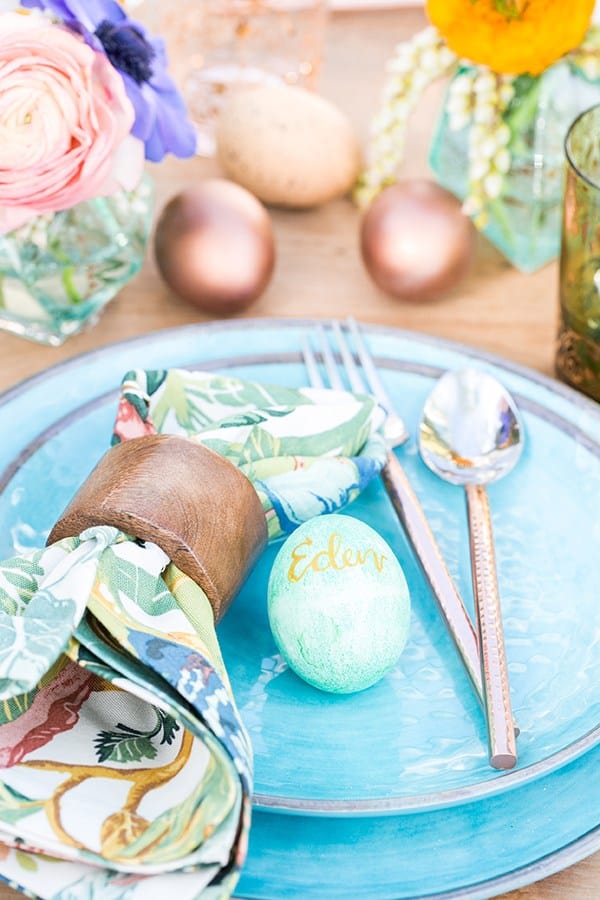 For desserts, we made my favorite carrot cake recipe, frosted it and then pressed large coconut flakes onto the sides and top! We then added some fresh flowers with two tall, lanky ones to look like bunny ears! Recipe for the carrot cake below.
For the drinks, we served blood orange and carrot mimosas!! Sharing the recipe next week! See more and a buying guide on Pottery Barn's Blog!!
Carrot Cake Recipe
2 cups flour
2 cups granulated sugar
2 teaspoons baking soda
2 teaspoons ground cinnamon
1 cup corn oil
3 eggs, lightly beaten
2 teaspoons vanilla extract
1 1/3 cups pureed carrots
1 cup shredded coconut
3/4 cup canned crushed pineapple, drained
Directions
Preheat oven to 350 degrees.
Puree 1 1/3 cups carrots (first chop, then boil, then puree) and set aside.
Sift together the flour, sugar, baking soda and cinnamon in a large bowl.
Add in the oil, eggs and vanilla and beat well.
Fold in the pureed carrots, shredded coconut and drained pineapple.
Pour batter into either a cake pan or cupcake pan.
Bake until the edges have pulled away or until the toothpick comes out semi-clean. I baked my cupcakes for about 16 minutes… but every oven is different, so check on them often.
Cool for awhile and then frost!
Cream Cheese Frosting
1 8oz package cream cheese
1 stick butter
1/2 teaspoon vanilla
2 cups confectioners sugar
Directions
Beat cream cheese, butter and vanilla together until smooth. Add in the sugar and beat until combined. It's the best cream cheese frosting ever!!