Charming Easter brunch ideas to make your celebrations special! We're sharing some of our favorite, easy Easter ideas you can do at home.
Before we get started, check out our best brunch cocktail recipes and our best brunch recipes!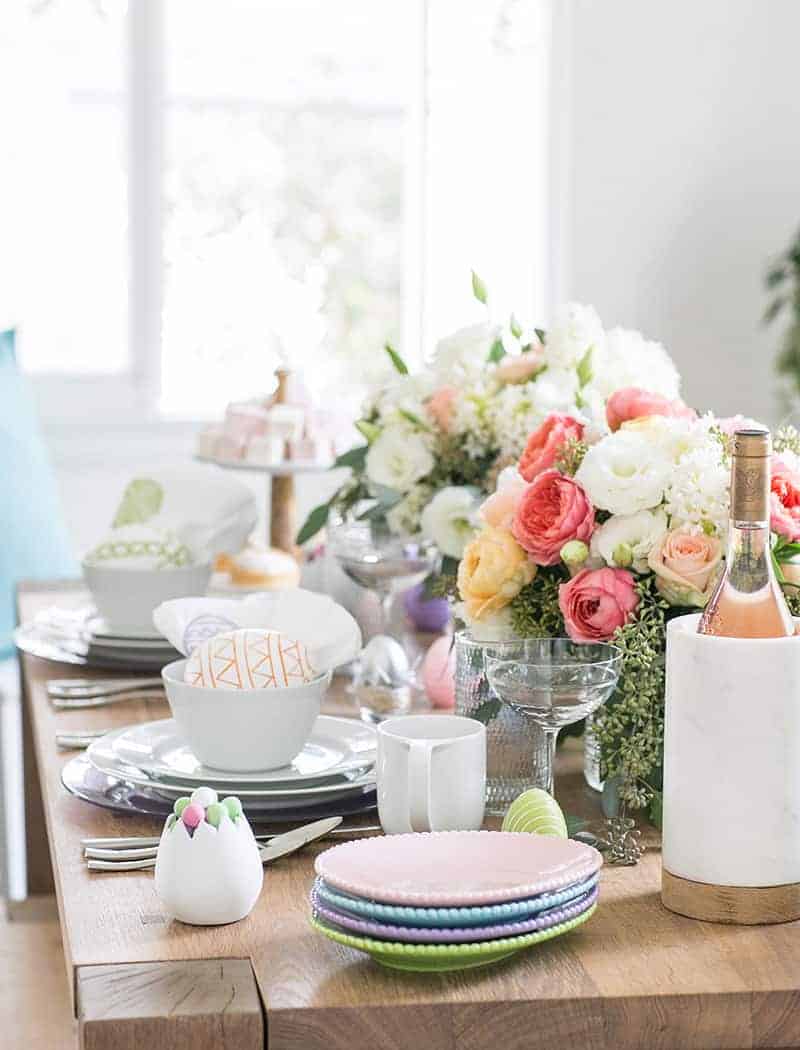 We originally styled this Easter brunch for the Crate and Barrel catalog. Four pages of beautiful Easter brunch ideas that we had to share here!
Easter and spring have always been one of my favorite times of the year. Spring is just so beautiful, colorful and full of the most gorgeous blooms! Growing up my mother bought us over the top Easter dresses to wear to church and then we would come together for an Easter brunch and egg hunt.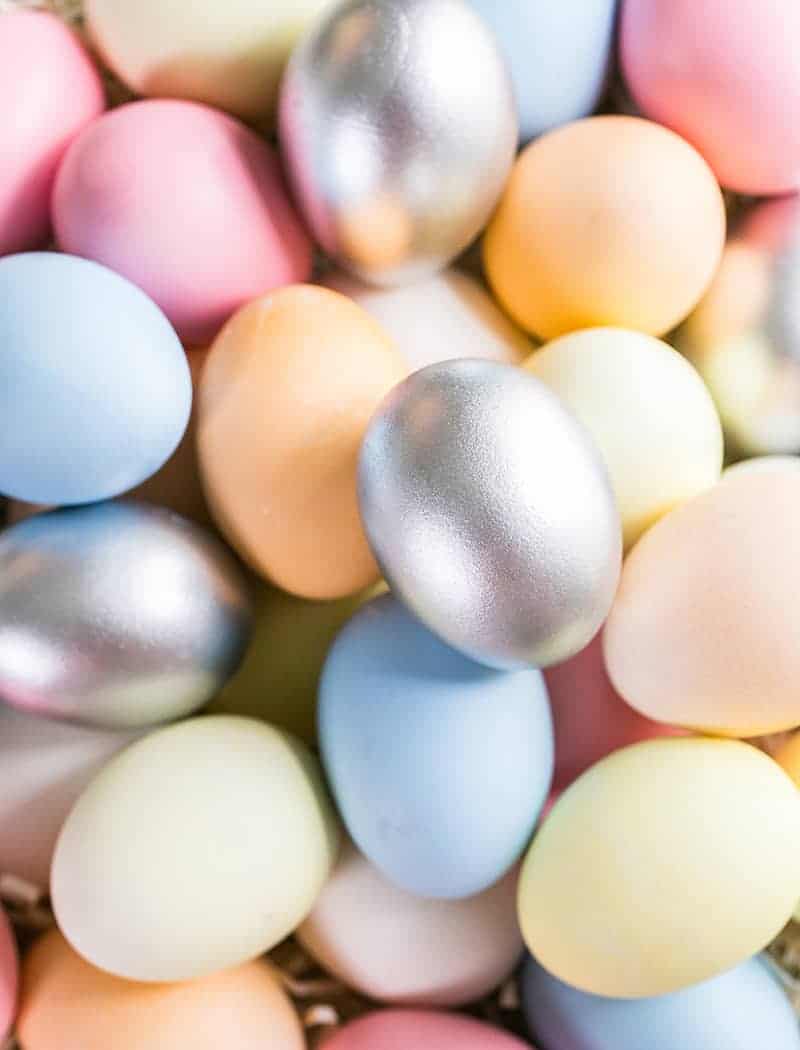 The memories are sweet and I love recreating them for my own family now.
We put together some very charming Easter brunch ideas and we're sharing them below! Use a few of these ideas to make your Easter brunch special.
Easter Brunch Ideas
Marbled Easter Egg Sugar Cookies
Create a fun and unique dessert to serve, like these marbled, Easter egg sugar cookie sandwiches. They have a buttercream frosting in the middle and a beautiful, marbled royal icing on top. Get the recipe and the DIY here!
Spray Painted Easter Eggs
Colored eggs are very charming on an Easter table. Use spray paint to color them in beautiful pastels and once they're dried, place them in a serving bowl as decorations for the table.
Easter Brunch Cocktail
It's not brunch without a sparkling cocktail! Serve a delicious Easter-themed cocktail, like our Hibiscus Champagne cocktail here! Here are some more ideas you can make too: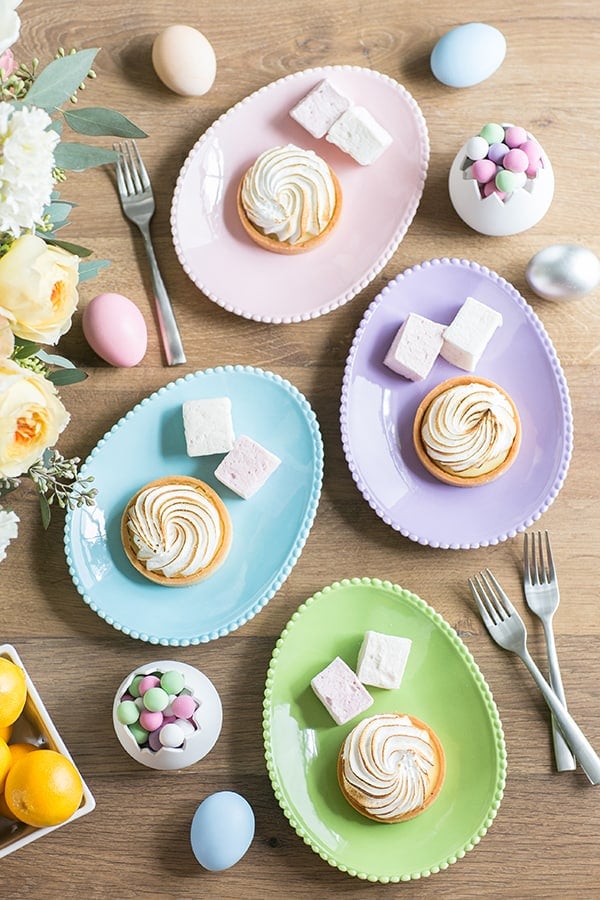 Fun Easter Dinnerware
For Easter, pull out some fun plates to use! It's a special occasion that only happens once a year, so get out those special plates! We love egg-shaped plates or bunny plates. Anything thing that has charm.
We happily served lemon meringue tarts and gourmet marshmallows on those cute egg plates!
Festive Spring Ice Cubes
Add edible flowers to an ice tray before freezing. They add a fun spring touch to cocktails or even water!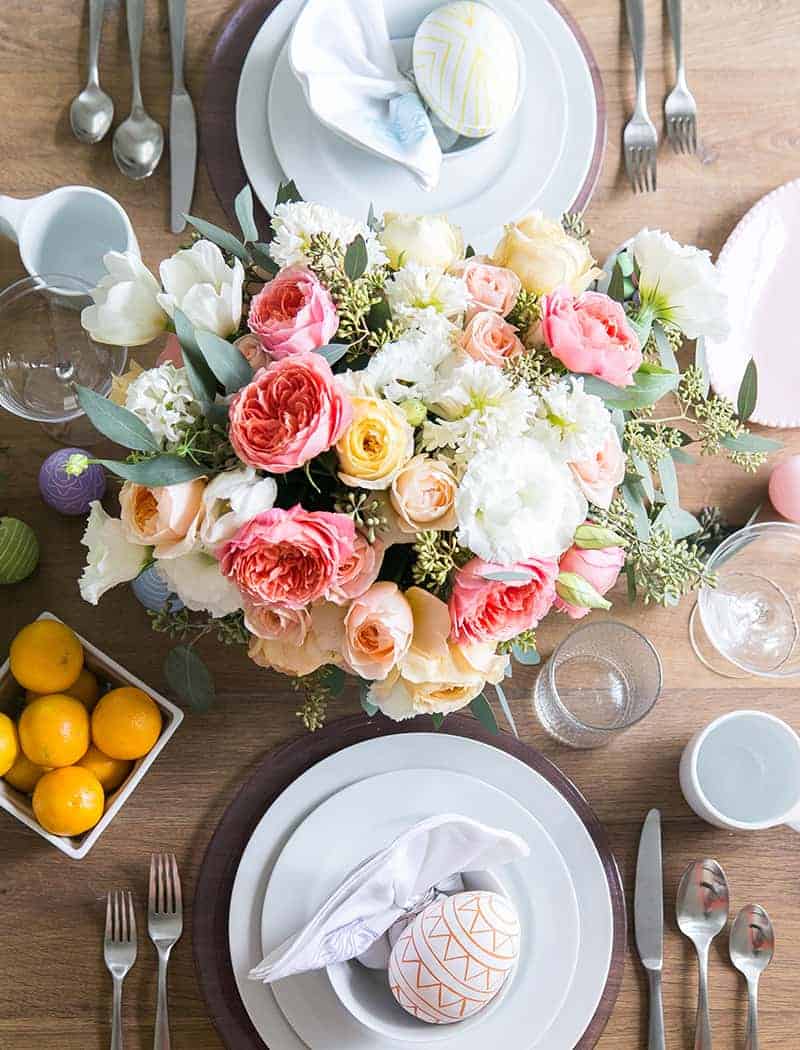 Easter Flowers
Flowers are essential for an Easter brunch! They truly are the best idea, as they add instant decor and color! Call your local florist to make an arrangement for you or make your own from these tips!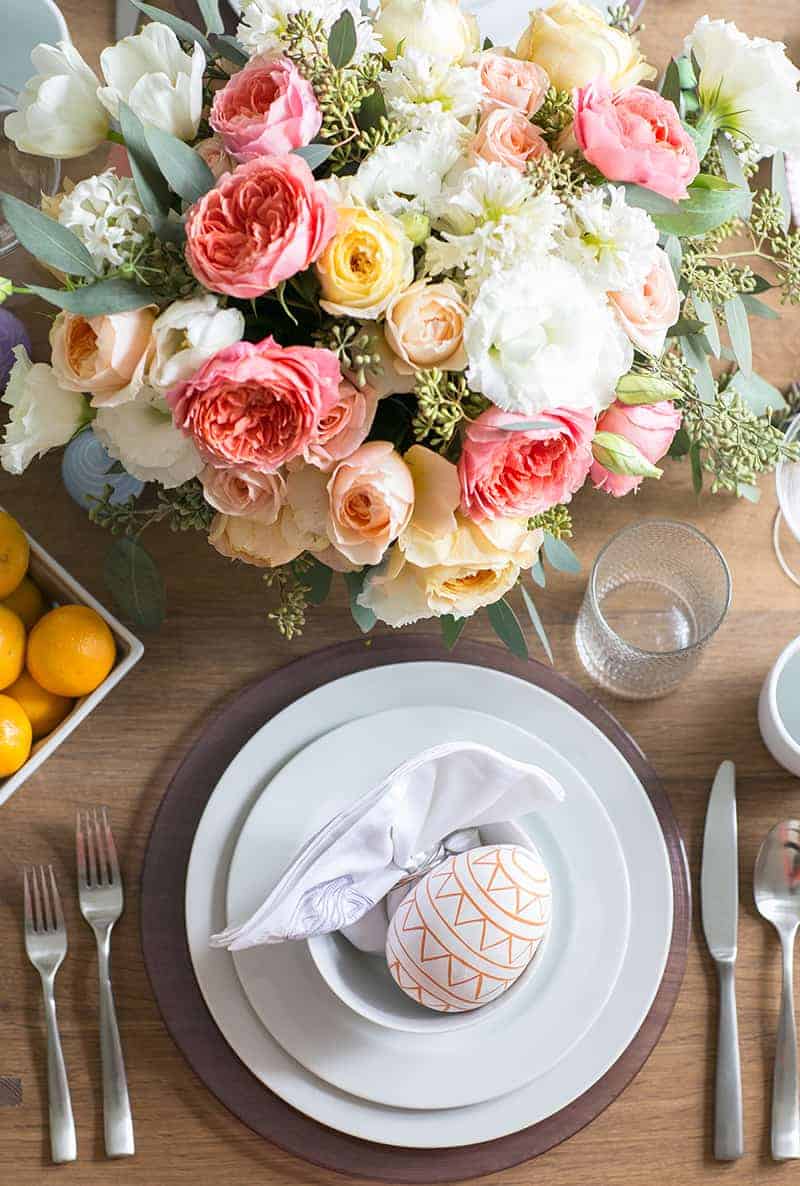 Easter Suprise Eggs
Fill cardboard eggs that open with fun Easter treats and place them on each table setting! It adds a nice surprise for your guests and children love them. You can even make your own using our Easter surprise egg tutorial!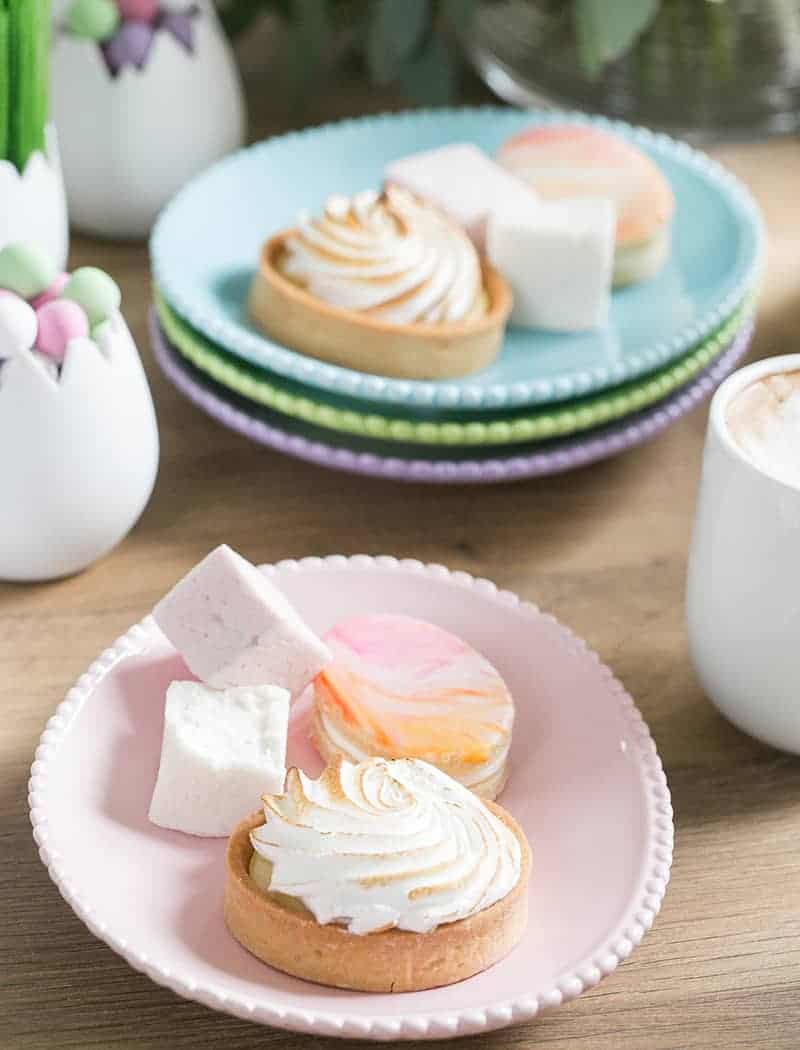 More Easter Brunch Ideas You'll Love!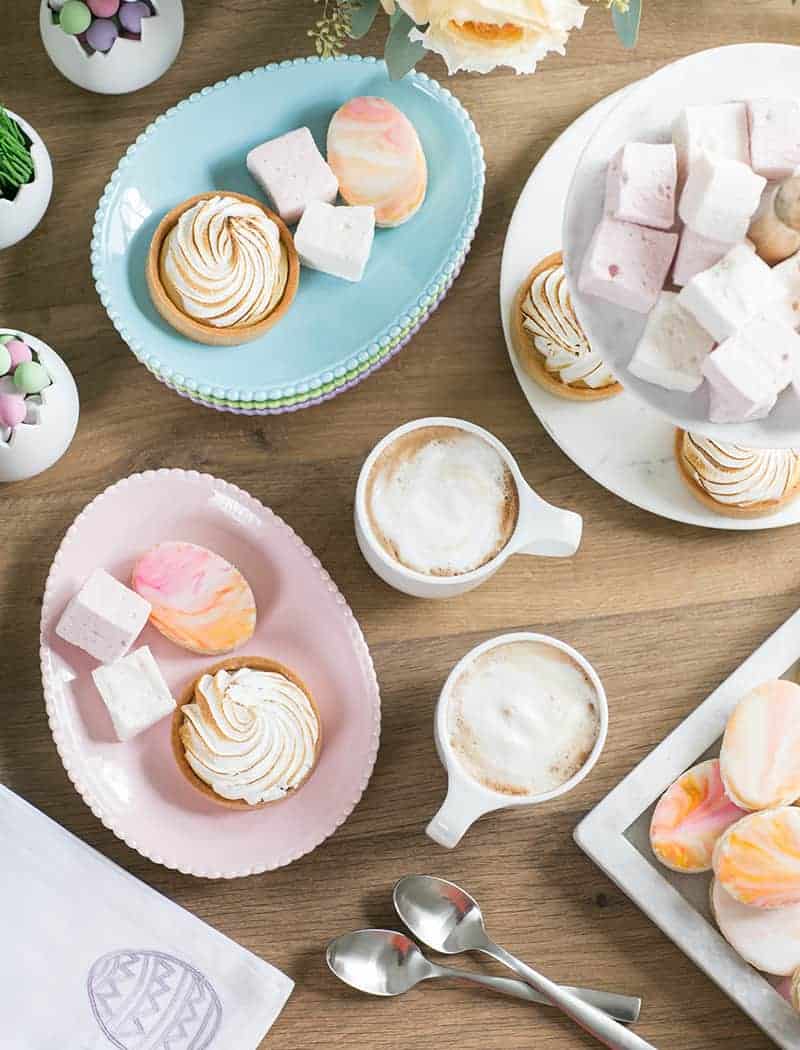 Let us know if you use any of these fun ideas for your Easter brunch this year! We would love to see what you make! Please leave a comment below or tag us @sugarandcharm on social.
Photos by Zan Passante / Madcitizen Flowers by Erin Hopkins / White Fig Designs