Our freshly baked, easy cinnamon roll recipe is made using frozen bread dough and topped with the most delicious cream cheese glaze! These are easy-to-make, foolproof, indulgent cinnamon rolls! The whole family will love these fluffy rolls!
And if you want to make cinnamon rolls from scratch, try this eggnog cinnamon roll recipe. You can also try our monkey bread recipe and monkey bread muffins for a fun twist on cinnamon bread!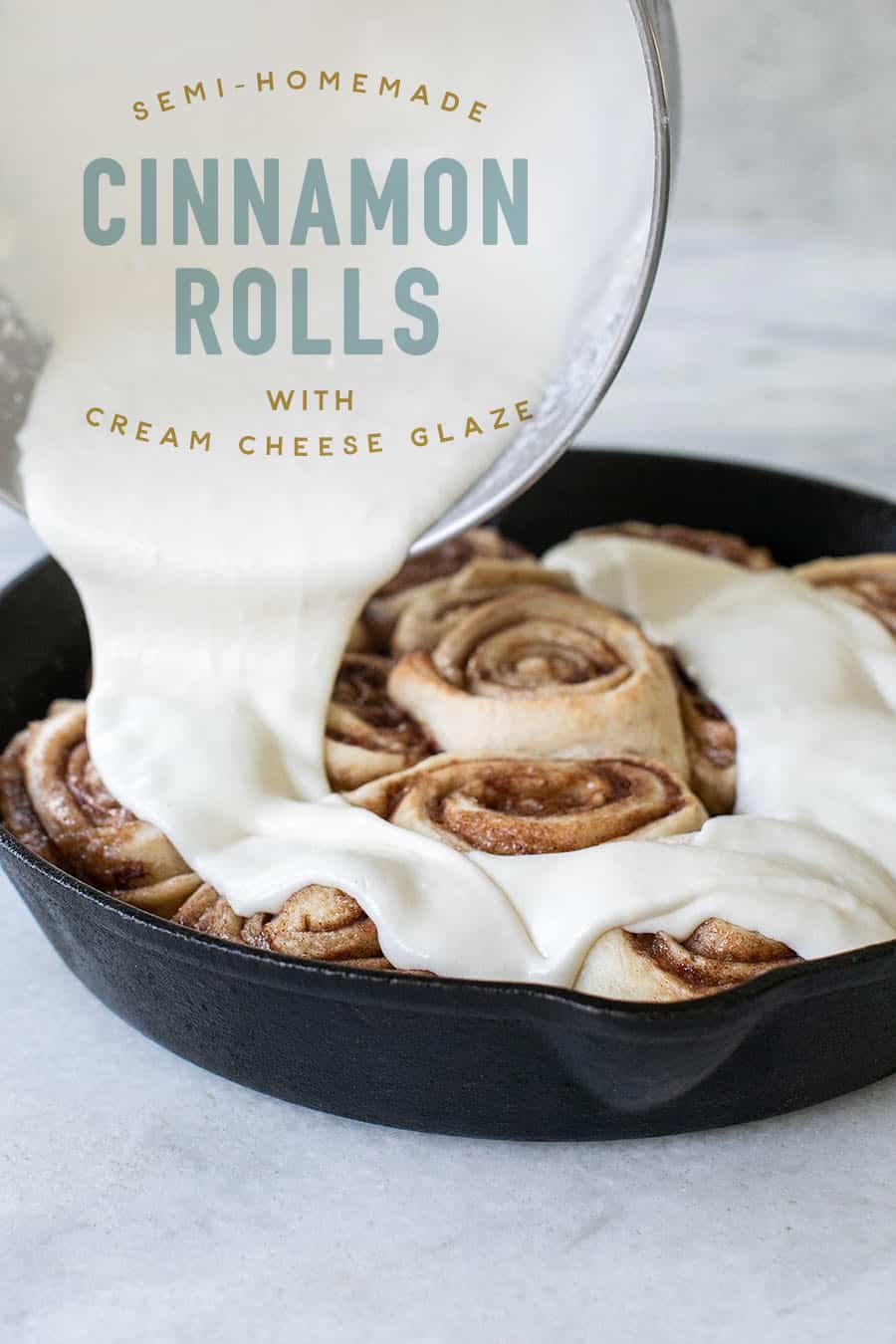 I've been making cinnamon rolls from scratch for a very long time until I finally realized they take too long and personally I don't have the time for long recipes with a lot of steps and ingredients! I am all about easy entertaining, especially on my weekends when our family is all over the place.
So we made the process simple and much easier by using frozen bread dough! Have you tried it? 
Here's the thing, I would make the dough from scratch if there was a tremendous flavor difference between the homemade dough and frozen dough (dough that was already made by professionals).
To my excitement, there is zero taste difference and frozen bread dough is JUST AS GOOD and much easier. These really are the easiest, best cinnamon rolls.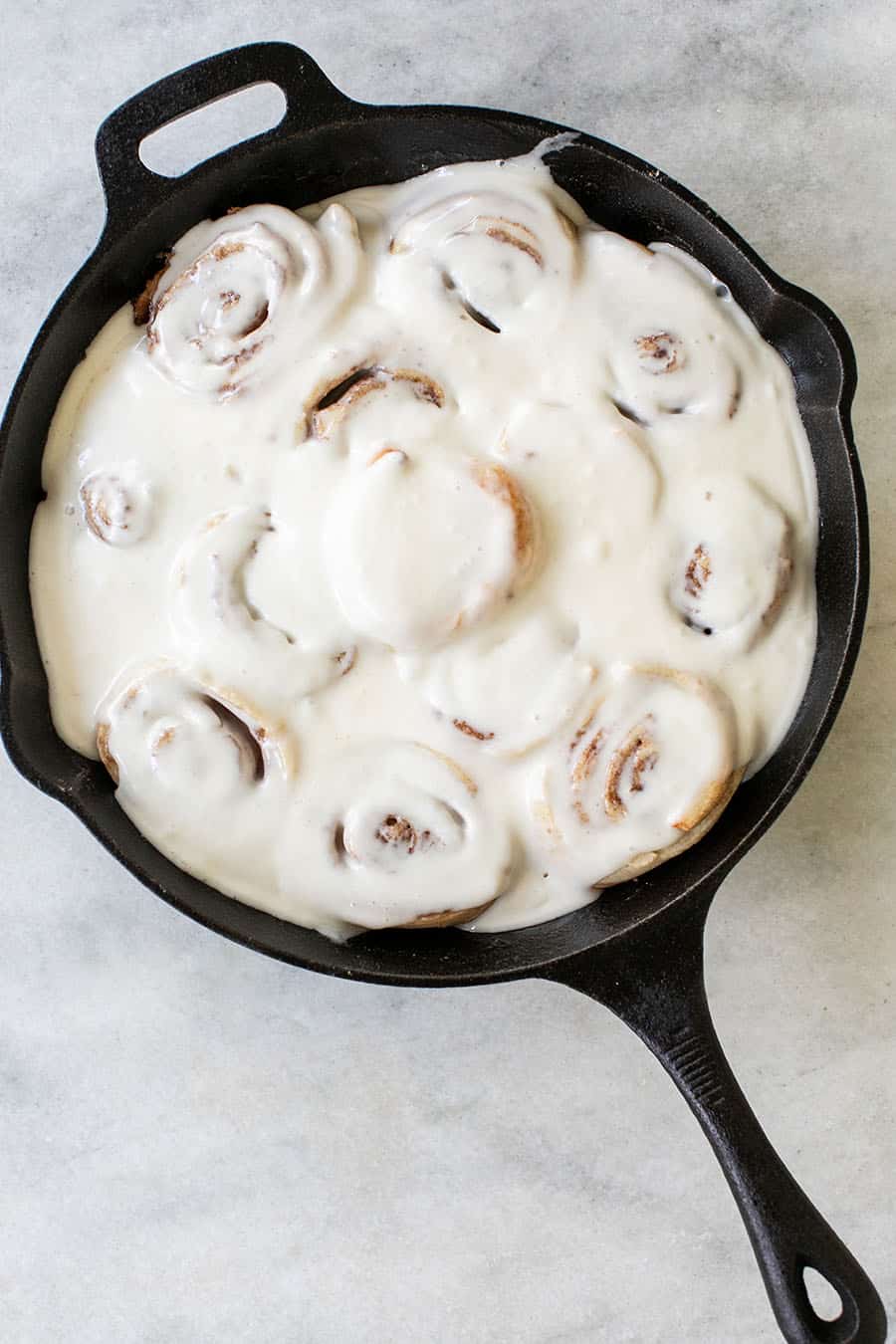 Just look at them?! Okay, I went a little overboard with the glaze, I really like a lot of glazes, but please note you don't have to put this much on!
If you squint, you can see through the thick layer of cream cheese, that they look exactly the same as any of our "homemade" dough cinnamon rolls.
Why You'll Love This Recipe
The dough is already made, making this recipe SO much easier! There is zero rise time when you use bread dough. No using a dough hook or yeast!
They are absolutely delicious, super moist and fluffy cinnamon rolls.
You can make them ahead of time and place the unbaked rolls in the refrigerator, covered in plastic wrap until you're ready to bake them!
They're fuss-free AND home-baked cinnamon rolls, so they're warm and gooey when you take them out of the oven, how they should be!
How to Make This Easy Cinnamon Roll Recipe
We will cover everything you need to know to make easy cinnamon rolls, answer frequently asked questions and share our tips and tricks for recipe success.
If you prefer to skip to the recipe card, scroll to the bottom of the post and you will find the measurement and step-by-step instructions for making this recipe.
Supplies
Here are a few items you'll need to make this recipe:
Stand mixer or electric mixer – This is to make the homemade cream cheese icing.
Large cast iron skillet or rectangular casserole pan. We love cooking these in a cast iron pan.
Pastry brush – This is used to brush butter over the dough.
Knife to cut the dough
Small bowl for sugar mixture 
Rolling Pin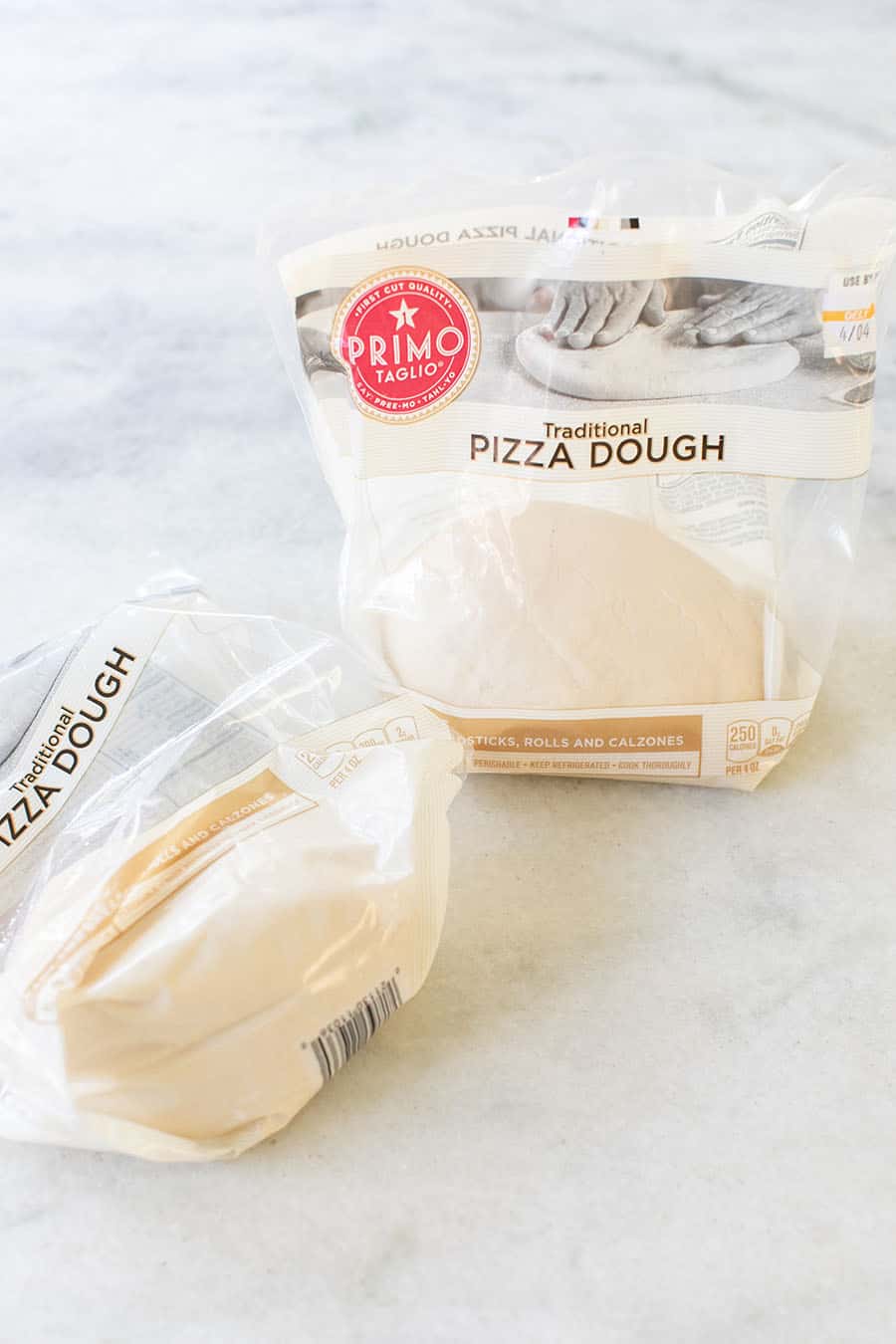 Ingredient Notes
This recipe for the rolls has only 5 ingredients total, takes about 15 minutes to prepare and 30 minutes to bake, and makes 12 large cinnamon rolls. The icing is separate but also very easy!
You can find all of these ingredients at your local grocery store.
Frozen Bread Dough –  Using frozen bread dough to make cinnamon rolls is a great way to save time and still enjoy all of the flavors of a homemade treat. We use Rhodes Italian Frozen Bread or Primo Taglio Pizza Dough. You can fin this in the frozen section at most grocery stores. You can also get dough from a local pizza shop.
Brown Sugar – Brown sugar adds an extra layer of flavor and sweetness to cinnamon rolls. It gives the rolls a caramel taste and also helps create a moist and gooey texture.
Granulated Sugar – Use white sugar to add sweetness and texture to cinnamon rolls.
Butter – Use salted or unsalted butter for this recipe. Butter adds moisture and gooeyness to the rolls. It also helps create a golden brown crust as the rolls bake, and its rich flavor pairs wonderfully with the sweetness of the cinnamon and sugar. Use pure butter when making this recipe.
Ground Cinnamon – a key ingredient in cinnamon roll recipes, adding a flavorful depth and warmth to the rolls.
Directions
Prepare your work surface with a lightly floured surface. We love using a pastry mat for this.
Roll the dough out in the shape of a rectangle that is 15″ in length and about 5-6″ width.
Brush the dough with melted butter. Yum.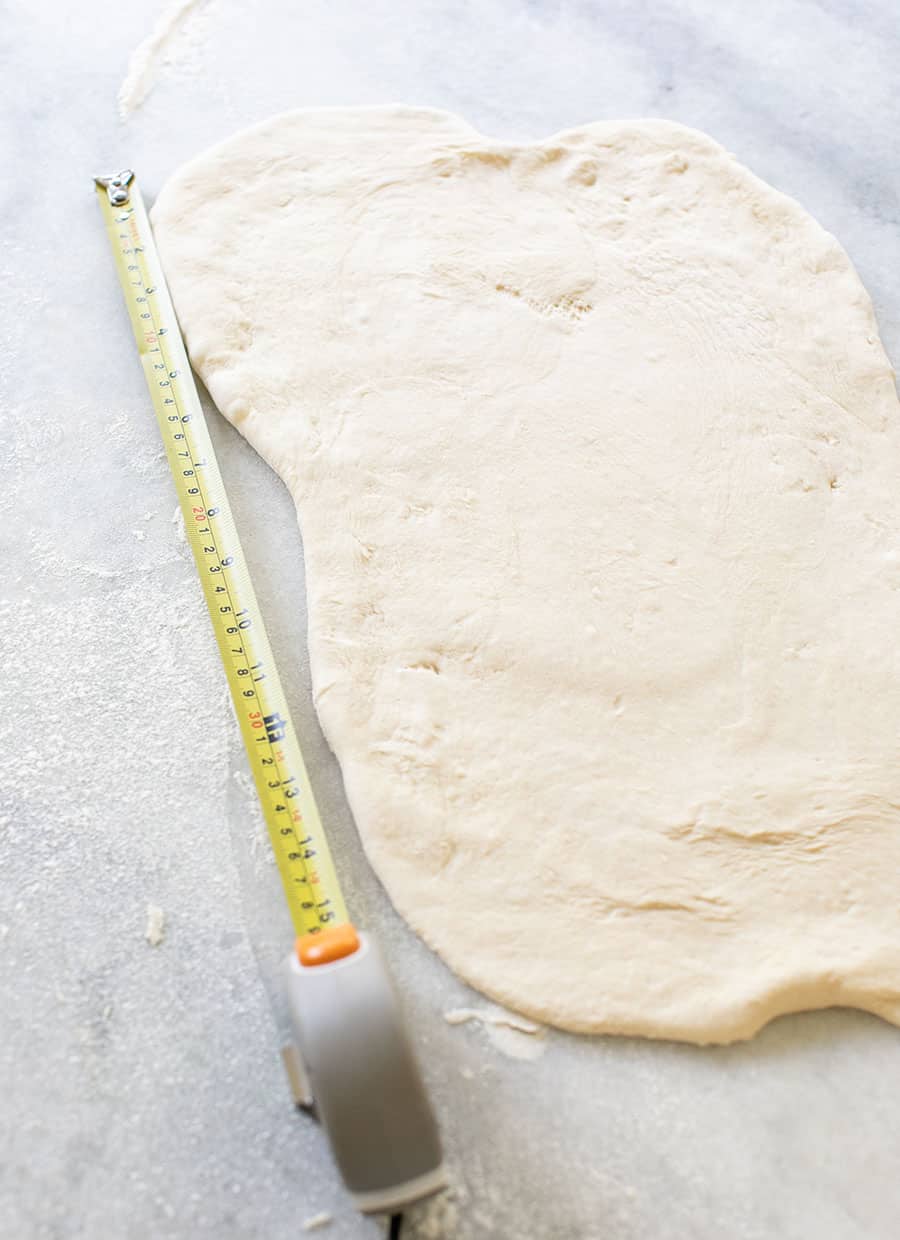 In a small bowl, combine brown sugar, granulated sugar and cinnamon in a and stir to mix.
Cover the entire surface with the cinnamon and sugar mixture. 
Starting from the top, roll the dough tightly to make a log. Keep it as tight as possible and then cut 12 slices using a sharp knife.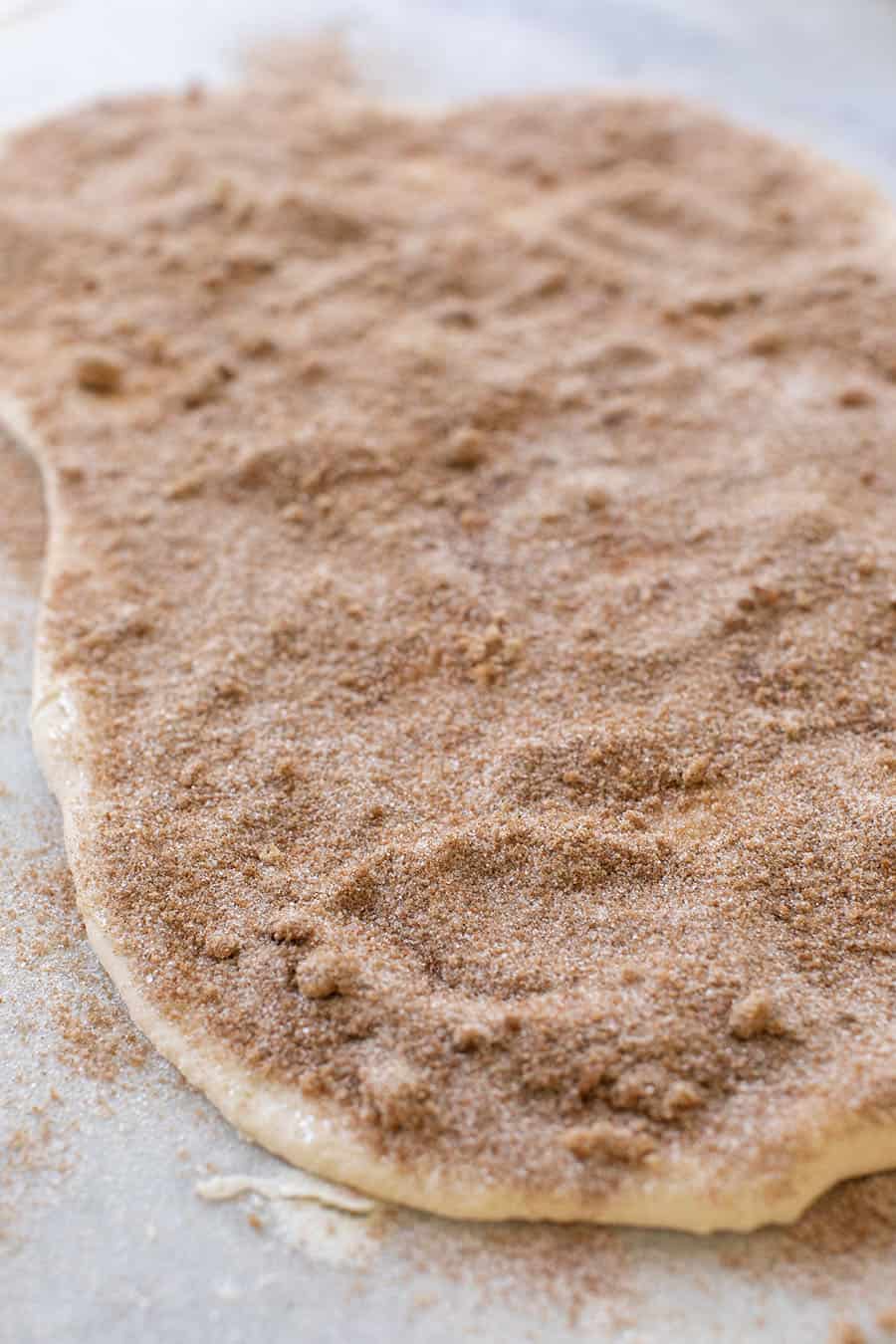 I made little lines all the way down so I know where to cut to make them even. Some people swear that dental floss is the way to go when cutting cinnamon rolls, but we think a knife works fine.
Place them in a buttered cast iron pan, leaving some space between the rolls. They will expand and touch each other after they bake.
Bake them in a 350-degree preheated oven for 25-20 minutes.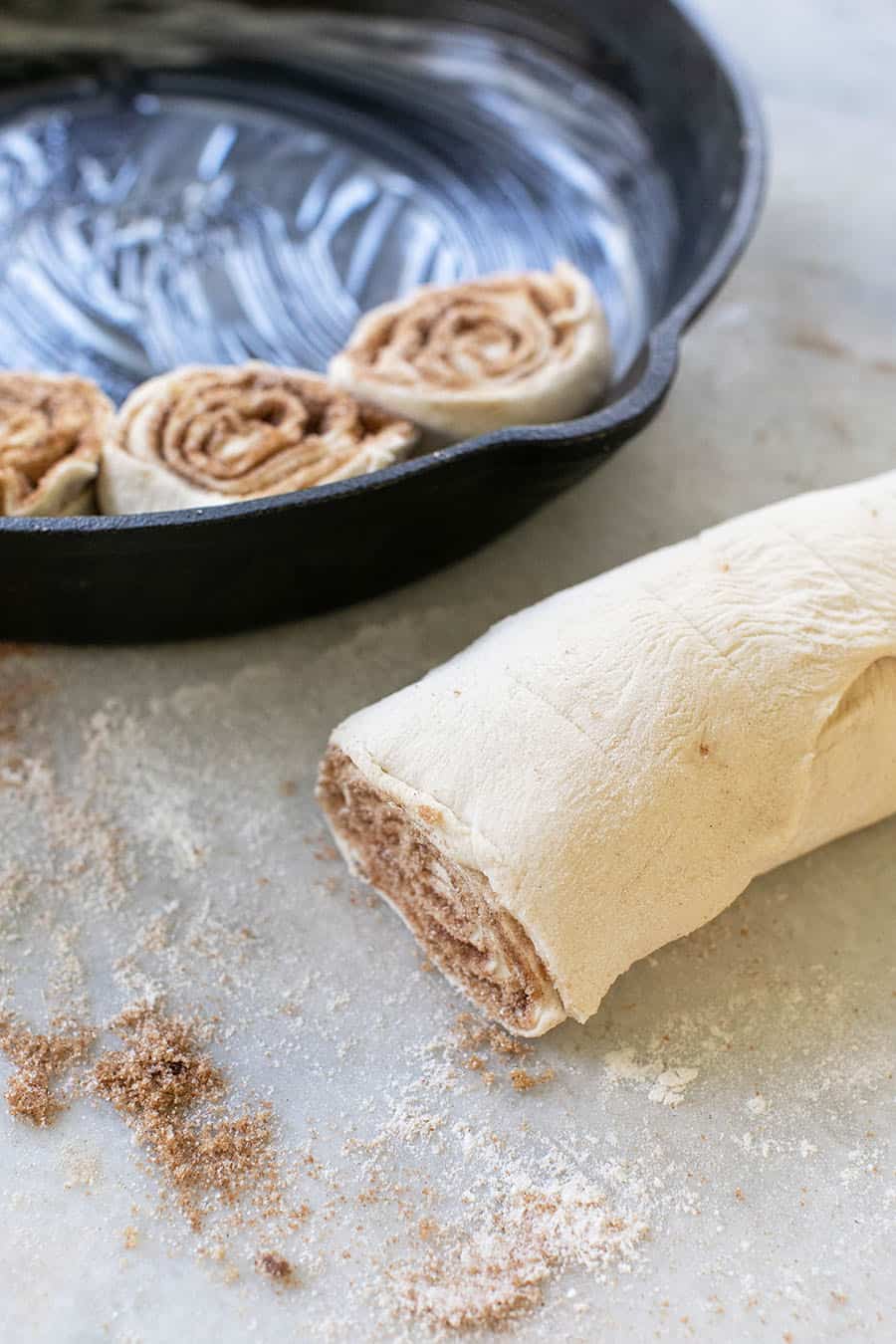 Baking in Cast Iron
Baking cinnamon rolls in a cast iron pan is great for when you want to achieve a rich and golden-brown crust. Using a cast iron skillet offers more even heat distribution than other baking pans, which can result in more consistent results with every batch.
The cast iron also holds the heat well, so the cinnamon rolls won't cool down too quickly while baking. We really enjoy how these rolls turn out in a cast iron pan. We also make our peach cake in a cast iron pan too!
Easy Cream Cheese Icing for Cinnamon Rolls
We love a good cream cheese frosting to top our cinnamon rolls off with! This recipe uses only 5 ingredients and takes about 5 minutes to make.
Unsalted Butter – Make sure this is at room temperature.
Cream Cheese – This needs to be super soft, you can add it to the microwave for 30 seconds to soften it.
Powdered Sugar – Confectioners sugar is used to sweeten the icing.
Vanilla Extract – This is used to add and enhance the flavors in the icing.
Whole Milk – Helps even out the texture of the icing so it's pourable.
Make sure the butter and cream cheese are very soft before mixing them together. Also, add more milk if needed. You want it to be a thicker glaze, but remember it will also melt when poured over the hot cinnamon rolls.
How to Store
Refrigerate
The best way to store cinnamon rolls is in an airtight container. This will help keep them fresh and prevent them from drying out. Cinnamon rolls can stay fresh outside of the fridge for up to two days and in the refrigerator for up to one month. For even better results, warm the rolls slightly before serving.
Freeze
You can also freeze cinnamon rolls for up to three months if you're looking for a longer storage option.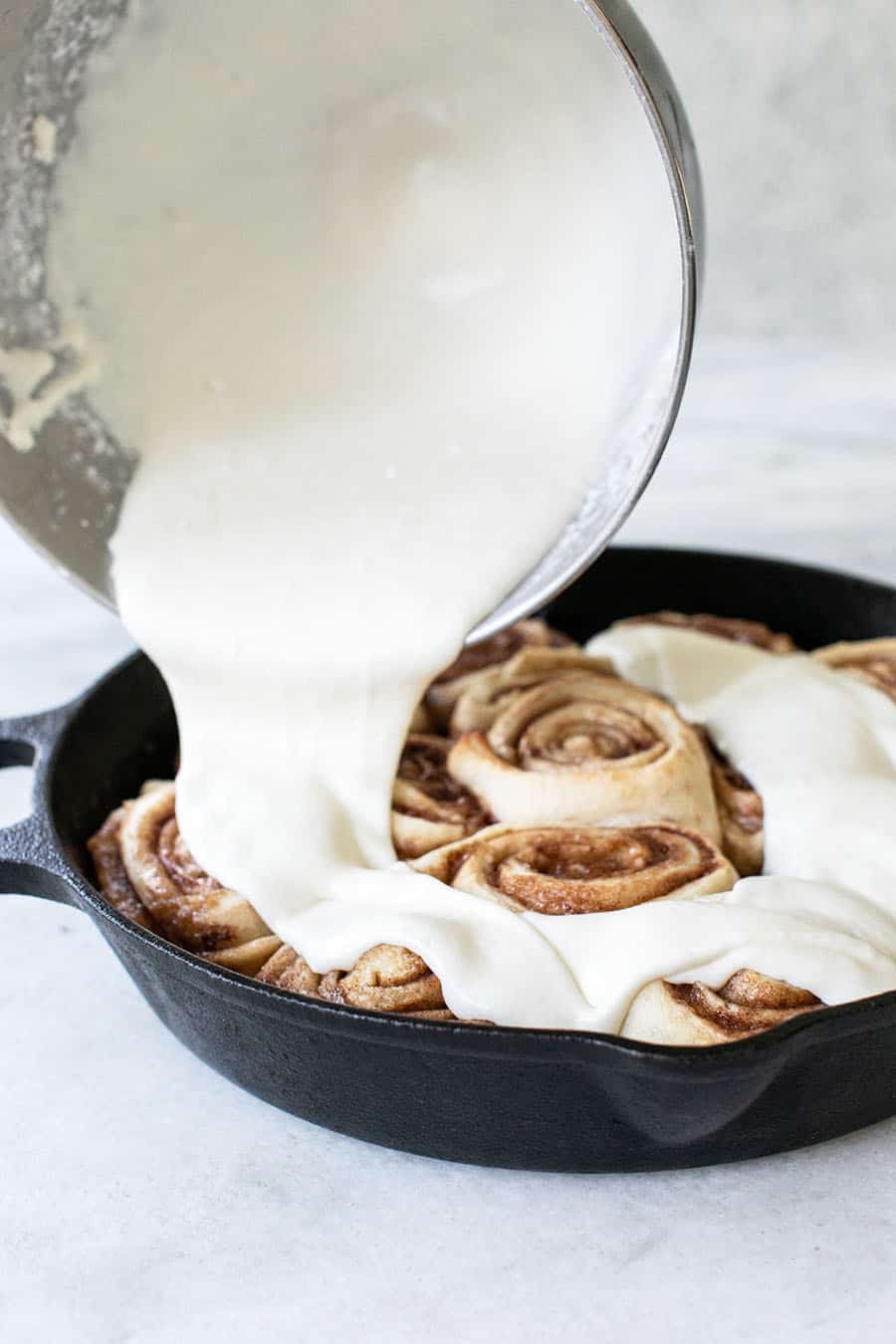 Recipe Variations
If you want to switch up the recipe for these delicious cinnamon rolls try any of these variations:
Add ingredients to the dough before it's rolled out. Things like mini chocolate chips, nuts, or even coconut shreds.
Use any extract in the glaze to give it a hint of another flavor. Some ideas are almond, lemon, orange, lavender or coconut.
Instead of glaze, drizzle our easy homemade caramel sauce over the top.
Add toppings over the glaze like nuts or even fresh berries.
Make them gluten-free by using gluten-free bread dough or pizza dough.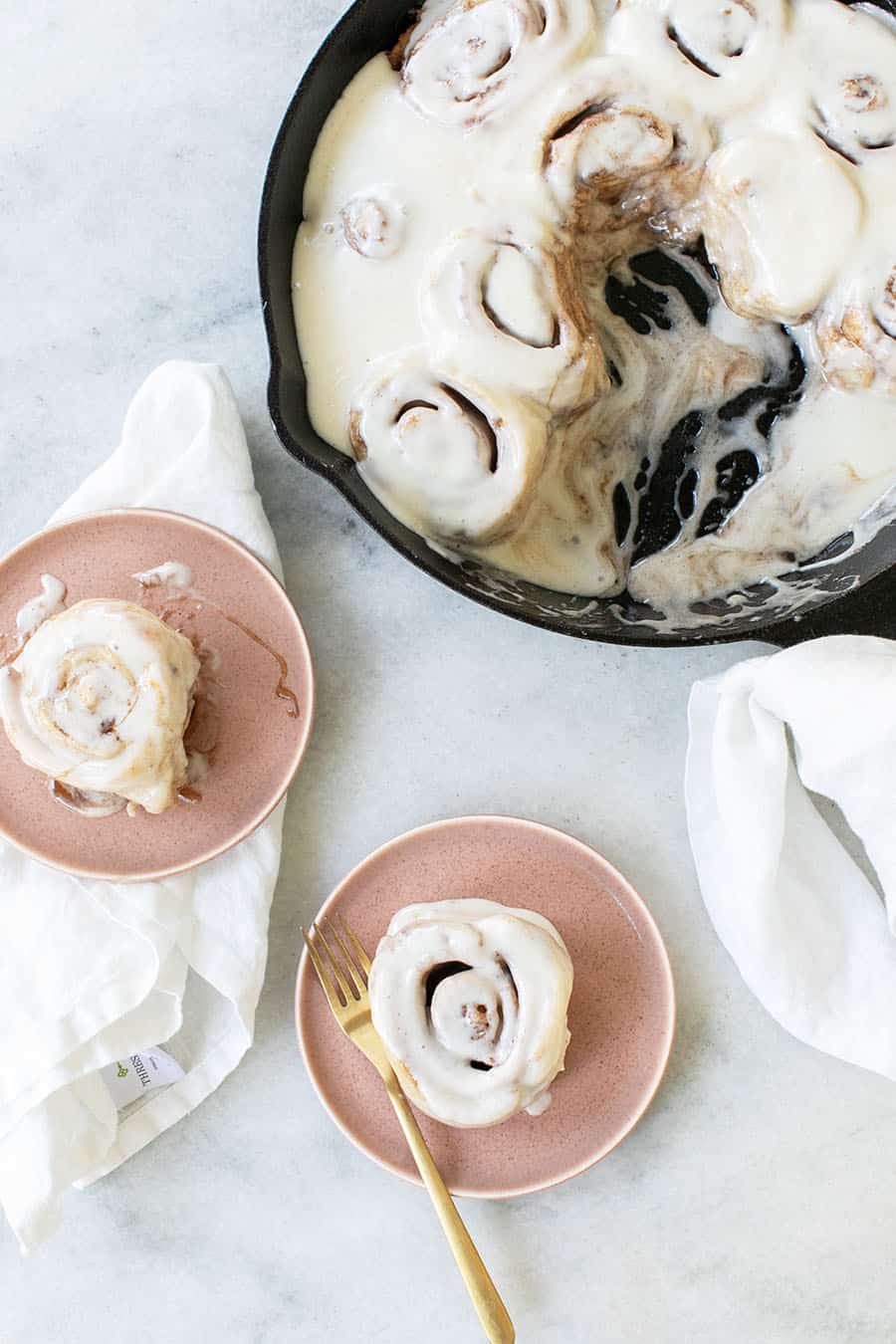 Frequently Asked Questions
How do you thaw frozen bread dough for cinnamon rolls?
To thaw frozen bread dough, leave it in the package and let it stand at room temperature for about 30 minutes until the dough reaches 55-60 degrees F. You can also thaw it in the refrigerator overnight.
What does pouring heavy cream on cinnamon rolls do?
Pouring heavy cream on cinnamon rolls adds a rich and creamy flavor to the rolls that pairs especially well with the sweetness of the sugar and cinnamon. Additionally, it adds extra moisture to the dough, resulting in soft and fluffy rolls. You pour the cream over the rolls before you bake, giving them an even tender texture. You don't have to do this for our recipe, but if you want to try you can!
Do you put the icing on cinnamon rolls before baking?
Icing is typically added to cinnamon rolls after they are baked, however, there are some recipes that suggest adding a glaze or icing before baking. This can create a sticky and sweet coating on the outside of the rolls which may be desired for certain recipes. Ultimately, it is up to the baker's preference whether or not to add icing before baking.
Should cinnamon rolls be baked on low or high heat?
Cinnamon rolls should be baked at a moderate to high temperature of 350°F (175°C). This will create a perfect balance of lightly crisp outside with a soft and fluffy interior. Baking cinnamon rolls at too low of a temperature can cause them to come out doughy and underbaked, while baking at too high of a temperature can result in overbaked rolls. For our recipe we bake the rolls at 350 degrees fro about 25 minutes and it works perfectly.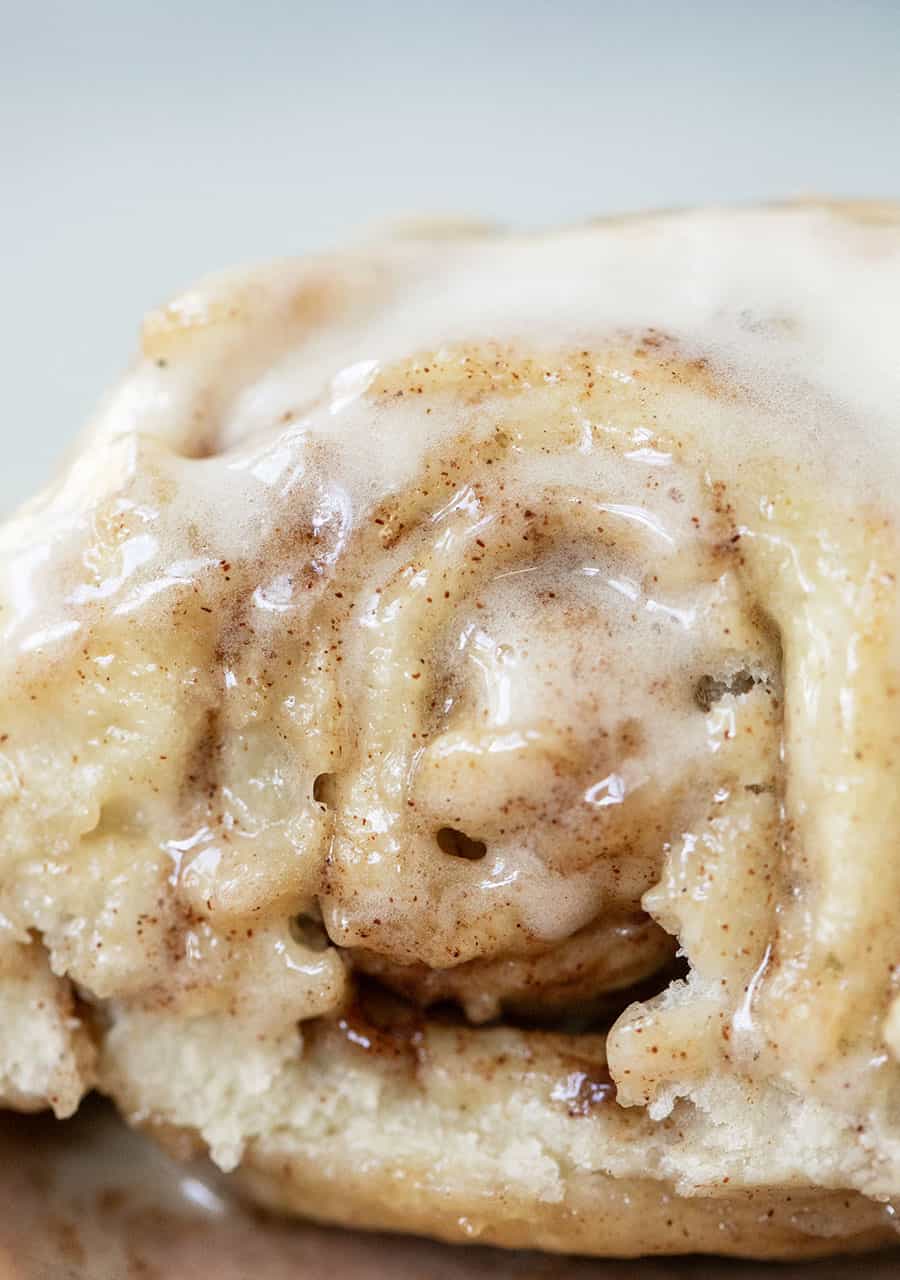 When to Serve with Easy Cinnamon Rolls
Cinnamon rolls can be enjoyed for breakfast, brunch, or dessert. They are great for weekends or special occasions. We like to serve them for Easter brunch and Christmas morning. Serve them with any of these brunch items:
Easy Fruit Platter and Fruit Dip
Classic Mimosas, Prosecco Mimosa or Virgin Mimosa
Need more brunch ideas? Check out these brunch recipes and pair them with our brunch cocktails!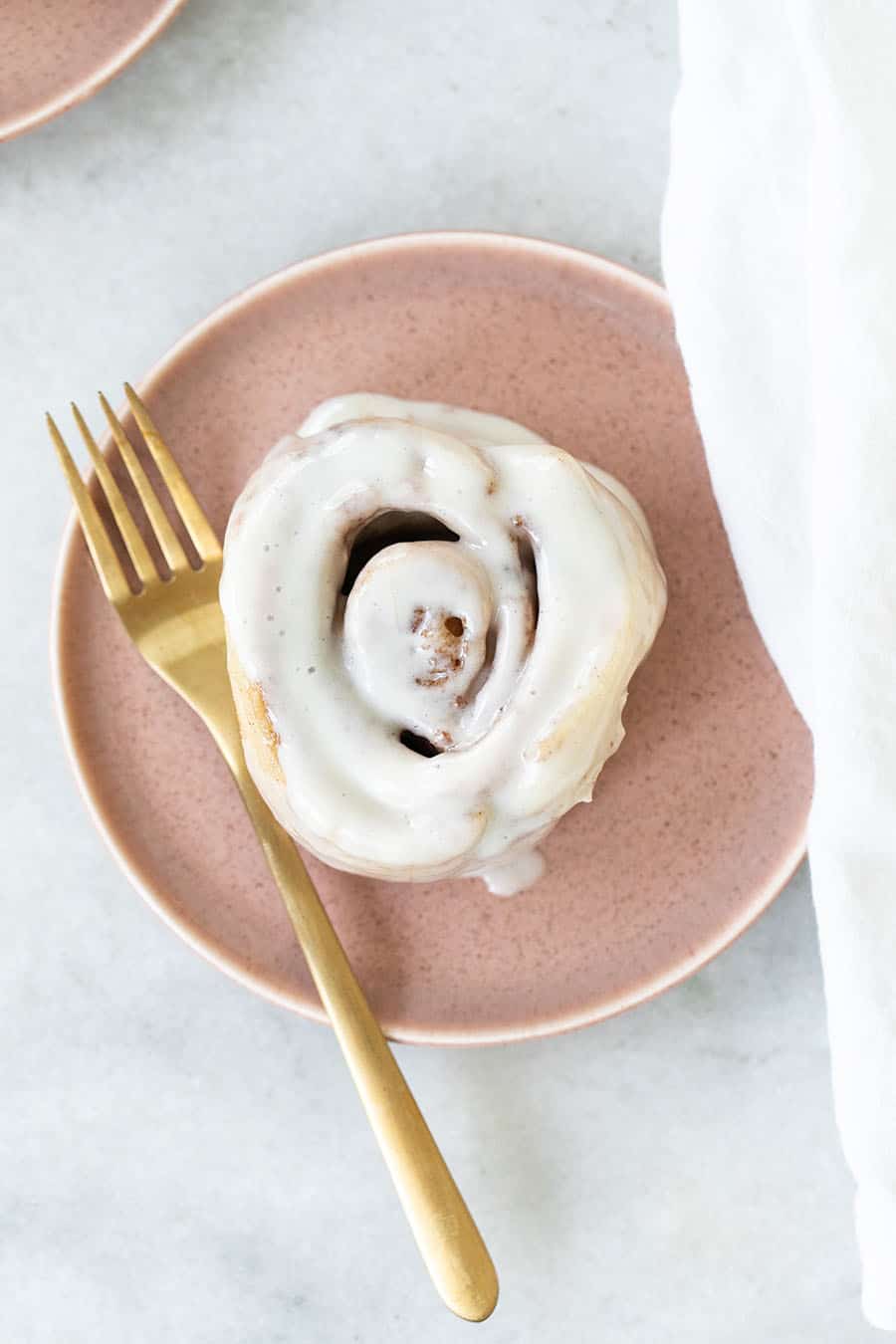 More Brunch Recipes You'll Love
Blueberry Muffins and Blueberry Banana Muffins
Let us know what you think!
If you're looking for an easy way to make this classic brunch treat, this truly is the best cinnamon roll recipe.
If you make this easy cinnamon rolls recipe please let us know what you think in the comments and reviews below!
You can also FOLLOW US on FACEBOOK and PINTEREST to see more delicious recipes, cocktails, desserts, and parties!
Semi-Homemade Cinnamon Rolls
The most delicious semi-homemade cinnamon rolls using frozen bread dough with a homemade cream cheese glaze!
Print
Pin
Rate
Ingredients
Cinnamon Rolls
2

pounds

frozen bread dough

,

thawed

1/2

cup

melted butter

,

unsalted or salted

1/2

cup

brown sugar

,

brown or light

1/2

cup

granulated sugar

1

tbsp

ground cinnamon
Cinnamon Roll Icing
4

tbsp

butter

,

room temperature and soft to the touch

4

ounces

cream cheese

,

room temperature and soft to the touch

2 1/2

cups

powdered sugar

3

tbsp

whole milk

,

more needed

1

tsp

vanilla extract
Instructions
Let the bread dough thaw out completely.

Roll the dough out on a floured surface to a 15″ semi-rectangle. Does not have to be perfectly shaped.

In a small bowl, combine the brown sugar, granulated sugar, tablespoon cinnamon and give it a stir to mix.

Melt the 1/2 cup butter and brush it over the dough. Save a little melted butter to brush over the top of the rolls later.

Sprinkle the brown sugar and cinnamon mixture over the dough, covering the entire surface.

Starting from the top, tightly roll the dough to create a log shape. Roll it as tight as possible.

Cut 12 slices in the cinnamon roll log and place them in a buttered cast iron skillet.

Make sure they're separated because they will expand quite a bit while baking.

Brush the top of the rolls with the rest of the melted butter.

Bake in a preheated 350-degree oven for 20-25 minutes until they are golden brown and have doubled in size.
Cinnamon Roll Icing
In an electric mixer, cream together the soft butter and cream cheese. Make sure to get it as smooth as possible.

Add in the powdered sugar, milk and vanilla and continue to beat on high until smooth with a glaze like texture. Add more milk if needed.

Pour the glaze over the cinnamon rolls when they come out of the oven.

Enjoy every bite!
Notes
There are several brands of frozen bread dough that will work. Try Rhodes Bread Dough or we used Primo Taglio Pizza Dough. The white traditional pizza dough they sell at Trader Joe's would work too.
You can bake these in a cast iron pan or a rectangular casserole dish. It makes 12 and they expand so make sure the dish is big enough for the rolls to have a little space.
When making the glaze, it's important the butter and cream cheese is very soft. This will result in a creamy texture. If it's cold it will be clumpy and hard to make it smooth.
Nutrition
Calories:
303
kcal
|
Carbohydrates:
43
g
|
Protein:
1
g
|
Fat:
15
g
|
Saturated Fat:
9
g
|
Cholesterol:
41
mg
|
Sodium:
136
mg
|
Potassium:
30
mg
|
Fiber:
1
g
|
Sugar:
42
g
|
Vitamin A:
486
IU
|
Calcium:
31
mg
|
Iron:
1
mg