All of the best orange juice cocktails! These cocktails are easy to make, bright, citrusy, and great for all occasions. From mimosas to easy mixed drinks, you'll love all of these classic cocktail recipes! 
Packed with a bright and citrusy flavor, oranges are the perfect fruit to add to your favorite cocktail. Best known as a companion to vodka, orange juice tastes great with almost any liquor.
Whether you prefer a mimosa, a tequila sunrise, or a refreshing twist on a margarita, there's sure to be an orange juice cocktail for you.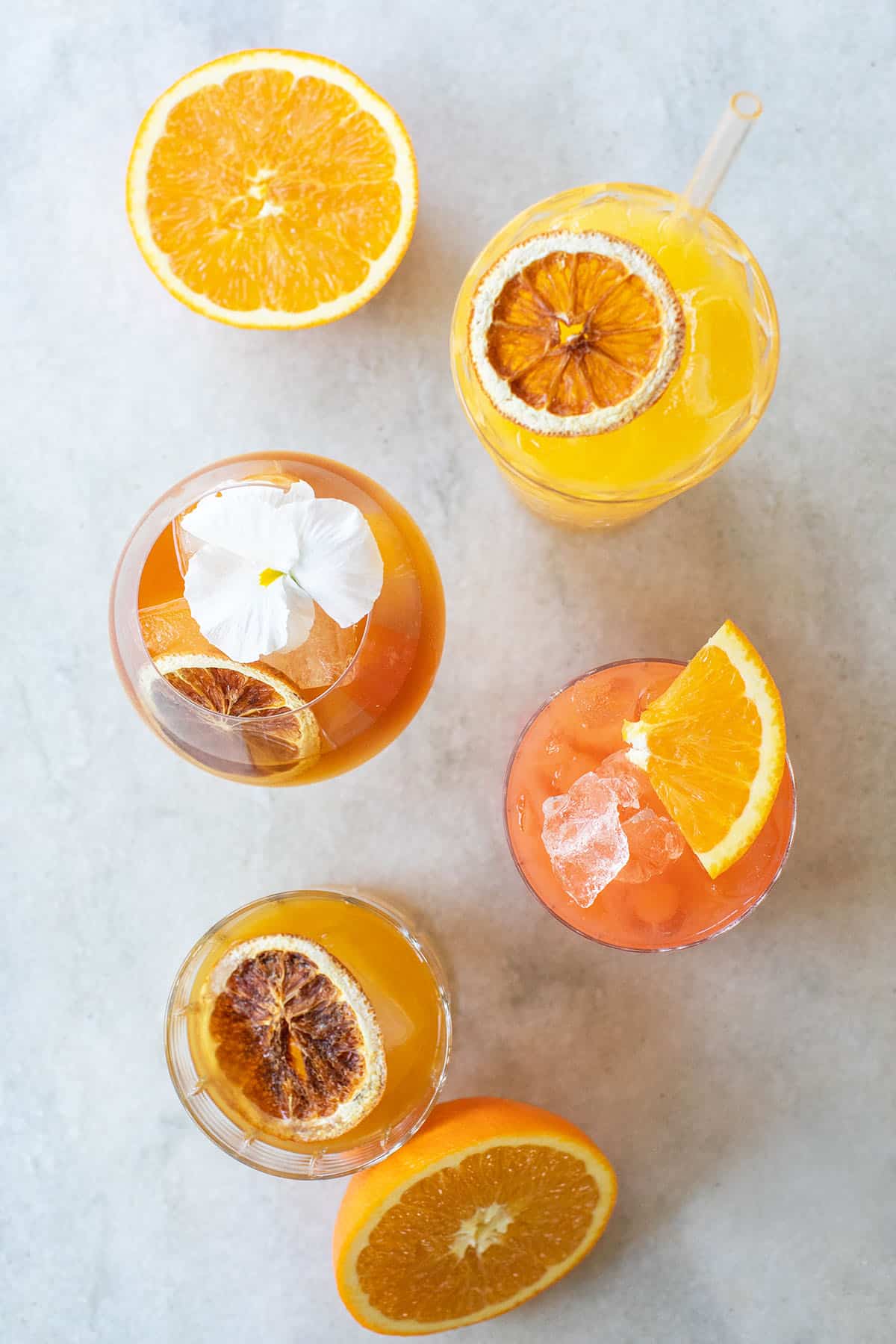 All About Orange Juice
Made by extracting the juice of oranges, orange juice is a classic refrigerator staple. The drink can be made using any type of orange and is thus available in several varieties, including:
Blood orange
Navel orange
Valencia orange
Clementine
Tangerine
Grown in warmer areas like California and Florida, oranges are packed with vitamins—most notably vitamin c. The sun-kissed growing process gives freshly squeezed orange juice a bright, energizing citrus flavor.
What alcohol does orange juice go with?
With its refreshing citrus flavor, orange juice is compatible with almost any kind of alcohol. Some of the most notable pairings for the juice include:
Vodka
Bourbon
Champagne
Tequila
Gin
The orange juice works to cut through the intense liquor flavor of each spirit for a bright, zippy taste, making it the perfect additive to any cocktail.
Best Orange Juice Cocktails
Scroll through to make any of these refreshing orange juice cocktail recipes!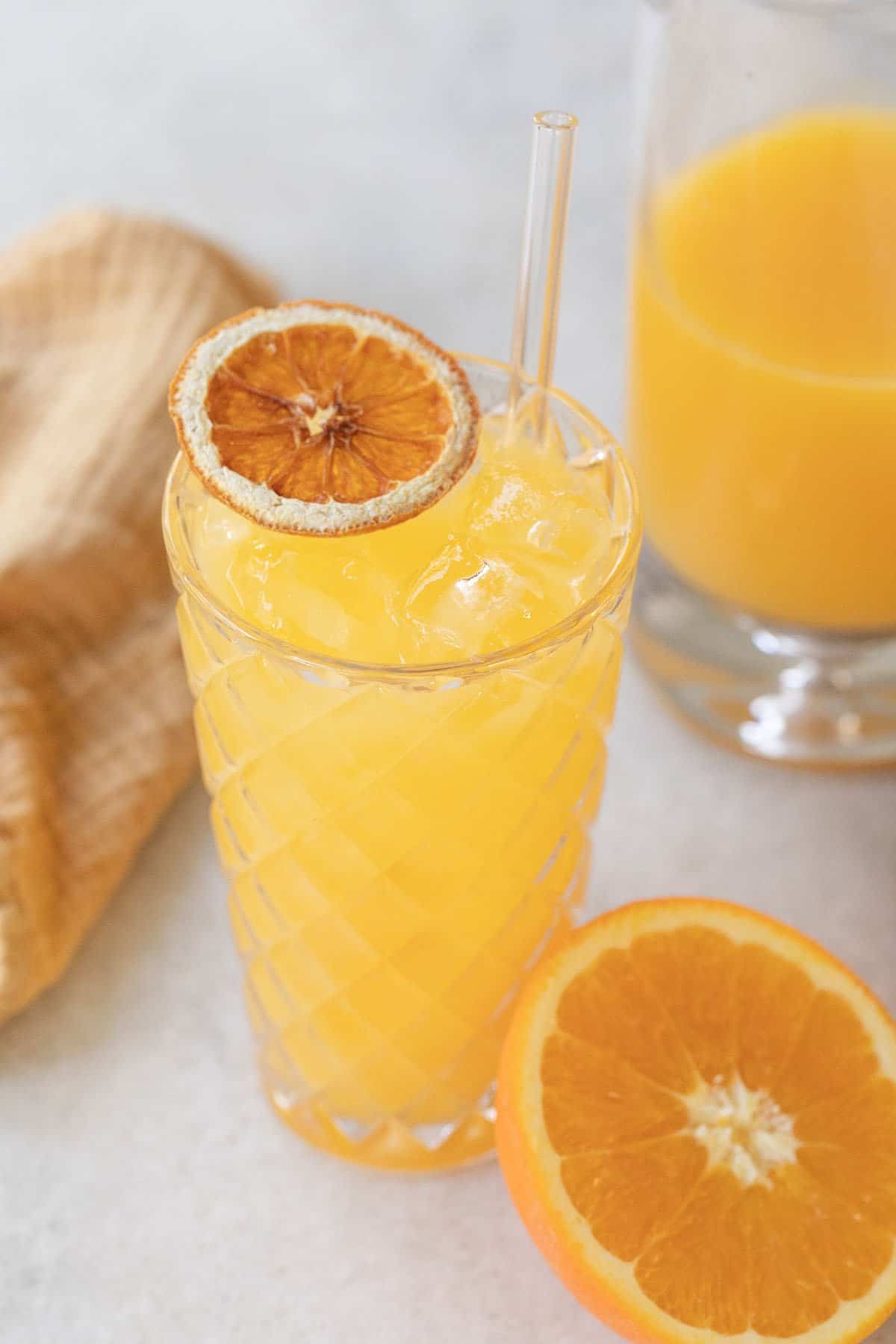 Vodka Orange Juice Cocktail
A classic screwdriver recipe! Vodka is a light-colored and flavored spirit and goes well with most mixers. This cocktail is as simple as our vodka soda. You can even add a little soda water to this recipe to give it some extra bubbles.
Rum Orange Juice Cocktail
Rum and orange juice have all the summer, tropical vibes! Make it with coconut rum for even more flavor. This is the perfect summer cocktail.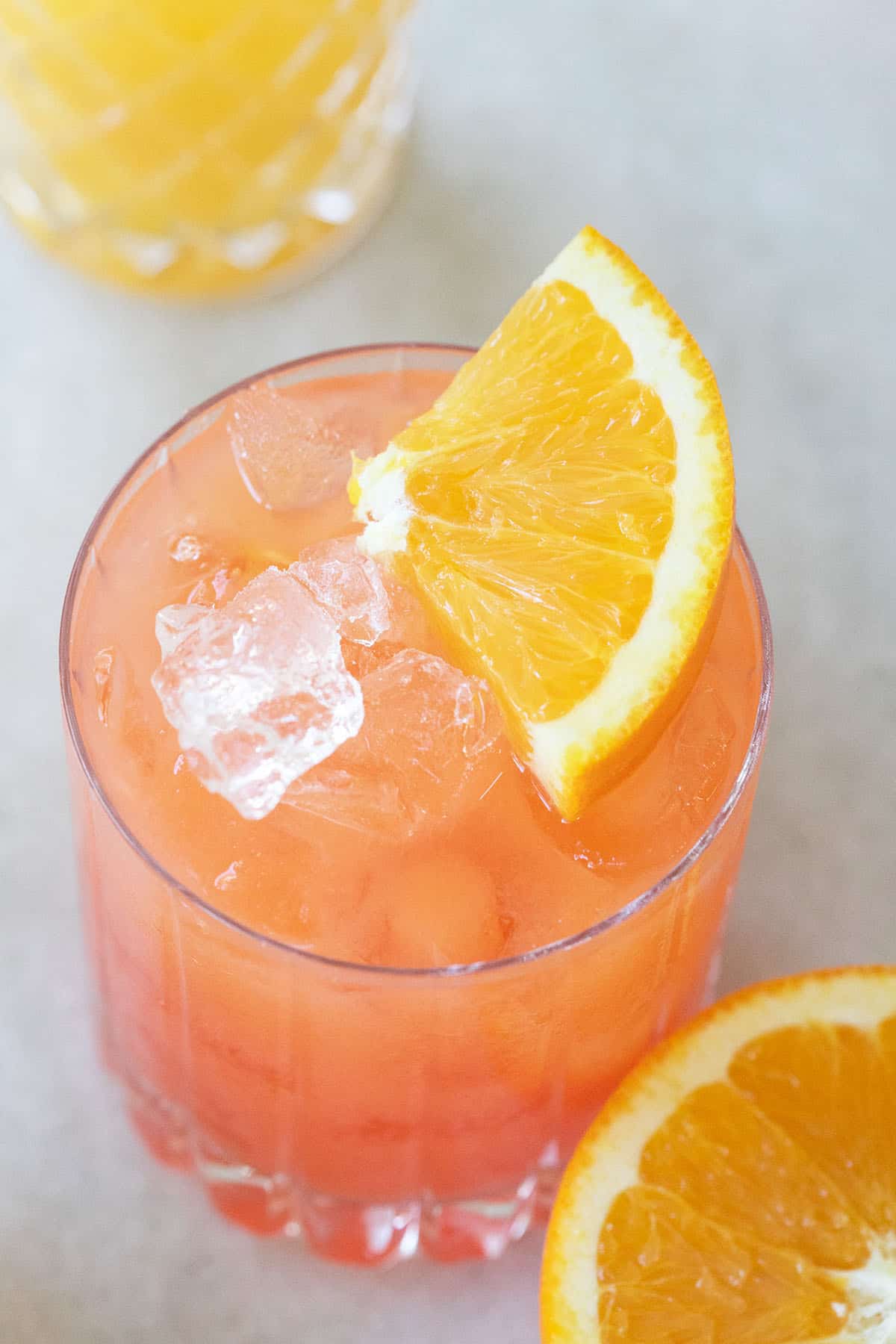 Tequila Orange Juice Cocktail
Tequila and fresh orange juice are a no-brainer! Similar to our lemonade margarita recipe, this cocktail is made with just two ingredients. Add a little grenadine over the top for a tequila sunrise!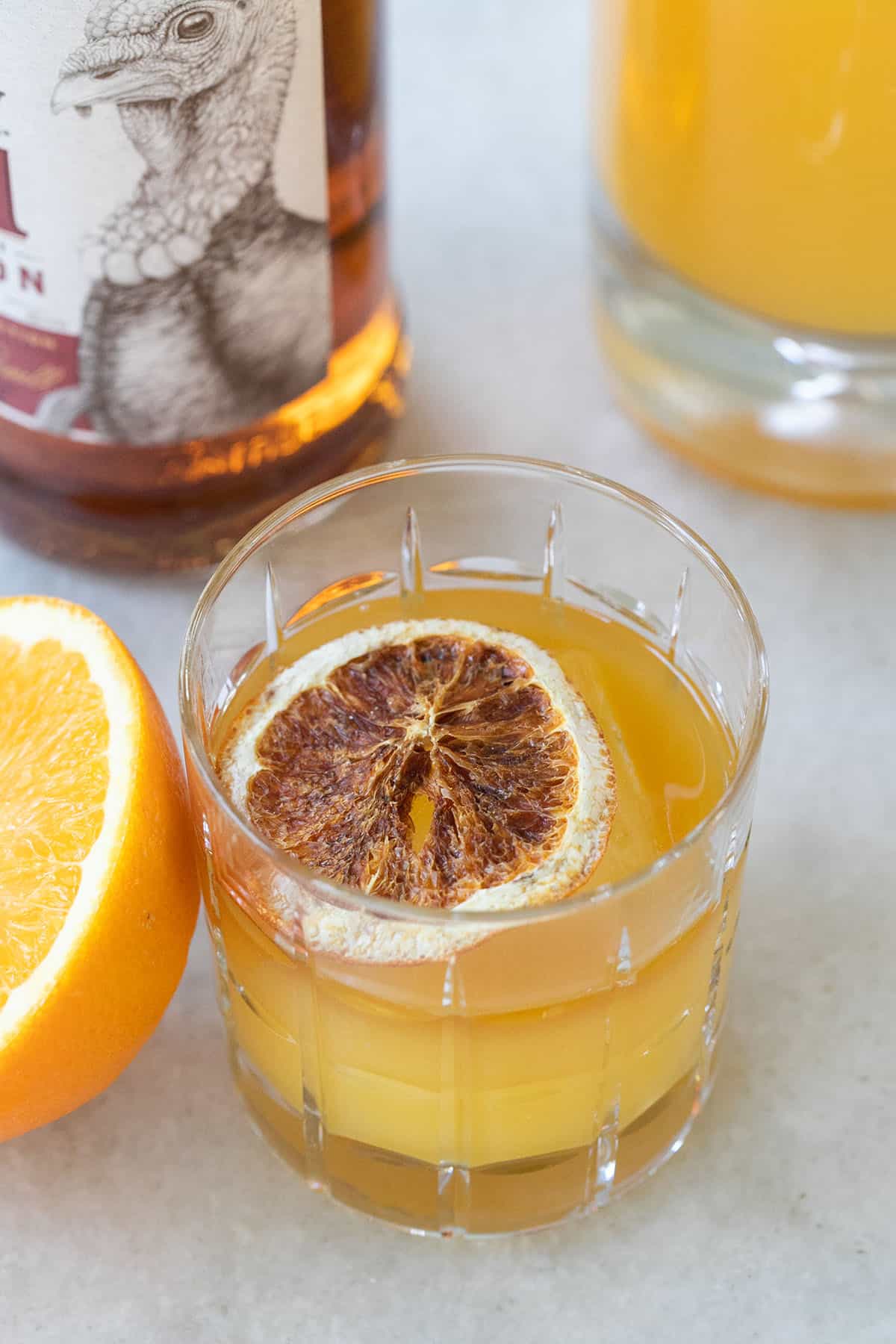 Bourbon Orange Juice Cocktail
For all of your bourbon, and whiskey lovers this is the easiest mixed drink to make! Bourbon and orange juice pair well together and can be served any time of the year.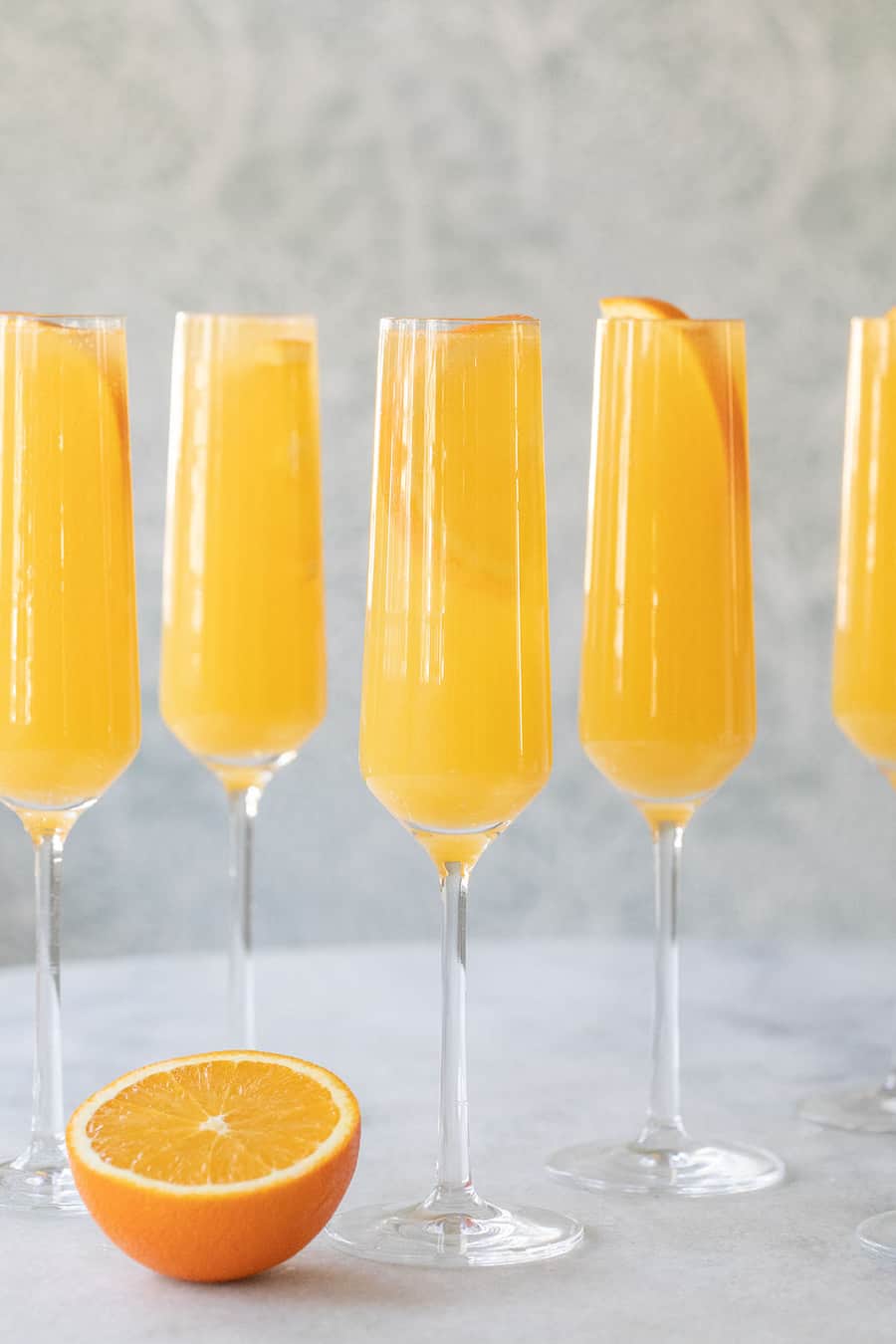 Classic Mimosa
There is no doubt, the most popular orange juice cocktail is a mimosa. This is a quintessential brunch cocktail that is so easy to make with Champagne and orange juice. Add a little Cointreau in there for extra flavor. Try our grapefruit mimosa too.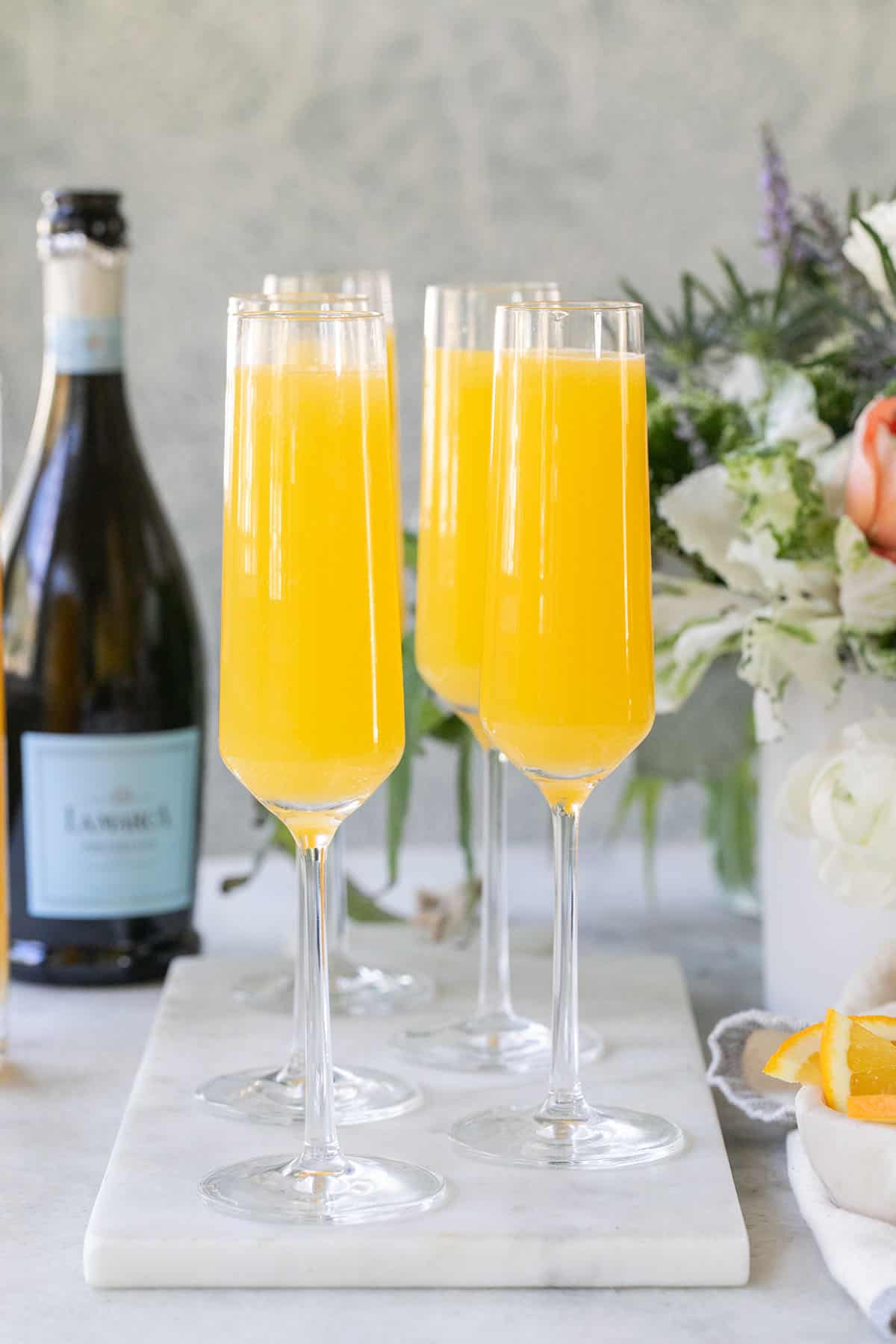 Prosecco Mimosa
A twist in the classic, a prosecco mimosa uses Italian prosecco and gives the drink some added sweetness. You can also try our carrot juice mimosa too. It's perfect for Easter brunch!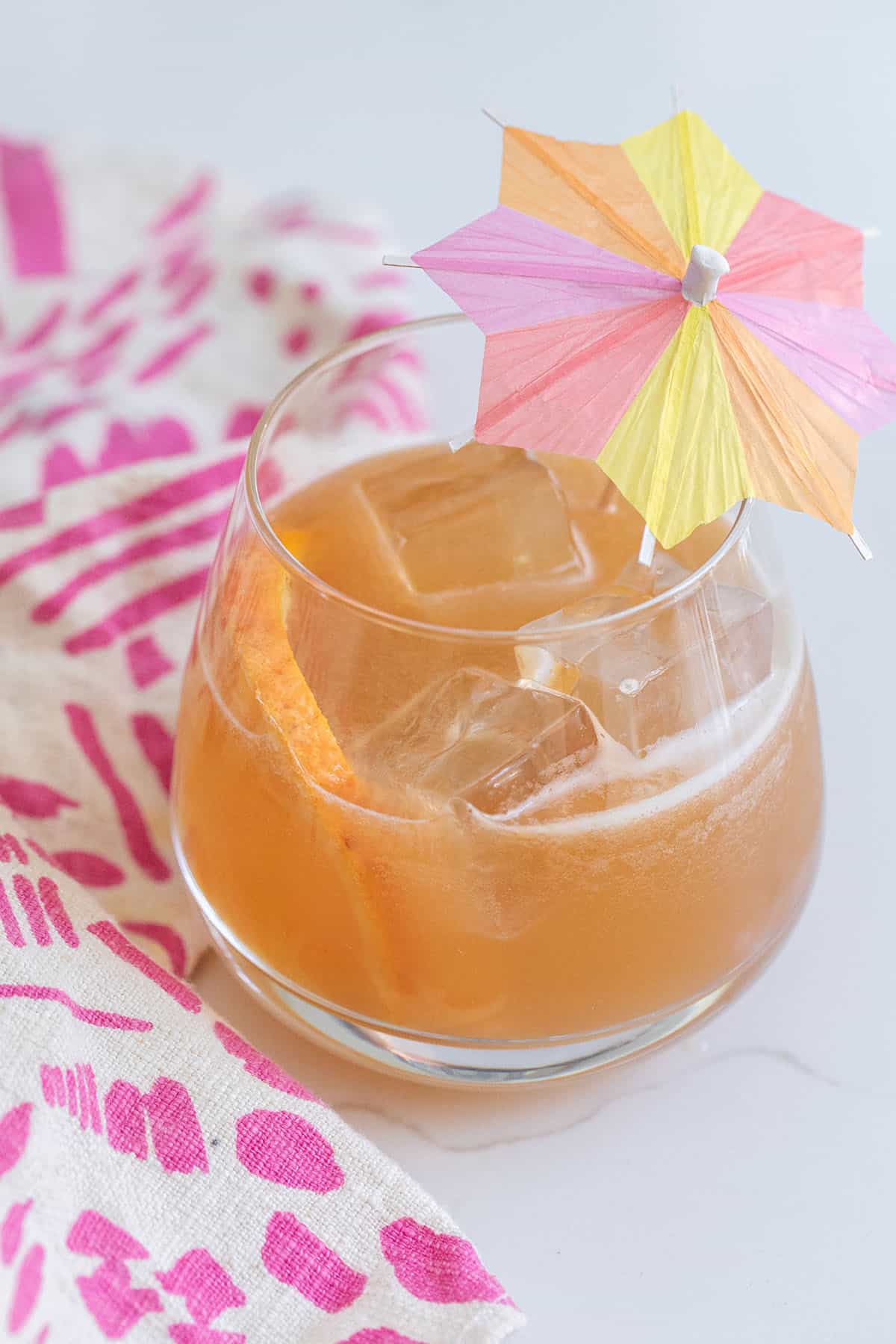 Rum Punch
Another tropical cocktail that uses orange juice, rum, pineapple juice, and lime. This rum punch is a vacation in a cup! Perfect for sunny beach days.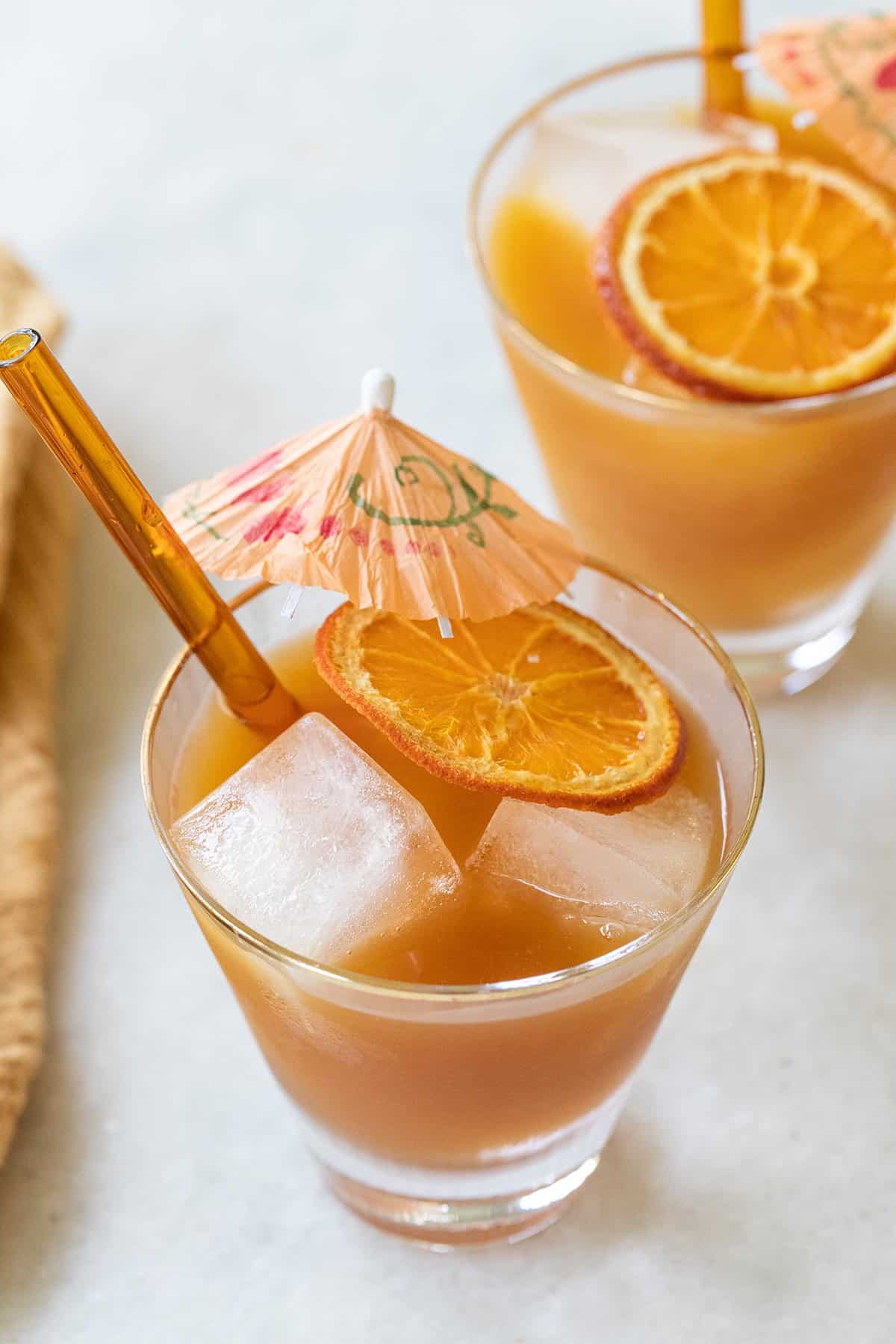 Brass Monkey
This brass monkey is a fun cocktail from the 70's made with orange juice, rum, and vodka.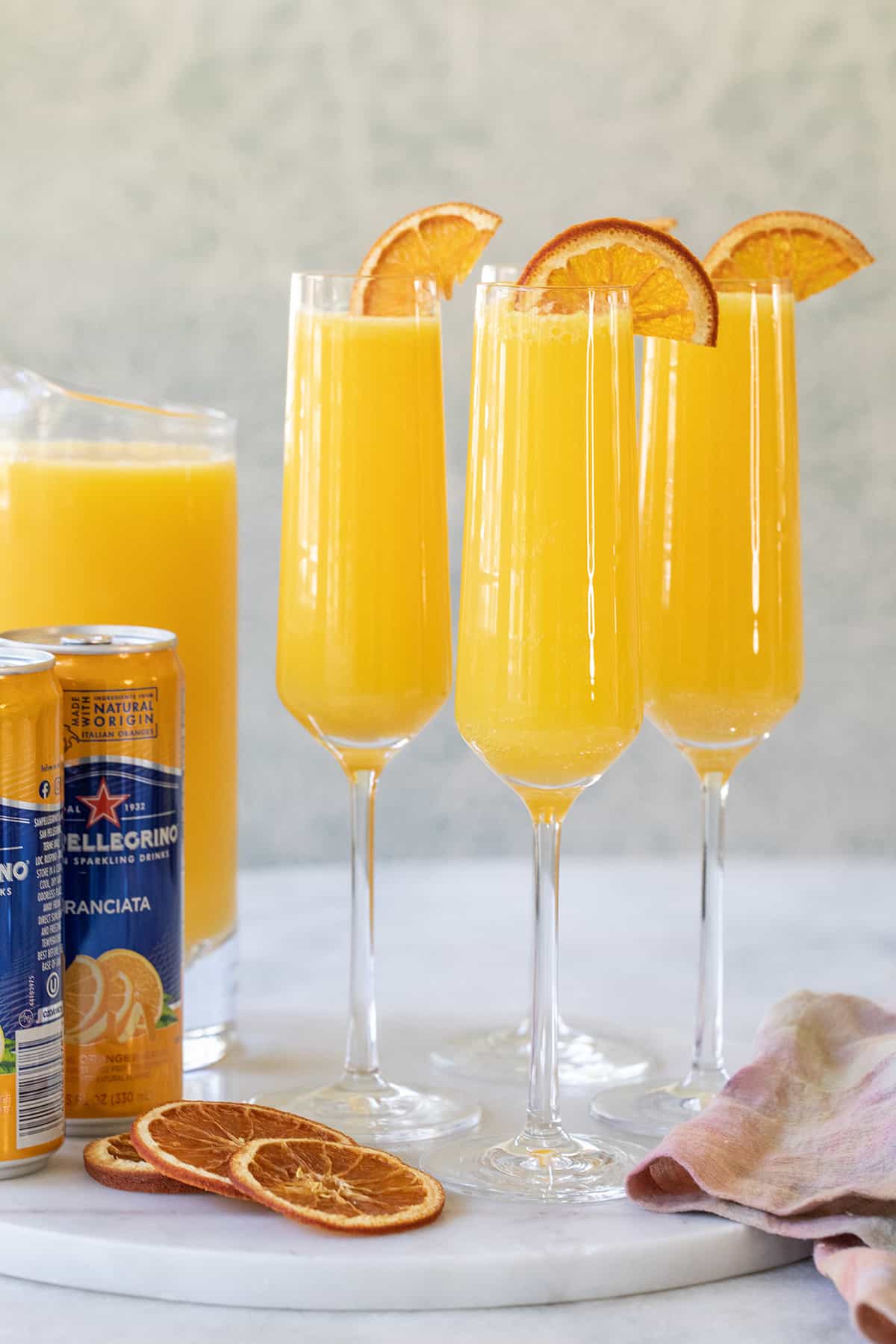 Virgin Mimosa Recipe
If you're looking for a refreshing drink without alcohol, try our virgin mimosa recipe! It tastes just as refreshing and bubbly!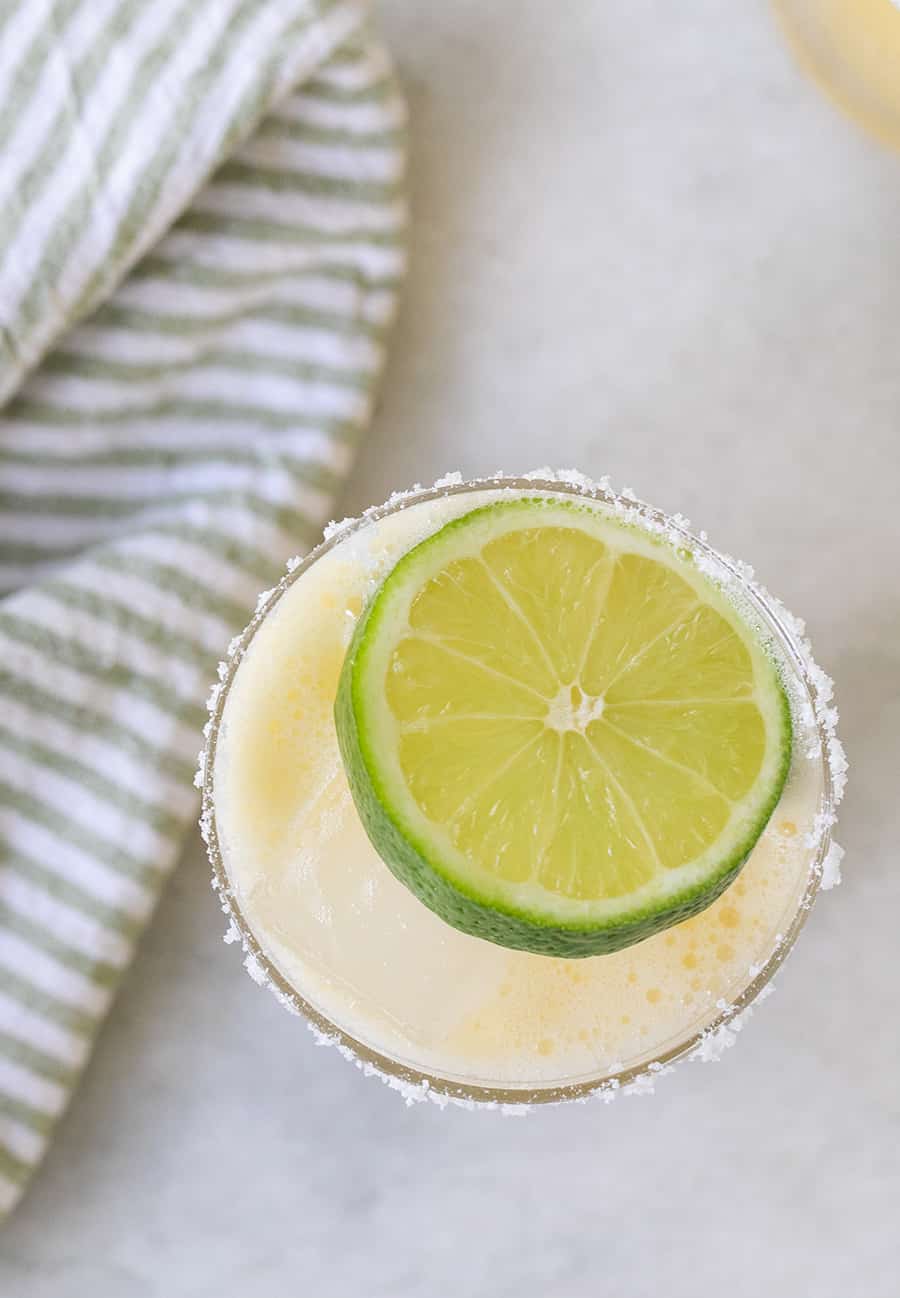 Skinny Margarita Recipe
Our skinny margarita recipe is made with fresh ingredients and uses orange juice as well as lime juice. This cocktail is low-calorie and sugar and tastes amazing.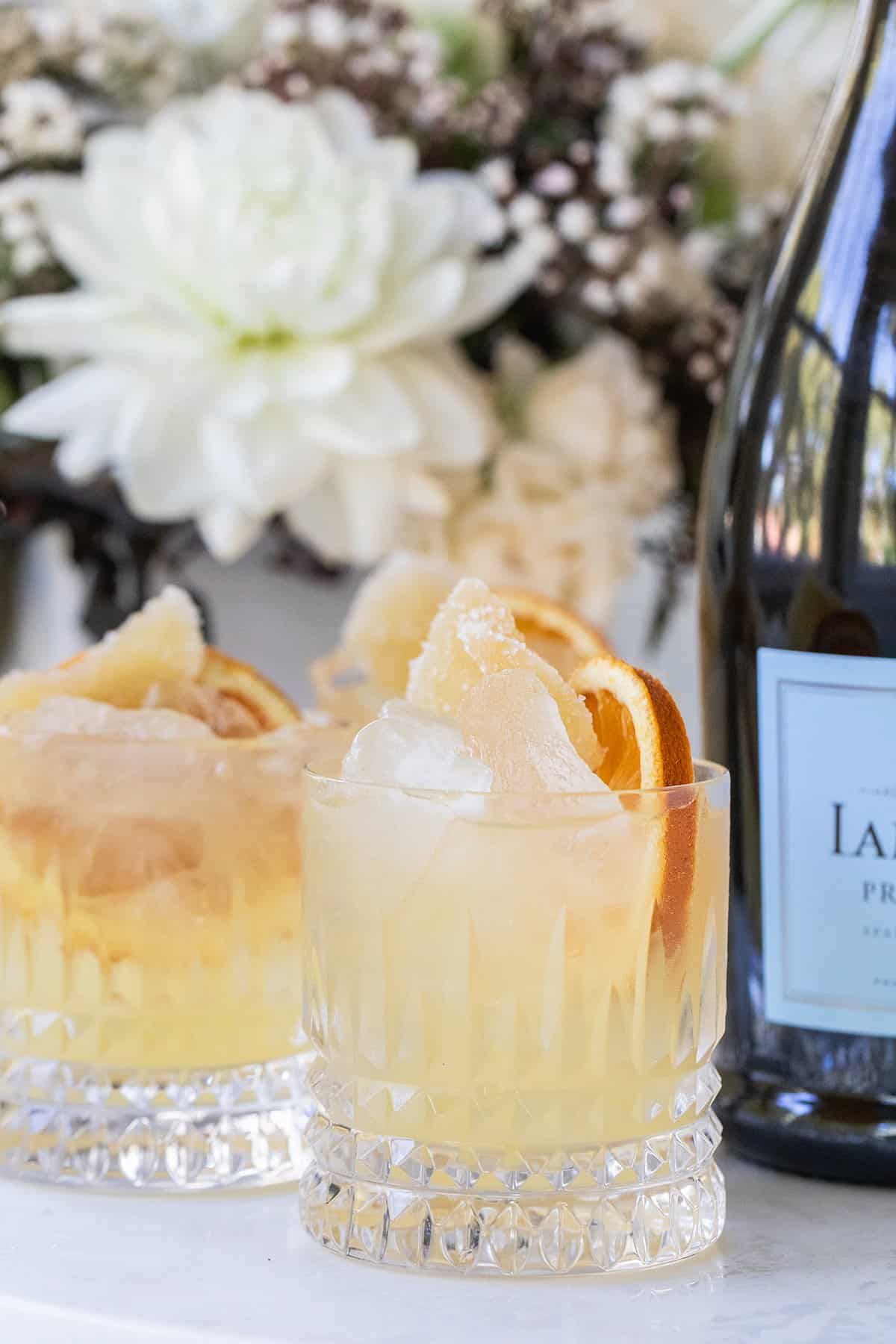 Prosecco Cocktail
If you love sparkling drinks, our Prosecco cocktail is made with orange juice, ginger beer, and orange liqueur. It's very refreshing and bubbly. Perfect for any occasion!
Frequently Asked Questions
Are vodka and orange juice good for you?
If you're looking for a health-conscious cocktail, vodka and orange juice may be the perfect pairing for you. 
Vodka contains no sugar and contains fewer calories than most liquors, while freshly-squeezed orange juice naturally contains a plethora of vitamins and minerals like vitamin c, calcium, and iron—not to mention it tastes great! Orange juice also keeps you hydrated, effectively diluting the effects of the alcohol.
What can you add to orange juice?
In addition to your favorite spirit, there are plenty of other elements you can add to your orange juice cocktail. 
Orange juice shines when it's combined with other fruits like cherries, strawberries, and cranberries that can be added to your cocktail muddled, whole, or syrup. Consider adding sparkling water for a little fizz, or finish off your drink with a sprig of fresh herbs like rosemary or thyme.
Can you drink whiskey with orange juice?
If you're a whiskey lover, you're in luck because the spirit is the perfect companion to freshly squeezed orange juice. 
Orange juice works well with whiskey because its natural sweetness tones down the alcohol's sharp flavor. It also serves to cut through the drink's bitterness for the perfect balance that has become wildly popular in cocktails like the whiskey sour.
How can I juice an orange without a juicer?
If you don't have a juicer, you can still make a cocktail with freshly squeezed orange juice.
To extract the juice from an orange, cut the orange into eight wedges and squeeze the juice out with your hands into a small bowl. Alternatively, you can cut an orange in half and twist the juice out with the tines of a fork. Firmly rolling the orange on the counter before squeezing will loosen the membranes inside and yield more juice.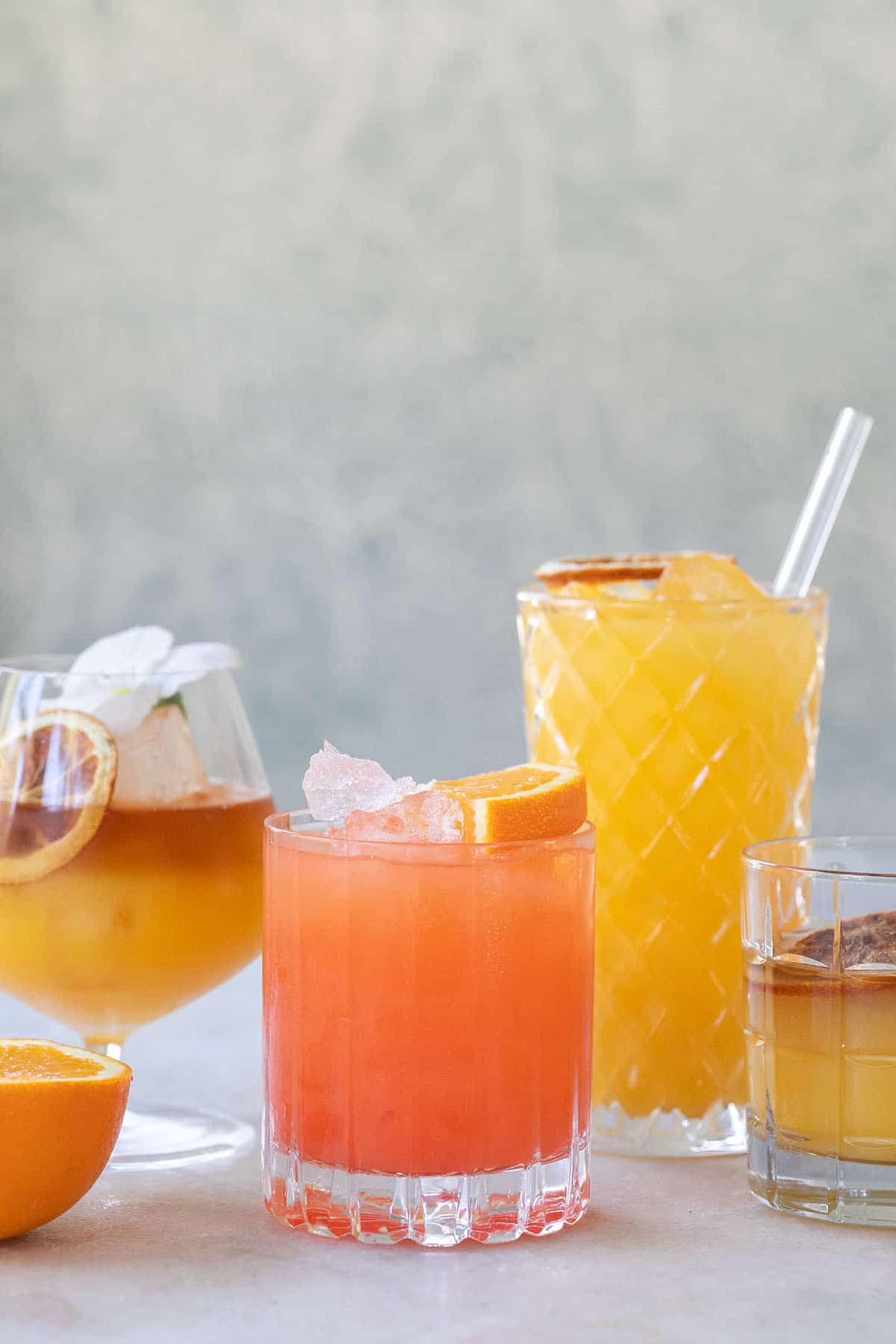 Cocktail Garnishes
Cocktail garnishes add charm and elevate the presentation. Here are some ways you can garnish orange juice cocktails:
Dried Orange Slice – We keep dried orange slices on hand to add to our cocktails. 
Cherry – Add maraschino cherries to this cocktail for extra sweetness.
Cocktail Umbrella – If you're making a summer cocktail, garnish it with a charming umbrella.
Zest – Add a little lemon zest, lime zest, or orange zest over the top of the drink for added fragrance, color, and flavor.
Edible Flowers – We use flowers often to add charm to our cocktails. Check out our edible flower chart to learn more about what flowers you can use.
Clear Ice – You can make clear ice and use it in this drink. The larger ice cubes are great for melting slowly.
Pink Ice – Adding pink ice to a cocktail is a fun way to create vibrant colors. 
Orange Peel – Peels add a beautiful aroma and a touch of color.
Tips for Making Orange Juice Cocktails
Here are a few tips for recipe success:
Use fresh-squeezed orange juice when making these drinks.
If the cocktail is too strong, add a little club soda to dilute it.
If you're making a shaken cocktail, make sure to shake the drink with ice for 20 seconds.
When to Serve Orange Juice Cocktails
Since you can find oranges year-round in grocery stores, these cocktails can be served at any time. However, some of them have more of a spring and summer vibe and others are perfect for year-round brunch. Here are some fun occasions you can serve orange juice cocktails:
Birthday Party it's also perfect for a last-minute birthday party!
Also check out more great cocktail recipes, tequila cocktails, gin cocktails, vodka cocktails, and cheap drinks to make at home!
Let us know what you think!
Let us know if you make any of these orange juice cocktail recipes by leaving a comment and review below!
You can also FOLLOW US on FACEBOOK, INSTAGRAM, and PINTEREST to see more delicious recipes, cocktails, desserts, and parties!
Orange Juice Cocktails – Gin and Orange Juice
Cocktails made with fresh orange juice!
Print
Pin
Rate
Ingredients
4

ounces

orange juice

2

ounces

gin
Instructions
Fill an old-fashioned glass with ice.

Pour orange juice over the ice.

Garnish with a flour and an orange slice.
Notes
Make any of our orange juice cocktails by switching out different spirits like gin, vodka, tequila or whiskey! 
Nutrition
Calories:
182
kcal
|
Carbohydrates:
12
g
|
Protein:
1
g
|
Fat:
1
g
|
Saturated Fat:
1
g
|
Polyunsaturated Fat:
1
g
|
Monounsaturated Fat:
1
g
|
Sodium:
2
mg
|
Potassium:
228
mg
|
Fiber:
1
g
|
Sugar:
10
g
|
Vitamin A:
227
IU
|
Vitamin C:
57
mg
|
Calcium:
12
mg
|
Iron:
1
mg