This strawberry Hennessy recipe has a fresh flavor and is a wonderful summer cocktail. It's made with Hennessy, strawberries, lime juice, and bubbles, this drink is perfect for any occasion.
Whether you're celebrating a special event or just enjoying a summer evening with friends, this drink is sure to please.
Summertime is the best time for strawberry Hennessy cocktails! This easy recipe is perfect for a hot day by the pool. It has fruity, summer flavors with a smooth taste of cognac.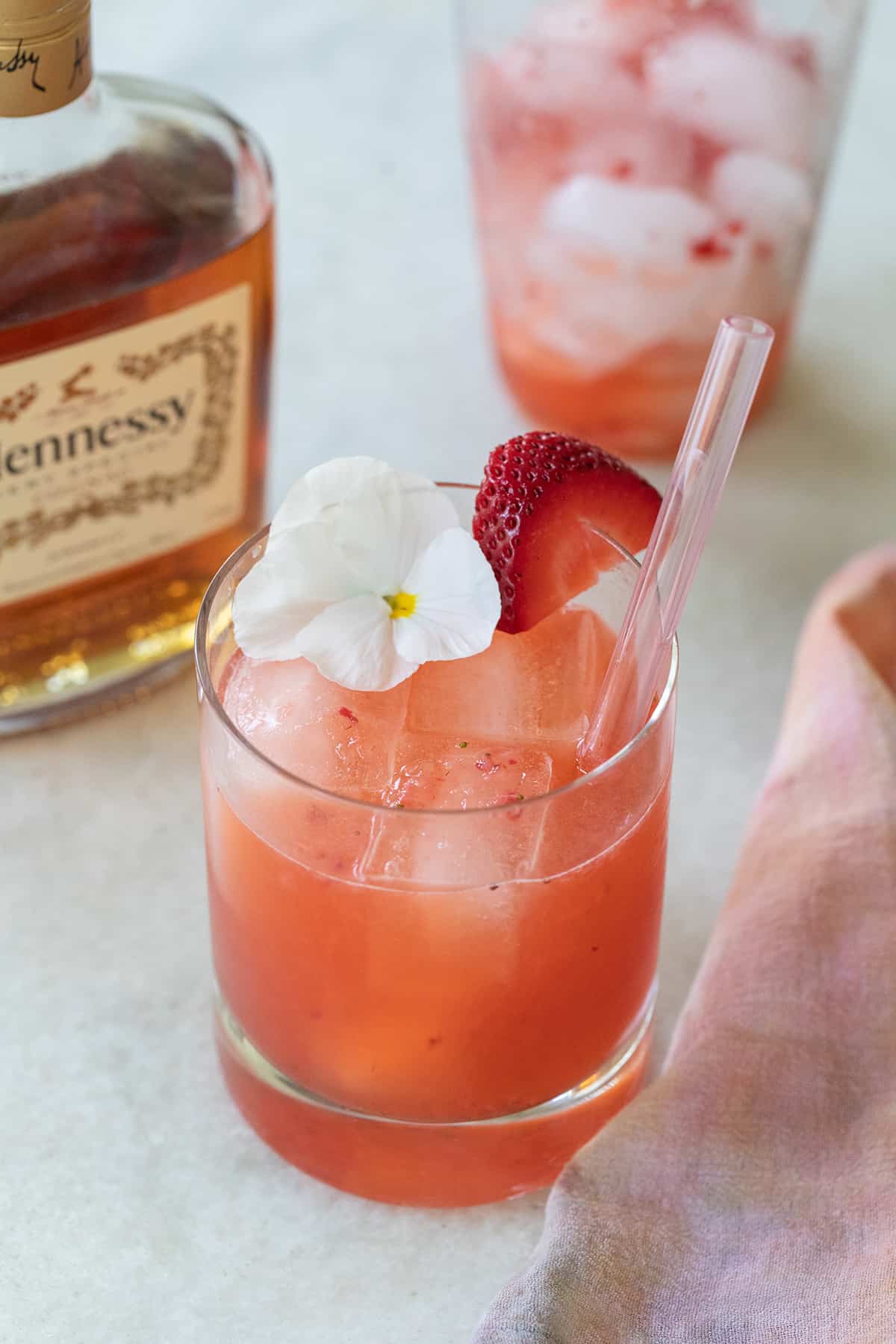 A friend told me about this special strawberry Hennessy recipe and I knew I had to share it! The recipe is simple, but the results are truly magical. The sweet strawberries elevate the smooth cognac to new heights, making it even more enjoyable to sip on.
How to Make a Strawberry Hennessy Cocktail Recipe
This is an easy cocktail to make! Just mix the ingredients into a cocktail shaker, a little muddling and shaking then strain into a tall glass. Add some ice and you're done!
If you're feeling extra festive, you can garnish your drink with a strawberry or slice of lemon.
Here's everything you need to make this delicious drink: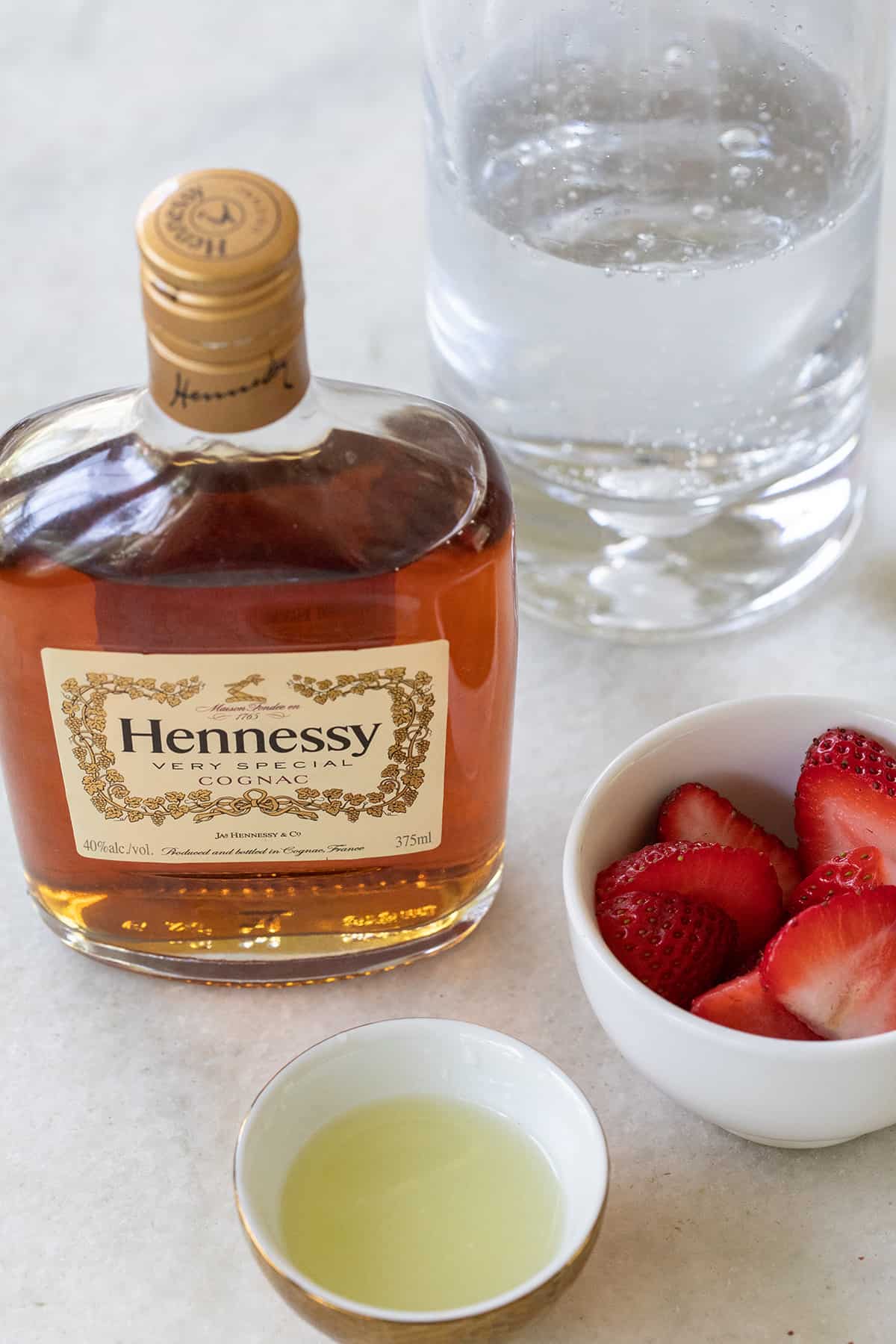 Ingredients
This strawberry Hennessy recipe only requires a few ingredients:
Hennessy – A brand of cognac that originates from France.
Fresh Strawberries – Organic, juicy strawberries are best. When they're muddled they make a sweet strawberry mixture (like a strawberry puree) that gives the cocktail a naturally sweet, fresh flavor.
Lime Juice – Always use freshly squeezed lime juice when making this cocktail. You can also use lemon juice instead of lime.
Bubbles – You can use any type of Champagne, Prosecco, or if you want to keep it light sparkling water, to make this drink!
Directions
The full recipe and measurements are in the recipe card below.
Start by muddling four strawberries in a cocktail shaker.
Add Hennessy and lime juice then shake well.
Strain into a glass filled with ice and then top with bubbles. Either club soda or Champagne.
If you're looking for a non-alcoholic version of this drink, simply omit the Hennessy and add an extra ounce of club soda.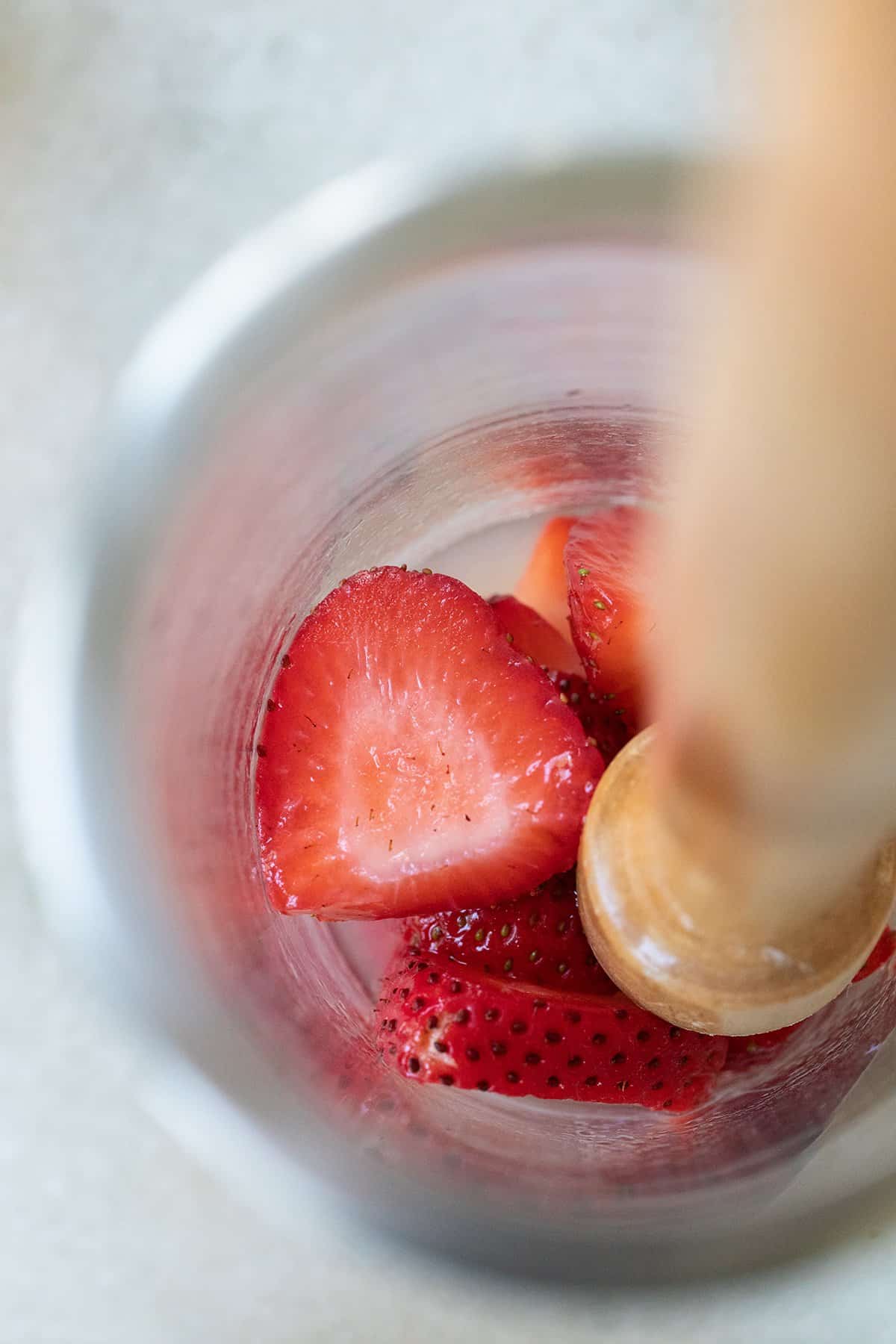 How to Muddle Strawberries
Muddling is a bartending technique that involves crushing fruit or herbs in order to release their flavors. To muddle strawberries, simply place them in a cocktail shaker and use a muddler (or the back of a spoon) to press down on them.
This will release their juices and create delicious fresh strawberry juice that can be used to flavor your cocktail.
Cocktail Variations
There are many ways to switch up this simple recipe. Here are some of our favorite ways:
Use other fruits for different seasons such as raspberries or blueberries to the mix.
Add a splash of Champagne. The bubbly Champagne can be used instead of club soda.
Experiment with different types of liquor, such as vodka or gin.
Make a Hennessy slushy recipe by adding everything into a blender with ice.
Add in 1/2 oz of Grand mariner for even more flavor.
Add 2 oz lemonade for a Strawberry Lemonade Hennessy.
Make it Sweeter
If you like a sweeter cocktail there are a few ways you can do that.
Add a splash of simple syrup to the cocktail shaker and mix it up with all of the ingredients.
You can also use pre-made strawberry syrup.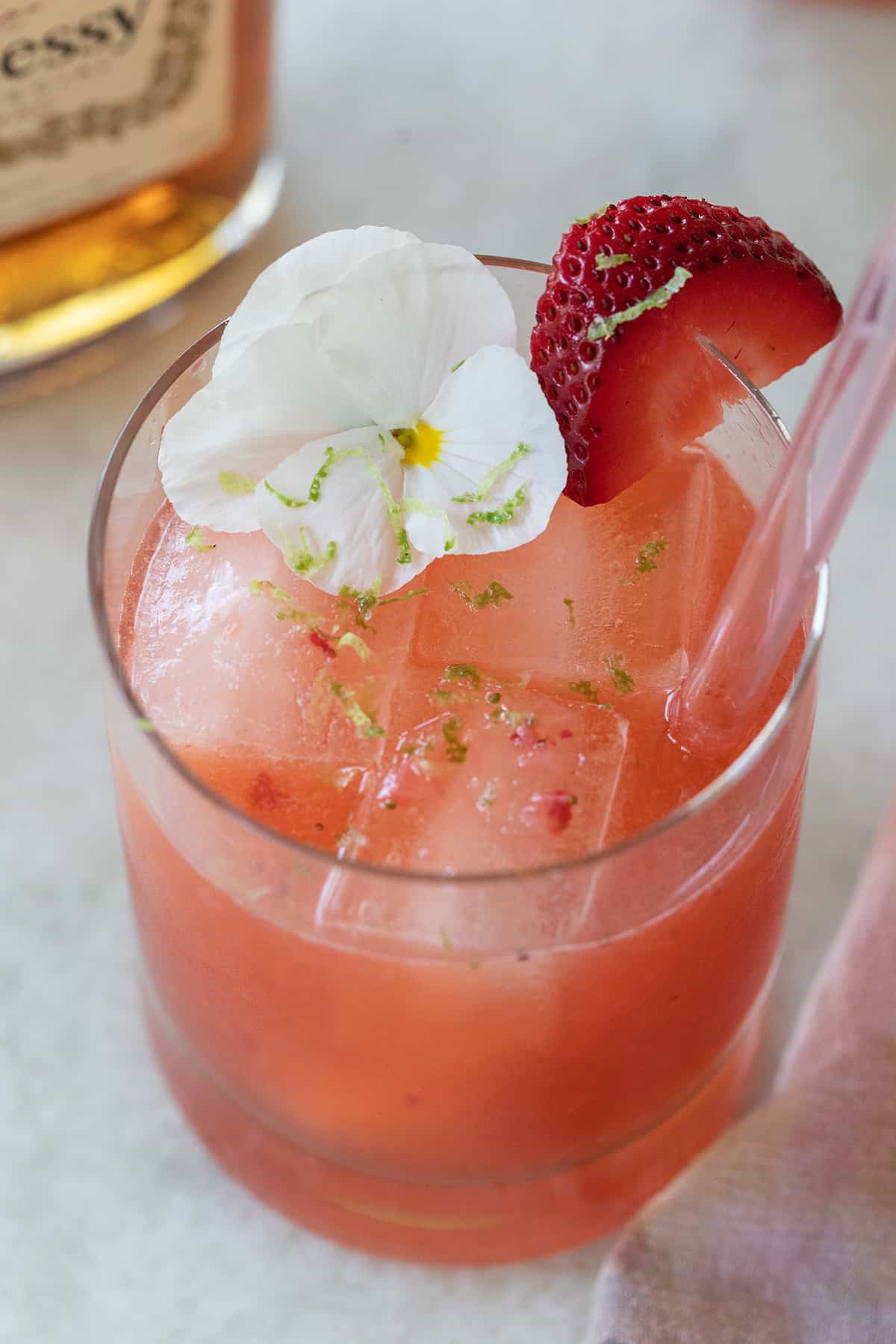 Cocktail Garnishes
There are a few different ways you can garnish this cocktail.
Add a lime wheel, lemon wedge, orange slice, or strawberry, to the glass.
You could also garnish with mint leaves or a sprig of rosemary.
Garnish with a maraschino cherry.
When to Serve Strawberry Hennessy Cocktail
This cocktail is perfect for summertime, but can really be enjoyed any time of year. Serve it at your next party or get-together, or enjoy it on a quiet evening at home.
Here are a few everyday occasions we love to serve this summertime drink:
Birthday Party it's also perfect for a last-minute birthday party!
Frequently Asked Questions
What is Hennessy made from?
Hennessy is a brand of cognac that originates from France. The company was founded in 1765, and today it is one of the most popular cognacs on the market. It's made from a blend of different types of eaux-de-vie, which are distilled wines made from grapes.
The brand offers a variety of different cognacs, ranging from the entry-level Hennessy VS to the Hennessy XO, which is aged for a minimum of 20 years.
Here are 5 facts about Hennessy:
Hennessy is not a whiskey. It's actually a member of the Brandy family. A Brandy is a liquor that's made from fermented fruit juice.
On a typical bottle, you'll find a series of letters. They represent Hennessy's quality. Here are some examples: V.S stands for Very Special. V.S.O.P stands for Very Special Old Pale. X.O stands for Extra Old.
There is a Hennessy for every occasion. An affordable blend costs about $50.
Hennessy and Henessy cocktails have substantial roots in the rap and hip-hop community.
The very first Hennessy was created in France.
What Fruit Goes Good with Hennessy?
Hennessy tastes great with red, tart fruits like cherries or raspberries. Fruits that are not overly sweet will balance the favor of Hennessy. You can also serve Hennesy with other fresh fruits such as:
Red grapes
Red plums
Pomegranates
Cranberries
Strawberry slices
Orange slices
Can You Mix Tequila and Hennesy?
You can mix Tequila and Henessy in martini glasses, but this will elevate the alcohol content. If you just want a light buzz, consider these options.
Hennessy and Tonic Water
Tonic water has a bitter flavor that works well with Hennessy. It also dilutes the strength of the alcohol.
Hennessy and Club Soda
Club Soda is basically a blank canvas for Hennessy. It elevates the flavor of the liquor and adds carbonation. You can serve this drink with a cup of ice cubes.
Hennesy and Lemon-Lime Soda
This combination has a familiar flavor with a twist.
Hennessy and Cola
Cola is strong and sweet, but it will not overpower the flavor of Hennessy. If you like easy-mixed drinks with soda, try a Kalimotxo or Jagermeister and Root Beer.
Can You Drink Hennessy with Orange Juice?
You can combine Hennessy and orange juice. We recommend fresh squeezed OJ. Here are four oranges that are great for juicing:
Navel oranges: Navel oranges are fairly sweet, and they do not have seeds.
Valencia Oranges: These oranges have more juice than navel oranges. They're also bolder and sweeter.
Cara Cara Oranges: A Cara Cara orange is very similar to a navel orange, but it's sweeter and less acidic.
Clementines: A Clementine is also a seedless orange. It's easy to peel, and it has a sweet flavor.
Can You Make This Cocktail with Other Cognac or Brandy Brands?
There are many ways to create different variations of a strawberry Hennessy. You could make a delicious drink that features:
A strawberry pina colada and rum.
Rum, fresh strawberries, and a lime wedge.
Triple sec, lemon juice, and orange zest
What Does Hennessy Taste Like?
Hennessy has a smooth, mellow woody taste with notes of vanilla and oak. It is typically enjoyed neat or on the rocks, but can also be used in cocktails.
Is Hennessy a whiskey?
Hennessy is not a whiskey, but rather a brand of cognac. Cognac is a type of distilled wine that originates from France.
If you need ideas for a refreshing drink, a great nightcap, or party food, check out our Recipes page on www.sugarandcharm.com.
How long does this cocktail last?
This cocktail can be stored in the fridge overnight. Simply muddle the strawberries and mix all of the ingredients together without ice. When you're ready to serve, add ice and shake.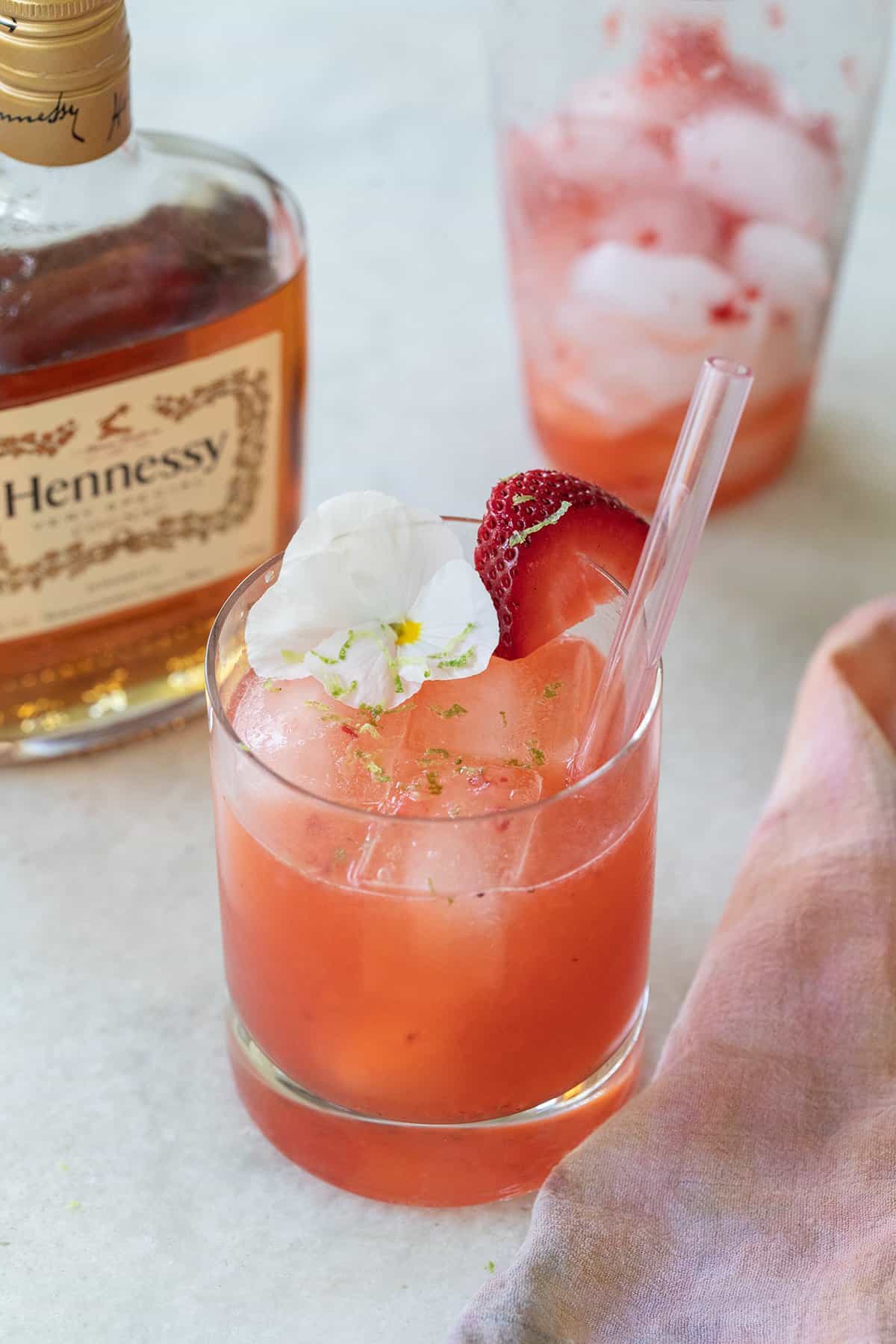 More Hennessy Cocktails You'll Love
If you're looking for more Hennessy drink recipes, try any of these!
Strawberry Hennessy Island Cocktail
More Strawberry Drinks Recipes
Now that you know how to make the best strawberry Hennessy recipe let us know what you think! Leave a comment and review below. Also, let us know what you prefer, club soda or sparkling white wine in this drink!
You can also FOLLOW US on FACEBOOK, INSTAGRAM, and PINTEREST to see more delicious recipes, cocktails, desserts, and parties!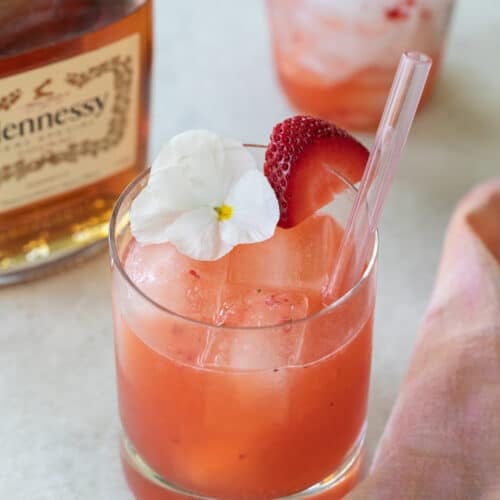 Strawberry Hennessy Recipe
This strawberry Hennessy recipe has a fresh flavor and is a wonderful summer cocktail. It's made with Hennessy, strawberries, lime juice, and club soda, this drink is perfect for any occasion.
Print
Pin
Rate
Ingredients
4

strawberries

,

fresh

1 1/2

ounce

Hennessy

1

ounce

lime juice

1

ounce

Sparkling white wine

,

or club soda
Instructions
Muddle the strawberries in a cocktail shaker.

Add the Hennessy, lime juice and ice into the shaker.

Strain over ice and pour the bubbles over the top.
Notes
For this recipe, you can use any bubbles you like. Sparkling white wine or sparkling soda will both work and taste great. 
If you like a sweeter drink add simple syrup or sweet strawberry syrup into the cocktail shaker and shake with the other ingredients.
Nutrition
Calories:
144
kcal
|
Carbohydrates:
7
g
|
Protein:
0.5
g
|
Fat:
0.2
g
|
Saturated Fat:
0.01
g
|
Polyunsaturated Fat:
0.1
g
|
Monounsaturated Fat:
0.02
g
|
Sodium:
3
mg
|
Potassium:
128
mg
|
Fiber:
1
g
|
Sugar:
3
g
|
Vitamin A:
20
IU
|
Vitamin C:
37
mg
|
Calcium:
14
mg
|
Iron:
0.3
mg