You'll never want a regular margarita again after tasting this skinny margarita! Made with fresh ingredients, this cocktail is low-calorie and low sugar, but still tastes amazing! Perfect for a summer cocktail recipe for sipping on a hot day!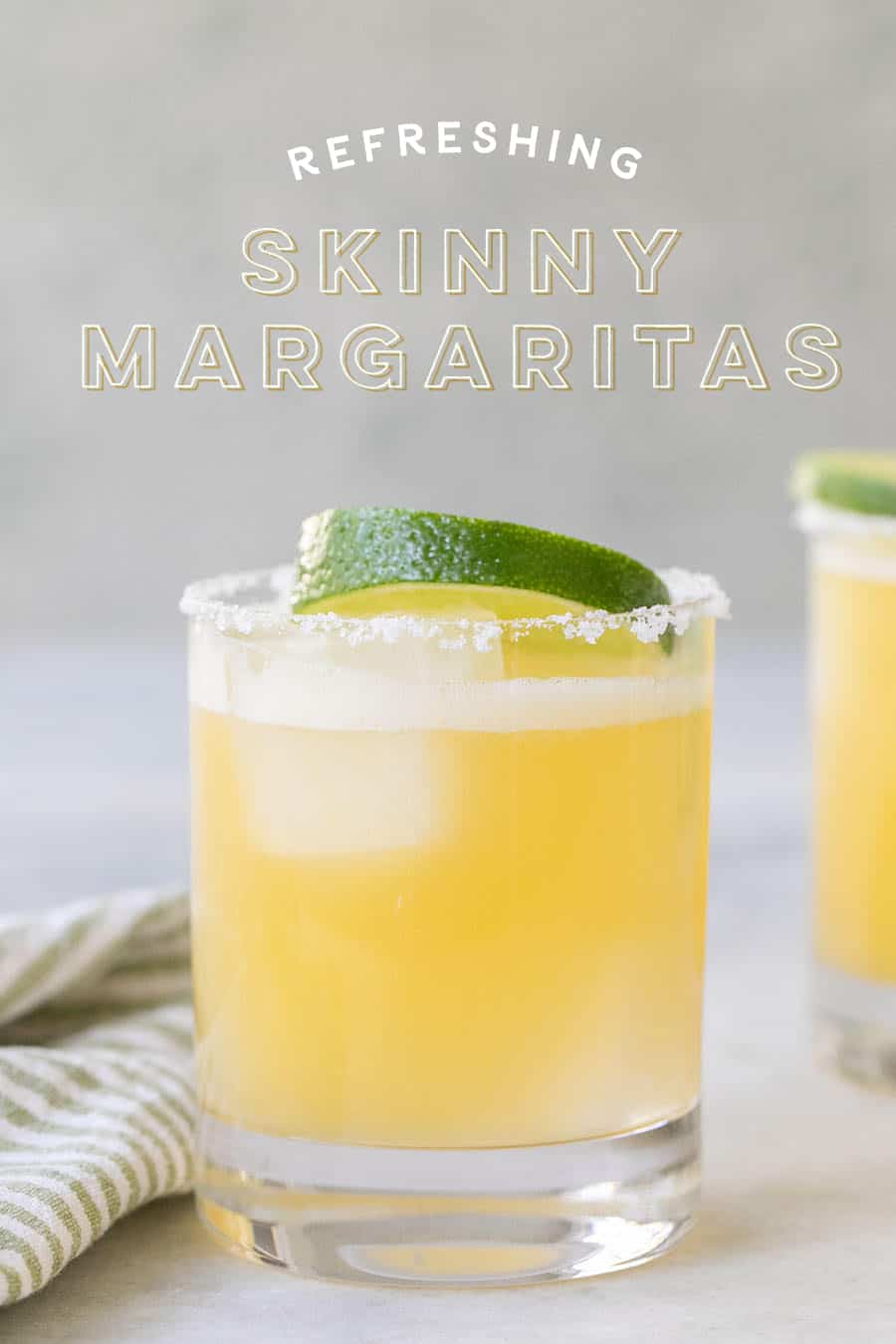 I grew up in California, Mexican food and margaritas are pretty much a staple in our diet and I wouldn't have it any other way!
I've enjoyed many in the past 15 years and it's one of my preferred classic cocktails. When done right, they're always fresh and have the perfect balance of sweet, sour, and salty. I usually always order or make a skinny margarita as I like it better and less sweet!
Also check out our other two favorite tequila cocktails: Ranch Water and Strawberry Tequila Sodas. See all of our best tequila cocktail recipes and margarita recipes!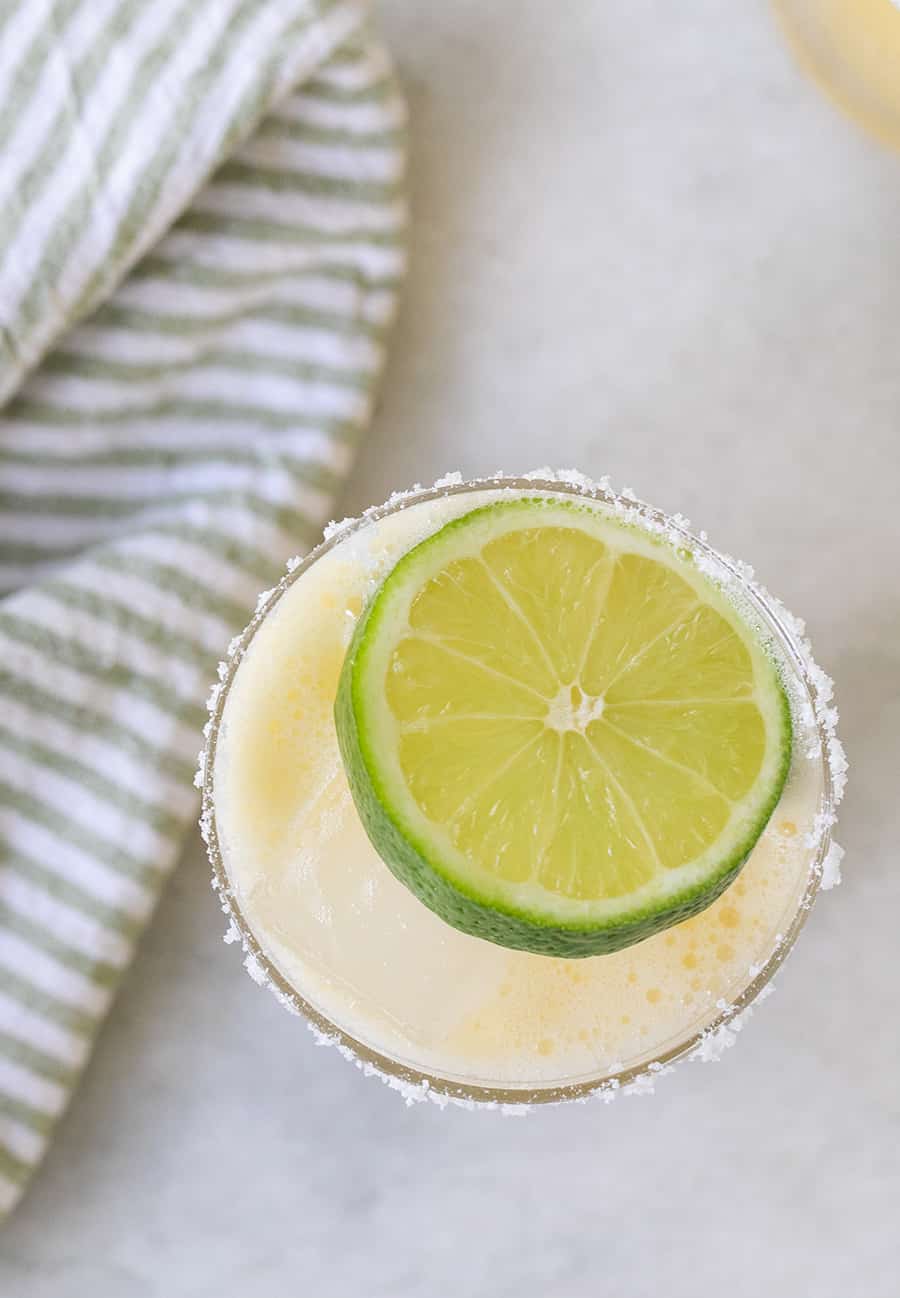 What We Love About This Skinny Margarita
Naturally Sweetened – This recipe is made without refined sugars or artificial sweeteners. We use agave syrup to sweeten this drink.
Gluten-Free, Fat-Free, Vegan – The ingredients in this skinny margarita make it gluten-free, dairy-free, and vegan!
Fresh Citrus – We use fresh lime juice and orange juice and it makes the most citrusy margarita!
The Best Skinny Margarita Recipe – This recipe is so good and easy to make, it will become a favorite!
How to Make a Skinny Margarita
We'll cover everything you need to know to make this delicious cocktail recipe, answer frequently asked questions, and share our expert tips.
If you want to skip to the recipe, scroll to the bottom of the post where you'll find the recipe card, measurements, and step-by-step ingredients.
Supplies You'll Need
Citrus Squeezer – This is to squeeze fresh lime and orange juice.
Cocktail Shaker – Used to shake the ingredients together with ice.
Coarse Salt or Sea Salt – To rim the glass.
Margarita Glasses – Use a standard margarita glass to serve the cocktail.
Skinny Margarita Ingredient Notes
This recipe is made with simple ingredients you can find at your local grocery store.
Tequila – Good quality is a must when making any margarita, especially a skinny one. Since this recipe is not mixed with an orange liqueur, the flavors in the tequila are prevalent and will make a good margarita.
Lime Juice – Fresh lime juice adds acidity and flavor to this margarita. Only use fresh juice, nothing in a package.
Orange Juice – Fresh orange juice replaces orange liqueur in this recipe. It adds more citrus flavors and blends nicely with the lime juice.
Agave – A natural sweetener that we use to balance the tartness of the citrus. Classic margarita recipes usually use simple syrup but we find that natural agave syrup is a much better option for a skinny drink. If you're looking for more natural sweeteners, try Monk Fruit Sweetener or even honey.
5 Steps to Making This Tequila Cocktail
The key is using fresh ingredients. Use fresh lime and orange juice, good quality tequila, and natural or organic nectar.
Measure the ingredients and add them into a cocktail shaker filled with ice.
Shake for 30 seconds so the water can dilute the cocktail. This is an important step when making any shaken cocktail.
If you're wanting a salted rim, dip the glass in a small plate full of water and then a small plate with salt.
Add in the ice cubes. Crushed ice or a large cube works well too.
Strain the cocktail over the ice and add a slice of lime or a lime wedge to garnish.
Always use fresh-squeezed lime juice It's a must!
Best Tequila for a Skinny Margarita
Here are a few of our favorite tequilas. You can buy most of these at Target or any beverage store and at most grocery stores. They're all affordable and good quality.
Casamigos Blanco Tequila – Crisp with hints of vanilla. It's a very good tequila to sip too.
Espolòn Reposada Tequila Blanco or Gold
El Destilador Silver Tequila – Very affordable
Margarita Glasses
These days, you can get away with any 8-ounce lowball glass. You can also use a traditional Welled Margarita Glass. It offers a wide rim for you to put salt or sugar on it. It's an elegant design that's perfect for this drink!
How to Make a Salt Rim
A salted rim is a must for this margarita mocktail! It's what gives it that delicious margarita flavor.
To make a salted rim, simply run a lime wedge around the edge of your glass. Then dip the rim of your glass into a plate of coarse salt or pink salt. We used pink salt on our sparkling margarita and it looks beautiful.
And that's it! Now you have the perfect margarita mocktail to enjoy!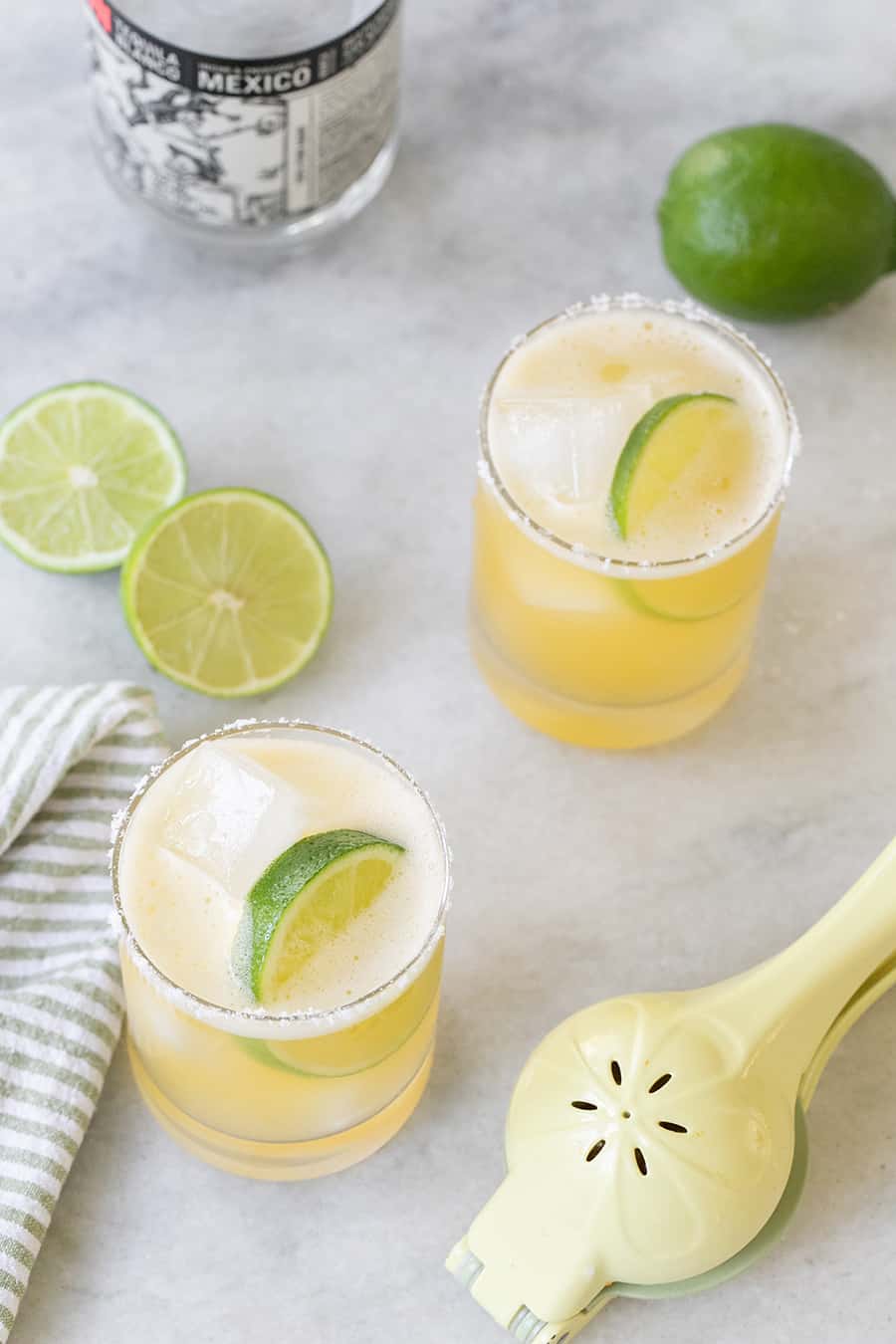 Skinny Margarita Variations
Adding a little twist to a classic cocktail is one of our favorite things to do! Here are some fun ideas for switching it up!
Muddle fruit like blackberries, strawberries, kiwi, mango, pineapple, etc, in the cocktail shaker before you add in the ice and other ingredients. Shake it all together to add a new fruit flavor!
Add some spice! Cut a small piece of jalapeño and muddle it in the cocktail shaker before adding the other ingredients. Caution – use just a little pepper!
Use blood oranges if it's in season for a blood orange skinny margarita! The color will be vibrant pink!
A little chili mixed with the salt on the rim always adds an extra kick! I love chili and salt-rimmed glasses!
Add some ginger! Ginger is good for digestion and you a muddle a little in the bottom!
Add a little topping of ginger or lemon kombucha! It gives the margarita a little fizz and some probiotics!
Add less alcohol if you prefer something not as strong or make it a mocktail by using a zero-proof tequila spirit.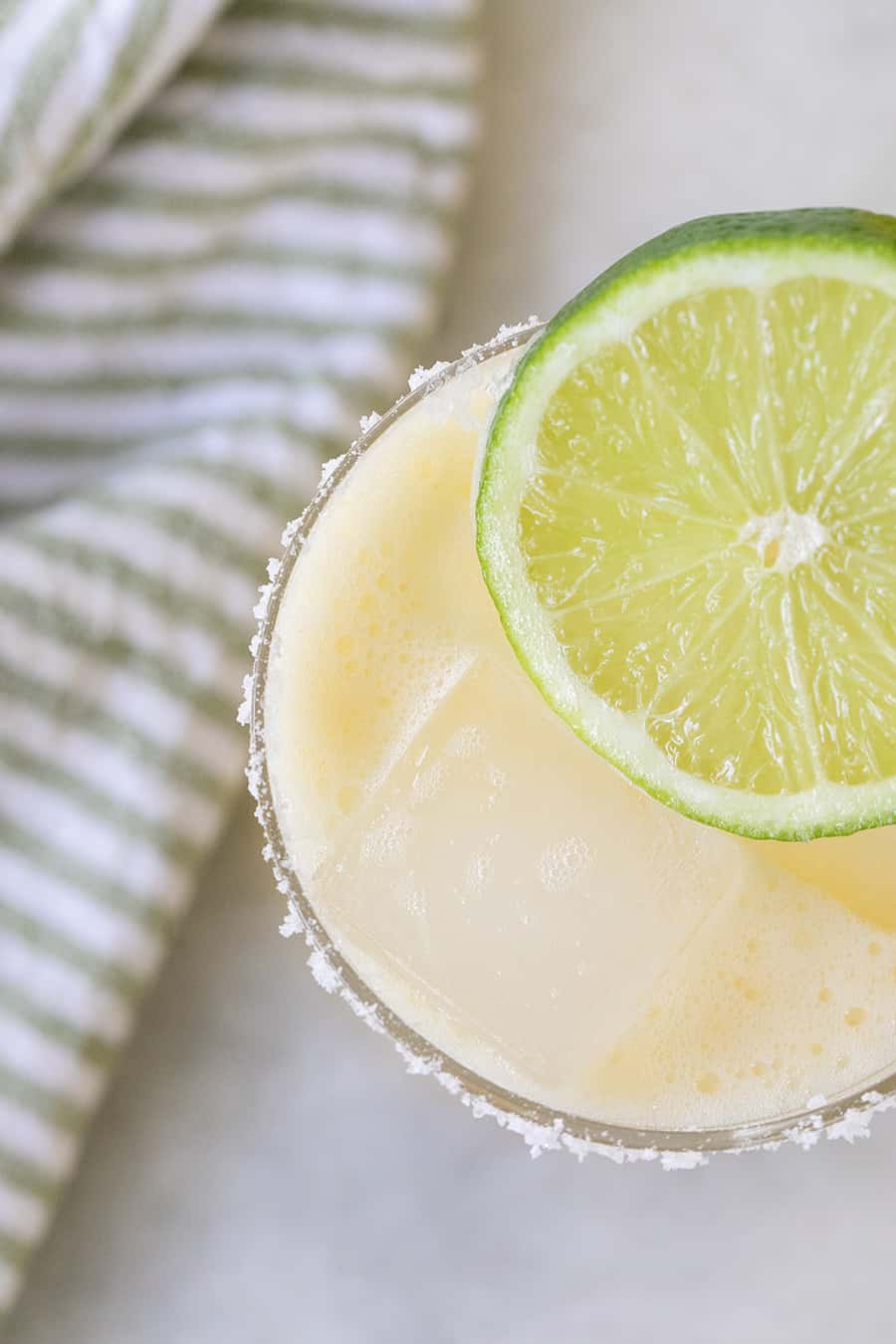 Pitcher Skinny Margaritas
If you want to make a pitcher of skinny margaritas for a party, follow this simple ratio:
Add 6 cups of ice into a large pitcher.
Then add in 18 ounces of tequila, 24 ounces of lime, 12 ounces of orange juice, and about 3 ounces of agave.
Give it a good stir and add fresh lime slices to the pitcher.
You can also serve them like this A Charming Way to Serve A Mini Margarita!
Frequently Asked Questions
What is the difference between a skinny margarita and a regular margarita?
There are a lot of margarita recipes that use sugary syrups, mixers, and liqueurs with refined sugar. 
A skinny uses fresh lime and orange juice and a nectar-like agave. You can also use Truvia Nectar which is great and even lower in sugar as it's made with a little honey and Stevia leaf extract.
How do you rim a glass with salt?
The best way to rim the glass and have the salt stay on the rim is by using water. Place water on a shallow plate and salt on a separate shallow plate. 
Dip the rim of the glass in the water and then in the salt. We find that this works much better than using a lime or lemon wedge or citrus juice.
What is a skinny margarita drink?
A skinny is a margarita with less sugar, carbs, and calories! The flavor is not as sweet and the recipe contained zero refined sugar. A skinny margarita is made with natural sweetener and less of it. They're refreshing and one of our favorite cocktails.
How many carbs are in a skinny margarita?
This really depends on what type of sweetener you use for the recipe. Citrus has very few carbs and since the recipe only uses a small amount of citrus very few carbs come from the fruit.
Agave nectar has 5 carbs in a teaspoon and Truvia Nectar has 8 carbs in 3 teaspoons.
Tequila does not have carbs.
1 whole lime has about 5 carbs and 1 whole orange has 8 carbs.
How Much Alcohol Is in the Margarita? 
Typically, there are two ounces of Tequila in a Margarita. You can add more or less depending on how you like the taste of Tequila.
In addition to Tequila, you also add one ounce of orange liqueur, but this is optional depending on the recipe you're making.
People often confuse Triple Sec as Tequila, when it is actually an orange-flavored liqueur.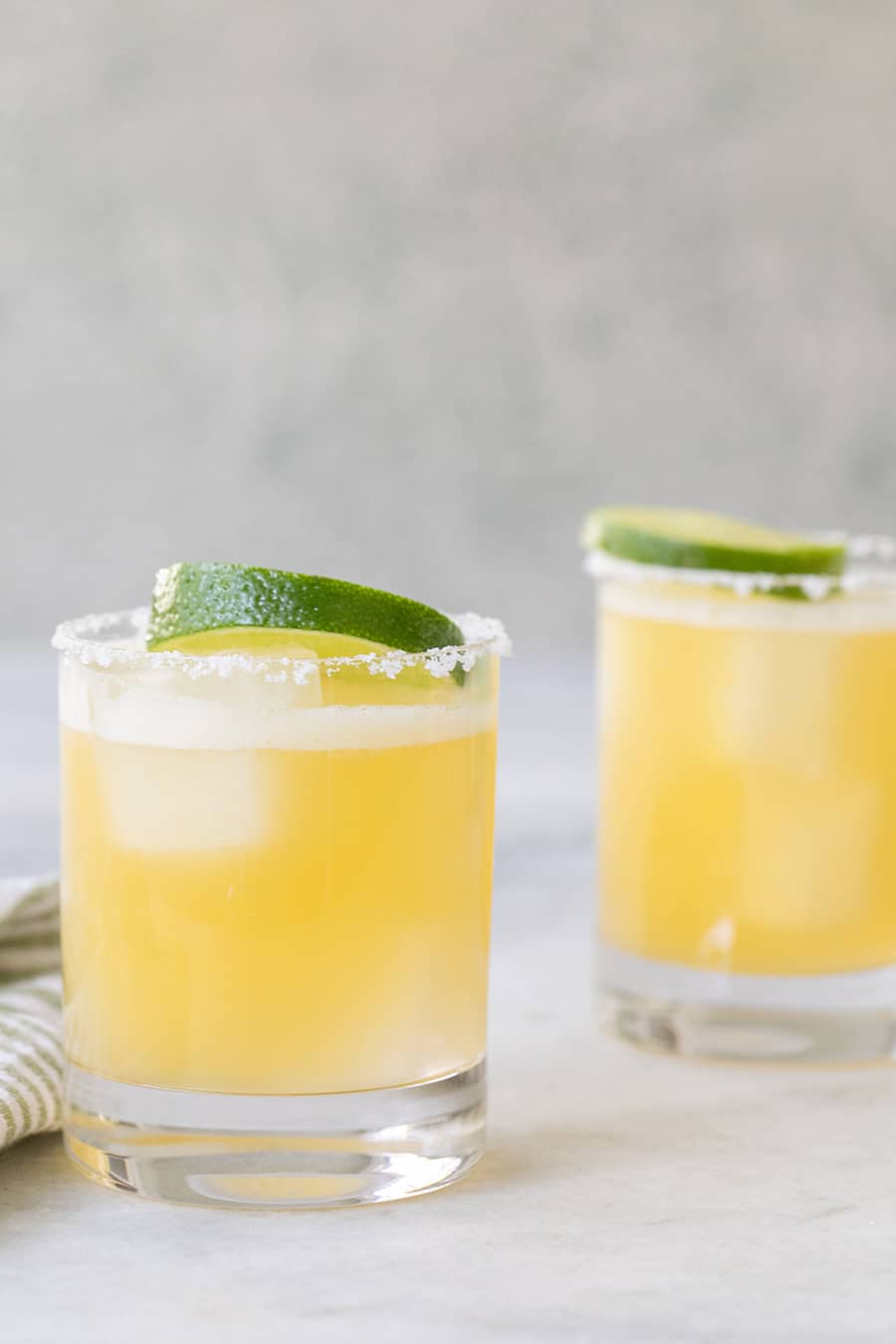 What to Serve with Skinny Margaritas
Need some ideas for what to serve with a skinny margarita:
The Best Nachos with Blanco Cheese
Tacos, Chips, and Guacamole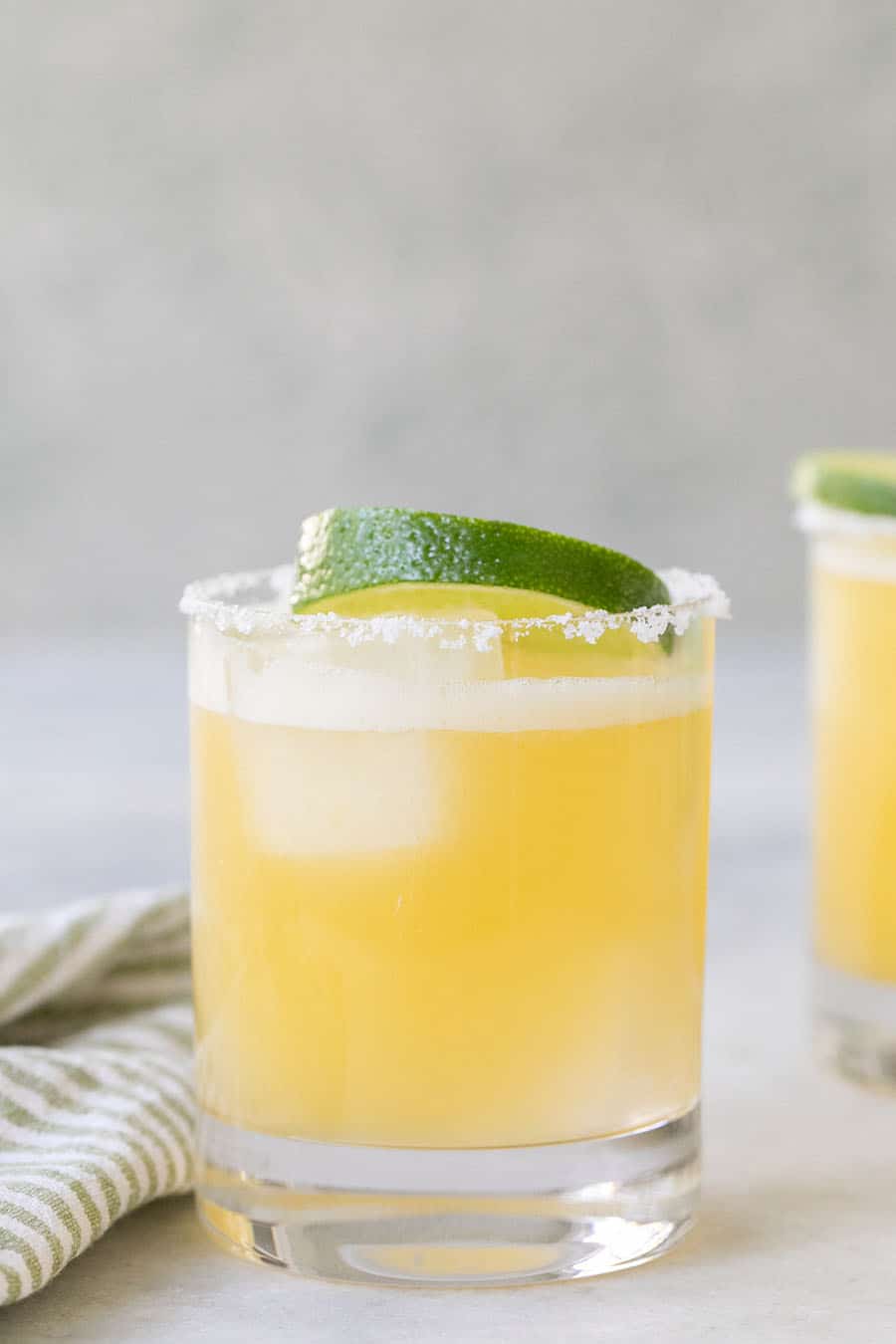 When to Serve a Skinny Margarita
Skinny margs are delicious all year long, but especially nice to sip on a hot summer day. They're great for taco Tuesdays or happy hours. Here are some celebrations that are perfect for serving margaritas! 
Birthday Party or Summer Movie Night
More of The Best Margarita Recipes
We love making margarita recipes! Here are a few of our favorite recipes:
Also, check out the best-mixed drinks, and cheap drinks to make at home!
Let us know what you think!
Now that you know how to make the best skinny margarita, let us know if you make this recipe by leaving a review below! We love to hear what you think!
You can also FOLLOW US on FACEBOOK, INSTAGRAM, and PINTEREST to see more delicious recipes, cocktails, desserts, and parties!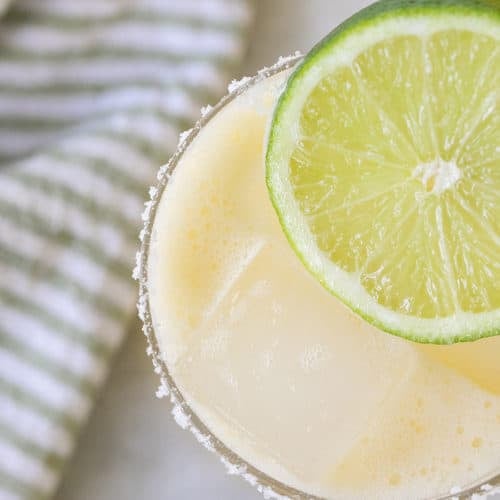 Skinny Margarita
A delicious and refreshing margarita made with fresh ingredients and lower sugar!
Print
Pin
Rate
Ingredients
1 1/2

ounces

tequila

2

ounces

fresh lime juice

1

ounce

fresh orange juice

1 1/2

teaspoon

agave syrup
Instructions
Add all of the ingredients in a cocktail shaker filled with ice.

Shake hard for 30 seconds. This is an important part as the ice helps to dilute the cocktail giving it a balanced taste.

Strain over a glass filled with ice.

Garnish with a lime wedge and enjoy!
Notes
Add more sweetener if you need. 
Always taste test and add more lime juice and make it how you like!
Shake the cocktail for 20 seconds with ice, this is very important. 
Nutrition
Calories:
172
kcal
|
Carbohydrates:
19
g
|
Protein:
1
g
|
Fat:
1
g
|
Saturated Fat:
1
g
|
Sodium:
2
mg
|
Potassium:
123
mg
|
Sugar:
14
g
|
Vitamin A:
55
IU
|
Vitamin C:
31.2
mg