If you're a margarita fan like us, you will love our unique margarita recipes for every season! We've added fun ingredients like coconut and hibiscus to the classic margarita to make concoctions you've never had before!
Margaritas are a classic cocktail from Mexico. It's traditionally made with tequila, lime juice and usually an orange liqueur. However, there are so many wonderful versions that are beyond delicious!
There are also many ways you can serve a margarita. We served mini margaritas in tiny tequila bottles at brunch and they were such a hit! You can even serve them in mini martini glasses which look cute too.
Another option for making your margarita super unique is adding a naturally dyed pink or blue ice cube!
Also, if you're looking for a classic skinny margarita this one is our absolute favorite! It's super fresh, lightly sweetened and just delicious!
A Brief Margarita History
Margarita history starts with Margaret Sames. In 1948, she invited some guests over for a cocktail party and decided to experiment with some alcohol. She mixed Cointreau and tequila with a bit of lime and salt around the edge of the glass. That's who invited the Margarita.
Now onto our unique recipes!
10 Best Unique Margarita Recipes
The Best Fruity Frozen Margarita
We love these fruity frozen margaritas! They're made with fresh ingredients, no mixers and perfectly sweetened! Furthermore, they're pretty simple to make!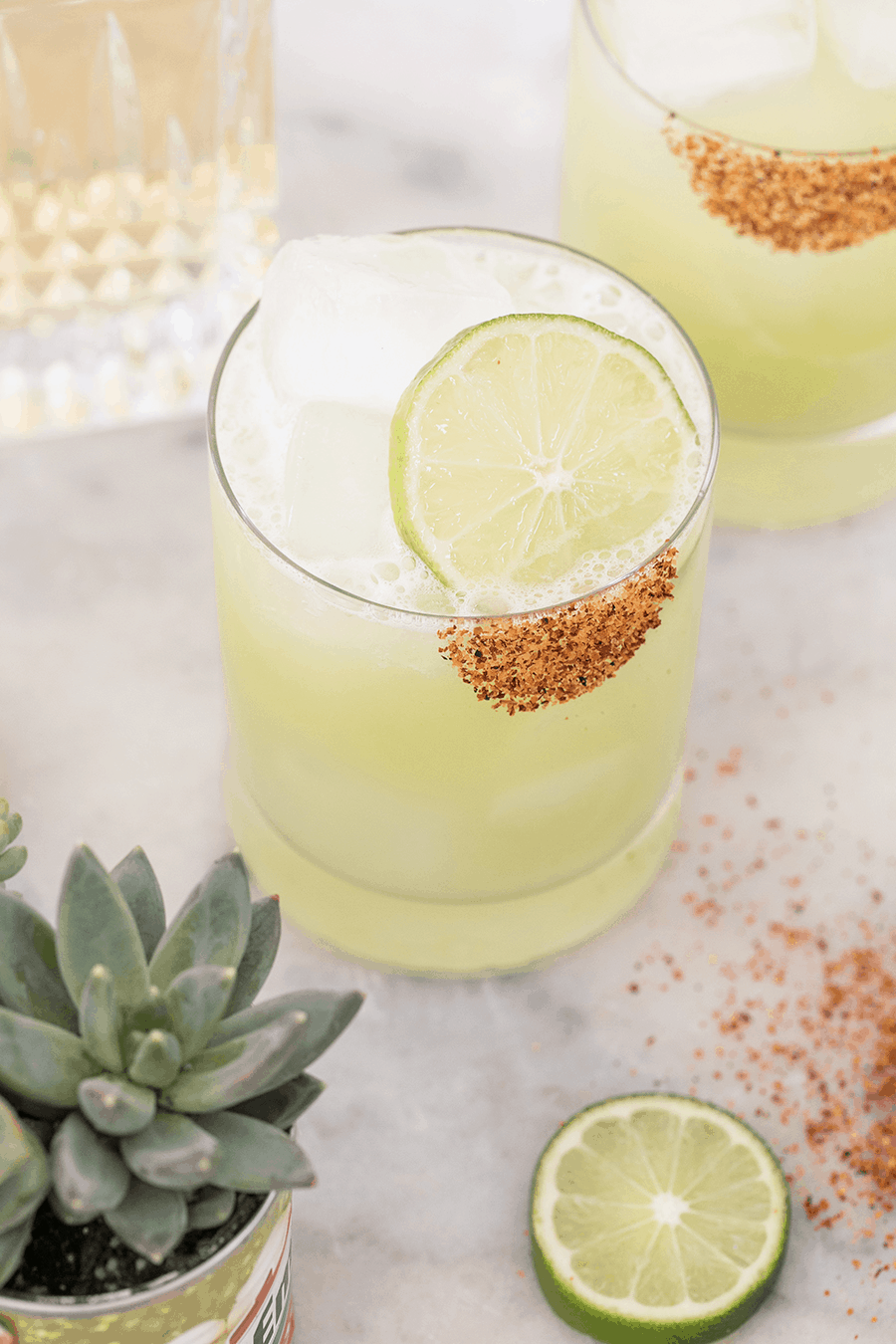 Honeydew Margarita
The recipe is light and refreshing and has the perfect mix of honeydew, lime and, of course, tequila!!
3 Ingredient Coconut Margaritas
Made with only 3 ingredients and shaken to perfection. Truly one of our favorites for a summer day.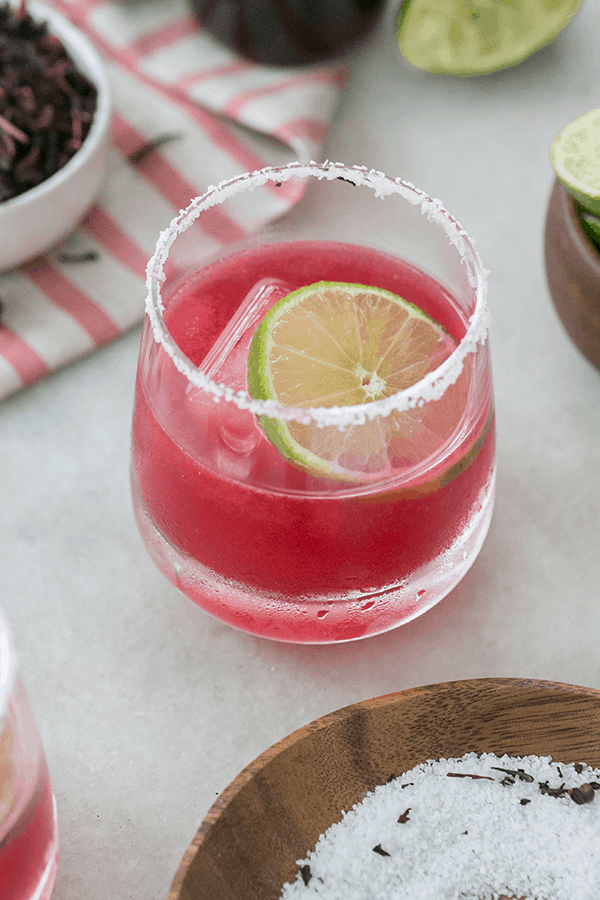 Hibiscus Margarita
This hibiscus margarita is a lovely twist on the classic margarita cocktail and boy does it pop! With its rich color and lovely tangy taste, it'll be a hit at parties. Plus it's pretty darn simple to make, only 4 ingredients!
Salt Air Margarita
Every now and then, you come across a cocktail that just opens your eyes to new sensory experiences.
This Salt Air Margarita Cocktail Recipe is a unique twist on the classic. Topped with a delicious and light foam, this is the perfect margarita!
Yellow Grapefruit Margarita
This is the perfect summer cocktail and is so light and refreshing. If you can't find the yellow grapefruit, the pink grapefruit will work too!
Carrot Margarita Recipe
The perfect Easter Cocktail! Trust me when I say, this is delicious and refreshing!
It's a brightly colored brunch cocktail that is packed with fresh juice, give it a try, you won't be disappointed!
Lemonade Margarita
This recipe only has 3 ingredients and can be made ahead of time, it's a simple yet perfect party cocktail. Furthermore, you can use a light store-bought lemonade to make it quick!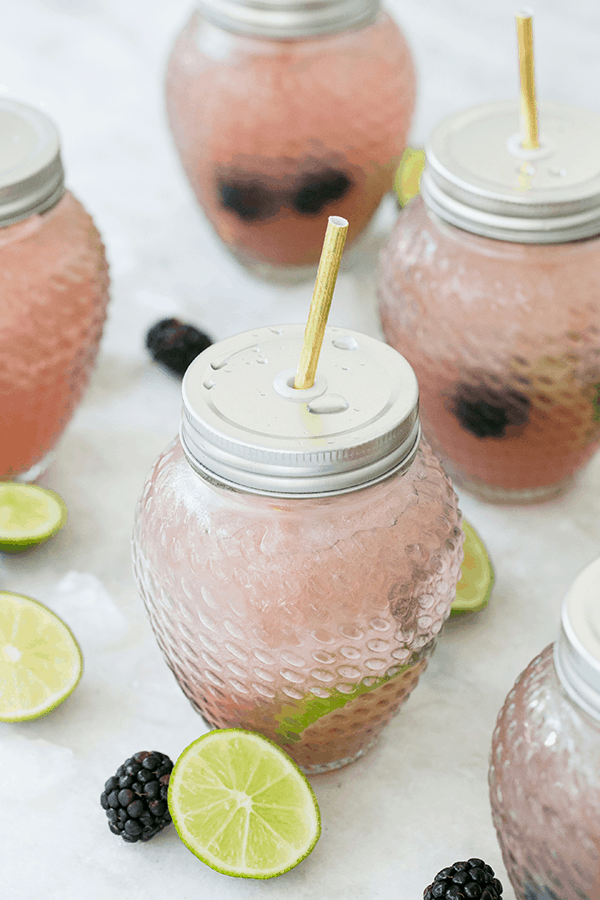 Blackberry Margarita Punch
The perfect blend of sour and sweet and serving it over ice dilutes the cocktail making a perfectly refreshing drink!
Frozen Margarita Pops
We may have just found the perfect delivery system for margaritas!
These frozen margarita alcoholic ice pops are so fun and so tasty, perfect for summer parties and entertaining. Pack them up with some ice packs and have a boozy picnic, why not! Check out the video too!
How to Salt a The Rim of a Glass
As we all know, margaritas are best with a salted or spiced rim! The sweet, salty and sour mix is perfection! Here's the best way to salt a rim:
Place water in a shallow plate
Place salt in a shallow plate
Dip the empty glass into the water and then into the salt.
Tips for Making Margaritas
Taste Test
The biggest tip we can give for making any cocktail is that you always taste test. Use a small spoon to sample the cocktail. If you feel it needs more sweetener, add more!
It's important to note that ingredients won't always taste the same, depending on the brand you use, how fresh the fruit is or how tart the lime is. So always taste test!
Tequila
What is the best tequila for margaritas?
Using a good tequila makes a difference. Here are 5 good options:
Casamigos Blanco
Silver Patron
Cazodores Tequila Reposado
Espolòn Reposada Tequila
Casa Noble Tequila Crystal
Fresh Fruit
Always use fresh fruit! Never buy lime juice or lemon juice. Also, don't use frozen fruit. Use fresh fruit for the best results.
Shake It!
Margaritas are shaken cocktails and a crucial part of the process. When making, shake with ice for more than 20 seconds so the water can dilute the cocktail making it less intense when strained.
Frequently Asked Questions
What can I use instead of triple sec in a margarita?
If the recipe calls for orange liqueur you can also use Cointreau. You can also use orange juice. However, fresh orange juice is less sweet so you'll have to compensate for the sweetness.
How Much Alcohol Is in the Margarita?
Typically, there are two ounces of Tequila in a Margarita. You can add more or less depending on how you like the taste of Tequila in your Margarita.
In addition to Tequila, you also add one ounce of orange liqueur, but this is optional depending on the kind of Margarita you are having.
What is the Best Tequila and Glasses for Margaritas?
If you want to make the very best Margarita, you need the best Tequila. You need the gold standard of Tequila.
You can choose Patrón Silver. This Tequila offers notes of fruit and agave that complement your Margarita.
You can also choose Herradura Tequila Anejo. It's a kind of Tequila that boasts of rich citrus flavor with a hint of red pepper. Although, this particular Tequila can be pricy.
A really great priced Tequila is the Olmeca Altos Plata. It is priced at a very reasonable $25 and it goes well with Margarita mix. Another reasonably priced Tequila is the Casa Noble Añejo, which is priced at $57.
People often confuse Triple Sec as Tequila, when it is actually orange-flavored liqueur.
You always need the traditional Welled Margarita Glass. It offers a wide rim for you to put salt or sugar on it. It's an elegant design that's perfect for Margaritas.  
Let us know if you make any of these by leaving a comment below! We would love to know what you think!