It's graduation season, and we're sharing the most charming graduation party ideas!! There is nothing better than celebrating the graduates' achievements! These ideas will help you host a special party full of charming details to congratulate them!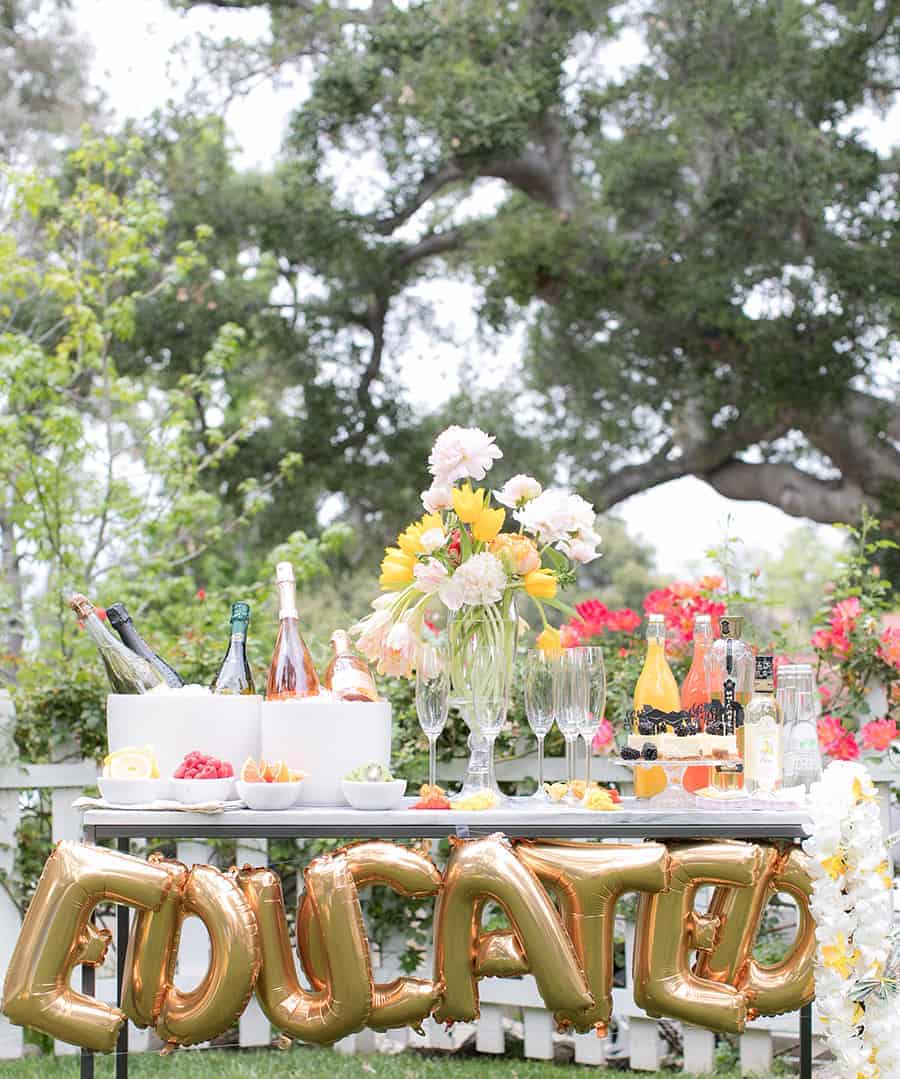 College Graduation Champagne Bar
A college graduation Champagne bar or bubbly bar is perfect for celebrating a graduate! If you're hosting a graduation party, here are tips for putting together a charming bubbly bar.
You can also create an agua fresca bar or a mojito bar too!
Tip – Letter balloons are a great way to spell out names, phrases, and words. You can buy them here!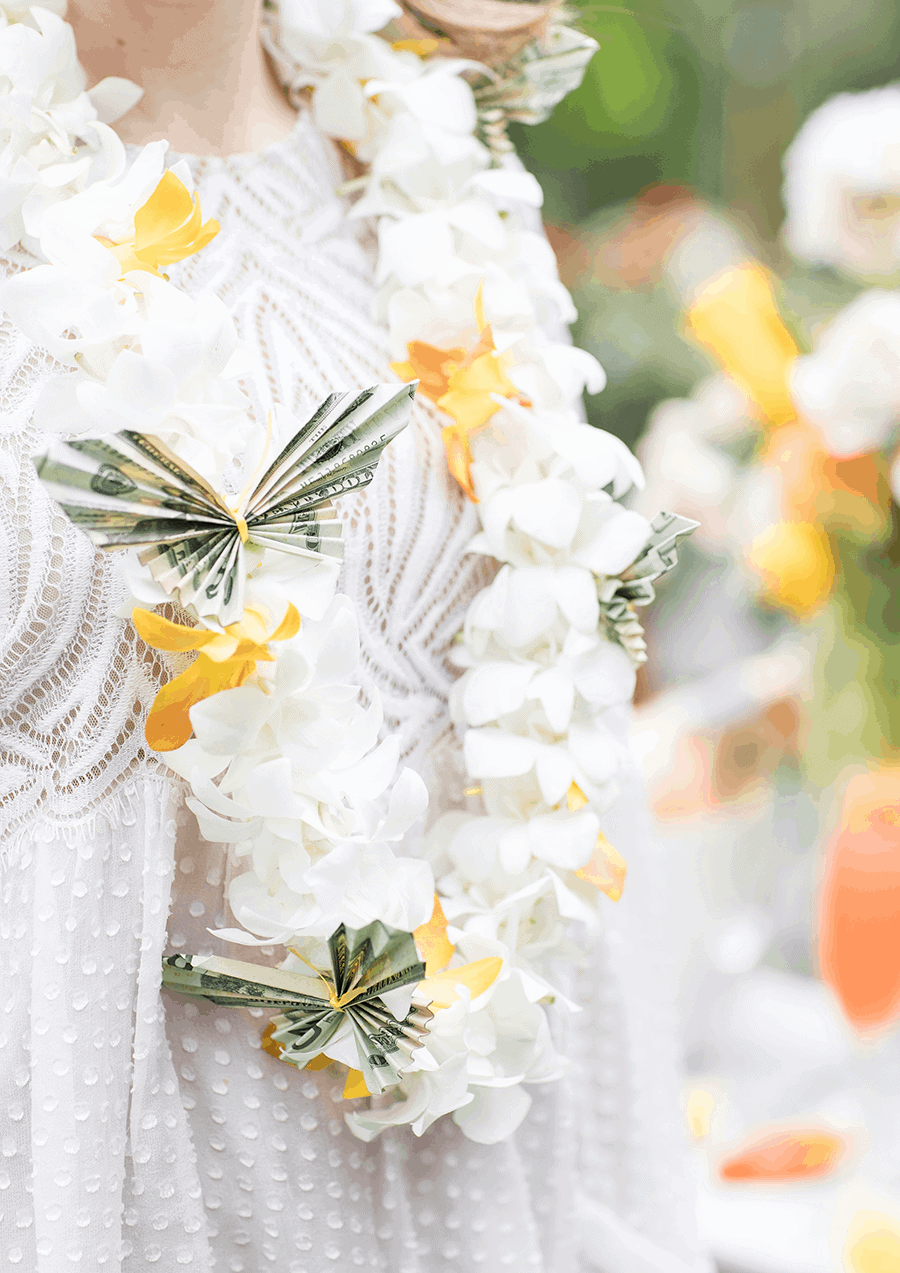 DIY Butterfly Lei with Flowers and Money
How to make a money origami butterfly lei for a graduation present! Celebrate the grads by giving them a fun and charming gift!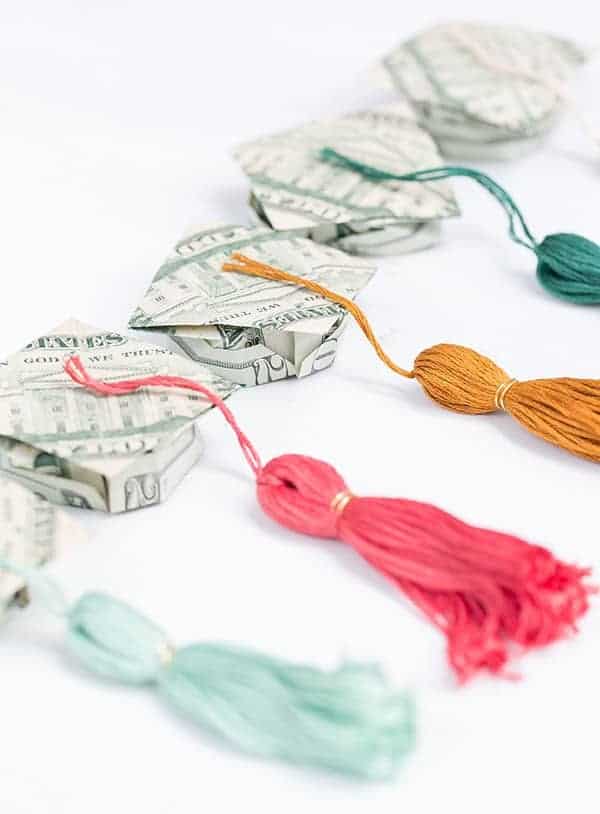 Origami Money Graduation Hats and Tassels
Once spring hits, we start thinking up unique graduate gifts that involve money! This is a charming DIY idea for origami money graduation caps and tassels to go with them!
Gourmet Ice Cream Sundae Bar
A charming ice cream sundae bar is perfect for a graduation party! Make it gourmet with special toppings and lots of charming details!
Backyard Carnival-Themed Party
Bring the carnival to your backyard and create a colorful and festive carnival theme party! Sharing carnival party ideas, supplies, fun food, and charming details for hosting your own!
Make Your Own Giant Paper Fortune Cookies
DIY Paper fortune cookies that are perfect for parties! Print funny fortunes or questions for conversation starters. These are easy to make, and people love them!
DIY Tassel Wine Charms
These DIY tassel wine charms are perfect for a graduation party! They act as drink markers and add a little decor and festiveness to wine glasses.
Money Balloons
The enjoyment of trapping money inside a balloon full of confetti will never get old! Give the gift of money to the grad, but inside a balloon with a lot of confetti!!
Backyard Movie Night for Grads
One of our favorite summer activities is watching movies outdoors! Hosting a backyard movie night is such a great graduation party idea. Here are some fun tips for hosting your outdoor movie night!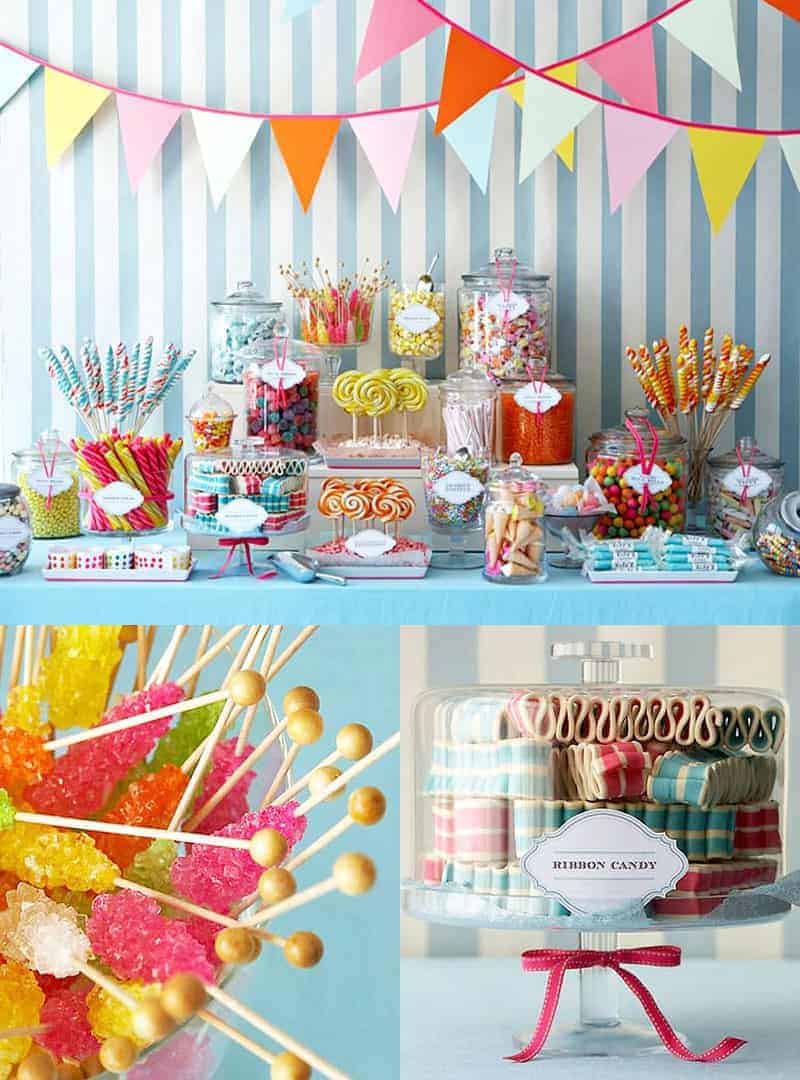 Colorful Candy Bar
A colorful, well-styled candy bar is a wonderful graduation party idea! To customize it, use school colors, and make it themed! This one is from Amy Atlas, who created some of the most amazing dessert tables!
Letter Graduation Cake
Personalize the party with a homemade letter cake! This is a great dessert idea for a graduation party! See the tutorial here!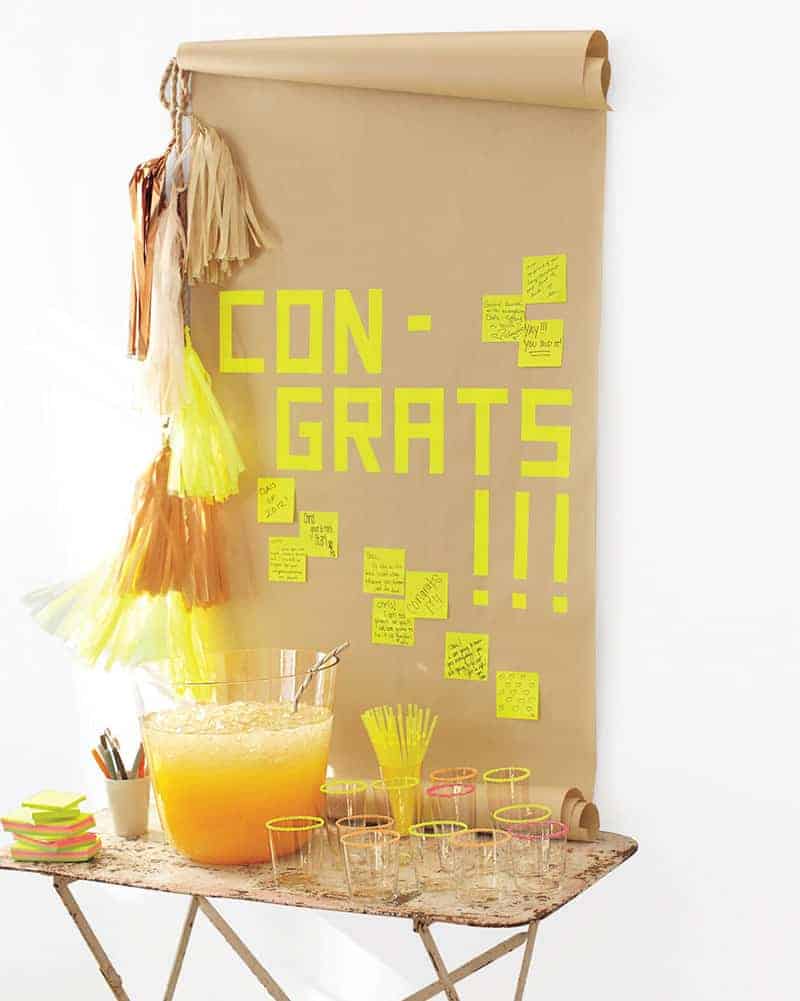 Neon Graduation Party
Host a neon graduation party. This idea is from Martha Stewart and has always been a favorite! It's filled with charming graduation party ideas like neon sugar, neon tape, tassels, and adorable fondant diplomas. See all of the ideas here!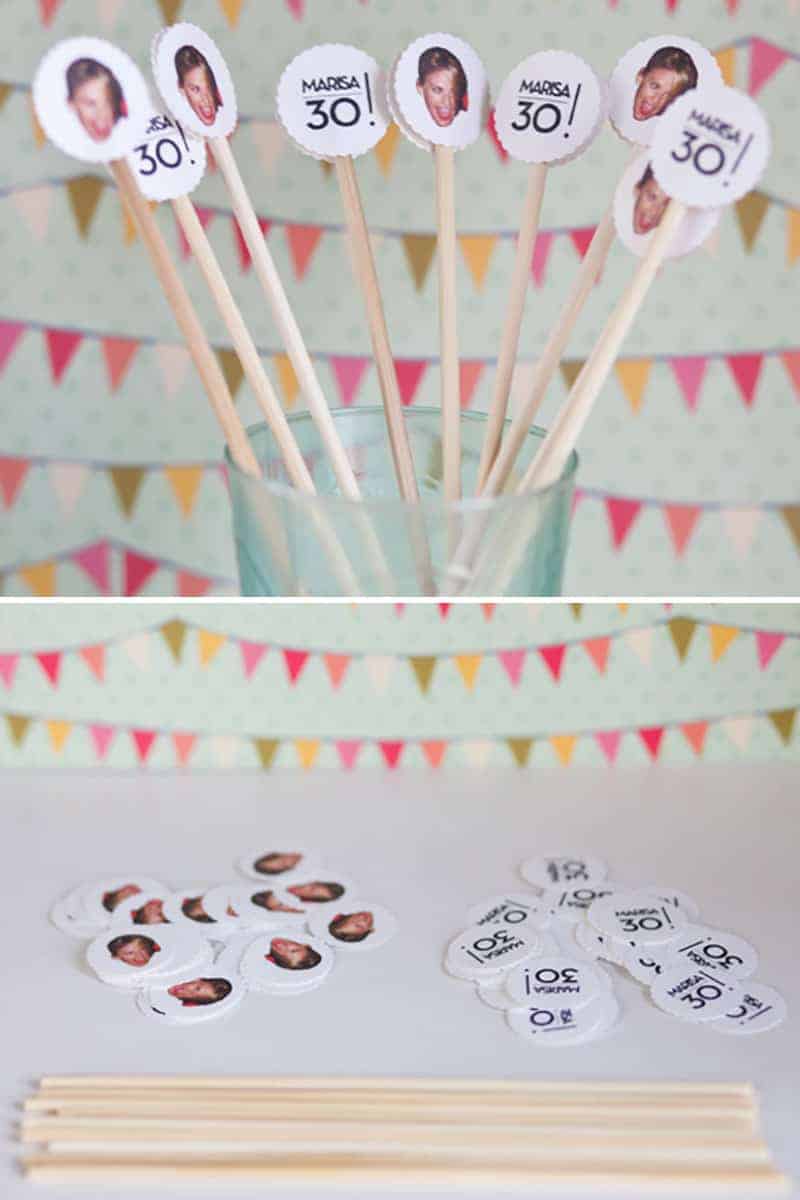 DIY Personalized Drink Stirs
Originally we created photo drink stirs for a birthday party, but they are also perfect for a graduation party. On the front, they have a photo of the graduate's face, and on the back, the graduation year. Like, class of 20!
Graduation Party Supplies
Here are some of the most charming products to buy if you're hosting a graduation party. These items will take your party to the next level so you can host a charming party full of stylish decor.
Letter Balloons – Perfect for Spelling names and words.
Bunting Garland – Buy this in the school colors. Get a few colors and layer them behind a dessert table or photo backdrop.
LED Color Changing Balls – These are great for the pool or around a grassy yard.
Giant Balloons – Use a helium tank to fill these.
Custom Graduation Confetti with Custom Names
Graduation Custom Cupcake Toppers
Customized Graduation Napkins – This Etsy shop will create custom napkins for you and your grad!
Custom Personalized Face Cookies – These are SO fun and what a charming touch!!
Frequently Asked Questions
What do you do at a graduation party?

A graduation party is all about celebrating! Serve food and drinks to all of the guests. Set-up fun stations like an ice cream bar or a Champagne bar.

Play yard games and activities and enjoy the time with family and friends!
How do you plan a backyard graduation party?

• Always look at the weather and have a plan for any backyard party. If it's going to rain or be extremely hot, set up a few pop-up tents.

• Depending on the guest count, rent tables and chairs from a local party rental company.

• Have yard games out and some fun activity stations.

• If you can, keep food inside to keep bugs off. If you can't, use food covers on all of the food.

• Use portable outdoor speakers to play music.

• Keep the pests away with citronella candles and other natural bug remedies.
Sit back and enjoy!
How do you host a graduation party?

• Send out invitations! For online, we like to use Paperless Post or Evite.

• Choose a theme or the school colors for the decorations.

• Create a menu for the food and drinks.

• Plan a few fun activities for the graduates to do.

• Don't forget the music!

• Enjoy the celebrations!
How long should a graduation party last?

This is totally up to you. Normally a party can last 2-4 hours. If you want the party to take place during a specific time, make sure you write the start and end time of the party on the invite. If you're open to letting the party linger, write just the start time on the invite.
How do you make a graduation party fun?

It's all about the details. To make any party fun, fill it with unique ideas. Have plenty of good food, drink stations, an ice cream bar, confetti, music, and anything else you can think of that is important to your grad.

All of that, along with a fantastic host and you'll have a wonderful party!

Read our 10 Entertaining Tips to Live By to become a better host!

Activities also make graduation parties fun. Here is a list of activities you can do at a graduation party.

• Make Your Own Essential Oil Blends

• Make Your Flower Arrangements

• Photo Booth

• Silent Dance Party

• Live Music Band

• Karaoke

• Yard Games – Like Corn hole and giant jenga.


For those who are inclined to give a toast at the graduation party, here are 10 Tips for Giving a Toast!
We hope you have some new graduation party ideas for creating the best grad party ever!!
You can also FOLLOW US on FACEBOOK, INSTAGRAM, and PINTEREST to see more delicious recipes, cocktails, desserts, and parties!
If you love these graduation party ideas, you might also want these related posts —