10 tips for giving the best wedding toast!
Delivering a perfect toast can be a huge burden on many who are asked to speak at a special event. Most people are terrified of public speaking and try to avoid it at all costs! I was one who avoided speech class in college until I literally was forced to take it.
This year we have 4 weddings to attend, 2 of which I'm honored to be in and 1 that I will be giving a toast. With weddings, birthdays, graduations and other celebratory milestones, there will be a lot of toasts in our lifetime!
Therefore, to help things go as smoothly as possible, we gathered and are sharing 10 quick tips for giving the perfect toast. When it's time to give a toast, follow these tips, practice practice practice and own that room!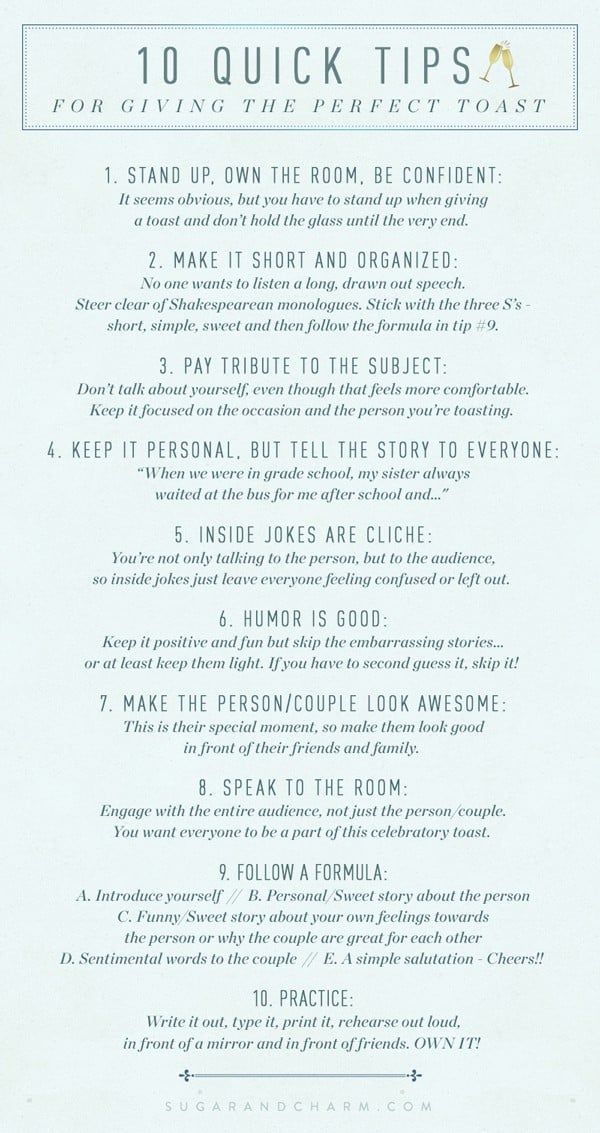 10 Quick Tips for Giving A Wedding Toast
First, stand up and own the room and be confident.
Make it short and organized.
Pay tribute to the subject.
Keep it personal but tell the story to everyone.
Inside jokes are cliche.
Humor is good.
Make the person/couple look awesome.
Speak to the room.
Follow a formula.
Practice.
Above all, keep it light, fun and simple!
More Tips You'll Love!
How to Stay Personally and Professionally Organized
Tips for Planning a Wedding on a Budget
10 Useful Summer Entertaining Tips
Easy and Helpful Tips for Serving Wine
You can also FOLLOW US on FACEBOOK, INSTAGRAM, and PINTEREST to see more delicious recipes, cocktails, desserts, and parties!