Award-winning wedding planner Angel Swanson shares 10 tips for planning a wedding on a budget and how to save money when planning your wedding. After planning my own budget wedding.
These are professional tips from one of Los Angeles's most sought after wedding planners.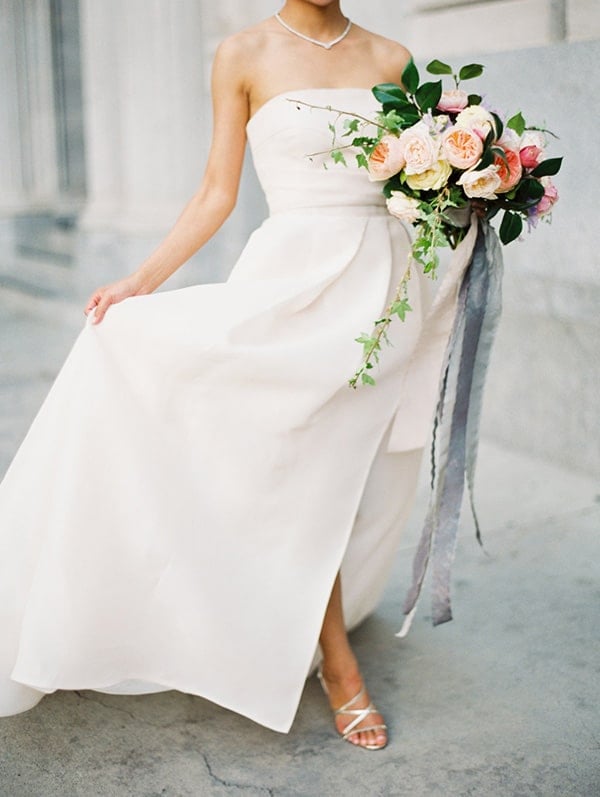 Hey everyone! I'm Angel of Love & Splendor and I've had the joy of planning weddings for nearly 12 years, designing alongside wonderful couples in locales around the world.
Though I've worked with budgets of all sizes, one thing is true of all of my clients: they want to get the best value for their money. Even clients with "unlimited" budgets want to avoid wasting money.
A wedding may be the most expensive party you ever host, so it's vital to plan and spend with care. With that in mind, I thought I'd share ten tips for saving money as you plan for your own celebration. Whether you are beginning your planning with a relatively modest budget, or are simply looking for ways to keep spending in check, I hope these tips spark some ideas for you.
Tips for Planning a Wedding on a Budget
Create a thorough and realistic budget
The very first step in saving money is actually understanding what you can spend on your wedding. Regardless of the size of a client's budget, I always begin with a very detailed worksheet outlining all possible expenditures. I highly recommend doing this alongside an experienced wedding planner (or at the VERY least, a friend who has gotten married in the *same area* as you, in the last year).
I don't find mass-produced budget worksheets (found in books, magazines or online) to be realistic at all. Having an exhaustive budget that also makes sense (e.g. you can't feed filet and lobster to 200 guests for $3000) is vital to begin your planning process. It also streamlines your planning because it guides you to the vendors you can/should be considering for your event.
Select a Creative Menu
Catering is one of the largest expenditures in a wedding planning budget. Instead of serving a formal sit-down meal, consider a more casual menu. I've had a few clients opt to serve their favorite food truck fare, from In-N-Out Burgers to Korean BBQ tacos to slices from their favorite neighborhood pizzeria.
Another couple created a cocktail-style party vibe by serving heavy appetizers and desserts only. A vintage-inspired option would be a "cake and punch" reception, with flutes of champagne and sweet bites. Adjusting the menu can dramatically decrease your budget.
Shake up The Schedule
Most weddings are set in the late afternoon and are followed by dinner and dancing into the wee hours. If you hold your celebration earlier in the day, you may be able to save a considerable amount of money. This ties back to the food that you end up serving to your guests.
An early morning ceremony could be accompanied by lattes and a light breakfast consisting of fruit and pastries. A midday affair might be followed by a lovely luncheon. Both of these meals would cost considerably less than a dinner and create a memorable experience for your guests. In addition, hotels (or other venues that host multiple events on the same day) may offer reduced rental rates for AM events.
Consider a Mid-week Date
Though the wedding season never ends in a place like California, couples can still find discounts for opting to wed in the middle of the week.
Most venues and even some rental and catering companies will reduce fees and minimums for less popular event days, such as Monday through Thursday. Over my years in the business, I've actually planned weddings for every day of the week.
Trim Your Guest List
The number one way to save on your wedding is to trim back on your guest count. Perhaps have a more intimate formal wedding and then throw a casual post-wedding reception when you return from your honeymoon? Scrutinize your guest list carefully and see if there is some pruning that can be done.
Get Married Outdoors
Look for venues that are visually arresting in and of themselves, and therefore require little décor. A scenic overlook, beautiful backyard, public beach or regional park may be options to explore. Make sure to research permit requirements if you wish to wed on public property.
Look into Unique Venues
Do you have any college campuses nearby? Many may have beautiful facilities (like faculty clubs, gardens, and even libraries) on-site that are less expensive to rent than traditional venues. Explore local parks, gardens, and their clubhouses.
I once planned an enchanting wedding in a municipal park that happened to be nestled in a majestic oak and sycamore canyon. I've also seen beautiful weddings held in empty warehouses and even a store!
Bargain and Borrow
Look into buying some of your wedding attire and/or décor secondhand online. Many of my own brides have offloaded extra candles and random décor on wedding website message boards and Craigslist.
If you have friends getting married before you, see if they have anything that could be passed on. You may also think about borrowing items when it makes sense. I had one small wedding where a bride borrowed dinner plates from her grandmother's vintage china collection. It was a sweet way to both beautify and personalize her tabletops.
Prioritize and Skip
Make a list of your top priorities and work your way down the list. If something doesn't matter to you, skip it altogether! This is another area where I highly suggest consulting with a professional wedding planner to determine which items to skip.
Items that might fall into this category include cake and desserts, professional hair and makeup, favors, live music, a full bar, etc. One thing I tell clients to NEVER skip: the best photographer and videographer you can afford. (Again, this is in light of your initial budget and disbursements.)
Elope!
If you want to skip the party altogether (and your parents will forgive you, ha!), consider eloping. This doesn't have to mean being wed by Elvis in Las Vegas (though if that's your cup of tea, go for it).
I see many couples plan for an ultra-romantic elopement ceremony in a dream vacation locale as a "kick off" for their honeymoon immediately afterward. If you plan to go this route, I would still consider hiring both a destination wedding planner and an experienced honeymoon travel agent (like Ever After Honeymoons) to make the trip a seamless adventure.
Check out More Ideas to Help Plan a Wedding on a Budget
Also check out How to Decline a Wedding Invitation
Photo Credit: First photo by Erich McVey, Second & Third photo by Ryan Ray, Fourth photo by Braedon Photography