Etiquette expert Diane Gottsman shares her insight on how to decline a wedding invitation, politely.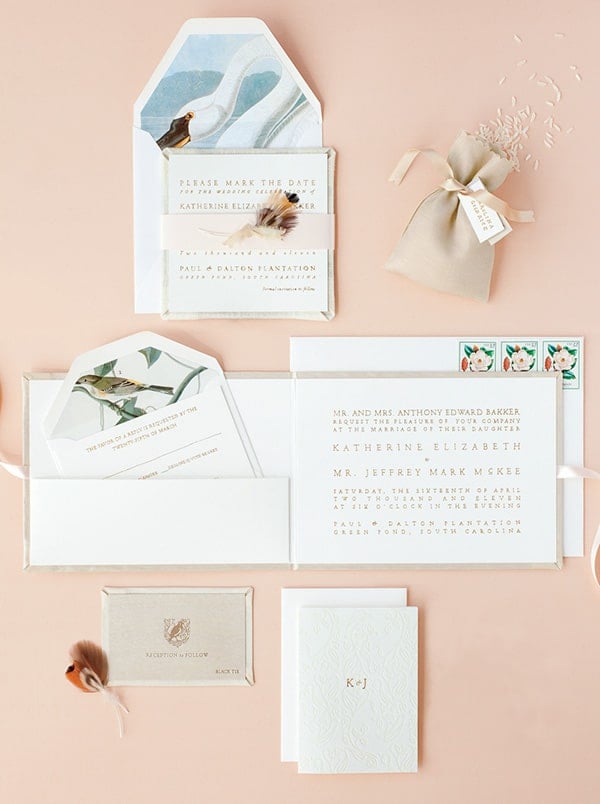 Last week, event planner extraordinaire, Angel from Love & Splendor shared 10 tips for saving money on your wedding and now we're excited to continue on the wedding topic with etiquette expert Diane Gottsman sharing her insight on how to politely decline a wedding invitation.
I personally learned some good tips from her that I'm going to strive to be better at! Diane also just released a new book called Modern Etiquette for a Better Life.
It's full of wonderful tips for becoming your best and most confident self. It touches on modern day business etiquette, like traveling with your boss to social media etiquette. It's definitely worth reading!
You've been invited to your friend's daughter's wedding and you have a conflict. You feel terrible but can't possibly accept the invitation because you have previously committed to another important event.
What can you do to decline the RSVP and still maintain the friendship?
Life happens and often there are several different functions going on at the same time.
It can be uncomfortable to have to make a decision on who's celebration to attend, even when the one you would prefer to go to is not the one you must RSVP "yes." Here are a few simple tips to help alleviate hurt feelings and keep your relationship intact.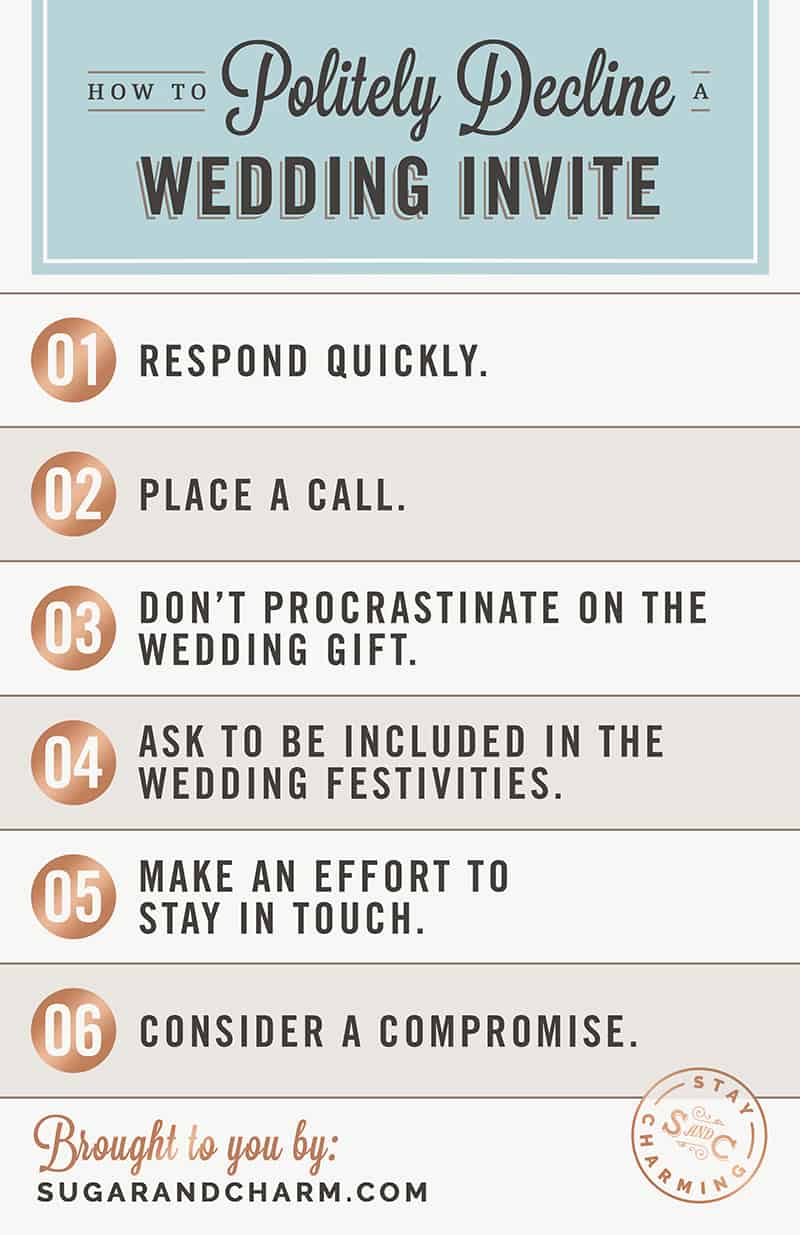 How to Decline a Wedding Invitation Politely
Respond quickly.
Don't wait too long before sending the response card back. The more time that lapses, the more it looks like you were deciding on a better opportunity or simply didn't care enough to acknowledge the invitation.
Respond within a couple of days, a week at the latest.
Place a call.
When you must make a hard decision and decline an invitation that will possibly cause hurt feelings, explain in person.
Don't give too much information but enough to let them know of your disappointment that you won't be able to attend the special event.
Allowing the host to hear the regret in your voice will often soften the news. Be careful, however, not to give too much detail because your nervous chatter may be confused for a lame excuse or even a lie.
Prepare what you are going to say in advance and stick with fewer words. A "previous commitment" is truthful without giving away an enormous amount of frivolous details.
Send a token "just because" gesture.
In addition to the RSVP card with the decline, send a flower arrangement, a bottle of wine or a pretty box of chocolates with a "congratulations" message attached.
While it's not a standard tradition to send a gift with a response card, the extra touch will go a long way in preserving a relationship or reminding someone they are special to you.
Don't procrastinate on the wedding gift.
Be one of the first to jump on the gift registry and have a gift sent out, along with a heartfelt message. Follow up with a card closer to the date, mentioning the gift you delivered earlier.
Say something like, " Sarah and Mike, Congratulations on your wedding. John and I hope you enjoy your knife set and will think of us when you use it. Sincerely, The Smith's"
Ask to be included in the wedding festivities.
Just because you can't attend the wedding, you can certainly participate in other ways. If you are on the guest list, you can also be an attendee to the wedding shower or help by volunteering your time or services in different ways.
You might want to offer to be a shower host, or stuff thank you notes one afternoon over a bottle of wine and appetizers at your home.
Make an effort to stay in touch.
In the meantime, keep in communication by inviting your friend (mom of the bride) and bride-to-be out to lunch or afternoon tea.
Staying up to date and showing a genuine interest in the wedding will smooth over any rough edges that may have developed due to your inability to attend the main event.
Offer to go shopping for last-minute details with your friend and her daughter and ask lots of questions to let them both know you are unhappy to miss the special day.
Consider a compromise.
You may be able to attend two events in one night with careful planning. Perhaps you will have time to join your boss and colleagues at the cocktail portion of a dinner party and make it in time for the wedding reception across time.
There may be some juggling involved, but when possible, it's best to attend a good friend's, daughter's wedding if there is even the slightest chance of making any part of the celebration.
You will definitely have to explain to both parties there is an unforeseen conflict and hope they will both be understanding of the limited time you have at each soiree. Declining a wedding invitation doesn't mean you have to miss the whole process.
When Declining A Wedding Invitation Don't Overshare
When declining a wedding invitation, you don't need to tell the couple all the ins and outs of why you can't make it to their wedding day. Keep you answer short, sweet and to the point – they don't need all the nitty gritty details. 
You can run the risk of over-explaining your reasons, this can sound too much like an excuse.
Don't Change Your Mind
When people plan a wedding, the couple needs a headcount early in the game so that they can plan seating, meals, favors and more, so don't change your mind after you've already said no. Of course there are some exceptional circumstances, but as a general rule, once you've declined a wedding invitation, there's really no turning back.
Following Up
After the event, it is fine to call the person and ask how the event went. In fact it will most likely be highly appreciated. You may want to express your regrets about not being able to make it, but if you do that, make sure you are upbeat rather than focusing on the fact you couldn't make it.
Top Tips For Declining A Wedding Invitation
Make sure you respond quickly.
Where possible, a phone call is more personable than a letter.
Send a gift.
Follow up after wedding. Ask how the big day went!
Check Out These Other Great Party Tips
How To Throw A Last Minute Birthday Party
How To Host A Wine and Cheese Party
How To Host A Charming Oscar Party
How To Throw a Pumpkin Carving Party
How To Leave a Party Early Without Being Rude by Apartment Therapy
Thankyou Letter Writing Tips by The Balance Careers
If you have tried these tips or any other tips on Sugar and Charm, then please rate it and let me know how it turned out in the comments below!
You can also FOLLOW ME on FACEBOOK, INSTAGRAM, and PINTEREST to see more delicious recipes, cocktails, desserts, party ideas ad lifestyle tips!