Everything you need to know for how to throw a pumpkin carving party! Once October hits, it's all about Halloween festivities, and one tradition we have is to host a pumpkin carving party! Sharing the perfect Halloween party menu, Halloween desserts, drinks, and fun ideas for making pumpkin carving kits!
Also, check out our complete guide for a charming Halloween!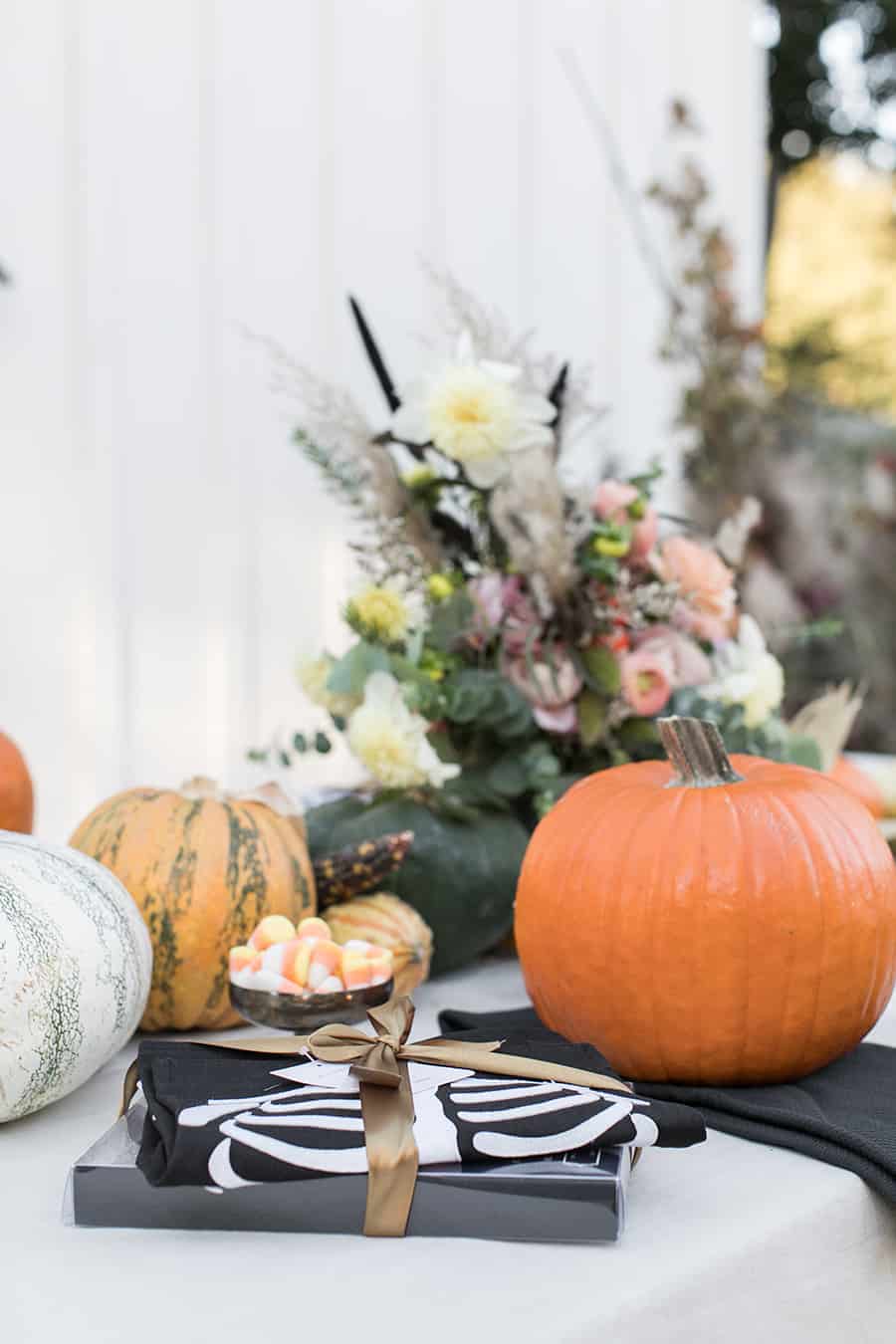 I've been hosting a pumpkin carving party for the past 10 years, and it's one party my family looks forward to every fall.
We invite friends over with their kiddos, and the entire evening is spent outside, carving pumpkins, eating chili, and of course, lots of desserts! There is nothing better than seeing each jack o'lantern all lit up!
I enjoy making the holidays special for my family and friends and I know my kids enjoy it too. With the change of the season and as life passes by, the special moments and traditions are what we hang on to and for us, make life fun.
I love hosting birthday parties, setting up a beautiful hot cocoa bar for Christmas or throwing a 4th of July bash. These gatherings bring the people I love together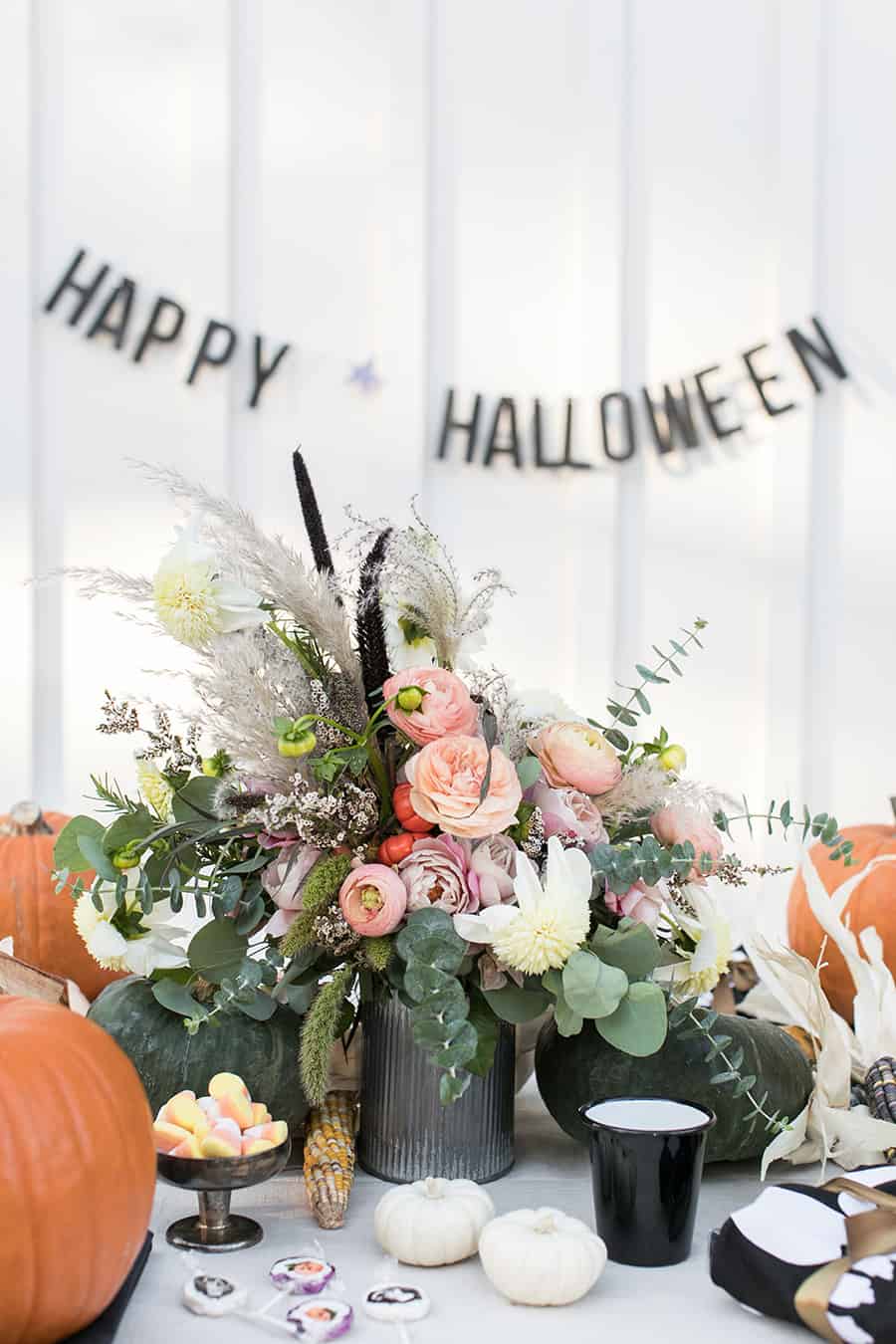 How To Throw A Pumpkin Carving Party
Here are 6 steps for a successful pumpkin carving party!
Send out invites, to create a sense of occasion and a more personalized vibe.
For the adults, create batch cocktails for ease (links below!)
Create a good party menu in batches, like chili and salads (see below for some recipe links!)
Pumpkin Carving Kits Most of the supplies are linked below, but some of the most essential supplies are the carving tools, towels, pumpkins, black Sharpie for making faces on the pumpkins, pumpkin stencils, bowl for putting the seeds in, desserts, and candy!
For the decor, line the table with pumpkins, fall corn, and foliage. Add flowers as a centerpiece and bowls of candy down the middle.
Turn up the Halloween tunes and carve away!
Pumpkin Carving Party Invitations
For the pumpkin carving party invitations, check out Paperless Post and Evite. They both have excellent online Halloween invitation ideas that are easy to send, trackable, and great for communication prior to the event. Saves paper and time!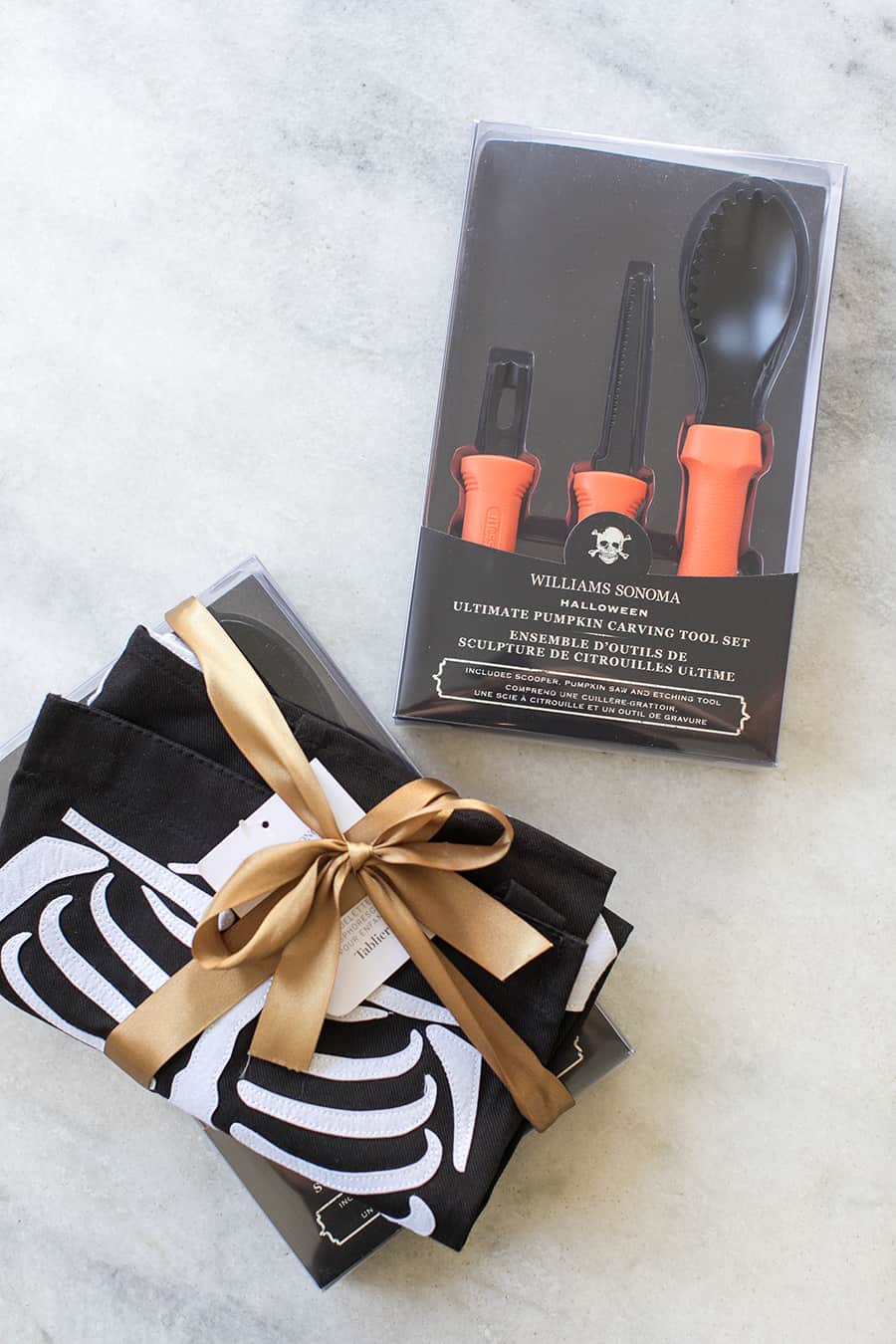 Create Pumpkin Carving Kits
This is one of the best things you can do for your party! Not only is it charming, but it keeps everything organized for the party. Wrap them up with ribbon and place each set near a pumpkin. Here's what to include in a pumpkin carving kit:
Glow-in-the-dark Skeleton Apron – Skeleton aprons ad charm and function to the carving kit. I've had ours for years and we still use them!
Heavy-duty Pumpkin Carving Tools – Like most things in life, it's all about the tools! Having good carving tools will make your life easier.
Black towel – Pumpkin carving is messy, always include a towel in the kit to wipe hands and tools.
LED Tealight Candles – These are to light up the pumpkins once they're carved!
Tie it all together with a pretty ribbon and place it near a pumpkin on each table setting.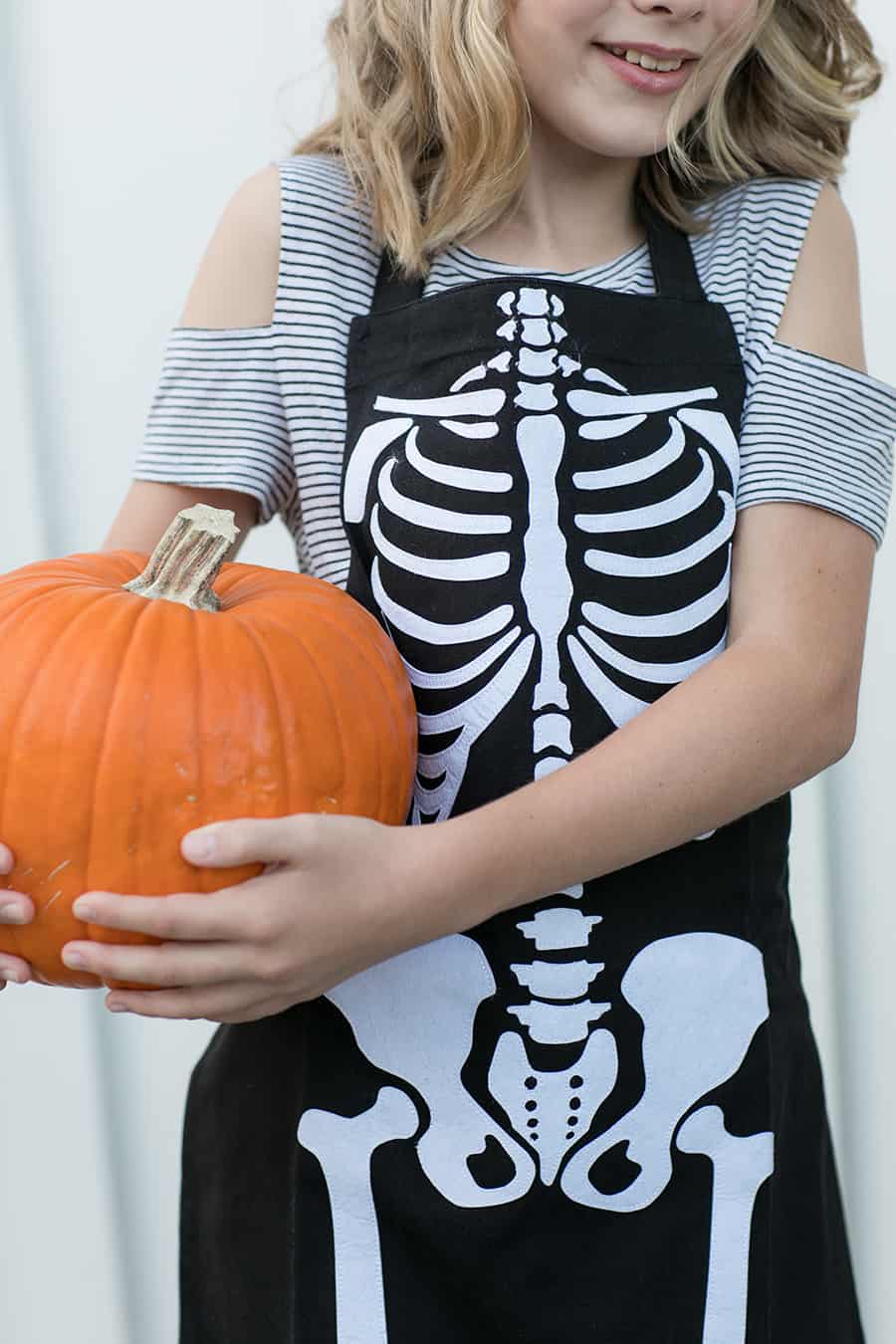 Pumpkin Carving Decor
This time of year, you can find Halloween decorations just about everywhere you go! Here are some fun ideas for decorating your party:
Tablecloth – This will protect the table from all of the pumpkin guts and seeds. If you use a disposable one, it makes cleanup really easy! You can also use craft paper or newspaper and tape it down to the table. Then, went the party is over you can just roll it up and toss it!
Mini Pumpkins – Line the center of the table with mini pumpkins. They're perfect decor for a Halloween party.
Flowers – Sunflowers are great this time of year and you can find them at your local grocery store. Add some in a vase for easy fall arrangements.
Hay Bales – I use hay bales a lot for easy party decor and extra seating! You can use mini hay bales to add height to dessert tables.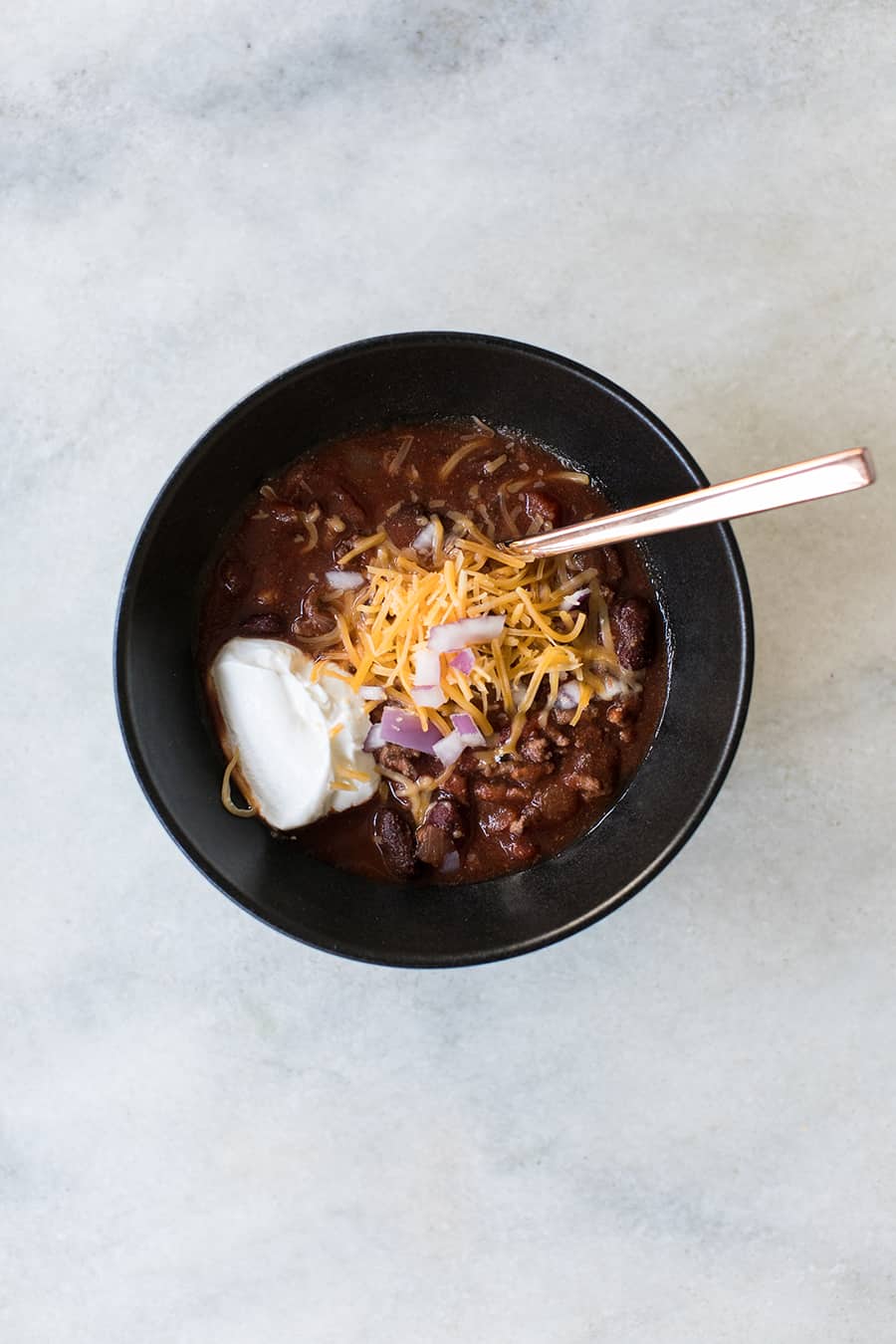 Pumpkin Carving Party Menu
Need ideas for what to serve at your Halloween pumpkin-carving party? I've got you covered! Here are some dishes that I make almost every year. These recipes are great, work well together, and are DELICIOUS! Scale this down if it's a small gathering.
Chili – It's not a pumpkin carving party without the chili! This is our favorite recipe and you can make it in a slow cooker. We served it in Apilco Reglisse black bowls with copper spoons for a festive touch.
Cornbread – We love cornbread! It goes really well with chili and we have two amazing recipes. Try our cranberry orange cornbread or our cornbread muffins.
Meat and Cheese Platter – If you don't want to cook, make an impressive Halloween meat and cheese platter. It's stunning!
Ham and Cheese Sliders – This appetizer is always a hit! They are simple to make and so flavorful! They'll be gone before you know it! This is one of my go-to party appetizers for the fall season.
Sausage and Peppers – A great option for a quick sheet pan meal. Use only orange and green peppers for a fun Halloween vibe.
Fruit Platter – Make a fall fruit platter for Halloween with black fruit. Pair it with the best fruit dip ever!
Check out all of our Halloween party snacks!
Halloween Desserts For Your Pumpkin Carving Party
You can make Halloween desserts or you can order festive treats that are already made! I ordered all of the desserts for the party from Williams Sonoma. They also have the best Halloween candy selection! Here are some of my favorite options:
Homemade Desserts
If you're making desserts for the party here are the best Halloween dessert recipes to make:
Chocolate Covered Pretzel Sticks
Easy Halloween Dessert Platter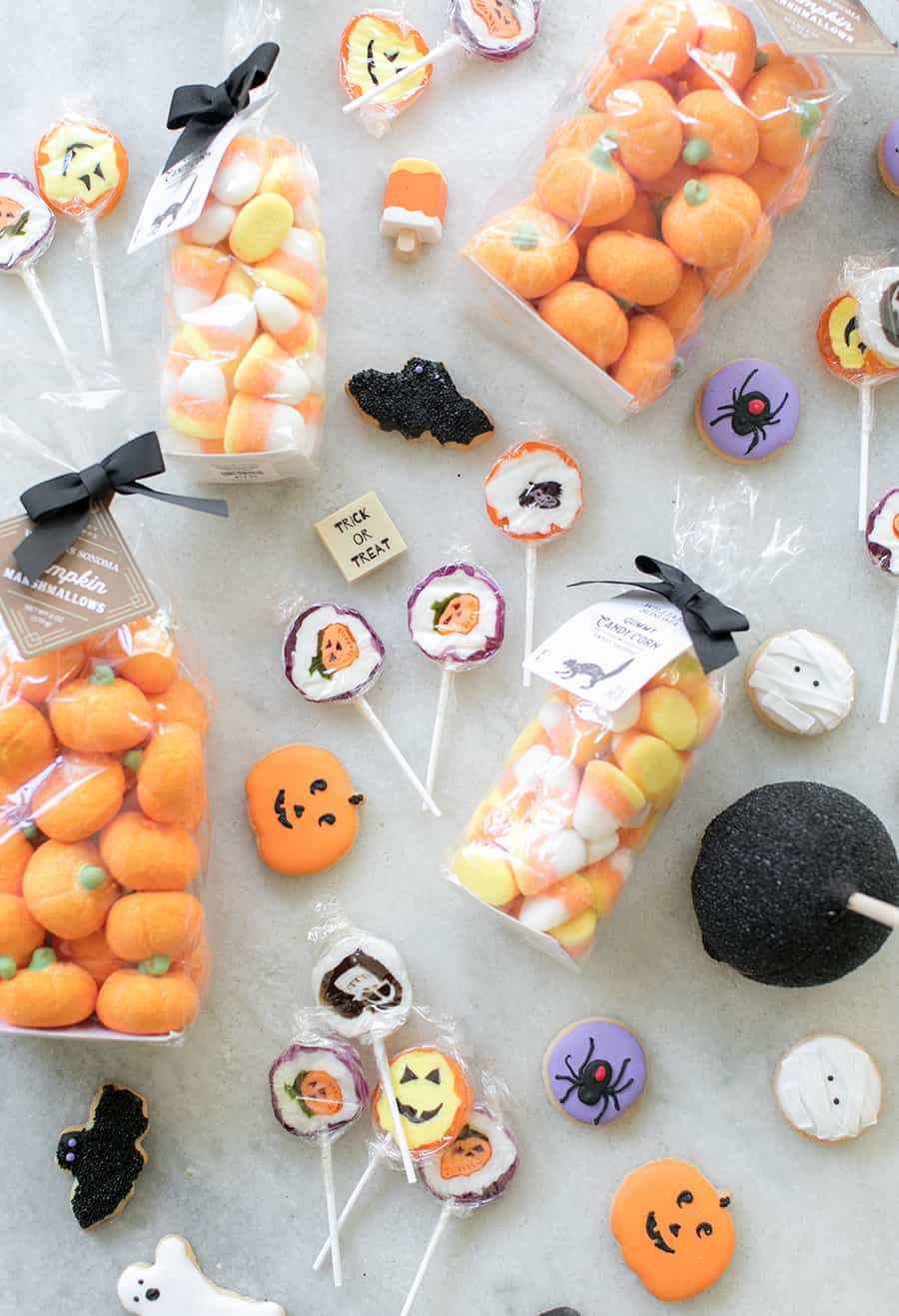 Premade Desserts
Caramel Apples – These be messy to make and it's much easier to buy them!
Pumpkin Marshmallows – These are fun for hot chocolate and on a s'mores board.
Slice and Bake Halloween Cookies – Fun Halloween shapes like candy corn!
Halloween Cake Pops – Don't have time to make your own, order these cute ones that will be delivered to your house!
For the main dessert, serve something show-stopping like this Black Velvet Rose Cake. It was delivered from Williams Sonoma, and I kept it in the freezer until the party day.
The cake was so moist and had delicious layers of red velvet cake. It tastes even better than it looks! They have several Halloween cakes you can order!
Pumpkin Carving Party Drinks
I always serve a fun Halloween drink when hosting a pumpkin carving party. I serve a large Halloween punch and have one option for adults and one for kids. Serve it in a large cauldron or pumpkin punch bowl. Here are the best Halloween punch recipes:

Tips For Your Pumpkin Carving Party
Since carving pumpkins can get very messy, hosting it outside is ideal. Line a table with newspaper or fabric that you don't mind throwing out. I bought yards of fabric at the craft store to use for the table.
Place out a large cauldron for the pumpkin seeds!
Pick batch cocktails and dishes you can make in a batch, makes life a whole lot simpler!
Print out paper templates for the pumpkins, to give guests to follow a pattern or go freestyle.
If you have younger ones under 5 have paints or pumpkin stickers for them to use.
Set everything up the day before the party. That way, on the day of the party you can prep the food and drink.
Have a coloring station with Halloween coloring pages set up for those who finish their pumpkins early or to entertain young kids.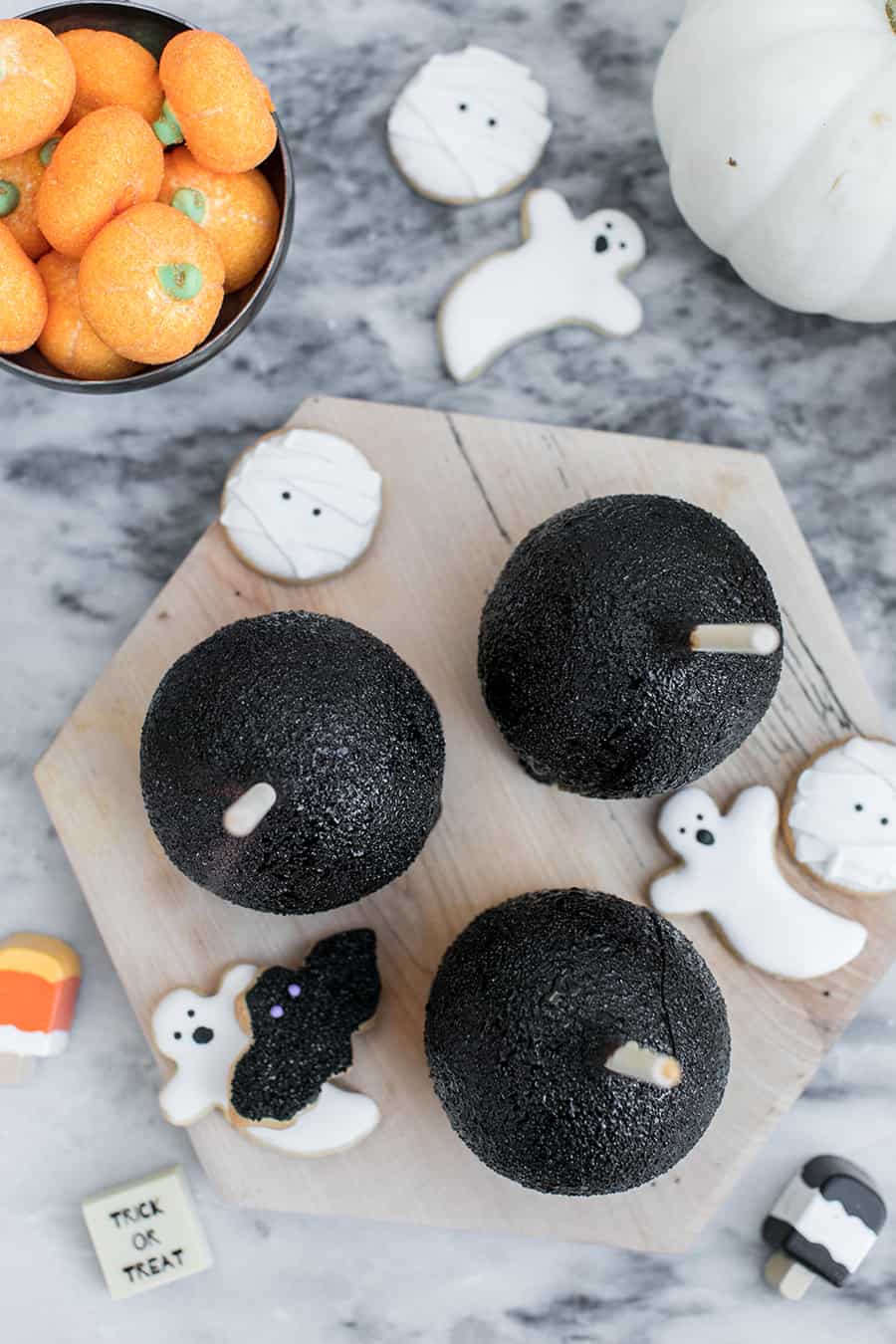 How to Decorate and Carve a Pumpkin
Decorating and carving pumpkins is easy with the right tools. You'll need a sharp knife, a pumpkin carving kit, and a pumpkin stencil. First, clean out the inside of the pumpkin and remove the stem.
Then, use your knife to carve out a hole in the top of the pumpkin.
Next, print out a pumpkin stencil and tape it to the pumpkin. Use a sharp knife to carefully carve around the stencil.
Finally, remove the stencil and enjoy your pumpkin creation!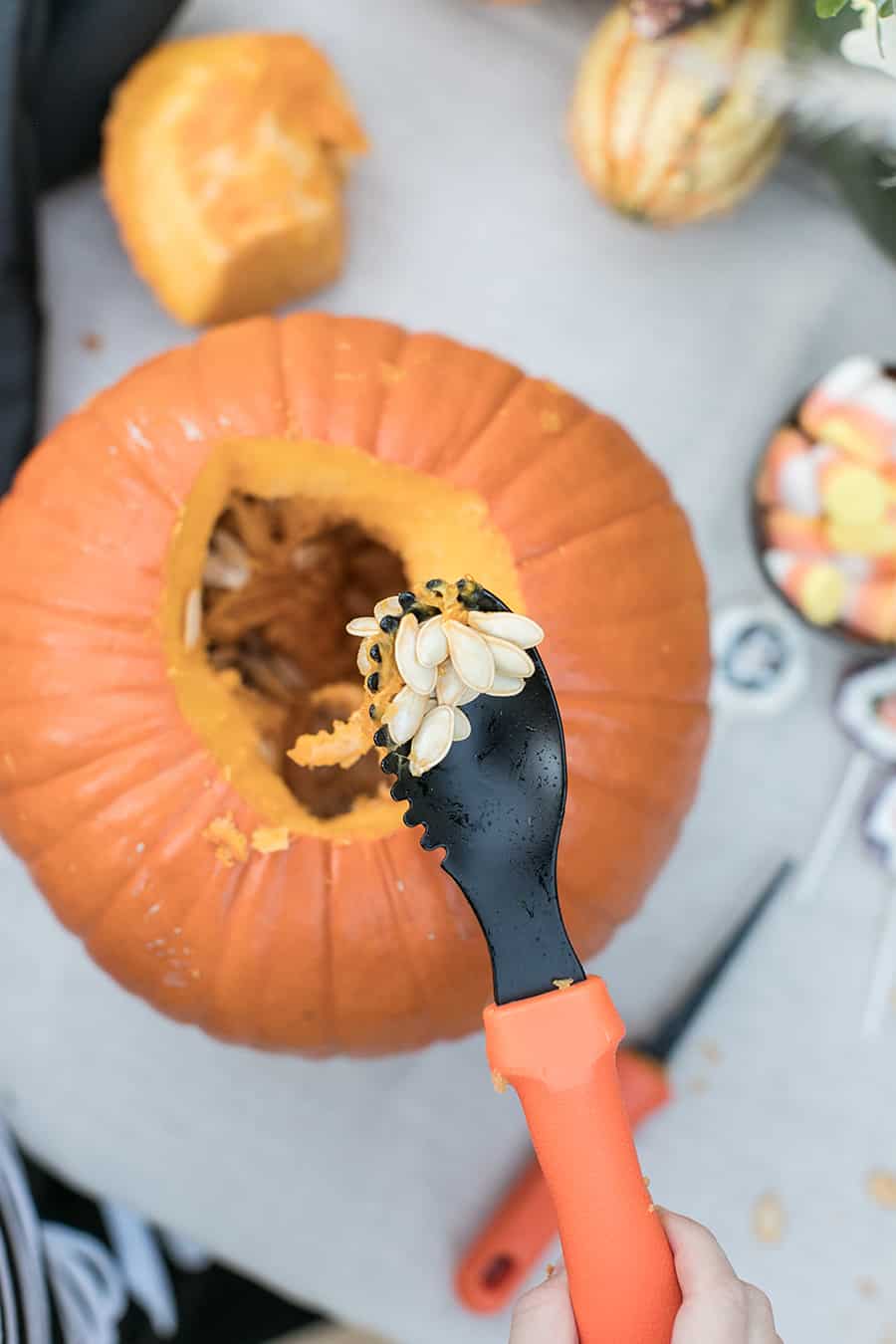 Frequently Asked Questions
What should I serve with pumpkin carving?
When it comes to food, you can't go wrong with pumpkin-themed dishes. We suggest serving pumpkin soup, pumpkin bread, or pumpkin pie. For drinks, pumpkin spice lattes or pumpkin beer are always a hit. And of course, don't forget the candy!
What can I use to decorate a pumpkin?
There are endless possibilities when it comes to pumpkin decorating. You can use paint, markers, glitter, and more. There are kits that you can buy at your local stores to create bat pumpkins, ghost pumpkins, and witch pumpkins. None of these require carving, which is great for younger kids!
How do you host a pumpkin party?
Theme it up: You're hosting a pumpkin party, so let's get festive! Think orange, black and autumnal colors for your decor.
Pumpkin Invites: Send out pumpkin-shaped invitations to set the tone. Bonus points for using a fun rhyme on the invite!
Pumpkin Foods: Serve pumpkin-flavored foods and drinks. Pumpkin pie, pumpkin bread, pumpkin lattes… the possibilities are endless!
Carving Contest: Set up a pumpkin carving contest. Have a variety of carving tools available and let the creativity flow!
Decorative Pumpkins: Use pumpkins for more than just carving. Small pumpkins can make great table settings or center pieces.
Art: Set up a pumpkin painting station for the kids (and big kids at heart). Games: Organize fun games like 'Pass the Pumpkin' or 'Pumpkin Toss'.
Decor: Light up the party with jack-o'-lanterns scattered around.
Playlist: Create a festive atmosphere with a spooky or autumn-themed playlist.
Goodie Bags: Send your guests home with a pumpkin-themed goodie bag as a thank you for coming!
Do I really need a pumpkin carving kit?
A pumpkin carving kit is necessary to carve out some seriously spooktacular designs on your ghoulish gourds. It's not just about making the job easier (which it does) but also about safety. A carving kit has easy-grip handles and special blades to slice through pumpkins.
How messy is pumpkin carving?
Pumpkin carving can get messy, so it's important to prepare and have your workspace ready. Here are three ways to help you keep a mess-free space:
Prep Your Pumpkin-Prepping Station: Before you dive into your pumpkin carving extravaganza, cover your work surface with newspapers, disposable tablecloths, or even a trash bag. It'll make your post-carving cleanup so much easier! Just wrap up the mess and throw it out.
Pumpkin Guts Bag: Have a designated bag or bowl for all the stringy, slimy pumpkin guts. When you scoop them out, plop them straight into your pumpkin guts container. No muss, no fuss!
Wipe as You Go: Keep a damp cloth or paper towel handy to immediately wipe up pumpkin juice splatters. It's way easier than letting it dry and having to scrub later. And remember, carving is a process, not a race. Take your time to minimize the mess.
More Fun Halloween Party Ideas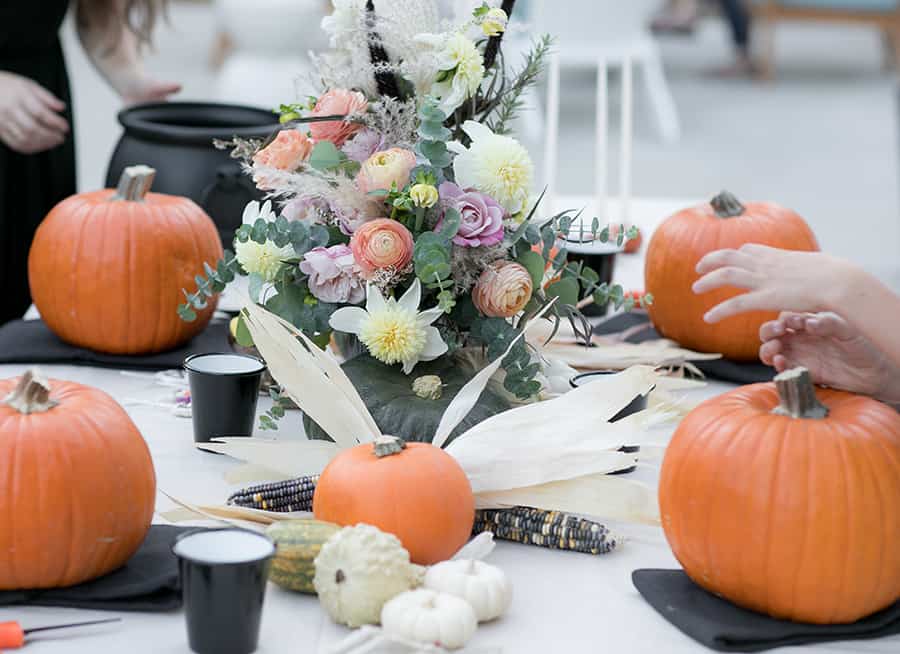 You can also FOLLOW US on FACEBOOK, INSTAGRAM and PINTEREST to see more delicious, healthy, family-friendly food!