Here's how to throw a Charming & Vintage Halloween party using Beistle and traditional vintage Halloween decorations and games! From decor to games, these are Halloween party ideas you'll really want!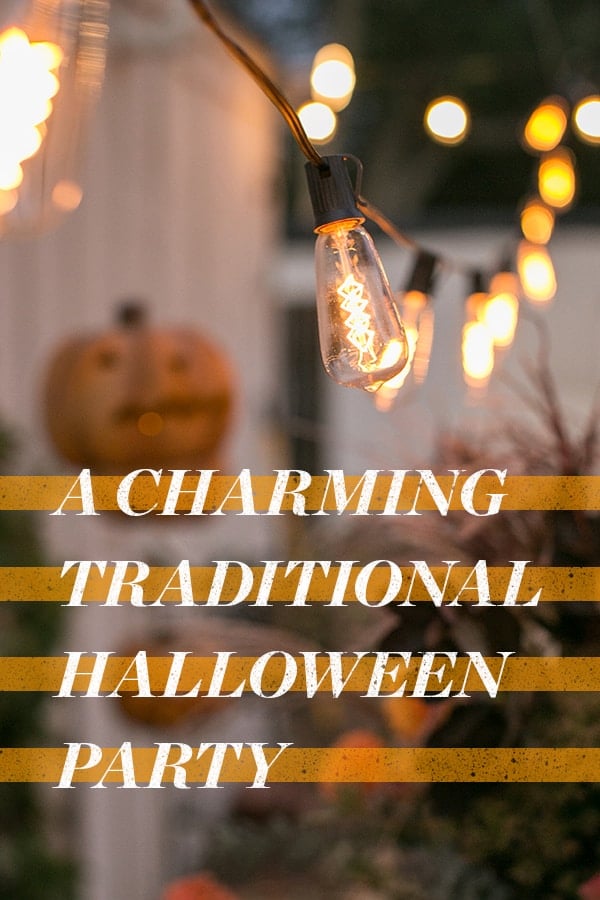 This charming and vintage Halloween party was inspired by the original Halloween decorations created by a company named Beistle. In the 1920's, Beistle created a line of Halloween decorations that helped popularize Halloween decorating with black cats, Jack O' Lanterns, owls and bats.
I fell in love with the nostalgic feeling of a traditional Halloween party using these classic decorations, so we created this charming and traditional Halloween party that's easy enough to do at home… and family-friendly too!
We ordered some vintage Beistle Halloween decor, hay bales, galvanized buckets, lots of market lights and lit up pumpkins and had a blast putting this together.
I also thoroughly enjoyed showing my 5 year old how to bob for apples too! Traditions are so fun. I hope you find some great Halloween party ideas and inspiration in this post!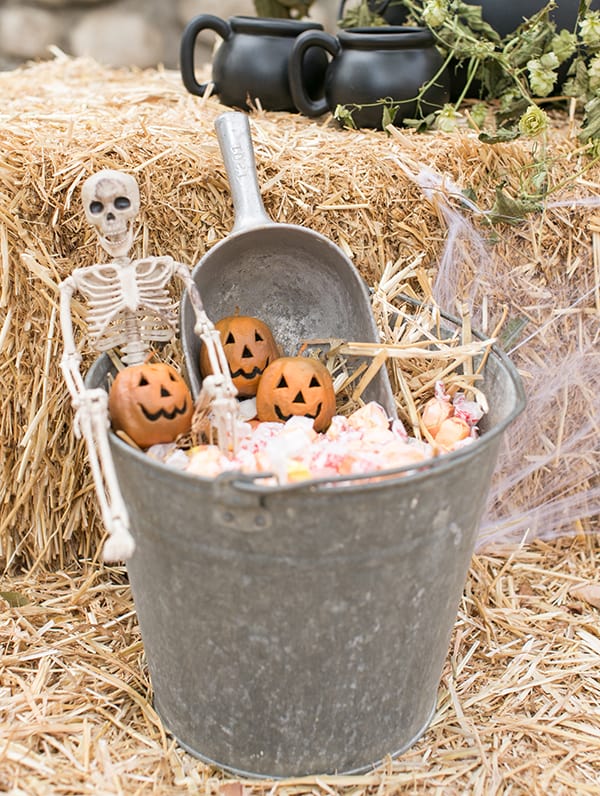 Vintage Halloween Decorations
Since vintage Beistle was the inspiration behind having a traditional Halloween party, I purchased all of the paper decor items from an online store called Vintage Beistle.
It's all really affordable too and they create reproductions of the classic Halloween decor items sold in the 1920's!
We purchased the fortune-telling Jack-O'-Lantern Game, the Witch Fortune Wheel Game, which was originally produced by The Beistle Company in 1927 and is fun to play with kids, Witch Moon and Pumpkin cutouts, Cat Head Napkins and the Scat Cat Band Cutouts.
Here are some more ideas you can do to create vintage Halloween decorations.
Galvanized Buckets and Trays
Pumpkins
Vintage Cauldrons
Spider Webs
Wild Flowers
Old Vintage Pictures and Paintings
Salvaged Doors and Windows
Candles
Sheets and Cloths to Cover Furniture
Hay Bales For Halloween!
For a quick and easy "table," we used two hay bales and just a whitewashed board on the top to even it out. Super simple, but loved how it turned out! The 'table' is really sturdy and we wrapped it on fake cobwebs, because…Halloween!
Party Punch For Your Vintage Halloween Party
When it comes to drinks at your vintage Halloween party, you can't get much more traditional than cider! Try making a Halloween punch recipe, spiked or not, and add in fall flavors like cinnamon and sliced pears!
Punches are easy to whip up and you're not stuck making individual drinks.
If you're throwing this party for adults, create a yummy spiked apple cider punch in a cauldron. Our black sangria is also a great option for a party. You can also make candy corn shots, which are fun to serve as guests enter the party.
If it's for kids, make them this 3 ingredient Halloween punch! Add little gummy frogs and warms to make it "spooky".
Bobbing for apples is a Halloween tradition that dates back to the 18th century! But it's so fun and full of laughs. I'm sure everyone has had a go at this, but in case you've never set this game up….
Find a suitable tub.
Fill the tub with cool water.
Float several apples in the water.
Select the order of players.
Catch an apple with your teeth. …
Keep your hands behind your back while bobbing.
Keep track of how long it takes each player to get their apple. You can give a time limit per player, to keep things moving at a fun pace.
Select the winner, whoever got their apple the quickest!
Fall Flowers For A Vintage Halloween Party
We teamed up with Erin, from White Fig Designs, and she created the most beautiful florals and fall greenery!
Here are some beautiful fall flowers you could incorporate:
Chrysanthemum. Beautiful chrysanthemums create a cushion of color in festive seasonal shades of red, orange, yellow, peach, and white, as well as contrasting shades of pink. ..
Pansy
Celosia
Purple Fountain Grass
Croton
Flowering Kale
Aster
Dianthus
Desserts for Halloween
Can't be a Halloween party without desserts! Serve vintage candy in bowls like taffy and candy corns. Then add baked goods to platters and trays.
Brown Butter Mummy Rice Krispie Treats
Caramel Apples – Perfect For Halloween Parties!
Caramel apples scream vintage Halloween! We used this caramel apple recipe and it worked out great.
You can also make marbled candy apples too! These are fun as you can do different colors.
You can dip them in toppings like crushed cookies, candy, or nuts! They're so fun and nostalgic, you can use twigs as the stick for an extra vintage vibe!
DIY Jack O Lanterns
We created these paper maché hanging Jack-o'-Lanterns and they looked so awesome "floating" in the air! We used battery-operated tea lights to light them up! By far, a favorite detail!
Outdoor Lighting For Your Vintage Halloween Party
It's always hard to get good night shots, but when the sun set, it was so beautifully lit outside and looked like a movie set!
It was magical! Outdoor lights are fairly inexpensive and create a lovely warm environment once the sun goes down.
As this is a fall party it'll be getting dark around 6 pm, so you'll be able to keep the party going on longer!
Tips For Your Vintage Halloween Party
Use smaller apples for the kids, if they are bobbing for apples. Smaller apples allow children to get their teeth around the apple.
If you don't want guests to get wet then you can do a variation of bobbing for apples, where you hang the apples up on the string.
Serve a punch! A good party punch will be an easy crowd pleaser!
Check Out These Other Great Halloween Ideas
Our Favorite Halloween Decor and Entertaining Items
How To Make The Perfect Halloween Meat and Cheese Board
The Perfect Halloween Candy Cart
The Most Delicious Oreo Halloween Cake
Beetlejuice Cocktail by Bread Booze Bacon
Halloween Cupcakes by Preppy Kitchen
If you have tried these vintage Halloween decorations or party ideas, let us know how it turned out in the comments below!
You can also FOLLOW US on FACEBOOK, INSTAGRAM and PINTEREST to see more delicious recipes and party ideas!