Tips for quickly adding Halloween home decor to your house in 15 minutes! Using affordable Halloween decorations that will quickly transform your home into a charmingly spooky house!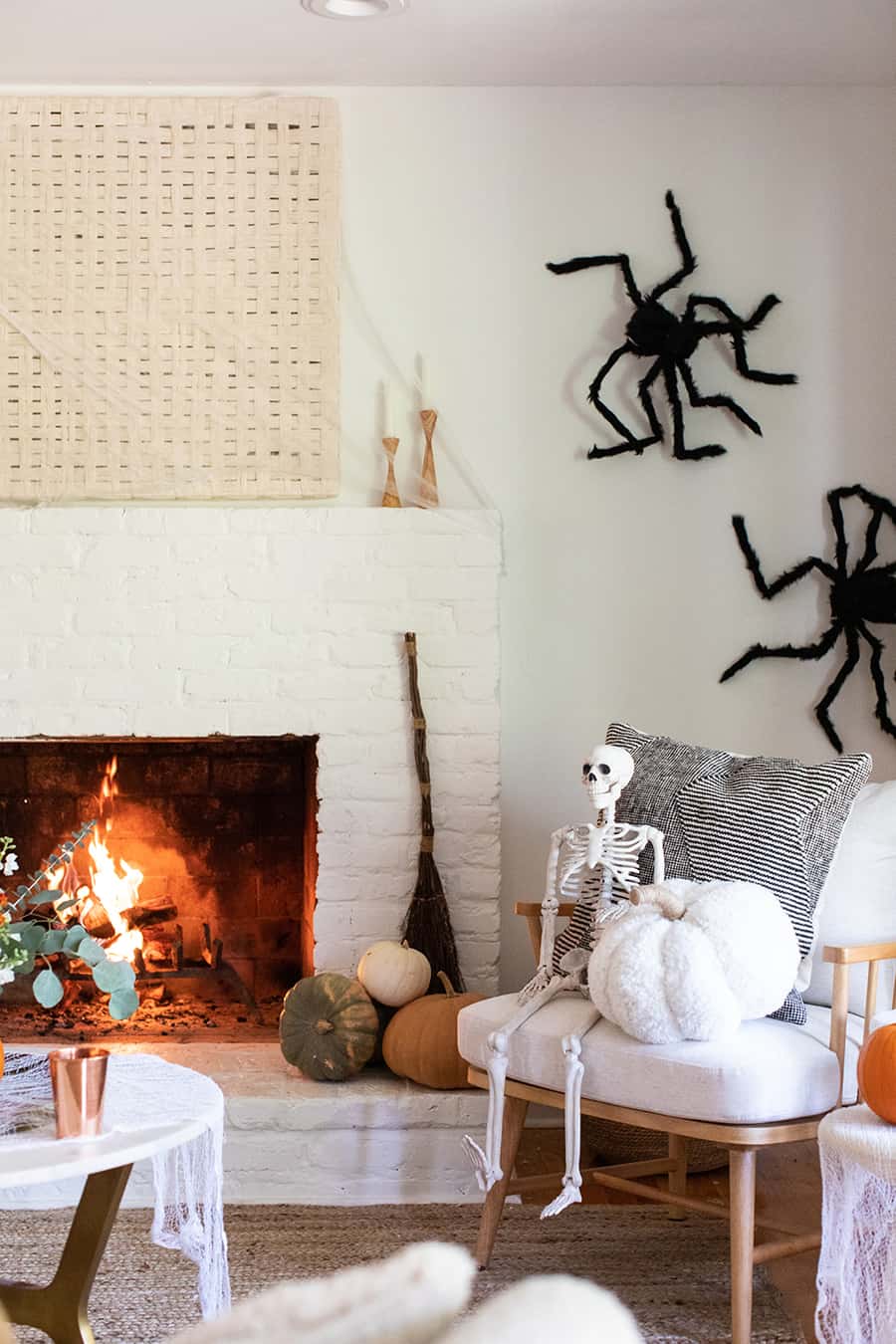 It's so easy to decorate for Halloween!! Adding simple items like pumpkins, skeletons and spiders is all you need. Here are a few tips for quick and affordable Halloween home decor.
Quick And Affordable Halloween Home Decor
Here is a list of Halloween items you can buy that won't cost you a lot of money and that you can quickly decorate with.
Pumpkins
Spider Webs
Broomstick
Flowers
Drape gauze cloths over tables to give them texture and a spooky look.
Add spooky, creepy climbing spiders to the walls. Command strips are the best way to hang these spiders. They are super easy to use, no nails or holes in the wall and will hold up to 1/2 pound.
Flowers are a great way to add color and charming touch to your Halloween decorations. Also, you can let them dry and die and they'll still be great for Halloween! Spooky, dead flowers will work!
An obvious Halloween decoration are pumpkins! When you're at the pumpkin patch, pick up some green and only shaped pumpkins for Halloween decor.
Carved pumpkins using tea lights are also a great way to decorate for Halloween.
The Sanderson sisters will tell you that broomsticks work for Halloween decorations too. We picked this cinnamon smelling one up at Trader Joes. They are cheap, smell great and make for perfect decor!
Spider webs are cheap and easy to decorate with. Add some little spiders to them and place them all over the house, over picture frames, windows and in corners.
We hope you've gotten some ideas for some cheap Halloween decoration ideas to do in your own home!
You can also FOLLOW US on FACEBOOK, INSTAGRAM, and PINTEREST to see more delicious recipes, cocktails, desserts and parties!
This post may contain affiliate links. Please read our disclosure and privacy policy.