More than 40 of the best Halloween party snacks. If you're hosting a spooky bash and need some Halloween appetizers, we have you covered! From savory to sweet finger foods, these recipes are perfect for adults and kids. These snacks are great for Halloween entertaining.
The spookiest time of the year. The ghosts and ghouls come out to play, and the scary carved pumpkins guard your front porch.
But what goes on inside of your home doesn't need to be as spooky – it can be spooky and fun! So what can you do to achieve this?
You can make delicious Halloween party snacks that everyone will love!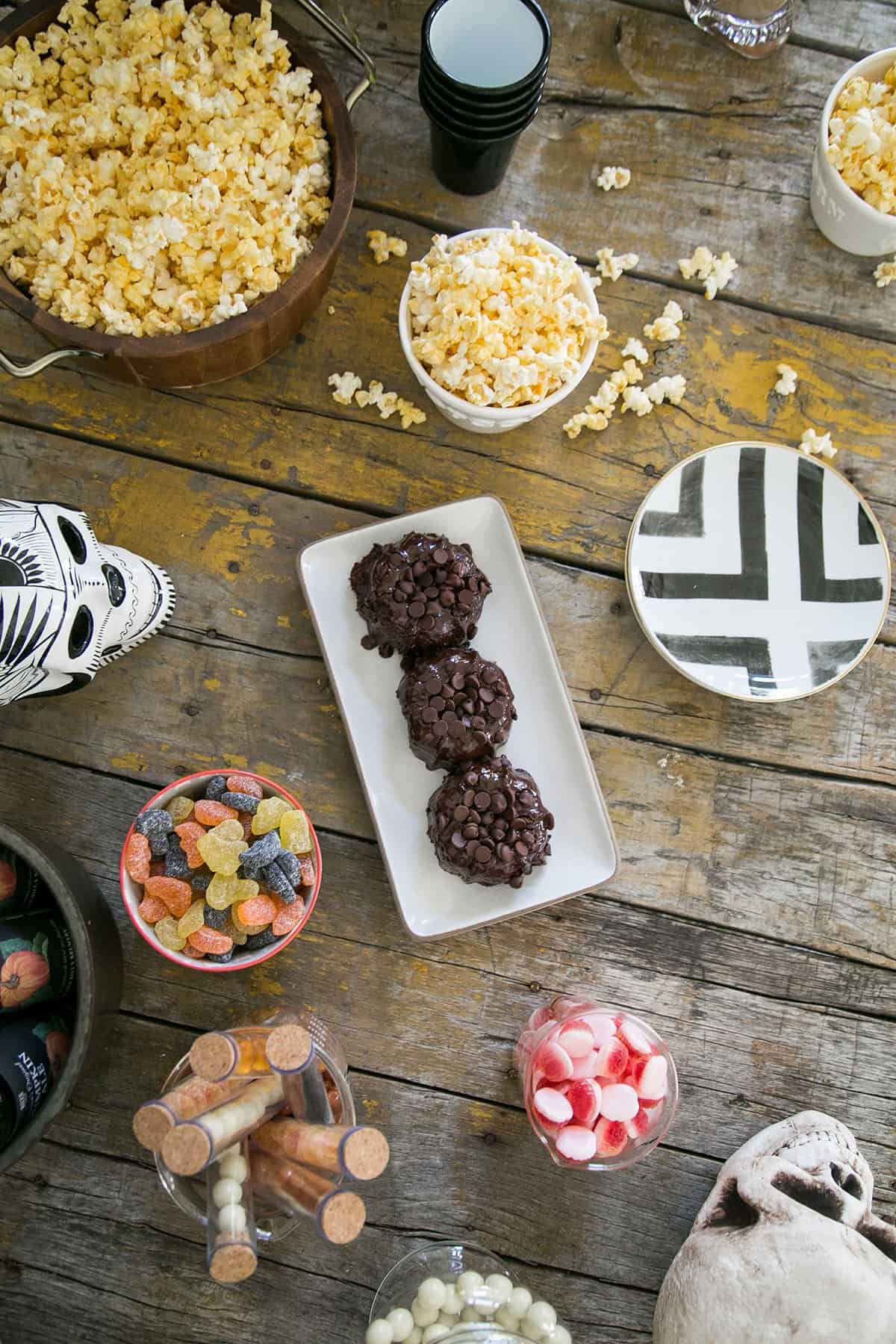 If you're hosting a pumpkin carving party, having friends over to watch Halloween movies, or a more intimate dinner while the kids go trick-or-treating, here is a list of the best Halloween party snacks to serve to your guests!
From easy Halloween treats to savory appetizers, there is something here for everyone. The best part is, that you don't have to be a great cook to make this Halloween food. Serve any of these with a Halloween drink for the ultimate party.
Now that you're in the Halloween spirit, read on to learn about the best spooky Halloween treats and perfect Halloween appetizers.
Halloween Party Food
Here is a list of the best Halloween party snacks. Serve them with our Halloween cocktails or our popular kids' Halloween punch.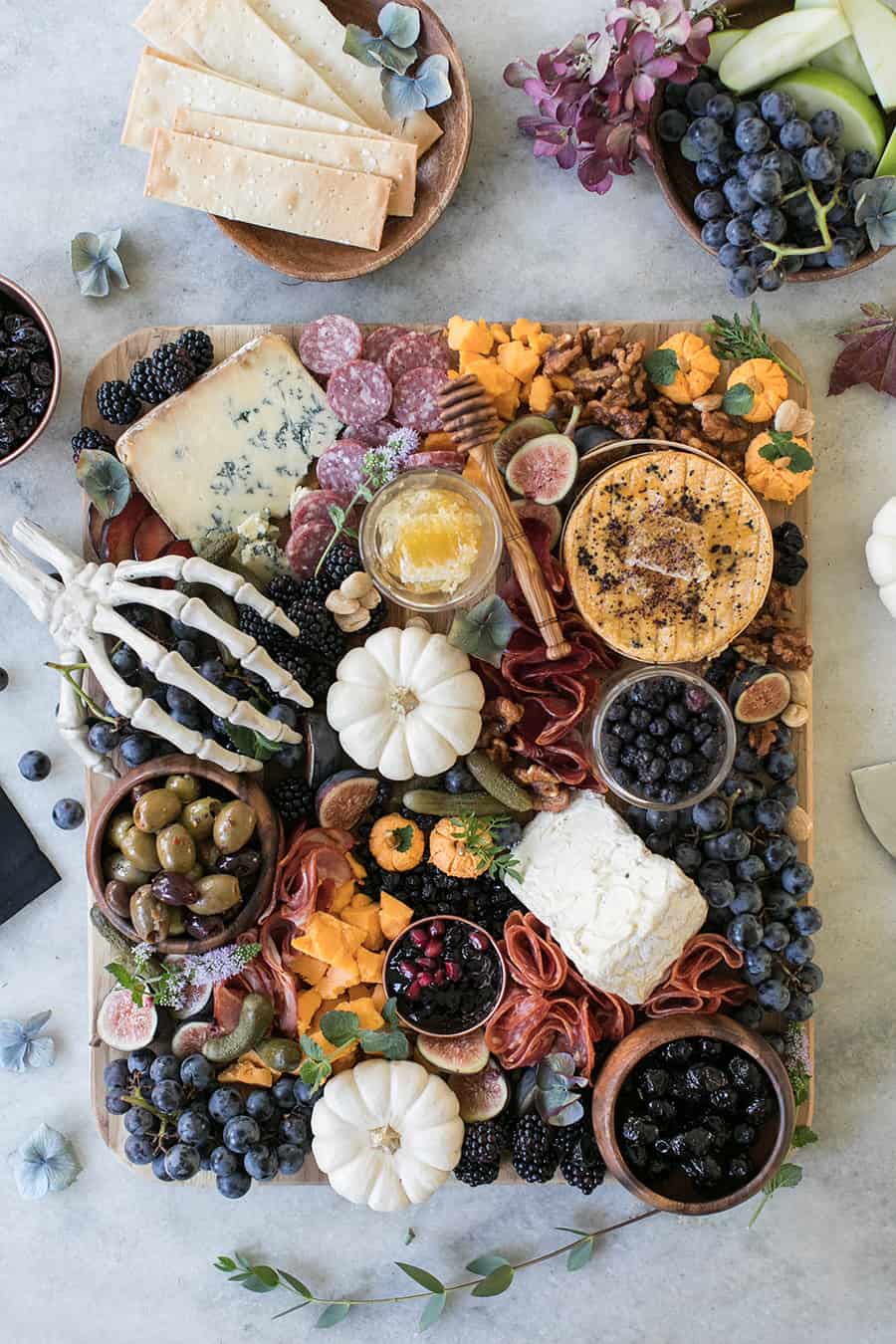 If you're looking for easy Halloween appetizers, there is nothing easier than assembling a spooky meat and cheese platter! Use types of cheese to create a festive board. This is one of our most popular Halloween ideas and it's perfect for a crowd!
Serve these adorable Halloween Buffalo Chicken Meatballs at your next Halloween party. Bite-sized meatballs look like mini pumpkins. They're dipped in buffalo sauce and topped with tiny celery stems.
This is a fun treat to make and you only need hot dogs and crescent roll dough. This is a twist on the classic, most popular appetizer Pigs in a Blanket. They're a perfect snack for kids and you can make mini ones for a filling appetizer. We love that this spooky Halloween appetizer is also filling for guests too.
This appetizer is made with pretzel sticks, phyllo dough, or string cheese. They're a great savory snack with a charmingly spooky touch.
These look spookier than they are! Amazing how black olives can transform into what looks like a black widow! If you're looking for something festive and fun for your party, make these olive spiders for a cheese platter or lay them over devil eggs.
Banana ghosts are easy to make and make healthy Halloween treats! You use peeled bananas and candy eyes or mini chocolate chips for eyes.
If you're looking for an easy Halloween dessert, it doesn't get much easier than these adorable ghost chocolate trifles! Made with a chocolate sheet cake, whipped cream, and some cute little eyes, these can be assembled within minutes! They're also great because they're not overly sweet.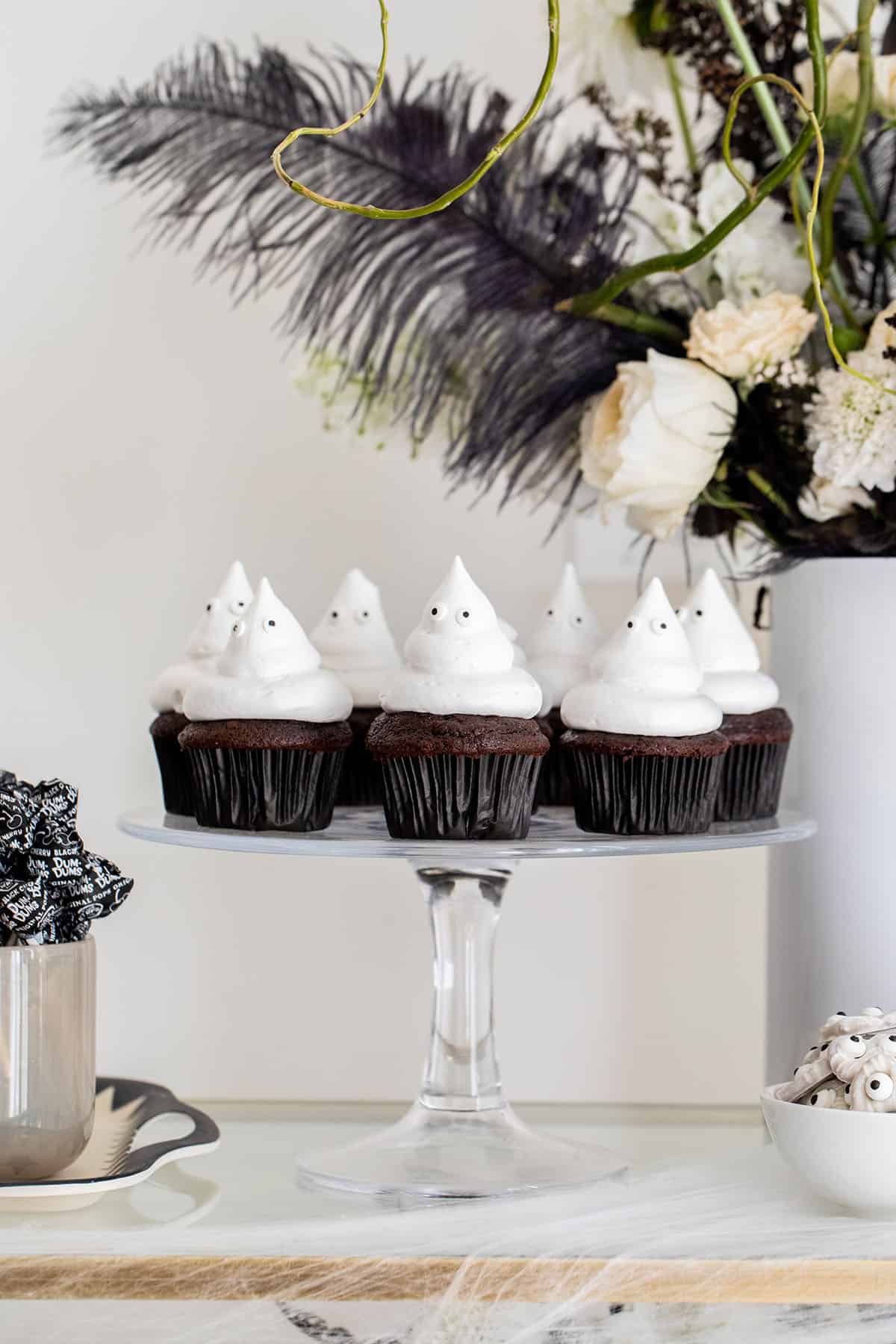 Another fun ghost-themed dessert is these chocolate cupcakes with marshmallow fluff frosting to make ghost shapes and two little ghostly eyes.
While this may not sound spooky, it sure looks spooky! You can make this in different shapes and decor to have different looks, and it is one of the easy Halloween party snacks that won't take too much effort!
You can create a mummy cookie or a cookie that looks like a ghost! Use Halloween cookie cutters to help with this or you can simply use the right color frosting and other edible decorations for the eyes of the ghosts and mummies!
If you're going for a ghost-themed party, be sure to make the ghosts with white frosting!
If you're looking to go a bit more gourmet with your cooking this Halloween, you can make pumpkin cheesecake bars!
These delicious bars give you all of the fall feelings while keeping the Halloween feels at a minimum. These are perfect for a more sophisticated fall party or Halloween party.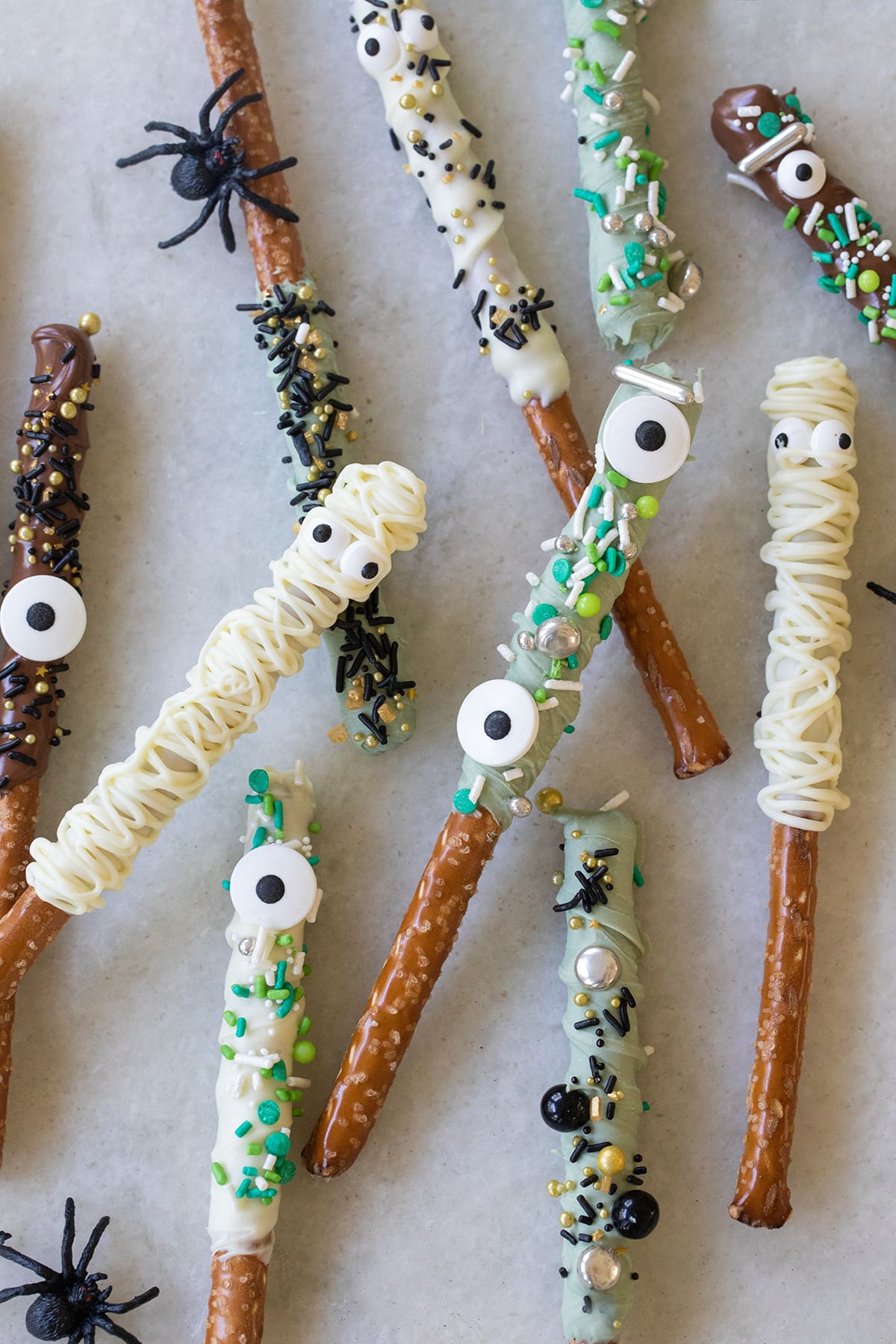 A fun and easy Halloween treat to make for the entire family! These are perfect for a party and you can customize the flavor and decorations.
Powdered Sugar Ghost Donuts
This is the easiest Halloween party snack. We made this little ghost donut for our ghost party and they were a hit. All you need is little eyes and powdered sugar.
Sometimes we don't need everything to be unhealthy for it to be a treat.
Around Halloween time, try making pumpkin seeds as one of your healthy Halloween snacks.
You can roast them with nothing on them, with salt, or with teriyaki to add a bit of flavor to them.
If you're looking for the perfect Halloween dessert idea for a party, look no further than making witch cupcakes.
You can make the cupcakes in whatever flavor you want them to be – red velvet, chocolate, or vanilla – and then top them with spooky witch colors like green, orange, and black.
Once you have that all done, you can add a cupcake liner to the top in the shape of a witch hat. Just use a frosting tip to shape the tip of the hat, and then lay it right on top!
This will be a hit at all of the Halloween parties you have! If you're not in the mood for witch cupcakes, try witch hat s'mores!
If you want a somewhat healthy snack for Halloween, making a snack mix is a great idea. You can do this in a variety of ways. It can be made with powdered sugar and candy eyeballs and candy corn.
It can also be made with healthier options like Chex mix, pretzels, and chocolate chips for the Halloween colors.
Another appetizer you could use for your Halloween party, or bring to a party you are going to, is a monster wrap.
Grab some spinach tortillas (to get the green effect). Then use cheddar cheese or blue tortilla chips to make the scary hat on top. You can use olives as eyes to produce the red pupil effect.
To make it even scarier, add sweet or dill pickles as the eyebrows angling down in the middle to create an angry effect.
If you aren't drooling yet, you're about to be. Creating a spiderweb nacho spread is the perfect dish for a Halloween party.
Add tomatoes around the edges and guac on top. To create the actual spider web, use sour cream to drizzle in the shape of a spider web.
This nacho spread is also perfect for Halloween dinner with family or friends!
You may not think about deviled eggs as something to make for Halloween. However, making them to be eyeballs can be quite creepy.
First, make some hardboiled eggs and fill them with guac. On top, add an olive to create the evil eye effect. You can create a sour cream mixture to create eyeball-like detailing that will make it extra spooky and weird to look at!
Much like the witch cupcakes, these are made pretty similarly. However, the recipe calls for splitting the batter to dye some yellow and some orange.
Each will be placed on top of the other to create a candy corn look for the cupcake itself. Top with frosting and then a few candy corns themselves!
For another great Halloween dinner, a spiderweb pizza is here to please!
The only difference between this pizza and a normal one? It's the way the cheese goes on top! The cheese on this one should create a spiderweb pattern.
This is a great appetizer option for any party or dinner.
Sweet from the pumpkin, yet savory from the pesto, this is a great option that you cannot pass up! Mix in burrata and pecans to make it the perfect crostini for any occasion.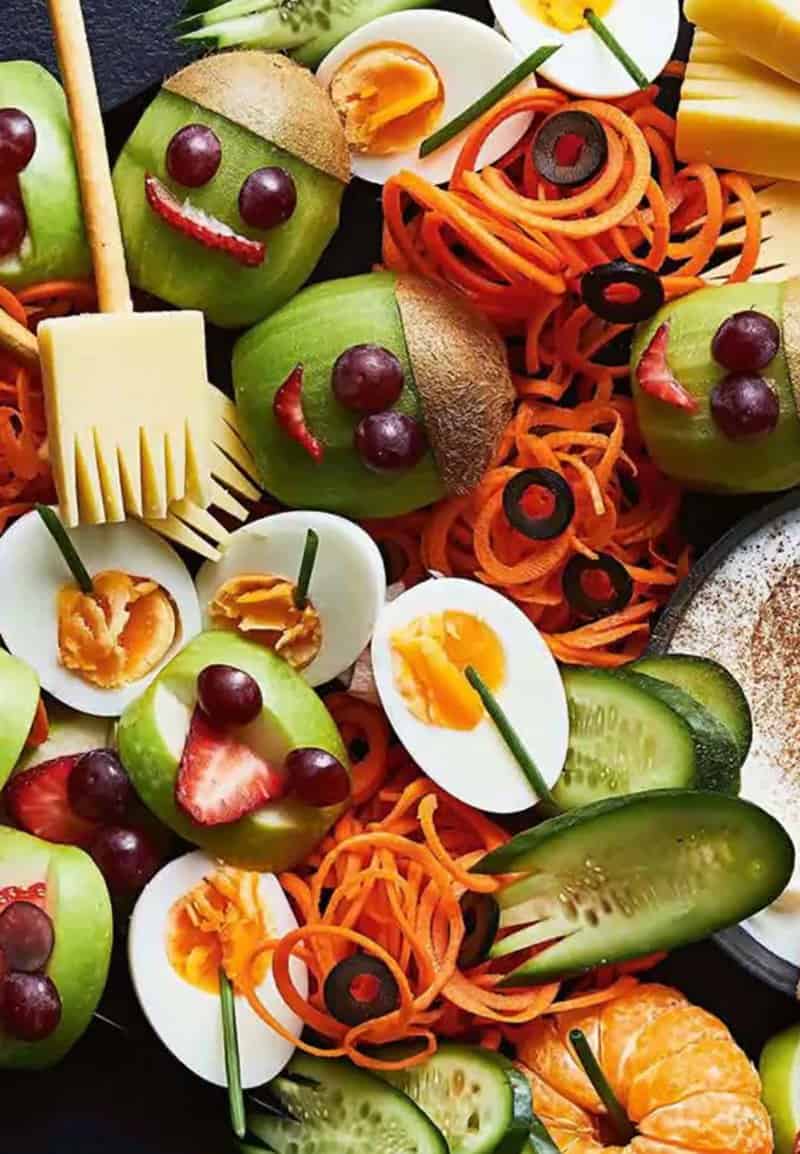 To add some healthy options back into the mix, a pumpkin fruit platter is cute and sweet, but healthy and easy to make!
To make this, add a bunch of mandarin orange slices to a large bowl. For the top of the pumpkin stem, you can use kiwi. When shaping the eyes with blueberries, be sure to do it triangularly!
Serve a pumpkin fruit dip in a mini carved pumpkin for a fun twist.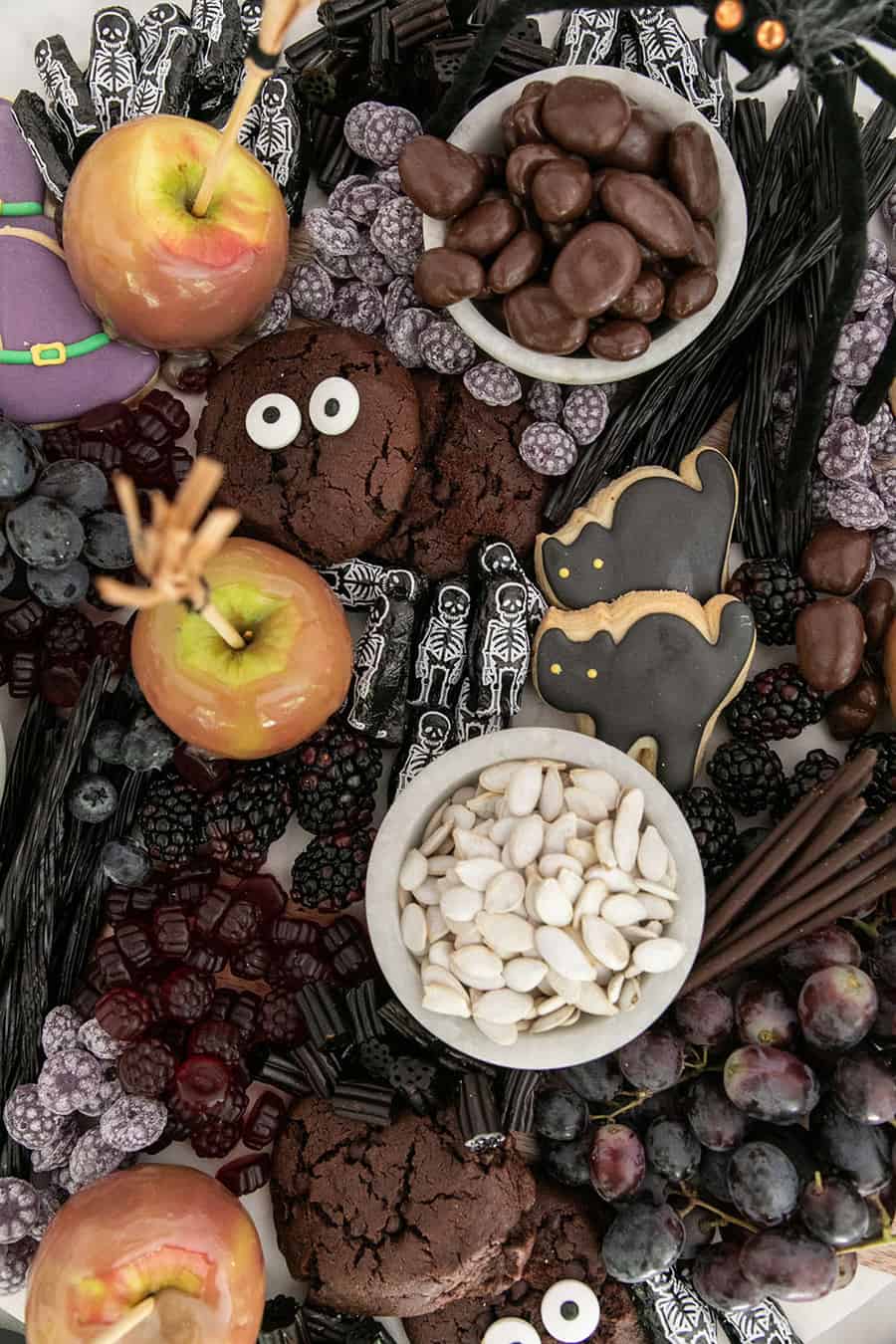 For an easy Halloween dessert, put together a themed Halloween dessert platter filled with yummy treats and spooky candy.
One of our favorite rice Krispie treat recipes is our brown butter mummy Rice Krispie treats.
Also, try our mummy cupcakes too!
Chocolate Covered Pumpkin Strawberries
Chocolate-covered strawberries are a perfect snack. For Halloween, you can turn them into pumpkins or ghosts and they are a sweet and nutritious snack for kids and adults!
The recipe for these pumpkin strawberries is in the recipe card below.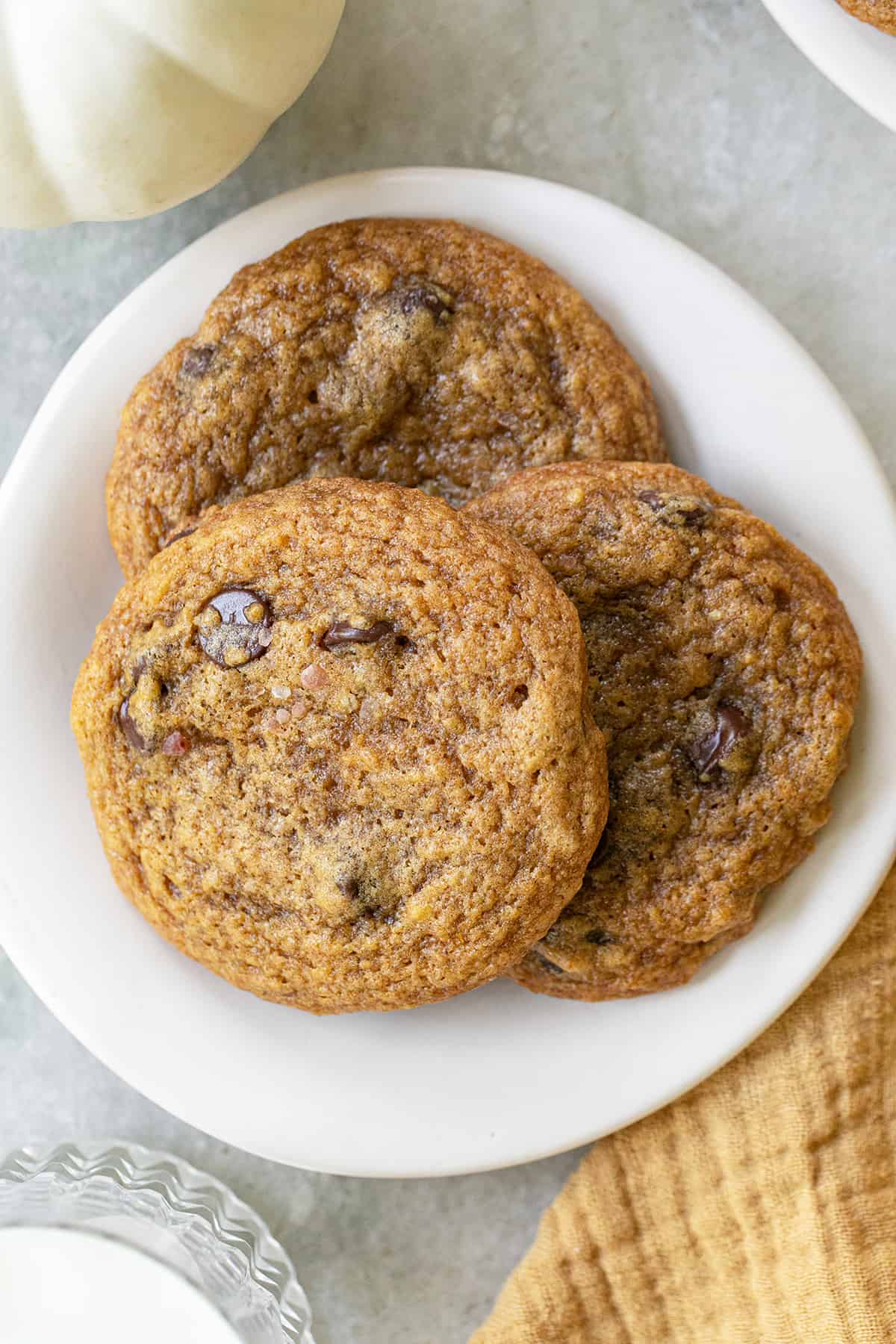 This is the best pumpkin chocolate chip cookie recipe! Full of pumpkin flavor, super moist and buttery with a perfectly crispy edge.
Halloween Party Snack Supplies
Here are a few items we use often when serving Halloween appetizers and snacks:
Frequently Asked Questions
What are some good Halloween snacks?
Looking for more Halloween party snacks? We've got you covered! Here are even more spooky recipes to make:
What food can you make for a Halloween party?
The best food to make for a Halloween party are finger foods and appetizers. Here are some ideas:
Meat and Cheese Platter
Chips and Dip
Crockpot Chili
Mummy Brie
Mummy Hot Dogs
Chocolate Covered Ghost Berries
Tips for Making Halloween Party Snacks
Make sure you have enough appetizers for everyone. For a cocktail party, have 12 appetizers available per guest.
Have a mix of protein, like a meat and cheese platter, healthy Halloween snacks like a vegetable or fruit platter, and sweet spooky apps too.
You don't have to make everything yourself. Make a few fun and spooky appetizers and then buy items that will go with your party, like pre-made dips.
Prepare as many Halloween snacks the day before as you can.
More Halloween Entertaining Ideas
You have a list of spooky Halloween appetizers to serve at your Halloween bash,
Easy Ways to Add Spooky Decor to Your Home
The Perfect Halloween Candy Cart
Charming Halloween Ideas for Kids
Favorite Halloween Decorations
Now that you have these spooktacular recipes, it's time to start planning! Sign up for our newsletter to get a free party planning printable to help you with your shopping.
Let us know if you make any of these festive appetizers for your next Halloween party!
You can also FOLLOW US on FACEBOOK, INSTAGRAM, and PINTEREST to see more delicious recipes, cocktails, desserts, and parties!
Halloween Party Snacks – Pumpkin Strawberries
Sharing Halloween party snacks and a recipe for pumpkin strawberries. These are perfect to serve alone or on a cupcake.
Print
Pin
Rate
Ingredients
6

large

strawberries

,

fresh

8

ounces

orange candy melts
Instructions
In a small bowl, melt the candy melts until smooth and dip the strawberries in.

Place the dipped strawberries on a baking sheet lined with parchment paper.

Add 1/4 cup orange candy melt into a piping bag and cut a tiny hole at the bottom.

Make lines over the strawberries.
Nutrition
Calories:
212
kcal
|
Carbohydrates:
24
g
|
Protein:
2
g
|
Fat:
12
g
|
Saturated Fat:
7
g
|
Polyunsaturated Fat:
1
g
|
Monounsaturated Fat:
3
g
|
Cholesterol:
8
mg
|
Sodium:
34
mg
|
Potassium:
149
mg
|
Fiber:
1
g
|
Sugar:
24
g
|
Vitamin A:
15
IU
|
Vitamin C:
16
mg
|
Calcium:
80
mg
|
Iron:
1
mg