The best Halloween drinks without alcohol! We've rounded up 21 delicious and spooky drinks that are all booze-free. From fruity cocktails to pumpkin martini mocktails, we have something for everyone. So gather your friends and family and get ready to celebrate Halloween the non-alcoholic way!
Halloween kicks off the holiday season and we love to celebrate with pumpkin carving gatherings, ghost parties, and Halloween movie nights! My kids look forward to these celebrations every year. We always make charmingly spooky punch or themed drinks for the kids (and adults) to enjoy at our family party.
After years of making Halloween drinks nonalcoholic, I have some wonderful recipes and tips to share with you! I hope you enjoy these fun recipes! So when you're planning your next Halloween party, make sure you have one option without alcohol to serve your guests and kids!
A Few Items to Make Halloween Drinks
Here are a few items we use to make our Halloween drinks:
Cocktail Shaker and Jigger
Halloween Drinks Non Alcoholic
Here are my favorite Halloween drink no alcohol!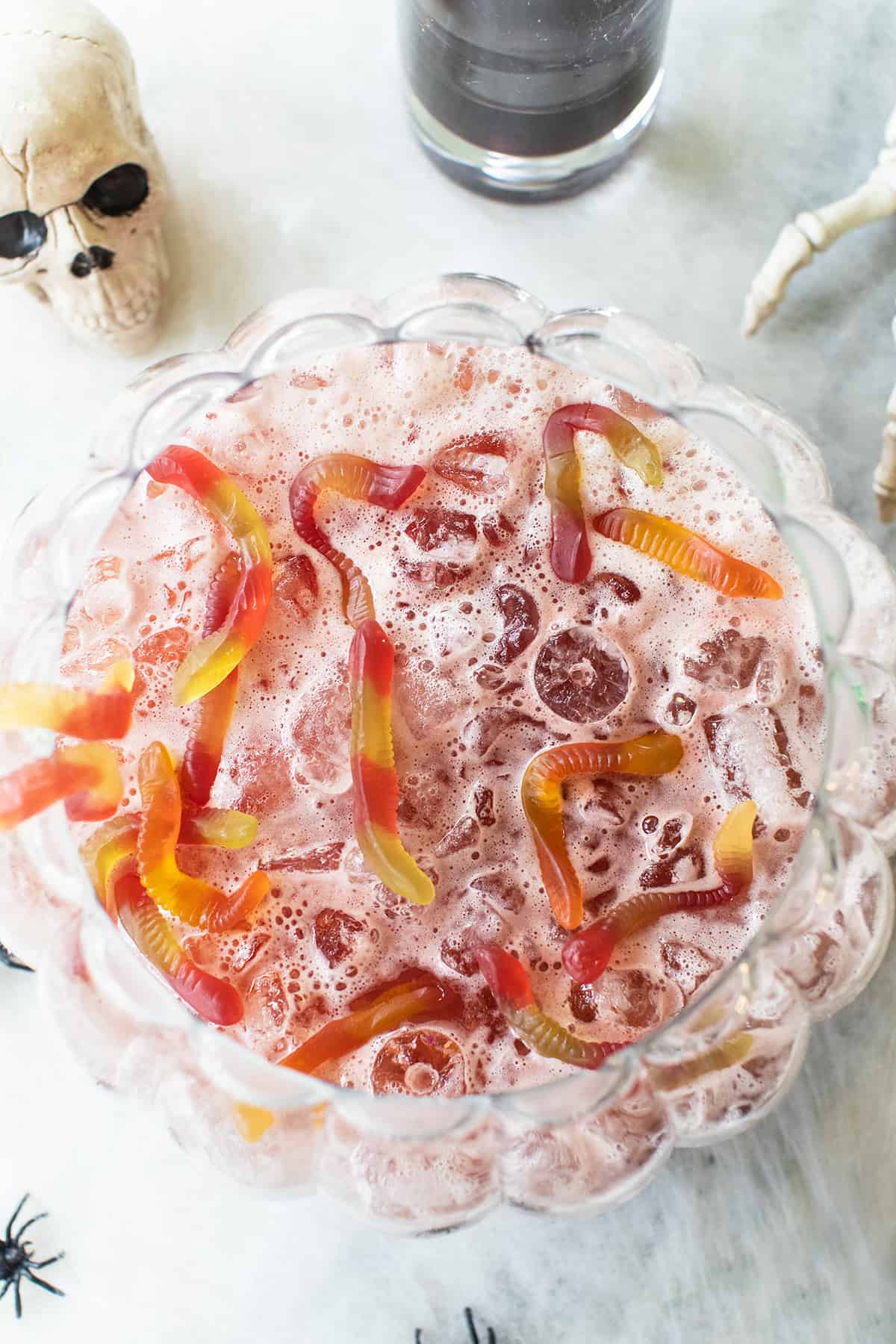 This is the perfect Halloween punch! It's an easy and quick non-alcoholic recipe! A festive drink made with 5 simple ingredients. So delicious and perfect for the spooky season! The best part is that it has carrot juice in it!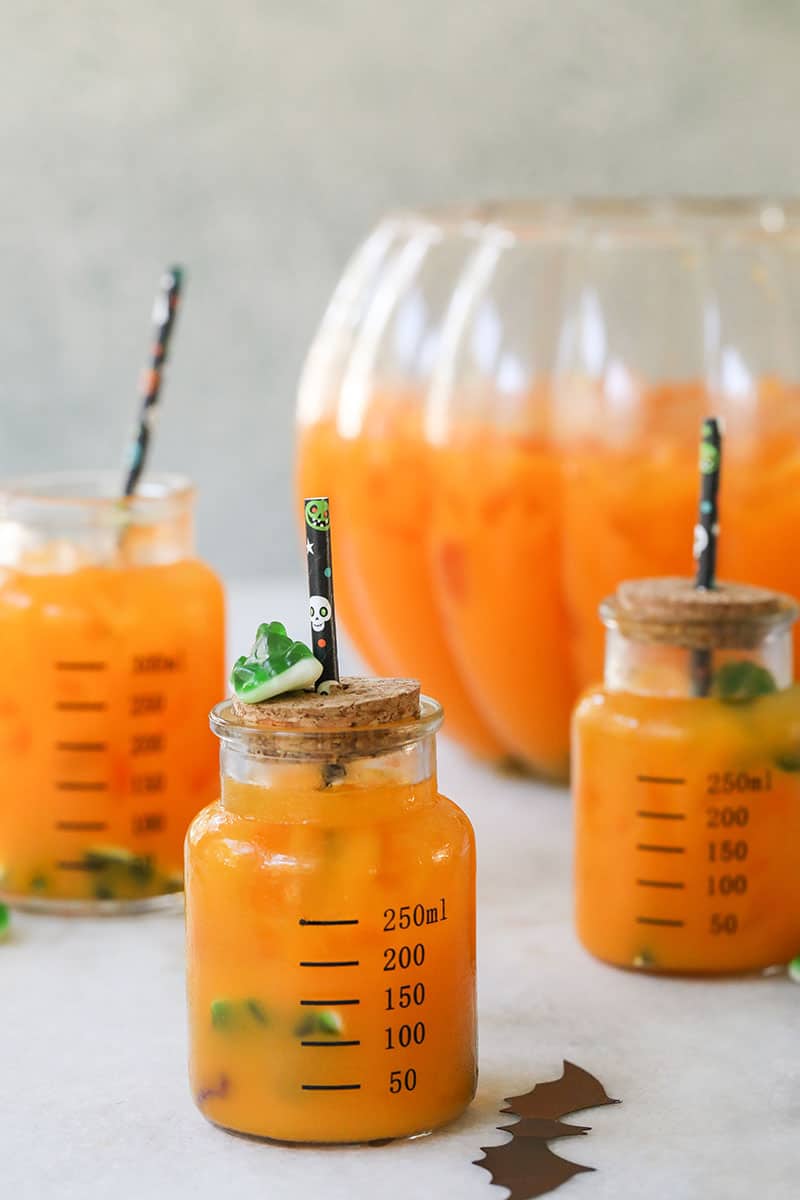 Here's another perfect Halloween drink recipe for kids! An easy, three-ingredient Halloween punch for kids. It's a bright orange Halloween punch garnished with slimy gummy frogs and gummy worms! You can also make an organic version!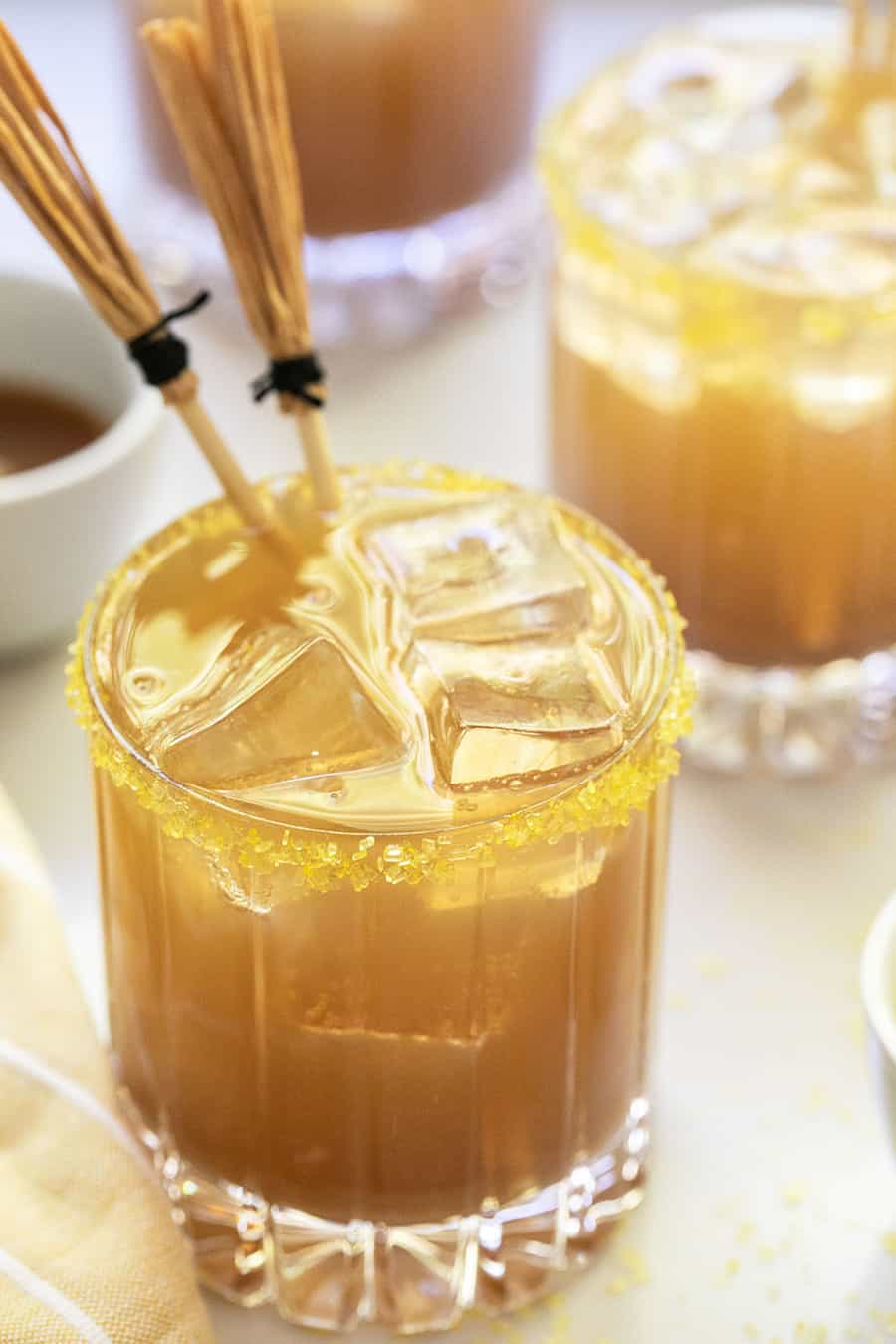 We love watching Harry Potter in October. The magic of it and the setting bring out all of the fall feels for us! And you can't watch it without a glass filled with butter beer! Don't be fooled by the name, this recipe doesn't have any beer in it!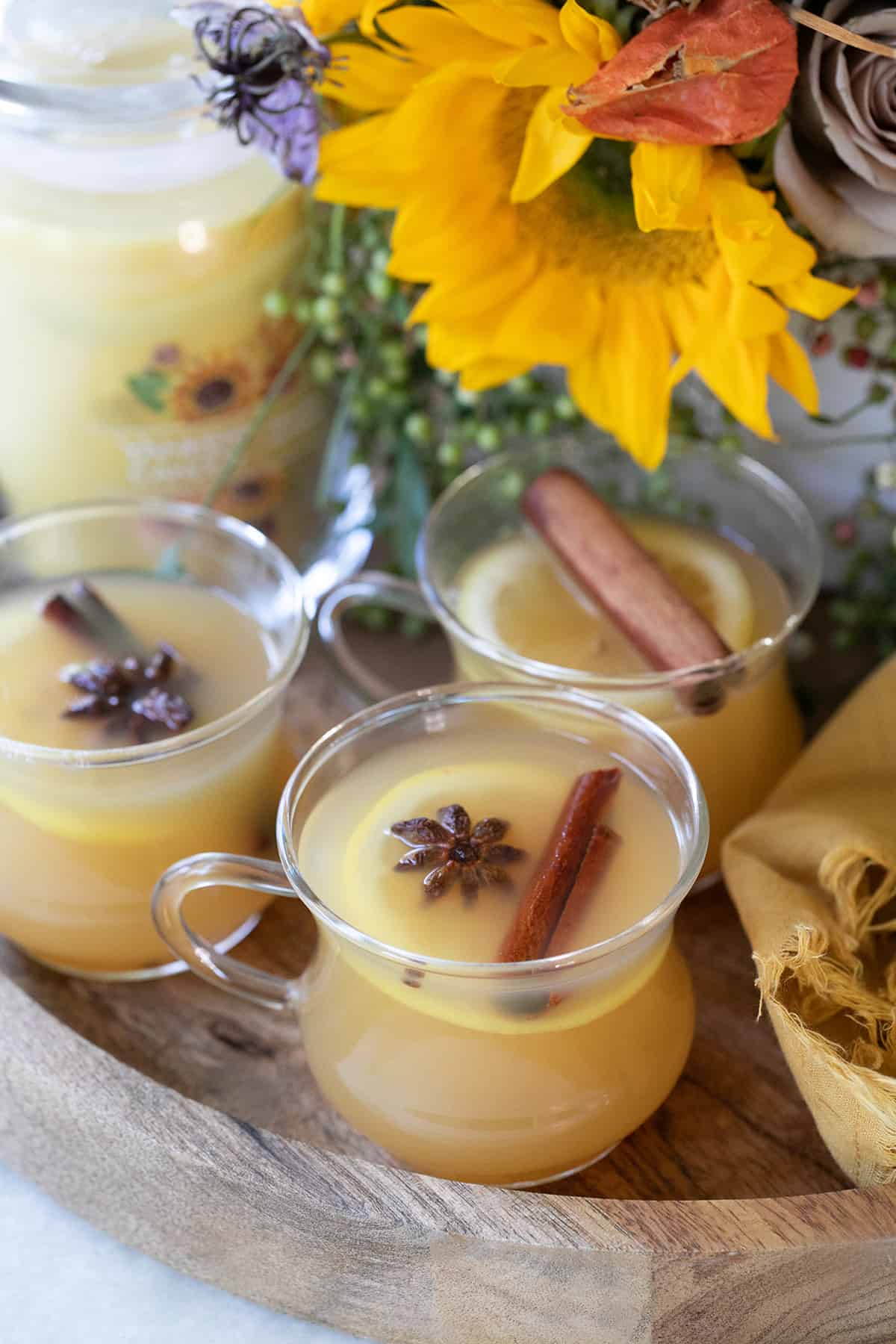 The best recipe for easy slow cooker mulled apple cider. This recipe is filled with fall spices and perfect for serving this fall!
Another non-alcoholic punch. This one is made with 7UP and orange sherbet. You can use a healthier version of lemon-lime soda to make this as well. The punch has eyeballs and slices of lime for a fun twist!
Hocus Pocus is still one of my favorite Halloween movies of all time! It's nostalgic and we watch it every year! This punch is made with just 3 ingredients and is perfect for kids. It has rainbow Sherbet and mango juice!
Pomegranate and blackberry punch made with sparkling water to give it some fizz! The deep purple color in the drink is perfect for Halloween! It's not too sweet and a great option for a Halloween party.
This is as green as a swamp! The green color makes it extra spooky. It's a lime-flavored drink that bubbles when the ginger ale is poured over the green sherbet!
A tropical flavored drink with the colors and layers of candy corn! This is a fun twist on a Halloween drink that uses white pineapple and coconut juice and mango!
This drink is made with pineapple juice, ginger ale, and lime sherbet. It's a great punch for a Halloween party!
If you're a Harry Potter fan, then you know what this delicious drink is! Made with just 4 ingredients, this is a great recipe for adults and kids. Dress it up how you like!
We really love this idea for adults and kids! It's all about the presentation for this drink as it's a classic Shirley Temple, but a spooky version! You'll need beakers and syringes to make this fun drink.
The name and color are what we love about this drink. It's simple to make too using just 3 ingredients! Blood orange juice, sparkling water a little simple syrup.
Add a little magic to lemonade using butterfly pea flower! This dried flower will give the drink a blue and purple color and turn a simple drink into something magical for Halloween!
Hosting a Halloween pumpkin carving party or event in the morning or afternoon, serve this festive coffee recipe filled with spices.
This is similar to what a tequila sunrise would be, but it's made without alcohol. It has orange juice and grenadine in it and it's garnished with gummy snakes!
We love the look of this spooky drink with the Vampire's teeth! They add such a fun and festive look. This recipe requires a little prep work as you'll need to freeze the slushy overnight. However, it's a great recipe to make ahead of time!
An easy Halloween punch made with grape juice, Fruit Punch Concentrate, and lemon lime soda for some fizz!
Orchids and Sweet Tea created this stunning Halloween mocktail that caught our eye! It's made with fresh ingredients and real berries which we love. The berries are boiled together with some cinnamon sticks and water to make a delicious mulled mixture. This is a great Halloween drink without alcohol to serve adults.
If you're looking for a sophisticated Halloween drink to serve, make a pumpkin martini! This is a flavored drink with pumpkin puree, sweetened condensed milk, and half and half.
Honeydew Lemonade
Turn this fantastic honeydew lemonade into a spooky drink by adding eyeballs or a drop of pomegranate juice! This lemonade is refreshing and has the perfect light green color for Halloween!
Tips for Making Spooky Halloween Drinks
We've made plenty of festive Halloween drinks over the years and here are a few ways we add spookiness to them:
Dry Ice – This is a great way to make your punch or drinks look spooky! Just be careful when handling it.
Serve in a black cauldron or glass apothecary jars – This is a great way to make your drinks look extra spooky!
Add gummy worms or bugs – This is a great way to garnish your drinks and add some spookiness!
Festive ice rings – You can add candy, citrus rings, and even dried edible flowers to an ice ring to make it spooky for a Halloween punch.
Blue ice cubes – Create naturally dyed blue ice cubes for extra color and fun.
Halloween Drink Garnishes
While you can certainly enjoy these Halloween drinks without any garnishes, it's always more fun to dress them up! Here are some of our favorite Halloween drink garnishes:
When to Serve Halloween Drinks Non-Alcoholic
These drinks are perfect for Halloween parties or get-togethers! Here are a few special occasions:
What Food to Serve with Halloween Drinks Non-Alcoholic
These drinks are great on their own or you can serve them with some Halloween party snacks! Here are some ideas:
Easy Halloween Dessert Platter
Frequently Asked Questions
Can I make these Halloween drinks ahead of time?
Yes, most of these Halloween drinks can be made ahead of time. I would recommend making the punch and storing it in the fridge, without ice, until you're ready to serve it. If you're using sherbet, don't add that in until right before you're about to serve the drink.
How do you make a smoking drink for Halloween?
To make a smoking drink you'll need to use dry ice. This is the easiest way to create a fun, smoking Halloween drink. You can't touch the dry ice with your hands, so you'll need tongs or something to transfer the ice to the cup or the punch bowl.
You can also use a cocktail smoker at home to make a smoking drink. However, you will get a smoky flavor with this method.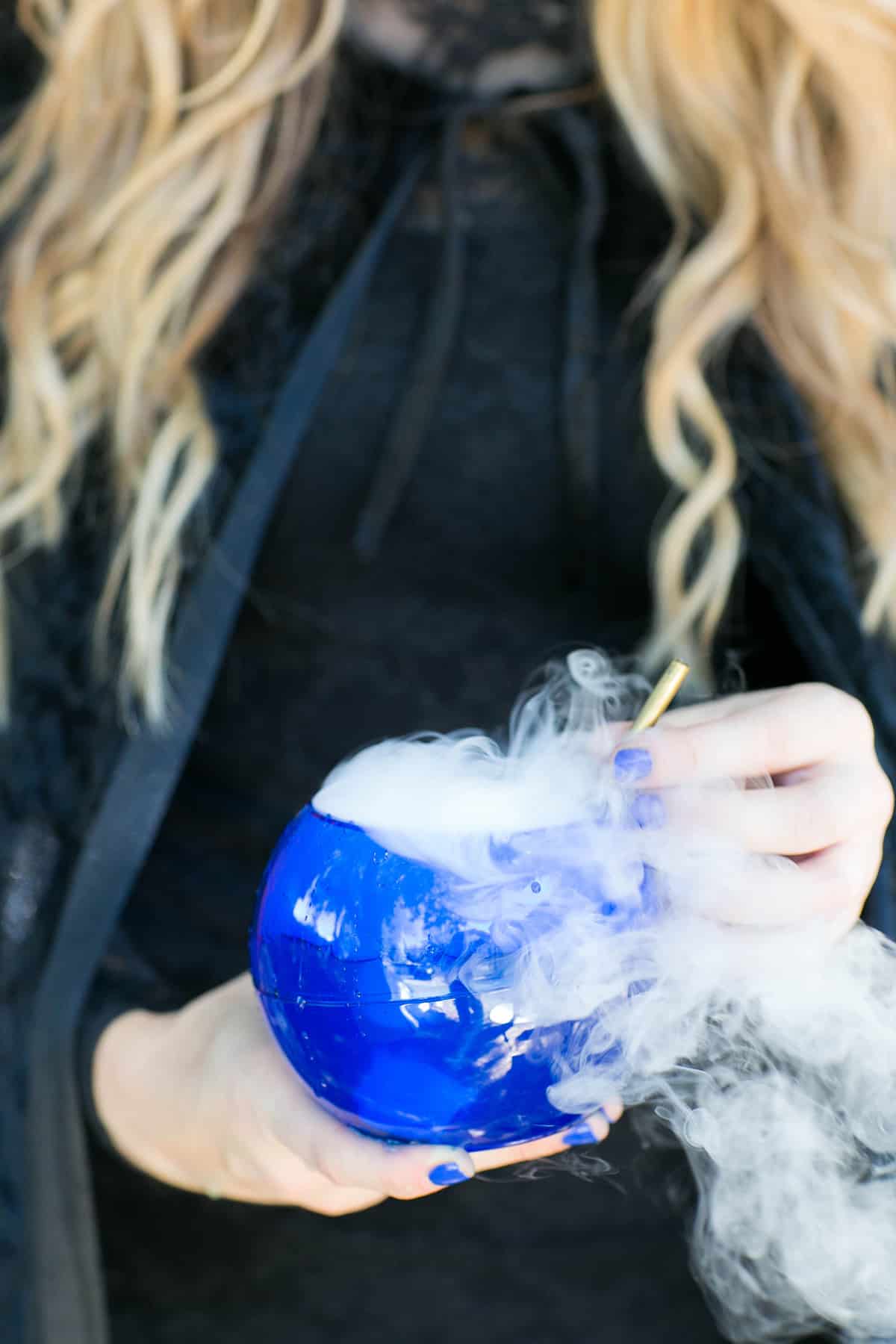 What is the most popular non-alcoholic drink?
There are a few non-alcoholic drinks that are popular during Halloween. Some of these include:
Halloween Punch Non-Alcoholic
Tonic Water and Lime Juice
More Halloween Ideas
30 Best Apple Cider Cocktail Recipes
Favorite Halloween Decorations
I hope you enjoy these Halloween drinks non alcoholic! They are perfect for any Halloween occasion!
If you make any of these let us know in the comments below what you think!
You can also FOLLOW US on FACEBOOK, INSTAGRAM, and PINTEREST to see more delicious recipes, cocktails, desserts, and parties!
The Best Non-Alcoholic Halloween Drinks – Smoking Apple Cider
This is a fun drink to make for Halloween! Use dry ice to create the smoke for a spooky cocktail. Also check out more of the 21 Best Non-Alcoholic Halloween Drinks.
Print
Pin
Rate
Ingredients
2

ounces

apple cider

1

ounce

cranberry juice

,

sweetened

1/2

ounce

lime juice

1/2

ounce

simple syrup
Instructions
Add all the ingredients into a cup.

Drop a few pieces of dry ice into the cup for the smoke.

If you don't want to do the smoke, just fill a glass with ice and pour the ingredients over the top.
Nutrition
Calories:
81
kcal
|
Carbohydrates:
21
g
|
Protein:
0.2
g
|
Fat:
0.1
g
|
Saturated Fat:
0.01
g
|
Polyunsaturated Fat:
0.04
g
|
Monounsaturated Fat:
0.01
g
|
Sodium:
11
mg
|
Potassium:
105
mg
|
Fiber:
0.2
g
|
Sugar:
20
g
|
Vitamin A:
20
IU
|
Vitamin C:
7
mg
|
Calcium:
11
mg
|
Iron:
1
mg